Ducks recruiting mailbag
October, 12, 2012
10/12/12
7:00
AM ET
It's that time again. The Ducks have a bye this week, so it's time to dig through the Oregon recruiting mailbag and see what's on your mind.
[+] Enlarge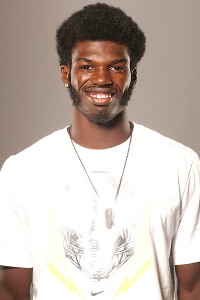 Tom Hauck for ESPN.comCould ESPN 150 safety Leon McQuay III find himself with the Ducks?
Ruben G. (Hillsboro, Ore.):
What is going on with the Ducks' defensive line recruiting? Haven't heard hardly any news about a position that has always been tough for them.
To continue reading this article you must be an Insider
Insider
College Football Minute
The top two teams in the nation survive scares, the SEC has an old new star, and the Big Ten starts the road to redemption. It's all ahead on the "College Football Minute."
College Football Minute
VIDEO PLAYLIST
OREGON FB RECRUITING SCORECARD
oregonliveducks

oregonlive.com/ducks


About Last Night: Ducks beat Cougars, with benefit of no-call Mark Helfrich doesn't want to talk about http://t.co/T8qwJwC2p0 #goducks
16 minutes ago

oregonliveducks

oregonlive.com/ducks


Oregon Ducks report card: Grade the performance against the Washington State Cougars http://t.co/ujtrzgY2Kg #goducks
about an hour ago

ESPN_Pac12blog

ESPN_Pac12blog


What We Learned Week 4 in the Pac-12: Utah dominated Michigan in all three phases of the game. http://t.co/EXg8DFy3Kz http://t.co/fHioyY1q12
about an hour ago

DuckSportsNow

Duck Sports Now


Watch Marcus Mariota sling TD passes against Washington State: Video highlights http://t.co/82jz2ANNWr
about an hour ago

ESPN_Pac12blog

ESPN_Pac12blog


Pac-12 helmet stickers: Week 4 http://t.co/OrsxOfUNAq
about an hour ago

GoDucksTV

GoDucks TV


Now on @GoDucksTV: Devon Allen Post Washington State http://t.co/dSzGb9B7Lz #GoDucks
about an hour ago

GoDucksTV

GoDucks TV


Now on @GoDucksTV: Hroniss Grasu Post Washington State http://t.co/VfgIzywGd8 #GoDucks
about an hour ago

oregonliveducks

oregonlive.com/ducks


Watch Marcus Mariota sling TD passes against Washington State: Video highlights http://t.co/2ZE2YCpG8b #goducks
about 2 hours ago

oregonliveducks

oregonlive.com/ducks


Oregon rocks black and yellow, Cougars can stop Ducks: The Oregonian sports top 5 http://t.co/lg1Hw3nRYL #goducks
about 2 hours ago

DuckSportsNow

Duck Sports Now


Defense Comes Through When It Matters As Ducks Top Cougs http://t.co/riebljS2FE
about 3 hours ago

DuckSportsNow

Duck Sports Now


Mariota Nearly Flawless in Second Half As Ducks Beat WSU http://t.co/BctkDRFUlx
about 3 hours ago

DuckSportsNow

Duck Sports Now


Putting the game in Mariota's hands, Oregon feeds off the do-everything quarterback http://t.co/MstfNlZ44k
about 3 hours ago

DuckSportsNow

Duck Sports Now


Oregon gets 'hit in the mouth' but leaves Washington State unscathed http://t.co/IrMHQajRpD
about 3 hours ago

AaronJFentress

Aaron J. Fentress


National title contenders that nearly lose to WSU have reached national title game 100 percent of the time since 2013. #callmespindoctor
about 3 hours ago

McNamaraUO

Andy McNamara


Mark Jones on Mariota on last night's broadcast: "He doesn't need a hype man. The pictures, the results speak for themselves." #SuperMariota
about 4 hours ago

DuckFootball

Rob Moseley


Back on the ground in Eugene. #FourHyphenOh
about 4 hours ago

DuckFootball

Rob Moseley


Watched the first quarter replay on the flight home. Not to troll here, but the Ducks' three-man D line was destroying the pocket early on.
about 4 hours ago

DuckFootball

Rob Moseley


Back on the ground in Eugene. #FourHyphenOh
about 5 hours ago

DuckSportsNow

Duck Sports Now


As long as the Ducks have Mariota, I'm saying there's a chance http://t.co/7NWOIH5J0d
about 5 hours ago

DuckSportsNow

Duck Sports Now


Hroniss Grasu Post Washington State http://t.co/u9ahhJPAZV
about 6 hours ago

DuckSportsNow

Duck Sports Now


Marcus Mariota Post Washington State http://t.co/VuILpoOgEx
about 6 hours ago

DuckSportsNow

Duck Sports Now


Mark Helfrich Post Washington State http://t.co/1LBs5hNnHL
about 6 hours ago

DuckSportsNow

Duck Sports Now


Devon Allen Post Washington State http://t.co/XXqriPu8G7
about 6 hours ago

McNamaraUO

Andy McNamara


Marcus Mariota was 14-of-15 for 164 yards & 2 TDs in the 2nd half. 5 for 5 driving Ducks into RZ (1 missed FG, knee) http://t.co/uVhkcXWqhh
about 6 hours ago

DuckSportsNow

Duck Sports Now


Royce Freeman starts slow, gains steam in Oregon Ducks' 38-31 win over Washington State http://t.co/dmx5kR48zQ
about 6 hours ago

DuckSportsNow

Duck Sports Now


Willie Lyles returns to scouting after Oregon Ducks investigation http://t.co/kGWoUDuFi7
about 6 hours ago

DuckSportsNow

Duck Sports Now


Postgame Notebook: No. 2 Oregon at Washington State http://t.co/cZukxzT6Ch
about 6 hours ago

oregonliveducks

oregonlive.com/ducks


Royce Freeman starts slow, gains steam in Oregon Ducks' 38-31 win over Washington State http://t.co/bdYNLgCCdn #goducks
about 7 hours ago

DuckSportsNow

Duck Sports Now


Photos: Oregon Ducks at Washington State Cougars http://t.co/tE0KLHnIwt
about 7 hours ago

oregonliveducks

oregonlive.com/ducks


Willie Lyles returns to scouting after Oregon Ducks investigation http://t.co/9ZcM5dQdz7 #goducks
about 7 hours ago

DuckSportsNow

Duck Sports Now


College Football Minute http://t.co/VAwAXFsADX
about 7 hours ago

DuckSportsNow

Duck Sports Now


NO. 2 OREGON SURVIVES SCARE IN THE PALOUSE – LIMP OUT OF PULLMAN WITH A 38-31 WIN – Marcus Mariota Sacked 7 Times... http://t.co/5mljpqlUd1
about 7 hours ago

DuckSportsNow

Duck Sports Now


Mariota, Oregon Hold Off Washington State http://t.co/FvvulgRMRv
about 7 hours ago

DuckSportsNow

Duck Sports Now


Photos: Oregon Ducks outlast Washington State Cougars 38-31 http://t.co/lbMEdOHbTa
about 7 hours ago

DuckSportsNow

Duck Sports Now


Helfrich Knows Oregon Needs To Improve http://t.co/Oxfjpy06e3
about 7 hours ago

DuckSportsNow

Duck Sports Now


4Q ORE R. Freeman run for 6 yds for a 1ST down http://t.co/AqK2zJ8qXF
about 7 hours ago

DuckSportsNow

Duck Sports Now


4Q ORE C. Halliday sacked by T. Washington for -6 yds http://t.co/nzXNS4zVqw
about 7 hours ago

DuckSportsNow

Duck Sports Now


Helfrich says Ducks need to "get better"… do they ever http://t.co/eF8b31wfHA
about 7 hours ago

DuckSportsNow

Duck Sports Now


Replay: Ducks over WSU – Live Chat http://t.co/DMTWIgLuSD
about 7 hours ago

Pac12Networks

Pac-12 Networks


We're too excited to sleep! What was your stand-out moment from #Pac12fb Saturday?
about 7 hours ago

McNamaraUO

Andy McNamara


#SuperMariota "@UOPintens: Marcus Mariota is the NCAA's career leader in INT% at 1.22%. #GoDucks http://t.co/GfvdueUiKc"
about 7 hours ago

DuckSportsNow

Duck Sports Now


Highlights: Oregon survives scare from Washington State http://t.co/ATZ3WJgCMK
about 7 hours ago

DuckSportsNow

Duck Sports Now


Ducks survive wild night in Pullman with 38-31 win over Washington State http://t.co/xP790KjKWM
about 7 hours ago

UOPintens

Craig Pintens


Marcus Mariota is the NCAA's career leader in INT% at 1.22%. #GoDucks http://t.co/ZVUkYzFN6S
about 7 hours ago

OregonOLine

Steve Greatwood


The O Line never quits. There's always room to improve, but I'm proud of our guys. A true team performance tonight.
about 7 hours ago

ESPN_Pac12blog

ESPN_Pac12blog


What we learned in the Pac-12: Week 4 http://t.co/EZz2wlJ2oI
about 7 hours ago

UOPintens

Craig Pintens


Marcus Mariota is the NCAA's career leader in INT% at 1.22%. #GoDucks http://t.co/ZVUkYzFN6S
about 7 hours ago

UOPintens

Craig Pintens


Marcus Mariota's season passer efficiency rating is an insane 217.96. The FBS record is held by Russell Wilson at 191.8. #GoDucks
about 7 hours ago

UOPintens

Craig Pintens


Marcus Mariota's career passing efficiency mark of 171.74 ranks 2nd all-time behind Sam Bradford. #GoDucks http://t.co/AuAsba3Vfa
about 7 hours ago

DuckSportsNow

Duck Sports Now


Mariota leads UO past WSU with 5 TD Passes http://t.co/MdTz3kQmwl
about 7 hours ago

DuckSportsNow

Duck Sports Now


No. 2 Oregon beats Washington St. 38-31 http://t.co/BpH82r3K8J
about 8 hours ago

DuckSportsNow

Duck Sports Now


Connor Halliday and Washington State make the Oregon Ducks cringe while Marcus Mariota waits on the sideline http://t.co/cWAIS3zDSv
about 8 hours ago

DuckSportsNow

Duck Sports Now


Oregon Ducks and Mariota Escape Pullman with a Victory http://t.co/niW1vcmn3t
about 8 hours ago

DuckSportsNow

Duck Sports Now


No. 2 Oregon sidesteps Washington State's upset hopes but exposes big vulnerabilities in 38-31 win http://t.co/mx0nZORgNy
about 8 hours ago

DuckSportsNow

Duck Sports Now


Oregon Ducks win as Steve Greatwood and an offensive line under siege search for resolve http://t.co/oNcHREHP0B
about 8 hours ago

DuckSportsNow

Duck Sports Now


Oregon Ducks defeat Washington State Cougars 38-31: What they're saying on Twitter http://t.co/FNxyQ5Efan
about 8 hours ago

DuckSportsNow

Duck Sports Now


Marcus Mariota and No. 2 Oregon Ducks escape with victory against Washington State http://t.co/KoEaFwaD2B
about 8 hours ago

DuckFootball

Rob Moseley


.@BobLMiddleton Pellum just said, whenever Halliday sensed pressure was coming, he'd dump it off quick. Not sure what more I can pass along.
about 8 hours ago

ESPN_Pac12blog

ESPN_Pac12blog


No. 2 Oregon 38, Washington State 31 http://t.co/QJkI7RqzjN
about 8 hours ago

DuckFootball

Rob Moseley


Followers of this account realize it's not run by an Oregon coach? Holy cow, I'm getting smoked tonight!
about 8 hours ago

DuckFootball

Rob Moseley


Oregon pass rushers said Halliday's quick trigger made it tough to get pressure on him. Still, they say they should have sacked him more.
about 8 hours ago

DuckFootball

Rob Moseley


Take away the sacks and Marcus Mariota had six rushes for 106 yards.
about 8 hours ago

DuckFootball

Rob Moseley


Tony Washington said regardless of how many rushers Ducks brought, needed to get to Halliday more. Last sack basically just force of will.
about 8 hours ago

DuckFootball

Rob Moseley


O line allowed five of seven sacks in first half. Ducks said they made adjustment to WSU's stunts at halftime, also rolled Mariota out more.
about 8 hours ago

DuckFootball

Rob Moseley


Marcus Mariota's final numbers: 21-of-25 for 329 yards and five touchdowns, plus 13 carries for 58 yards, which includes seven sacks.
about 8 hours ago

ESPN_Pac12blog

ESPN_Pac12blog


Video: Oregon coach Mark Helfrich http://t.co/kMAYjoliTW
about 8 hours ago

Pac12Networks

Pac-12 Networks


Sean Mannion and Rahmel Dockery teamed up to win @LQ Play of the Game honors on this 49-yard bomb for @OSUBeaversFB: http://t.co/SQKgihjjbl
about 8 hours ago

Pac12Networks

Pac-12 Networks


Keanon Lowe's go-ahead TD for @WinTheDay is our @LQ Play of the Game http://t.co/KXhPioBwgl
about 8 hours ago

oregonliveducks

oregonlive.com/ducks


Connor Halladay and Washington State make the Oregon Ducks cringe while Marcus Mariota waits on the sideline http://t.co/xTrQYoJvVe #goducks
about 8 hours ago

ESPN_Pac12blog

ESPN_Pac12blog


Arizona beats Cal 49-45 on Hail Mary http://t.co/4FoWMqzvFC
about 8 hours ago

Pac12Networks

Pac-12 Networks


Keanon Lowe's go-ahead TD for @WinTheDay is our @LQ Play of the Game http://t.co/KXhPioBwgl
about 8 hours ago

oregonliveducks

oregonlive.com/ducks


No. 2 Oregon sidesteps Washington State's upset hopes but exposes big vulnerabilities in 38-31 win http://t.co/huPtpBkHVN #goducks
about 8 hours ago

BonaguraESPN

Kyle Bonagura


Here's the replay of Arizona's miracle finish: http://t.co/zwoBRLrgcI
about 8 hours ago

Pac12Networks

Pac-12 Networks


Go to http://t.co/YfMNDWLu5w for the Pac-12 Networks Postgame Show presented by Dr. Pepper and get a recap of THIS! http://t.co/fbqlT5ihpZ
about 8 hours ago

oregonliveducks

oregonlive.com/ducks


Oregon Ducks win as Steve Greatwood and an offensive line under siege search for resolve http://t.co/YaeoLDnhY8 #goducks
about 8 hours ago

Pac12Networks

Pac-12 Networks


Flying under the radar: @WinTheDay just avoided an upset in Pullman. http://t.co/KJrnv3Xqqz
about 8 hours ago

WinTheDay

Oregon Football


Final: No. 2 Oregon 38, Washington State 31. Ducks improve to 4-0, 1-0; WSU 1-3, 0-1 #GoDucks #UOvsWSU
about 9 hours ago

Pac12Networks

Pac-12 Networks


We do NOT believe what we just saw. WHAT. A. FINISH. Arizona beats Cal with the hail mary!!! #12Best #Pac12fb http://t.co/836rzck9aK
about 9 hours ago

DuckFootball

Rob Moseley


Final: No. 2 Ducks 38, WSU 31. Oregon survives without its top three offensive tackles to improve to 4-0 this season. #GoDucks
about 9 hours ago

DuckFootball

Rob Moseley


Ducks end every Friday practice with the victory formation. "Best play in football," Erik Chinander said when they ran it yesterday.
about 9 hours ago

Pac12Networks

Pac-12 Networks


ALL THE FOOTBALL!!!!!!!!! #CALvsAZ
about 9 hours ago

DuckFootball

Rob Moseley


Tony Washingon with the sack on fourth down. Oregon up 38-31, needing to kill the final 3:34 from the clock.
about 9 hours ago

Pac12Networks

Pac-12 Networks


It's final in Corvallis! @OSUBeaversFB holds off San Diego State for the W. http://t.co/jUUqNwSALT
about 9 hours ago

Pac12Networks

Pac-12 Networks


It's a two-point game with under three to go in Tucson! Tune in NOW to http://t.co/YfMNDWLu5w and follow this amazing finish!
about 9 hours ago

DuckSportsNow

Duck Sports Now


3Q ORE M. Mariota pass,to K. Lowe for 27 yds for a 1ST down http://t.co/dv3Nsp8kBE
about 9 hours ago

DuckSportsNow

Duck Sports Now


3Q ORE M. Mariota pass,to K. Lowe for 14 yds for a 1ST down http://t.co/QbNCMsZwm2
about 9 hours ago

DuckSportsNow

Duck Sports Now


2Q ORE M. Mariota sacked by X. Cooper and K. Palacio for -7 yds http://t.co/W1z6e3BW8N
about 9 hours ago

DuckSportsNow

Duck Sports Now


2Q ORE I. Wheeler punt for 33 yds,R. Galvin returns for -1 yds,R. Galvin fumbled, recovered by Oregn http://t.co/qsBU5U0jcF
about 9 hours ago

DuckSportsNow

Duck Sports Now


2Q ORE M. Mariota sacked by X. Cooper and K. Palacio for -8 yds http://t.co/eQMrI7dHVb
about 9 hours ago

DuckSportsNow

Duck Sports Now


2Q ORE M. Mariota sacked by K. Palacio for -4 yds http://t.co/YI2VsKJS6A
about 9 hours ago

DuckSportsNow

Duck Sports Now


2Q ORE OREGON penalty, Offensive Holding (-7 Yards) http://t.co/61Q1nL6fCS
about 9 hours ago

DuckSportsNow

Duck Sports Now


2Q WSU C. Halliday pass,to J. Morrow for 5 yds for a 1ST down http://t.co/xgpO4YhCRw
about 9 hours ago

DuckSportsNow

Duck Sports Now


2Q WSU C. Halliday pass,to R. Galvin for 6 yds for a TD, (Q. Breshears KICK) http://t.co/U73LvhcB3k
about 9 hours ago

DuckSportsNow

Duck Sports Now


2Q WSU C. Halliday pass,to G. Wicks for 5 yds for a 1ST down,OREGON penalty, Face Mask (15 yards) (15 Yards) for... http://t.co/eh16p62AyM
about 9 hours ago

Pac12Networks

Pac-12 Networks


It's a tie ballgame in Pullman after Connor Halliday's TD toss to River Cracraft! http://t.co/ah9RXvnfLW
about 9 hours ago

oregonliveducks

oregonlive.com/ducks


Eastern Oregon downs Montana Tech: Oregon college football rundown http://t.co/wpPpxzBUOY #goducks
about 9 hours ago

Pac12Networks

Pac-12 Networks


Can @CalFootball hold on vs. Arizona? Tune in to @Pac12Networks for what's shaping up to be an amazing finish: http://t.co/YfMNDWLu5w
about 9 hours ago

DuckFootball

Rob Moseley


Matt Wogan redeems himself with a 34-yard field goal to put the Ducks back up a touchdown, 31-24, with 11:04 left in the game. #GoDucks
about 9 hours ago

DuckSportsNow

Duck Sports Now


Photos: Oregon Ducks 21, Washington State Cougars 21 at halftime http://t.co/wnONzRaCox
about 9 hours ago

DuckSportsNow

Duck Sports Now


Rapid Reaction: Oregon heads into halftime tied with Washington State 21-21 http://t.co/BpjSXWtXIW
about 9 hours ago
BLOG ARCHIVE:
CATEGORIES: