RB Wilson among visitors for Oregon win
October, 8, 2012
10/08/12
6:44
AM ET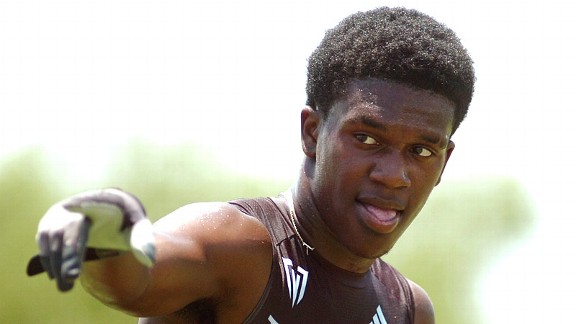 Max Olson/ESPN.comOregon running back commit Dontre Wilson visited the school and saw a victory over Washington.
The Oregon Ducks rolled to another blowout win over the rival Washington Huskies on Saturday night.
The 52-21 victory was a big night for the Ducks on the field, and the program hosted several skill-position players on recruiting visits, highlighted by running back commit Dontre Wilson (DeSoto, Texas/DeSoto).
To continue reading this article you must be an Insider
Insider
Kirk Herbstreit's Gameplan Breakdown
Kirk Herbstreit looks at the five big rivalry games of the week that not only give state bragging rights but also have direct implications on the College Football Playoff.
Kirk Herbstreit's Gameplan Breakdown
VIDEO PLAYLIST
OREGON FB RECRUITING SCORECARD
DuckSportsNow

Duck Sports Now


Is Davon Durant the most important recruit for Oregon's chances in 2015? Maybe. http://t.co/QZa8VoxO9h
34 minutes ago

Pac12Networks

Pac-12 Networks


One victory is all it takes. Here's the #FBWeekly preview of #STANvsUCLA: http://t.co/51zvQiW8za http://t.co/Vp328Mxn78
about 2 hours ago

schreaddin

reeve krawczyk


#ALLIWANTFORCHRISTMAS IS AN @CHECKDAT6 FISHING SHOW ON TV #CATCHDAT
about 3 hours ago

Pac12Networks

Pac-12 Networks


Emotion in Pullman: Steve Gleason will be inducted into WSU's Hall of Fame on Saturday. http://t.co/KnrkWSb0lZ http://t.co/cuCdD372No
about 4 hours ago

Pac12Networks

Pac-12 Networks


What's at stake tomorrow for @UCLAFootball. Oh, just a #pac12fcg spot, that's all. #STANvsUCLA http://t.co/a40Enbuk40 http://t.co/cxAZmGfVyd
about 5 hours ago

DuckSportsNow

Duck Sports Now


PAC-12 Football Weekend Recap Week 13 http://t.co/OxCHV2BHVI
about 5 hours ago

DuckSportsNow

Duck Sports Now


Playoff Update: Ducks remain No. 2 http://t.co/7hWiEnKvEF
about 5 hours ago

MightyOregon

Yell O


Happy Thanksgiving. Thankful for Ducks everywhere. #GetWell85 #DontBelieveTheHype #GoDucks
about 7 hours ago

Pac12Networks

Pac-12 Networks


ICYMI: This is what our #pac12fb coaches and players love to have on their Thanksgiving table. http://t.co/rqOJXyzJhL
about 7 hours ago

DuckFootball

Rob Moseley


Oh, Stove Top. How I've missed you since last we met, one year ago today.
about 7 hours ago

VoiceoftheDucks

Jerry Allen


Happy Thanksgiving to all our great Duck fans everywhere. Go Ducks!
about 8 hours ago

oregonliveducks

oregonlive.com/ducks


Oregon Ducks vs. Oregon State Beavers in Civil War football: 1980-1999 http://t.co/yFbIPTBBsE #goducks
about 8 hours ago

DuckSportsNow

Duck Sports Now


Notes: Thanksgiving Shootout http://t.co/V5F1dU8ShD
about 9 hours ago

DuckSportsNow

Duck Sports Now


Ducks Should Hit Fast and Hard http://t.co/MeXdqfv47R
about 10 hours ago

DuckSportsNow

Duck Sports Now


Arik Armstead Looks Forward to Thanksgiving and Civil War http://t.co/15CCM6Mcju
about 10 hours ago

DuckSportsNow

Duck Sports Now


A Poem on the Civil War 2k14 http://t.co/eQuvR7SMbs
about 10 hours ago

McNamaraUO

Andy McNamara


Eat Your Enemies #GoDucks "@ChrisBabcock2: They are serving the players crab today. http://t.co/mZBL9winQK"
about 10 hours ago

DuckSportsNow

Duck Sports Now


Duck recruiting Update, Tevis Bartlett, Rasheem Green, Rex Manu http://t.co/wVGHHew9tp
about 10 hours ago

DuckSportsNow

Duck Sports Now


Favorite thing about Thanksgiving http://t.co/drn8dEypJP
about 10 hours ago

oregonliveducks

oregonlive.com/ducks


Best Oregon Ducks, Oregon State Beavers Civil War rushing performances since 2000 http://t.co/q98A90wvY8 #goducks
about 11 hours ago

Pac12Networks

Pac-12 Networks


What's your favorite Thanksgiving food?Here's what our coaches and players had to say: http://t.co/rqOJXyzJhL http://t.co/Em8XK5Qgs9
about 11 hours ago

DuckSportsNow

Duck Sports Now


Don Pellum Says Defense Will Be Key Against Oregon State http://t.co/uGdaK8P9Zg
about 11 hours ago

OregonDuckTix

Oregon Duck Tickets


We're thankful for our countless @GoDucks fans that help our teams #WTD!Happy Thanksgiving!#gobblegobble http://t.co/VD4DcMDTtN
about 12 hours ago

oregonliveducks

oregonlive.com/ducks


Marquise Doherty, 4-star athlete, recaps Oregon Ducks official visit http://t.co/O9ZpvTKHSW #goducks
about 12 hours ago

CHECKDAT6

DE'ANTHONY THOMAS


HAPPY THANKSGIVING #RUNDAT
about 12 hours ago

GoDucks

GoDucks


Happy Thanksgiving to all Duck fans! #GoDucks http://t.co/QDvKMsrT7M
about 12 hours ago

Pac12Networks

Pac-12 Networks


From all of us to you, we hope you have an amazing Thanksgiving! Thanks for being such great fans and supporters.
about 13 hours ago

DuckSportsNow

Duck Sports Now


The Thanksgiving QuackPoll is Stuffed with Troll http://t.co/gd5ZkBzGGH
about 13 hours ago

DuckSportsNow

Duck Sports Now


Quack Fix: Happy Thanksgiving http://t.co/rzgFf2SQhO
about 13 hours ago

TheOregonDuck

The Oregon Duck


Not only is it THANKSGIVING, but also #duckawarenessday #eatmoreturkey #ThankfullForYou 🍗🍗🍗🍗
about 13 hours ago

DSArivals

DuckSportsAuthority


Oregon defensive focus will be Mannion: As Oregon enters the 118th edition of their rivalry game with Oregon S... http://t.co/6WxrysOaVz
about 14 hours ago

DuckSportsNow

Duck Sports Now


Oregon defensive focus will be Mannion http://t.co/4aLGqETDI2
about 14 hours ago

DuckSportsNow

Duck Sports Now


Five teams that will be Arizona Wildcats' biggest competition in Pac-12 – College Basketball http://t.co/AlZaPFttuJ
about 14 hours ago

DuckSportsNow

Duck Sports Now


Video exclusive: Matt Lubick http://t.co/Zxnsfw5GXC
about 14 hours ago

DuckSportsNow

Duck Sports Now


A http://t.co/hp8NZWMyW0 Thanksgiving List http://t.co/wfuV1HiFxT
about 14 hours ago

DuckSportsNow

Duck Sports Now


Why Would Football Recruiting Be a Challenge at Oregon? http://t.co/F39cykauWP
about 14 hours ago

DuckSportsNow

Duck Sports Now


How to Keep the Civil War Victories Coming http://t.co/3wbnQ8mDcp
about 14 hours ago

DuckSportsNow

Duck Sports Now


Unbreak my heart: Marcus Mariota's surprise January decision meant the world to the Ducks http://t.co/XcMuFLuD3a
about 14 hours ago

oregonliveducks

oregonlive.com/ducks


Best Oregon Ducks, Oregon State Beavers Civil War receiver performances since 2000 http://t.co/XJA4K4jvxc #goducks
about 14 hours ago

DuckSportsNow

Duck Sports Now


The 2009 Civil War: Jeremiah Masoli's bulldozing run sent Oregon, Oregon State on divergent paths http://t.co/xOUV222VGt
about 15 hours ago

DuckSportsNow

Duck Sports Now


Oregon State Dylan Wynn's 'relentless' pass rushing a challenge for re-tooled Oregon offensive line http://t.co/e7c36ckoFY
about 15 hours ago

oregonliveducks

oregonlive.com/ducks


The 2009 Civil War: Jeremiah Masoli's bulldozing run sent Oregon, Oregon State on divergent paths http://t.co/fWY96PEF5g #goducks
about 15 hours ago

DuckSportsNow

Duck Sports Now


When the Civil War is more than just Oregon versus Oregon State: Mother Nature crashes party http://t.co/25AbrSCngr
about 16 hours ago

ESPN_Pac12blog

ESPN_Pac12blog


Happy Thanksgiving from the Pac-12 blog http://t.co/VbWjO0W1Tw
about 16 hours ago

oregonliveducks

oregonlive.com/ducks


Oregon State Dylan Wynn's 'relentless' pass rushing a challenge for re-tooled Oregon offensive line http://t.co/5g9gOTo1Dg #goducks
about 16 hours ago

oregonliveducks

oregonlive.com/ducks


When the Civil War is more than just Oregon versus Oregon State: Mother Nature crashes party http://t.co/ppopioUB5e #goducks
about 17 hours ago

CHECKDAT6

DE'ANTHONY THOMAS


HATE IT OR LOVE IT HAPPY THANKSGIVING #RUNDAT http://t.co/JdmZ0vXZVp
about 18 hours ago

oregonliveducks

oregonlive.com/ducks


Chase Lucas, class of 2016 4-star athlete, calls Oregon Ducks his 'dream school' http://t.co/JeD0IEdnRB #goducks
about 18 hours ago

UWAthletics

Washington Huskies


@Pac12Networks Our awesome fans! #PointHuskies http://t.co/h4BLKq6xIl
1 day ago

Pac12Networks

Pac-12 Networks


Hope you're ready for a great Thanksgiving? What are you thankful for this year?
1 day ago

YogiRoth

Yogi Roth


#Thankful for @nickekbatani - on many levels. Thx 4allowing @TheDrive_Crew @UCLAFootball 2share ur story. Much love brother. @Pac12Networks
1 day ago

Pac12Networks

Pac-12 Networks


Want to know more about @UCLAFootball alum Nick Ekbatani's inspirational story? 'Overdrive' has you covered. http://t.co/kkT395D1oE
1 day ago

AZATHLETICS

Arizona Athletics


2014 @EASPORTSMauiInv Champions:@APlayersProgram #BearDown http://t.co/viCATGWgn2
1 day ago

Pac12Networks

Pac-12 Networks


So, what did you think? #TheDrive
1 day ago

Pac12Networks

Pac-12 Networks


Jordan Mathews provided a big momentum swing and the #CPvsCAL Play of the Game with this transition trifecta. http://t.co/FEj8bxFbKh
1 day ago

Pac12Networks

Pac-12 Networks


Cal Poly couldn't keep up with @CalMensBBall tonight at Haas: http://t.co/AZGbgwZmFi http://t.co/1T6PHwRH8k
1 day ago

Pac12Networks

Pac-12 Networks


Saddle up, fans. #TheDrive is on RIGHT NOW. Watch it: http://t.co/YfMNDX35dA http://t.co/2waTWV2P3M
1 day ago

Pac12Networks

Pac-12 Networks


30 minutes to an all new #TheDrive. RT if you'll be watching! http://t.co/dlNi0kKv8Y http://t.co/PJu5vVFTlJ
1 day ago

UOPintens

Craig Pintens


About 1K tickets remain for the #CivilWar let's help fill up Reser beyond our allotment. http://t.co/rz23pZcWv5 #GoDucks
1 day ago

DuckSportsNow

Duck Sports Now


2014 Football in 60: Colorado at Oregon http://t.co/G5xjEPA4Ag
1 day ago

DuckSportsNow

Duck Sports Now


Don Pellum Expects OSU Aerial Attack to be a Significant Challenge – "They do a tremendous job of working the… http://t.co/YoxdEK41vW
1 day ago

Pac12Networks

Pac-12 Networks


Can't wait for tonight's new #TheDrive? Get your mind right with this preview: http://t.co/E2vw4gRI06 http://t.co/pH3d2Kwfvp
1 day ago

Pac12Networks

Pac-12 Networks


.@Runnin_Utes? More like the Blockin' Utes! These back-to-back rejections are our #UTPAvsUTAH Play(s) of the Game: http://t.co/47iFnMs8lG
1 day ago

Pac12Networks

Pac-12 Networks


Listen to Hec Ed Pavilion erupt after Melanie Wade delivers the match-winner for @UWVolleyball! http://t.co/Y96lLkiszj
1 day ago

Pac12Networks

Pac-12 Networks


Our #pac12hoops action continues with #CPvsCAL from Berkeley!Watch now: http://t.co/YfMNDX35dA http://t.co/5fOtuH3JTn
1 day ago

Pac12Networks

Pac-12 Networks


The @Runnin_Utes blew past UTPA tonight in SLC: http://t.co/yLSTwqEIWs http://t.co/Sab7NK4z17
1 day ago

Pac12Networks

Pac-12 Networks


Don't forget - there are some reasonably important #pac12fb games tomorrow. Scenarios: http://t.co/b3I7GxKSPT http://t.co/04p1lkurRO
1 day ago

Pac12Networks

Pac-12 Networks


Let loose, @UWVolleyball fans! Huskies beat No. 1 Stanford to keep Pac-12 title hopes alive: http://t.co/Ch7xJ3qiBb http://t.co/aUKQHqEPSF
1 day ago

DuckSportsNow

Duck Sports Now


Mailbag: Pac-12 blog whiffs on Arizona-Utah http://t.co/WljKVRuoW3
1 day ago

DuckSportsNow

Duck Sports Now


Pac-12 by the numbers: Week 14 http://t.co/VbaEaOB0Uc
1 day ago

StanfordWVB

Stanford Volleyball


.@StanfordWVB wins the 3rd set at @UWVolleyball 25-23. Huskies lead the match 2-1 #gostanford #vbscores
1 day ago

Pac12Networks

Pac-12 Networks


We hear ya, #DawgPack! @UWVolleyball is playing in front of a record crowd tonight in Seattle! http://t.co/r3bJ6VefRC
1 day ago

DuckSportsNow

Duck Sports Now


Why You Should Hate: Oregon State Edition http://t.co/Jg2xrP4k9t
1 day ago

Pac12Networks

Pac-12 Networks


Sean Mannion is about to play his last OSU home game, but his impact will be felt for a while. Links: http://t.co/79Wme7TcMb
1 day ago

Pac12Networks

Pac-12 Networks


Hec Ed Pavilion is rocking as @UWVolleyball goes for the sweep of Stanford. Watch #STANvsUW: http://t.co/YfMNDX35dA
1 day ago

JB_Long

JB Long


Kuzma, Poeltl, Wright, Taylor combine for 14-16 FG and 37 points... in @Runnin_Utes first half on @Pac12Networks. #pac12hoops
1 day ago

Runnin_Utes

Utah Basketball


Halftime on @Pac12Networks and Utah leads 50-26 #UTPAvsUTAH #GamedayU http://t.co/OStbxHZyU2
1 day ago

GoDucksTV

GoDucks TV


Now on @GoDucksTV: Mac & Mose 11-26 http://t.co/eCyHJm3nom #GoDucks
1 day ago

GoDucksTV

GoDucks TV


Now on @GoDucksTV: Arik Armstead post Wednesday Practice http://t.co/LEtkOUV7cw #GoDucks
1 day ago

Pac12Networks

Pac-12 Networks


Tonight on #TheDrive: The story of Nick Ekbatani's incredible recovery. Preview: http://t.co/E2vw4gRI06 http://t.co/cpev5vjUPM
1 day ago

oregonliveducks

oregonlive.com/ducks


Oregon Ducks, Oregon State Beavers coverage teams discuss Marcus Mariota, potential X Factors in Civi... http://t.co/DE1QvDkHBV #goducks
1 day ago

UWAthletics

Washington Huskies


.@UWVolleyball takes the first set from Stanford, 25-18, in front of a full house. #UWHuskies #PointHuskies http://t.co/6S1uH0G7l2
1 day ago

Pac12Networks

Pac-12 Networks


Who's on Heisman Watch this week?#HeismanHouse, presented by @Nissan - premier partner of the Heisman Trophy. http://t.co/k2tlwbDXnD
1 day ago

Univ_Of_Oregon

University of Oregon


Wishing Ducks everywhere safe travels this Thanksgiving weekend and a bountiful table. Also: A win over @oregonstateuniv. #GoDucks
1 day ago

SunDevilVB

Sun Devil Volleyball


DEVILS #BEATTHEBRUINS! It was an amazing match up! Up next, the school down south at 6pm at Wells Fargo Arena #WonThePoint
1 day ago

Pac12Networks

Pac-12 Networks


May the #volleybraid be with you. Watch #STANvsUW live: http://t.co/YfMNDX35dA http://t.co/KFQUfiJodp
1 day ago

UWAthletics

Washington Huskies


Tune in to @Pac12Networks now as No. 5 @UWVolleyball squares off vs. No. 1 Stanford. #UWHuskies http://t.co/1WHOOvYhwt
1 day ago

Pac12Networks

Pac-12 Networks


The Utes are all set to host @UTPABroncs in SLC. #UTPAvsUTAH http://t.co/YfMNDX35dA http://t.co/eNbVIFbMD3
1 day ago

ESPN_Pac12blog

ESPN_Pac12blog


Mailbag: Pac-12 blog whiffs on Arizona-Utah http://t.co/YVTXUuqX4j
1 day ago

Nihimm

Nehemiah Manheimer


On of the biggest matches of the season, IS HERE!!!! #HYPE @StanfordWVB @UWVolleyball #PAC12 @Pac12Networks
1 day ago

Matthew_Bruhn

Matthew Bruhn


That @Pac12Networks intro has me pumped for some top 5 volleyball! #GoDawgs #PointHuskies
1 day ago

nickekbatani

Nick Ekbatani


Tune into #TheDrive on @Pac12Networks tonight! A nice recap of the big win & shots of me running around in shorts that are way too short!
1 day ago

NCAAVolleyball

NCAA Volleyball


Match of the year? Watch on @Pac12Networks as No. 1 @StanfordWVB plays No. 5 @UWVolleyball: http://t.co/Ug0ayuC0P4 http://t.co/Ka2BJr2jNg
1 day ago

BankoftheWest

Bank of the West


Battle of the Tweets! Tag your team in the #GoCU vs. #GoUtes rivalry on @Pac12Networks page: http://t.co/irVBSwhh9L
1 day ago

DuckSportsNow

Duck Sports Now


Duck the Odds, Week 14: What's So Civil About War Anyway http://t.co/TWpLLwHxCO
1 day ago

DuckSportsNow

Duck Sports Now


Lubick blessed with surprisingly deep group http://t.co/Fk9ezTgePR
1 day ago

oregonliveducks

oregonlive.com/ducks


Tyler Anderson returns to high school position for Oregon State Beavers http://t.co/BSX4KvALHR #goducks
1 day ago

ESPN_Pac12blog

ESPN_Pac12blog


Pac-12 by the numbers: Week 14 http://t.co/cuZN2ecPjb
1 day ago

Runnin_Utes

Utah Basketball


30 MINUTES until the @Runnin_Utes play UTPA on @Pac12Networks - @JB_Long and @L_Hurd will have all three games this weekend. TUNE IN!
1 day ago

Pac12Networks

Pac-12 Networks


@UWVolleyball Are you suggesting that we obtain our official Pac-12 Networks helmets
1 day ago
PAC-12 SCOREBOARD
Friday, 11/28
Saturday, 11/29
BLOG ARCHIVE:
CATEGORIES: