Video: Oregon coach Mark Helfrich
May, 13, 2014
May 13
9:00
AM ET
By
ESPN.com staff
| ESPN.com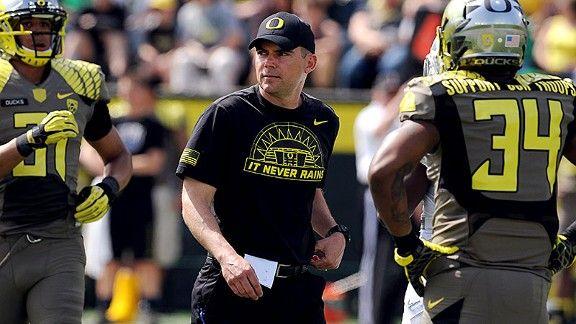 Oregon coach Mark Helfrich talks about his team after spring practices, up-and-coming players and QB Marcus Mariota.
One Thing To Know: Pac-12 Recruiting
Recruiting reporter Erik McKinney discusses the top storyline to watch in 2015 college football recruiting within the Pac-12. Somewhat quietly, Washington State is putting together a potent class.
One Thing To Know: Pac-12 Recruiting
VIDEO PLAYLIST
OREGON FB RECRUITING SCORECARD
WinCraft Oregon Ducks Wings Car Flag Shop »
Pac12Networks

Pac-12 Networks


#NW: A Rumble in the Rockies goes overtime, where @CUBuffsMBB prevails. #RivalryWeek http://t.co/x006mkVYpB http://t.co/KsRduP2KDF
about 3 hours ago

Pac12Networks

Pac-12 Networks


Take a walk down Pac-12 memory lane with #VarsityDays starting this Sunday! http://t.co/q4TLRfJkJ2 http://t.co/4w4Hp1zo6J
about 4 hours ago

Pac12Networks

Pac-12 Networks


ICYMI: Here are the six #pac12fb teams in the 2014 preseason Coaches Poll. http://t.co/3TWAQmy36j http://t.co/fvrq63Tz23
about 5 hours ago

Pac12Networks

Pac-12 Networks


#NW: @SunDevilHoops gets Valentine's Day revenge on Arizona in a 2OT win. #RivalryWeek http://t.co/x006mkVYpB http://t.co/nmUAEhaEJn
about 5 hours ago

Pac12Networks

Pac-12 Networks


.@UWVolleyball's incredible season is one of many highlights in the UW edition of Timelines: http://t.co/gMuDLQWStP http://t.co/6kdqXquYWd
about 6 hours ago

DuckSportsNow

Duck Sports Now


Know the Opponent: MWC Part II http://t.co/shtmfHIRxk
about 6 hours ago

Pac12Networks

Pac-12 Networks


.@CalWLacrosse has a new head coach, and she comes to Berkeley from (gasp!) Stanford. http://t.co/o9PP7dUAAJ http://t.co/zbde7HQBWu
about 6 hours ago

DuckSportsNow

Duck Sports Now


Former Oregon Duck Tommy Thorpe can't quite leave Oregon as his professional career begins http://t.co/GpvLedW7i8
about 6 hours ago

Pac12Networks

Pac-12 Networks


#NW: A Sonoran Desert-sized romp by @APlayersProgram over ASU. #RivalryWeek http://t.co/x006mkVYpB http://t.co/tNAi6zxz4b
about 7 hours ago

KBDeuce4

Kenjon Barner


Through prayer and faith God will direct your path and place others around you that will help guide… http://t.co/5flNQQzrcF
about 7 hours ago

Prehmmr247

Matt Prehm


Yell-O? How about Jell-O! http://t.co/0bEhNnEHqF
about 7 hours ago

oregonliveducks

oregonlive.com/ducks


Former Oregon Duck Tommy Thorpe can't quite leave Oregon as his professional career begins http://t.co/E0WcnipsOc #goducks
about 7 hours ago

DuckSportsNow

Duck Sports Now


Oregon Ducks scratch-and-sniff football tickets: Best of Twitter reaction http://t.co/pOIHQLRynw
about 8 hours ago

Pac12Networks

Pac-12 Networks


.@UWSoftball pulled off one heck of a 2014 season. Relive it on their edition of Timelines: http://t.co/gMuDLQWStP http://t.co/LFcGEAnOfi
about 8 hours ago

UOPintens

Craig Pintens


According to @darrenrovell we either have expanded Autzen to 140K or only have 20k STHs. Neither is correct. #GoDucks
about 8 hours ago

WSUCougars

WSU Cougars


We're proud to announce Steve Gleason (@TeamGleason) as the lone 2014 WSU Athletic Hall of Fame inductee! #GoCougs http://t.co/9lRJbf5hrz
about 8 hours ago

oregonliveducks

oregonlive.com/ducks


Oregon Ducks scratch-and-sniff helmets, Will Barton gets contract gaurantee: Oregonian Sports Top 5 at 5 http://t.co/gvBYPNGnBe #goducks
about 8 hours ago

DuckSportsNow

Duck Sports Now


Oregon Ducks preseason No. 4 ranking sets table for potential playoff run http://t.co/usXeZhaOFJ
about 8 hours ago

DuckSportsNow

Duck Sports Now


Benson's Path of Progression Goes Through China http://t.co/0Pi5j0b8mv
about 9 hours ago

DuckSportsNow

Duck Sports Now


Federighi Earns NCAA Postgraduate Scholarship http://t.co/arSePp0yp4
about 9 hours ago

DuckSportsNow

Duck Sports Now


Ducks Ranked No. 4 in First Coaches Poll http://t.co/Z2jY84KLJp
about 9 hours ago

McNamaraUO

Andy McNamara


Heisman: Mariota; Rimington: Grasu #GoDucks RT @CFBONFOX: Predicting major awards for 2014. http://t.co/xCuUK3vdmR http://t.co/GmLfoOUKLd
about 9 hours ago

Pac12Networks

Pac-12 Networks


#NW: Dwight Powell's double-double carries @stanfordbball to victory over Cal. #RivalryWeek http://t.co/x006mkVYpB http://t.co/PyWKyNOeHR
about 9 hours ago

oregonliveducks

oregonlive.com/ducks


Pundits pick apart value of preseason polls: Pac-12 roundup http://t.co/rOwARMFyVB #goducks
about 9 hours ago

KMBCMattyD

Matty D


Guess who this ball is being thrown to? #ChiefsCamp PICS -> http://t.co/V6gpmyD5c5 @CheckDat6 #RunDat @kmbc http://t.co/RzVDcvDp2o
about 9 hours ago

65TPTPhotog

Steve Sanders


Learning the game @jcharles25 and @CHECKDAT6 checking in http://t.co/1WlE6LQnQ9
about 9 hours ago

24Randazzo_j

joe randazzo, bruh


Explosivness in a picture. http://t.co/2OMqo7jg7e
about 9 hours ago

ESPN_Pac12blog

ESPN_Pac12blog


Nonconference primer: Washington State http://t.co/Cbf28EPqfe
about 10 hours ago

KMBCMattyD

Matty D


VIDEO: @CHECKDAT6 fans to @kmbc: #RunDat #ChiefsCamp http://t.co/kAIvmbEqBW http://t.co/n92jyZ8wQ2
about 10 hours ago

DuckFootball

Rob Moseley


Oh wow. As a former copy editor myself, that is A-plus stuff. RT @DufresneLATimes This headline deserved a byline. http://t.co/EazeytW2Y8
about 10 hours ago

Pac12Networks

Pac-12 Networks


.@CalWLacrosse is welcoming Brooke Eubanks as its new head coach. http://t.co/o9PP7dUAAJ http://t.co/RutXUxgoPZ
about 10 hours ago

Pac12Networks

Pac-12 Networks


#NW: @CalMensBBall opens Pac-12 play in 2014 with a win over Stanford. #RivalryWeek http://t.co/x006mkVYpB http://t.co/qWVNLOGFYT
about 11 hours ago

KBDeuce4

Kenjon Barner


Through praye http://t.co/oM33mIYIn1
about 11 hours ago

KBDeuce4

Kenjon Barner


Through prayer and faith God will lead you to whet http://t.co/W8gB39VV68
about 11 hours ago

UOPintens

Craig Pintens


Facility pics. Flashback 1 yr ago today, the Hatfield-Dowlin opening http://t.co/ofgtKh93zU #tbt #GoDucks
about 11 hours ago

oregonliveducks

oregonlive.com/ducks


Oregon Ducks, Oregon State Beavers athletes bond with cancer survivors on special fishing trip http://t.co/nc2ANSlCI9 #goducks
about 11 hours ago

McNamaraUO

Andy McNamara


Whoa. I'll never unsee this #GoDucks RT @r_fullmer: Look! There's a flying Duck in the OSU Beaver Logo http://t.co/OGLfHl6BbF
about 11 hours ago

QuackCave

QuackCave


.@Univ_Of_Oregon students - Work in the coolest cave and join our social media team! Deadline is tomorrow. #GoDucks http://t.co/CT0QkGTz9P
about 11 hours ago

Pac12Networks

Pac-12 Networks


What smells like bread? Oh, it's those @OregonDuckTix season tickets. Roundup: http://t.co/8nQOEqEglV http://t.co/TchhEZeJov
about 11 hours ago

DuckSportsNow

Duck Sports Now


Pac-12 lunch links http://t.co/Eqn9t1AX6Y
about 12 hours ago

ADCalBears

Mike Williams


Welcome to the #CalFamily, @CalCoachEubanks! We are thrilled to have you leading our women's lacrosse program. http://t.co/TiDy2aMNg6
about 12 hours ago

DuckSportsNow

Duck Sports Now


Inside the position rankings: 2016 http://t.co/0Lf0n1w3pc
about 13 hours ago

USC_Athletics

USC Trojans


#TBT USC icons nearly a century apart, Louis Zamperini and Matt Barkley. #FightOn #Unbroken http://t.co/kzIpPjUIwG
about 13 hours ago

DuckFootball

Rob Moseley


ESPN is ranking the top 100 players in college football, and Oregon center Hroniss Grasu comes in at No. 24: http://t.co/35MuAchfO8 #GoDucks
about 13 hours ago

DuckSportsNow

Duck Sports Now


Half the Pac-12 ranked in coaches poll http://t.co/aFRXPXUBZL
about 13 hours ago

DuckSportsNow

Duck Sports Now


Florida State Seminoles are No. 1 in preseason coaches poll http://t.co/tT4Idi2m8m
about 13 hours ago

DuckSportsNow

Duck Sports Now


Oregon secondary is a primary asset: the DBoyz are on their grind http://t.co/Zhj3jFAxsr
about 13 hours ago

McNamaraUO

Andy McNamara


Coaches Poll pegs @WinTheDay at No. 4. Used to be a factor in the BCS formula, but obviously no more #GoDucks http://t.co/0kcPdHjiqN
about 13 hours ago

DuckSportsNow

Duck Sports Now


Oregon Ducks target Deondre Francois verbally commits to Florida State http://t.co/CIbYHDrz7c
about 14 hours ago

DuckSportsNow

Duck Sports Now


Oregon football ranked fourth in USA Today's coaches poll http://t.co/bTxLdU1Fn5
about 14 hours ago

Pac12Networks

Pac-12 Networks


ICYMI: Pauley Pavilion will be ready for hoops this year, AD Dan Guerrero says. http://t.co/HCXTcD0OLW http://t.co/wDA30ILyv2
about 14 hours ago

Pac12Networks

Pac-12 Networks


Step into the Pac-12 film vault this Sunday as the 2nd season of #VarsityDays debuts at 7 PT: http://t.co/sVVFU2yUn4 http://t.co/XqideFpn3e
about 14 hours ago

oregonliveducks

oregonlive.com/ducks


Oregon Ducks target Deondre Francois verbally commits to Florida State http://t.co/qiSDm7DndG #goducks
about 14 hours ago

oregonliveducks

oregonlive.com/ducks


LaMichael James estimates quick return to 49ers after elbow injury http://t.co/29TpUTWASg #goducks
about 14 hours ago

Pac12Networks

Pac-12 Networks


Who's next up on today's #pac12hoops #RivalryWeek schedule?http://t.co/4zRulq3hur http://t.co/c3QHH29I5E
about 14 hours ago

McNamaraUO

Andy McNamara


Well done @TorrodneyPrevot, Elijah George & Noke Tago #CivilWar #GoDucks #GoBeavs http://t.co/SaV4HmhJQC
about 14 hours ago

DuckSportsNow

Duck Sports Now


Ducks ranked No. 4 in preseason coaches poll http://t.co/Eykvpji3un
about 14 hours ago

DuckSportsNow

Duck Sports Now


Behold… the era of scratch and sniff tickets at UO begins http://t.co/7K5oCpJXYg
about 14 hours ago

JakeZivin

Jake Zivin


Michigan State, #4 Oregon's Sept. 6 opponent, is #8 in coaches poll. Their combined ranking of 12 is the lowest of any non-conference game.
about 14 hours ago

DuckFootball

Rob Moseley


UO football players @TorrodneyPrevot & Elijah George, w/ some OSU counterparts, take a special fishing trip: http://t.co/55n2rnvaXI #GoDucks
about 14 hours ago

nfldraftscout

Matt Miller


Marcus Mariota is my preseason No. 1 player for 2015 draft. Full scouting report on him coming Tuesday (8/5).
about 15 hours ago

ESPN_Pac12blog

ESPN_Pac12blog


Half the Pac-12 ranked in coaches poll http://t.co/InC2GcMYsw
about 15 hours ago

DuckSportsNow

Duck Sports Now


Oregon now using scratch-and-sniff tickets http://t.co/I0htpqh5Kg
about 15 hours ago

DuckSportsNow

Duck Sports Now


Amway Coaches Poll Sets Pace, Oregon Ducks Slated to Start Season at #4 http://t.co/jm3sjUwMyB
about 15 hours ago

DuckSportsNow

Duck Sports Now


Poll: Which teams will meet in December? http://t.co/rALPXQhZ5J
about 15 hours ago

Pac12Networks

Pac-12 Networks


#NW: @OregonMBB fends off a fierce OSU rally to beat the Beavers in Eugene. #RivalryWeek http://t.co/x006mkVYpB http://t.co/PuKMoq9ySB
about 15 hours ago

DuckSportsNow

Duck Sports Now


Oregon Ducks fall camp position breakdown: Offensive line; Oregon rundown http://t.co/B19JfToBlq
about 15 hours ago

DuckSportsNow

Duck Sports Now


Oregon Ducks highest of six Pac-12 teams ranked in first coaches poll http://t.co/pecM95l3Ep
about 15 hours ago

Pac12Networks

Pac-12 Networks


The first Coaches Poll of the season is out, and look who boasts six teams in the top 25? http://t.co/3TWAQmy36j http://t.co/miOUXTs0lQ
about 15 hours ago

QuackCave

QuackCave


@KingCheserek needs your vote! RT @thebowerman: #TheBowerman2014 Fan Vote on Day 3 VOTE: http://t.co/wz4K0z7lOT http://t.co/Bed3MRDrtn
about 15 hours ago

DuckSportsNow

Duck Sports Now


ATQ's "20 in 20": #8 – Dennis Dixon http://t.co/j3yRQSvQMJ
about 15 hours ago

DuckSportsNow

Duck Sports Now


Quack Fix: Josh Sweat Visiting, Scratch and Sniff Tickets http://t.co/mlCGlTQ8Gx
about 15 hours ago

DuckSportsNow

Duck Sports Now


Fall Preview: Defensive back http://t.co/Mg8Y3mxaGF
about 15 hours ago

edsbs

Spencer Hall


Oregon's new defensive coordinator is Don Pellum. This is him showing you how to wear a suit. http://t.co/UrqUoIm934
about 16 hours ago

ESPN_Pac12blog

ESPN_Pac12blog


Oregon now using scratch-and-sniff tickets http://t.co/tjdLnNdJVJ
about 16 hours ago

TedMillerRK

Ted Miller


As for ranked nonconference foes: No. 8 Michigan State (Oregon); No. 17 ND (AS, ST, USC) & No. 24 Texas (UCLA)
about 16 hours ago

DuckFootball

Rob Moseley


This is the fourth straight year @WinTheDay voted preseason top-5 in the coaches poll. 2011: 3rd. 2012: 5th. 2013: 3rd. 2014: 4th. #GoDucks
about 16 hours ago

USATODAYsports

USA TODAY Sports


The @AmwayUS #CoachesPoll Top 5: 1. Florida State 2. Alabama 3.Oklahoma 4.Oregon 5. Auburn http://t.co/i9xDLQgojs http://t.co/Y7aVUe2vdS
about 16 hours ago

oregonliveducks

oregonlive.com/ducks


Oregon Ducks fall camp position breakdown: Offensive line; Oregon rundown http://t.co/N0DmDIwE25 #goducks
about 16 hours ago

oregonliveducks

oregonlive.com/ducks


Oregon Ducks highest of six Pac-12 teams ranked in first coaches poll http://t.co/HB5GudljhI #goducks
about 16 hours ago

Pac12Networks

Pac-12 Networks


#NW: Norman Powell's quick strikes carry @UCLAMBB to a win over USC. #RivalryWeek http://t.co/x006mkVYpB http://t.co/Zg0wlS7E81
about 16 hours ago

ESPN_Pac12blog

ESPN_Pac12blog


Poll: Which teams will meet in December? http://t.co/kCdHOskPjb
about 16 hours ago

ESPNOregon

ESPN Oregon


Poll: Which teams will meet in December? http://t.co/PEP9U6Kywo
about 16 hours ago

DuckSportsNow

Duck Sports Now


Preseason camp preview: Defensive backs http://t.co/iDqW8dnIYv
about 16 hours ago

McNamaraUO

Andy McNamara


#GoDucks "@EyeOnCFB: Oregon's 2014 season tickets are scratch-and-sniff. http://t.co/cONiupVTL6 http://t.co/I1b4qZSjxg"
about 17 hours ago

DuckSportsNow

Duck Sports Now


Preseason 'Amway Coaches Poll' Released at 9am PT Thursday http://t.co/Z8iCpGYH6Z
about 17 hours ago

ESPN_Pac12blog

ESPN_Pac12blog


Pac-12 Ultimate Road Trip: Week 12 http://t.co/lUagSQ7xRJ
about 17 hours ago

DuckFootball

Rob Moseley


Preseason camp preview: Defensive backs http://t.co/vhcjb5SzBv #GoDucks
about 17 hours ago

oregonliveducks

oregonlive.com/ducks


Oregon Ducks debut scratch-and-sniff football tickets, will wear yellow against Michigan State http://t.co/xytRbP7drb #goducks
about 18 hours ago

DuckSportsNow

Duck Sports Now


Steve Prefontaine, Kevin Love, others in Oregon's Greatest Athlete Round of 32 Day 4 (vote) http://t.co/jiEInUlMgU
about 19 hours ago

DuckSportsNow

Duck Sports Now


Oregon Ducks target Josh Sweat climbs ESPN rankings; Damian Lillard draws more praise: The Oregonian sports top 5 http://t.co/bJAmJRYJys
about 19 hours ago

oregonliveducks

oregonlive.com/ducks


Steve Prefontaine, Kevin Love, others in Oregon's Greatest Athlete Round of 32 Day 4 (vote) http://t.co/4kVic67dwd #goducks
about 19 hours ago

ESPN_Pac12blog

ESPN_Pac12blog


Best cross-conference recruiting battles http://t.co/215KiyMj5I
about 20 hours ago

DuckSportsNow

Duck Sports Now


Jake Pisarcik: The "High School Football 'Rocky'" http://t.co/NWdtR05VUo
about 21 hours ago

DuckSportsNow

Duck Sports Now


Oregon's High-Speed Offense Shows No Sign of Slowing Down http://t.co/DSFWsHkYE0
about 21 hours ago

DuckSportsNow

Duck Sports Now


Top Pac-12 players: Nos. 10-6 http://t.co/kqGAdmuILB
about 21 hours ago

ESPN_Pac12blog

ESPN_Pac12blog


Top Pac-12 players: Nos. 10-6 http://t.co/xRsHn5AKif
about 22 hours ago

DuckSportsNow

Duck Sports Now


UO doesn't anticipate Kasongo to be a Duck next season http://t.co/kGQQT5jkei
about 23 hours ago

DuckSportsNow

Duck Sports Now


Prospect profile: Drayton Carlberg http://t.co/yaxZtfDQfl
1 day ago

KCChiefs

Kansas City Chiefs


7/30 #ChiefsCamp Play of the Day: @CHECKDAT6 showcases his speed & elusiveness.MUST SEE: http://t.co/seXne1w6X8 http://t.co/QqKGBvY3Sr
1 day ago
PAC-12 SCOREBOARD
Thursday, 8/28
Friday, 8/29
Saturday, 8/30
BLOG ARCHIVE:
CATEGORIES: