Commit Evan Voeller to play in UA game
August, 3, 2012
8/03/12
12:29
PM ET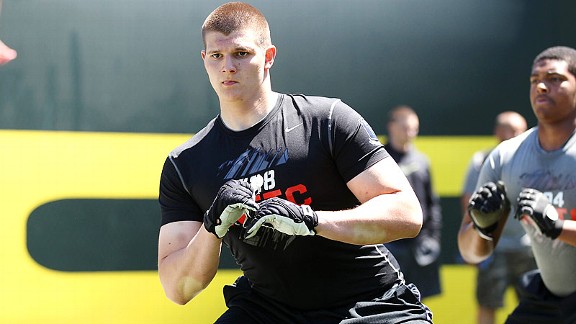 Tom Hauck/ESPNHSOT commit Evan Voller will become just the second Oregon prospect to play in the UA game.
The state of Oregon is not known for its football talent, but each year the talent level seems to increase. Oregon State freshman
Isaac Seumalo
earned an invite to the Under Armour All-American Game last year, becoming the first Oregon prospect to play in the prestigious event.
The number of players from the state of Oregon to play in the game will double come January when Oregon commit
Evan Voeller
(West Linn, Ore./West Linn) will participate.
Voeller was invited and recently accepted his invitation to the event, which features many of the
top players in the country
, including another
Oregon commit
, Texas RB
Dontre Wilson
.
To continue reading this article you must be an Insider
Insider
SEC Reigns Over AP Rankings
ESPN College Football Insider Brett McMurphy discusses the latest Associated Press college football poll, where the SEC has an unprecedented seven teams in the top 15.
SEC Reigns Over AP Rankings
VIDEO PLAYLIST
OREGON FB RECRUITING SCORECARD
DuckSportsNow

Duck Sports Now


Marcus Mariota has a Heisman Trophy highlight moment and continues to lead the pack among hopefuls http://t.co/9KnR0zAROA
12 minutes ago

DuckSportsNow

Duck Sports Now


Pac-12 and Beyond: Ducks Roll; USC Disappoints; Final Four in Flux? http://t.co/aPjv3g8kRo
12 minutes ago

DuckSportsNow

Duck Sports Now


Oregon Ducks live chat: Oregon's most unexpected nonconference development? http://t.co/3FcSz2ZhT8
13 minutes ago

DuckSportsNow

Duck Sports Now


Byron Marshall loves Oregon's new Slot-Sweep Read http://t.co/Yv9YfvRwYX
13 minutes ago

DuckSportsNow

Duck Sports Now


Three officials plus surprise DT visit Oregon http://t.co/YLA9qCBhr8
13 minutes ago

ESPN_Pac12blog

ESPN_Pac12blog


Pac-12 QB Power Rankings: Week 3 http://t.co/AKCbkpKb0f
28 minutes ago

oregonliveducks

oregonlive.com/ducks


Marcus Mariota has a Heisman Trophy highlight moment and continues to lead the pack among hopefuls http://t.co/w9aJYnmaDZ #goducks
29 minutes ago

oregonliveducks

oregonlive.com/ducks


How I voted in the Advance Publications "First Four" college football poll and why http://t.co/b9YKL9A4UB #goducks
31 minutes ago

DSArivals

DuckSportsAuthority


From the road: Mid-Atlantic: Five-star defensive end Josh Sweat earned an 'A' from Adam Friedman for a dominat... http://t.co/k4K1txM0l6
54 minutes ago

DuckSportsNow

Duck Sports Now


Quack Fix: Monday practice highlights and another volleyball victory http://t.co/sTmwhd0gOx
about an hour ago

ESPN_Pac12blog

ESPN_Pac12blog


A pair of high-profile QB injury scares begs the question: what's the backup plan? http://t.co/FJCDVG65j4 http://t.co/aCDkjtNrSC
about an hour ago

ESPN_Pac12blog

ESPN_Pac12blog


ICYMI: @TedMillerRK put Week 3 results in the perspective of the Pac-12 South race. http://t.co/lFd9D8oxBY http://t.co/XKSbEtxneV
about an hour ago

DuckSportsNow

Duck Sports Now


Pac-12 morning links http://t.co/5t81flq7bB
about an hour ago

oregonliveducks

oregonlive.com/ducks


Oregon Ducks live chat: Oregon's most unexpected nonconference development? http://t.co/rmJz7BVFaC #goducks
about an hour ago

ESPN_Pac12blog

ESPN_Pac12blog


Whittingham, Hoke reunite in Ann Arbor http://t.co/3HcOFCBIJf
about an hour ago

ESPN_Pac12blog

ESPN_Pac12blog


Weekend recruiting wrap: Pac-12 http://t.co/FD7tpMAHnR
about an hour ago

ESPN_Pac12blog

ESPN_Pac12blog


Planning for success: Oregon State http://t.co/bRhh9qHl5c
about 2 hours ago

oregonliveducks

oregonlive.com/ducks


Duck signee's Twitter savvy, the Pac-12 challenge, Mariota not minding his mother: The Oregonian spor... http://t.co/Jp4lMXpzO2 #goducks
about 3 hours ago

ESPN_Pac12blog

ESPN_Pac12blog


Pac-12 morning links http://t.co/8iLTbpBsNx
about 3 hours ago

DuckSportsNow

Duck Sports Now


Ducks release 2014-15 men's basketball schedule http://t.co/J2p6RcSDs3
about 6 hours ago

DuckSportsNow

Duck Sports Now


Bettendorf Leads During Portland Homecoming http://t.co/f8hhIIXPNx
about 9 hours ago

DuckSportsNow

Duck Sports Now


5-Star SG Antonio Blankeny to visit Oregon http://t.co/1Sg2R1it3p
about 10 hours ago

georgewrighster

George Wrighster


Ducks Fans Check out newest episode of #WrighstersReview from the Wyoming Game! @GoDucks https://t.co/DaIMoXmb4J
about 10 hours ago

DuckSportsNow

Duck Sports Now


Ducks release 2014-15 Men's Basketball schedule http://t.co/SLrA7R2gxP
about 10 hours ago

McNamaraUO

Andy McNamara


#GoDucks "@nfl: .@NFL_CFB Power Rankings:1. @FSU_Football2. @WinTheDay3. @OU_Footballhttp://t.co/6PYlDJKNh6 http://t.co/pammhQjcza"
about 11 hours ago

Pac12Networks

Pac-12 Networks


Need some guidance through the 2014-15 #pac12hoops schedule? Here are 12 must-watch games from @kevo408: http://t.co/eApbweGqXP
about 11 hours ago

Pac12Networks

Pac-12 Networks


ICYMI: Here's the full and complete 2014-15 #pac12hoops schedule: http://t.co/X6XFY47LCb
about 11 hours ago

DuckSportsNow

Duck Sports Now


Oregon Releases 2014-15 Men's Basketball Schedule http://t.co/iF4I84gDnf
about 11 hours ago

ESPN_Pac12blog

ESPN_Pac12blog


ICYMI: Week 3 Pac-12 bowl projections. http://t.co/Wp4rd8VLcs http://t.co/7dDeZS8WmH
about 12 hours ago

KBDeuce4

Kenjon Barner


Need a good place to eat in Portland help
about 12 hours ago

DuckSportsNow

Duck Sports Now


Ducks men's basketball schedule finalized by Pac-12 http://t.co/GuTLANEykD
about 12 hours ago

Pac12Networks

Pac-12 Networks


How did @harrythehusky size up in this week's #SportsReport Mascot Challenge? http://t.co/rEI1xgyaP7 http://t.co/yGP0FrfqSu
about 12 hours ago

ESPN_Pac12blog

ESPN_Pac12blog


ICYMI: Do Week 3 results portend a wider vulnerability in the Pac-12 South? http://t.co/lFd9D8oxBY http://t.co/yhUjDndCcl
about 12 hours ago

Pac12Networks

Pac-12 Networks


That was fun! Let's have another schedule reveal tomorrow, yeah?The 2015 #pac12fb schedule gets revealed on #FBWeekly tomorrow at 7 PT!
about 12 hours ago

DuckSportsNow

Duck Sports Now


Ducks Release 2014-15 Men's Basketball Schedule http://t.co/6dEQ3kmqNo
about 12 hours ago

Pac12Networks

Pac-12 Networks


Get hyped, Pullman: Here's the 2014-15 @wsumenshoops schedule: http://t.co/RoPoqUvTiz http://t.co/q65vXehk5q
about 12 hours ago

Pac12Networks

Pac-12 Networks


Bow down! Here's the 2014-15 @uw_mbb schedule: http://t.co/73BI1aWqCj http://t.co/F8N5unFY8M
about 12 hours ago

Pac12Networks

Pac-12 Networks


It's time, Utes fans: Here's the @runnin_utes schedule for 2014-15: http://t.co/8ZQotDN2Cz http://t.co/9bFYy6XG1N
about 12 hours ago

Pac12Networks

Pac-12 Networks


Fight on! Here's the 2014-15 @usc_hoops schedule: http://t.co/gh7MmYvkHm http://t.co/bDPKjatMxD
about 12 hours ago

Pac12Networks

Pac-12 Networks


How many BruWINS this year? Here's the 2014-15 @UCLAMBB schedule: http://t.co/7MqVcO3ZbO http://t.co/zytk4rduzn
about 12 hours ago

Pac12Networks

Pac-12 Networks


Arise, #NerdNation: Here's the 2014-15 @stanfordbball schedule: http://t.co/zWP5QTxadX http://t.co/TV9xY5qcPm
about 12 hours ago

Pac12Networks

Pac-12 Networks


Time to rock Gill: The @oregonstatembb schedule is out: http://t.co/X3HYRjhbA7 http://t.co/Mh2C1rEBei
about 12 hours ago

Pac12Networks

Pac-12 Networks


Rise up, Mighty Oregon: Here's the @OregonMBB 2014-15 schedule: http://t.co/rvtRyTu1qM http://t.co/xg5J77RVoN
about 12 hours ago

Pac12Networks

Pac-12 Networks


The Buffs are back: It's the 2014-15 @cubuffsmbb schedule: http://t.co/3qXEazk6pL http://t.co/AQmG9fVIta
about 13 hours ago

Pac12Networks

Pac-12 Networks


This is Bear Territory: It's the 2014-15 @CalMensBBall schedule: http://t.co/HFgc2lyXMk http://t.co/7XxMVOEDgY
about 13 hours ago

Pac12Networks

Pac-12 Networks


Forks up: Here's the @SunDevilHoops 2014-15 schedule: http://t.co/0vvrSbafqe http://t.co/VJxipi0TIU
about 13 hours ago

oregonliveducks

oregonlive.com/ducks


Oregon Ducks release 2014-2015 men's basketball schedule http://t.co/rWWeGLjtwa #goducks
about 13 hours ago

GoDucks

GoDucks


#GoDucks "@OregonMBB: Ducks Release 2014-15 Men's Basketball Schedule: http://t.co/y6t6ftTtRK"
about 13 hours ago

Pac12Networks

Pac-12 Networks


'Cats fans: Here's the full 2014-15 @APlayersProgram schedule: http://t.co/DlPlHtFO6p http://t.co/LpxPFbEddC
about 13 hours ago

Pac12Networks

Pac-12 Networks


Stand by - we're about to tweet a link to the 2014-15 #pac12hoops schedule for every Pac-12 team. Get your RT fingers ready!
about 13 hours ago

DuckSportsNow

Duck Sports Now


Oregon players prepare for WSU http://t.co/R8RTklqFY1
about 13 hours ago

DuckSportsNow

Duck Sports Now


Pulse Report: Drake wears Mariota jersey http://t.co/S3SEa3uxUQ
about 13 hours ago

DrewShiller

Drew Shiller


It's Christmas come early on the @Pac12Networks right now. Full basketball schedule being unveiled now. I missed seeing @L_Hurd's mug...
about 13 hours ago

Pac12Networks

Pac-12 Networks


Also, here's a list of all 146 games that will be shown on the Networks this season: http://t.co/6dFsjrlIgV
about 13 hours ago

Pac12Networks

Pac-12 Networks


Courtesy of @kevo408, here are 12 must-watch games during the 2014-15 #pac12hoops season: http://t.co/BkDfE5bpuR
about 13 hours ago

Pac12Networks

Pac-12 Networks


Every game of 2014-15 in one neat, tidy package: http://t.co/X6XFY47LCbTeam-by-team schedules will be tweeted throughout #SportsReport!
about 13 hours ago

Pac12Networks

Pac-12 Networks


The wait is over! It's time for the #pac12hoops schedule reveal on #SportsReport. Watch it right now: http://t.co/YfMNDWLu5w
about 13 hours ago

ESPN_Pac12blog

ESPN_Pac12blog


And your Pac-12 Week 3 play of the week is ... http://t.co/0jP6QbFjtB http://t.co/OkV38WlRCy
about 13 hours ago

Pac12Networks

Pac-12 Networks


Can Arizona (season champs) and UCLA (tourney champs) repeat?The #pac12hoops schedule reveal is 30 minutes away! http://t.co/vri5e1pdES
about 14 hours ago

pac12

Pac-12 Conference


Less than an hour until the 2014-15 #pac12hoops TV schedule is released! Tune in to the Pac-12 Sports Report at 7 p.m. PT on @Pac12Networks!
about 14 hours ago

Pac12Networks

Pac-12 Networks


Might be! #SportsReport at 7 PT. RT @MelLashbrook That clutch goal by Stanford's Alex McCawley NEEDS to be in #12best @Pac12Networks
about 14 hours ago

Pac12Networks

Pac-12 Networks


FILL IN THE BLANK: The 2014-15 #pac12hoops champ will be ____.Schedule reveal at 7 PT on #SportsReport! http://t.co/NrNZw4JK5N
about 14 hours ago

ESPN_Pac12blog

ESPN_Pac12blog


A look at backup QBs in the Pac-12 http://t.co/WG64gtY2Bk
about 14 hours ago

ESPN_Pac12blog

ESPN_Pac12blog


ICYMI: Your Pac-12 morning links: UCLA survived but it was a chaotic weekned for LA teams. http://t.co/2wNryDM9mj http://t.co/dTm0wPzXj6
about 15 hours ago

Pac12Networks

Pac-12 Networks


"Get him up on our shoulders!"A powerful new #TheDrive premieres Wednesday at 7 PT. http://t.co/z5xoUV5hYv http://t.co/4PM1CNyuMz
about 15 hours ago

Pac12Networks

Pac-12 Networks


One hour, 49 minutes and 15 seconds until #SportsReport unveils the 2014-15 #pac12hoops schedule (but we're not counting we swear)
about 15 hours ago

oregonliveducks

oregonlive.com/ducks


Walter Thurmond, New York Giants CB, out for season with torn pectoral muscle http://t.co/XviEC6fJSj #goducks
about 15 hours ago

Pac12Networks

Pac-12 Networks


UW STAND UP! Tonight's Pac-12 #SportReport features @HarryTheHusky in our Mascot Challenge. Tune in at 7 PT http://t.co/y01NE1qgRq
about 15 hours ago

GoDucksTV

GoDucks TV


Now on @GoDucksTV: Mac & Mose - Wyoming Review http://t.co/3n8IXtldLh #GoDucks
about 15 hours ago

GoDucksTV

GoDucks TV


Now on @GoDucksTV: Interview with Marcus Mariota 9-15 post-practice http://t.co/avX11cqYZK #GoDucks
about 15 hours ago

DuckSportsNow

Duck Sports Now


Oregon Football Practice Recap: Sept. 15 http://t.co/y4gtY5jHNs
about 15 hours ago

DuckSportsNow

Duck Sports Now


Marcus Mariota takes a golf break, then starts preparing for Washington State Cougars (video) http://t.co/N3pzB05tfi
about 15 hours ago

DuckSportsNow

Duck Sports Now


Despite mom's request, Marcus Mariota plans to continue being a 'football player' http://t.co/WGGjvz76Ka
about 15 hours ago

oregonliveducks

oregonlive.com/ducks


Marcus Mariota takes a golf break, then starts preparing for Washington State Cougars (video) http://t.co/ArKWl4gJPN #goducks
about 16 hours ago

oregonliveducks

oregonlive.com/ducks


UCLA's Jerry Neuheisel highlights Pac-12 players of the week http://t.co/lzsBhazpUI #goducks
about 16 hours ago

oregonliveducks

oregonlive.com/ducks


Oregon Ducks recruiting: Alex Ofodile responds to cyberbully; 4-star hoops recruit commits http://t.co/eqD5sO1EcQ #goducks
about 16 hours ago

DuckSportsNow

Duck Sports Now


Mac & Mose – Wyoming Review http://t.co/YwLFYeqblH
about 16 hours ago

DuckSportsNow

Duck Sports Now


Oregon Ducks practice quick hits: Marcus Mariota hits the golf course after Wyoming win http://t.co/zYeooIFeEy
about 16 hours ago

DuckSportsNow

Duck Sports Now


Oregon football practice recap: Mariota talks about his leap into end zone, O-line undergoes more turnover http://t.co/ZLfRNnJ61x
about 16 hours ago

oregonliveducks

oregonlive.com/ducks


Despite mom's request, Marcus Mariota plans to continue being a 'football player' http://t.co/gGWUYyopv9 #goducks
about 16 hours ago

McNamaraUO

Andy McNamara


'Mac & Mose' Wyoming review (with highlights!) #GoDucks http://t.co/8vkeN8nYiN
about 16 hours ago

McNamaraUO

Andy McNamara


'Mac & Mose' Wyoming review (with highlights!) #GoDucks http://t.co/8vkeN8nYiN
about 16 hours ago

Pac12Networks

Pac-12 Networks


ICYMI: @wsucougfb set a #pac12fb passing record on Saturday: http://t.co/5STqAJ35fN http://t.co/WQTA1elPVj
about 16 hours ago

DuckFootball

Rob Moseley


Oregon Football Practice Recap: Sept. 15 http://t.co/f6yPOyY2J8 #GoDucks
about 16 hours ago

Pac12Networks

Pac-12 Networks


We're heading to Berkeley and Salt Lake City for some end-of-September football. Our TV selections for Week 5: http://t.co/N4j8GHeJwX
about 17 hours ago

FanBladeFilms

Scott Phillips


Here's a new Mac & Mose for you! http://t.co/jPP2AWe1uU @RiceKurt @playapus23 @DuckFootball @McNamaraUO @jorgy_mike @VoiceoftheDucks
about 17 hours ago

DuckSportsNow

Duck Sports Now


Duck Tales: Sunday's teleconference http://t.co/fSEMdjNAAW
about 17 hours ago

DuckSportsNow

Duck Sports Now


The Kickoff: Duck Open Conference Play With Trip To Washington State http://t.co/YNPS744hsD
about 17 hours ago

DuckSportsNow

Duck Sports Now


Pac-12 Blog Play of the Week: Mariota's TD http://t.co/TmCsR6FPGM
about 17 hours ago

Pac12Networks

Pac-12 Networks


.@ASUSoccer's Cali Farquharson and @StanfordWSoccer's Kendall Romine + Jane Campbell are WSOC Players of the Week http://t.co/7nr2uLuDsR
about 17 hours ago

oregonliveducks

oregonlive.com/ducks


Oregon Ducks practice quick hits: Marcus Mariota hits the golf course after Wyoming win http://t.co/YrFZ6la0tZ #goducks
about 17 hours ago

Pac12Networks

Pac-12 Networks


.@ASUSoccer's Cali Farquharson and @StanfordWSoccer's Kendall Romine & Jane Campbell are WSOC Players of the Week....
about 17 hours ago

McNamaraUO

Andy McNamara


Oregon & Wazzu rank 1-2 in the FBS in percentage of plays of 10+ yds this season: @WinTheDay 30.1%, @WSUCougFB 29.3% #GoDucks
about 17 hours ago

DuckSportsNow

Duck Sports Now


Shebby Caps Stellar Week with Pac-12 Award http://t.co/OpbbSKwpVH
about 17 hours ago

DuckSportsNow

Duck Sports Now


Mac & Mose – Wyoming Review http://t.co/QQYCJy1N0M
about 17 hours ago

DuckSportsNow

Duck Sports Now


Interview with Scott Frost post-practice 9-15 http://t.co/aT6vLcBDjj
about 17 hours ago

DuckSportsNow

Duck Sports Now


Interview with Marcus Mariota 9-15 post-practice http://t.co/sKr1T5xAXn
about 17 hours ago

DuckSportsNow

Duck Sports Now


Interview with Greatwood post-practice 9-15 http://t.co/c1r3b0eWMT
about 17 hours ago

DuckSportsNow

Duck Sports Now


Interview with Coach Campbell 9-15 post-practice http://t.co/HDkbbWXoKe
about 17 hours ago

McNamaraUO

Andy McNamara


Oregon & Wazzu rank 1-2 in the FBS in percentage of plays of 10+ yds this season: @WinTheDay 30.1%, @WSUCougFB 29.3% #GoDucks
about 17 hours ago
BLOG ARCHIVE:
CATEGORIES: