Neal bolsters Oregon's defensive backs
August, 2, 2012
8/02/12
10:00
AM ET
When Oregon defensive backs coach John Neal arrived in Eugene in the spring of 2003 he was not very well known among college football fans.
He had spent the previous eight years as defensive backs coach at University of Alabama-Birmingham. In his final two years at UAB he served a dual role while also assuming the defensive coordinator position, helping guide the Blazers to the No. 5 defense nationally in 2001.
[+] Enlarge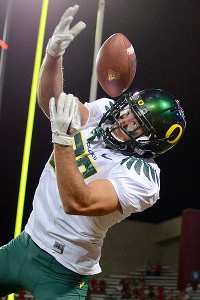 Chris Morrison/US PresswireJohn Boyett is one of many defensive backs that has surged under the tutelage of John Neal.
His coaching skills were always respected among those in the profession but with a great run of success at Oregon, he can be placed among the best assistant coaches in the country.
To continue reading this article you must be an Insider
Insider
Pac-12 Teams Can Load Up At WR
Recruiting reporter Erik McKinney joins ESPN's Phil Murphy to break down the deep West Region wide receiver class in 2016.
Pac-12 Teams Can Load Up At WR
VIDEO PLAYLIST
OREGON FB RECRUITING SCORECARD
DuckSportsNow

Duck Sports Now


Mailbag: Breaking down how USC was wronged http://t.co/pUNvaeoNh3
11 minutes ago

DuckSportsNow

Duck Sports Now


Oregon starting spring practices http://t.co/7Ars5FOQOW
11 minutes ago

DuckSportsNow

Duck Sports Now


Report: Charles Nelson moves from receiver to defensive back http://t.co/VeTCs9oIts
11 minutes ago

DuckSportsNow

Duck Sports Now


Ducks' top spring story lines: No. 5 – What to make of the wide receiver position? http://t.co/jFno8taVtq
11 minutes ago

Pac12Networks

Pac-12 Networks


Ty Moore's enormous week for @uclasoftball was recognized by the @pac12 today. http://t.co/RdWwPDG9QK http://t.co/RJ96TOUsCN
23 minutes ago

Pac12Networks

Pac-12 Networks


The entire Pac-12 family mourns the loss of Eloi Vasquez. More info: http://t.co/4x3rYyhciz http://t.co/bdT9V7QDv9
45 minutes ago

Pac12Networks

Pac-12 Networks


.@CalAthletics has announced student-athlete Eloi Vasquez has passed away. More information to follow. http://t.co/PQPjFN9sOk
about an hour ago

Pac12Networks

Pac-12 Networks


.@Cal_Athletics has announced student-athlete Eloi Vasquez has passed away. More information to follow. http://t.co/zKUa58NrSx
about an hour ago

OregonSB

Oregon Duck Softball


Congrats to @pac12 player and pitcher of the week, @G_Glasco12 and @CheridanH11! #GoDucks http://t.co/oE3kEwzrgS
about an hour ago

GoDucks

GoDucks


Ducks play at #PKPark tomorrow at 6 pm before heading up to Hillsboro on Wednesday to play Seattle U. #GoDucks http://t.co/yqJv25rqOO
about an hour ago

DuckSportsNow

Duck Sports Now


Three Critical Questions Heading into Spring Practices http://t.co/ZoVmLkXA5a
about an hour ago

DuckSportsNow

Duck Sports Now


Two Oregon Ducks named Pac-12 softball players of the week http://t.co/KMDEby0rRg
about an hour ago

ESPN_Pac12blog

ESPN_Pac12blog


Mailbag: Breaking down how USC was wronged http://t.co/8N0u69SSXG
about an hour ago

Pac12Networks

Pac-12 Networks


#SportsReport preview: Will Stanley and Rondae stay with @APlayersProgram? http://t.co/Sh1okQiLMR
about an hour ago

ESPN_Pac12blog

ESPN_Pac12blog


Oregon starting spring practices http://t.co/I2K1XBBIu0
about 2 hours ago

DuckSportsNow

Duck Sports Now


Oregon Struggles With Men In Scoring Position, Lose Series vs Arizona http://t.co/QqDzMIJ7qw
about 2 hours ago

DuckSportsNow

Duck Sports Now


Hawkins, Glasco Earn Pac-12 Weekly Honors http://t.co/zymKIodI06
about 2 hours ago

AZATHLETICS

Arizona Athletics


Arizona Athletics and @ArizonaFBall Mourn the Loss of Jim LaRue http://t.co/6NB26TBI3J #BearDown http://t.co/z1F06mTc6M
about 2 hours ago

DuckSportsNow

Duck Sports Now


Two Oregonians Commit to Ducks http://t.co/aH46GQKtHO
about 2 hours ago

DuckSportsNow

Duck Sports Now


Don't Count Thomas Tyner out of the Starting RB Job Just Yet http://t.co/3QwUFYo9XT
about 2 hours ago

Pac12Networks

Pac-12 Networks


.@Calmenswim's U.S. record-breaker Ryan Murphy joins @AdamsonAshley and @JB_Long on #SportsReport, tonight at 7 PT! http://t.co/L9t4iFxHIl
about 2 hours ago

ESPN_Pac12blog

ESPN_Pac12blog


Washington will play Fresno State in 2017 http://t.co/hYdOyLZDQp
about 2 hours ago

pac12

Pac-12 Conference


#pac12tf weekly honors: Stanford's Williams, ASU's Houlihan, UCLA's Scarvelis + CU's Torres http://t.co/iMDrLQy3N2 http://t.co/hcR1v7hN79
about 2 hours ago

Pac12Networks

Pac-12 Networks


Guess who's ranked... ranked again... @ArizonaBaseball's ranked... tell a friend! http://t.co/gQGuBuAaTF
about 3 hours ago

PaniniAmerica

Panini America


Excited to annc. we've signed former @Univ_Of_Oregon QB Marcus Mariota to auto trading card deal! #PaniniCollege #NFL http://t.co/ReMpQ8EN3s
about 3 hours ago

DuckSportsNow

Duck Sports Now


Joseph Young recognized as All-American honorable mention http://t.co/fi7SvRhfjK
about 3 hours ago

Pac12Networks

Pac-12 Networks


LIVE on #Periscope: Check out a quick tour of the Pac-12 https://t.co/X7dUTgBMVg
about 3 hours ago

Pac12Networks

Pac-12 Networks


A Pac-12 student-athlete is missing. Please share to help locate Eloi Vasquez: http://t.co/xy3Mb0neg7 http://t.co/MDoiYUZoYD
about 3 hours ago

pac12

Pac-12 Conference


#pac12sb players of the week are @OregonSB's Glasco, Hawkins and @Utah_Softball's Viramontes: http://t.co/bEca1bitDN http://t.co/WI0XisivyX
about 3 hours ago

pac12

Pac-12 Conference


#pac12bsb weekly honors go to @UCLABaseball's Ty Moore, @UtahBaseball's Jayson Rose http://t.co/Q5SmC13v5C http://t.co/oGv06wZnhM
about 3 hours ago

pac12

Pac-12 Conference


#pac12ten players of the week are @uclatennis' Mkrtchian, @CalWomensTennis' Susanyi http://t.co/xokq1Cytkt http://t.co/qEFFz43zv1
about 3 hours ago

DuckSportsNow

Duck Sports Now


The Return of Oregon WR Bralon Addison http://t.co/mY4kFf3wkp
about 4 hours ago

Pac12Networks

Pac-12 Networks


Leader of the Pac voting has CLOSED. See who you voted for as winner tonight on #SportsReport, 7 PT! http://t.co/QAEBl2Zfjt
about 4 hours ago

DuckSportsNow

Duck Sports Now


Oregon Ducks with the most to gain in spring football: Danny Mattingly http://t.co/8xdSPwT0la
about 4 hours ago

DuckSportsNow

Duck Sports Now


Spring Practice Begins Tuesday For Oregon Football Team http://t.co/P8sNSFcrfX
about 4 hours ago

DuckSportsNow

Duck Sports Now


Oregon's Joseph Young earns Honorable Mention AP All-America honors http://t.co/incWxDDs9w
about 4 hours ago

Pac12Networks

Pac-12 Networks


WATCH: The story of @UA_Softball's lucky stuffed dinosaur: http://t.co/wRFrNcJyMr http://t.co/0J3UebJlp6
about 4 hours ago

DuckSportsNow

Duck Sports Now


Ducks' top spring story lines: No. 7 – How is Tyler Johnstone progressing? http://t.co/sRwUCZI7Ui
about 4 hours ago

Pac12Networks

Pac-12 Networks


Cheridan Hawkins and Brett Cumberland are in a dead heat for Leader of the Pac! VOTE: http://t.co/fTFtKpVQxy http://t.co/eroCuMd0NB
about 5 hours ago

DuckSportsNow

Duck Sports Now


Oregon Ducks Crank Up The Offense, Hit Ten Home Runs To Beat Washington http://t.co/tcGki1HVJ7
about 5 hours ago

Pac12Networks

Pac-12 Networks


.@Calmenswim's Ryan Murphy broke Ryan Lochte's US record, so naturally he'll be on #SportsReport tonight at 7 PT! http://t.co/OMOl92S0Of
about 5 hours ago

DuckSportsNow

Duck Sports Now


How John Canzano Inspired FishDuck http://t.co/qM34mvWNlo
about 5 hours ago

Beaver_Baseball

Oregon St. Baseball


The Beavers are on the road for 3 this weekend but don't fear, you can watch all 3 on the @Pac12Networks. #gobeavs http://t.co/UW74cBCS2m
about 5 hours ago

ESPN_Pac12blog

ESPN_Pac12blog


Q&A: Cal wide receiver Bryce Treggs http://t.co/YBawdkTNSh
about 5 hours ago

DuckFootball

Rob Moseley


New digits for vets: 2 Bralon Addison, 13 Devon Allen, 29 Kani Benoit, 7 Darren Carrington, 10 Ty Griffin, 28 Johnny Ragin, 3 Tyree Robinson
about 5 hours ago

DuckFootball

Rob Moseley


Numbers for freshmen on hand: 14 Ugo Amadi, 5 Taj Griffin, 11 Travis Jonsen (nee Waller), 99 Canton Kaumatule, 4 Alex Ofodile, 75 Zach Okun.
about 5 hours ago

DuckFootball

Rob Moseley


With three starters gone in the secondary, Ducks giving Charles Nelson a look there this spring, beginning Tuesday: http://t.co/DRmmhg2Q7W
about 5 hours ago

DuckFootball

Rob Moseley


Quick spring practice primer on the eve of drills beginning, including number changes and a position switch: http://t.co/DRmmhg2Q7W #GoDucks
about 5 hours ago

DuckSportsNow

Duck Sports Now


Oregon Ducks and Oregon State Beavers unranked in Baseball America Top 25 for first time since 2011 http://t.co/D9Qd6RzOmd
about 5 hours ago

Pac12Networks

Pac-12 Networks


.@utahbaseball's Jayson Rose's weekend, in 11 letters:KKKKKKKKKKK http://t.co/RdWwPDG9QK http://t.co/X1YHzStnmx
about 5 hours ago

DuckSportsNow

Duck Sports Now


Trail Tale: Rock Bridge http://t.co/cr5spAo2GT
about 6 hours ago

DSArivals

DuckSportsAuthority


Trail Tale: Rock Bridge: Oregon freshman wide receiver Alex Ofodile arrived in Eugene with some football advan... http://t.co/mX0s6yaEaf
about 6 hours ago

Pac12Networks

Pac-12 Networks


What lies ahead for @UCLAMBB? Bryce Alford joins @AdamsonAshley + @JB_Long on #SportsReport, 7 PT on Pac-12 Networks. http://t.co/9E3MOJyEKR
about 6 hours ago

Pac12Networks

Pac-12 Networks


RT if the dude they call @bcumboslice on @Cal_Baseball is this week's Leader of the Pac! #GoBears #Leader4 http://t.co/bc1cI2wm0D
about 6 hours ago

Pac12Networks

Pac-12 Networks


RT if @uclamvb's 25-kill-kid J.T. Hatch is this week's Leader of the Pac! #GoBruins #Leader3 http://t.co/YqcJPjlGii
about 6 hours ago

DuckSportsNow

Duck Sports Now


Last Chance: Win 2015 Final Four Ticket Vouchers and $500 from Autzen Zoo! http://t.co/me3Sq2azGB
about 6 hours ago

DuckSportsNow

Duck Sports Now


Oregon Duck runners dominate the women's 1,500 meters at the Willamette Invitational: Oregon track & field rundown http://t.co/KUIfcyIc7j
about 6 hours ago

Pac12Networks

Pac-12 Networks


RT if @Calmenswim's record-setting Ryan Murphy is this week's Leader of the Pac! #GoBears #Leader2 http://t.co/iymaxCB6rs
about 6 hours ago

Pac12Networks

Pac-12 Networks


RT if @OregonSB's Ms. Perfect—aka Cheridan Hawkins—is the Leader of the Pac! #GoDucks #Leader1 http://t.co/0ZTWDS0hdZ
about 7 hours ago

Pac12Networks

Pac-12 Networks


How many times did @OregonSB go yard yesterday? Not 3...not 4...not 5...not 6... http://t.co/xWgNwLm264 http://t.co/XHrRy7akH2
about 7 hours ago

DuckSportsNow

Duck Sports Now


Can Oregon's Offense Work Without a Star QB? http://t.co/hpIIklzefA
about 7 hours ago

Runnin_Utes

Utah Basketball


Delon Wright has been named a second-team All-American by the NABC! Congrats to Delon! #GoUtes #MUSSterUp http://t.co/4rGW1qtGEm
about 8 hours ago

APlayersProgram

Arizona Basketball


NEWS: Johnson Named NABC Third-Team All-American - http://t.co/e056P10sc1 #APlayersProgram http://t.co/9N1zPJfQxI
about 8 hours ago

Pac12Networks

Pac-12 Networks


RT if you think this catch from Ben Roberts of @WSUCougars is #12Best worthy! #SportsReport at 7 PT. https://t.co/qPSC08rgq9
about 8 hours ago

DuckSportsNow

Duck Sports Now


Dillon Mitchell: Rising two-sport star http://t.co/yL0HE42sxM
about 8 hours ago

ESPN_Pac12blog

ESPN_Pac12blog


Adoree' Jackson: The most exciting player in the Pac-12? http://t.co/JdsYcWv4j4
about 8 hours ago

DuckSportsNow

Duck Sports Now


Football Playoffs: A Look Back and a Look Ahead http://t.co/jdQDtkmXKM
about 8 hours ago

Pac12Networks

Pac-12 Networks


The @CalAthletics family is still seeking help finding student-athlete Eloi Vasquez. http://t.co/gKD1L0pndi http://t.co/PczNXonzjh
about 8 hours ago

DSArivals

DuckSportsAuthority


Dillon Mitchell: Rising two-sport star: Dillon Mitchell chose Oregon last November with the full support of hi... http://t.co/RYg0ZHp4E6
about 9 hours ago

DuckSportsNow

Duck Sports Now


Quack Fix: Oregon baseball swept by Arizona, spring football begins Tuesday http://t.co/8hBAU6TRb3
about 9 hours ago

DuckSportsNow

Duck Sports Now


RCS Dallas: Recruiting notebook http://t.co/IVamr5yzjr
about 9 hours ago

DuckSportsNow

Duck Sports Now


Live chat: Oregon spring football with beat reporter Andrew Greif on Monday morning http://t.co/ie8ghGtxoj
about 9 hours ago

DSArivals

DuckSportsAuthority


RCS Dallas: Recruiting notebook: CEDAR HILL, Texas - The Rivals Camp Series stopped near Dallas on Sunday, and... http://t.co/gNTCIC74kd
about 10 hours ago

ESPN_Pac12blog

ESPN_Pac12blog


Top spring developments: Pac-12 http://t.co/k1NTJLaH3M
about 10 hours ago

DuckSportsNow

Duck Sports Now


Previewing Oregon Ducks spring football: Oregon rundown http://t.co/ms9dm3pmzf
about 11 hours ago

ESPN_Pac12blog

ESPN_Pac12blog


USC keeps focus amid ongoing NCAA controversy http://t.co/8c62N2TceY
about 11 hours ago

DuckSportsNow

Duck Sports Now


Oregon State at Oregon http://t.co/4IOCIqJn9T
about 16 hours ago

DuckSportsNow

Duck Sports Now


Ducks' top spring story lines: No. 8 – Young secondary takes over http://t.co/bKGdwDQu6e
about 16 hours ago

DuckSportsNow

Duck Sports Now


Arizona sweeps series from Oregon, 13-4 http://t.co/tE6vP3QXJh
about 17 hours ago

Pac12Networks

Pac-12 Networks


No offense to @UA_Softball's Katiyana Mauga, but ...Dino, YOU DA REAL MVP! http://t.co/wRFrNcJyMr http://t.co/Gn0Vo0RB0p
about 20 hours ago

GoDucksTV

GoDucks TV


Now on @GoDucksTV: White Post Game 3-29 http://t.co/0sa02MyZw0 #GoDucks
about 20 hours ago

GoDucksTV

GoDucks TV


Now on @GoDucksTV: Glasco Post Game 3-29 http://t.co/aMt1GD2Km1 #GoDucks
about 20 hours ago

Pac12Networks

Pac-12 Networks


Take a bow, Katiyana Mauga. The #ASUvsAZ Play of the Game sends the Wildcats to a walk-off! http://t.co/TJPp3gcOLp
about 21 hours ago

Pac12Networks

Pac-12 Networks


That's how you win a run-rule game in style, @UA_Softball! The 'Cats walk off in the fifth! http://t.co/zIzuZLtxQv http://t.co/VF4V25eVAQ
about 21 hours ago

DuckSportsNow

Duck Sports Now


The Man Everyone is Talking About and the Play That Makes Them Laugh http://t.co/nxSHaCiiE5
about 22 hours ago

DuckSportsNow

Duck Sports Now


Udria Post Game 3-29 http://t.co/t7sLJyAD7j
about 22 hours ago

DuckSportsNow

Duck Sports Now


White Post Game 3-29 http://t.co/LaGmt5iSSz
about 22 hours ago

DuckSportsNow

Duck Sports Now


Glasco Post Game 3-29 http://t.co/DRSn2BEYf4
about 22 hours ago

Pac12Networks

Pac-12 Networks


Please share to help locate missing @UCBerkeley student-athlete Eloi Vasquez: http://t.co/xy3Mb0neg7 http://t.co/lbsgwdNWHU
about 22 hours ago

Pac12Networks

Pac-12 Networks


RT if @Cal_Baseball's @bcumboslice is this week's Leader of the Pac! #GoBears #Leader4 http://t.co/XHbJUUFqu4
about 23 hours ago

Pac12Networks

Pac-12 Networks


RT if @uclamvb's J.T. Hatch is this week's Leader of the Pac! #GoBruins #Leader3 http://t.co/b76LjuMIMF
about 23 hours ago

Pac12Networks

Pac-12 Networks


RT if @calmenswim's Ryan Murphy is this week's Leader of the Pac! #GoBears #Leader2 http://t.co/AtkiACPfvZ
about 23 hours ago

Pac12Networks

Pac-12 Networks


RT if @OregonSB's Cheridan Hawkins is this week's Leader of the Pac! #GoDucks #Leader1 http://t.co/HTQTnGlgy4
about 23 hours ago

Pac12Networks

Pac-12 Networks


It's time to vote for this week's Leader of the Pac! Read about the nominees and vote here: http://t.co/fTFtKpVQxy http://t.co/puTm2N00Wy
about 23 hours ago

DuckSportsNow

Duck Sports Now


Oregon Trounces UW With Power Surge http://t.co/yWmfCDo4dg
about 23 hours ago

DuckSportsNow

Duck Sports Now


Oregon's Geri Ann Glasco gets ice-bucketed after hitting three home runs http://t.co/hN63iI8QDb
about 23 hours ago

Pac12Networks

Pac-12 Networks


Our Sunday nightcap is round 3 of #ASUvsAZ, live now on Pac-12 Networks and http://t.co/YfMNDWLu5w http://t.co/QDO6fYP4fQ
about 23 hours ago

CalAthletics

Cal Bears


Eloi Vasquez, a freshman on our men's soccer team, has been reported missing. Full statement: http://t.co/GS9MRSPShE http://t.co/4UInDgYlgn
about 23 hours ago

Pac12Networks

Pac-12 Networks


.@CalAthletics has issued a statement regarding missing student-athlete Eloi Vasquez: http://t.co/xy3Mb0neg7 http://t.co/nGBpd73g6O
about 23 hours ago

DuckSportsNow

Duck Sports Now


Oregon's Geri Ann Glasco gets ice-bucketed after hitting three home runs http://t.co/ddqYwzcGKO
1 day ago
PAC-12 SCOREBOARD
Thursday, 9/3
Friday, 9/4
Saturday, 9/5
BLOG ARCHIVE:
CATEGORIES: