The Opening: Commitment recap
July, 5, 2013
Jul 5
11:36
AM ET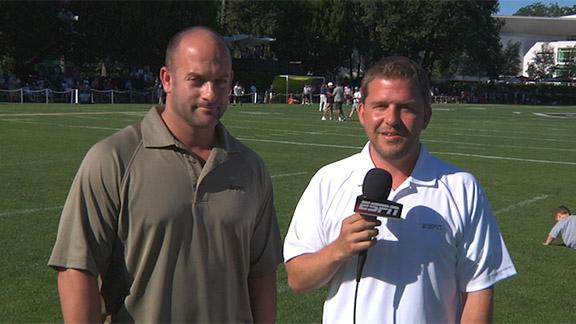 Derek Tyson and Tom VanHaaren break down player commitments from the Elite 11 finals and The Opening. Overall, 11 players announced their college intentions at the event -- nine of whom did so on ESPNU.
Mature Decision By Marcus Mariota
Todd McShay reacts to Marcus Mariota's choice to return to college for another season and continue his development.
Tags:
Marcus Mariota
,
Oregon
,
Todd McShay
Mature Decision By Marcus Mariota
VIDEO PLAYLIST
Mature Decision By Marcus Mariota

Mature Decision By Marcus Mariota

Todd McShay reacts to Marcus Mariota's choice to return to college for another season and continue his development.

Tags: Marcus Mariota

,

Oregon

,

Todd McShay

Mariota Will Return To Oregon

Mariota Will Return To Oregon

The Point After: Week 13

The Point After: Week 13
DUCKNATION RECRUITING NEWS
OREGON FB RECRUITING SCORECARD
DuckFootball

Rob Moseley


RT @BCSGuru: Revised BCS Bowl XVIII: FSU vs tOSU, Rose-P12 vs MSU, Orange-Bama vs. Clem, Fiesta-Baylor vs UCF, Sugar- UO/OU vs SEC
3 minutes ago

McNamaraUO

Andy McNamara


RT @GeorgeSchroeder: @McNamaraUO @TonyDiFrancisco OK St isn't getting in. So it's down to UO vs. OU.
5 minutes ago

McNamaraUO

Andy McNamara


"@TonyDiFrancisco: OU win doesn't kill UO's chances. Question now, would Orange/Sugar pick 2-loss UO over 2-loss OU or OkST"
6 minutes ago

DuckFootball

Rob Moseley


Bingo. Daunting. RT @TonyDiFrancisco: Question now becomes, would Orange/Sugar pick 2-loss Oregon over 2-loss Oklahoma or 2-loss OkSU.
11 minutes ago

UOPintens

Craig Pintens


Congratulations to my alma mater @WarhawkFootball for knocking off Linfield today. On to the next one. #PoundTheRock
11 minutes ago

DuckSportsNow

Duck Sports Now


GameDay: Pac-12 championship preview http://t.co/dgVqTNC0GG
26 minutes ago

Pac12Networks

Pac-12 Networks


Tough first loss of the season for @UCLAMBB. But here is that Zach LaVine dunk everyone was talking about: http://t.co/A6HmMKBmun
38 minutes ago

DuckSportsNow

Duck Sports Now


COLLEGE FOOTBALL'S FINAL WEEKEND – No. 12 Oregon Holding out Hopes of a Fifth Straight BCS Bowl Game http://t.co/yOseFKYEMS
about an hour ago

Pac12Networks

Pac-12 Networks


Non-ASU and Stanford fans: We still have fun football to share with you, thanks to @RyanMcGrady's stat pack: http://t.co/6Ea6wx56bV
about an hour ago

Pac12Networks

Pac-12 Networks


RT @pac12: Traffic advisory for today for Tempe, including crucial street closures. Make sure to arrive early for the #pac12fcg! http://t.c…
about an hour ago

DuckSportsNow

Duck Sports Now


College Football Saturday: Open Thread http://t.co/8LBgeGHjmB
about an hour ago

DuckSportsNow

Duck Sports Now


College Football Finale Open Thread http://t.co/dpspfVcaR9
about an hour ago

DuckSportsNow

Duck Sports Now


Highlights from the #SnowBrawl2013 with Oregon football team http://t.co/9iHo5eLOhu
about an hour ago

Pac12Networks

Pac-12 Networks


RT @pac12: GAME DAY ADVISORY: Plan to arrive early for #pac12fcg at Sun Devil Stadium today due to entry changes. More info here http://t.c…
about an hour ago

DuckSportsNow

Duck Sports Now


Nick Sciabarra stays humble through recent success http://t.co/MDn5uGjP2t
about an hour ago

McNamaraUO

Andy McNamara


RT @DuckFootball: For those asking: This SMU-UCF game has zero bearing on anything having to do with Oregon.
about an hour ago

DuckFootball

Rob Moseley


RT @jppalmCBS: probably Oregon RT @wildspts07: if oklahoma st wins & baylor loses, who does SEC champ play in sugar bowl?
about 2 hours ago

DuckFootball

Rob Moseley


For those asking: This SMU-UCF game has zero bearing on anything having to do with Oregon.
about 2 hours ago

DuckSportsNow

Duck Sports Now


Oregon's BCS roadmap: Key games for Duck fans to watch today http://t.co/ZPGChMC8u7
about 2 hours ago

GoDucks

GoDucks


RT @OrangeBowl: We are 33 hours away from #selectionsunday - Vote for the team YOU want to see in the 2014 @Discover #orangebowl at http://…
about 2 hours ago

DuckFootball

Rob Moseley


Very rare to see a Bobcat brave the wild with its offspring. http://t.co/qoEYtL0n14
about 2 hours ago

McNamaraUO

Andy McNamara


Let's go Pokes! Oklahoma State takes early 7-0 lead over Oklahoma #GoDucks #Bedlam
about 3 hours ago

DuckSportsNow

Duck Sports Now


Oregon Ducks Could Be a Texas Win Away From a BCS Appearance http://t.co/NxNn6PeJXU
about 3 hours ago

DuckFootball

Rob Moseley


. @Swolg Root for OKSt and Texas. Then hope Orange snubs Clemson for UO Sunday, or Sugar snubs Baylor for UO. Understand, Alamo most likely.
about 4 hours ago

ESPN_Pac12blog

ESPN_Pac12blog


Video: Sarkisian, Haden on GameDay http://t.co/S1OQT2EDg4
about 4 hours ago

DuckFootball

Rob Moseley


RT @Tallfrog: @DuckFootball If the Ducks had beaten AZ, they'd be hosting PAC-12 CG today in 25° weather at kickoff with snow on the ground…
about 5 hours ago

oregonliveducks

oregonlive.com/ducks


College football top 25 updates: Full schedule, TV listings; Auburn-Missouri game of the day http://t.co/8Y4lR1meKx #goducks
about 5 hours ago

oregonliveducks

oregonlive.com/ducks


Bowling Green routs Northern Illinois 47-27, improving Oregon Ducks' BCS bowl chances http://t.co/aZwsYwWS8U #goducks
about 5 hours ago

oregonliveducks

oregonlive.com/ducks


Oregon's BCS hopes: What Northern Illinois' loss means for the Ducks (Twitter reaction) http://t.co/KT6JxqkHkU #goducks
about 5 hours ago

DuckFootball

Rob Moseley


It's politics, man ... MT @MrCFB Given Orange Bowl's new deal with ACC, I don't see them passing on Clemson ... Sugar wants SEC-Big 12 game.
about 5 hours ago

DSArivals

DuckSportsAuthority


Pac-12 coaching moves affect Duck recruiting: Boise State head coach Chris Petersen met with Washington athlet... http://t.co/xHucb5dEKu
about 5 hours ago

ESPN_Pac12blog

ESPN_Pac12blog


Oregon State -> RT @jppalmCBS: Among fallout from NIU loss is that all major conf bowl eligible teams should now find spot to play
about 6 hours ago

DuckSportsNow

Duck Sports Now


Pac-12 coaching moves affect Duck recruiting http://t.co/7v3CesnrF4
about 6 hours ago

ESPN_Pac12blog

ESPN_Pac12blog


RT @jppalmCBS: Texas, Ohio State rout RT @Bclif234: who do Oregon fans cheer for today to get us a shot in a BCS game?
about 6 hours ago

DuckSportsNow

Duck Sports Now


They deserve a visit from The Momba, Super Mario and the Moose: Chino 5th graders say … http://t.co/Pny9ReAFtz
about 7 hours ago

DuckSportsNow

Duck Sports Now


Petersen bombshell shakes the ranking of PAC-12 Coaches http://t.co/vE9yTy3J8o
about 7 hours ago

DuckSportsNow

Duck Sports Now


The best recruiting video ever http://t.co/dBIzEY9IWh
about 8 hours ago

DuckSportsNow

Duck Sports Now


"Moose" Johnstone provides blow-by-blow coverage of "Snow Brawl 2013" http://t.co/YpcBVKC0sh
about 10 hours ago

McNamaraUO

Andy McNamara


My top pick for the #DiscoverOrangeBowl is #Oregon. Who's yours? Cast your vote: http://t.co/oUKeAuJ8M7
about 13 hours ago

Pac12Networks

Pac-12 Networks


.@uscwomensvolley moves on to the next round with a decisive win over CSUN. Video recap: http://t.co/DoEKsBUBxC
about 14 hours ago

Pac12Networks

Pac-12 Networks


.@UWVolleyball advances in the NCAA tourney with a sweep of Alabama State. Video recap: http://t.co/5v3WZAIq3Q
about 14 hours ago

Pac12Networks

Pac-12 Networks


.@StanfordWVB sweeps the Oklahoma Sooners to advance in the NCAA tournament. Video recap + more: http://t.co/ScK4qrxa8P
about 14 hours ago

GoDucks

GoDucks


My top pick for the #DiscoverOrangeBowl is #Oregon. Who's yours? Cast your vote: http://t.co/nGbsAnrNCD
about 14 hours ago

DuckSportsNow

Duck Sports Now


Oregon's BCS hopes: What Northern Illinois' loss means for the Ducks (Twitter reaction) http://t.co/4JmBGLPVI6
about 14 hours ago

ESPNOregon

ESPN Oregon


Non-AQs to be shut out of BCS http://t.co/jTlw5Nc0az
about 15 hours ago

DuckSportsNow

Duck Sports Now


Duck volleyball sweeps Miami http://t.co/5Nk3eOw6cx
about 15 hours ago

ESPN_Pac12blog

ESPN_Pac12blog


Non-AQs to be shut out of BCS http://t.co/K55EBwS9a3
about 15 hours ago

GoDucksTV

GoDucks TV


Now on @GoDucksTV: Volleyball post Miami http://t.co/txYAQ8yrjk #GoDucks
about 15 hours ago

Pac12Networks

Pac-12 Networks


Hundreds of @FootballASU fans have set up camp ahead of the #pac12fcg. Photos: http://t.co/iMLfCenE7m
about 15 hours ago

DSArivals

DuckSportsAuthority


Duck volleyball sweeps Miami: The Oregon women's volleyball team opened their NCAA tournament with a sweep of ... http://t.co/uHwG5kgjBn
about 16 hours ago

Pac12Networks

Pac-12 Networks


Let's try this again: @YogiRoth thinks Chris Petersen is a great fit for @UW_Football. Here's why. Video: http://t.co/2NAflMK9x7
about 16 hours ago

DuckFootball

Rob Moseley


RT @BCSGuru: Sugar Bowl is a 50-50 toss-up between Oregon and Baylor. If Baylor loses to Texas, that might be enough for Ducks.
about 16 hours ago

DuckFootball

Rob Moseley


#jokesfromlastmonth MT @KirkHerbstreit: Oregon could be headed to Alamo Bowl. At least they won't have to "worry" about another Rose Bowl.
about 16 hours ago

DuckFootball

Rob Moseley


RT @BryanDFischer: Sagarin SOS of BCS possibles: FSU(66), Bama(48), ASU(4), Oregon(25), MU(41), Bay(62), OSU(61), Stan(6), OkSt(43), AU(26)…
about 16 hours ago

DuckFootball

Rob Moseley


Congrats to Baylor on locking up BCS bid. No need to worry about Texas ... RT @jppalmCBS: Updated Bowl Projections: http://t.co/Dtiq0ZfgVu
about 16 hours ago

Pac12Networks

Pac-12 Networks


Jordan Burgess had our Play of the Match as @StanfordWVB beats Oklahoma straight sets. Video: http://t.co/02TDVPQUxo
about 16 hours ago

DuckSportsNow

Duck Sports Now


Brenner leads Oregon women's volleyball into second round of NCAA Tournament http://t.co/Di4kVfCqWA
about 16 hours ago

DuckFootball

Rob Moseley


BCS hope update: Bowling Green over NIU? Check. Sat, root for TX over Baylor. And, to keep Sooners from being at-large threat, OKSt over OK.
about 16 hours ago

McNamaraUO

Andy McNamara


Weird how this NIU loss all but guarantees a 2nd B1G team in a BCS bowl when it actually exposes some weaknesses in the league this season
about 16 hours ago

Pac12Networks

Pac-12 Networks


.@Pac12Networks analyst @YogiRoth thinks Chris Petersen is a great fit for @UW_Football. Here's why. Video: http://t.co/hHsAfCzJsg
about 16 hours ago

EATBLACKMOMBA6

DE'ANTHONY THOMAS


CRENSHAW STUDENTS RUN THE TOWN#RUNDAT
about 16 hours ago

DuckFootball

Rob Moseley


RT @Huff_Era_1: Reschedule for tomorrow ... Health concerns , don't want any injuries to take place. Stay warm and watch a movie
about 16 hours ago

DuckFootball

Rob Moseley


@LindsayRae19 That WOULD sound sad, absolutely! Flatulent too, I imagine.
about 16 hours ago

DuckFootball

Rob Moseley


Sad trombone RT @BCSGuru: Revised BCS, with NIU loss: FSU v tOSU, Rose-MSU v Pac12, Orange-Bama v Clem, Sugar-SEC v Baylor, Fiesta-OSU v UCF
about 16 hours ago

DuckFootball

Rob Moseley


RT @slmandel: Baylor figures to benefit from fact Sugar is about to become a Big 12 bowl. But Oregon vs SEC would be tough to pass on.
about 16 hours ago

DuckFootball

Rob Moseley


RT @slmandel: BCS handicapping: UCF will slide to Fiesta. If Baylor wins tomorrow it could get Sugar. Depends on if Orange takes Oregon or …
about 16 hours ago

Pac12Networks

Pac-12 Networks


.@FootballASU fans are camping out for prime seats at the #pac12fcg. @AdamsonAshley explores the camp site. Video: http://t.co/F4edSJBSyj
about 16 hours ago

DuckSportsNow

Duck Sports Now


Oregon rolls Miami in three straight at first round of NCAA Volleyball Tournament http://t.co/g5z72JEQsp
about 16 hours ago

DuckSportsNow

Duck Sports Now


Highlights from the #SnowBrawl2013 with Oregon football team http://t.co/qwKN5swSEz
about 16 hours ago

DuckSportsNow

Duck Sports Now


Volleyball post Miami http://t.co/QCNg7z6PhP
about 16 hours ago

DuckFootball

Rob Moseley


RT @MoveTheSticks: FWIW...I'm hearing a lot of buzz about Justin Wilcox & Boise St
about 16 hours ago

McNamaraUO

Andy McNamara


Ballgame #GoDucks #WarDamnFalcon
about 16 hours ago

DuckFootball

Rob Moseley


OK, now I see why one of the quarterbacks from this MAC title game was getting Heisman buzz. What a game for the BGSU kid.
about 16 hours ago

McNamaraUO

Andy McNamara


The #BGSUvsNIU watch party I'm at is getting festive. Cheers & plans of pedicures in South Beach @OrangeBowl #EasyNow #GoDucks
about 16 hours ago

DuckFootball

Rob Moseley


RT @ReaganK_: @TJohnstone64 HAHA war face? http://t.co/iQomKzDbjJ
about 16 hours ago

DuckFootball

Rob Moseley


Onions!
about 16 hours ago

oregonliveducks

oregonlive.com/ducks


Oregon rolls Miami in three straight at first round of NCAA Volleyball Tournament http://t.co/xFhJr8ERWx #goducks
about 17 hours ago

oregonliveducks

oregonlive.com/ducks


Embracing the past on eve of Auburn-Missouri showdown http://t.co/o6bYSQ0Ljm #goducks
about 17 hours ago

oregonliveducks

oregonlive.com/ducks


Washington reportedly makes Chris Petersen the Pac-12's highest-paid coach http://t.co/aticVO8YLR #goducks
about 17 hours ago

Pac12Networks

Pac-12 Networks


Rosie White's PK goal sends @UCLAWSoccer to the NCAA championship match. It's also our Play of the Game: http://t.co/9x644aZLtX
about 17 hours ago

Pac12Networks

Pac-12 Networks


RT @JB_Long: .@pac12 champs 1 win away from national champs. RT @UCLAWSoccer: Rosie White to clinch it - GOOD! UCLA advances to the final!
about 17 hours ago

Pac12Networks

Pac-12 Networks


.@UWVolleyball fans, the Alabama State-UW match is now set for a 7:46 PT start. Watch on Pac-12 OR/WA: http://t.co/d39JM5TCHD
about 17 hours ago

Pac12Networks

Pac-12 Networks


.@StanfordFball faces a hostile away crowd at tomorrow's #pac12fcg. David Shaw wouldn't have it any other way: http://t.co/bGLU4XdXAJ
about 17 hours ago

EATBLACKMOMBA6

DE'ANTHONY THOMAS


MAKE SURE YOU WATCH THE CRENSHAW GAME TONIGHT#RUNDAT#16
about 17 hours ago

DuckSportsNow

Duck Sports Now


Pac-12 Football Preview: Week 15 (Conference Championship Weekend) http://t.co/zCNdU80VqT
about 17 hours ago

DuckFootball

Rob Moseley


RT @JakeZivin: Here's a sneak peek at #SnowBrawl2013, #GoDucks football vs. students, with @TJohnstone64 mic'd up for Moose Time. http://t.…
about 17 hours ago

KBDeuce4

Kenjon Barner


10:06pm and still 70 degrees I can get use to this lol @ClemensTrevor @ahughes1524 http://t.co/oI3d1Gkr00
about 17 hours ago

Pac12Networks

Pac-12 Networks


Also at 7 p.m. PT, @UWVolleyball hosts Alabama State in NCAA first round play on Pac-12 OR/WA: http://t.co/d39JM5TCHD
about 17 hours ago

McNamaraUO

Andy McNamara


Halftime: Bowling Green 31, Northern Illinois 13 #GoDucks
about 17 hours ago

DuckFootball

Rob Moseley


Root Texas/OKSt tomorrow RT @jppalmCBS: most likely big 12. could be Oregon RT @JustinCSparks: if NIU loses, who gets that spot in the BCS?
about 17 hours ago

DuckFootball

Rob Moseley


RT @AddictedToQuack: Oregon Ducks BCS Bowl Watch: Bowling Green up 31-13 on Northern Illinois at halftime. #goducks
about 17 hours ago

Pac12Networks

Pac-12 Networks


There is more NCAA second round action at 7 p.m. PT as @StanfordWVB hosts Oklahoma on the Pac-12 Network/BA: http://t.co/yXdIzzc5pJ
about 17 hours ago

Pac12Networks

Pac-12 Networks


"We asked our players to close their eyes and ... visualize hosting the Pac-12 Championship." - @CoachGrahamASU http://t.co/PEUUruKwaB
about 18 hours ago

Pac12Networks

Pac-12 Networks


.@SunDevilHoops leaves the DePaul Blue Demons in the dust with a 78-56 victory. Highlights: http://t.co/Tx2Wzn7R0u
about 18 hours ago

DuckSportsNow

Duck Sports Now


Ducks Take Down Miami for Tournament-Opening Win http://t.co/6Ni7s2hnQd
about 18 hours ago

Pac12Networks

Pac-12 Networks


RT @AnneMAnderson: Join us on @Pac12Networks at top of the hour as @uscwomensvolley hosts @GoMatadors @hmcpeak1 #ncaavb
about 18 hours ago

GoDucks

GoDucks


RT @OregonVB: The only thing better than a tournament win? A tournament win in straight sets! Oregon takes down Miami 25-16, 25-23, 25-17! …
about 18 hours ago

McNamaraUO

Andy McNamara


RT @OregonVB: The only thing better than a tournament win? A tournament win in straight sets! Oregon takes down Miami 25-16, 25-23, 25-17! …
about 18 hours ago

DuckFootball

Rob Moseley


259! RT @j_woolington: Multiple crashes reported on I-5 between Salem and Eugene, 259 crashes in Eugene. http://t.co/Kd8k31grAk
about 18 hours ago

DuckFootball

Rob Moseley


Just this once: #MACtion!
about 19 hours ago
BLOG ARCHIVE:
CATEGORIES: