#BlueChipBattles: ESPN 150 release edition
April, 19, 2013
4/19/13
9:49
AM ET
By
RecruitingNation
| ESPN.com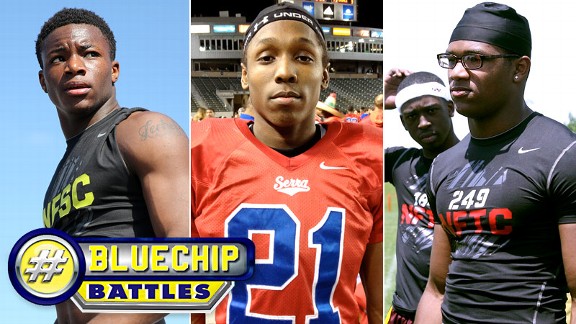 Student Sports, ESPN, ESPNSpeedy Noil, Adoree Jackson and Da'Shawn Hand are three of the most coveted recruits in the Class of 2014.
#BlueChipBattles

: RecruitingNation summoned its writers from around the country to outline the recruiting battles for the ESPN 150's top 10 prospects.
Plus, rank the battles
in SportsNation
.
#TopFBMixtapes
: Athlete mixtapes are all the rage in this highlight-crazed era of sports. We reached out to our Twitter followers to find out which 2014 football stars had the best highlight reels on YouTube, then had our staff rank and comment on the top submissions.
Tom Luginbill writes

: After talking to many coaches across the country and hearing their frustrations, here are their five biggest complaints about homemade highlight videos.
Tags:
Football Recruiting, Oregon Ducks, Texas Longhorns, UCLA Bruins, USC Trojans, LSU Tigers, Texas A&M Aggies, Michigan Wolverines, Notre Dame Fighting Irish, Ohio State Buckeyes, Alabama Crimson Tide, Baylor Bears, Florida Gators, Georgia Tech Yellow Jackets, Stanford Cardinal, Florida State Seminoles, Auburn Tigers, Clemson Tigers, Tennessee Volunteers, Virginia Tech Hokies, Georgia Bulldogs, Mississippi State Bulldogs, Illinois Fighting Illini, South Carolina Gamecocks, North Carolina Tar Heels, Marlon Humphrey, Adoree' Jackson, Myles Garrett, Leonard Fournette, Andrew Brown, Cameron Robinson, Da'Shawn Hand, Jabrill Peppers, Lamont Gaillard, Speedy Noil
SEC Reigns Over AP Rankings
ESPN College Football Insider Brett McMurphy discusses the latest Associated Press college football poll, where the SEC has an unprecedented seven teams in the top 15.
SEC Reigns Over AP Rankings
VIDEO PLAYLIST
OREGON FB RECRUITING SCORECARD
Pac12Networks

Pac-12 Networks


That was fun! Let's have another schedule reveal tomorrow, yeah?The 2015 #pac12fb schedule gets revealed on #FBWeekly tomorrow at 7 PT!
12 minutes ago

DuckSportsNow

Duck Sports Now


Ducks Release 2014-15 Men's Basketball Schedule http://t.co/6dEQ3kmqNo
13 minutes ago

Pac12Networks

Pac-12 Networks


Get hyped, Pullman: Here's the 2014-15 @wsumenshoops schedule: http://t.co/RoPoqUvTiz http://t.co/q65vXehk5q
17 minutes ago

Pac12Networks

Pac-12 Networks


Bow down! Here's the 2014-15 @uw_mbb schedule: http://t.co/73BI1aWqCj http://t.co/F8N5unFY8M
21 minutes ago

Pac12Networks

Pac-12 Networks


It's time, Utes fans: Here's the @runnin_utes schedule for 2014-15: http://t.co/8ZQotDN2Cz http://t.co/9bFYy6XG1N
24 minutes ago

Pac12Networks

Pac-12 Networks


Fight on! Here's the 2014-15 @usc_hoops schedule: http://t.co/gh7MmYvkHm http://t.co/bDPKjatMxD
27 minutes ago

Pac12Networks

Pac-12 Networks


How many BruWINS this year? Here's the 2014-15 @UCLAMBB schedule: http://t.co/7MqVcO3ZbO http://t.co/zytk4rduzn
31 minutes ago

Pac12Networks

Pac-12 Networks


Arise, #NerdNation: Here's the 2014-15 @stanfordbball schedule: http://t.co/zWP5QTxadX http://t.co/TV9xY5qcPm
35 minutes ago

Pac12Networks

Pac-12 Networks


Time to rock Gill: The @oregonstatembb schedule is out: http://t.co/X3HYRjhbA7 http://t.co/Mh2C1rEBei
38 minutes ago

Pac12Networks

Pac-12 Networks


Rise up, Mighty Oregon: Here's the @OregonMBB 2014-15 schedule: http://t.co/rvtRyTu1qM http://t.co/xg5J77RVoN
42 minutes ago

Pac12Networks

Pac-12 Networks


The Buffs are back: It's the 2014-15 @cubuffsmbb schedule: http://t.co/3qXEazk6pL http://t.co/AQmG9fVIta
47 minutes ago

Pac12Networks

Pac-12 Networks


This is Bear Territory: It's the 2014-15 @CalMensBBall schedule: http://t.co/HFgc2lyXMk http://t.co/7XxMVOEDgY
54 minutes ago

Pac12Networks

Pac-12 Networks


Forks up: Here's the @SunDevilHoops 2014-15 schedule: http://t.co/0vvrSbafqe http://t.co/VJxipi0TIU
about an hour ago

oregonliveducks

oregonlive.com/ducks


Oregon Ducks release 2014-2015 men's basketball schedule http://t.co/rWWeGLjtwa #goducks
about an hour ago

GoDucks

GoDucks


#GoDucks "@OregonMBB: Ducks Release 2014-15 Men's Basketball Schedule: http://t.co/y6t6ftTtRK"
about an hour ago

Pac12Networks

Pac-12 Networks


'Cats fans: Here's the full 2014-15 @APlayersProgram schedule: http://t.co/DlPlHtFO6p http://t.co/LpxPFbEddC
about an hour ago

Pac12Networks

Pac-12 Networks


Stand by - we're about to tweet a link to the 2014-15 #pac12hoops schedule for every Pac-12 team. Get your RT fingers ready!
about an hour ago

DuckSportsNow

Duck Sports Now


Oregon players prepare for WSU http://t.co/R8RTklqFY1
about an hour ago

DuckSportsNow

Duck Sports Now


Pulse Report: Drake wears Mariota jersey http://t.co/S3SEa3uxUQ
about an hour ago

DrewShiller

Drew Shiller


It's Christmas come early on the @Pac12Networks right now. Full basketball schedule being unveiled now. I missed seeing @L_Hurd's mug...
about an hour ago

Pac12Networks

Pac-12 Networks


Also, here's a list of all 146 games that will be shown on the Networks this season: http://t.co/6dFsjrlIgV
about an hour ago

Pac12Networks

Pac-12 Networks


Courtesy of @kevo408, here are 12 must-watch games during the 2014-15 #pac12hoops season: http://t.co/BkDfE5bpuR
about an hour ago

Pac12Networks

Pac-12 Networks


Every game of 2014-15 in one neat, tidy package: http://t.co/X6XFY47LCbTeam-by-team schedules will be tweeted throughout #SportsReport!
about an hour ago

Pac12Networks

Pac-12 Networks


The wait is over! It's time for the #pac12hoops schedule reveal on #SportsReport. Watch it right now: http://t.co/YfMNDWLu5w
about an hour ago

ESPN_Pac12blog

ESPN_Pac12blog


And your Pac-12 Week 3 play of the week is ... http://t.co/0jP6QbFjtB http://t.co/OkV38WlRCy
about an hour ago

Pac12Networks

Pac-12 Networks


Can Arizona (season champs) and UCLA (tourney champs) repeat?The #pac12hoops schedule reveal is 30 minutes away! http://t.co/vri5e1pdES
about an hour ago

pac12

Pac-12 Conference


Less than an hour until the 2014-15 #pac12hoops TV schedule is released! Tune in to the Pac-12 Sports Report at 7 p.m. PT on @Pac12Networks!
about 2 hours ago

Pac12Networks

Pac-12 Networks


Might be! #SportsReport at 7 PT. RT @MelLashbrook That clutch goal by Stanford's Alex McCawley NEEDS to be in #12best @Pac12Networks
about 2 hours ago

Pac12Networks

Pac-12 Networks


FILL IN THE BLANK: The 2014-15 #pac12hoops champ will be ____.Schedule reveal at 7 PT on #SportsReport! http://t.co/NrNZw4JK5N
about 2 hours ago

ESPN_Pac12blog

ESPN_Pac12blog


A look at backup QBs in the Pac-12 http://t.co/WG64gtY2Bk
about 2 hours ago

ESPN_Pac12blog

ESPN_Pac12blog


ICYMI: Your Pac-12 morning links: UCLA survived but it was a chaotic weekned for LA teams. http://t.co/2wNryDM9mj http://t.co/dTm0wPzXj6
about 2 hours ago

Pac12Networks

Pac-12 Networks


"Get him up on our shoulders!"A powerful new #TheDrive premieres Wednesday at 7 PT. http://t.co/z5xoUV5hYv http://t.co/4PM1CNyuMz
about 2 hours ago

Pac12Networks

Pac-12 Networks


One hour, 49 minutes and 15 seconds until #SportsReport unveils the 2014-15 #pac12hoops schedule (but we're not counting we swear)
about 3 hours ago

oregonliveducks

oregonlive.com/ducks


Walter Thurmond, New York Giants CB, out for season with torn pectoral muscle http://t.co/XviEC6fJSj #goducks
about 3 hours ago

Pac12Networks

Pac-12 Networks


UW STAND UP! Tonight's Pac-12 #SportReport features @HarryTheHusky in our Mascot Challenge. Tune in at 7 PT http://t.co/y01NE1qgRq
about 3 hours ago

GoDucksTV

GoDucks TV


Now on @GoDucksTV: Mac & Mose - Wyoming Review http://t.co/3n8IXtldLh #GoDucks
about 3 hours ago

GoDucksTV

GoDucks TV


Now on @GoDucksTV: Interview with Marcus Mariota 9-15 post-practice http://t.co/avX11cqYZK #GoDucks
about 3 hours ago

DuckSportsNow

Duck Sports Now


Oregon Football Practice Recap: Sept. 15 http://t.co/y4gtY5jHNs
about 3 hours ago

DuckSportsNow

Duck Sports Now


Marcus Mariota takes a golf break, then starts preparing for Washington State Cougars (video) http://t.co/N3pzB05tfi
about 3 hours ago

DuckSportsNow

Duck Sports Now


Despite mom's request, Marcus Mariota plans to continue being a 'football player' http://t.co/WGGjvz76Ka
about 3 hours ago

oregonliveducks

oregonlive.com/ducks


Marcus Mariota takes a golf break, then starts preparing for Washington State Cougars (video) http://t.co/ArKWl4gJPN #goducks
about 3 hours ago

oregonliveducks

oregonlive.com/ducks


UCLA's Jerry Neuheisel highlights Pac-12 players of the week http://t.co/lzsBhazpUI #goducks
about 4 hours ago

oregonliveducks

oregonlive.com/ducks


Oregon Ducks recruiting: Alex Ofodile responds to cyberbully; 4-star hoops recruit commits http://t.co/eqD5sO1EcQ #goducks
about 4 hours ago

DuckSportsNow

Duck Sports Now


Mac & Mose – Wyoming Review http://t.co/YwLFYeqblH
about 4 hours ago

DuckSportsNow

Duck Sports Now


Oregon Ducks practice quick hits: Marcus Mariota hits the golf course after Wyoming win http://t.co/zYeooIFeEy
about 4 hours ago

DuckSportsNow

Duck Sports Now


Oregon football practice recap: Mariota talks about his leap into end zone, O-line undergoes more turnover http://t.co/ZLfRNnJ61x
about 4 hours ago

oregonliveducks

oregonlive.com/ducks


Despite mom's request, Marcus Mariota plans to continue being a 'football player' http://t.co/gGWUYyopv9 #goducks
about 4 hours ago

McNamaraUO

Andy McNamara


'Mac & Mose' Wyoming review (with highlights!) #GoDucks http://t.co/8vkeN8nYiN
about 4 hours ago

McNamaraUO

Andy McNamara


'Mac & Mose' Wyoming review (with highlights!) #GoDucks http://t.co/8vkeN8nYiN
about 4 hours ago

Pac12Networks

Pac-12 Networks


ICYMI: @wsucougfb set a #pac12fb passing record on Saturday: http://t.co/5STqAJ35fN http://t.co/WQTA1elPVj
about 4 hours ago

DuckFootball

Rob Moseley


Oregon Football Practice Recap: Sept. 15 http://t.co/f6yPOyY2J8 #GoDucks
about 4 hours ago

Pac12Networks

Pac-12 Networks


We're heading to Berkeley and Salt Lake City for some end-of-September football. Our TV selections for Week 5: http://t.co/N4j8GHeJwX
about 4 hours ago

FanBladeFilms

Scott Phillips


Here's a new Mac & Mose for you! http://t.co/jPP2AWe1uU @RiceKurt @playapus23 @DuckFootball @McNamaraUO @jorgy_mike @VoiceoftheDucks
about 5 hours ago

DuckSportsNow

Duck Sports Now


Duck Tales: Sunday's teleconference http://t.co/fSEMdjNAAW
about 5 hours ago

DuckSportsNow

Duck Sports Now


The Kickoff: Duck Open Conference Play With Trip To Washington State http://t.co/YNPS744hsD
about 5 hours ago

DuckSportsNow

Duck Sports Now


Pac-12 Blog Play of the Week: Mariota's TD http://t.co/TmCsR6FPGM
about 5 hours ago

Pac12Networks

Pac-12 Networks


.@ASUSoccer's Cali Farquharson and @StanfordWSoccer's Kendall Romine + Jane Campbell are WSOC Players of the Week http://t.co/7nr2uLuDsR
about 5 hours ago

oregonliveducks

oregonlive.com/ducks


Oregon Ducks practice quick hits: Marcus Mariota hits the golf course after Wyoming win http://t.co/YrFZ6la0tZ #goducks
about 5 hours ago

Pac12Networks

Pac-12 Networks


.@ASUSoccer's Cali Farquharson and @StanfordWSoccer's Kendall Romine & Jane Campbell are WSOC Players of the Week....
about 5 hours ago

McNamaraUO

Andy McNamara


Oregon & Wazzu rank 1-2 in the FBS in percentage of plays of 10+ yds this season: @WinTheDay 30.1%, @WSUCougFB 29.3% #GoDucks
about 5 hours ago

DuckSportsNow

Duck Sports Now


Shebby Caps Stellar Week with Pac-12 Award http://t.co/OpbbSKwpVH
about 5 hours ago

DuckSportsNow

Duck Sports Now


Mac & Mose – Wyoming Review http://t.co/QQYCJy1N0M
about 5 hours ago

DuckSportsNow

Duck Sports Now


Interview with Scott Frost post-practice 9-15 http://t.co/aT6vLcBDjj
about 5 hours ago

DuckSportsNow

Duck Sports Now


Interview with Marcus Mariota 9-15 post-practice http://t.co/sKr1T5xAXn
about 5 hours ago

DuckSportsNow

Duck Sports Now


Interview with Greatwood post-practice 9-15 http://t.co/c1r3b0eWMT
about 5 hours ago

DuckSportsNow

Duck Sports Now


Interview with Coach Campbell 9-15 post-practice http://t.co/HDkbbWXoKe
about 5 hours ago

McNamaraUO

Andy McNamara


Oregon & Wazzu rank 1-2 in the FBS in percentage of plays of 10+ yds this season: @WinTheDay 30.1%, @WSUCougFB 29.3% #GoDucks
about 5 hours ago

ESPN_Pac12blog

ESPN_Pac12blog


ICYMI: Do Week 3 results portend a wider vulnerability in the Pac-12 South? http://t.co/lFd9D8oxBY http://t.co/xjR5T41S3p
about 6 hours ago

ESPN_Pac12blog

ESPN_Pac12blog


The Playoff Picture: BC's joy was USC's pain. How it all went wrong for the Trojans Week 3. http://t.co/asPmzuBup4 http://t.co/p51iTBnhEB
about 6 hours ago

DuckSportsNow

Duck Sports Now


As the hype grows and new challenges are posed, Ducks just have to play the game they love http://t.co/NQtZazeMnC
about 6 hours ago

Pac12Networks

Pac-12 Networks


.@Pac12Networks+@UCLAFootball+@jerryneuheisel= A viral @CoachNeuheisel celebration. Roundup: http://t.co/yu9L3nIaoN http://t.co/FIHq3VfIGG
about 6 hours ago

ESPN_Pac12blog

ESPN_Pac12blog


ICYMI: Pac-12 Week 3 Power Rankings sees USC tumble. http://t.co/7Ar3MxJOCs http://t.co/tYtuZz7VT9
about 6 hours ago

Pac12Networks

Pac-12 Networks


Tonight on #SportsReport: @L_Hurd joins @JB_Long + @AdamsonAshley to talk the 2014-15 #pac12hoops schedule: http://t.co/3eelvKbYoc 7 PT!
about 6 hours ago

DuckSportsNow

Duck Sports Now


New York Giants Cornerback Walter Thurmond Lost for the Season http://t.co/l7WkdVjwuG
about 6 hours ago

DuckSportsNow

Duck Sports Now


Vote for the Pacific Takes Pac-12 Power Rankings Week Three http://t.co/Bvxck8ZW6E
about 6 hours ago

DuckSportsNow

Duck Sports Now


Pac-12 Focus Top 25 Week Three: USC falls out of the Top 10 http://t.co/PP5P43ylgg
about 6 hours ago

ESPNOregon

ESPN Oregon


Duck Tales: Sunday's teleconference http://t.co/G4QEmkKMKW
about 7 hours ago

ESPN_Pac12blog

ESPN_Pac12blog


Pac-12 Blog Play of the Week: Mariota's TD http://t.co/AaGhTqBnhq
about 7 hours ago

Pac12Networks

Pac-12 Networks


Attention @GoStanford, @UCLAAthletics, @UWAthletics + @TheSunDevils fans: Last call for #LeaderofthePac voting! http://t.co/YKbh2ZiX4j
about 7 hours ago

OregonMBB

Oregon Basketball


Our 2014-15 schedule will be revealed at 7 p.m. tonight on the Pac-12 Networks. Also check http://t.co/jKCQVANydP tonight!
about 7 hours ago

ESPN_Pac12blog

ESPN_Pac12blog


Shaq Thompson was among those honored with a Pac-12 Helmet Sticker for his Week 3 performance. http://t.co/hBFbkQUT4A http://t.co/rFVHBgMoah
about 7 hours ago

Pac12Networks

Pac-12 Networks


Jon Rahm of @asumensgolf casually thumped a record set by Jack Nicklaus. Is he your #LeaderOfThePac? Vote here: http://t.co/QqDlpcv0P1
about 7 hours ago

oregonliveducks

oregonlive.com/ducks


Oregon Ducks signee Alex Ofodile has brilliant response to Twitter abuse http://t.co/6XdVxIqpkK #goducks
about 7 hours ago

Pac12Networks

Pac-12 Networks


Ryan Walker-Hartshorn netted a hat trick for @StanfordWSoccer yesterday, which is #LeaderofthePac-worthy. Vote here: http://t.co/QqDlpcv0P1
about 7 hours ago

ScottNulph

Scott Nulph


Craig Bohl on Marcus Mariota diving into end zone: "When he did that, I was like, OK, we have no answers for something like that."
about 8 hours ago

ESPN_Pac12blog

ESPN_Pac12blog


In your Pac-12 morning links: UCLA survived but it was a chaotic weekned for Los Angeles teams http://t.co/2wNryDM9mj http://t.co/CpXZzqYhGD
about 8 hours ago

DSArivals

DuckSportsAuthority


Wyoming grades: Defense/ST: The Oregon defense limited the Wyoming Cowboys to 14 points on Saturday, but that... http://t.co/fV2WOGCvLn
about 8 hours ago

DuckSportsNow

Duck Sports Now


The Trojans horse around, spoil a perfect week http://t.co/mn6lcsKTGX
about 8 hours ago

DuckSportsNow

Duck Sports Now


Wyoming grades: Defense/ST http://t.co/LndQApfGcl
about 8 hours ago

DuckSportsNow

Duck Sports Now


Search for next Clay could lead to Bartlett http://t.co/mHMMTqTzxZ
about 8 hours ago

DuckSportsNow

Duck Sports Now


Cowboys gain confidence in loss http://t.co/fyyHMtDiZ6
about 8 hours ago

Pac12Networks

Pac-12 Networks


Scoring goals and servin' up assists for @UW_MSoccer, Mason Robertson is nominated for #LeaderofthePac. Vote here: http://t.co/QqDlpcv0P1
about 8 hours ago

DuckSportsNow

Duck Sports Now


College football: My vote in the debut Grantland Rice 'Super 16′ poll http://t.co/E2yJzhAZvD
about 8 hours ago

DuckSportsNow

Duck Sports Now


Former Oregon standout Ed Dickson reads writing on wall in Baltimore, finds new opportunity in Carolina http://t.co/gwKAVViInp
about 8 hours ago

BonaguraESPN

Kyle Bonagura


Marcus Mariota's QBR rating of 98.1 against Wyoming was the best single-game number of his 29-game career.
about 8 hours ago

ESPN_Pac12blog

ESPN_Pac12blog


Players of Week: Neuheisel, Thompson, Adams http://t.co/fZOGeZtrUM
about 8 hours ago

Pac12Networks

Pac-12 Networks


With 2 TD's and a game-winning drive for @UCLAFootball, @jerryneuheisel is nominated for #LeaderofthePac. Vote here: http://t.co/QqDlpcv0P1
about 8 hours ago

Pac12Networks

Pac-12 Networks


This week's def. POW---> RT @BonaguraESPN UW LB Shaq Thompson had 2 defensive TDs vs Illinois. No one else in the country has 2 this season.
about 8 hours ago

Pac12Networks

Pac-12 Networks


The most retweeted Play of the Game from the weekend is THIS from @WinTheDay's Marcus Mariota: http://t.co/kim4ubDFMS Is it #12best worthy?
about 9 hours ago

DuckSportsNow

Duck Sports Now


Oregon Ducks opponent quick look: Washington State Cougars http://t.co/yjGMHN85Bd
about 9 hours ago
BLOG ARCHIVE:
CATEGORIES: