Watch: UA combine (WR vs. DB)
January, 9, 2013
Jan 9
6:33
AM ET
By
RecruitingNation staff
| ESPN.com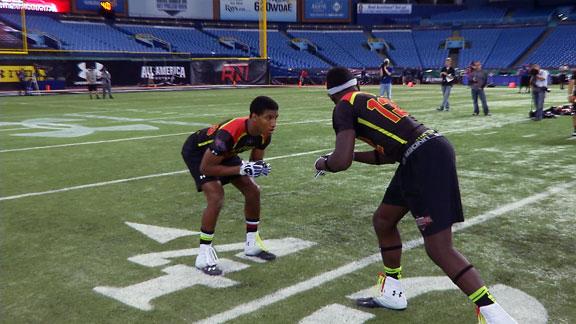 Wide receiver vs. defensive back one-on-one matchups from the Jan. 4 Under Armour Combine held at Tropicana Field in St. Petersburg, Fla. The combine featured many of the nation's top 2014 and 2015 prospects.
Mature Decision By Marcus Mariota
Todd McShay reacts to Marcus Mariota's choice to return to college for another season and continue his development.
Tags:
Marcus Mariota
,
Oregon
,
Todd McShay
Mature Decision By Marcus Mariota
VIDEO PLAYLIST
Mature Decision By Marcus Mariota

Mature Decision By Marcus Mariota

Todd McShay reacts to Marcus Mariota's choice to return to college for another season and continue his development.

Tags: Marcus Mariota

,

Oregon

,

Todd McShay

Mariota Will Return To Oregon

Mariota Will Return To Oregon

Ask Brad: Week 15

Ask Brad: Week 15

Brad Edwards answers twitter questions on Missouri's national title chances, if Oregon can make the BCS, and what could go wrong for Clemson to make the Orange Bowl.

Tags: Ask Brad

,

Week 15

,

BCS

,

Brad Edwards
DUCKNATION RECRUITING NEWS
OREGON FB RECRUITING SCORECARD
Pac12Networks

Pac-12 Networks


.@StanfordWVB commanded the first round of the NCAA tournament with 3-0 win over Hampton. Postgame interview: http://t.co/ayKpFcbnQV
17 minutes ago

DSArivals

DuckSportsAuthority


Oregon interested in UCLA commit: Oregon continues to come after Denzel Fisher but the UCLA commit said the Du... http://t.co/YsIsfGtE70
49 minutes ago

DuckSportsNow

Duck Sports Now


Focus unchanged as Oregon men face road test at Ole Miss http://t.co/3bmKI55hQm
about an hour ago

Pac12Networks

Pac-12 Networks


.@CoachGrahamASU's Thursday = #pac12fcg prep, media + his 49th birthday. Video: http://t.co/TQxeaFHwyn http://t.co/7FmErmn6yB
about 2 hours ago

DuckSportsNow

Duck Sports Now


Kosteka: No natty? The Ducks got what they deserved this season http://t.co/J6SOxkxJvM
about 2 hours ago

oregonliveducks

oregonlive.com/ducks


Jordan Bell qualifies to join Oregon men's basketball team http://t.co/arWfsAtcRf #goducks
about 2 hours ago

oregonliveducks

oregonlive.com/ducks


Oregon basketball: Are the undefeated Ducks road warriors? That's what Dana Altman seeks to find out ... http://t.co/oMnSWjKfib #goducks
about 2 hours ago

oregonliveducks

oregonlive.com/ducks


Goe: This Oregon State team should pass on playing in a bowl game http://t.co/uYn053ou21 #goducks
about 2 hours ago

Pac12Networks

Pac-12 Networks


.@NCAAVolleyball coverage continues with UNH at #6 seed @uscwomensvolley on Pac-12 Network/AZ/LA/MT at 7:30 PT: http://t.co/1YKMVQgcxD
about 2 hours ago

Pac12Networks

Pac-12 Networks


.@NCAAVolleyball 1st round match with #7 seed @StanfordWVB hosting Hampton at 7 PT on Pac-12 BA/OR/WA: http://t.co/zePyrMui8e
about 3 hours ago

DuckSportsNow

Duck Sports Now


Jordan Bell qualifies to join Oregon men's basketball team http://t.co/jCauMAB1xd
about 3 hours ago

DuckSportsNow

Duck Sports Now


Lyerla's drug case hearing postponed http://t.co/jGMqUgGluu
about 3 hours ago

DuckSportsNow

Duck Sports Now


Oregon basketball: Are the undefeated Ducks road warriors? That's what Dana Altman seeks to find out every season http://t.co/OEI0qTLnuO
about 3 hours ago

DuckSportsNow

Duck Sports Now


Roommate Game Sequel: Derrick Malone & Rodney Hardrick http://t.co/mQdnA6vB3G
about 3 hours ago

GoDucksTV

GoDucks TV


Now on @GoDucksTV: Jim Moore pre NCAA Tournament http://t.co/LCHLb4qu8z #GoDucks
about 3 hours ago

DuckSportsNow

Duck Sports Now


Oregon football recruiting: Haniteli Lousi could add depth and muscle to Duck o-line http://t.co/soU30J1U0B
about 3 hours ago

DuckSportsNow

Duck Sports Now


The 2014 USA Junior Track & Field Championships to be at Hayward Field http://t.co/bwEY2FxMx3
about 3 hours ago

DuckSportsNow

Duck Sports Now


GameDay: A look back at football season http://t.co/ESYbbxCSup
about 3 hours ago

McNamaraUO

Andy McNamara


Why, hello there @OrangeBowl #GoDucks http://t.co/uzcCmCn5AW
about 3 hours ago

DuckSportsNow

Duck Sports Now


Winston given a pass, cleared for Heisman, ACC Championship Game http://t.co/kUQyPaWBmJ
about 4 hours ago

Pac12Networks

Pac-12 Networks


Get an exclusive look at @FootballASU's practice as they get ready to host @StanfordFball in the #pac12fcg . Photos: http://t.co/A7r2Y2elcj
about 4 hours ago

Pac12Networks

Pac-12 Networks


RT @StanfordFball: We're under 48 hours to kickoff of the #pac12fcg. Our locker room countdown clock tells us so. #gostanford #BeatASU http…
about 5 hours ago

McNamaraUO

Andy McNamara


RT @QuackCave: Another Miami resident who'd like to see @WinTheDay in @OrangeBowl. Maybe you've heard of him? @KingJames #GoDucks http://t.…
about 5 hours ago

DuckSportsNow

Duck Sports Now


As the Pac-12 Coaching Carousel Turns http://t.co/t98AeZM3Gb
about 5 hours ago

DuckSportsNow

Duck Sports Now


Colt Lyerla's latest hearing for drug possession case is postponed http://t.co/mx2S7evbgI
about 5 hours ago

DuckSportsNow

Duck Sports Now


GameDay: Huff, Ekpre-Olomu and Addison top our MVP list in 2013 http://t.co/XV9xnwvXsj
about 5 hours ago

Pac12Networks

Pac-12 Networks


RT @StanfordMWP: 20-3 win over Whittier in the NCAA Play-In Game and will face UOP in the 2nd semi on Saturday at 2:45 pm. Time for @Stanfo…
about 5 hours ago

DuckSportsNow

Duck Sports Now


ATQ Podcast: Pac-12 Hoops Chat with Adam Butler http://t.co/uon9BS1MFL
about 6 hours ago

DuckSportsNow

Duck Sports Now


Oregon back on familiar tournament turf http://t.co/cnk2VO3Aua
about 6 hours ago

DuckSportsNow

Duck Sports Now


Moseley: Ducks Are Finishing Games http://t.co/KJUHkIdWXt
about 6 hours ago

DuckSportsNow

Duck Sports Now


Jim Moore pre NCAA Tournament http://t.co/193RKxexcp
about 6 hours ago

Pac12Networks

Pac-12 Networks


RT @itsthatguytbell: Chillin with @Taylor_Kelly10 while camping out for wristbands! #asu #Pac12ChampionshipGame #godevils http://t.co/Jpvuw…
about 6 hours ago

Pac12Networks

Pac-12 Networks


2 @NCAAVolleyball matches tonight on the networks, incl. @StanfordWVB v. Hampton + @uscwomensvolley v. UNH. TV info: http://t.co/B7yZekbqxQ
about 6 hours ago

ESPNOregon

ESPN Oregon


Mariota a boon for year 2 of Helfrich http://t.co/5YXlxFxfHO
about 6 hours ago

EATBLACKMOMBA6

DE'ANTHONY THOMAS


RT @cfjarli: Real talk with @EATBLACKMOMBA6 in class today. #killinit
about 6 hours ago

ESPN_Pac12blog

ESPN_Pac12blog


Mariota a boon for year 2 of Helfrich http://t.co/67wCg3AhYG
about 6 hours ago

Pac12Networks

Pac-12 Networks


.@CoachGrahamASU + @FootballASU are as fired up as their fans to be hosting #pac12fcg . Inside today's practice VID: http://t.co/ebXlHoxv6D
about 6 hours ago

McNamaraUO

Andy McNamara


Cottage Grove/Coconut Grove? Another sign RT @QuackCave: There is a South Beach, OR. It is 36 degrees right now #GoDucks @OrangeBowl
about 6 hours ago

UOPintens

Craig Pintens


Chances of @OrangeBowl or @valeroalamobowl Rely on @DuckFootball for the breakdown http://t.co/N6PgDB80ee #GoDucks
about 7 hours ago

KBDeuce4

Kenjon Barner


Just posted a photo http://t.co/GmABYasRcv
about 7 hours ago

DuckFootball

Rob Moseley


So you're tellin' me there's a chance: Outlining Oregon's BCS hopes, and what to watch for this weekend http://t.co/MxN3ZtMisZ #GoDucks
about 7 hours ago

KBDeuce4

Kenjon Barner


We lost One of the greatest men to ever walk this earth. The example he set, the courage he had and… http://t.co/8fdqBlQJsI
about 7 hours ago

ESPN_Pac12blog

ESPN_Pac12blog


RT @McMurphyESPN: Washington scheduled to interview Bama OC Doug Nussmeier today, Boise's Chris Petersen Friday sources told @ESPN
about 7 hours ago

Pac12Networks

Pac-12 Networks


RT @pac12: Watch LIVE @ncaavolleyball tourney 1st rd action at @uscwomensvolley & @StanfordWVB on the @Pac12Networks tonight! Check listing…
about 7 hours ago

UOPintens

Craig Pintens


"Lead from the back — and let others believe they are in front." -RIP Nelson Mandela
about 7 hours ago

Pac12Networks

Pac-12 Networks


.@StanfordFball looks to exorcise road demons + @FootballASU's success paying off big for @CoachGrahamASU. Links: http://t.co/APB6hMLzLp
about 7 hours ago

DuckSportsNow

Duck Sports Now


Flores: Marcus Mariota's decision to stay at Oregon reflects his true values http://t.co/ICNAZmyPLO
about 8 hours ago

ESPN_Pac12blog

ESPN_Pac12blog


RT @InsideUSC: Steve Sarkisian said he will call plays at #USC ``I will say I've never called plays by myself,'' Sarkisian said
about 8 hours ago

Pac12Networks

Pac-12 Networks


RT @FootballASU: Happy birthday @CoachGrahamASU Give him a present and buy a ticket to Saturday's game! #ChasingRoses http://t.co/FjRJYTVJBz
about 8 hours ago

Pac12Networks

Pac-12 Networks


.@FootballASU's Alden Darby doesn't just break up passes, he breaks out dance moves. Check out today's practice: http://t.co/b4wgOXEOYj
about 8 hours ago

McNamaraUO

Andy McNamara


RT @QuackCave: Ducks have some pretty prominent fans in Miami already @OrangeBowl @DwayneWade #GoDucks http://t.co/q9ev1KC8Yo
about 9 hours ago

ESPN_Pac12blog

ESPN_Pac12blog


Video: Pac-12 Game of the Week http://t.co/IqfnZgsu0N
about 9 hours ago

Pac12Networks

Pac-12 Networks


RT @JoshWaltersSr: T-Minus 1 day till College Cup! #OscarMike #110 http://t.co/B3V7zv7QCe
about 9 hours ago

ESPN_Pac12blog

ESPN_Pac12blog


We're chatting. Join us now! Click here ----> http://t.co/fqUGIwpkWO
about 9 hours ago

DuckSportsNow

Duck Sports Now


The Week 14 QuackPoll Thinks the Big XII is the BOMB http://t.co/B1TIWABIZV
about 10 hours ago

DuckSportsNow

Duck Sports Now


O Hero of the Month: Sam Kamp http://t.co/KCYyH02pbY
about 10 hours ago

DuckSportsNow

Duck Sports Now


O Hero of the Month: Courtney Ceo http://t.co/OTxzwR7MLJ
about 10 hours ago

DuckSportsNow

Duck Sports Now


Quack Fix: Joey Scared-ington and Basketball Prep for Ole Miss http://t.co/6GHv8rl4Zx
about 10 hours ago

DSArivals

DuckSportsAuthority


Diamond Bar four-star talks Oregon: Diamond Bar (Calif.) WR Cordell Broadus is one of the top 2015 prospect in... http://t.co/ZPSgRM19oX
about 10 hours ago

GoDucksTV

GoDucks TV


Now on @GoDucksTV: Katelyn Loper ... For Three! http://t.co/4dUzhHlsJ1 #GoDucks
about 10 hours ago

DuckSportsNow

Duck Sports Now


Diamond Bar four-star talks Oregon http://t.co/fq6839dryZ
about 10 hours ago

DuckSportsNow

Duck Sports Now


R250: Risers and fallers http://t.co/Ee3AB3UEuC
about 10 hours ago

DuckSportsNow

Duck Sports Now


Katelyn Loper … For Three! http://t.co/hzoR7qia0k
about 10 hours ago

ESPN_Pac12blog

ESPN_Pac12blog


Pac-12's lunch links http://t.co/9lGyVObyPB
about 10 hours ago

ESPNOregon

ESPN Oregon


Pac-12's lunch links http://t.co/HF9LkFZZsW
about 10 hours ago

DuckFootball

Rob Moseley


Some language here, but it's damn funny RT @nflnetwork: Chip Kelly gets awesomely snarky during Thursday presser: http://t.co/AaFjConeQc
about 10 hours ago

DuckFootball

Rob Moseley


RT @CAnderson1954: UO's @KingCheserek, @mjc253, @DevonAllen13 & Cole Walsh all named to T&FN's high school boys all-American team. http://t…
about 10 hours ago

DuckSportsNow

Duck Sports Now


Keenan Howry looking like Josh Huff on this TD grab during Ducks' Fiesta Bowl season in 2001 #tbt #goducks http://t.co/p189HoMBeI
about 10 hours ago

ESPN_Pac12blog

ESPN_Pac12blog


We're chatting! http://t.co/xSPIe5t4Q8
about 10 hours ago

ESPN_Pac12blog

ESPN_Pac12blog


Under Armour game storylines: Pac-12 http://t.co/r0QZq1hELf
about 10 hours ago

ESPNOregon

ESPN Oregon


Under Armour game storylines: Pac-12 http://t.co/Iadcdujgrj
about 10 hours ago

ESPN_Pac12blog

ESPN_Pac12blog


Video: Champ. Week Conference Call http://t.co/tXh0Uz99kH
about 11 hours ago

DuckSportsNow

Duck Sports Now


The main reason Oregon lost two games http://t.co/7WV3VH7RcM
about 11 hours ago

ESPN_Pac12blog

ESPN_Pac12blog


Colorado plans facilities upgrades http://t.co/9fL3eMVRTV
about 11 hours ago

DuckSportsNow

Duck Sports Now


Prospect analysis: Hanateli Lousi http://t.co/4WA7F8J6ba
about 11 hours ago

DuckSportsNow

Duck Sports Now


Duck the Odds, Championship Week: Are the Sun Devils Ready for Their Closeup? http://t.co/gFQNnEoauq
about 12 hours ago

ESPN_Pac12blog

ESPN_Pac12blog


RT @mcherrington22: Coaches left on the #UW staff? Cozzetto, Lupoi, Tuiasosopo, Eric Keisau and Justin Wilcox. Soon could be just Tui, Cozz…
about 12 hours ago

ESPN_Pac12blog

ESPN_Pac12blog


RT @RegisterUSC: Of the 4 coaches apparently headed to Sarkisian's USC staff (Heyward, Martin, Nansen, Sirmon), none are over 39 years old.
about 12 hours ago

DSArivals

DuckSportsAuthority


Prospect analysis: Hanateli Lousi: San Mateo, California (College of San Mateo) offensive lineman Haniteli Lou... http://t.co/yyWWj1IuUw
about 12 hours ago

ESPN_Pac12blog

ESPN_Pac12blog


Take 2: Unsung heroes to watch http://t.co/4dAyOu0XXm
about 12 hours ago

Pac12Networks

Pac-12 Networks


RT @FootballASU: The next you'll see us on this field, we'll be #ChasingRoses #PackSDS http://t.co/VQcxTzLOVU
about 13 hours ago

EATBLACKMOMBA6

DE'ANTHONY THOMAS


BANG BROS Crenshaw High School Football: http://t.co/e4B9Acdp2H via @youtube
about 13 hours ago

Pac12Networks

Pac-12 Networks


RT @srod776: It's beginning to look a lot like ... @pac12 Football Championship at Sun Devil Stadium! #ChasingRoses http://t.co/z5ND5HJXBe
about 13 hours ago

EATBLACKMOMBA6

DE'ANTHONY THOMAS


Video Young Butter Big Mark Crenshaw Blue And Gold Varsity Football...: http://t.co/EyFiWa6QzE via @youtube
about 13 hours ago

Pac12Networks

Pac-12 Networks


ICYMI: @ESPN_Pac12blog's Ted Miller talks #pac12fcg + #TeamKaDeem on his Heisman chances in latest #pac12fb Podcast: http://t.co/zgaAc4JyG6
about 13 hours ago

ESPN_Pac12blog

ESPN_Pac12blog


RT @coachingsearch: Excellent work by USA Today. Todd Graham can earn $2 million in bonuses this season. Incredible. http://t.co/Mpj1gL9shc
about 14 hours ago

ESPN_Pac12blog

ESPN_Pac12blog


Pinkel pretty direct: Not leaving Missouri for Washington. http://t.co/yzZbaX1HNC
about 14 hours ago

DSArivals

DuckSportsAuthority


Around the Mid-Atlantic: Henry takes center stage: It's decision time for 4-star Dravon Henry. Jamil Kamara, D... http://t.co/3OAbnsTfrw
about 14 hours ago

ESPN_Pac12blog

ESPN_Pac12blog


What to watch in the Pac-12: Week 15 http://t.co/3wDEn5bYh7
about 14 hours ago

ESPN_Pac12blog

ESPN_Pac12blog


Pac-12 championship game predictions http://t.co/L2PMe660dq
about 15 hours ago

DuckSportsNow

Duck Sports Now


The crucial change needed in Oregon football http://t.co/CSEl5tJLNX
about 16 hours ago

DuckSportsNow

Duck Sports Now


The Year of the Transfers — A Critical Test Sunday http://t.co/FFksEFATPl
about 18 hours ago

DuckSportsNow

Duck Sports Now


Volleyball Back in the Tourney http://t.co/RNc7cjrJRp
about 18 hours ago

oregonliveducks

oregonlive.com/ducks


Oregon women's basketball: Chrishae Rowe sets single-game scoring record as Ducks beat Seattle, 105-100 http://t.co/OT08v8YPPq #goducks
about 18 hours ago

DuckSportsNow

Duck Sports Now


Ok, What the Hell Happened to the Defense? http://t.co/wLf1V4hdyj
about 19 hours ago

DuckSportsNow

Duck Sports Now


Rowe sets Oregon scoring record in women's basketball win over Seattle University http://t.co/OcplqxWlQ7
about 21 hours ago

DuckSportsNow

Duck Sports Now


Oregon women's basketball: Chrishae Rowe sets single-game scoring record as Ducks beat Seattle, 105-100 http://t.co/oMl5Jc1kXG
about 22 hours ago

Pac12Networks

Pac-12 Networks


Speedy @FootballASU looking to turn the tables on @StanfordFball's stout defense in Saturday's #pac12fcg . Story: http://t.co/ZYMMH3B4fR
about 23 hours ago

DuckSportsNow

Duck Sports Now


Best Ducks sports tweets from Wednesday, Dec. 4 http://t.co/NdGV6ikPWg
1 day ago

McNamaraUO

Andy McNamara


@Huff_Era_1 You have no idea what you've done by replying to @CRomerDome! #Superfan
1 day ago
BLOG ARCHIVE:
CATEGORIES: