Oregon recruiting mailbag: Dec. 7
December, 7, 2012
12/07/12
7:06
AM ET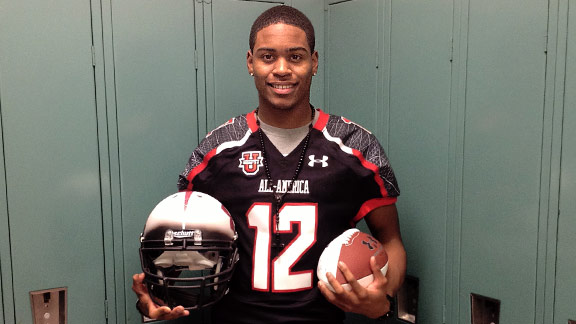 Brad Bournival/ESPN.comThe decision to stop recruiting Gareon Conley could be one Oregon regrets.
There has been a high volume of activity surrounding the Ducks' recruiting efforts in the past week. Some good, some bad and some, just plain weird. The Ducks dropped two of their top targets, added three new offers and reached out to USC CB commit
Chris Hawkins
(Rancho Cucamonga, Calif./Rancho Cucamonga) once again.
You asked. We'll answer. It's time once again for the Oregon Ducks recruiting mailbag.
To continue reading this article you must be an Insider
Insider
Pac-12 Teams Can Load Up At WR
Recruiting reporter Erik McKinney joins ESPN's Phil Murphy to break down the deep West Region wide receiver class in 2016.
Pac-12 Teams Can Load Up At WR
VIDEO PLAYLIST
OREGON FB RECRUITING SCORECARD
Jansport Youth Oregon Ducks Green Football T-shirt Shop »
DuckSportsNow

Duck Sports Now


Ducks Perform Well in Loss at Hawai'i Pacific http://t.co/Cz6fPeiGoV
about an hour ago

DuckSportsNow

Duck Sports Now


Arizona batters Oregon, 7-2 http://t.co/Vw5ToMJqq8
about an hour ago

DuckSportsNow

Duck Sports Now


Ducks Lose Game 1 At Arizona http://t.co/g9G0nCna0M
about an hour ago

Pac12Networks

Pac-12 Networks


.@USCmensvolley's Alex Slaught with the match-winner is the #UCSBvsUSC Play of the Match: http://t.co/UUCSGvjy6a
about 3 hours ago

Pac12Networks

Pac-12 Networks


VICTORY! @USCmensvolley comes back from being down 2-0 to get the W over the Gauchos! http://t.co/l4lINp8pJh
about 3 hours ago

Pac12Networks

Pac-12 Networks


.@USCmensvolley is going five with the Gauchos! Tune into Pac-12 Networks or http://t.co/YfMNDWLu5w
about 4 hours ago

Pac12Networks

Pac-12 Networks


.@ArizonaBaseball knocks off 18th-ranked Oregon in Tucson! #UOvsAZ http://t.co/sAqD1o5848
about 4 hours ago

Pac12Networks

Pac-12 Networks


Set 4 of #UCSBvsUSC is coming up on Pac-12 Los Angeles and http://t.co/YfMNDWLu5w! http://t.co/f1qRRE9kfe
about 4 hours ago

Pac12Networks

Pac-12 Networks


Highlights: The @Runnin_Utes fall to Duke in Sweet 16: http://t.co/zYb7aEKL0J
about 4 hours ago

Pac12Networks

Pac-12 Networks


The Pac-12 Champion @StanfordWBB Cardinal fall to Notre Dame in the #ncaaW Sweet 16. http://t.co/IN9OVuZE2C
about 5 hours ago

Pac12Networks

Pac-12 Networks


.@sundevilwbb drops a heartbreaker to Florida State in the #ncaaW Sweet 16. http://t.co/reJErJAUPL
about 5 hours ago

DuckSportsNow

Duck Sports Now


Ducks Bounce Back on Moving Day http://t.co/Feobxmp0L0
about 5 hours ago

GoDucksTV

GoDucks TV


Now on @GoDucksTV: Hawkins Post Game 3-27 http://t.co/n9AnhmCI5V #GoDucks
about 5 hours ago

GoDucksTV

GoDucks TV


Now on @GoDucksTV: White Post Game 3-27 http://t.co/ZE02SjeeXP #GoDucks
about 5 hours ago

Pac12Networks

Pac-12 Networks


They fought Goliath for 40 minutes, but ultimately fell short. Congratulations @Runnin_Utes on an incredible season. http://t.co/bxul5iQoWe
about 5 hours ago

DuckSportsNow

Duck Sports Now


Ducks' top spring story lines: No. 10 – Replacing Malone and Washington at linebacker http://t.co/sWS2Q4I2tT
about 5 hours ago

Pac12Networks

Pac-12 Networks


#Pac12AfterDark
about 5 hours ago

Pac12Networks

Pac-12 Networks


Reminder: #UOvsAZ baseball is live now on Pac-12 Networks and http://t.co/YfMNDWLu5w http://t.co/sb4FizKqJh
about 6 hours ago

DuckSportsNow

Duck Sports Now


Rose Shines in Loss Against Top-Ranked USC http://t.co/Vb07YmkuYu
about 6 hours ago

Pac12Networks

Pac-12 Networks


.@ASUSoftball opened up a DELI with this grand salami from Chelsea Gonzales! It's the #ASUvsAZ Play of the Game: http://t.co/nzKlXAuk0t
about 6 hours ago

Pac12Networks

Pac-12 Networks


.@ASUSoftball goes into Tucson and steals one from the 'Cats! #ASUvsAZ http://t.co/48E7dQ3QZs
about 6 hours ago

Pac12Networks

Pac-12 Networks


Halftime opinion poll: Which Coach K is more awesome?RT for @LKrystkowiak Fav for @LKrystkowiak #BackThePac http://t.co/nJ4kiXTwm0
about 6 hours ago

Pac12Networks

Pac-12 Networks


At the half in Houston, the @Runnin_Utes trail top-seeded Duke by just five, 22-27. #BackThePac
about 6 hours ago

TimothyAskew1

Timothy Askew


I like Utah's Defense so far on Duke. Go Utah! #BackThePac
about 7 hours ago

crichton18

Jeff Crichton


Go Utah! #BackThePac
about 7 hours ago

Mookies_dad

Bard Doster


Let's go @Runnin_Utes . #BearDown #BackThePac
about 7 hours ago

Pac12Networks

Pac-12 Networks


If you really #BackThePac, you'll listen to the infectiously good @UtahAthletics fight song on repeat: https://t.co/F51A6PAuet
about 7 hours ago

DuckSportsNow

Duck Sports Now


Ducks Unable to Take Down No. 15 UCLA on the Road http://t.co/PHStGKYe01
about 7 hours ago

DuckSportsNow

Duck Sports Now


Oregon softball learns the proper way to celebrate home runs http://t.co/LaYKO61SrX
about 7 hours ago

DuckSportsNow

Duck Sports Now


Ducks Bash Dawgs 8-0 In Perfect Game By Cheridan Hawkins http://t.co/HNOo2jgQWt
about 7 hours ago

MightyOregon

Yell O


Don't care what pundits say, seeing Utah play as a #5 is a joke after what Oregon did to them in the Pac-12.
about 7 hours ago

CindyBrunsonAZ

Cindy Brunson


Sir Charles Barkley just picked @Runnin_Utes to upset #Duke Yep, that'll work! #BackThePac
about 7 hours ago

SunDevilWBB

Sun Devil WBB


The Sun Devils warming up for #Sweet16! Tipoff will be approx. 7pm PT/10pm ET. Tune in to ESPN2! http://t.co/B8XlhqI6u4
about 7 hours ago

StanfordWBB

Stanford WBB


And we're off! #GoStanford http://t.co/E8rL1hKszc
about 7 hours ago

Pac12Networks

Pac-12 Networks


#BeatDuke #BackThePac
about 7 hours ago

DuckSportsNow

Duck Sports Now


Hawkins Post Game 3-27 http://t.co/HWS1ds7gnF
about 8 hours ago

DuckSportsNow

Duck Sports Now


White Post Game 3-27 http://t.co/T4H7CKn36a
about 8 hours ago

DuckSportsNow

Duck Sports Now


Oregon's Cheridan Hawkins on her perfect game: 'I'll take an out any way I can' http://t.co/UoKa5z1bt0
about 8 hours ago

VisualizeVanity

Controversal


@BOSSLIFEDAT13 I'm proud for what you have become and what you are becoming and that's real bro.
about 8 hours ago

Pac12Networks

Pac-12 Networks


.@Runnin_Utes fans, #GetPumped with a look back at the Georgetown win to get to the #Sweet16. http://t.co/H9tBZvjYLJ
about 8 hours ago

Pac12Networks

Pac-12 Networks


Respect is earned, not given. @UCLAMBB earned every ounce this year. One thing is for sure— greatness is Bruin in LA. http://t.co/OgH1XVgnSt
about 8 hours ago

GoDucksTV

GoDucks TV


Now on @GoDucksTV: Oregon's Cheridan Hawkins on her perfect game: 'I'll take an out any way I can' http://t.co/vxInYwogXb #GoDucks
about 8 hours ago

Pac12Networks

Pac-12 Networks


Here comes @UCLAMBB! #BackThePac http://t.co/thQ8u3Db7x
about 9 hours ago

DuckSportsNow

Duck Sports Now


Oregon's Cheridan Hawkins on her perfect game: 'I'll take an out any way I can' http://t.co/gcaQXxbZg0
about 9 hours ago

MikeEiden11

Michael Eiden


@BOSSLIFEDAT13 @Nike let's run some routes today. I'll throw #ScoDucks
about 9 hours ago

Clintonrmiller

Clint miller


@BOSSLIFEDAT13 @ShiekhShoes You gotta speak with Mike at the office homie.
about 9 hours ago

nikeblog

Nikeblog.com


The shoes on this guy RT @BOSSLIFEDAT13 EARLY MORNING @shiekhshoes TRYING TO GET MY RUNDAT GEAR IN THE STORE #RUNDAT http://t.co/U9QQqUsM95
about 9 hours ago

Pac12Networks

Pac-12 Networks


At the half, @UCLAMBB trails Gonzaga, 28-35. We ask now for your emoji reaction to the first half! #BackThePac http://t.co/XG3i1feZdL
about 9 hours ago

OregonSB

Oregon Duck Softball


BOOOOOOOOOM!!! Oregon run-rules UW with a two-run @Deccccker9 walk-off homer and @CheridanH11 throws a perfect game! http://t.co/KGcGI7axyV
about 9 hours ago

Pac12Networks

Pac-12 Networks


Batter up! @Cal_Baseball is in SLC to take on @utahbaseball live now on Pac-12 Networks: http://t.co/YfMNDWLu5w http://t.co/VLxPbtsndG
about 9 hours ago

Pac12Networks

Pac-12 Networks


.@Utah_Softball's Kristen Stewart went Twilight on this two-RBI double! It's the #UTAHvsSTAN Play of the Game: http://t.co/QZaaEDZyFY
about 9 hours ago

Pac12Networks

Pac-12 Networks


Batter up! @Cal_Baseball is in SLC to take on @utahbaseball live now on Pac-12 Networks: http://t.co/YfMNDWLu5w http://t.co/nzaCThqYQv
about 9 hours ago

Pac12Networks

Pac-12 Networks


The Ducks and 'Cats are on the diamond. Tune into Pac-12 Networks or http://t.co/YfMNDWLu5w #UOvsAZ http://t.co/yKqIRBzGAu
about 9 hours ago

Pac12Networks

Pac-12 Networks


The Utes of @Utah_Softball cut down the Trees on The Farm! #UTAHvsSTAN http://t.co/ZGU86BlqDP
about 9 hours ago

Pac12Networks

Pac-12 Networks


Hailey Decker's walk-off two-run HR won the day for @OregonSB. It's the #UWvsUO Play of the Game: http://t.co/07wu182XUA
about 9 hours ago

Pac12Networks

Pac-12 Networks


.@OregonSB makes quick work of the Huskies in Eugene! http://t.co/jwRrDhPzAw
about 9 hours ago

UOPintens

Craig Pintens


Not a bad afternoon to check out @OregonSB as they win 8-0 & @CheridanH11 throws a perfect game. #GoDucks
about 10 hours ago

Pac12Networks

Pac-12 Networks


It's pronounced "Gunzogga," right? #BackThePac
about 10 hours ago

DuckSportsNow

Duck Sports Now


Ducks Lose Yet Another Veteran http://t.co/kNOpejCWNw
about 10 hours ago

DuckSportsNow

Duck Sports Now


Denver Broncos: Draft Interest in Ifo-Ekpre Olomu, Ducks http://t.co/NPFMNGbyJW
about 10 hours ago

CindyBrunsonAZ

Cindy Brunson


Come on @UCLAMBB Here's to being in an upset state of mind! #BackThePac
about 10 hours ago

geoffschwartz

Geoff Schwartz


Come on gutty little Bruins! Win for the #Pac12 #BackThePac
about 10 hours ago

Pac12Networks

Pac-12 Networks


#BackThePac
about 10 hours ago

Pac12Networks

Pac-12 Networks


#GetPumped Bruins fans. It's almost time for tip-off. See how @UCLAMBB got ready for Gonzaga. http://t.co/1l9hCAIQPe
about 10 hours ago

DuckSportsNow

Duck Sports Now


Recap: UCLA tennis keeps a perfect record against Oregon http://t.co/Op6TUUXDLV
about 10 hours ago

Pac12Networks

Pac-12 Networks


Pac-12 Networks' @amyvandyken says she's regained reflexes in her knees and ankles! More on her amazing recovery: http://t.co/DPgEfNY4fH
about 10 hours ago

Beaver_Baseball

Oregon St. Baseball


The life of Saturday's starter #gobeavs http://t.co/NCvL3TB6HL
about 11 hours ago

Pac12Networks

Pac-12 Networks


Dennis Mkrtchian's cross-court volley gets our nod for Play of the Match in @UCLAtennis' 4-0 win over UO. #UOvsUCLA http://t.co/s0WPrgwC6C
about 11 hours ago

PFTonNBCSN

PFTonNBCSN


Top Offensive Tackle Prospects, according to @JoshNorris http://t.co/kd6qXgef7m
about 11 hours ago

DuckSportsNow

Duck Sports Now


Marcus Mariota and the Nonbelievers http://t.co/eZCsVj6ngR
about 11 hours ago

Pac12Networks

Pac-12 Networks


Dennis Mkrtchian's cross-court volley gets our nod for Play of the Game in @UCLAMBB's 4-0 win over UO. #UOvsUCLA http://t.co/s0WPrgwC6C
about 11 hours ago

Pac12Networks

Pac-12 Networks


.@Utah_Softball takes on @StanfordSball on The Farm now on Pac-12 Networks. Watch: http://t.co/YfMNDWLu5w #UTAHvsSTAN http://t.co/AvV2NpM9Rl
about 11 hours ago

Pac12Networks

Pac-12 Networks


Top-20 clash with No. 2 @OregonSB hosting No. 19 @UWSoftball on pac-12 Networks. http://t.co/YfMNDWLu5w #UWvsUO http://t.co/0rTVrCQgdK
about 11 hours ago

ArizonaBaseball

Arizona Baseball


It's a beautiful day for baseball as some Cats get early work on the field. Game at 7 pm on @Pac12Networks #BearDown http://t.co/1Ue03IbuBn
about 11 hours ago

DuckSportsNow

Duck Sports Now


USA Track & Field CEO Max Siegel issues a statement critical of new Indiana law http://t.co/J83TJ4Gflq
about 11 hours ago

Pac12Networks

Pac-12 Networks


.@uclatennis made a clean sweep today in Westwood, shutting out Oregon 4-0. #UOvsUCLA http://t.co/YVMylJV9pf
about 11 hours ago

Utah_Football

Utah Football


Good luck to our @Runnin_Utes brothers tonight! #UteFamily #GoUtes #SweetSixteen #BeatDuke http://t.co/45TFAYKopY
about 12 hours ago

Pac12Networks

Pac-12 Networks


The @Runnin_Utes are one win away from the #Elite8. #GetPumped and relive their path to #Sweet16 vs. Duke tonight. http://t.co/7qhE1jozr1
about 12 hours ago

DuckSportsNow

Duck Sports Now


Spring Practice Begins http://t.co/2ibhsGKayr
about 12 hours ago

DuckSportsNow

Duck Sports Now


Pac-12 baseball roundup: How do Oregon and Oregon State look so far? http://t.co/Uxs7BpsPjY
about 12 hours ago

DuckSportsNow

Duck Sports Now


BJ Kelley Added To List Of Those Not Returning To Oregon Ducks For 2015 http://t.co/nq4o5QWRDY
about 12 hours ago

DuckSportsNow

Duck Sports Now


Oregon Ducks with the most to gain in spring football: Ugo Amadi http://t.co/JUwg2MPxYq
about 12 hours ago

Pac12Networks

Pac-12 Networks


.@UCLAMBB fans #GetPumped. The Bruins are next up in the quest to get to the #Elite8. http://t.co/3sakE0s3P8
about 13 hours ago

DuckSportsNow

Duck Sports Now


These Ducks Have Answers For Defensive Questions http://t.co/UuWqSo5SVV
about 13 hours ago

Pac12Networks

Pac-12 Networks


Bruins take the doubles point heading into singles play LIVE now on Pac-12 Networks: http://t.co/YfMNDWLu5w #UOvsUCLA http://t.co/zHYb2ijsrC
about 13 hours ago

TheSunDevils

Sun Devil Athletics


It's @SunDevilWBB's Sweet 16 gameday!Thanks for the support, #SunDevilNation and #BackThePac!https://t.co/2Gn95xx6Mp
about 13 hours ago

utahathletics

Utah Athletics


All of the lights... #goutes #Sweet16 http://t.co/L32OECOXx2
about 13 hours ago

OregonMTennis

Oregon Men\'s Tennis


Ducks drop the doubles point, Bruins take the 1-0 lead in the match. Singles will be on the @Pac12Networks at 1 p.m. #GoDucks
about 13 hours ago

Pac12Networks

Pac-12 Networks


.@APlayersProgram is in. 2 more #pac12hoops teams look to go from sweet to elite. #BackThePac http://t.co/TXPN8Aejik
about 14 hours ago

DuckSportsNow

Duck Sports Now


2015 NCAA Tournament: Sweet Sixteen TV schedule, live stream and how to watch Friday's games http://t.co/8syi9j1smv
about 14 hours ago

OregonMBB

Oregon Basketball


76 years ago to the day, Oregon won the very first NCAA Men's Basketball national championship. http://t.co/8cuLjLbrma
about 14 hours ago

DuckSportsNow

Duck Sports Now


RCS Dallas: What to watch http://t.co/EK6QewFehb
about 14 hours ago

DuckSportsNow

Duck Sports Now


Get Autzen Zoo Content on Newly Updated FanSided iOS App http://t.co/j1ZaPkgqjE
about 14 hours ago

BOSSLIFEDAT13

DE'ANTHONY THOMAS


MAKE SURE YOU GO CHECK OUT THAT @nike SECTION. IN @shiekhshoes COMING SOON RUNDAT GEAR IN… https://t.co/TQa6ZLCbzP
about 14 hours ago

BOSSLIFEDAT13

DE'ANTHONY THOMAS


EARLY MORNING @shiekhshoes TRYING TO GET MY RUNDAT GEAR IN THE STORE #RUNDAT http://t.co/BgTEVXpz6V https://t.co/PPrtXEVteK
about 14 hours ago

uclatennis

UCLA Men\'s Tennis


Doubles will begin at Noon follows by live singles action on @Pac12Networks at 1PM http://t.co/1RlsCNrA4Q#GoBruins
about 14 hours ago

DSArivals

DuckSportsAuthority


RCS Dallas: What to watch: The Rivals Camp Series Presented by Under Armour returns to Cedar Hill High School ... http://t.co/KHqUNxEGLf
about 14 hours ago

GoDucks

GoDucks


No. 2 @OregonSB vs No. 19 Washington all weekend at Howe Field! #GoDucks #LetsDoThis https://t.co/kbVg20lasc
about 15 hours ago

GoDucks

GoDucks


RT @OregonSB: Are you ready for softball this weekend? It's Oregon vs. Washington. #LetsDoThis #GoDucks http://t.co/9hSrRDUq18…
about 15 hours ago

DuckSportsNow

Duck Sports Now


Bend's Lauren Fleshman deals honestly — as always — with her latest setback: Oregon track & field rundown http://t.co/SlibPy5eu0
about 16 hours ago
PAC-12 SCOREBOARD
Thursday, 9/3
Friday, 9/4
Saturday, 9/5
BLOG ARCHIVE:
CATEGORIES: