Fiesta time with Collin Klein
December, 2, 2012
12/02/12
5:53
PM ET
By
DuckNation staff
| ESPN.com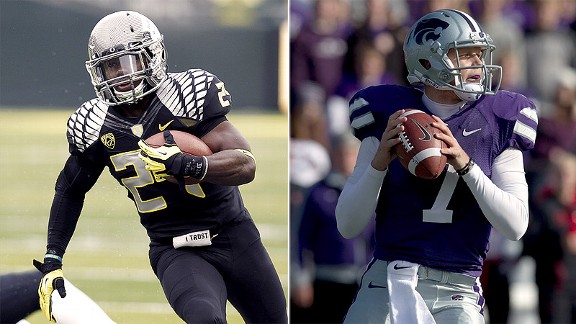 AP PhotoExpect both Oregon, led by running back Kenjon Barner, and Kansas State, led by probable Heisman finalist Collin Klein, to do work on the ground in the Tostitos Fiesta Bowl.
Oregon will take on Kansas State in the Tostitos Fiesta Bowl in Glendale, Ariz., on Jan. 3, as Oregon's big-play offense will face off with the Wildcats.
Fiesta home »
K-State clubhouse »
Byron Marshall Pulls A DeSean Jackson
Just inches from a touchdown, Oregon RB Byron Marshall let go of the football before he crossed the goal line.
Byron Marshall Pulls A DeSean Jackson
VIDEO PLAYLIST
OREGON FB RECRUITING SCORECARD
ESPN_Pac12blog

ESPN_Pac12blog


Pac-12 names players of the week http://t.co/PrHx5aTgJL
about a minute ago

DuckSportsNow

Duck Sports Now


Oregon Football Practice Report: Sept. 1 http://t.co/1DDH033mJd
10 minutes ago

oregonliveducks

oregonlive.com/ducks


USC's Cody Kessler, Utah's Kaelin Clay and UCLA's Eric Kendricks named Pac-12 Players of the Week http://t.co/WyroYPMcoS #goducks
22 minutes ago

DuckSportsNow

Duck Sports Now


Scott Frost post Monday Practice http://t.co/Zsx6VBokVe
46 minutes ago

DuckSportsNow

Duck Sports Now


Royce Freeman post Monday Practice http://t.co/bnhCwMWFqg
46 minutes ago

DuckSportsNow

Duck Sports Now


Marcus Mariota post Monday Practice http://t.co/YJQP8uJ6bH
46 minutes ago

Mike_Yam

Michael Yam


Nice job by @BonaguraESPN to point out the #pac12 played 75 true freshman in week 1. http://t.co/dMISnltar2 #goodthingstocome
48 minutes ago

ESPN_Pac12blog

ESPN_Pac12blog


Washington to start QB Cyler Miles http://t.co/Jdsa2yU3r0
about an hour ago

Pac12Networks

Pac-12 Networks


Who had the most impressive performance this past week? Vote now + watch #SportsReport at 7 PT http://t.co/NH3FuiAii4 http://t.co/WN0MsLIjQX
about an hour ago

DuckFootball

Rob Moseley


Oregon Football Practice Report: Sept. 1 http://t.co/rcqhYibyhl #GoDucks
about an hour ago

DuckSportsNow

Duck Sports Now


The Unveiling of Royce Freeman http://t.co/u7JDYP9b34
about an hour ago

DuckSportsNow

Duck Sports Now


Mike Merrell's Three-And-Out: Nick Aliotti Was Right http://t.co/AN8KR5qPBG
about an hour ago

Pac12Networks

Pac-12 Networks


.@ArizonaVBall's Madi Kingdon, @StanfordWVB's Inky Ajanaku + @BeavsVolleyball's Mary-Kate Marshall, go celebrate! http://t.co/AijoLr2beR
about an hour ago

GHorowitz

Gary Horowitz


Oregon cornerback Ifo Ekpre-Olomu (ankle) said he would definitely play against Michigan State. #SJNow
about an hour ago

DuckSportsNow

Duck Sports Now


Malik Lovette, 4-star RB/WR, chooses Oregon; How recruits fared Friday: Oregon Ducks recruiting roundup http://t.co/0YvVgiyhnq
about an hour ago

DuckFootball

Rob Moseley


@A_Jude Just need to work on the mullet now
about an hour ago

DuckFootball

Rob Moseley


@A_Jude Also: Adam Dunn checks in at 6-6, 285
about an hour ago

GoDucksTV

GoDucks TV


Now on @GoDucksTV: Mac and Mose - South Dakota Review http://t.co/PXK7iFTkhn #GoDucks
about an hour ago

oregonliveducks

oregonlive.com/ducks


Malik Lovette, 4-star RB/WR, chooses Oregon; How recruits fared Friday: Oregon Ducks recruiting roundup http://t.co/wHG28RR8Q6 #goducks
about an hour ago

GoDucksTV

GoDucks TV


Now on @GoDucksTV: Mac and Mose - South Dakota Review http://t.co/PXK7iFTkhn #GoDucks
about 2 hours ago

WinTheDay

Oregon Football


Post practice VIDEO: @JeffLockie17 talks about Saturday's performance with @DuckFootball #GoDucks http://t.co/bY3FpZWQAD
about 2 hours ago

DuckSportsNow

Duck Sports Now


Michigan State Coach Mark Dantonio Speaks of Opportunity Facing Oregon http://t.co/xZaFp5kOZk
about 2 hours ago

Pac12Networks

Pac-12 Networks


Nice GIF gallery by @GoldenBlogs from @CalFootball's win Saturday. Find it in today's roundup: http://t.co/t7Db3xFshr
about 2 hours ago

DuckSportsNow

Duck Sports Now


Jersey Contest: Week 2 http://t.co/NhwzzI8smv
about 2 hours ago

DuckSportsNow

Duck Sports Now


Mac and Mose – South Dakota Review http://t.co/UHmRqUpttZ
about 3 hours ago

Pac12Networks

Pac-12 Networks


Shout out to the best fans in the best conference. https://t.co/PWz6zp71Pi
about 3 hours ago

Pac12Networks

Pac-12 Networks


The full preview of "Ambassadors of the Game," will air today on @Pac12Networks' Sports Report, 7 PT. http://t.co/dobViisd3E
about 3 hours ago

DuckSportsNow

Duck Sports Now


Duck fans pray "we don't get fooled again" http://t.co/b4CBjFk39M
about 3 hours ago

DuckSportsNow

Duck Sports Now


Oregon Ducks' Derrick Malone on Michigan State and more: Life As A Linebacker http://t.co/gBkxtSX9Xn
about 3 hours ago

DuckSportsNow

Duck Sports Now


Oregon Ducks opponent quick look: No. 8 Michigan State http://t.co/HfC3lkBl3f
about 3 hours ago

oregonliveducks

oregonlive.com/ducks


Canzano: Burning questions from Oregon Ducks, Oregon State Beavers openers http://t.co/wkoR7zvYyb #goducks
about 3 hours ago

Pac12Networks

Pac-12 Networks


Which football team shocked you most in Week 1? Scores, highlights and interviews here: http://t.co/Efnnnx3MuF http://t.co/YGeBp5ouSa
about 3 hours ago

McNamaraUO

Andy McNamara


Charles Nelson named CFPA Punt Returner of the Week #GoDucks http://t.co/nKLeiEpZLd
about 4 hours ago

Pac12Networks

Pac-12 Networks


Shout out to the best fans in the best conference. https://t.co/vbV5gZiiRo
about 4 hours ago

AndrewGreif

Andrew Greif


Oregon's Derrick Malone (@PoeticSoul__) is keeping a journal for @OregonianSports. 'Life As A Linebacker' Part I http://t.co/743ubJQ5rO
about 5 hours ago

TedMillerRK

Ted Miller


My look at what Michigan State at Oregon means now & could mean on Dec. 7, with CFP committee meets. http://t.co/kh1I7C91Bb
about 5 hours ago

SIPeteThamel

Pete Thamel


Here's our Oregon-MSU primer, which Jim Delany calls "disproportionately important" thanks to the playoff. http://t.co/7ItgNMZtwD
about 5 hours ago

oregonliveducks

oregonlive.com/ducks


Oregon Ducks' Derrick Malone on Michigan State and more: Life As A Linebacker http://t.co/AQDNLF9bmS #goducks
about 5 hours ago

McNamaraUO

Andy McNamara


New number for @DevonAllen13 going forward. The WR will wear No. 5 #GoDucks
about 5 hours ago

oregonliveducks

oregonlive.com/ducks


Will Lee Corso pick the Ducks? And we revist one of history's wild and wacky OSU-Hawaii games; Issues... http://t.co/rfByd9hG3K #goducks
about 5 hours ago

DuckSportsNow

Duck Sports Now


Michigan State at Oregon — Tyson Alger and Andrew Greif look ahead: Audible http://t.co/RucpxVkDWc
about 6 hours ago

DuckFootball

Rob Moseley


Also back as of today as walk-ons are RB Jarret LaCoste and LS Connor Johnson. One new face is TE Will Genske.
about 6 hours ago

DuckFootball

Rob Moseley


Some familiar faces back today now that rosters can expand: K Eric Solis, S Bronson Yim, RB J.J. Jones, RB Lane Roseberry, WR Chris Tewhill.
about 6 hours ago

DuckFootball

Rob Moseley


Time to update the roster: Devon Allen now wears No. 5; was on kickoff team Saturday with other No. 13, Troy Hill. Also: Tanner Carew to 58.
about 6 hours ago

oregonliveducks

oregonlive.com/ducks


Oregon Ducks lead Pac-12 Power Rankings, Stanford second after Week 1 http://t.co/BqLiaQOrCn #goducks
about 6 hours ago

DuckSportsNow

Duck Sports Now


Oregon-Michigan State laden with meaning http://t.co/x4SqqdM9HV
about 6 hours ago

DuckSportsNow

Duck Sports Now


Statistically Speaking: Oregon Ducks vs Michigan State Spartans http://t.co/4ON9usjBkN
about 6 hours ago

oregonliveducks

oregonlive.com/ducks


Michigan State at Oregon -- Tyson Alger and Andrew Greif look ahead: Audible http://t.co/W31EtTYJCT #goducks
about 7 hours ago

Pac12Networks

Pac-12 Networks


.@WinTheDay's Mariota lived up to expectations Saturday after scoring 4 TDs in the first half: http://t.co/EGeKnliCMs http://t.co/5hu4plP99B
about 7 hours ago

DuckSportsNow

Duck Sports Now


Pac-12 morning links http://t.co/3Rp1syseNb
about 8 hours ago

ESPN_Pac12blog

ESPN_Pac12blog


Oregon-Michigan State laden with meaning http://t.co/PI7IV9PV6E
about 8 hours ago

DuckSportsNow

Duck Sports Now


No. 3 Oregon Ducks now 11-point favorites against No. 8 Michigan State: Oregon rundown http://t.co/Z0YCS4WTGO
about 8 hours ago

DuckSportsNow

Duck Sports Now


Opponent sneak peek: No. 3 Oregon vs. No. 8 Michigan State http://t.co/BvpDfgm2Tx
about 8 hours ago

oregonliveducks

oregonlive.com/ducks


No. 3 Oregon Ducks now 11-point favorites against No. 8 Michigan State: Oregon rundown http://t.co/689IMOH0da #goducks
about 9 hours ago

oregonliveducks

oregonlive.com/ducks


Pac-12 official miffed; Byron Marshall's blunder; Kenjon Barner cut: The Oregonian sports top 5 http://t.co/6kczoBRArO #goducks
about 9 hours ago

oregonliveducks

oregonlive.com/ducks


De'Anthony Thomas of Kansas City an NFL 'daredevil' who doesn't slow down http://t.co/ijafI9tMcS #goducks
about 9 hours ago

oregonliveducks

oregonlive.com/ducks


Opponent sneak peek: No. 3 Oregon vs. No. 8 Michigan State http://t.co/nECPUA39Ra #goducks
about 10 hours ago

ESPN_Pac12blog

ESPN_Pac12blog


Pac-12 morning links http://t.co/cq36UPuLI4
about 10 hours ago

CHECKDAT6

DE'ANTHONY THOMAS


EARLY MORNING ROOKIE RUNS FOR THE RB'$ GROUP #RUNDAT http://t.co/x5UATyTEx1
about 10 hours ago

DuckSportsNow

Duck Sports Now


4 Star Wide Receiver Malik Lovette Commits to Oregon http://t.co/gknfMSZqUH
about 16 hours ago

GoDucksTV

GoDucks TV


Now on @GoDucksTV: Kat Mertz Post Game against Loyola Marymount http://t.co/0YsAkvy268 #GoDucks
about 17 hours ago

DuckSportsNow

Duck Sports Now


Extra Point: Marshall leads offense http://t.co/8yGxdBObxi
about 18 hours ago

DuckSportsNow

Duck Sports Now


No. 8 Michigan State prepares for No. 3 Oregon with much respect http://t.co/dsFEhwTY0A
about 18 hours ago

DuckSportsNow

Duck Sports Now


Early Offer: Despite loss, Cowboys win http://t.co/hRQh6egZK4
about 18 hours ago

DuckSportsNow

Duck Sports Now


Game balls | Sports | The Register-Guard | Eugene, Oregon http://t.co/kvfFsaRbgU
about 18 hours ago

DuckSportsNow

Duck Sports Now


Coyotes take their lumps in opener | Sports | The Register-Guard | Eugene, Oregon http://t.co/Zz2PJIp0bt
about 18 hours ago

DuckSportsNow

Duck Sports Now


From sideline, Pellum sees room to improve | Sports | The Register-Guard | Eugene, Oregon http://t.co/JsaYs6Ab62
about 18 hours ago

DuckSportsNow

Duck Sports Now


UO backfield mates flex versatility | Sports | The Register-Guard | Eugene, Oregon http://t.co/Y2WuhfaSGi
about 18 hours ago

DuckSportsNow

Duck Sports Now


Ekpre-Olomu's exit an 'extra precaution' | Sports | The Register-Guard | Eugene, Oregon http://t.co/CcJL0Ck6UL
about 18 hours ago

DuckSportsNow

Duck Sports Now


Austin Meek: South Dakota pushed aside, things get real for Oregon | Sports | The Register-Guard | Eugene, Oregon http://t.co/lHGa2Uv2Yq
about 18 hours ago

DuckSportsNow

Duck Sports Now


Coyote ugly in Autzen | Sports | The Register-Guard | Eugene, Oregon http://t.co/jq4DJ6yfGa
about 18 hours ago

DuckSportsNow

Duck Sports Now


No. 3 Oregon Ducks try to find their 'edge' to prepare for No. 8 Michigan State http://t.co/7N7imor8u2
about 18 hours ago

Pac12Networks

Pac-12 Networks


.@UCLAWSoccer's Sam Mewis sheds light on her third goal of the season + the Bruins' victory over USD: http://t.co/J7ktnTfIjH
about 19 hours ago

oregonliveducks

oregonlive.com/ducks


No. 3 Oregon Ducks try to find their 'edge' to prepare for No. 8 Michigan State http://t.co/G0FECpQL0e #goducks
about 19 hours ago

DuckSportsNow

Duck Sports Now


Mark Helfrich addresses South Dakota game and looks forward to Michigan State http://t.co/mcxRVLUsdH
about 20 hours ago

DuckSportsNow

Duck Sports Now


ESPN's GameDay headed to Oregon for Michigan State game http://t.co/kchYMnrz1a
about 20 hours ago

DuckSportsNow

Duck Sports Now


Oregon Ducks' Mark Helfrich post-South Dakota: Hoping for 'substantial, exponential improvement' for Michigan State http://t.co/BE4Bwew9FH
about 20 hours ago

DuckSportsNow

Duck Sports Now


Kenjon Barner Placed on Injured Reserve http://t.co/SLdXXR97Nh
about 20 hours ago

DuckSportsNow

Duck Sports Now


SDU Post Game: Arik Armstead http://t.co/dzRbFNuRd8
about 20 hours ago

DuckSportsNow

Duck Sports Now


SDU Post Game: Royce Freeman http://t.co/4oR0OoZP0O
about 20 hours ago

DuckSportsNow

Duck Sports Now


Notes on Helfrich's Sunday teleconference with reporters http://t.co/IYMUZF2WOw
about 20 hours ago

DuckSportsNow

Duck Sports Now


ESPN COLLEGE GAMEDAY HEADED TO EUGENE – College Footballs Premiere Pre-Game Show To Host Oregon vs Michigan State http://t.co/Mz7hFYetxC
about 20 hours ago

Pac12Networks

Pac-12 Networks


Sam Mewis nabs Play of the Game honors as @UCLAWSoccer routs USD, 2-0: http://t.co/JGniTL0678 http://t.co/fRoOagMTna
about 20 hours ago

oregonliveducks

oregonlive.com/ducks


Oregon Ducks' Mark Helfrich post-South Dakota: Hoping for 'substantial, exponential improvement' for ... http://t.co/qubezFQlds #goducks
about 21 hours ago

DuckFootball

Rob Moseley


Notes on Helfrich's Sunday teleconference with reporters http://t.co/HLiBBZixHG #GoDucks
about 21 hours ago

DuckSportsNow

Duck Sports Now


Oregon running back Byron Marshall dazzles despite glaring error http://t.co/YX3nNHIQc1
about 21 hours ago

DuckSportsNow

Duck Sports Now


Pac-12 teams play 75 freshmen in Week 1 http://t.co/G6tabgoluf
about 21 hours ago

DuckFootball

Rob Moseley


Helfrich on MSU: "They've got marquee players in every phase. We're going to find out where we are, and more importantly where we're going."
about 22 hours ago

DuckFootball

Rob Moseley


Helf said Royce Freeman was a little tentative at times vs. SD. "His tentative is pretty good. Once he cuts it loose, we're really excited."
about 22 hours ago

DuckFootball

Rob Moseley


Players of the week: Mariota (O), Dargan (D), C. Nelson (ST). Top scouts: WR Jeff Bieber (O), LB Grant Thompson (D), LB Ivan Faulhaber (ST).
about 22 hours ago

DuckFootball

Rob Moseley


Sounds like Arrion Springs, Jimmie Swain and Justin Hollins joined Charles Nelson as impressing coaches on special teams Saturday. #GoDucks
about 22 hours ago

DuckFootball

Rob Moseley


Helfrich on playing Schneider over Wogan: "We're always going to play the best guy available, in very positional situation for that week."
about 22 hours ago

DuckFootball

Rob Moseley


Helfrich said the Ducks played 70 guys on offense and defense vs. South Dakota. Interested to see how many rotate vs Spartans next week.
about 22 hours ago

DuckFootball

Rob Moseley


Mark Helfrich on typical improvement from game one to game two: "That's usually the trend, and we sure hope that takes place." #GoDucks
about 22 hours ago

Pac12Networks

Pac-12 Networks


The Pac-12 outscored its opponents 478-213 in Week 1. http://t.co/Efnnnx3MuF #pac12fb http://t.co/QQzp00qxw8
about 22 hours ago

DuckSportsNow

Duck Sports Now


Ducks Sweep Weekend With Win Over Loyola Marymount http://t.co/uHcUM9H3So
about 22 hours ago

DuckSportsNow

Duck Sports Now


Oregon freshman running back Royce Freeman meets expectations http://t.co/SQxTrLfj2u
about 22 hours ago

Pac12Networks

Pac-12 Networks


.@OSU_WSoccer lost 4-2 to Saint Mary's, but Kayla Latham gets Play of the Game honors for cleaning up this cross: http://t.co/86wUJhdBY3
about 23 hours ago

DuckSportsNow

Duck Sports Now


Best from the weekend: Pac-12 http://t.co/W6gO649VdZ
about 23 hours ago

DuckSportsNow

Duck Sports Now


Oregon soccer wins 1-0 thanks to late goal from Kristen Parr http://t.co/aS1T4YJEdk
about 23 hours ago
PAC-12 SCOREBOARD
Thursday, 8/28
Friday, 8/29
Saturday, 8/30
BLOG ARCHIVE:
CATEGORIES: