Fiesta time with Collin Klein
December, 2, 2012
12/02/12
5:53
PM ET
By
DuckNation staff
| ESPN.com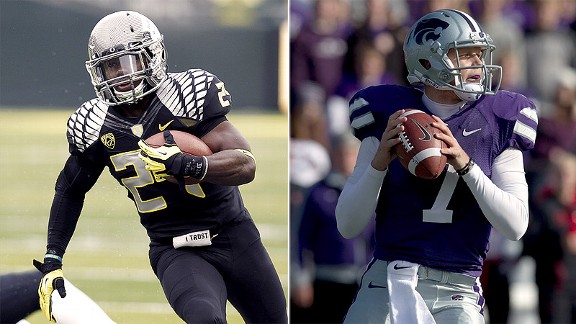 AP PhotoExpect both Oregon, led by running back Kenjon Barner, and Kansas State, led by probable Heisman finalist Collin Klein, to do work on the ground in the Tostitos Fiesta Bowl.
Oregon will take on Kansas State in the Tostitos Fiesta Bowl in Glendale, Ariz., on Jan. 3, as Oregon's big-play offense will face off with the Wildcats.
Fiesta home »
K-State clubhouse »
Mature Decision By Marcus Mariota
Todd McShay reacts to Marcus Mariota's choice to return to college for another season and continue his development.
Tags:
Marcus Mariota
,
Oregon
,
Todd McShay
Mature Decision By Marcus Mariota
VIDEO PLAYLIST
DUCKNATION RECRUITING NEWS
OREGON FB RECRUITING SCORECARD
GoDucks

GoDucks


RT @McNamaraUO: Time for No. 13 @OregonMBB vs. Ole Miss on @ESPNU #GoDucks
5 minutes ago

Pac12Networks

Pac-12 Networks


.@UCLAWSoccer wins its first national championship with a beautiful golden goal. Play of the Game: http://t.co/f9z899RJdM
5 minutes ago

DuckFootball

Rob Moseley


If BCS projections hold, just two teams will be left out while still technically eligible for at-large status. Oregon and ASU, both Pac-12.
6 minutes ago

McNamaraUO

Andy McNamara


Time for No. 13 @OregonMBB vs. Ole Miss on @ESPNU #GoDucks
7 minutes ago

Pac12Networks

Pac-12 Networks


No. 110 for UCLA RT @UCLAWSoccer GOAL UCLA! Kodi Lavrusky wins it after a Megan Oyster through ball! UCLA IS THE NCAA CHAMPION!
7 minutes ago

McNamaraUO

Andy McNamara


It appears @WinTheDay will be 1 of 3 @AP_Top25 top 10 teams left out of BCS bowls with Mizzou & S.Car #GoDucks
15 minutes ago

McNamaraUO

Andy McNamara


Thanks Coach #GoDucks "@Pollspeak: Mike Leach (@Coach_Leach) is the most extreme voter of all coaches: http://t.co/hIk3iR16kk"
26 minutes ago

DuckFootball

Rob Moseley


Alamo Bowl has been most likely destination all week. BCS drama last 48 hours was fun, but reality (apparently) is a meeting with/in Texas.
35 minutes ago

DuckSportsNow

Duck Sports Now


Final stats for Heisman hopefuls http://t.co/xf5cBebmII
43 minutes ago

McNamaraUO

Andy McNamara


#Oregon vaults past Clemson into 2nd in #DiscoverOrangeBowl poll. Cast your vote: http://t.co/oUKeAuJ8M7 #GoDucks
about an hour ago

DuckFootball

Rob Moseley


RT @BCSGuru: Basically, Sugar and ESPN have disparate interests: Sugar wants to tell tix and fill hotel rooms, ESPN wants ratings.
about an hour ago

DuckFootball

Rob Moseley


RT @BCSGuru: ESPN will try to get Sugar to take Oregon, Sugar would prefer OU. Who gets invited will say a lot about power balance.
about an hour ago

ESPN_Pac12blog

ESPN_Pac12blog


You can check out how each coach voted here. Stanford fans will enjoy Dabo Swinney's vote. http://t.co/vzW2JAwTy2
about 2 hours ago

DuckFootball

Rob Moseley


Ducks are off the field after the second postseason practice. Jake Rodrigues particularly sharp today. Team now off for finals until Friday.
about 2 hours ago

DuckSportsNow

Duck Sports Now


Oregon Ducks likely to play Texas in Alamo Bowl http://t.co/ad9yvWtTFl
about 2 hours ago

DuckSportsNow

Duck Sports Now


Ducks No. 10 in AP poll http://t.co/s5mh9xciT0
about 2 hours ago

McNamaraUO

Andy McNamara


With the bowl selection show approx. 6 hours away, here's a reminder of what happened last bowl season #GoDucks http://t.co/JPDQJCJMGY
about 2 hours ago

DuckFootball

Rob Moseley


RT @TimGriffinBig12: Valero Alamo Bowl folks meeting now to decide options. Not many, I'm told. Looking very solid for Oregon-Texas game De…
about 2 hours ago

DuckSportsNow

Duck Sports Now


( WEEK 16 AP POLL ) – OREGON MOVES UP TWO SLOTS TO NO.10 – After Pac-12 Championship Win, Stanford Jumps to No. 5 http://t.co/joYXfq5WoY
about 2 hours ago

DuckSportsNow

Duck Sports Now


Ducks likely to draw Texas in Alamo, must embrace opportunity http://t.co/IQOiyEIqRg
about 3 hours ago

McNamaraUO

Andy McNamara


Pretty good start to a @WinTheDay Sunday #GoDucks RT @RileyDanford: Drew Davis & Ed Dickson with TD grabs already today! #producks
about 3 hours ago

DuckFootball

Rob Moseley


RT @WinTheDay: Mariota discusses decision; DAT, Ifo await evaluations #GoDucks http://t.co/3XXy1XQzLZ
about 3 hours ago

Pac12Networks

Pac-12 Networks


Stanford's 'leadership' tree sets program up for consistency & success following #pac12fcg win. Article: http://t.co/2itdrlyi8V
about 3 hours ago

McNamaraUO

Andy McNamara


RT @WinTheDay: Mariota discusses decision; DAT, Ifo await evaluations #GoDucks http://t.co/3XXy1XQzLZ
about 3 hours ago

DuckSportsNow

Duck Sports Now


Man targeted by Oregon football players, others in snowball fight reportedly won't pursue charges http://t.co/vakZK8FyWd
about 3 hours ago

GoDucks

GoDucks


Congrats @OregonVB on a third straight 20-win season #GoDucks http://t.co/L67NICuyn6
about 3 hours ago

DuckFootball

Rob Moseley


RT @McNamaraUO: Regardless of bowl, @WinTheDay will go into game in top 10 according to @APTop25. Ducks up 2 to No. 10 #GoDucks http://t.co…
about 3 hours ago

DuckFootball

Rob Moseley


Including Helf RT @TheFootballFour: How every coach voted in the final regular season @USATODAYsports Coaches Poll: http://t.co/ifpRnCcRRM
about 3 hours ago

McNamaraUO

Andy McNamara


Regardless of bowl, @WinTheDay will go into game in top 10 according to @APTop25. Ducks up 2 to No. 10 #GoDucks http://t.co/FCyLzuBceS
about 3 hours ago

McNamaraUO

Andy McNamara


RT @KBrettAustin: BCS Countdown at 8:30p tonight. Followed by a 2 hour Bowl Selection Show. All on ESPN.
about 3 hours ago

Pac12Networks

Pac-12 Networks


RT @OregonStateMBB: Both administrations at Oregon State and Arkansas-Pine Bluff are working on a makeup date for later this season. #gobea…
about 3 hours ago

Pac12Networks

Pac-12 Networks


RT @OregonStateMBB: Today's OSU vs. Arkansas-Pine Bluff game has been suspended indefinitely due to travel issues. Details: http://t.co/xFc…
about 3 hours ago

MightyOregon

Yell O


Breaking: Chip Kelly is not wearing a visor.
about 4 hours ago

Pac12Networks

Pac-12 Networks


ICYMI yesterday, here's Askia Booker's buzzer-beater that knocked off No. 6 Kansas. Video: http://t.co/TesKfHzdSn
about 4 hours ago

DuckFootball

Rob Moseley


@FollowThePadres There isn't one
about 4 hours ago

DuckFootball

Rob Moseley


RT @McNamaraUO: Ducks hold at No. 12 in final Coaches' Poll #GoDucks
about 4 hours ago

DuckSportsNow

Duck Sports Now


Cunningham Watches Oregon Film To Help Prep For Speedy Eagles Offense « CBS Detroit http://t.co/gc8X9EDK3q
about 4 hours ago

DuckSportsNow

Duck Sports Now


Moose Time: #SnowBrawl2013 FULL Episode | KEZI http://t.co/3IxDG3gZmD
about 4 hours ago

DuckSportsNow

Duck Sports Now


Moose Time: "Snow Brawl 2013" | KEZI http://t.co/eK2ka1Uo0z
about 4 hours ago

DuckSportsNow

Duck Sports Now


Oregon will find out its postseason destination tonight | Sports | The Register-Guard | Eugene, Oregon http://t.co/CPhyFGS9du
about 4 hours ago

DuckSportsNow

Duck Sports Now


Unbeaten Ducks aim to quiet Henderson | Sports | The Register-Guard | Eugene, Oregon http://t.co/5cob0ry9T8
about 4 hours ago

DuckSportsNow

Duck Sports Now


Hoops buzz is starting to build | Sports | The Register-Guard | Eugene, Oregon http://t.co/hMUfBXB7cQ
about 4 hours ago

DuckSportsNow

Duck Sports Now


A Big Red road block | Sports | The Register-Guard | Eugene, Oregon http://t.co/SOIy5y7W2I
about 4 hours ago

DuckSportsNow

Duck Sports Now


Video of campus snowball incident goes viral | Local News | The Register-Guard | Eugene, Oregon http://t.co/oZ9p9XMvka
about 4 hours ago

McNamaraUO

Andy McNamara


Ducks hold at No. 12 in final Coaches' Poll #GoDucks
about 4 hours ago

DuckSportsNow

Duck Sports Now


My AP top-25 football ballot: Auburn climbs to No. 1, Stanford rises, Ohio State tumbles http://t.co/3Q7As38RxN
about 5 hours ago

DuckSportsNow

Duck Sports Now


Oregon football player apologizes after video of students pelting car with snowballs goes viral – What was... http://t.co/0BYdtDCz1x
about 5 hours ago

DuckSportsNow

Duck Sports Now


Final Bowl Projections: Florida State/Auburn to http://t.co/r5m3rn9jQc
about 5 hours ago

DuckSportsNow

Duck Sports Now


Hoops Gameday: No. 13 Oregon @ Ole Miss http://t.co/GKz31QDpy7
about 5 hours ago

DuckSportsNow

Duck Sports Now


BCS 2014 Bowl Projections: Clemson and Ohio State To Orange, Alabama and Oregon to Sugar http://t.co/FqfYWBQPyT
about 5 hours ago

ESPNOregon

ESPN Oregon


Pac-12 bowl projections: Week 15 http://t.co/eIq2g6D9sc
about 5 hours ago

ESPN_Pac12blog

ESPN_Pac12blog


Pac-12 bowl projections: Week 15 http://t.co/V8lRprEvqQ
about 5 hours ago

ESPNOregon

ESPN Oregon


Iheanacho gets Oregon offer, sets visit http://t.co/mL5OUff7qw
about 5 hours ago

DuckSportsNow

Duck Sports Now


What we learned in the Pac-12: Week 15 http://t.co/j59UzGN1t8
about 5 hours ago

DuckSportsNow

Duck Sports Now


Pac-12 helmet stickers: Week 15 http://t.co/FVwQGmLi5P
about 5 hours ago

DuckSportsNow

Duck Sports Now


Video: BCS bowl projections http://t.co/ITPZouzQHQ
about 5 hours ago

DuckSportsNow

Duck Sports Now


Championship weekend gives Ducks hope, then crushes it with Spartan upset http://t.co/rR6SJYGQRx
about 5 hours ago

KBDeuce4

Kenjon Barner


@Huff_Era_1 yikes lol text me later bro
about 5 hours ago

KBDeuce4

Kenjon Barner


@Huff_Era_1 lmao I don't envy you at all bro not even a little bit
about 6 hours ago

KBDeuce4

Kenjon Barner


RT @mycoskie: Victorious @CoachRonRoberts, @B_BENNETT03 and @CqulinHubert51. Congrats to @sluathletics, advancing to #FCS qtrs. http://t.co…
about 6 hours ago

KBDeuce4

Kenjon Barner


@Huff_Era_1 haha😂😂😂 bro it was 75 out here the other day, you know what I'm like when cold weather hits lol
about 6 hours ago

ESPN_Pac12blog

ESPN_Pac12blog


Boise perspective. RT @murphsturph: Seeing Chris Petersen in purple is strange, but it was time for him to move on: http://t.co/nOPU6ANZNb
about 6 hours ago

KBDeuce4

Kenjon Barner


RT @LILCOREY_TRILL: ALWAYS HAVE FAITH, WITHOUT FAITH YOU HAVE NOTHING. EVERYONE RETWEET N FAVORITE http://t.co/DgANfzdKyH
about 6 hours ago

KBDeuce4

Kenjon Barner


@Huff_Era_1 lol Bruh I can't believe my eyes man
about 6 hours ago

ESPN_Pac12blog

ESPN_Pac12blog


RT @BCSKnowHow: Sagarin's #BCS rankings are out: 1. Florida St. 2. Auburn 3. Stanford 4. Michigan St. 5. Alabama 6. South Carolina 7. Misso…
about 6 hours ago

DuckSportsNow

Duck Sports Now


Ducks basketball game day: No. 13 Oregon at Mississippi http://t.co/6AMuxhvBb4
about 6 hours ago

ESPN_Pac12blog

ESPN_Pac12blog


RT @DannySheridan1: sorry typo: FSU is -7.5 favorite vs. Auburn at the LVH in Vegas, & FSU is -8.5 to -9 vs Auburn. offshore.
about 6 hours ago

oregonliveducks

oregonlive.com/ducks


Ducks basketball game day: No. 13 Oregon at Mississippi http://t.co/EocvK8u20Q #goducks
about 6 hours ago

oregonliveducks

oregonlive.com/ducks


Oregon football player apologizes for unidentified teammates harassing driver during snowball fight (... http://t.co/3vqWLuNPBC #goducks
about 6 hours ago

oregonliveducks

oregonlive.com/ducks


Oregon's BCS hopes: What Ohio State's loss means to the Ducks (Twitter reaction) http://t.co/UCTlVWvGzq #goducks
about 6 hours ago

DuckSportsNow

Duck Sports Now


Snowball fight gets out of hand, captured in viral video http://t.co/3z2ghLrSMd
about 6 hours ago

KBDeuce4

Kenjon Barner


I want to know everyone's thoughts on tonight's Panther VS Saints game!!
about 6 hours ago

ESPN_Pac12blog

ESPN_Pac12blog


What we learned in the Pac-12: Week 15 http://t.co/gR6TyQGxw4
about 7 hours ago

ESPNOregon

ESPN Oregon


What we learned in the Pac-12: Week 15 http://t.co/WtqYJzKz6c
about 7 hours ago

MightyOregon

Yell O


"... this is not high crimes, not an assault, not even a misdemeanor. No one should be charged. That would be nuts." UO snowballgate driver.
about 8 hours ago

DuckSportsNow

Duck Sports Now


Oregon Ducks Basketball vs. Ole Miss: Preview, Game time, TV schedule, Streaming, and more http://t.co/ycuyu2LnBb
about 8 hours ago

ESPN_Pac12blog

ESPN_Pac12blog


Pac-12 helmet stickers: Week 15 http://t.co/eUpgRMUtqk
about 8 hours ago

DuckSportsNow

Duck Sports Now


Johnathan Loyd: The Unsung Hero http://t.co/lyMuFqfX0E
about 10 hours ago

DuckSportsNow

Duck Sports Now


College Football Nation: Buckeyes crushed and WAR DAMN EAGLE http://t.co/OYWaWPBS5y
about 10 hours ago

GoDucksTV

GoDucks TV


Now on @GoDucksTV: Coach Moore, Bettendorf and Brenner post Nebraska Press Conference http://t.co/5CgDGLzekQ #GoDucks
about 11 hours ago

DuckSportsNow

Duck Sports Now


UO students, football players, blast cars, retired professor with snow http://t.co/mHI46BUYQ6
about 11 hours ago

DuckFootball

Rob Moseley


RT @JohnCanzanoBFT: Worth a read … RT @AnnaCanzanoKATU: Man caught in #Snowbrawl2013 at U of O explains why he got out of his car http://t.…
about 13 hours ago

Pac12Networks

Pac-12 Networks


Congrats to Stanford and ASU for capping off a great season of #pac12fb. Full FCG coverage: http://t.co/3Xkdc46EIJ http://t.co/XSeMqeLqnp
about 14 hours ago

DuckSportsNow

Duck Sports Now


Oregon football player apologizes for unidentified teammates harassing driver during snowball fight (updated) http://t.co/s8xSvAciGa
about 14 hours ago

DuckSportsNow

Duck Sports Now


Coach Moore, Bettendorf and Brenner post Nebraska Press Conference http://t.co/tNJKP5cud7
about 14 hours ago

UOPintens

Craig Pintens


Night all, just ate a whole bag of orange pixie sticks (Orange Sugar?!?!) for good luck. #GoDucks
about 14 hours ago

ESPN_Pac12blog

ESPN_Pac12blog


Stanford 'destroys' the line of scrimmage http://t.co/OTU2wtiBms
about 15 hours ago

Pac12Networks

Pac-12 Networks


RT @Mike_Yam: A season in the books on the @Pac12Networks nothing better than working w/ @CurtisConway80 & @CoachNeuheisel http://t.co/4xwm…
about 15 hours ago

McNamaraUO

Andy McNamara


Followers on @Instagram: Oregon 107K, Alabama 47K, Clemson 31.5K, Oklahoma 27K #GoDucks #smsports @OrangeBowl @SugarBowlNOLA
about 15 hours ago

DuckFootball

Rob Moseley


Ducks left out RT @BCSGuru: My last ever BCS projections, with rankings 1-25, bowl matchups @BR_CFB - http://t.co/jFoGap66U8 (and RIP, BCS)
about 15 hours ago

DuckFootball

Rob Moseley


RT @aroundO: Statement from UO Dean of Students regarding snowball incident, http://t.co/KqFh1QBjOm. #goducks #uoregon
about 15 hours ago

ESPN_Pac12blog

ESPN_Pac12blog


Video: Stanford RB Tyler Gaffney http://t.co/1hOvhCQb6T
about 15 hours ago

DuckSportsNow

Duck Sports Now


Oregon's Season Ends at No. 8-seed Nebraska http://t.co/Yp1O5OKRGO
about 15 hours ago

McNamaraUO

Andy McNamara


Comparing No. of likes on official football Facebook pages: Oregon 722K, Clemson 110K, Oklahoma 103K #GoDucks
about 15 hours ago

McNamaraUO

Andy McNamara


RT @ralphDrussoAP: Or Oklahoma or Oregon? Oregon/Bama gets better TV ratings and maybe better local sales for tickets.
about 16 hours ago

Pac12Networks

Pac-12 Networks


If you like confetti, roses and @StanfordFball, you'll love our pics from the #pac12fcg. Photo Gallery: http://t.co/bhnt9HiQgP
about 16 hours ago

DuckSportsNow

Duck Sports Now


Oregon volleyball swept by Nebraska to end season http://t.co/eZO9JfyFjJ
about 16 hours ago

ESPN_Pac12blog

ESPN_Pac12blog


Video: BCS bowl projections http://t.co/sVxp5zu1Zs
about 16 hours ago

DuckSportsNow

Duck Sports Now


Oregon's BCS hopes: What Ohio State's loss means to the Ducks (Twitter reaction) http://t.co/6xrTITcWk8
about 16 hours ago

DuckSportsNow

Duck Sports Now


Oregon Ducks lose to Nebraska in second round of NCAA volleyball tournament http://t.co/vcBVqrnk6O
about 16 hours ago
BLOG ARCHIVE:
CATEGORIES: