Ducks' recruiting mailbag
November, 23, 2012
11/23/12
9:00
AM ET
The Ducks hosted an impressive group of official visitors last weekend when they took on the Stanford Cardinal. There were no commitments made publicly, but the Ducks appears to have made a big impact on all four visitors.
[+] Enlarge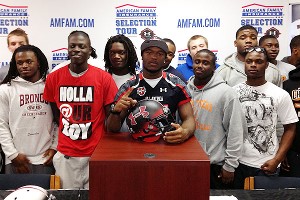 Andrew Wolff/IntersportTarean Folston seems to be down to Notre Dame and Oregon after his visit to Eugene last weekend.
they remain committed to USC and Stanford, respectively,
Nico Falah
(Bellflower, Calif./St. John Bosco) and
Peter Kalambayi
(Matthews, N.C./Butler) both came away impressed with the Oregon program and have a lot to think about before signing day.
Tarean Folston
(Cocoa, Fla./Cocoa) was also impressed and, according to his high school coach, might be done with visits and ready to decide between Notre Dame and Oregon.
Bryan G. (Glendale, Calif.):
Nico Falah said "Oregon is back in it," but also said he is still a Trojan. Is the fact that he said Oregon is in it just post-visit talk or is he truly considering the Ducks?
To continue reading this article you must be an Insider
Insider
Drive Through: Big Year Ahead For Mariota?
Could landing on ESPN's preseason All-American list be the first of many accolades for Marcus Mariota this season? Chris Low thinks it could be a big year for Mariota and the Ducks.
Drive Through: Big Year Ahead For Mariota?
VIDEO PLAYLIST
OREGON FB RECRUITING SCORECARD
ESPN_Pac12blog

ESPN_Pac12blog


Better know a Pac-12 QB: Cody Kessler http://t.co/k81af3s35H
3 minutes ago

NickKrupke

Nick Krupke


@thomas_tyner impromptu making the day of field trippers from Molalla http://t.co/j2rfbdhhpD
12 minutes ago

dspcanada

JCR


@Pac12Networks Invading Boulder a few years back, Ducks love to travel! #GoDucks @anniedy @nluallin @BrookieLua http://t.co/1A73Oyyl4L
16 minutes ago

benmalone1908

Ben Malone


@Pac12Networks @CalFootball #GoBears http://t.co/AYjMRMYGci
18 minutes ago

DuckSportsNow

Duck Sports Now


Ducks Open 2014 Season In Wisconsin http://t.co/3JOC9ZiTz0
18 minutes ago

DuckSportsNow

Duck Sports Now


ESPN Preseason All Pac-12 Team Includes Four Oregon Ducks http://t.co/1bJ5qB38EB
18 minutes ago

Peggy4ASU

Peggy4ASU


@Pac12Networks my buddy @Brewphx and I watching our Devils beat the Bruins at the Rose Bowl last year #GoDevils http://t.co/UpYcJmBG04
23 minutes ago

DuckFootball

Rob Moseley


Tempted to say Carew. Beyond him Crosby. Big needs. RT @EvanHallam So if you could only play 1 true frosh all year, who would it be and why?
24 minutes ago

Pac12Networks

Pac-12 Networks


FACT: Pac-12 fans travel so, so well. Here's some more of your photos from road games!
24 minutes ago

DuckFootball

Rob Moseley


My two cents: Freeman, Crosby, Nelson, Carew and Oliver look ready to help this season. Maloata, Swain, Hollins and other DBs on the bubble.
33 minutes ago

spencerbsmith

Spencer Smith


@Pac12Networks SF-based Cats just couldn't miss the opportunity to see Arizona win by 27 in Boulder. Sorry @CUGoose. http://t.co/7OWbqgf7xU
35 minutes ago

DuckFootball

Rob Moseley


Helfrich said the next 36 hours will be used for decisions on freshmen, before the first practice focused on South Dakota, set for Saturday.
37 minutes ago

Pac12Networks

Pac-12 Networks


.@CalWaterPolo is depending on their overall experience to propel them to the NCAA title. http://t.co/CgwgHMUvbh
38 minutes ago

umanami1

The Whore of Babylon


@Pac12Networks Just hanging out with my friend Larry at the inaugural Pac12 game at USC. #GoUtes http://t.co/HOM43EeG7B
50 minutes ago

DuckFootball

Rob Moseley


.@andrewroskam This scrimmage was about seeing that guys know their stuff. Those who proved that long ago didn't get as much work, for sure.
54 minutes ago

DuckFootball

Rob Moseley


After the scrimmage, Helfrich added Jalen Jelks and Austin Maloata as standouts. Unofficially I'd guess leading tackler was Juwaan Williams.
about an hour ago

sosavy

Savannah Wall


"@KCChiefs: The guys over at @nflnetwork are predicting BIG things for DAT in '14 http://t.co/gg9yVqAdII http://t.co/JFmJFxU5Eq" @CHECKDAT6
about an hour ago

smcmillan94

Samantha McMillan


@Pac12Networks Apple Cup 2013 with @SaraBuc618! #GoCougs http://t.co/YYouFnbFgz
about an hour ago

DuckFootball

Rob Moseley


Scrimmage standouts: Off: Royce Freeman, two long TD runs. Def: Khalil Oliver, two INTs. ST: Charles Nelson, kickoff return TD. #GoDucks
about an hour ago

DuckSportsNow

Duck Sports Now


Early impressions: Tyrell Crosby http://t.co/nPEb0RMN0X
about an hour ago

DuckSportsNow

Duck Sports Now


CSN Pulse snags rare "practice" footage at Oregon (maybe) http://t.co/TOoGJLAWXa
about an hour ago

DuckSportsNow

Duck Sports Now


Fall preview: Offensive line http://t.co/MtDPv0Zycu
about an hour ago

MindofKVD

Kenny


@Pac12Networks just a couple Beavs in front of the Rose Bowl, 2012 season. #GoBeavs http://t.co/e6xP0pcIQf
about an hour ago

Shana4homes

ShanaTehranifar


@Pac12Networks Hubby and I at Memorial Stadium, Lincoln #Nebraska 2013! #UCLA #Gobruins http://t.co/xwBOzKYsM0
about an hour ago

yaboijohnnyp

7 Days


@Pac12Networks #GoDevils #Pac12SouthChamps http://t.co/tALAOZ8N6v
about an hour ago

kyranicole

Kyra Geithman


@Pac12Networks that one time @natemcw and I went to see @FootballASU play at Utah! http://t.co/n5uousYnOn
about an hour ago

BennytheBeaver

Benny Beaver


@Pac12Networks Cheering for @OSUBeaversFB behind enemy lines! #TBT #MiniRoadTrip #GoBeavs #CivilWar http://t.co/CJMfahqGbu
about an hour ago

DSArivals

DuckSportsAuthority


Early impressions: Tyrell Crosby: Henderson (Nev.) Green Valley standout OT Tyrell Crosby appears poised to do... http://t.co/Vz37vwdIUL
about an hour ago

asnowharris

Alex Harris


@Pac12Networks #goutes http://t.co/efceFC2ubu
about an hour ago

DuckSportsNow

Duck Sports Now


Iman Marshall, five-star cornerback, announces official visit list, asks fans for help http://t.co/UDeulhmoAF
about an hour ago

RyanMcGrady

Ryan McGrady


In 9 days @UCLAFootball will start "8 Clapping" towards their first Pac-12 title since 1998 #GoBruins @Pac12Networks http://t.co/PsGy2RvVik
about an hour ago

ESPN_Pac12blog

ESPN_Pac12blog


Pac-12 coaches describe team in one word http://t.co/WL07wW9s2n
about 2 hours ago

Pac12Networks

Pac-12 Networks


ROAD TRIP! Have photos of you and your friends cheering your team away from home? Tweet them and we'll RT! http://t.co/Ag0mh5s0bw
about 2 hours ago

Pac12Networks

Pac-12 Networks


.@CurtisConway80 would like to tell you how many days we have left until #pac12fb kickoff. Take it away, Curtis! http://t.co/he5TCyvrtW
about 2 hours ago

DuckSportsNow

Duck Sports Now


Roundup: The habits of Marcus Mariota http://t.co/z0Frx07U51
about 2 hours ago

DuckSportsNow

Duck Sports Now


Drive Through: Big Year Ahead For Mariota? http://t.co/zxMUJ8vnWK
about 2 hours ago

DuckSportsNow

Duck Sports Now


Drive Through: Defensive All-Americans http://t.co/pzBwQkxBgj
about 2 hours ago

DuckSportsNow

Duck Sports Now


Drive Through: Mariota Over Winston? http://t.co/DQcXsAC1nx
about 2 hours ago

DuckSportsNow

Duck Sports Now


Coming soon to a football stadium near you http://t.co/skQ6l2inyj
about 2 hours ago

Pac12Networks

Pac-12 Networks


Marcus Mariota's good habits extend beyond @WinTheDay. Read about his wider impact. Links: http://t.co/DIugatHcWT http://t.co/HbbwGpWhYt
about 2 hours ago

UCLAAthletics

UCLA Athletics


The @Pac12Networks Training Camp special is here at #UCLA for @UCLAFootball! Watch tonight at 9pm. http://t.co/SAWD6hu3xl
about 2 hours ago

oregonliveducks

oregonlive.com/ducks


ESPN's preseason all-conference team; David Shaw vs top 25; Adoree' Jackson does it all: Pac-12 roundup http://t.co/m9mXBEhupY #goducks
about 2 hours ago

Pac12Networks

Pac-12 Networks


We support this message. Tonight at 9 PT! RT @GoJoeBruinUCLA: Watch @Pac12Networks tonight.Why?#BruinRevolution
about 3 hours ago

oregonliveducks

oregonlive.com/ducks


Iman Marshall, five-star cornerback, announces official visit list, asks fans for help http://t.co/hDo7N1Dj8z #goducks
about 3 hours ago

DuckSportsNow

Duck Sports Now


ATQ's "20 in 20" – #3 Haloti Ngata http://t.co/jXxMCsSESA
about 3 hours ago

DuckSportsNow

Duck Sports Now


Micah Abernathy, four-star cornerback, sets first official visit to Oregon Ducks http://t.co/GTRslNWB0D
about 3 hours ago

DuckSportsNow

Duck Sports Now


Duck the Odds: 2014 Pac-12 Prognostications http://t.co/aRACP2ykHO
about 3 hours ago

kirkrgaucho

Kirk Reynolds


Locked in with @UCLAFootball! @pac12networks training camp show with The Bruins tonight at 9p @… http://t.co/eOMva0sasW
about 3 hours ago

oregonliveducks

oregonlive.com/ducks


Micah Abernathy, four-star cornerback, sets first official visit to Oregon Ducks http://t.co/xiT2snSJhw #goducks
about 4 hours ago

ESPN_Pac12blog

ESPN_Pac12blog


Timing right for USC, Sark marriage http://t.co/jjP0ZBTfO0
about 4 hours ago

Pac12Networks

Pac-12 Networks


ICYMI: A sweet new version of Pac-12 Now is out for Android. Download it and leave a review! http://t.co/1P19TikNDZ http://t.co/XP44EtxuZs
about 4 hours ago

DuckSportsNow

Duck Sports Now


GameDay: Drawing Oregon football players has bonded Chris Snusz with his son C.J. http://t.co/rCF3MSNwrv
about 4 hours ago

DuckSportsNow

Duck Sports Now


Gameday: Plagued by an ACL, Tyler Johnstone's injury reveals larger issue regarding athletes returning from knee... http://t.co/AfaewI3PAj
about 4 hours ago

DuckSportsNow

Duck Sports Now


Gameday: Troy Hill's path to redemption started in a jail cell and continues on the football field http://t.co/NDanp3CT3W
about 4 hours ago

DuckSportsNow

Duck Sports Now


Emerald Roundtable: Preseason predictions bring questions and excitement to Ducks football http://t.co/c4gRw2Hvil
about 4 hours ago

DuckSportsNow

Duck Sports Now


GameDay: Oregon looking to carry on excitement in return game http://t.co/HpVxEQgyus
about 4 hours ago

DuckSportsNow

Duck Sports Now


Gameday: Four Pac-12 teams that could derail Oregon's title hopes http://t.co/62bT8zkcNm
about 4 hours ago

DuckSportsNow

Duck Sports Now


GameDay: Tyree Robinson set to succeed after beneficial redshirt year http://t.co/oAEKXKXD04
about 4 hours ago

DuckSportsNow

Duck Sports Now


Gameday: Q&A with backup quarterback Taylor Alie http://t.co/wanZmdAUNA
about 4 hours ago

DuckSportsNow

Duck Sports Now


Five Oregon Ducks make Senior Bowl watch list, short of the six Oregon State Beavers: Oregon rundown http://t.co/s8O7AfzDkw
about 4 hours ago

Pac12Networks

Pac-12 Networks


.@OfficialWilbur wants YOU to follow @ArizonaFBall all season long on Pac-12 Networks. http://t.co/RevDos4Gln http://t.co/jVxzPpYE0k
about 5 hours ago

DuckFootball

Rob Moseley


Includes Marshall along with Marcus, Grasu, Ifo #GoDucks RT @TedMillerRK http://t.co/g6QFXWwWnR's All-Pac-12 team. http://t.co/QtA7Mlchum …
about 5 hours ago

DuckSportsNow

Duck Sports Now


Quack Fix: One Week! http://t.co/n1SWAhMVDt
about 5 hours ago

DuckFootball

Rob Moseley


ICYMI: Oregon Football Practice Recap – Aug. 20 http://t.co/7t8BrreK4i #GoDucks
about 5 hours ago

oregonliveducks

oregonlive.com/ducks


Five Oregon Ducks make Senior Bowl watch list, short of the six Oregon State Beavers http://t.co/d3O2YUvdX9 #goducks
about 5 hours ago

DuckSportsNow

Duck Sports Now


Duck DB target taking a step back http://t.co/EJJ0lYA9VM
about 5 hours ago

Pac12Networks

Pac-12 Networks


Good morning.One week from today, there will be football.And it will be good.http://t.co/Ru5GgCSmSy #pac12fb
about 5 hours ago

DSArivals

DuckSportsAuthority


Duck DB target taking a step back: The recruiting process has moved at a fast pace for Donte Jackson. During t... http://t.co/Gc488Ovk1x
about 6 hours ago

DuckSportsNow

Duck Sports Now


Ducks in the NFL: Lyerla Back With Packers on Injured Reserve http://t.co/TZSSAerJ4u
about 6 hours ago

DuckSportsNow

Duck Sports Now


GIF! Nick Saban in "Laid to Rest" http://t.co/YAFIRtnT9U
about 7 hours ago

DuckSportsNow

Duck Sports Now


A Duckling Profile: Arrion Springs to Life in the Fall http://t.co/CYqVh7mKNw
about 7 hours ago

ESPN_Pac12blog

ESPN_Pac12blog


Preseason All-Pac-12 team http://t.co/lnOgKjN2ta
about 8 hours ago

DuckSportsNow

Duck Sports Now


Oregon Ducks receivers set high standard to be among 'best receiving corps in the country' http://t.co/ZSwI12su7U
about 8 hours ago

oregonliveducks

oregonlive.com/ducks


Oregon Ducks receivers set high standard to be among 'best receiving corps in the country' http://t.co/Z9EOezHB0W #goducks
about 8 hours ago

oregonliveducks

oregonlive.com/ducks


Chip Kelly collecting Oregon Ducks; bold prediction about Royce Freeman; Beavers basketball player co... http://t.co/YQCLoHD1e1 #goducks
about 8 hours ago

ESPN_Pac12blog

ESPN_Pac12blog


Pac-12 morning links http://t.co/M2cYvZ63V8
about 9 hours ago

Pac12Networks

Pac-12 Networks


Remember this legendary Pac-12 QB? He has a new home on the @USC_Athletics sideline. VIDEO: http://t.co/rDM3x3YSKA http://t.co/smPFaRxuln
about 15 hours ago

Pac12Networks

Pac-12 Networks


Our Football Training Camp tour rolls on tomorrow at 9 pm PT as the crew visits @UCLAFootball. See you then! http://t.co/grvBVZpFhz
about 15 hours ago

Pac12Networks

Pac-12 Networks


.@RunRalphieRun, we are going to miss watching this tandem connect on the field this year. http://t.co/ZyZg5lvLRv
about 16 hours ago

Pac12Networks

Pac-12 Networks


ICYMI: A brand new version of Pac-12 Now is now available in the Google Play store. http://t.co/1P19TikNDZ http://t.co/VVvZa9VqrQ
about 16 hours ago

DuckSportsNow

Duck Sports Now


Kelly Graves #ALSIceBucketChallenge http://t.co/JCJUHriUzC
about 16 hours ago

Pac12Networks

Pac-12 Networks


It's time to talk Trojans. The @USC_Athletics Training Camp special is on now!http://t.co/YfMNDWur3w http://t.co/V9ktL4cXEg
about 17 hours ago

DuckSportsNow

Duck Sports Now


Early Offer: The chase for Campbell http://t.co/yrBCiZUY4r
about 17 hours ago

DuckSportsNow

Duck Sports Now


Running back duo Tyner and Marshall love spa days http://t.co/AynQDzKBJz
about 17 hours ago

Mike_Yam

Michael Yam


The show every @USC_Athletics fan needs to watch starts at 9pst on @Pac12Networks Sark, Kessler, Wilcox, & L. Williams are all on
about 17 hours ago

Pac12Networks

Pac-12 Networks


For USC fan Michael Stark, the football team is more like a family. http://t.co/s6BGtbzedJ http://t.co/fJTQgXDYEm
about 17 hours ago

Pac12Networks

Pac-12 Networks


For USC fan Michael Stark, the football team is more like a family. http://t.co/s6BGtbzedJ http://t.co/Dr4s8zDTeg
about 17 hours ago

Pac12Networks

Pac-12 Networks


Here's a @storify of some of our favorite Pac-12 decorated desks that you sent us today: http://t.co/TTCsWUbD2O http://t.co/thwawylYa9
about 18 hours ago

Pac12Networks

Pac-12 Networks


Here's a @storify of some of our favorite Pac-12 decorated desks that you sent us today: http://t.co/TTCsWUbD2O http://t.co/PKgOn2evkh
about 18 hours ago

UCLAWSoccer

UCLA Women's Soccer


We're just 2 days away from the season opener! Come out to Drake Stadium Fri. at 7pm or watch live on @Pac12Networks http://t.co/fQygV5yMwf
about 18 hours ago

GoDucksTV

GoDucks TV


Now on @GoDucksTV: Frost Post Practice 8-20 http://t.co/iVGOadIrWl #GoDucks
about 18 hours ago

GoDucksTV

GoDucks TV


Now on @GoDucksTV: Lowe Post Practice 8-20 http://t.co/JsaZ1gZgia #GoDucks
about 18 hours ago

DuckSportsNow

Duck Sports Now


Oregon Ducks quick hits: Fall camp's final scrimmage is upon Ducks http://t.co/AT9tiRGiP9
about 18 hours ago

Pac12Networks

Pac-12 Networks


.@Flotrack has got the @utah_athletics women's cross-country squad ranked #21 going into 2014. http://t.co/5PfMorScPk
about 18 hours ago

DuckSportsNow

Duck Sports Now


Ducks should go back to the future with uniquely talented qb http://t.co/IB1B5NM1AL
about 18 hours ago

oregonliveducks

oregonlive.com/ducks


Oregon Ducks quick hits: Fall camp's final scrimmage is upon Ducks http://t.co/wgw0Z3Nxjs #goducks
about 19 hours ago

DuckSportsNow

Duck Sports Now


FALL CAMP 2014 – OREGON SAFETY ERICK DARGAN EMBRACES HIS ROLE AS LAST LINE OF DEFENSE – "Whatever I Can Do to... http://t.co/tSdUTkGOpt
about 19 hours ago

Pac12Networks

Pac-12 Networks


FILL IN THE BLANK: @USC_Athletics' most important game in 2014 is against _______. http://t.co/g1Z5wYVIJ2
about 19 hours ago
PAC-12 SCOREBOARD
Thursday, 8/28
Friday, 8/29
Saturday, 8/30
BLOG ARCHIVE:
CATEGORIES: