Ducks commits: Regular season wrap
November, 12, 2012
11/12/12
6:00
AM ET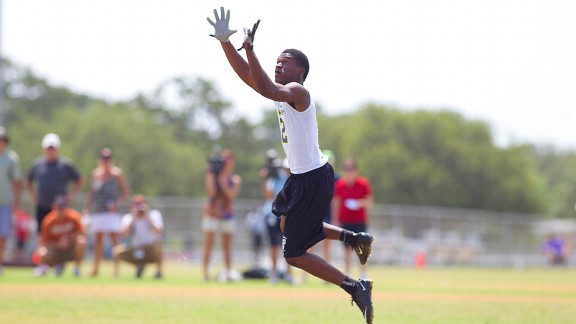 Miller SafritESPN.comDucks commit Dontre Wilson had 200 carries for 1,352 yards and 26 TDs in his senior year.
As their future team heads into a virtual, single-elimination playoff race for the BCS Championship, the Oregon Ducks' commits have wrapped up their regular seasons and look forward to their own playoff runs.
When running back commit
Dontre Wilson
(DeSoto, Texas/DeSoto) helped the Eagles polish off an undefeated regular season on Thursday, the Ducks commits had all completed their final high school regular seasons. The statistics have been tallied and some leagues have already handed out awards. Suffice it to say, the Ducks have a bright future with these 11 high school seniors headed their way.
To continue reading this article you must be an Insider
Insider
One Thing To Know: Pac-12 Recruiting
Recruiting reporter Erik McKinney discusses the top storyline to watch in 2015 college football recruiting within the Pac-12. Somewhat quietly, Washington State is putting together a potent class.
One Thing To Know: Pac-12 Recruiting
VIDEO PLAYLIST
OREGON FB RECRUITING SCORECARD
Schutt Oregon Ducks XP Replica Football Helmet Shop »
chiefspress

Kansas City Chiefs


#Chiefs Tweets: Rookie @CHECKDAT6 is already a fan favorite at #ChiefsCamp. http://t.co/6mEGkGhFDo #NFL http://t.co/TJlpWSprtN
about a minute ago

KCChiefs

Kansas City Chiefs


Rookie @CHECKDAT6 is already a fan favorite at #ChiefsCamp. http://t.co/udkR4AxnFC
about a minute ago

horn_kira

Kira


Chiefs Training camp today 🏈 http://t.co/8E0jakJYge
about a minute ago

SFnLS

Steve Fairhurst


De'Anthony Thomas about to cross the goal line with one of his two TDs today #ChiefsCamp @CHECKDAT6 http://t.co/zE85utPvmj
2 minutes ago

DuckSportsNow

Duck Sports Now


Ducks lose recruit and other questions http://t.co/sfOhSOkg3W
3 minutes ago

DuckSportsNow

Duck Sports Now


3-Star Forward Ray Kasongo Denied Admission to University of Oregon http://t.co/WqufWRLXFw
3 minutes ago

DuckFootball

Rob Moseley


Just before leaving for Seattle, @LynnieMo625 is brushing up on her Beyonce dance moves in the front room. Sorry to miss the trip. #notsorry
14 minutes ago

Pac12Networks

Pac-12 Networks


UCLA's @ChancellorBlock says that the damage to Pauley Pavilion is "painful." http://t.co/RWpqslLVZR http://t.co/PNsdNpLlgY
about an hour ago

Pac12Networks

Pac-12 Networks


Here's the very latest on the flooding situation on campus at @UCLA. http://t.co/RWpqslLVZR http://t.co/HOXWtEVv51
about an hour ago

UCLA

UCLA


Water main break damages Pauley Pavilion, other UCLA facilities | UCLA http://t.co/f71q7Uw9uA
about an hour ago

oregonliveducks

oregonlive.com/ducks


Oregon Ducks target Josh Sweat becomes ESPN's top-ranked football prospect, joining other future Duck... http://t.co/An5XSGUNUf #goducks
about an hour ago

oregonliveducks

oregonlive.com/ducks


Oregon Ducks opponent preview: Washington State brings back its passing attack http://t.co/ch0mkq0Fp5 #goducks
about an hour ago

DuckSportsNow

Duck Sports Now


Preseason camp preview: Defensive line http://t.co/5p1CYmyEHR
about 2 hours ago

DuckSportsNow

Duck Sports Now


Quack Fix: Defensive line depth, Kosongo denied admission, Scott Frost in demand http://t.co/sZECqxtzrz
about 2 hours ago

WinTheDay

Oregon Football


Preseason camp preview: Defensive line #GoDucks http://t.co/ysLyAT93dd
about 2 hours ago

McNamaraUO

Andy McNamara


#RoyalBrand RT @QuackCave: O Worldwide. Sebastian Coe w/ Prince William & Duchess Kate #GoDucks h/t @ThaScarecro http://t.co/khml8FLtyJ
about 2 hours ago

QuackCave

QuackCave


O Worldwide. Sebastian Coe w/ Prince William & Duchess Kate #GlobalBrand #GoDucks h/t @ThaScarecro http://t.co/rshWb3Dsey
about 2 hours ago

DuckSportsNow

Duck Sports Now


Report: Oregon Ducks' freshman Ray Kasongo denied admission: Oregon rundown http://t.co/WBBVMwpdna
about 2 hours ago

ESPN_Pac12blog

ESPN_Pac12blog


Pac-12 Ultimate Road Trip: Week 11 http://t.co/9klojCRffw
about 3 hours ago

DuckSportsNow

Duck Sports Now


Pre-Camp Notes: Danny Mattingly and Joe Walker the most important Ducks in camp? http://t.co/Qe8x2vqmYL
about 3 hours ago

oregonliveducks

oregonlive.com/ducks


Report: Oregon Ducks' freshman Ray Kasongo denied admission: Oregon rundown http://t.co/zYmaayH8i6 #goducks
about 3 hours ago

DuckSportsNow

Duck Sports Now


5* DE sets Oregon visit http://t.co/PDxiipV8TS
about 3 hours ago

DuckSportsNow

Duck Sports Now


ESPN 300: Pac-12′s must-get recruits http://t.co/imoE6Cq9m7
about 3 hours ago

DuckSportsNow

Duck Sports Now


Danny Ainge vs. Johnny Pesky and more in Oregon's Greatest Athlete Round of 32 Day 3 (vote) http://t.co/uyv9KcadZJ
about 3 hours ago

ESPN_Pac12blog

ESPN_Pac12blog


USC roundtable: Impact, battles and more http://t.co/ZLRWRpciEg
about 4 hours ago

ESPN_Pac12blog

ESPN_Pac12blog


ESPN 300: Pac-12's must-get recruits http://t.co/SmYzPrGvxU
about 4 hours ago

oregonliveducks

oregonlive.com/ducks


Danny Ainge vs. Johnny Pesky and more in Oregon's Greatest Athlete Round of 32 Day 3 (vote) http://t.co/DwhqhrsNf2 #goducks
about 4 hours ago

ESPN_Pac12blog

ESPN_Pac12blog


Top Pac-12 players: No. 15-11 http://t.co/hRwSNe4jGN
about 5 hours ago

DuckSportsNow

Duck Sports Now


No. 1-Ranked Texas Bullets Build Powerhouse With Oregon's Blueprint http://t.co/fMUglyIhLe
about 6 hours ago

DuckSportsNow

Duck Sports Now


Recruiting Update: Oregon Setting up Shop in Tornado Alley http://t.co/ZKpeRgBwd0
about 6 hours ago

DuckSportsNow

Duck Sports Now


Last of four missing Ethiopian athletes found safe in Washington state http://t.co/PcpA5ZfC6g
about 11 hours ago

UCLAAthletics

UCLA Athletics


Update on #UCLA athletic facilities affected by the Sunset Blvd. water main break: http://t.co/0Fq8gbtJNM
about 13 hours ago

CoachCloseUCLA

Cori Close


I'm so sad about the flooding. But I am excited about the test of our growth mindset. We will work this challenge out for good! #bruwins
about 13 hours ago

DuckSportsNow

Duck Sports Now


Ducks quarterback Marcus Mariota is taking golf and yoga: Your comments http://t.co/srV1pqNSjF
about 13 hours ago

DuckSportsNow

Duck Sports Now


Galen Rupp and his wife become parents Tuesday in Portland http://t.co/XhbJCCIjgj
about 13 hours ago

oregonliveducks

oregonlive.com/ducks


Ducks quarterback Marcus Mariota's is taking golf and yoga: Your comments http://t.co/qaRF3O9Ht5 #goducks
about 13 hours ago

oregonliveducks

oregonlive.com/ducks


Galen Rupp and his wife become parents Tuesday in Portland http://t.co/IxdeE9xtNk #goducks
about 14 hours ago

FBSchedules

FBSchedules.com


PM RT: Does the Pac-12 Have the Toughest Schedules in College Football? http://t.co/2BeY6Zec5t
about 15 hours ago

DuckSportsNow

Duck Sports Now


Know the Opponent: MWC Part I http://t.co/eSyaIcuUJ4
about 16 hours ago

Pac12Networks

Pac-12 Networks


UPDATE: @UCLAnewsroom is providing important information on the #SunsetFlood here: http://t.co/bKs3wmSWMO
about 16 hours ago

UCLAnewsroom

UCLA Newsroom


#Sunsetwatermain For the full list of official UCLA updates: http://t.co/4ZGvuvNf8C
about 16 hours ago

dailybruin

Daily Bruin


Full extent of water damage still unclear MT @benbrayfield: Firefighters clear water from Pauley Pavilion #uclaflood
about 16 hours ago

Coachdfreeman

Derek Freeman


Flood, not good...Nothing else to say. @uclamensgolf http://t.co/fKHMyOa7BX
about 17 hours ago

dailybruin

Daily Bruin


#UCLAFlood on Bruin Walk. The geyser is visible as a white plume behind @uclaanderson School of Management http://t.co/l1axiRnJ1b
about 17 hours ago

Pac12Networks

Pac-12 Networks


O Canada! A pair of @OregonTF Ducks shined at the IAAF World Junior Championships. http://t.co/J1KlPg9uD7 http://t.co/8MzDhNpEc4
about 17 hours ago

oregonliveducks

oregonlive.com/ducks


Oregon's backup kicker departs; Devon Allen too fast for Ducks? The Oregonian sports top 5 at five http://t.co/EtlzM9B9uF #goducks
about 17 hours ago

DuckSportsNow

Duck Sports Now


Key questions for Pac-12 North coaches http://t.co/0t1CMvNLVP
about 18 hours ago

Pac12Networks

Pac-12 Networks


We are monitoring the situation at UCLA and urge everyone on/near campus to stay safe.Currently, @dailybruin is tweeting important info.
about 18 hours ago

AverageSir

Sir Jaymes


All starts with a vision. Look out for these power moves coming to Eugene Oregon with my young Chief. @CHECKDAT6 #RUNDAT #FlyNorth #Nike
about 18 hours ago

dailybruin

Daily Bruin


#PauleyPavilion is also taking on water. More updates to follow.
about 18 hours ago

Pac12Networks

Pac-12 Networks


Please be safe, UCLA friends. RT @dailybruin: Heavy flooding on #BruinWalk and other parts of #UCLA campus. More updates to come.
about 18 hours ago

Pac12Networks

Pac-12 Networks


#NW: Ben Wetzler sets records in a @Beaver_Baseball win over Oregon. #RivalryWeek http://t.co/x006mkVYpB http://t.co/dVe6CEgdBx
about 19 hours ago

ESPN_Pac12blog

ESPN_Pac12blog


Key questions for Pac-12 North coaches http://t.co/gyVNlHOus1
about 19 hours ago

Pac12Networks

Pac-12 Networks


It's Tuesday. Just because we can.http://t.co/ASXL1grMBD http://t.co/iI69mLVwE8
about 19 hours ago

DuckSportsNow

Duck Sports Now


Oregon Ducks Down a Kicker, Sophomore Hayden Crook Reportedly Leaving Team http://t.co/xCmEV7VPLj
about 19 hours ago

Pac12Networks

Pac-12 Networks


Swoon. How's your campus looking today? RT @UWAthletics: It is a spectacular day to be on campus. #SummerInSeattle http://t.co/ss3lMlshjd
about 20 hours ago

CHECKDAT6

DE'ANTHONY THOMAS


EYES TO THE TUCK #RUNDAT http://t.co/IJIS95SD1O
about 20 hours ago

ESPN_Pac12blog

ESPN_Pac12blog


Nonconference primer: Utah http://t.co/mQKOf2ioSC
about 20 hours ago

DuckSportsNow

Duck Sports Now


Preseason camp preview: Offensive line http://t.co/vWItT0pmON
about 20 hours ago

DuckSportsNow

Duck Sports Now


Game five opponent Arizona reshuffles the deck in the desert http://t.co/YzwYQJSuG5
about 20 hours ago

DuckSportsNow

Duck Sports Now


Oregon Ducks quarterback Marcus Mariota's only two classes this fall are golf and yoga http://t.co/Ulsi4zZjIp
about 21 hours ago

McNamaraUO

Andy McNamara


My 8-year-old's financial advisor is having a really good day #$TWTR #NotSoHumbleBrag
about 21 hours ago

Pac12Networks

Pac-12 Networks


#NW: @Cal_Baseball storms to victory on their rival's home diamond. #RivalryWeek http://t.co/x006mkVYpB http://t.co/BYp8Gz8FvO
about 21 hours ago

masonkelley12

Mason Kelley


ICYMI, here is the second 2014 #UDUB football teaser video. http://t.co/XtAjTS3xFB
about 21 hours ago

oregonliveducks

oregonlive.com/ducks


Michigan State, Michigan, Texas and Notre Dame highlight intriguing non-conference matchups: Pac-12 roundup http://t.co/YO6FKyooqQ #goducks
about 21 hours ago

DuckFootball

Rob Moseley


Preseason camp preview: Offensive line http://t.co/PP4o3V5KFS #GoDucks
about 22 hours ago

DuckSportsNow

Duck Sports Now


Pac-12 lunch links http://t.co/tPD48wgbtm
about 22 hours ago

Pac12Networks

Pac-12 Networks


You go, @zanebeadles. Way to give back to Utah. http://t.co/P19RepnPo7
about 22 hours ago

QuackCave

QuackCave


All yoga all the time. It's who we are now. #GoDucks http://t.co/UpAkFk2HH9
about 22 hours ago

QuackCave

QuackCave


All yoga all the time. It's who we are now. #GoDucks http://t.co/UpAkFk2HH9
about 22 hours ago

WinTheDay

Oregon Football


#ProDucks RT @CHECKDAT6: STILL LOVE MY DUCKS #RUNDAT FROM EUGENE TO KC #CHIEFSKINGDOM #600 http://t.co/SoG5WWmkbj
about 22 hours ago

JenniferKayMo

Jenni Moore


@CHECKDAT6 once a duck always a duck
about 22 hours ago

CHECKDAT6

DE'ANTHONY THOMAS


STILL LOVE MY DUCKS #RUNDAT FROM EUGENE TO KC #CHIEFSKINGDOM #600 http://t.co/FVkNWh82QD
about 22 hours ago

DuckSportsNow

Duck Sports Now


Register-Guard to sue UO after district attorney denies appeal requesting records from sexual assault case http://t.co/3VLyJ93Vv7
about 22 hours ago

McNamaraUO

Andy McNamara


#SuperMarioga "@DuckFootball: Only a week left in the silly season ... only a week left in the silly season ... #golfandyoga"
about 22 hours ago

DuckFootball

Rob Moseley


Only a week left in the silly season ... only a week left in the silly season ... only a week left in the silly season ... #golfandyoga
about 22 hours ago

oregonliveducks

oregonlive.com/ducks


Oregon Ducks quarterback Marcus Mariota's only two classes this fall are golf and yoga http://t.co/SB3ejU695w #goducks
about 22 hours ago

WinTheDay

Oregon Football


The first of @DuckFootball's preseason previews: Receivers/tight ends #GoDucks http://t.co/lfP6dnJ1RF
about 22 hours ago

McNamaraUO

Andy McNamara


Sadly, no chainsaw #CrankIt "@ZacEllis: #FSU freshmen make rap video that's terrible and beautiful at the same time http://t.co/zMNQAutpDd"
about 23 hours ago

DuckSportsNow

Duck Sports Now


Waller family details recruitment http://t.co/9V9KXUo447
about 23 hours ago

Pac12Networks

Pac-12 Networks


A trio of @CalAthletics' women's rowers struck gold at the U23 rowing championships. http://t.co/ayDkWPQ5F8 http://t.co/XVSeossNpI
about 23 hours ago

oregonliveducks

oregonlive.com/ducks


Colt Lyerla contending for Green Bay Packers roster spot, putting Oregon Ducks trouble behind him http://t.co/CuuisIgDL3 #goducks
about 23 hours ago

ESPN_Pac12blog

ESPN_Pac12blog


Pac-12 lunch links http://t.co/Xj0LYo8Yfm
about 23 hours ago

DuckFootball

Rob Moseley


Phil Steele's UO-MSU pick MT @CollegeGameDay Ducks high flying offense takes on a less experienced D in Autzen. Call for UO to get the win.
1 day ago

DuckSportsNow

Duck Sports Now


Oregon Ducks kicker Hayden Crook won't return to team this fall http://t.co/Wkmh9iMuUr
1 day ago

DuckSportsNow

Duck Sports Now


Michigan State's Mark Dantonio calls Spartans 'hunted' heading into 2014 season http://t.co/gafuDZ66HH
1 day ago

DuckSportsNow

Duck Sports Now


ESPN #CFBRank Has Oregon Running Back Byron Marshall at 97 http://t.co/csjwHpEdXO
1 day ago

DuckFootball

Rob Moseley


Phil Steele's UO-MSU pick MT @CollegeGameDay Ducks high flying offense takes on a less experienced D in Autzen. Call for UO to get the win.
1 day ago

GoDucks

GoDucks


The year will begin anew, but until it does here is last year's best in video format http://t.co/XkJW6oMeMq #GoDucks
1 day ago

Pac12Networks

Pac-12 Networks


#NW: Stellar pitching carries @StanfordBSB to victory over Cal. #RivalryWeek http://t.co/x006mkVYpB http://t.co/5FaReVQIfo
1 day ago

DuckSportsNow

Duck Sports Now


Duck flies into 2016 Rivals250 http://t.co/z5a65ZrfuX
1 day ago

oregonliveducks

oregonlive.com/ducks


Oregon Ducks kicker Hayden Crook won't return to team this fall http://t.co/r1daFs9W9x #goducks
1 day ago

DuckSportsNow

Duck Sports Now


With the IAAF World Juniors in the rearivew mirror, we say goodbye for now; Oregon track & field rundown http://t.co/luaIXl6V9w
1 day ago

McNamaraUO

Andy McNamara


No. 4 is @Coach_Frost #GoDucks Top 10: Ranking rising star assistants who will soon be head coaches http://t.co/KsgpaqjYx7 via @FoxSports
1 day ago

Pac12Networks

Pac-12 Networks


Sparkling new Twitter avatar? Check.
1 day ago

DuckSportsNow

Duck Sports Now


Pac-12 Ultimate Road Trip: Week 10 http://t.co/4MHvN7uNF0
1 day ago

DuckSportsNow

Duck Sports Now


Top Trio: Defensive back http://t.co/6OlPHK8M1W
1 day ago

oregonliveducks

oregonlive.com/ducks


With the IAAF World Juniors in the rearivew mirror, we say goodbye for now; Oregon track & field rundown http://t.co/Z6NW1uJxWB #goducks
1 day ago

Runnin_Utes

Utah Basketball


Here is the live streaming link for today's press conference regarding the upcoming trip to China http://t.co/RVT3HwtmxY
1 day ago

oregonliveducks

oregonlive.com/ducks


Michigan State's Mark Dantonio calls Spartans "hunted" heading into 2014 season http://t.co/hwIfeC10iO #goducks
1 day ago
PAC-12 SCOREBOARD
Thursday, 8/28
Friday, 8/29
Saturday, 8/30
BLOG ARCHIVE:
CATEGORIES: