Oregon recruiting mailbag (Oct. 26)
October, 26, 2012
10/26/12
5:55
AM ET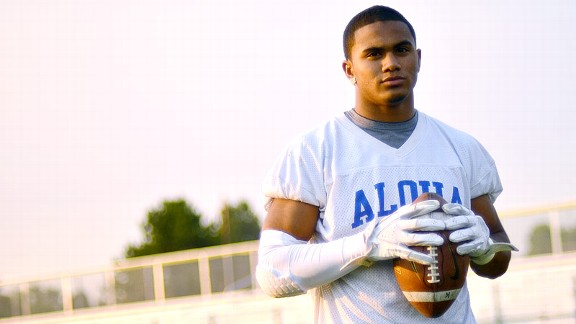 Courtesy of Tiffany FiekenThomas Tyner is expected to be a perfect fit for the Oregon Ducks.
As the Ducks get set to take on Colorado this weekend before the meat of the schedule hits, DuckNation mailbag has been overflowing with questions. It's about time to lighten the load and get to it.
Thomas M. (Cornwall on Hudson, NY):
Out of those mentioned in your article about who the Ducks missed on, who do you think has been the biggest 'miss' for the Ducks in recent years?
To continue reading this article you must be an Insider
Insider
Mariota Sparks Oregon Rout
Marcus Mariota passed for three touchdowns and rushed for another to help No. 2 Oregon beat Colorado 44-10.
Mariota Sparks Oregon Rout
VIDEO PLAYLIST
Mariota Sparks Oregon Rout

Mariota Sparks Oregon Rout

Marcus Mariota passed for three touchdowns and rushed for another to help No. 2 Oregon beat Colorado 44-10.

4Q ORE J. Lockie pass,to Z. Schuller for 10 yds for a 1ST down

4Q ORE J. Lockie pass,to Z. Schuller for 10 yds for a 1ST down

Jeff Lockie pass complete to Zac Schuller for 10 yds to the Oregn 16 for a 1ST down

3Q ORE M. Mariota pass,to C. Nelson for 14 yds for a TD, (M. Wogan KICK)

3Q ORE M. Mariota pass,to C. Nelson for 14 yds for a TD, (M. Wogan KICK)

Marcus Mariota pass complete to Charles Nelson for 14 yds for a TD (Matt Wogan KICK)
OREGON FB RECRUITING SCORECARD
ESPN_Pac12blog

ESPN_Pac12blog


Eric Kendricks' INT for UCLA stands after review. Good pressure from Deon Hollins to force Kessler into a bad throw.
less than a minute ago

DuckFootball

Rob Moseley


Keanon Lowe: "I had the time of my life playing in Autzen and in front of the fans, my home state. It means the world to go out with a win."
about a minute ago

ESPN_Pac12blog

ESPN_Pac12blog


UCLA re-takes the lead on a 32-yard FG from Ka'imi Fairbiarn. UCLA 17, USC 14. 5:52, 2nd. #USCvsUCLA
7 minutes ago

oregonliveducks

oregonlive.com/ducks


Thomas Tyner doesn't dress for Oregon's 44-10 win over Colorado http://t.co/fKZ7Pdry9W #goducks
10 minutes ago

DuckSportsNow

Duck Sports Now


Marcus Mariota reflects on home finale against Colorado http://t.co/kiocLQ2hKF
12 minutes ago

DuckSportsNow

Duck Sports Now


Oregon's Mark Helfrich on Marcus Mariota and facing Oregon State http://t.co/2TMkTNhPL8
12 minutes ago

DuckSportsNow

Duck Sports Now


Recap: Mariota, Ducks soar over Colorado http://t.co/48qBmvfcr4
12 minutes ago

DuckSportsNow

Duck Sports Now


Ducks Hold Serve, Hammer Colorado 44-10 http://t.co/rj3pr1S6VS
12 minutes ago

DuckSportsNow

Duck Sports Now


Photos: Oregon Ducks stampede the Colorado Buffaloes, 44-10 http://t.co/gO4Xz30GnD
12 minutes ago

DuckSportsNow

Duck Sports Now


Rapid Reaction: Oregon defeats Colorado 44-10 on Senior Day http://t.co/TvPIGfBG1V
12 minutes ago

DuckFootball

Rob Moseley


Yep. "There's Jesus, there's girls, and there's Marcus Mariota." RT @GoDucksJoe Best press conference question ever. http://t.co/pswEuwZfc4
16 minutes ago

Pac12Networks

Pac-12 Networks


Safe to say #Pac12AfterDark is in full effect at the Rose Bowl. #USCvsUCLA http://t.co/S0cu4bnls4
23 minutes ago

DuckSportsNow

Duck Sports Now


Mariota Sparks Oregon Rout http://t.co/tlC21Z9j7M
24 minutes ago

DuckSportsNow

Duck Sports Now


Marcus Mariota accounts for 4 TDs in No. 2 Oregon's rout of Colorado http://t.co/aoLUGAiz0z
24 minutes ago

DuckSportsNow

Duck Sports Now


Instant Analysis: No. 2 Oregon 44, Colorado 10 http://t.co/G8BuO9CDl5
24 minutes ago

DuckSportsNow

Duck Sports Now


4Q ORE J. Lockie pass,to Z. Schuller for 10 yds for a 1ST down http://t.co/RytKMv67Y1
24 minutes ago

UOPintens

Craig Pintens


@TedMillerRK @kathycastro Ted, remember you "cooled" on Harvard.
29 minutes ago

DuckSportsNow

Duck Sports Now


Mariota Shines In Home Finale As Ducks Trample Buffaloes http://t.co/hxXOnJt2RD
30 minutes ago

DuckSportsNow

Duck Sports Now


Oregon QB Marcus Mariota sets Pac-12 record for TDs, leaves to big ovation http://t.co/MX8U75kcGu
30 minutes ago

ESPN_Pac12blog

ESPN_Pac12blog


USC stuffed on 4th and 2 at the UCLA 5.
39 minutes ago

oregonliveducks

oregonlive.com/ducks


Marcus Mariota (probably) says farewell to Autzen Stadium with stellar performance: What they're saying http://t.co/pLnGVZaVAC #goducks
43 minutes ago

Pac12Networks

Pac-12 Networks


Marcus Mariota makes emotional exit at Autzen Stadium: http://t.co/R9baRCezEn http://t.co/VJZhs1IlCx
49 minutes ago

ESPN_Pac12blog

ESPN_Pac12blog


Thomas Duarte with a 57-yard TD reception and UCLA has its first lead of the game. Bruins up 14-7, 8:01, 1st. #USCvsUCLA
54 minutes ago

DuckFootball

Rob Moseley


Marcus Mariota noncommittal about his future but says, "If this was my last game at Autzen, it was truly special." #GoDucks
about an hour ago

TheOregonDuck

The Oregon Duck


The brotha from anotha motha #nosuchthingasspecies #sillystringonatuesday #SleepingBeauty http://t.co/tZPqDFkEkc
about an hour ago

DuckFootball

Rob Moseley


Mariota said he was "taking mental pictures" while on the sideline in the fourth quarter, at the advice of his family and coaches.
about an hour ago

DuckFootball

Rob Moseley


Mariota on his Pac-12 record for total TDs: "It's one of those things for our entire offense. It says a lot about our offense, not just me."
about an hour ago

DuckFootball

Rob Moseley


Marcus Mariota noncommittal about his future but says, "If this was my last game at Autzen, it was truly special." #GoDucks
about an hour ago

oregonliveducks

oregonlive.com/ducks


Keisean Lucier-South, 5-star Oregon Ducks LB target, commits to UCLA Bruins http://t.co/bKpurPeXgX #goducks
about an hour ago

ESPN_Pac12blog

ESPN_Pac12blog


UCLA capitalizes: Hundley hits a wide-open Devin Lucien in the end zone. UCLA 7, USC 7. 8:40, 1st. #USCvsUCLA
about an hour ago

DuckSportsNow

Duck Sports Now


Marcus Mariota shines as Oregon Ducks roll over Colorado Buffaloes 44-10 http://t.co/B8SCNGbNph
about an hour ago

ESPN_Pac12blog

ESPN_Pac12blog


There's a break for UCLA. Agholor muffs the punt and the Bruins it at the USC 8.
about an hour ago

DuckFootball

Rob Moseley


Got a lot of questions about Tyner not playing. That's for Helfrich to address; apparently he wasn't asked in the postgame press conference.
about an hour ago

Pac12Networks

Pac-12 Networks


How does the Pac-12 South shake out going into #USCvsUCLA? Here are the scenarios: http://t.co/r1N52bUuuZ http://t.co/9NZFJgHFey
about an hour ago

ESPN_Pac12blog

ESPN_Pac12blog


Trojans strike first: Anthony Sarao picks off Hundley and returns it for a touchdown. USC 7, UCLA 0. 11:52, 1st. #USCvsUCLA
about an hour ago

ESPN_Pac12blog

ESPN_Pac12blog


Cody Kessler punts after USC's first drive stalls. Bruins will take over at their own 7.
about an hour ago

DuckSportsNow

Duck Sports Now


3Q ORE M. Mariota pass,to C. Nelson for 14 yds for a TD, (M. Wogan KICK) http://t.co/9SqIHGJsTu
about an hour ago

DuckSportsNow

Duck Sports Now


3Q COLO S. Liufau pass,to D. Lee for 5 yds for a TD, (W. Oliver KICK) http://t.co/kK1S4aqxa5
about an hour ago

DuckSportsNow

Duck Sports Now


3Q COLO S. Liufau pass,to K. Slavin for 23 yds for a 1ST down http://t.co/1Aj0vOscup
about an hour ago

DuckSportsNow

Duck Sports Now


3Q ORE M. Mariota pass,to B. Marshall for 31 yds for a 1ST down http://t.co/QRKDAzexmv
about an hour ago

DuckSportsNow

Duck Sports Now


3Q COLO C. Powell run for 39 yds for a 1ST down http://t.co/35gOVPiRt7
about an hour ago

DuckSportsNow

Duck Sports Now


3Q ORE M. Mariota pass,to E. Baylis for 15 yds for a TD, (M. Wogan KICK) http://t.co/HpbrEsmsQP
about an hour ago

DuckSportsNow

Duck Sports Now


3Q ORE M. Mariota pass,to C. Nelson for 17 yds for a 1ST down http://t.co/ravr7dKFfV
about an hour ago

DuckSportsNow

Duck Sports Now


3Q ORE R. Freeman run for 27 yds for a 1ST down http://t.co/ijHsx9CF9M
about an hour ago

DuckSportsNow

Duck Sports Now


3Q COLO M. Mariota pass incomplete http://t.co/tXSXW5g6bU
about an hour ago

DuckSportsNow

Duck Sports Now


3Q ORE M. Mariota pass,to D. Stanford for 23 yds for a 1ST down http://t.co/zty1Pq3Lcg
about an hour ago

DuckFootball

Rob Moseley


Theme in the postgame locker room was how much fun Ducks had. Playing well in the seniors' final home performance was obviously enjoyable.
about an hour ago

Pac12Networks

Pac-12 Networks


.@usc_Athletics and @UCLAFootball both donning the colors. One of the most beautiful sights in football. #USCvsUCLA http://t.co/aCyxpMDOjy
about an hour ago

DuckFootball

Rob Moseley


Penalties were UO's bugaboo today "We played hard. We prepared hard," Helf told them. "We didn't play very smart. That's gotta be our edge."
about an hour ago

DuckFootball

Rob Moseley


Helfrich said of the Ducks' senior class, "Those guys will be Men of Oregon forever."
about an hour ago

DuckFootball

Rob Moseley


Despite the ceremony of pulling Mariota on second down late in the game, Helfrich said he has "no idea" of the quarterback's future plans.
about an hour ago

AdamsonAshley

Ashley Adamson


.@UCLAFootball & @uscfootball about to kick in Pasadena. Brett Hundley trying to join Cade McNown as only Bruin QB to go 3-0 against USC.
about an hour ago

McNamaraUO

Andy McNamara


Student reporter in postgame presser just told @CoachHelfrich there are 3 things at his school: "Jesus, girls & Marcus Mariota" #MicDrop
about an hour ago

McNamaraUO

Andy McNamara


Evan Baylis became the 11th @WinTheDay player to catch a TD pass this season #GoDucks #CUvsUO
about an hour ago

Pac12Networks

Pac-12 Networks


The sun goes down. A chill pierces the air.New to the game? Here's your #Pac12AfterDark #starterkit. http://t.co/sMx7YQS0zc
about an hour ago

DuckSportsNow

Duck Sports Now


Mariota and Freeman Power Oregon Ducks Past Colorado http://t.co/xgoznrurpO
about an hour ago

DuckSportsNow

Duck Sports Now


Oregon's Darren Carrington makes remarkable catch against Colorado http://t.co/qlHkRz9EvD
about an hour ago

WinTheDay

Oregon Football


Final Infographic #GoDucks #CUvsUO http://t.co/RDzQu4USWE
about an hour ago

McNamaraUO

Andy McNamara


Nelson Spruce began the day No. 1 in FBS with 99 receptions. @WinTheDay held him to 2 for 16 yds #GoDucks #CUvsUO
about an hour ago

ESPN_Pac12blog

ESPN_Pac12blog


Minutes away from kickoff between No. 19 USC and No. 9 UCLA at the Rose Bowl on ABC.
about an hour ago

roxybernstein

Roxy Bernstein


In position for #Pac12AfterDark! @OSUBeaversFB at @UW_Football 7:30 @Pac12Networks with @BigAntHerron & @GuyHaberman http://t.co/eobMdP8KyM
about an hour ago

Pac12Networks

Pac-12 Networks


Not only did @StanfordFBall win the #BigGame, their fans are the winner of the @BankoftheWest Battle of the Tweets! http://t.co/qPm7eqwG6T
about an hour ago

ESPN_Pac12blog

ESPN_Pac12blog


UCLA fan's mohawk presents a stiff challenge for haircut of the day http://t.co/nZRpwAYgZj
about an hour ago

ESPN_Pac12blog

ESPN_Pac12blog


Instant Analysis: No. 2 Oregon 44, Colorado 10 http://t.co/r8euPDgiKC
about an hour ago

ESPN_Pac12blog

ESPN_Pac12blog


Instant Analysis: Stanford 38, California 17 http://t.co/stEucxU1W0
about an hour ago

Pac12Networks

Pac-12 Networks


Battle of the Tweets time! Weigh in, Trojans and Bruins fans. It's presented by @BankoftheWest. #USCvsUCLA http://t.co/s6hs7J8Ec0
about an hour ago

TheOregonDuck

The Oregon Duck


Mariota is bae #HeismanForMariota
about an hour ago

Pac12Networks

Pac-12 Networks


In Berkeley, Remound Wright's 4th TD of the day is the #BigGame @ishares by @blackrock Play of the Game. http://t.co/46PmuEb2pe
about an hour ago

Pac12Networks

Pac-12 Networks


Marcus Mariota's historic TD is the #CUvsUO @ishares by @blackrock Play of the Game. http://t.co/CJ4YXqeRHo
about an hour ago

ESPN_Pac12blog

ESPN_Pac12blog


Video: No. 15 Arizona 42, No. 17 Utah 10 http://t.co/Er1tYIWhGn
about an hour ago

Pac12Networks

Pac-12 Networks


The axe. It stays in Palo Alto. Full coverage: http://t.co/SSKQgUEqsT #BigGame http://t.co/tqQBUHGLgz
about an hour ago

oregonliveducks

oregonlive.com/ducks


Marcus Mariota shines as Oregon Ducks roll over Colorado Buffaloes 44-10 http://t.co/xgA7g7PsGt #goducks
about an hour ago

ESPN_Pac12blog

ESPN_Pac12blog


FINAL: Stanford 38, Cal 17. Cardinal beat the Bears for the 5th straight year.
about an hour ago

GoDucks

GoDucks


Final score: Ducks win 44-10. #GoDucks #CUvsUO http://t.co/LVsJ5uHdLB
about an hour ago

Pac12Networks

Pac-12 Networks


Mariota makes history. The Ducks roll on to the #CivilWar. Full coverage: http://t.co/uivnppoFvh http://t.co/kPzvKUTzRa
about an hour ago

DuckSportsNow

Duck Sports Now


Second Half GameThread: Colorado Buffaloes http://t.co/1HYylJS4vx
about an hour ago

McNamaraUO

Andy McNamara


Ducks will hold Colorado to its fewest points in a game this season (10) #GoDucks #CUvsUO
about an hour ago

Pac12Networks

Pac-12 Networks


STARING CONTEST, GOYOU WIN, YOU ALWAYS DO #BigGame http://t.co/8KchriQ4vF
about 2 hours ago

ESPN_Pac12blog

ESPN_Pac12blog


TD Daniel Lasco. Stanford 38, Cal 17 with 2:30 left in the game.
about 2 hours ago

DuckFootball

Rob Moseley


Loyd brings a punt back to the house, but there's a flag on the field.
about 2 hours ago

McNamaraUO

Andy McNamara


.@WinTheDay's #GOAT RT @UOPintens: Last time? Mahalo. #GoDucks http://t.co/Dq7UQo5PYB
about 2 hours ago

McNamaraUO

Andy McNamara


Ducks reserves in on D. Colorado has not scored fewer than 20 pts in a Pac-12 game this season #GoDucks #CUvsUO
about 2 hours ago

McNamaraUO

Andy McNamara


This will be seventh straight 10-win season for @WinTheDay, tied for fifth-longest streak in the modern era #GoDucks #CUvsUO
about 2 hours ago

DuckSportsNow

Duck Sports Now


Darren Carrington makes circus catch for Oregon Ducks against Colorado Buffaloes (video) http://t.co/IS443x802K
about 2 hours ago

DuckSportsNow

Duck Sports Now


2Q ORE M. Wogan 25 yd FG GOOD http://t.co/rJtjDjuUdS
about 2 hours ago

DuckSportsNow

Duck Sports Now


2Q ORE M. Mariota pass,to D. Carrington for 29 yds for a 1ST down http://t.co/Tju8VZuAS9
about 2 hours ago

DuckSportsNow

Duck Sports Now


2Q COLO J. Gehrke sacked by A. Armstead for -2 yds http://t.co/Onsqz4Lvd0
about 2 hours ago

DuckSportsNow

Duck Sports Now


2Q ORE M. Mariota pass,to E. Baylis for 18 yds for a 1ST down http://t.co/HoobsO4b70
about 2 hours ago

DuckSportsNow

Duck Sports Now


2Q ORE M. Mariota pass,to C. Nelson for 31 yds for a TD, (M. Wogan KICK) http://t.co/PkxzcUI1BI
about 2 hours ago

DuckSportsNow

Duck Sports Now


Freeman Puts Oregon Up By 20 http://t.co/DEOkcsyrEn
about 2 hours ago

DuckSportsNow

Duck Sports Now


2Q ORE R. Freeman run for 7 yds for a TD, (M. Wogan KICK) http://t.co/4Q3DBpwRbu
about 2 hours ago

DuckSportsNow

Duck Sports Now


COLO vs. ORE http://t.co/bQtz7a0ICu
about 2 hours ago

DuckSportsNow

Duck Sports Now


2Q COLO W. Oliver 23 yd FG GOOD http://t.co/RQvBPM6cAy
about 2 hours ago

UOPintens

Craig Pintens


Last time? Mahalo. #GoDucks http://t.co/DrBjqKYBXj
about 2 hours ago

UOPintens

Craig Pintens


Last time? Mahalo. #GoDucks http://t.co/DrBjqKYBXj
about 2 hours ago

McNamaraUO

Andy McNamara


Mariota's final line at Autzen (probably): 24-32-0, 323 yds, 3 TD; 8 att, 73 yds, TD #GoDucks #CUvsUO
about 2 hours ago

McNamaraUO

Andy McNamara


All reserves in for Ducks on O #GoDucks #CUvsUO
about 2 hours ago

Pac12Networks

Pac-12 Networks


Turn us on. Now. Oregon fans are going wild for Marcus Mariota. #CUvsUO http://t.co/YfMNDX35dA
about 2 hours ago

DuckFootball

Rob Moseley


Marcus Mariota takes the field with a bunch of backups and hands off. Lockie replaces him for second down and the crowd goes wild.
about 2 hours ago

McNamaraUO

Andy McNamara


Marcus Mariota out for a final time #GoDucks #CUvsUO
about 2 hours ago
BLOG ARCHIVE:
CATEGORIES: