2014 safety J.R. Hunt impressed by Ducks
October, 19, 2012
10/19/12
10:18
AM ET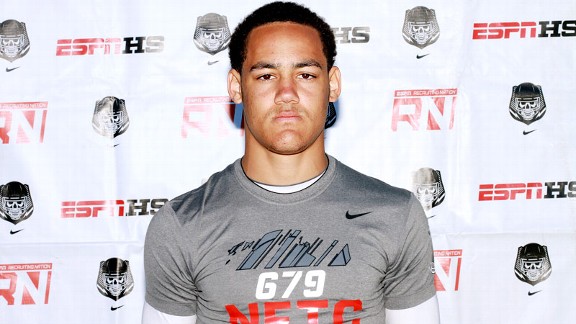 Tom Hauck for ESPN.comDionte Sykes said a recent trip to Oregon left him impressed.
Among the many visitors to Eugene when the Ducks hosted the rival Washington Huskies earlier this month were a pair of 2014 teammates from Chandler, Ariz. Wide receiver
Dionte Sykes
-- Chandler (Ariz.) High School -- came away blown away by everything and said that the Ducks made up a lot of ground on his life-long favorite, UCLA. His teammate, safety
J.R. Hunt
-- Chandler (Ariz.) High School -- was also impressed and recently caught up with DuckNation to share his thoughts on the visit.
While it is early in the process, Hunt clearly has his eyes on the Ducks and is hoping for an offer from the Pac-12 heavyweight.
"I really liked the stadium and the campus up there. It was a great atmosphere to be in. Both inside and outside of the stadium," Hunt said. "I liked the town and the school [itself]. I could see myself living there."
To continue reading this article you must be an Insider
Insider
Kirk Herbstreit's Gameplan Breakdown
Kirk Herbstreit looks at the five big rivalry games of the week that not only give state bragging rights but also have direct implications on the College Football Playoff.
Kirk Herbstreit's Gameplan Breakdown
VIDEO PLAYLIST
OREGON FB RECRUITING SCORECARD
DuckSportsNow

Duck Sports Now


Oregon will face Arizona in the Pac-12 Championship game http://t.co/SbHSMJ39Y2
3 minutes ago

pac12

Pac-12 Conference


The matchup is set. See you in a week, @WinTheDay and @ArizonaFBall. Get your tickets: http://t.co/GLpCYLQP4O http://t.co/fE9tt2lFD8
4 minutes ago

Pac12Networks

Pac-12 Networks


Great job, 'Cats fans. You're the winner of the @Lexus Battle of the Tweets! http://t.co/NwqeSAiTok
5 minutes ago

ESPN_Pac12blog

ESPN_Pac12blog


Instant analysis: Stanford 31, No. 8 UCLA 10 http://t.co/4kgH6zMLFH
15 minutes ago

BennytheBeaver

Benny Beaver


The AWESOME @BeavsVolleyball is up two sets over the Ducks right now! Tune in on @Pac12Networks! #GoBeavs #CivilWar
16 minutes ago

Pac12Networks

Pac-12 Networks


Devon Cajuste's phenomenal TD snag is the #STANvsUCLA @ishares by @blackrock Play of the Game. http://t.co/yocXdDYnyI
20 minutes ago

hmcpeak1

Holly McPeak


@StanfordWVB leads 2-0 over @CalVolleyball here in Berkeley, Ca. Cal needs to serve tougher to have a chance @Pac12Networks @AnneMAnderson
24 minutes ago

Pac12Networks

Pac-12 Networks


Samajie Grant's shake-and-bake TD is the #TerritorialCup @ishares by @blackrock Play of the Game. http://t.co/zs0xjSecJs
26 minutes ago

pac12

Pac-12 Conference


.@ArizonaFBall is off to the #pac12fcg! Get your tickets now: http://t.co/ZkEHUUcGOn http://t.co/5AzXGUum5M
29 minutes ago

oregonliveducks

oregonlive.com/ducks


Oregon Ducks will face Arizona Wildcats in Pac-12 championship game http://t.co/EVRLMG5OXX #goducks
29 minutes ago

Pac12Networks

Pac-12 Networks


Sing it loud, Tucson: the ARIZONA WILDCATS are going to the #pac12fcg! Full coverage: http://t.co/vAsBRhqXIm http://t.co/eIEml3fBDF
30 minutes ago

DuckFootball

Rob Moseley


It'll be a rematch for the Ducks against Arizona at the Pac-12 title game next week. But first, a bit of business to attend to in Corvallis.
31 minutes ago

Pac12Networks

Pac-12 Networks


Party at your house, Tucson.
33 minutes ago

ESPN_Pac12blog

ESPN_Pac12blog


ASU can't convert on fourth down. Arizona takes over with 1:07 left and leading 42-35.
33 minutes ago

oregonliveducks

oregonlive.com/ducks


Goe: Big plays, drama and unexpected have made the Civil War a memorable rivalry http://t.co/0X9g12Svfg #goducks
36 minutes ago

Pac12Networks

Pac-12 Networks


It all comes down to this...
36 minutes ago

Pac12Networks

Pac-12 Networks


Sun's still up, but we're calling it: #Pac12AfterDark ENGAGED. #TerritorialCup
41 minutes ago

Pac12Networks

Pac-12 Networks


We know what this means. The winner of the #TerritorialCup goes to the #pac12fcg.No pressure, is what we're saying.
44 minutes ago

Pac12Networks

Pac-12 Networks


.@StanfordFBall goes to the Rose Bowl and spoils a UCLA trip to the #pac12fcg. Full coverage: http://t.co/0208S6mejn http://t.co/7NOALu72qC
46 minutes ago

ESPN_Pac12blog

ESPN_Pac12blog


Bercovici hits Nelson for a TD. Arizona leads 42-35. 5:02 left.
47 minutes ago

ESPN_Pac12blog

ESPN_Pac12blog


About to go final in Pasadena. All eyes turn to Tucson. Arizona leads 42-28, but ASU has first-and-goal. 5:24 remaining.
48 minutes ago

DuckSportsNow

Duck Sports Now


No. 3 Oregon vs. Oregon St. http://t.co/ecN02AGwSe
50 minutes ago

Pac12Networks

Pac-12 Networks


.@BeavsVolleyball takes the 1-0 lead over @OregonVB in the Civil War! #UOvsOSU Watch it: http://t.co/YfMNDX35dA http://t.co/SH7cqUv2dX
51 minutes ago

azreinman

Matthew Rein


@Pac12Networks PRETTY GOOD THANKS
about an hour ago

Pac12Networks

Pac-12 Networks


How are you feeling, Tucson? #TerritorialCup
about an hour ago

ESPN_Pac12blog

ESPN_Pac12blog


Solomon to Grant for a TD after Bervocici interception. 'Cats lead 42-28.
about an hour ago

ArizonaFBall

Arizona Football


TOUCHDOWN!!! Anu Solomon finds Samajie Grant for a 20-yard reception the corner of the end zone. UA leads 42-28 with 8:31 left in the game.
about an hour ago

ArizonaFBall

Arizona Football


JOURDON GRANDON. Interception for the senior and UA now has the ball at the ASU 16-yard line. 9:13 left in the game, 35-28 Wildcats.
about an hour ago

Pac12Networks

Pac-12 Networks


Meanwhile, in Tucson... #TerritorialCup http://t.co/WzY2DzCZi3
about an hour ago

Kevin_Gemmell

Kevin Gemmell


The South will end as it began ... in devastatingly beautiful chaos.
about an hour ago

Pac12Networks

Pac-12 Networks


So, Mike Bercovici comes in and this happens. 35-28 @ArizonaFBall in the 4th.Goodness me, #HowGreatIsBall. http://t.co/wWthAXY7LD
about an hour ago

TedMillerRK

Ted Miller


Whatever happens here, both Arizona & Arizona State are feeling pretty good about QB situations in 2015.
about an hour ago

ESPN_Pac12blog

ESPN_Pac12blog


Sun Devils pull to within a score on a Mike Bercovici-led TD drive. Arizona leads 35-28.
about an hour ago

DuckSportsNow

Duck Sports Now


Emerald Ouick Hits: Civil War awaits, numerous awards for Oregon athletes http://t.co/h28xO0wCbm
about an hour ago

Pac12Networks

Pac-12 Networks


.@UCLAWBB puts up a good battle but falls at home to #15 @HuskersWBB. Play of the Game: http://t.co/UcDU9JNG27 http://t.co/UEuYXczGBu
about an hour ago

ESPN_Pac12blog

ESPN_Pac12blog


Stanford presses its lead to 31-10 after a Williamson FG.
about an hour ago

Pac12Networks

Pac-12 Networks


Big moment for @UCLAFootball as Eric Kendricks breaks the school's all-time record for tackles in a career. http://t.co/X1xAv7zGK9
about an hour ago

Pac12Networks

Pac-12 Networks


Up in Corvallis, it's a #CivilWar, volleyball style. #UOvsOSU Next up on Pac-12 Oregon and http://t.co/YfMNDX35dA. http://t.co/SukcuFkkOo
about an hour ago

DuckSportsNow

Duck Sports Now


The Beavers Still Have Some Bite http://t.co/kTEKJOK63o
about an hour ago

Pac12Networks

Pac-12 Networks


Anything goes when Stanford and Cal meet. Anywhere. Next up on Pac-12 Bay Area and http://t.co/YfMNDX35dA. #STANvsCAL http://t.co/zirhJV1fLa
about an hour ago

Pac12Networks

Pac-12 Networks


Mike Bercovici alert in Tucson. #TerritorialCup
about an hour ago

Pac12Networks

Pac-12 Networks


It's a tight one at Pauley! @UCLAWBB trails #15 @HuskersWBB 58-57 in the final minutes. Watch it now at http://t.co/YfMNDX35dA! #NEBvsUCLA
about an hour ago

MightyOregon

Yell O


The only game that matters ... Oregon @ Oregon State, tomorrow 5PM. #GoDucks
about an hour ago

Pac12Networks

Pac-12 Networks


The magnitude of this Nick Wilson 72-yard TD scamper: Infinite. #TerritorialCup http://t.co/fGgnI0kfku
about an hour ago

McNamaraUO

Andy McNamara


Based on current scores and momentum, looking very much like a second shot at the Wildcats in @pac12 title game #GoDucks
about an hour ago

ESPN_Pac12blog

ESPN_Pac12blog


Another Wilson TD, 'Cats lead 35-21.
about an hour ago

UCLAWBB

UCLA W. Basketball


UCLA leads No. 15 Nebraska 47-39 (11:54). #GoBruins #NEBvsUCLA
about an hour ago

Pac12Networks

Pac-12 Networks


#Pac12BeforeDark!!! RT @CadChica: @Pac12Networks #Pac12BeforeDark
about an hour ago

Pac12Networks

Pac-12 Networks


Remound Wright. Again.28-10 Stanford.This. Just. Got. Interesting. #STANvsUCLA #TerritorialCup
about an hour ago

ESPN_Pac12blog

ESPN_Pac12blog


Spoiler alert: Cardinal leads UCLA 28-10.
about an hour ago

Pac12Networks

Pac-12 Networks


Nick Wilson, once again, doing work! Same as it ever was. @ArizonaFBall leads 28-21 in the #TerritorialCup. http://t.co/2UhQbkhRFc
about an hour ago

GoDucks

GoDucks


Don't miss a second of today's #CivilWar volleyball match on @Pac12Networks. http://t.co/Oqn0x9PAoL http://t.co/IMm7qxb5OE
about an hour ago

ESPN_Pac12blog

ESPN_Pac12blog


Touchdown Nick Wilson and Arizona, which leads 28-21. Stanford (leading 21-10) threatening inside the UCLA 10.
about an hour ago

DuckSportsNow

Duck Sports Now


Ducks Return to Matt Knight to Host Vikings http://t.co/PBUPmSsuov
about 2 hours ago

Pac12Networks

Pac-12 Networks


Halftime stats for both #STANvsUCLA and the #TerritorialCup. #pac12fb http://t.co/AYzUqau8hZ
about 2 hours ago

Pac12Networks

Pac-12 Networks


#UpsetAlert at Pauley? @UCLAWBB up 10 right now on #15 Nebraska. Watch #NEBvsUCLA live: http://t.co/YfMNDX35dA http://t.co/l4OqAvg0BR
about 2 hours ago

ksvoboda

Kurt Svoboda


Stanford's @JeffreyTroj has been targeted 18 times in his career and has... 18 receptions. His uniform number is 18. #gostanford
about 2 hours ago

Pac12Networks

Pac-12 Networks


At the half of both #STANvsUCLA and the #TerritorialCup. Current Pac-12 South status: ¯\_(ツ)_/¯ http://t.co/XEJKaluvdM
about 2 hours ago

Pac12Networks

Pac-12 Networks


We were not aware that someone ordered some daytime #Pac12AfterDark in Tucson, but whoever did, we'll chip in. #TerritorialCup
about 2 hours ago

ESPN_Pac12blog

ESPN_Pac12blog


And the Sun Devils have tied it up at 21-21 near the end of the half. Back and forth we go.
about 2 hours ago

Pac12Networks

Pac-12 Networks


[GIF] Devon Cajuste just went up and over the UCLA defense to put the Cardinal up 21-10 at a stunned Rose Bowl. http://t.co/iVSoDlRvoO
about 2 hours ago

ESPN_Pac12blog

ESPN_Pac12blog


Stanford now leads UCLA 21-10 near the end of the first half. 37-yard hook up from Hogan to Cajuste.
about 2 hours ago

ArizonaFBall

Arizona Football


TOUCHDOWN! Nick Wilson gets outside and carries it 21 yards for the score. 21-14 Wildcats with 3:41 2Q. #BearDown http://t.co/XsR8JXSUDl
about 2 hours ago

ESPN_Pac12blog

ESPN_Pac12blog


Nick Wilson touchdown puts Arizona ahead 21-14.
about 2 hours ago

Pac12Networks

Pac-12 Networks


How about this? @UCLAWBB is up big on #15 @HuskersWBB in the 1st half! Watch #NEBvsUCLA at http://t.co/YfMNDX35dA or on the Networks.
about 2 hours ago

Pac12Networks

Pac-12 Networks


.@StanfordFBall's Kevin Hogan is having an insane start to #STANvsUCLA. 14-10 Cardinal in the 2nd. http://t.co/L2vaWHm4U9
about 2 hours ago

ESPN_Pac12blog

ESPN_Pac12blog


Stanford takes a 14-10 lead over UCLA. Kevin Hogan hasn't missed yet.
about 2 hours ago

Pac12Networks

Pac-12 Networks


We were just saying #TerritorialCup RT @Pac12Networks: Jaelen Strong is a one man #12Best reel. http://t.co/uoVLEB8WPS
about 2 hours ago

ESPN_Pac12blog

ESPN_Pac12blog


One-handed grab by Jaelen Strong ties the Territorial Cup at 14-14.
about 2 hours ago

ESPN_Pac12blog

ESPN_Pac12blog


UCLA field goal puts them ahead of Stanford 10-7.
about 2 hours ago

Pac12Networks

Pac-12 Networks


Jaelen Strong is a one man #12Best reel.
about 2 hours ago

Pac12Networks

Pac-12 Networks


[GIF] Which of these Samajie Grant jukes is #12Best worthy? The 2nd? The 3rd? The 9th? http://t.co/6U7ZKTK7Xx
about 3 hours ago

BonaguraESPN

Kyle Bonagura


PASADENA, Calif. -- Flag, flag, flag, flag, flag, timeout.
about 3 hours ago

Pac12Networks

Pac-12 Networks


We've got some sweet UCLA women's hoops on the Networks right now - tune in to see #NEBvsUCLA. http://t.co/YfMNDX35dA http://t.co/kpOjHrcyX1
about 3 hours ago

ESPN_Pac12blog

ESPN_Pac12blog


We have an offensive touchdown! Arizona up 14-7 after a 69-yard TD reception from Samajie Grant.
about 3 hours ago

Pac12Networks

Pac-12 Networks


This #TerritorialCup is cray, in our opinion
about 3 hours ago

zachesch202

Zach Eschenbrenner


@Pac12Networks Everyone gets a #scoopandscore!
about 3 hours ago

ESPN_Pac12blog

ESPN_Pac12blog


ASU now scores on its own scoop and score. 7-7 after two defensive scores.
about 3 hours ago

Pac12Networks

Pac-12 Networks


In Tucson: You get a #scoopandscore and you get a #scoopandscore and you get a #scoopandscore #TerritorialCup
about 3 hours ago

Pac12Networks

Pac-12 Networks


That right there is a Senior Day victory for @UtahVolleyball! Play of the Match: http://t.co/Pi41LpGtHl http://t.co/KXU0A1Lal1
about 3 hours ago

ArizonaFBall

Arizona Football


Not up in here! That's a goal line stand for the UA defense. 1st and goal on the 3 for ASU and the Wildcats hold. 7-0 UA leads, 6:55 1Q.
about 3 hours ago

Pac12Networks

Pac-12 Networks


All tied up in Pasadena! Remound Wright now has 5 TDs in his past 5 quarters. #STANvsUCLA http://t.co/bMs8rSr5YY
about 3 hours ago

ESPN_Pac12blog

ESPN_Pac12blog


Noooowwwww we're at 7-7.
about 3 hours ago

ESPN_Pac12blog

ESPN_Pac12blog


Check that ... UCLA still up after Stanford's TD overturned by replay.
about 3 hours ago

BonaguraESPN

Kyle Bonagura


Stanford's touchdown is overturned by replay.
about 3 hours ago

Pac12Networks

Pac-12 Networks


In Tempe, they like to say that "The force is Strong," so #TheForceAwakens. #12Best http://t.co/vFKesulxDW
about 3 hours ago

ESPN_Pac12blog

ESPN_Pac12blog


Big answer from the Cardinal, who have tied things up at 7-7 on a Kelsey Young TD.
about 3 hours ago

DuckSportsNow

Duck Sports Now


Ducks still in the mix for Lyle http://t.co/ZD2pRgI6SU
about 3 hours ago

Pac12Networks

Pac-12 Networks


Meanwhile, in Pasadena, UCLA is up early. #STANvsUCLA
about 3 hours ago

ESPN_Pac12blog

ESPN_Pac12blog


And in the other game, UCLA now up 7-0 on Stanford after a Hundley to Duarte touchdown.
about 3 hours ago

ESPN_Pac12blog

ESPN_Pac12blog


Wildcats get a scoop and score touchdown on ASU's first possession. Good start for the 'Cats. 7-0 Arizona.
about 3 hours ago

Pac12Networks

Pac-12 Networks


#SCOOPANDSCORE ALERT IN TUCSON #TerritorialCup
about 3 hours ago

McNamaraUO

Andy McNamara


Ducks have wrapped up 'Fast Friday', including 6th freshman in Pac-12 history to rush for 1,000 yds #FridayFocus http://t.co/zyFMoyCGIP
about 3 hours ago

Pac12Networks

Pac-12 Networks


One of the beauts. RT @SChamberlainFOX: Could not ask for better weather or a better setting. #STANvsUCLA #RoseBowl http://t.co/jXSpGM37av
about 3 hours ago

Pac12Networks

Pac-12 Networks


Thank you for taking our informal poll. It appears that YES is the answer to "Is anyone excited about today's football games?"
about 3 hours ago

eakeating

liz keating


@Pac12Networks YES!!! Go Bruins!!!! #BruinPride
about 4 hours ago

jennaneeley

Jennifer Neeley


@Pac12Networks Yes (absolutely)
about 4 hours ago

DuckSportsNow

Duck Sports Now


The Civil War Continues, but This Matchup Will be Extra Special for Two Players http://t.co/zm2Z1TTU6g
about 4 hours ago

Pac12Networks

Pac-12 Networks


Shut it down, we have a winner for this question RT @SeanARubio: @Pac12Networks http://t.co/0fmk9AQXOV (cc: @fadedtoblack)
about 4 hours ago

arizonacatsfan

Joseph Heflin


@Pac12Networks YES! #BearDown
about 4 hours ago
PAC-12 SCOREBOARD
Friday, 11/28
Saturday, 11/29
BLOG ARCHIVE:
CATEGORIES: