Oregon-bound Carrington dreams big
July, 1, 2012
7/01/12
12:19
PM ET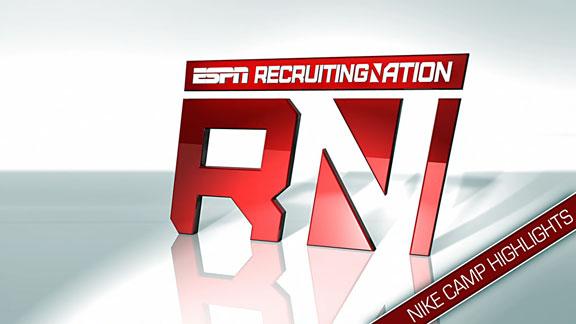 It might be enough for some recruits from a small school to be satisfied with scholarship offers from 16 schools, including Michigan, Boise State and California.
For wide receiver
Darren Carrington
(San Diego/Horizon Christian), satisfaction is nothing more than an excuse to keep from working hard. While Carrington has made a habit of making goals and achieving them with ease, one goal took a little longer than normal. From the time he was a freshman at Horizon Christian, the No. 38 player in the state of California had two words written on the mirror in his bedroom. It has been more than three years since the words, 'Oregon Ducks' appeared on his mirror. He did it so that every time he looked at himself in the mirror he knew he still had something to strive for.
After an unofficial visit to Eugene for the Oregon football camp, Carrington knew it was time to find a new goal. After a dominating performance in Eugene, Carrington finally earned the offer he had been longing for since the marker met his bedroom mirror.
"It's a dream come true. Oregon has always been my dream school and it just didn't make any sense not to jump on something I have been waiting on my whole life," Carrington said.
Oregon might have taken its time in offering Carrington, giving him the latest of his 17 offers. The staff's patience and due diligence didn't push Carrington away, it actually worked in its favor. In fact, it was something that gave Carrington and his father, former NFL player Darren Carrington Sr, a level of comfort.
"Oregon was the very first school to be in touch with us way back when. The approach they took is something that a parent should be very comfortable with. I wanted to see Darren get his dream offer but Oregon was up front and honest with us from the get go," the elder Carrington said. "They did their due diligence. They spoke with his coaches, his teachers and even spent 30 minutes on the phone with his guidance counselor. That is something unique to the Oregon staff. Some kids these days have a sense of entitlement and get offended if a school doesn't smother them from the beginning of their high school careers. Darren knows it takes hard work to get what you want in life and he's not afraid of that."
If anyone knows about hard work, patience and perseverance, it is Darren Carrington Sr. Coming out of the basketball-crazed Bronx, Carrington Sr. took a long and winding route to Northern Arizona University before becoming an NFL player.
"My son knows my story and he knows the hard work it took me to get to where I was able to get. He understands the physical gifts he has," Carrington Sr. said. "Athletically, things just come easy to him. If you were to try and compare him to where I was at his age, there's really no comparison. He is bigger and more talented, but he also knows that nothing comes easy and he never stops working."
Pac-12 Teams Can Load Up At WR
PAC-12 SCOREBOARD
Thursday, 9/3
Friday, 9/4
Saturday, 9/5