Oregon Recruiting: Quick hitters
October, 9, 2012
10/09/12
10:00
AM ET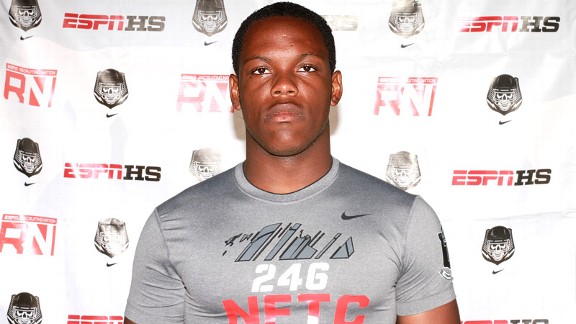 Tom Hauck for ESPN.comConcord, Calif., linebacker Victor Egu was a late addition to the official visitor list for the Washington game. By all accounts, his visit to Eugene went well.
The success Oregon has had in signing athletes from Texas has been well documented. What isn't as widely known is the success of the players the Ducks have signed from other areas.
The starting rover for the Ducks this year,
Brian Jackson
, signed with the Ducks out of Alabama powerhouse Hoover High School. Jackson was overlooked by SEC programs but has turned into an impact player for the No. 2-ranked Ducks.
In this recruiting cycle, the player who fits the mold of an under-appreciated athlete from outside of the West Coast is
Juwaan Williams
, Tucker (Ga.) High School.
To continue reading this article you must be an Insider
Insider
Pac-12 Teams Can Load Up At WR
Recruiting reporter Erik McKinney joins ESPN's Phil Murphy to break down the deep West Region wide receiver class in 2016.
Pac-12 Teams Can Load Up At WR
VIDEO PLAYLIST
OREGON FB RECRUITING SCORECARD
Nike Women's Oregon Ducks Black #1 Replica Football Game Jersey Shop »
DuckSportsNow

Duck Sports Now


Ducks' top spring story lines: No. 8 – Young secondary takes over http://t.co/bKGdwDQu6e
3 minutes ago

DuckSportsNow

Duck Sports Now


Arizona sweeps series from Oregon, 13-4 http://t.co/tE6vP3QXJh
48 minutes ago

Pac12Networks

Pac-12 Networks


No offense to @UA_Softball's Katiyana Mauga, but ...Dino, YOU DA REAL MVP! http://t.co/wRFrNcJyMr http://t.co/Gn0Vo0RB0p
about 3 hours ago

GoDucksTV

GoDucks TV


Now on @GoDucksTV: White Post Game 3-29 http://t.co/0sa02MyZw0 #GoDucks
about 4 hours ago

GoDucksTV

GoDucks TV


Now on @GoDucksTV: Glasco Post Game 3-29 http://t.co/aMt1GD2Km1 #GoDucks
about 4 hours ago

Pac12Networks

Pac-12 Networks


Take a bow, Katiyana Mauga. The #ASUvsAZ Play of the Game sends the Wildcats to a walk-off! http://t.co/TJPp3gcOLp
about 4 hours ago

Pac12Networks

Pac-12 Networks


That's how you win a run-rule game in style, @UA_Softball! The 'Cats walk off in the fifth! http://t.co/zIzuZLtxQv http://t.co/VF4V25eVAQ
about 4 hours ago

DuckSportsNow

Duck Sports Now


The Man Everyone is Talking About and the Play That Makes Them Laugh http://t.co/nxSHaCiiE5
about 5 hours ago

DuckSportsNow

Duck Sports Now


Udria Post Game 3-29 http://t.co/t7sLJyAD7j
about 6 hours ago

DuckSportsNow

Duck Sports Now


White Post Game 3-29 http://t.co/LaGmt5iSSz
about 6 hours ago

DuckSportsNow

Duck Sports Now


Glasco Post Game 3-29 http://t.co/DRSn2BEYf4
about 6 hours ago

Pac12Networks

Pac-12 Networks


Please share to help locate missing @UCBerkeley student-athlete Eloi Vasquez: http://t.co/xy3Mb0neg7 http://t.co/lbsgwdNWHU
about 6 hours ago

Pac12Networks

Pac-12 Networks


RT if @Cal_Baseball's @bcumboslice is this week's Leader of the Pac! #GoBears #Leader4 http://t.co/XHbJUUFqu4
about 6 hours ago

Pac12Networks

Pac-12 Networks


RT if @uclamvb's J.T. Hatch is this week's Leader of the Pac! #GoBruins #Leader3 http://t.co/b76LjuMIMF
about 6 hours ago

Pac12Networks

Pac-12 Networks


RT if @calmenswim's Ryan Murphy is this week's Leader of the Pac! #GoBears #Leader2 http://t.co/AtkiACPfvZ
about 6 hours ago

Pac12Networks

Pac-12 Networks


RT if @OregonSB's Cheridan Hawkins is this week's Leader of the Pac! #GoDucks #Leader1 http://t.co/HTQTnGlgy4
about 6 hours ago

Pac12Networks

Pac-12 Networks


It's time to vote for this week's Leader of the Pac! Read about the nominees and vote here: http://t.co/fTFtKpVQxy http://t.co/puTm2N00Wy
about 6 hours ago

DuckSportsNow

Duck Sports Now


Oregon Trounces UW With Power Surge http://t.co/yWmfCDo4dg
about 6 hours ago

DuckSportsNow

Duck Sports Now


Oregon's Geri Ann Glasco gets ice-bucketed after hitting three home runs http://t.co/hN63iI8QDb
about 6 hours ago

Pac12Networks

Pac-12 Networks


Our Sunday nightcap is round 3 of #ASUvsAZ, live now on Pac-12 Networks and http://t.co/YfMNDWLu5w http://t.co/QDO6fYP4fQ
about 7 hours ago

CalAthletics

Cal Bears


Eloi Vasquez, a freshman on our men's soccer team, has been reported missing. Full statement: http://t.co/GS9MRSPShE http://t.co/4UInDgYlgn
about 7 hours ago

Pac12Networks

Pac-12 Networks


.@CalAthletics has issued a statement regarding missing student-athlete Eloi Vasquez: http://t.co/xy3Mb0neg7 http://t.co/nGBpd73g6O
about 7 hours ago

DuckSportsNow

Duck Sports Now


Oregon's Geri Ann Glasco gets ice-bucketed after hitting three home runs http://t.co/ddqYwzcGKO
about 7 hours ago

Pac12Networks

Pac-12 Networks


.@UtahBaseball's Cody Scaggari's 2-RBI go-ahead double is the #CALvsUTAH Play of the Game: http://t.co/dFqy72zn31
about 8 hours ago

Pac12Networks

Pac-12 Networks


.@utahbaseball gets one back from the Golden Bears in Salt Lake City! #CALvsUTAH http://t.co/ITZqbqHzn0
about 8 hours ago

OregonSB

Oregon Duck Softball


BALLGAME! Oregon hits a school record 8 homers and run-rules No. 19 UW, 15-6! Ducks win the series, 2-1! #GoDucks
about 8 hours ago

DuckSportsNow

Duck Sports Now


Ducks Look To Regroup After Sweep http://t.co/4b2qYUBRct
about 8 hours ago

Pac12Networks

Pac-12 Networks


.@OregonSB's Geri Ann Glasco's THIRD homer of the day came while we interviewed UW coach Heather Tarr: http://t.co/M1fifWmQnd
about 8 hours ago

Pac12Networks

Pac-12 Networks


EIGHT DINGERS for @OregonSB in today's win over Washington! #UWvsUO http://t.co/j5QAE1PmKW
about 8 hours ago

Pac12Networks

Pac-12 Networks


.@ArizonaBaseball's Bobby Dalbec takes this ball on an aerial tour of Tucson in the #UOvsAZ Play of the Game: http://t.co/18iPl5Qul3
about 8 hours ago

Pac12Networks

Pac-12 Networks


MUST WATCH: @APlayersProgram's RHJ receives standing ovation at @ArizonaBaseball game: http://t.co/j9eXA5aa9G http://t.co/ET9GYz87Yp
about 9 hours ago

Pac12Networks

Pac-12 Networks


.@ArizonaBaseball's Bobby Dalbec will have a grande doubleshot, please. His bomb is the #UOvsAZ Play of the Game: http://t.co/EZkUksuiZM
about 9 hours ago

Pac12Networks

Pac-12 Networks


.@Utah_Softball's Marissa Mendenhall knocks two Utes home in the #UTAHvsSTAN Play of the Game: http://t.co/EtvuUpmIGS
about 9 hours ago

Pac12Networks

Pac-12 Networks


.@ArizonaBaseball gives 18th-ranked Oregon the ole Sweeperoo! #UOvsAZ http://t.co/8RXG0Q3DT3
about 10 hours ago

Pac12Networks

Pac-12 Networks


.@Utah_Softball downs Stanford on The Farm! #UTAHvsSTAN http://t.co/ML7KVq133P
about 10 hours ago

Pac12Networks

Pac-12 Networks


These two again?! Let's do it! Huskies. Ducks. Live now on Pac-12 Networks and http://t.co/YfMNDWLu5w http://t.co/Vn7FVKWfoL
about 10 hours ago

Pac12Networks

Pac-12 Networks


.@Cal_Baseball and @utahbaseball square off for round three right now: http://t.co/YfMNDWLu5w http://t.co/MrWdEoDwIF
about 10 hours ago

DuckSportsNow

Duck Sports Now


Oregon to Tie The Knott Because of Nike? http://t.co/0leb3CyY7P
about 10 hours ago

WSUCougars

WSU Cougars


(GIF) Catch of the year by Ben Roberts? You be the judge of this TREMENDOUS diving play! http://t.co/4EaK3Plo2P #GoCougs
about 10 hours ago

Pac12Networks

Pac-12 Networks


Programming alert: @Cal_Baseball vs. @utahbaseball will begin on http://t.co/m1bS2pr2da
about 11 hours ago

GoDucks

GoDucks


Head to Howe or flip to @Pac12Networks to watch the Ducks and Dawgs round 3! http://t.co/SISbW1MKnW http://t.co/sM5RRzanPb
about 11 hours ago

DuckSportsNow

Duck Sports Now


Ducks Take Heart in Loss to the Huskies http://t.co/VwasfTbGqg
about 12 hours ago

Pac12Networks

Pac-12 Networks


We spy with our little eye... a RONDAE at #UOvsAZ!! http://t.co/aSCz2wMqWV
about 12 hours ago

DuckSportsNow

Duck Sports Now


2015 NCAA Tournament: Elite Eight TV schedule, live stream and how to watch Sunday's games http://t.co/NUEUxNP0Sr
about 12 hours ago

Pac12Networks

Pac-12 Networks


.@APlayersProgram reflected on an amazing season with Pac-12 Networks' @YogiRoth last night.https://t.co/H8EzAHVFVc
about 12 hours ago

Pac12Networks

Pac-12 Networks


.@Utah_Softball and @StanfordSBall are ready to roll on The Farm! Watch now at http://t.co/YfMNDWLu5w http://t.co/aIN2uDPnX8
about 13 hours ago

GoDucks

GoDucks


QUACK those bats, @OregonBaseball! Catch the Ducks vs. Arizona live now on @Pac12Networks: http://t.co/SISbW1MKnW http://t.co/HJTztyhZwk
about 14 hours ago

Pac12Networks

Pac-12 Networks


Batter up! @OregonBaseball and @ArizonaBaseball are live in Tucson! #UOvsAZ http://t.co/tvvew93mnn
about 14 hours ago

GoDucks

GoDucks


Bring your little Ducks to Howe Field today for only $2! #GoDucks #LetsDoThis http://t.co/hz6l1IeeFT
about 14 hours ago

DuckSportsNow

Duck Sports Now


Video: CB to visit Oregon next week http://t.co/JNWSKZuGkD
about 15 hours ago

DuckSportsNow

Duck Sports Now


Houston speed and skill: Recruiting notebook http://t.co/VoNo30FWJ3
about 15 hours ago

DuckSportsNow

Duck Sports Now


Devon Allen is a GO for 2015 Football http://t.co/ZWjbFWPQxx
about 15 hours ago

DSArivals

DuckSportsAuthority


Video: CB to visit Oregon next week: The Oregon Ducks start spring practices next week, and at the Dallas Riva... http://t.co/lyNTApxA0L
about 16 hours ago

BOSSLIFEDAT13

DE'ANTHONY THOMAS


KCBE #RUNDAT @kingbobbej https://t.co/OndAsKKsjk
about 16 hours ago

DuckSportsNow

Duck Sports Now


Leaving Austria has paid off for DL recruit Thomas Schaffer http://t.co/dymcRF8sg2
about 16 hours ago

DuckSportsNow

Duck Sports Now


Replacing Marcus: A Duck QB Battle for the Ages http://t.co/WqikH5CEW0
about 17 hours ago

DuckSportsNow

Duck Sports Now


Oregon Falls Against Arizona After Eight Run Wildcats Fifth http://t.co/03V61WGI8g
about 17 hours ago

DuckSportsNow

Duck Sports Now


Oregon's Bralon Addison tests knee and confidence one year after injury: Can Ducks' leading man find a happy ending? http://t.co/iUKQyFesI9
about 18 hours ago

GoDucksTV

GoDucks TV


Now on @GoDucksTV: Decker Post Game 3-28 http://t.co/ZQCDEVwCbr #GoDucks
about 21 hours ago

GoDucksTV

GoDucks TV


Now on @GoDucksTV: White Post Game 3-28 http://t.co/eECpq0nMHd #GoDucks
about 21 hours ago

DuckSportsNow

Duck Sports Now


Big Inning Dooms Ducks http://t.co/utgAPEDdaM
about 23 hours ago

DuckSportsNow

Duck Sports Now


Oregon State at Oregon http://t.co/dWB7lIIB8v
1 day ago

DuckSportsNow

Duck Sports Now


Arizona knocks off No. 22 Oregon, 9-5 http://t.co/WVy8SSEHBm
1 day ago

DuckSportsNow

Duck Sports Now


Capital One Impact Performances http://t.co/enrI5AVHVn
1 day ago

Pac12Networks

Pac-12 Networks


WATCH: @ArizonaBaseball pitcher Robby Medel is doing his part to increase the speed of the game. http://t.co/PQzbeoz011
1 day ago

Pac12Networks

Pac-12 Networks


If this ball traveled any further, it would've required a stewardess. Holy smokes. CC: @ArizonaBaseball http://t.co/dFvrAJsElg
1 day ago

Pac12Networks

Pac-12 Networks


If some is good, @ArizonaBaseball's Riley Moore is better. His 2-RBI Double is the #UOvsAZ Play of the Game: http://t.co/6s4e91nnai
1 day ago

Pac12Networks

Pac-12 Networks


Series clinched! @ArizonaBaseball is HOT! #UOvsAZ http://t.co/uUcARHsNhL
1 day ago

McNamaraUO

Andy McNamara


#GoDucks "@SportSourceA: @WinTheDay is only FBS offense over last two years with over 200 offensive plays of 20+ yards"
1 day ago

Pac12Networks

Pac-12 Networks


The #UCLAvsUSC Play of the Match is the match-winner for @USCmensvolley: http://t.co/MvgHmyyGKt
1 day ago

Pac12Networks

Pac-12 Networks


.@USCmensvolley goes five with UCLA to claim this edition of the Crosstown Spike! #UCLAvsUSC http://t.co/1mKqrUQcvj
1 day ago

DuckSportsNow

Duck Sports Now


Takeda Injured In Oregon Loss To Washington, Ducks Run Ruled By Huskies http://t.co/XMmMbTps2P
1 day ago

TyroneColeman8

2 more wins...


http://t.co/JsZJgeDdOL
1 day ago

DuckSportsNow

Duck Sports Now


Woo, McIver Paces UO in Final Round http://t.co/GdflLyLG06
1 day ago

Pac12Networks

Pac-12 Networks


.@APlayersProgram is a family of absolute class. They caught up with our @YogiRoth following the loss to Wisconsin.https://t.co/FK7udFqDY5
1 day ago

Pac12Networks

Pac-12 Networks


Flip over to Pac-12 Networks for some baseball. @OregonBaseball leads Arizona 3-1 in the bottom of the fourth! http://t.co/EGBuWp8z3a
1 day ago

OregonRBCoach

Gary Campbell


Spring Football next Tuesday!! Let's start the campaign!!!
1 day ago

OregonDLine

Ron Aiken


One week until spring ball! Excited about our group of guys! Lets Go! #WTD #GoDucks
1 day ago

DuckSportsNow

Duck Sports Now


Maasland Defeats Ranked Foe In 6-1 Loss To USC http://t.co/efVHOjN0mY
1 day ago

DuckSportsNow

Duck Sports Now


Oregon Trounced by No. 12 Stony Brook http://t.co/tKQGesm6Cm
1 day ago

Pac12Networks

Pac-12 Networks


The Crosstown Spike is live on Pac-12 Los Angeles and http://t.co/YfMNDWLu5w #UCLAvsUSC http://t.co/MDg3JLhRrX
1 day ago

Pac12Networks

Pac-12 Networks


.@Cal_Baseball's Mitchell Kranson may get a #12Best nod for this game-ending snow cone grab in left field! http://t.co/NIy3XiHJ8s
1 day ago

Pac12Networks

Pac-12 Networks


.@Cal_Baseball takes another from the Utes in Salt Lake City! #CALvsUTAH http://t.co/LmHK95x4v0
1 day ago

Pac12Networks

Pac-12 Networks


We join the @WSUCougars in mourning the loss of Cougar legend Bobo Brayton. More: http://t.co/zSHaLECtdC http://t.co/hbW0drU4K4
1 day ago

Pac12Networks

Pac-12 Networks


It's going down on the diamond. #UOvsAZ is live now on Pac-12 Networks and http://t.co/YfMNDWLu5w http://t.co/fBZCvuTdhk
1 day ago

DuckSportsNow

Duck Sports Now


Decker Post Game 3-28 http://t.co/WDzZ6VOe58
1 day ago

DuckSportsNow

Duck Sports Now


White Post Game 3-28 http://t.co/aTxLEQUpCP
1 day ago

DuckSportsNow

Duck Sports Now


Huskies Snap Oregon's 13-Game Win Streak http://t.co/bJONvwB84t
1 day ago

DuckSportsNow

Duck Sports Now


Upset-Minded Ducks Fall Short in Loss to No. 4 UCLA, 5-2 http://t.co/sD1Rhq44JC
1 day ago

Pac12Networks

Pac-12 Networks


.@UWSoftball returns yesterday's favor to the Ducks in Eugene! #UWvsUO http://t.co/xjbl8WLP39
1 day ago

Pac12Networks

Pac-12 Networks


The conga line girls of @StanfordSB took down Utah on The Farm. #UTAHvsSTAN http://t.co/F7rQ5BmBUd
1 day ago

Pac12Networks

Pac-12 Networks


.@ASUSoftball gets another one in Tucson! #ASUvsAZ http://t.co/ICmu8iJNpB
1 day ago

Pac12Networks

Pac-12 Networks


CLASSIC @StanfordSball #NerdNation http://t.co/TUtp8Nql6s
1 day ago

Pac12Networks

Pac-12 Networks


We've got @Cal_Baseball and @utahbaseball live now on the Networks and http://t.co/YfMNDWLu5w http://t.co/XJfD7bjYkp
1 day ago

Pac12Networks

Pac-12 Networks


The @Pac12 Champion Arizona Wildcats fall to Wisconsin in the Elite Eight. http://t.co/0Gaawjo0EY
1 day ago

calebDeShazo

Caleb DeShazo


Cmon Arizona! #backthepac
1 day ago

Pac12Networks

Pac-12 Networks


Hey @aaronrodgers12, we remember when you used to #BackThePac! It's not too late... http://t.co/EIzPeweayJ
1 day ago

Pac12Networks

Pac-12 Networks


ZEUS wants YOU to #BackThePac http://t.co/ah4rpogQoE
1 day ago

Pac12Networks

Pac-12 Networks


#GetPumped, Wildcat Nation. Indy is on the horizon! http://t.co/99XLrsmglK
1 day ago
PAC-12 SCOREBOARD
Thursday, 9/3
Friday, 9/4
Saturday, 9/5
BLOG ARCHIVE:
CATEGORIES: