Oregon Recruiting: Quick hitters
October, 9, 2012
10/09/12
10:00
AM ET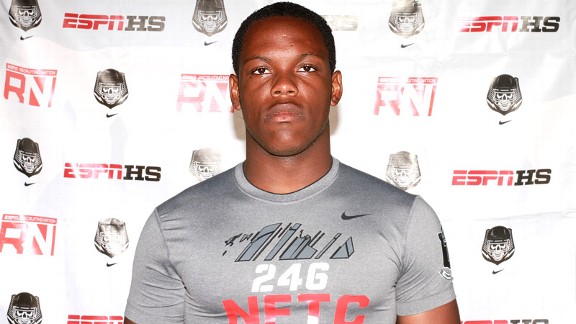 Tom Hauck for ESPN.comConcord, Calif., linebacker Victor Egu was a late addition to the official visitor list for the Washington game. By all accounts, his visit to Eugene went well.
The success Oregon has had in signing athletes from Texas has been well documented. What isn't as widely known is the success of the players the Ducks have signed from other areas.
The starting rover for the Ducks this year,
Brian Jackson
, signed with the Ducks out of Alabama powerhouse Hoover High School. Jackson was overlooked by SEC programs but has turned into an impact player for the No. 2-ranked Ducks.
In this recruiting cycle, the player who fits the mold of an under-appreciated athlete from outside of the West Coast is
Juwaan Williams
, Tucker (Ga.) High School.
To continue reading this article you must be an Insider
Insider
Kirk Herbstreit's Gameplan Breakdown
Kirk Herbstreit looks at the five big rivalry games of the week that not only give state bragging rights but also have direct implications on the College Football Playoff.
Kirk Herbstreit's Gameplan Breakdown
VIDEO PLAYLIST
OREGON FB RECRUITING SCORECARD
DuckFootball

Rob Moseley


Oregon Football Practice Report: Nov. 26 http://t.co/dH7I3n0Cb8 #GoDucks
about a minute ago

DuckSportsNow

Duck Sports Now


Arik Armstead post Wednesday Practice http://t.co/nDACzB9xWE
2 minutes ago

DuckSportsNow

Duck Sports Now


Erick Dargan post Wednesday Practice http://t.co/zeV7nbZc7u
2 minutes ago

DuckSportsNow

Duck Sports Now


Don Pellum post Wednesday Practice http://t.co/SXOGlJbXvf
2 minutes ago

DuckSportsNow

Duck Sports Now


Colorado vs. Oregon: X's and O's by Dose http://t.co/nDEf9IAaLW
2 minutes ago

DuckSportsNow

Duck Sports Now


Marcus Mariota's TD run is USA Football's Fundamental Play of the Week http://t.co/4VwNzabDhc
2 minutes ago

Pac12Networks

Pac-12 Networks


Does anybody mind if we do a little dancing on #TheDrive tonight? http://t.co/EupxLEwTbk
8 minutes ago

ESPN_Pac12blog

ESPN_Pac12blog


ICYMI: A closer look at Oregon's offensive line shuffle. How have the Ducks coped through myriad injuries? http://t.co/KJAejx7LTM
13 minutes ago

Pac12Networks

Pac-12 Networks


.@stanfordwvb is *THISCLOSE* to a Pac-12 volleyball title going into tonight. #STANvsUW http://t.co/60lw0PxSht http://t.co/oS3XVulQ1I
24 minutes ago

ESPN_Pac12blog

ESPN_Pac12blog


Take 2: Notre Dame vs. USC http://t.co/8peQRsJNZo
39 minutes ago

DuckSportsNow

Duck Sports Now


Comcast SportsNet announces Civil War coverage http://t.co/7Qm2I2M20H
39 minutes ago

Pac12Networks

Pac-12 Networks


ICYMI: This weekend's #CALvsUCLA #CollegeCup match will air Sunday night on Pac-12 Networks. http://t.co/EQ9hhAiBP7 http://t.co/S3q6DWBxFN
43 minutes ago

DuckSportsNow

Duck Sports Now


Coach Helfrich's Daughter Wishes Hroniss Grasu a Speedy Recovery http://t.co/S2dGl2U7Hf
51 minutes ago

DuckSportsNow

Duck Sports Now


The Road to the Natty: Civil War Edition http://t.co/vOy0eP8U0E
51 minutes ago

DuckSportsNow

Duck Sports Now


USA Football 'Fundamental Play of the Week' for Nov. 17-26 http://t.co/rPxp0iKIeX
51 minutes ago

oregonliveducks

oregonlive.com/ducks


A Civil War favorite: When Oregon State carried its seniors off Autzen Stadium field after only win http://t.co/EF7e3i7ATH #goducks
about an hour ago

Pac12Networks

Pac-12 Networks


NEW per @ArizonaFBall: QB Anu Solomon remains questionable for Friday's #TerritorialCup due to an ankle injury. http://t.co/H3lRgFE1r7
about an hour ago

Pac12Networks

Pac-12 Networks


.@UCLAMBB is getting off to an early start today, but it's cool since they're in the Bahamas. http://t.co/hzdtzVoiHA http://t.co/Igw8XlqBhW
about an hour ago

DuckSportsNow

Duck Sports Now


On The Braxton Miller to Oregon Rumors http://t.co/o3rTUu7U0V
about an hour ago

DuckSportsNow

Duck Sports Now


Video exclusive: Neal talks Oregon philosophy http://t.co/sFB3z1C7Nq
about an hour ago

DuckSportsNow

Duck Sports Now


Mariota: It's been worth every second http://t.co/pFRcE0W0YI
about an hour ago

DuckSportsNow

Duck Sports Now


Slingin' Quack Podcast: We Are Thankful For Marcus Mariota http://t.co/5nDQoKvhdC
about an hour ago

oregonliveducks

oregonlive.com/ducks


Civil War: Post your predictions as the Oregon Ducks and Oregon State Beavers meet for the 118th time http://t.co/q10KCBf50n #goducks
about an hour ago

ESPN_Pac12blog

ESPN_Pac12blog


Perkins has UCLA's ground game moving http://t.co/oqYk0Rdg3Q
about an hour ago

DuckSportsNow

Duck Sports Now


Three Oregon volleyball players earn All-Academic honors http://t.co/pc3tnhDr5f
about an hour ago

Pac12Networks

Pac-12 Networks


.@WinTheDay's bevy of options on offense is the @USAFootball Fundamental Play of the Week. http://t.co/dNLOhGbOQZ http://t.co/NY9gV9RrNS
about an hour ago

DuckSportsNow

Duck Sports Now


Kirk Herbstreit's Gameplan Breakdown http://t.co/i5SC9KYs2e
about an hour ago

DuckSportsNow

Duck Sports Now


ABC Saturday Primetime Pregame: Civil War http://t.co/S2OJir510s
about an hour ago

DuckSportsNow

Duck Sports Now


Oregon not only Pac-12 team eyeing CFP http://t.co/26sV9l56i3
about 2 hours ago

Pac12Networks

Pac-12 Networks


ICYMI: A sweet steal by Stanley Johnson helped @APlayersProgram to victory in Maui last night. http://t.co/ZPI012NMcy http://t.co/OghNvUo77b
about 2 hours ago

DuckSportsNow

Duck Sports Now


UCLA has legit playoff case if it wins out http://t.co/DPFhphyF4I
about 2 hours ago

DuckSportsNow

Duck Sports Now


Pac-12 morning links http://t.co/okUp4m7oyg
about 2 hours ago

DSArivals

DuckSportsAuthority


Video exclusive: Neal talks Oregon philosophy: Oregon defensive backs coach John Neal has a history of develop... http://t.co/GEks9ofjrx
about 2 hours ago

oregonliveducks

oregonlive.com/ducks


You're foolish or omnipotent if you expect to win a Civil War bet: Issues & Answers http://t.co/GkJqUp5cos #goducks
about 2 hours ago

Pac12Networks

Pac-12 Networks


The Pac-12 South comes down to 4 magical hours this Friday. Scenarios: http://t.co/b3I7GxKSPT http://t.co/d5uDMc5wPY
about 2 hours ago

DuckSportsNow

Duck Sports Now


Ducks' celebrated Civil War revisited: How a penalty changed the famous 1994 play http://t.co/oSmhdEDzRW
about 2 hours ago

DuckSportsNow

Duck Sports Now


Oregon Ducks are expecting jeers, cheers and missed handshakes at Civil War http://t.co/SPmCVrlKVB
about 2 hours ago

Pac12Networks

Pac-12 Networks


NEW: Sunday's #CollegeCup match between UCLA and Cal will be televised on Pac-12 Networks. More: http://t.co/EQ9hhAiBP7
about 2 hours ago

ddmarchell

Danielle Marchell


@Pac12Networks Football this weekend's got me like http://t.co/H4VoXLQAhG
about 2 hours ago

DuckSportsNow

Duck Sports Now


Mark Helfrich Dishes, on the Beavers, Sean Mannion, and the Civil War http://t.co/Loq3PkolhX
about 3 hours ago

DuckSportsNow

Duck Sports Now


Ducks Can't Quite Hang with VCU, 77-63 http://t.co/iS5qdmDFSs
about 3 hours ago

oregonliveducks

oregonlive.com/ducks


Ducks' celebrated Civil War revisited: How a penalty changed the famous 1994 play http://t.co/5edvGSAl7m #goducks
about 3 hours ago

Pac12Networks

Pac-12 Networks


The stakes couldn't be higher for tonight's big #STANvsUW match in Seattle. http://t.co/XYB4RViBWo http://t.co/0rQ1suHR7q
about 3 hours ago

oregonliveducks

oregonlive.com/ducks


Oregon Ducks are expecting jeers, cheers and missed handshakes at Civil War http://t.co/aHqtYZYWSJ #goducks
about 3 hours ago

DuckSportsNow

Duck Sports Now


Oregon Falls to VCU in the Legends Classic, Ducks Lose Second in a Row http://t.co/tm3VyMaB7C
about 3 hours ago

Pac12Networks

Pac-12 Networks


Remember that time you #BeatUSC, @UCLAFootball fans? Relive it tonight on #TheDrive. http://t.co/dlNi0kKv8Y http://t.co/t01pVYaTDA
about 3 hours ago

ESPN_Pac12blog

ESPN_Pac12blog


Oregon not only Pac-12 team eyeing CFP http://t.co/wBWJHdUE2M
about 3 hours ago

Pac12Networks

Pac-12 Networks


Remember that team you #BeatUSC, @UCLAFootball fans? Relive it tonight on #TheDrive. http://t.co/dlNi0kKv8Y http://t.co/PyulrrG0dY
about 3 hours ago

DSArivals

DuckSportsAuthority


CMU commit results: playoff semifinals: The MHSAA state playoffs moved into the semifinals last weekend and fo... http://t.co/8RR3p8Vpno
about 3 hours ago

oregonliveducks

oregonlive.com/ducks


While waiting for 2015 quarterback derby, Oregon State Beavers scout teamers Nick Mitchell, Marcus Mc... http://t.co/XpHa9bTczB #goducks
about 3 hours ago

ArizonaFBall

Arizona Football


We'll be wearing these for the #TerritorialCup. Friday, 1:30 p.m. MST, @CFBONFOX. See you there! #BearDown http://t.co/UqyOMaq7iX
about 3 hours ago

TheOregonDuck

The Oregon Duck


#ChainLettersArntDead #YeahISaidDapper @UOPintens @QuackCave @Pac12Networks @KirkHerbstreit @CollegeGameDay http://t.co/vg7ufbTMvD
about 3 hours ago

ESPN_Pac12blog

ESPN_Pac12blog


Updated recruiting class rankings http://t.co/z2s71lpQq8
about 4 hours ago

Eagles

Philadelphia Eagles


107 Yards. First NFL touchdown. First career Special Teams Player of the Week Award. Congratulations, @Huff_Era_1! http://t.co/C8HIvz28Ij
about 4 hours ago

DuckSportsNow

Duck Sports Now


Recruiting Update: Durant to Quack? http://t.co/1xtKs8Tmeu
about 4 hours ago

DuckSportsNow

Duck Sports Now


Quack Fix: Ducks still 2nd in CFP Rankings, Men's Basketball falls to VCU, Women's basketball top PSU http://t.co/zXRLUx6iBe
about 4 hours ago

DuckSportsNow

Duck Sports Now


Oregon CW dynasty built on recruiting http://t.co/a8pGhtqiaJ
about 4 hours ago

DuckSportsNow

Duck Sports Now


Advanced Stats Saturday: Week 14 2014 http://t.co/aOdrUu5o8W
about 4 hours ago

oregonliveducks

oregonlive.com/ducks


OSU looks outgunned, but was it over when the Germans bombed Pearl Harbor? Snap Judgments & Cheap Shots http://t.co/K13mU6GOjb #goducks
about 4 hours ago

DSArivals

DuckSportsAuthority


Oregon CW dynasty built on recruiting: The Oregon Ducks have won all the Civil War games in recent memory and ... http://t.co/fk6aVJzLKF
about 4 hours ago

ESPN_Pac12blog

ESPN_Pac12blog


Video: Herbstreit's Gameplan Breakdown http://t.co/HrfdHHid5e
about 4 hours ago

DuckSportsNow

Duck Sports Now


The 1994 Civil War: A 'wild' win for Rose Bowl-bound Oregon, a 'monumental' missed opportunity for Oregon State http://t.co/SRu0DNrcIE
about 5 hours ago

DuckSportsNow

Duck Sports Now


Civil War is in group of college football's best and most historic rivalries http://t.co/B2MOuqWc0P
about 5 hours ago

DuckSportsNow

Duck Sports Now


Oregon Ducks report card: How fans graded the performance against Colorado http://t.co/74rBxqvMIF
about 5 hours ago

DuckSportsNow

Duck Sports Now


If Oregon's Thomas Tyner can't play, Ducks 'feel good' about running back rotation in Civil War: Oregon rundown http://t.co/l4O3Y17SCo
about 5 hours ago

ESPN_Pac12blog

ESPN_Pac12blog


Pac-12 Week 14 predictions http://t.co/kqyMIRYaxm
about 5 hours ago

ESPN_Pac12blog

ESPN_Pac12blog


Kickoff Show: Week 14 (1 ET) http://t.co/wtIc9tkkjq
about 5 hours ago

GoDucks

GoDucks


Speed gets attention. Introducing the @usnikefootball Lunar TR1 Oregon. Available at http://t.co/tposNLM5qF. #GoDucks http://t.co/qr3DW0lrt8
about 5 hours ago

oregonliveducks

oregonlive.com/ducks


The 1994 Civil War: A 'wild' win for Rose Bowl-bound Oregon, a 'monumental' missed opportunity for Or... http://t.co/opRbRXcA35 #goducks
about 5 hours ago

oregonliveducks

oregonlive.com/ducks


If Oregon's Thomas Tyner can't play, Ducks 'feel good' about running back rotation in Civil War: Oreg... http://t.co/8AO3inTXvi #goducks
about 6 hours ago

ESPN_Pac12blog

ESPN_Pac12blog


Pac-12 playoff tracker: Nov. 26 http://t.co/gASCVxt3rZ
about 6 hours ago

oregonliveducks

oregonlive.com/ducks


Oregon Ducks vs. Oregon State Beavers in Civil War football: 1960-1979 http://t.co/NtwXIaRac9 #goducks
about 7 hours ago

ESPN_Pac12blog

ESPN_Pac12blog


Pac-12 morning links http://t.co/t7q6FaF3Nf
about 10 hours ago

GoDucksTV

GoDucks TV


Now on @GoDucksTV: Graves post Portland State http://t.co/KKg0s31qH7 #GoDucks
about 13 hours ago

DuckSportsNow

Duck Sports Now


Oregon women's basketball: Ducks nail late three, beat winless Vikings http://t.co/NcHVrK9BYq
about 14 hours ago

Pac12Networks

Pac-12 Networks


Chasson Randle's sneaky backdoor alley oop gets the nod for our #DELvsSTAN Play of the Game. http://t.co/n4wwDiq1Lz
about 14 hours ago

Pac12Networks

Pac-12 Networks


Julian Jacobs looked like a one-man fast break in the #CSFvsUSC Play of the Game. http://t.co/bbto1wZk2E
about 14 hours ago

Pac12Networks

Pac-12 Networks


Check out where the Pac-12 stands in the latest CFP rankings and more, right now on #FBWeekly. WATCH: http://t.co/YfMNDX35dA
about 14 hours ago

Pac12Networks

Pac-12 Networks


The @stanfordbball team left no doubt tonight against Delaware: http://t.co/eihqBfBFGU http://t.co/83mCHAIXBu
about 14 hours ago

DuckSportsNow

Duck Sports Now


Graves post Portland State http://t.co/5vMf4zWL9q
about 14 hours ago

Pac12Networks

Pac-12 Networks


It goes down to the wire at the Galen Center, but the Trojans trump the Titans: http://t.co/3EyJjHcN0U http://t.co/h9OHBvQ6uz
about 14 hours ago

FightingIrish

The Fighting Irish


Dear @TheOregonDuck, we saw your Instagram post, and we were quite touched- http://t.co/B1rv1y3qub Thanks for being a pal! #NoChainLetter
about 15 hours ago

DuckSportsNow

Duck Sports Now


College Football Playoff: Nothin' on Oregon… http://t.co/uGybeHQvY5
about 15 hours ago

DuckSportsNow

Duck Sports Now


Big Plays Down the Stretch Help UO Women Hold Off PSU http://t.co/oKiquTStgo
about 15 hours ago

DuckSportsNow

Duck Sports Now


Utes Too Hot for Ducks in 3-1 Defeat http://t.co/htN6u7R1mZ
about 15 hours ago

DuckSportsNow

Duck Sports Now


Ducks recognize OSU talent http://t.co/gAD77BlmcU
about 15 hours ago

DuckSportsNow

Duck Sports Now


ProDucks update: Huff, Chung and Blount shine http://t.co/IYqMCeJxrR
about 15 hours ago

DuckSportsNow

Duck Sports Now


Mariota reflects on memorable moments in Corvallis http://t.co/6Or6Grnwtp
about 15 hours ago

DuckSportsNow

Duck Sports Now


Cheserek, Jenkins discuss first and second place finish in NCAA Croos Country Championships http://t.co/2EvprID5YH
about 15 hours ago

ESPNNFL

NFL on ESPN


Happy 51st birthday to @Eagles head coach Chip Kelly. http://t.co/bEQOgfBDz9
about 15 hours ago

roxybernstein

Roxy Bernstein


Tight one in LA as @USC_Hoops leads @FullertonTitans 24-19 at half with Don MacLean & me on @Pac12Networks.
about 15 hours ago

DuckSportsNow

Duck Sports Now


Oregon Ducks have their moments, but slow start proves costly in 77-63 loss to No. 14 VCU http://t.co/S3pq90k6Am
about 16 hours ago

DuckSportsNow

Duck Sports Now


Dillon Brooks leads Ducks with 15 points, but Oregon loses to VCU 77-63 http://t.co/uZGR8JZqfe
about 16 hours ago

Pac12Networks

Pac-12 Networks


Askia Booker's smooth steal and score is our #AFvsCU Play of the Game. http://t.co/VD15CxSoAe
about 16 hours ago

Pac12Networks

Pac-12 Networks


ICYMI: Several #pac12fb players are finalists for some prestigious college football hardware. http://t.co/3w7JSp7wHr http://t.co/6aro0TyYD8
about 16 hours ago

Pac12Networks

Pac-12 Networks


Xavier Johnson (15 pts & 9 rebs) helps lead @CUBuffsMBB past Air Force: http://t.co/rD4bH2VSxe http://t.co/FXn4siirYq
about 16 hours ago

DuckSportsNow

Duck Sports Now


Campus Insiders: Ducks deserve #1? http://t.co/d6QPRVsCom
about 16 hours ago

DuckSportsNow

Duck Sports Now


UO Falls to No. 14 VCU, 77-63 http://t.co/dQ93UfMVPe
about 16 hours ago

Pac12Networks

Pac-12 Networks


Down at Galen, the Trojans are set to face the Titans. #CSFvsUSC http://t.co/YfMNDX35dA http://t.co/F4W6SvwHue
about 16 hours ago

oregonliveducks

oregonlive.com/ducks


Oregon Ducks have their moments, but slow start proves costly in 77-63 loss to No. 14 VCU http://t.co/8lNEPLll8j #goducks
about 16 hours ago
PAC-12 SCOREBOARD
Friday, 11/28
Saturday, 11/29
BLOG ARCHIVE:
CATEGORIES: