RB Wilson among visitors for Oregon win
October, 8, 2012
10/08/12
6:44
AM ET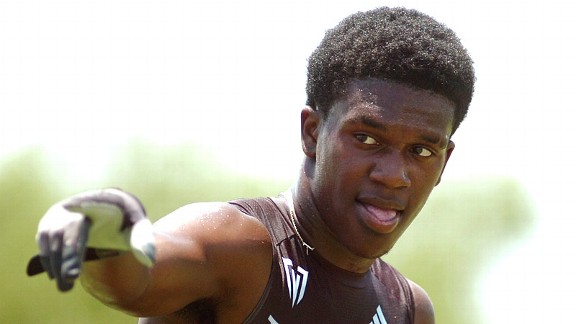 Max Olson/ESPN.comOregon running back commit Dontre Wilson visited the school and saw a victory over Washington.
The Oregon Ducks rolled to another blowout win over the rival Washington Huskies on Saturday night.
The 52-21 victory was a big night for the Ducks on the field, and the program hosted several skill-position players on recruiting visits, highlighted by running back commit Dontre Wilson (DeSoto, Texas/DeSoto).
To continue reading this article you must be an Insider
Insider
Mel Kiper's Big Board
Mel Kiper Jr. discusses his inaugural Big Board for the 2015 NFL draft.
Mel Kiper's Big Board
VIDEO PLAYLIST
OREGON FB RECRUITING SCORECARD
ESPN_Pac12blog

ESPN_Pac12blog


ICYMI: See the best of Arizona QB Anu Solomon's debut in a Wildcats win Friday night. http://t.co/pKmEKRccK0 http://t.co/kpKcnutDGD
9 minutes ago

Pac12Networks

Pac-12 Networks


.@USC_Athletics and Fresno State get going this afternoon. What are we watching for, @GuyHaberman? http://t.co/ygIKnUhkzw
25 minutes ago

Jill_Savage

Jill Savage


I see you, @CalFootball. This start to the season looks good on you.
27 minutes ago

ESPN_Pac12blog

ESPN_Pac12blog


Portland State takes a 14-13 lead into the half.
32 minutes ago

Pac12Networks

Pac-12 Networks


.@CalFootball 31, Northwestern 7.Folks, this is not a drill. #pac12fb
33 minutes ago

oregonliveducks

oregonlive.com/ducks


Oregon Ducks records within reach for Marcus Mariota in season opener http://t.co/ruKygMtijW #goducks
43 minutes ago

CalAthletics

Cal Bears


We're starting the 2nd half and here's your score update! #BeatNorthwestern http://t.co/0M9t0qWWfK
46 minutes ago

Pac12Networks

Pac-12 Networks


An early recap of #UCDvsSTAN: Points and points and points and points and points http://t.co/YfMNDWLu5w
47 minutes ago

BennyG49

Ben Gardner


Tough matchup for UC Davis lol
47 minutes ago

ESPN_Pac12blog

ESPN_Pac12blog


Cal looks good at halftime. Stanford cruising. Meanwhile in Corvallis... Portland St. up 14-13.
49 minutes ago

ESPN_Pac12blog

ESPN_Pac12blog


UCLA QB Brett Hundley expects better http://t.co/bsqdqh9Ch4
51 minutes ago

Pac12Networks

Pac-12 Networks


Don't miss a minute of the halftime analysis with @mike_yam, @CoachNeuheisel, @curtisconway80 and @MattLeinartQB! http://t.co/CI5LeercAv
about an hour ago

ESPN_Pac12blog

ESPN_Pac12blog


Bears take a 24-7 lead into the half.
about an hour ago

DuckSportsNow

Duck Sports Now


Week 1, 2014 – Afternoon Games Open Thread http://t.co/0HnTpy9dUN
about an hour ago

DuckSportsNow

Duck Sports Now


College Football Open Threads – Week 1 http://t.co/S9X4eZG6GD
about an hour ago

Pac12Networks

Pac-12 Networks


Don't look now, but there's a bit of a @calfootball runaway going on in Evanston! GIF: http://t.co/sIKwlFPqnY
about an hour ago

ESPN_Pac12blog

ESPN_Pac12blog


Quick check in: Cal 24-7 (looking awful feisty). Stanford 14-0, Oregon State 6-0.
about an hour ago

ESPN_Pac12blog

ESPN_Pac12blog


Quick check in: Cal 17-0, Beavers 3-0, Stanford 7-0.
about an hour ago

Pac12Networks

Pac-12 Networks


GIF: @TyMontgomery2 just straight making Aggies miss en route to the end zone. #UCDvsSTAN http://t.co/9D3s9umpiq
about an hour ago

ESPN_Pac12blog

ESPN_Pac12blog


UCLA 28, Virginia 20 http://t.co/xz5nGS6teM
about an hour ago

DrewGKoch

DK


A bigger, faster Ty Montgomery is lethal. #GoStanford #UCDvsStan
about an hour ago

Pac12Networks

Pac-12 Networks


.@TyMontgomery2. TO. THE. HOUSE. #UCDvsSTAN
about 2 hours ago

ESPN_Pac12blog

ESPN_Pac12blog


Goff hooks up with Kenny Lawler for a 7-yard touchdown. Two drives, two touchdowns. 14-0 Cal.
about 2 hours ago

AdamsonAshley

Ashley Adamson


Really liking what the Tree has done with herself in the offseason. http://t.co/XDlhqVpgj0
about 2 hours ago

Pac12Networks

Pac-12 Networks


Kickoff in Corvallis is moments away! Join the conversation with #PRSTvsOSU. http://t.co/YfMNDWLu5w http://t.co/PpC0bZVWt8
about 2 hours ago

BigAntHerron

Anthony Herron


A month b4 classes start but students showing up en mass! @OSUBeaversFB hosts @PSU_VIKINGS NOW on @Pac12Networks! http://t.co/YbelbhS8VS
about 2 hours ago

oregonliveducks

oregonlive.com/ducks


Notable local NFL cuts: David Paulson let go by Pittsburgh Steelers, Dallas Cowboys cut Terrance Mitchell http://t.co/U2rOIhEccl #goducks
about 2 hours ago

Pac12Networks

Pac-12 Networks


It's almost time for kickoff in Palo Alto! Join the conversation with #UCDvsSTAN. http://t.co/YfMNDWLu5w http://t.co/zMYc68ZBqX
about 2 hours ago

BonaguraESPN

Kyle Bonagura


Cal remains perfect on season-opening drives under Sonny *****.
about 2 hours ago

ESPN_Pac12blog

ESPN_Pac12blog


Cal scores on its first drive of the season. An 18-play drive that ends in a 1-yard touchdown pass from Goff to Treggs.
about 2 hours ago

OregonVB

Oregon Volleyball


Volleyball--->Tailgating--->FootballAll in a day's work. Oregon will attempt to sweep the Oregon Invitational at 3 p.m. #GoDucks
about 2 hours ago

Pac12Networks

Pac-12 Networks


Goforth and score! Randall Goforth's fumble return is our Play of the Game presented by State Farm. http://t.co/2A4OZ7suu3
about 2 hours ago

Pac12Networks

Pac-12 Networks


Ballgame in Charlottesville. @UCLAFootball snags a season opening win over UVA. http://t.co/O4aDKPKE4O http://t.co/yd0y64zss8
about 2 hours ago

ESPN_Pac12blog

ESPN_Pac12blog


Final from Charlottesville: UCLA 28, UVA 20.
about 2 hours ago

Pac12Networks

Pac-12 Networks


What does @CoachNeuheisel think of @StanfordFBall's pro-style offense? Sugar Packet Shuffle time! http://t.co/wZfQN4D3MQ #UCDvsSTAN
about 2 hours ago

BonaguraESPN

Kyle Bonagura


UCLA fans love Mike London's play calling.
about 2 hours ago

Pac12Networks

Pac-12 Networks


Hold on to your hats - we are 1 HOUR away from #UCDvsSTAN and #PRSTvsOSU. Pregame starts now! http://t.co/vri5e1pdES http://t.co/5tXxxmMfOs
about 3 hours ago

DuckSportsNow

Duck Sports Now


Oregon Baseball: Former Closer Jimmy Sherfy Headed to Arizona Fall League http://t.co/n2jrgIaxil
about 3 hours ago

ESPN_Pac12blog

ESPN_Pac12blog


Ian Frye converts a 27-yard field goal. UCLA still leads 28-20.
about 3 hours ago

Pac12Networks

Pac-12 Networks


Hold on to your hats - we are 1 HOUR away from #UCDvsSTAN and #PRSTvsOSU. Pregame starts now! http://t.co/YfMNDWLu5w
about 3 hours ago

Pac12Networks

Pac-12 Networks


#friendsforever 1 PT on Pac-12 ORE/WSH RT @JB_Long: Rehearsal. #BroadcasterProblems with @BigAntHerron http://t.co/T33gj7ZoO3
about 3 hours ago

CalAthletics

Cal Bears


Here come the Bears! http://t.co/iOl89SQ48k
about 3 hours ago

MightyOregon

Yell O


Win. The. Day. 8.30.14 #GoDucks #Autzen #WearWhite
about 3 hours ago

Pac12Networks

Pac-12 Networks


It wasn't easy, but Brett Hundley has @UCLAFootball's first OFFENSIVE TD of 2014 with this dipsy-do. GIF: http://t.co/V3PTOUzjoE
about 3 hours ago

DuckSportsNow

Duck Sports Now


Oregon volleyball takes Central Arkansas in straight sets http://t.co/6tsXJFOiWm
about 3 hours ago

ESPN_Pac12blog

ESPN_Pac12blog


We head to the fourth quarter with UCLA leading 28-17.
about 3 hours ago

ESPN_Pac12blog

ESPN_Pac12blog


Bruins have their first offensive touchdown of the season. Hundley caps a 9-play, 66-yard drive with a 6-yard QB draw.
about 3 hours ago

GoDucksTV

GoDucks TV


Now on @GoDucksTV: Postgame interview: Martenne Bettendorf discusses Oregon sweep http://t.co/iL2LU5lt5x #GoDucks
about 3 hours ago

ESPN_Pac12blog

ESPN_Pac12blog


Bruins in UVA territory again. Still looking for the first offensive touchdown of the season.
about 3 hours ago

RyanMcGrady

Ryan McGrady


.@UCLAFootball's defense scored 3 TD's in a quarter becoming the first @Pac12Networks team to do so since @ArizonaFBall vs. Illinois in 1996
about 3 hours ago

roxybernstein

Roxy Bernstein


Beautiful day for ball on #TheFarm. @UCDFootball at @StanfordFball kicks in 90 min on @PAC12Networks. http://t.co/c4nY8p0ZWz
about 3 hours ago

oregonliveducks

oregonlive.com/ducks


Kenjon Barner among four former Ducks cut by Chip Kelly in Philadelphia; five Ducks make team http://t.co/14LGiLcxCW #goducks
about 3 hours ago

ESPN_Pac12blog

ESPN_Pac12blog


UVA not going away. 23-yard touchdown pass from Johns to Jennings. 21-17.
about 4 hours ago

GoDucks

GoDucks


Finally! RT "@OregonDuckTix: It's GAMEDAY!!http://t.co/3LoUHl5LFB#GoDucks#USDvsUO #WearWhite http://t.co/T3BcRDvRxI"
about 4 hours ago

DuckSportsNow

Duck Sports Now


Keys to the game, and the season, start with attitude and focus http://t.co/FaO2UdMrn6
about 4 hours ago

UOPintens

Craig Pintens


Think I will put these bad boys on my feet for Gameday. Thanks @Nike #GoDucks http://t.co/CzwWdyIXc7
about 4 hours ago

ESPN_Pac12blog

ESPN_Pac12blog


Watch: UCLA pulls off rare feat with three defensive touchdowns in first half at UVa http://t.co/7s94Q942jr
about 4 hours ago

DuckSportsNow

Duck Sports Now


Michigan State at Oregon http://t.co/qye4pdyTbA
about 4 hours ago

ESPN_Pac12blog

ESPN_Pac12blog


Week 1 predictions: it's smooth sailing in the Pac-12 but keep an eye on Cal vs. Northwestern. http://t.co/xB7BeGVwvT http://t.co/s6kPqHXofG
about 4 hours ago

ESPN_Pac12blog

ESPN_Pac12blog


Catching you up: Bruins lead Virginia 21-10 at the half. All three UCLA scores are defensive touchdowns.
about 4 hours ago

ESPN_Pac12blog

ESPN_Pac12blog


Virginia with a more "traditional" touchdown. 29-yard pass from Johns to Levrone. 21-10.
about 4 hours ago

Mike_Yam

Michael Yam


.@CurtisConway80 and @CoachNeuheisel have said REPEATEDLY on @pac12networks UCLA's defense is the strength. UCLA D 21, UVA 3
about 4 hours ago

ESPN_Pac12blog

ESPN_Pac12blog


Seriously! A third defensive touchdown for UCLA. A pick-six for Kendricks.
about 4 hours ago

ESPN_Pac12blog

ESPN_Pac12blog


UCLA defense strikes again. Scoop and score from Goforth. UCLA up 14-3.
about 4 hours ago

TheOregonDuck

The Oregon Duck


GAMEDAY! GAMEDAYY!! #gameday GAMEDAYYY!! #legoo
about 5 hours ago

ESPN_Pac12blog

ESPN_Pac12blog


Virginia gets on the board with a 35-yard field goal. 7-3 UCLA.
about 5 hours ago

Pac12Networks

Pac-12 Networks


.@UCLAFootball's 1st TD of 2014 isn't from Brett Hundley + the offense. Ishmael Adams' pick six makes it 7-0. GIF: http://t.co/9EGrp9e64B
about 5 hours ago

ESPN_Pac12blog

ESPN_Pac12blog


Video: Football playoff is simple ... right? http://t.co/kYFPM0ZDoE
about 5 hours ago

ESPN_Pac12blog

ESPN_Pac12blog


The first UCLA score of the season is an Ishmael Adams pick-six. 20 yard return. 7-0 Bruins.
about 5 hours ago

ESPN_Pac12blog

ESPN_Pac12blog


No score in Virginia after the first quarter. UCLA has had a TD called back and a missed FG.
about 5 hours ago

BonaguraESPN

Kyle Bonagura


Adams returned that punt about 45 yards for a net gain of 6.
about 5 hours ago

ESPN_Pac12blog

ESPN_Pac12blog


Video: Sarkisian's remarks on accusation http://t.co/jYmkeNT7mx
about 5 hours ago

DuckSportsNow

Duck Sports Now


Postgame interview: Martenne Bettendorf discusses Oregon sweep http://t.co/m6hgbTdhBW
about 5 hours ago

StanfordFball

Stanford Football


Per-Game Meal underway at our team hotel. Under four hours to kickoff. #gostanford http://t.co/ciGjpGCPYr
about 5 hours ago

ESPN_Pac12blog

ESPN_Pac12blog


I'll say this, (despite the flag) Pac-12 has been bringing it so far in the return game department.
about 5 hours ago

TedMillerRK

Ted Miller


You know who's going to help Kendricks? Kenny Clark. The Bruins NT is going to be an All-Pac-12 player.
about 5 hours ago

ESPN_Pac12blog

ESPN_Pac12blog


Friendly reminder, follow your delightful and sweet-smelling Pac-12 reporters @TedMillerRK @BonaguraESPN @ChantelJennings @Kevin_Gemmell
about 5 hours ago

YogiRoth

Yogi Roth


preview of @USC_Athletics vs @FresnoStateFB http://t.co/Kga9CFr4vz cc: @Mike_Yam @CoachNeuheisel @Pac12Networks
about 6 hours ago

ESPN_Pac12blog

ESPN_Pac12blog


Bruins come away with zero points, missed field goal from Fairbairn.
about 6 hours ago

YogiRoth

Yogi Roth


#TheDrive #The1stPlay @UCLAFootball @Pac12Networks
about 6 hours ago

Pac12Networks

Pac-12 Networks


Brett Hundley just doing Brett Hundley things already. @UCLAFootball #pac12fb
about 6 hours ago

ESPN_Pac12blog

ESPN_Pac12blog


Morning game. @Kevin_Gemmell here, manning this account for a few hours. Nice start for the Bruins.
about 6 hours ago

DuckSportsNow

Duck Sports Now


Postgame interview: Martenne Bettendorf discusses Oregon sweep http://t.co/FbH6U4lNUX
about 6 hours ago

DuckSportsNow

Duck Sports Now


Oregon vs. South Dakota State: Fans' guide to Ducks game day http://t.co/6QHFX0KBqi
about 6 hours ago

DuckSportsNow

Duck Sports Now


South Dakota at Oregon http://t.co/9smrqgsm9R
about 6 hours ago

ESPN_Pac12blog

ESPN_Pac12blog


Sorry, Week 1, but @TedMillerRK is just not that into you. His eyes are already on Week 2. http://t.co/77EKZZqeae http://t.co/pdhXACsnvb
about 6 hours ago

olcrimson

Ol' Crimson


The streak continues! 148 straight on @CollegeGameDay! http://t.co/I28KcVM1If #GoCougs #Wavetheflag http://t.co/qb0TGhfooz
about 6 hours ago

ESPN_Pac12blog

ESPN_Pac12blog


Which player is the Pac-12 most interested in seeing Week 1? Look to Washington for the answer http://t.co/5gEZwMXd19 http://t.co/60FG0v5sNh
about 6 hours ago

CoachChinander

Erik Chinander


Fast. Hard. Finish. #WinTheDay
about 6 hours ago

CoachNealUO

John Neal


Today is the day. Time to #DUp
about 6 hours ago

OregonRBCoach

Gary Campbell


Can't sleep. So anxious to see how my crew is going to perform tomorrow. Such a talented bunch.
about 6 hours ago

Pac12Networks

Pac-12 Networks


Saturday. Football. Reunited and it feels so good.Who are you cheering for today? #pac12fb
about 6 hours ago

MattLeinartQB

Matt Leinart


Who are you most excited to see in the Pac 12 today? I'm excited to see my guy @CodyKessler6 pick up where he left off. Big year for him!!
about 6 hours ago

roxybernstein

Roxy Bernstein


Fired up for 2nd Gameday of opening weekend for @YogiRoth, @AdamsonAshley & me. @UCDfootball at @StanfordFball 1pm on @Pac12Networks.
about 6 hours ago

oregonliveducks

oregonlive.com/ducks


The season begins and, yeah, there is some heat on Mark Helfrich and Mike Riley; Issues & Answers http://t.co/cNudQls1ya #goducks
about 7 hours ago

oregonliveducks

oregonlive.com/ducks


Oregon vs. South Dakota State: Fans' guide to Ducks game day http://t.co/ZloJkA5Hgt #goducks
about 7 hours ago

Pac12Networks

Pac-12 Networks


Happy Saturday! RT @BonaguraESPN: A tradition unlike any other: WSU flag on GameDay. Joined today by one from Colorado.
about 7 hours ago

DufresneLATimes

Chris Dufresne


UCLA coach Jim Mora running stadium steps 2 hours before kickoff at Virginia....#uclafootball http://t.co/oWV6bw9Xyv
about 7 hours ago

classof2018_osu

OSU Class of 2018


It's that time of the year again everybody!! LETS GO BEAVS!!! 🏈🏈 #GoBeavs #OSU #Gameday
about 7 hours ago

USC_Athletics

USC Trojans


The wait is over. USC game day is finally here. #FightOn #BeatTheBulldogs http://t.co/U6kIb3N5P7
about 7 hours ago
PAC-12 SCOREBOARD
Saturday, 8/30
Thursday, 8/28
Friday, 8/29
BLOG ARCHIVE:
CATEGORIES: