OL commit Alex Redmond recaps visit
September, 25, 2012
9/25/12
8:00
AM ET
While the Oregon Ducks were making big news on the field and the recruiting trail over the weekend, their largest recruit was solidifying his commitment.
Offensive lineman
Alex Redmond
(Los Alamitos, Calif./Los Alamitos) was in town for his official visit and came away feeling even better about his future.
[+] Enlarge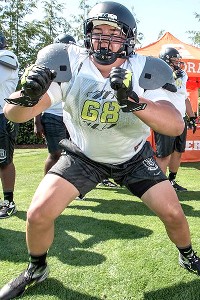 Tom Hauck for ESPN.comOregon OL commit Alex Redmond was wowed by his official visit to Eugene this past weekend.
"It was absolutely amazing," Redmond said. "I had been there before, but this was on a whole new level."
To continue reading this article you must be an Insider
Insider
Impact Performance Nominees
The Capital One Cup Impact Performances of the Week include Colorado State's Dee Hart, Oregon's Marcus Mariota, East Carolina's Justin Hardy and Oklahoma's Samaje Perine.
Impact Performance Nominees
VIDEO PLAYLIST
OREGON FB RECRUITING SCORECARD
McNamaraUO

Andy McNamara


The number of bows this #CFB season without an unsportsmanlike penalty continues to perplex #GoDucks
19 minutes ago

Pac12Networks

Pac-12 Networks


This Dwayne Washington 68-yard TD run is our #OSUvsUW Play of the Game presented by @iShares by @blackrock. http://t.co/xqsybFcIlj
24 minutes ago

Pac12Networks

Pac-12 Networks


Congratulations @UW_Football. By beating the Beavers, you are now officially bowl eligible. http://t.co/cpwSMyCagy
31 minutes ago

Pac12Networks

Pac-12 Networks


UW is trying to pull away in Seattle!4th Quarter - Washington 30 -- Oregon State 13Watch http://t.co/Es2YMB9DED #OSUvsUW
about an hour ago

TheOregonDuck

The Oregon Duck


@TheOregonDuck @Chipthebuffalo
about an hour ago

DSArivals

DuckSportsAuthority


MacIntyre: I hope they go win it all: The Colorado Buffaloes have not won a league game this season and their ... http://t.co/jw1CFnfttw
about an hour ago

oregonliveducks

oregonlive.com/ducks


Civil War kickoff set for 5 p.m. at Reser Stadium http://t.co/prZ9C2u54X #goducks
about an hour ago

Pac12Networks

Pac-12 Networks


What can occur during #Pac12AfterDark! Tune in now for the second half of the #UWvsOSU game on @Pac12Networks! http://t.co/Es2YMB9DED
about 2 hours ago

Pac12Networks

Pac-12 Networks


Narrow win for @USC_Athletics in tonight's @BankoftheWest Battle of the Tweets however. http://t.co/Kgcae1cVIa
about 2 hours ago

McNamaraUO

Andy McNamara


Great parting shot from @EricEvansPhoto of Marcus Mariota and @kfarrgoducks #Mahalo #GoDucks http://t.co/ejFz0bP8Fc
about 2 hours ago

DuckSportsNow

Duck Sports Now


Oregon Ducks 44, Colorado Buffaloes 10: Mark Helfrich on defense, 'game control' and Marcus Mariota's options http://t.co/96KIOrLroh
about 2 hours ago

DuckSportsNow

Duck Sports Now


Marcus Mariota says likely goodbye to Autzen Stadium http://t.co/PgPKUQaR3e
about 2 hours ago

DuckSportsNow

Duck Sports Now


Press Box Recap: Mariota's Autzen Finale http://t.co/1i309Z5hui
about 2 hours ago

DuckSportsNow

Duck Sports Now


Photos: Oregon Ducks vs Colorado Buffaloes http://t.co/t2AbELwJFW
about 2 hours ago

DuckSportsNow

Duck Sports Now


Round up: Seniors say goodbye http://t.co/RRWAjX8se3
about 2 hours ago

DSArivals

DuckSportsAuthority


Video: Campbell post-CU comments: Oregon running backs Royce Freeman and Byron Marshall were outstanding again... http://t.co/TEhiqDGOHq
about 2 hours ago

McNamaraUO

Andy McNamara


So ESPN/ABC chooses #CivilWar over USC vs. Notre Dame. That, my friensds, is the power of #SuperMariota
about 2 hours ago

UOPintens

Craig Pintens


The Civil War will be broadcast at 5 pm PT on ABC nationally. #GoDucks
about 2 hours ago

GoDucks

GoDucks


#CivilWar "@DuckFootball: The Civil War will be a 5 p.m. PT kickoff Saturday, for a national ABC broadcast."
about 2 hours ago

DuckFootball

Rob Moseley


The Civil War will be a 5 p.m. PT kickoff Saturday, for a national ABC broadcast.
about 2 hours ago

McNamaraUO

Andy McNamara


Civil War will be 5 p.m. PT on ABC #GoDucks
about 2 hours ago

ESPN_Pac12blog

ESPN_Pac12blog


'Jesus, girls and Marcus Mariota': Sixth grader asks if Ducks QB is leaving http://t.co/VB7gCE7H04
about 2 hours ago

Pac12Networks

Pac-12 Networks


.@UCLAFootball controls its destiny. But if they lose next week... Scenarios: http://t.co/oeoD06rgzw http://t.co/D2uwbRU7Is
about 2 hours ago

ESPN_Pac12blog

ESPN_Pac12blog


Instant analysis: No. 9 UCLA 38, No. 19 USC 20 http://t.co/Sr3j6vXTp7
about 2 hours ago

DuckSportsNow

Duck Sports Now


WILL MARCUS MARIOTA RETURN TO OREGON? – Grade School Journalist Brings the House Down with the Question to Duck… http://t.co/ZXWap5Vyi4
about 2 hours ago

DuckSportsNow

Duck Sports Now


Jesus, Girls and Marcus Mariota http://t.co/mEvLTGpovk
about 2 hours ago

GoDucksJoe

Joe Waltasti


BRB, about to be a millionaire. #GoDucks http://t.co/4l8xXjPqTq
about 2 hours ago

Pac12Networks

Pac-12 Networks


Brett Hundley's romp into the endzone is our #USCvsUCLA Play of the Game presented by @iShares by @blackrock. http://t.co/cA08fpb76d
about 2 hours ago

Pac12Networks

Pac-12 Networks


.@UCLAFootball is 1 win away from the Pac-12 Football Championship Game after taking down SC! http://t.co/EE0b9UoNnP http://t.co/0711aExbWV
about 2 hours ago

ESPN_Pac12blog

ESPN_Pac12blog


UCLA 38, USC 20. Final. The Bruins can lock up the Pac-12 South next week with a win at home against Stanford.
about 2 hours ago

DuckSportsNow

Duck Sports Now


Mariota Stars In Oregon Romp http://t.co/GBQvLrMDpQ
about 2 hours ago

GoDucksTV

GoDucks TV


Now on @GoDucksTV: Marcus Mariota Post Game Interview - Colorado http://t.co/GReAo7wMLy #GoDucks
about 3 hours ago

GoDucksTV

GoDucks TV


Now on @GoDucksTV: Mark Helfrich Post Game Interview - Colorado http://t.co/9yNIKYReIV #GoDucks
about 3 hours ago

GoDucksTV

GoDucks TV


Now on @GoDucksTV: Marcus Mariota Post Game Interview - Colorado http://t.co/GReAo7wMLy #GoDucks
about 3 hours ago

GoDucksTV

GoDucks TV


Now on @GoDucksTV: Mark Helfrich Post Game Interview - Colorado http://t.co/9yNIKYReIV #GoDucks
about 3 hours ago

GoDucks

GoDucks


Hilarity ensues when a kid asks @CoachHelfrich about Marcus coming back in the press conference http://t.co/RmPy6XKRBy #GoDucks
about 3 hours ago

ESPNCFB

ESPN CollegeFootball


46 yards & Mariota's gone! #2 Ducks lead Colorado 20-0 early 2Q » http://t.co/6bHVSnOTOm #COLvsORE
about 3 hours ago

OregonRBCoach

Gary Campbell


Shout out to my Boi Royce for being my first true freshman to rush for a GRAND!!! You go ROLLS ROYCE
about 3 hours ago

oregonliveducks

oregonlive.com/ducks


Oregon Ducks 44, Colorado Buffaloes 10: Mark Helfrich on defense, 'game control' and Marcus Mariota's... http://t.co/9FcEUBacIZ #goducks
about 3 hours ago

DuckSportsNow

Duck Sports Now


Oregon Ducks' sentimentality gives way to focus as Ducks begin season's final chapter http://t.co/IBgUZjifbY
about 3 hours ago

DuckSportsNow

Duck Sports Now


Oregon Ducks 44, Colorado Buffaloes 10: Marcus Mariota on the win and a message for fans (video) http://t.co/AOgI9vHp5S
about 3 hours ago

DuckSportsNow

Duck Sports Now


Notes: Seniors on Defense Say Goodbye to Autzen in Style http://t.co/9rHIHJy8UK
about 3 hours ago

DuckSportsNow

Duck Sports Now


Oregon overwhelms Colorado, sending seniors — and maybe Marcus Mariota — out in style, 44-10: game story http://t.co/pSuaZkwQEv
about 3 hours ago

DuckSportsNow

Duck Sports Now


Oregon Ducks seniors honored during pre-game ceremony (photos) http://t.co/v3ZMEzvJeQ
about 3 hours ago

DuckSportsNow

Duck Sports Now


In Possible Autzen Finale, Mariota Makes More Memories http://t.co/PTqfeqLNBl
about 3 hours ago

DuckSportsNow

Duck Sports Now


Quick: Marcus Mariota leaves Autzen Stadium, but not without a shower of love and a final word http://t.co/DC1THzuiQT
about 3 hours ago

DuckSportsNow

Duck Sports Now


Mark Helfrich Post Game Interview – Colorado http://t.co/dCEA3YGbx9
about 3 hours ago

DuckSportsNow

Duck Sports Now


Marcus Mariota Post Game Interview – Colorado http://t.co/IRvG7ycyMX
about 3 hours ago

DuckSportsNow

Duck Sports Now


'Jesus, girls and Marcus Mariota': Charlie Pape has post-game press conference mic-drop moment (video) http://t.co/9eDbYnay9G
about 3 hours ago

McNamaraUO

Andy McNamara


First 24 games: Chip 21-3. Helf 21-3 #GoDucks #WindowClosing #EndOfAnEra http://t.co/IMv2iCoEhH
about 3 hours ago

ESPN_Pac12blog

ESPN_Pac12blog


Who would you take in a potential Oregon-UCLA Pac-12 title game? Vote here: http://t.co/dtHnRNA8po
about 3 hours ago

ESPN_Pac12blog

ESPN_Pac12blog


UCLA's eyeblack game is unrivaled http://t.co/oMQ4cqG5dh
about 3 hours ago

Pac12Networks

Pac-12 Networks


End of the 3rd quarter, UCLA leads USC, 38-14. #USCvsUCLA
about 3 hours ago

DuckSportsNow

Duck Sports Now


"Jesus, Girls, and Marcus Mariota" http://t.co/BSTm6QMyRo
about 3 hours ago

McNamaraUO

Andy McNamara


3 things kids are talking about at this Jr. reporter's school:1. Jesus2. Girls3. Marcus Mariota #GoDucks http://t.co/hT84n16dkm
about 3 hours ago

oregonliveducks

oregonlive.com/ducks


Oregon Ducks' sentimentality gives way to focus as Ducks begin season's final chapter http://t.co/JygR7KAhXW #goducks
about 3 hours ago

oregonliveducks

oregonlive.com/ducks


Oregon overwhelms Colorado, sending seniors -- and maybe Marcus Mariota -- out in style, 44-10: game story http://t.co/LfIH8KFbRX #goducks
about 3 hours ago

UOPintens

Craig Pintens


Jesus, Girls & Marcus Mariota. The video. http://t.co/SjgfsHqf7y @FanBladeFilms #GoDucks
about 3 hours ago

Pac12Networks

Pac-12 Networks


#Pac12AfterDark party on the lake. Beavs. Dawgs. Let's go. #OSUvsUW http://t.co/Es2YMB9DED http://t.co/hkapafPewL
about 3 hours ago

DSArivals

DuckSportsAuthority


Mariota leads Ducks to rout of Colorado: The Oregon Ducks said goodbye to their seniors before their last home... http://t.co/cEquxP0qW9
about 3 hours ago

McNamaraUO

Andy McNamara


Sun wasn't out. Guns? Definitely out. #GoDucks http://t.co/sJJjkaswtA
about 3 hours ago

ESPN_Pac12blog

ESPN_Pac12blog


UCLA just pouring it on now. Bruins lead 38-14. 9:22, 3rd.
about 4 hours ago

oregonliveducks

oregonlive.com/ducks


Oregon Ducks seniors honored during pre-game ceremony (photos) http://t.co/bxF1ltRvcJ #goducks
about 4 hours ago

McNamaraUO

Andy McNamara


10-1, 7-1. Marcus being Marcus. Hope you're enjoying this as much as @OregonCheer #GoDucks http://t.co/nAXM6j5vsX
about 4 hours ago

DuckFootball

Rob Moseley


In Possible Autzen Finale, Mariota Makes More Memories http://t.co/Le9rmyrRXb #GoDucks
about 4 hours ago

DuckSportsNow

Duck Sports Now


Mariota leads Ducks to rout of Colorado http://t.co/95AJJWaSOi
about 4 hours ago

DuckSportsNow

Duck Sports Now


OREGON CRUSHES COLORADO 44-10 – Mariota Shines in Home Finale While Royce Freeman Sets Freshman Rushing Record http://t.co/rcUMwWlflx
about 4 hours ago

ESPN_Pac12blog

ESPN_Pac12blog


Paul Perkins rushes for 10 yards and another UCLA TD. Bruins up 31-14. 11:48, 3rd. #USCvsUCLA
about 4 hours ago

GoDucks

GoDucks


Thank you Duck fans for another great season at Autzen Stadium. #GoDucks http://t.co/wtjTSVaErh
about 4 hours ago

oregonliveducks

oregonlive.com/ducks


'Jesus, girls and Marcus Mariota': Charlie Pape has post-game press conference mic-drop moment (video) http://t.co/O7wbCT5LV1 #goducks
about 4 hours ago

Pac12Networks

Pac-12 Networks


#Pac12AfterDark halftime power rankings:What are the best food spots on/around campus at #USC? Go.
about 4 hours ago

DuckSportsNow

Duck Sports Now


Marcus Mariota reflects on home finale against Colorado http://t.co/tqMKrMll6E
about 4 hours ago

DuckSportsNow

Duck Sports Now


Oregon's Mark Helfrich on Marcus Mariota and facing Oregon State http://t.co/OL40TIFNzk
about 4 hours ago

DuckSportsNow

Duck Sports Now


Royce Freeman becomes first Oregon freshman to rush for 1,000 yards in a season http://t.co/KvyaFOgR29
about 4 hours ago

DuckSportsNow

Duck Sports Now


Marcus Mariota makes emotional exit at Autzen Stadium http://t.co/aorJMXuEGE
about 4 hours ago

Pac12Networks

Pac-12 Networks


#Pac12AfterDark halftime power rankings:What are the best food spots on/around campus at #UCLA? Go.
about 4 hours ago

UOPintens

Craig Pintens


Jesus, Girls, Marcus Mariota is the modern day God, Family, Green Bay Packers.
about 4 hours ago

oregonliveducks

oregonlive.com/ducks


Watch Marcus Mariota and Royce Freeman lead Ducks past Colorado Buffaloes: Video highlights http://t.co/6A0IQj8r4w #goducks
about 4 hours ago

Pac12Networks

Pac-12 Networks


At the half, UCLA leads USC, 24-14. Will the Trojans turn it around and take home the Victory Bell? #USCvsUCLA
about 4 hours ago

ESPN_Pac12blog

ESPN_Pac12blog


Brett Hundley is in a groove now. He hits Massington for a 13-yard TD and the Bruins lead 24-14. 0:14, 2nd #USCvsUCLA
about 4 hours ago

DuckFootball

Rob Moseley


Ifo Ekpre-Olomu: "Getting the opportunity to play our last game here and finish off strong was all you can ask for." #GoDucks
about 4 hours ago

ESPN_Pac12blog

ESPN_Pac12blog


Eric Kendricks' INT for UCLA stands after review. Good pressure from Deon Hollins to force Kessler into a bad throw.
about 4 hours ago

DuckFootball

Rob Moseley


Keanon Lowe: "I had the time of my life playing in Autzen and in front of the fans, my home state. It means the world to go out with a win."
about 4 hours ago

ESPN_Pac12blog

ESPN_Pac12blog


UCLA re-takes the lead on a 32-yard FG from Ka'imi Fairbiarn. UCLA 17, USC 14. 5:52, 2nd. #USCvsUCLA
about 4 hours ago

oregonliveducks

oregonlive.com/ducks


Thomas Tyner doesn't dress for Oregon's 44-10 win over Colorado http://t.co/fKZ7Pdry9W #goducks
about 4 hours ago

DuckSportsNow

Duck Sports Now


Marcus Mariota reflects on home finale against Colorado http://t.co/kiocLQ2hKF
about 4 hours ago

DuckSportsNow

Duck Sports Now


Oregon's Mark Helfrich on Marcus Mariota and facing Oregon State http://t.co/2TMkTNhPL8
about 4 hours ago

DuckSportsNow

Duck Sports Now


Recap: Mariota, Ducks soar over Colorado http://t.co/48qBmvfcr4
about 4 hours ago

DuckSportsNow

Duck Sports Now


Ducks Hold Serve, Hammer Colorado 44-10 http://t.co/rj3pr1S6VS
about 4 hours ago

DuckSportsNow

Duck Sports Now


Photos: Oregon Ducks stampede the Colorado Buffaloes, 44-10 http://t.co/gO4Xz30GnD
about 4 hours ago

DuckSportsNow

Duck Sports Now


Rapid Reaction: Oregon defeats Colorado 44-10 on Senior Day http://t.co/TvPIGfBG1V
about 4 hours ago

DuckFootball

Rob Moseley


Yep. "There's Jesus, there's girls, and there's Marcus Mariota." RT @GoDucksJoe Best press conference question ever. http://t.co/pswEuwZfc4
about 5 hours ago

Pac12Networks

Pac-12 Networks


Safe to say #Pac12AfterDark is in full effect at the Rose Bowl. #USCvsUCLA http://t.co/S0cu4bnls4
about 5 hours ago

DuckSportsNow

Duck Sports Now


Mariota Sparks Oregon Rout http://t.co/tlC21Z9j7M
about 5 hours ago

DuckSportsNow

Duck Sports Now


Marcus Mariota accounts for 4 TDs in No. 2 Oregon's rout of Colorado http://t.co/aoLUGAiz0z
about 5 hours ago

DuckSportsNow

Duck Sports Now


Instant Analysis: No. 2 Oregon 44, Colorado 10 http://t.co/G8BuO9CDl5
about 5 hours ago

DuckSportsNow

Duck Sports Now


4Q ORE J. Lockie pass,to Z. Schuller for 10 yds for a 1ST down http://t.co/RytKMv67Y1
about 5 hours ago

UOPintens

Craig Pintens


@TedMillerRK @kathycastro Ted, remember you "cooled" on Harvard.
about 5 hours ago

DuckSportsNow

Duck Sports Now


Mariota Shines In Home Finale As Ducks Trample Buffaloes http://t.co/hxXOnJt2RD
about 5 hours ago

DuckSportsNow

Duck Sports Now


Oregon QB Marcus Mariota sets Pac-12 record for TDs, leaves to big ovation http://t.co/MX8U75kcGu
about 5 hours ago
BLOG ARCHIVE:
CATEGORIES: