August, 31, 2012
8/31/12
12:00
PM PT
There are five new quarterbacks in the Pac-12 this season:
Taylor Kelly
at Arizona State,
Jordan Webb
at Colorado,
Marcus Mariota
at Oregon,
Josh Nunes
at Stanford and
Brett Hundley
at UCLA.
Our question this week: Which of them will have the most success this season?
[+] Enlarge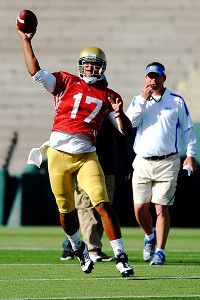 Chris Williams/Icon SMIUCLA quarterback Brett Hundley will be tested often this season.
Kevin Gemmell:
Poor, poor Ted. I know your brain is mush right now. You've been grinding away so hard on the best-worst scenarios that you've got nothing left for a Take 2. Obviously, the easy choice here is Oregon quarterback Marcus Mariota.
I'll tell you what, buddy, since I'm going first this week, I'm going to leave the softball for you and take a different approach. No, no. You don't need to thank me now. Just buy me a Cuban sandwich when we're in Miami for the USC-Oregon national championship game and we'll call it even.
When you're measuring the success of a new quarterback, you have to first look at what's the definition of success. Because I think the measuring stick is going to be a lot different for Mariota than, let's say, UCLA quarterback Brett Hundley.
If Hundley wins eight games and takes his team to a mid-level bowl game, I'd call that a pretty successful debut season. If Mariota wins eight games and takes his team to a mid-level bowl game, Oregon would probably call 2012 a massive failure of a season. Teams that start the year ranked in the top five don't want to end up in San Diego in December -- no disrespect to this beautiful city I'm blessed to call home.
The Bruins, however, I think would be awfully pleased with an appearance in the Holiday Bowl.
Consider what Hundley is up against: a new head coach, who by the way has never coached in college (that's not a knock on Jim Mora, just a fact), a new offensive coordinator with an offense that is a complete 180 from what the Bruins were running previously, and while I think UCLA has some playmakers, Hundley doesn't have the weapons around him that Mariota does. Also, most would agree at this point that Oregon has the superior offensive line.
But I think Hundley overcomes all of that to lead his team to seven or eight wins and a pretty decent bowl game. The reason I think that -- aside from the fact that Hundley is a very talented player -- is because of UCLA offensive coordinator Noel Mazzone and the way he transforms quarterbacks. His system is proven, even if Hundley is not, and it's going to allow Hundley to do what he does best: sling the ball around to a lot of different receivers and make plays with his feet when it's needed.
This was the same offense that produced 33 points per game last year when Mazzone was with Arizona State and dropped 43 on the
USC Trojans
; the same offense that averaged 32 points per game in 2010 that went for more than 40 points four times. Some might remember the 55 they scored on the Bruins that year.
Because of all the immediate factors working against Hundley, people are going to allow him a little more wiggle room to develop than they would Mariota.
And I think you can say the same thing for Josh Nunes at Stanford, Taylor Kelly at ASU or even an experienced newcomer like Jordan Webb at Colorado. They have the luxury of working their way into success, rather than instant success being demanded.
Huh, maybe Mariota isn't such a slam dunk after all. I guess the Cuban sandwiches are on me.
Ted Miller:
Thanks for making things easy on me, Kevin.
[+] Enlarge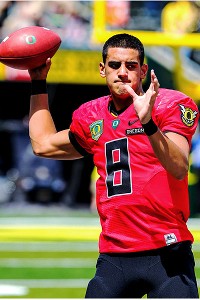 Steve Conner/Icon SMIBetween a stellar supporting cast and a proven coach, the stage is set for Marcus Mariota at Oregon.
I've been reading the tea leaves, and Marcus Mariota is going to be a revelation.
Now it's perfectly fair for someone to point out that I've only see Mariota in action once -- his much-ballyhooed performance in the 2012 spring game. So my -- and anyone else's -- sample size for extrapolating success is extremely limited.
Still, there are three things that make him the pick for immediate success.
First, he beat out
Bryan Bennett
, a guy who has long been touted and who played very well in relief of an injured Darron Thomas last year. If Mariota is better than Bennett, then he's got to be pretty darn good.
Second, his supporting cast will make him look good. He's got plenty of offensive weapons surrounding him as well as a top-notch offensive line. He doesn't have to throw it 40 yards to get a 40 yard completion. He merely needs to dump it to
Kenjon Barner
,
De'Anthony Thomas
or
Josh Huff
and let them do the legwork. The stat sheet doesn't make a distinction.
Third, who's the coach of this team? That's right, Chip Kelly. What's his track record with quarterbacks at Oregon? Let's review.
Oregon fans hated Dennis Dixon -- oh, yes you did! -- until Kelly arrived in 2007. Dixon went from being an infuriating underachiever who threw a lot of interceptions to the nation's top Heisman Trophy candidate until he blew out his knee.
Then, after Nate Costa blew out his knee before the 2008 season, Kelly was left with, well, just about nobody. Recall that Jeremiah Masoli was a summer addition to the roster whom no one had heard of. He led the Ducks to a Holiday Bowl victory and then to the first of three conference titles in 2009.
And when Masoli got the boot, Kelly surprised many when he tapped Thomas over Costa. Thomas then led the Ducks to the national title game and a Rose Bowl victory.
Think how good the Ducks' QB play has been since Kelly arrived in Eugene. Now, how many of these former Ducks quarterbacks had NFL success? It's obvious that Kelly finds ways to make his QB successful.
And guess what: Mariota is the most physically talented signal-caller Kelly has coached. He could become the first Kelly QB to become a high NFL draft pick and then a starter.
Sure, the bar has been set high. Anything less than another BCS bowl appearance would disappoint most Oregon fans. But, as things look at present, the odds are fairly good the Ducks will receive a fourth consecutive BCS bowl berth.
Finally, there is always this: Mariota is a redshirt freshman. He's, inevitably, going to have some boneheaded moments. But his youth also means the Ducks -- and Kelly -- will have him for at least three more seasons. (If he opted to leave for the NFL draft after his redshirt sophomore year, well, he'd probably be pretty darn good).
That's the consolation if he's merely pretty good this year: He's got plenty of time to become outstanding.
But the guess here is Mariota puts up plenty of numbers as a dual-threat this season. And leaves us with plenty of "Wow!" moments.
August, 31, 2012
8/31/12
10:00
AM PT
Before his Bellevue High team took on powerhouse Euless (Texas) Trinity High School on Thursday night, UCLA linebacker commit
Myles Jack
(Bellevue, Wash./Bellevue) discussed his continued interest in the Oregon Ducks.
In spite of his solid commitment to the Bruins, the Ducks are among the handful of teams Jack says will likely receive an official visit.
UCLA and Georgia Tech will definitely receive an official visit from the athletic linebacker. Oregon is among the other programs in the mix for one of his remaining visits.
To continue reading this article you must be an Insider
August, 30, 2012
8/30/12
3:56
PM PT
By
RecruitingNation
| ESPN.com
Multiple sources are repoorting Thursday that center
Waverly Austin
(Fredericksburg, Va./Palm Beach State College) has committed to Oregon and will join the Ducks' 2012-13 roster.
Austin signed with South Florida in November and qualified through the NCAA but was recently denied admission by the school, according to The Register-Guard. He averaged 14.8 points, 9.3 rebounds and 2.9 blocks at Palm Beach last season.
To continue reading this article you must be an Insider
August, 30, 2012
8/30/12
10:00
AM PT
There are many differences between the Oregon Ducks current approach under Chip Kelly when compared to former head coach Mike Bellotti. Many of them are glaring, but the one that goes largely unnoticed is the fact that Kelly is keeping the emerging local talent home.
Kelly and the Ducks have benefited from a rise in high school All-Americans from with the Oregon borders, but keeping that talent in state hasn't always been easy for the Ducks.
Needless to say, Oregon is far removed from football-dominated states such as Georgia, Texas, California, Ohio and Florida.
To continue reading this article you must be an Insider
August, 29, 2012
8/29/12
7:31
PM PT
All running back
Jordan Stevenson
(Dallas/Skyline) wanted to do during the spring was show he belonged on the varsity as an incoming sophomore. He ended up earning a scholarship offer.
Stevenson picked up an offer from Utah State after Skyline's spring football game. That offer, to Stevenson, serves as a reminder of always playing bigger and better than most 2015s.
"It's a big difference from freshman ball now," Stevenson said. "You pretty much have to be focused. You have to grow up.
To continue reading this article you must be an Insider
August, 29, 2012
8/29/12
12:59
PM PT
With a handful of the top in-state prospects heading to Eugene for Oregon's season opener Saturday night, the state's top player will be on hand as the Ducks take on Arkansas State.
Running back
Thomas Tyner
(Aloha, Ore./Aloha), who committed last November, will become an even more well-known name around the Oregon program during the 2012 season.
"I'm going to head down there on Saturday for the game" said Tyner, the No. 104 player overall in the ESPN 150. "We start our season down there at Thurston on Friday, so I'll be down in the Eugene area most of the weekend."
To continue reading this article you must be an Insider
August, 29, 2012
8/29/12
11:21
AM PT
Recruiting is moving quickly for four-star running back
Derrick Green
(Richmond, Va./Hermitage) -- almost as quickly as the ESPN 150 prospect picks up yardage.
The nation's No. 53 prospect said during ESPN's RecruitingNation podcast that he plans to announce his final decision in October. He's still considering Auburn, Georgia, Michigan, Ole Miss, Oregon and Tennessee. Green said he'll again cut down his list before he announces his commitment.
Auburn, Michigan and Tennessee seem to be in the best position. The prospect has said he'll take official visits to all three schools and has planned an Oct. 20 visit to Ann Arbor for the Michigan State game. He has yet to set dates for Auburn and Tennessee. His last two official visits will be to two of his last three other finalists: Georgia, Ole Miss or Oregon. Green will travel this weekend to Atlanta to see Auburn play Clemson in the Chick-fil-A Kickoff Game.
To continue reading this article you must be an Insider
August, 29, 2012
8/29/12
11:00
AM PT
Less than a week after first-team junior college All-American center
Waverly Austin
(Fredricksburg, Va./Palm Beach State College) was not admitted to South Florida, the Oregon Ducks are set to add much needed depth in the post.
Dana Altman has been in search of much needed depth down low. Much like he did with Wake Forest transfer Tony Woods, Altman was able to find size by way of a transfer. If admitted, Austin will join Woods on the block next year, providing a big boost to the Ducks' improving basketball program.
The Ducks now wait on the official word in regards to Austin being admitted to the university. If he is accepted, the 6-foot-10, 260-pound Austin is expected to enroll in classes for the start of fall term in Eugene and be on the court for the Ducks when the season kicks off in November.
Austin signed with South Florida out of high school but was ruled academically ineligible before ever enrolling in the school. The Bulls were unable to accept some of Austin's transfer credits from Palm Beach State, opening the door for the Ducks.
To continue reading this article you must be an Insider
August, 29, 2012
8/29/12
10:59
AM PT
By
RecruitingNation staff
| ESPN.com
Every season the stars of college football change. The crop is turned over and we meet the new faces of the sport. Sometimes those players jump out and surprise us, rising from part-time role players to the feature of an offense or defense. Who will those players be in 2012?
Travis Haney looks at 30 potential breakout players this season
.
To continue reading this article you must be an Insider
August, 29, 2012
8/29/12
10:00
AM PT
Things have been quiet on the recruiting side of things for the Oregon Ducks in recent weeks as they have been preparing for the upcoming season.
As the season kicks off this weekend, the Ducks will pay close attention to the start of the high school football season as they try to identify emerging prospects from around the country.
A number of recruits -- defensive prospects in particular -- will be evaluated by the Oregon staff in the coming weeks as their senior film makes its way into the hands of recruiters.
To continue reading this article you must be an Insider
August, 29, 2012
8/29/12
8:54
AM PT
September could turn out to be a very important month for the Oregon Ducks on the recruiting front.
The recent development that USC commit
Nico Falah
(Bellflower, Calif./St. John Bosco) will join current Oregon commit,
Alex Redmond
(Los Alamitos, Calif./Los Alamitos) on an official visit the weekend of September 21st, came as a nice surprise to many Duck fans. Falah won't be alone as the Ducks' top two uncommitted offensive line prospects have both scheduled their official visits for the same weekend.
It's going to be a big weekend for the Ducks as offensive lineman
Thomas Oser
(North Hollywood, Calif./Harvard-Westlake) will join Redmond, Falah and fellow Ducks' target,
J.D. Hinnant
(Fountain Valley, Calif./Fountain Valley) in Eugene.
To continue reading this article you must be an Insider
August, 28, 2012
8/28/12
8:56
PM PT
CLARKSTON, Ga. -- After leading his team to 36-14 win over Cedar Grove, which features four-star quarterback and Vanderbilt commitment
Johnathon McCrary
(Ellenwood, Ga./Cedar Grove),
Juwaan Williams
(Tucker, Ga./Tucker) was not satisfied. Now in AAAAA after winning the AAAA state championship in 2011, Williams feels the bar has been raised for a successful season.
"The expectations are even higher here for the seniors and everyone that had a part in the state championship last night," Wiliams said.
On Friday, Williams excelled in directing the Tigers' multi-pronged rushing attack, as well as keeping the opposing defense on its toes. They were called offsides numerous times because of Williams' crafty snap counts.
To continue reading this article you must be an Insider
August, 28, 2012
8/28/12
12:12
PM PT
The Oregon Ducks kick off their quest for a fourth straight league title this weekend when they host Arkansas State on Saturday night. Recruiting has been uneventful as of late for the Ducks, but some in-state stars will be on hand for unofficial visits this weekend.
Two of the state's top players in the 2013 class are in search of an offer from the Ducks and both could see an offer come their way as they each fill a position of need.
Doug Brenner
(Portland, Ore./Jesuit) is a versatile defensive prospect that could play anywhere from middle linebacker to defensive tackle in the future. Brenner currently holds offers from Air Force, Wyoming and Oregon State. An offer from the Ducks would trump all of those and likely result in a commitment from the 6-foot-2, 275-pounder.
To continue reading this article you must be an Insider
August, 28, 2012
8/28/12
9:00
AM PT
With the Oregon Ducks still in search of a third offensive lineman to add to their recruiting class, the name most often associated with the Ducks is somewhat of a late bloomer. Better late than never.
Having earned 13 scholarship offers since the spring, versatile lineman
J.D. Hinnant
(Fountain Valley, Calif./Fountain Valley) has seen his name pop up everywhere.
"It has been pretty crazy really. Going from no offers to having 13 in a matter of months, it is kind of hard to believe sometimes" Hinnant said.
To continue reading this article you must be an Insider