April, 17, 2014
Apr 17
10:00
AM ET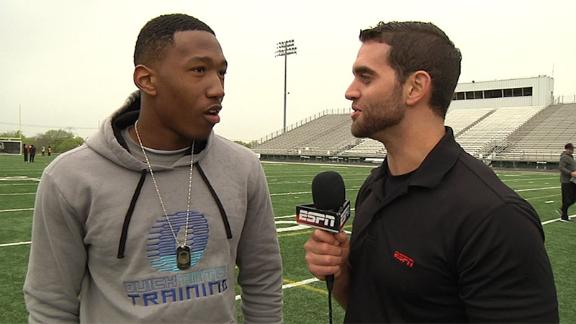 Throughout this recruiting cycle, RecruitingNation will profile a number of ESPN 300 prospects in the 2015 class, including an inside look at the prospect, his recruitment, a scouting report and what college program could benefit when he ultimately makes his decision
.
DESOTO, Texas -- With all the multiple camps, combines and special events happening each spring,
DaMarkus Lodge
chooses not to be a regular on the circuit.
It's not that Lodge is against them, or that he thinks he's above them. The ESPN 300 receiver has simply prioritized his life as a student-athlete. The camp circuit happens to be a middle-of-the-pack priority.
To continue reading this article you must be an Insider
April, 16, 2014
Apr 16
7:00
PM ET
What is your team's best quarter? Worst? And what does it mean?
While it's probably a mistake to read too much into how a team does quarter by quarter -- the final score is what counts -- it might provide some tidbits of insight.
The baseline, of course, is this: Good teams are going to win most every quarter and bad teams will lose most every quarter. But what does it mean if your team starts fast or slowly? Or owns the third quarter? Or sputters in the second?
The conventional wisdom is teams that do well in the third are good at making halftime adjustments, but coaches often snort at such talk.
Former Arizona State coach Dirk Koetter once painstakingly walked reporters through the halftime process to help them understand the small window for making significant schematic changes. Former Oregon coach Chip Kelly was at his snarky best -- even as he was being flattered -- when asked about "halftime adjustments."
Kelly, however, would admit that the occasional slow start by his offense was due to a feeling out period, where he and his assistants were taking the measure of what a defense was trying to do. That's the nature of football -- punching and counterpunching, reading and reacting.
Still, you probably shouldn't read too much into these numbers. While it's interesting that UCLA and Washington were very good in the third quarter last year while Arizona State -- curiously -- was not, the salient fact is the Sun Devils beat both.
Arizona, Oregon, UCLA and Washington were the only Pac-12 teams to win every quarter.
California was the only Pac-12 team outscored in all four quarters. The Bears gave up 181 points in the first quarter, the worst defensive quarter in the conference.
The highest scoring quarter belonged to Arizona State, with 192 points in the second. Washington had 184 points in the third and Oregon 182 points in the first.
The best defensive quarter was USC in the first, holding foes to 37 points. Washington yielded 44 in the first and UCLA gave up 44 in the third.
Arizona State was dominant in every quarter, other than the third, when it was outscored 109-99.
Stanford was dominant in every quarter other than the fourth, which it lost 85-92, suggesting the Cardinal didn't fight for a large margin of victory.
Oregon was dominant in all four quarters and, despite that, posted the best fourth-quarter margin of 78 points (137-59), suggesting the Ducks enjoyed producing a large margin of victory.
Stanford yielded 60 or fewer points in each of the first three quarters. Oregon did so in the third and fourth (47 points and 59 points). Only three other teams produced even a single quarter with 60 or fewer points: UCLA in the third (44), USC in the first (37) and Washington in the first (44).
Colorado was outscored in the first three quarters but won the fourth decisively, 130-70. That suggests Mike McIntyre's team didn't quit.
USC won 10 games last year despite being outscored in both the third and fourth quarters. Only Cal and Washington State matched that dubious distinction.
Utah was outscored only in the fourth quarter. Oregon State was outscored only in the first.
Washington's 119-point margin (184-65) in the third was the largest for any quarter. Oregon's 109-point margin in the first quarter was second (182-73). Arizona State had the largest second-quarter margin at 77 points (192-115).
April, 16, 2014
Apr 16
2:30
PM ET
It is a truth universally acknowledged, that a single man in possession of a good fortune, must be in want of a wife.
April, 16, 2014
Apr 16
12:00
PM ET
The Oregon defensive line is breaking it down to the basics this spring with a new slogan for the position group, one that goes all the way back to when most players first started learning the position and were given the most basic of commands on the defensive line.
"Knock back."
It's simple. Knock the offensive line back off the line of scrimmage. Knock the ball carriers back. Knock the quarterbacks back. Knock back. It's also something the group didn't do a lot of last season as it allowed 3.8 yards per rush (No. 37 nationally) and accounted for just 29 sacks (No. 45 nationally).
Fixing those issues has certainly been their focus this spring, but the slogan has encompassed the goals of this group as it works to fix its problems.
"Our mentality is definitely going to change," defensive lineman
Arik Armstead
said. "Last year put kind of a bad taste in most of our mouths. We want to play with a different attitude."
The defensive line lost
Ricky Havili-Heimuli
,
Wade Keliikipi
and
Taylor Hart
, who accounted for 134 tackles including 16.5 for a loss and 6.5 sacks. Those three losses are all significant, so not only are the Ducks looking for new starters, they're also looking for depth.
Alex Balducci
and
DeForest Buckner
will be names to watch as possible starters this spring game, but
Sam Kamp
and
Stetzon Bair
could be nipping at their heels. Junior college transfer
Tui Talia
could have a jump on other players just because of his experience at Diablo Valley College, where he was ranked the top defensive end in the ESPN Junior College 50.
"We've got some younger guys who haven't played much and then we have some guys who've played in a lot of games who are still young and continue to get better," Armstead said. "[We're] just getting the guys with less experience more opportunities to get out there and play more and [we're] also getting the guys who do have that experience to learn more."
And that skill of knocking back is going to be the most crucial of all.
Though the 3.8 yards per rush was worrisome for the defense, it was on critical rush plays where the defense struggled the most.
On third-down runs, the defense allowed a 65.5 percent conversion rate. There were only three defenses in the nation that had a worse conversion rate (Memphis, Purdue and New Mexico). On fourth-down runs, Oregon's defense allowed a 66.7 percent conversion rate. The Ducks jumped to 73rd nationally in that category, but they still trail eight teams in the Pac-12. Those are critical situations in which Oregon must knock back in 2014.
Armstead said that the key to improvement in those categories goes back to the new mentality.
"It just came down to those situations that [other teams] made plays and we didn't make plays," Armstead said. "Making plays is a mentality -- just digging down deep and getting those stops in crucial moments when we need them."
April, 16, 2014
Apr 16
11:45
AM ET
This recruiting cycle represents a huge year for talent in California, which means the Pac-12 should be able to put together some very healthy recruiting classes. In looking at the top five targets for the conference in the
2015 ESPN 300
, it's no surprise that three come from Southern California. But if the Pac-12 wants to have a better overall finish in the recruiting rankings next year -- USC at No. 14 overall was the highest finish in 2014 -- the conference will need to reel in several out-of-area standouts, which is why the first two names on the list are here.
To continue reading this article you must be an Insider
April, 15, 2014
Apr 15
2:30
PM ET
I'm an early bird and I'm a night owl, so I'm wise and have worms.
April, 15, 2014
Apr 15
11:00
AM ET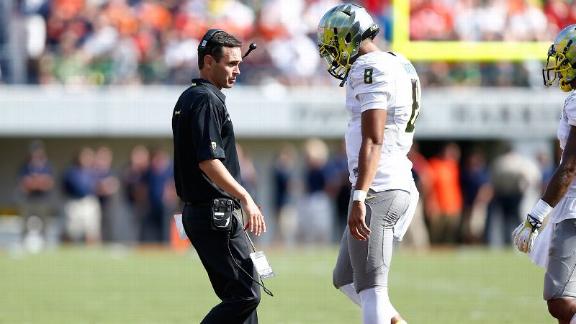 EUGENE, Ore. -- A team is only as good as its twos and threes -- or so says Oregon wide receiver coach Matt Lubick. If that's true, the Ducks are about to find out how good they are in the passing game.
While the addition of former Ducks basketball player
Johnathan Loyd
to the football team brought some excitement last week, it was quickly overshadowed by the news that wide receiver
Bralon Addison
had torn his ACL.
While there have been several success stories of players who've returned quickly from these types of injuries, considering the timing of Addison's injury, Lubick needs to count on his twos and threes for the brunt of the receiving duties in the 2014-15 season.
[+] Enlarge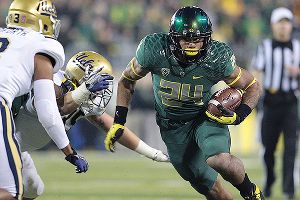 Scott Olmos/USA TODAY SportsOregon RB Thomas Tyner might need to make more plays in the passing game this season.
"They're very eager," Lubick said of his youthful players. "They're excited to learn. If there's a blessing in disguise about an injury happening at this time it's that it gives those guys reps now as opposed to right in the middle of the season when they wouldn't get as many reps."
And those guys need to take the reps considering the personnel situation in the wide receiver corps.
Of the Ducks' top 10 leaders in receptions last season, the top four will not be playing next season (that includes Addison, who was the No. 2 receiver last season). Those four players accounted for nearly 70 percent of the Ducks' receptions and 72 percent of the Ducks' receiving yardage. As a group, receivers 5-10 last season accounted for only slightly more catches than
Josh Huff
did on his own.
And of those six players who return, only two are pure receivers --
Keanon Lowe
and
Chance Allen
. The other four are tight ends (
John Mundt
and
Pharaoh Brown
) and running backs (
Thomas Tyner
and
Byron Marshall
).
"The neat thing about spring ball is you're trying to figure out about your team," Lubick said. "Is our best personnel group two tight ends? Is our best personnel group two running backs or is it still three wideouts? We still don't know that. We're still trying to find that out."
Over the past three seasons Oregon has had a running back in its top four receivers, including the 2012-13 season when running back
De'Anthony Thomas
led the team in receptions. However, for Tyner or Marshall to boost themselves into the top four, they'd have to nearly triple their receptions next season. It's certainly possible, but Oregon would still need receivers to step up because they're not going to be able to throw to backs or tight ends on every play.
The two returning receivers from last season's top-10 group -- Lowe and Allen -- only accounted for 23 catches, 331 yards and four touchdowns in 2013.
However, it's not ridiculous to believe that such inexperienced players could make a huge jump in just one season. From the 2011-12 season to the 2012-13 season Colt Lyerla and
Daryle Hawkins
went from just 12 combined catches to 50 catches. From the 2012-13 season to the 2013-14 season Addison went from 22 catches and 243 yards to 61 catches and 890 yards.
But when Lyerla, Hawkins and Addison made those jumps there were several other players making huge impacts from a receiving standpoint as well, guys like Thomas and Huff. This season, Lowe and Allen won't have that luxury because there aren't other experienced players around them in the passing game.
Another issue for the Ducks is that the young guys are going to need to play above their age from a consistency and blocking standpoint. Generally, blocking isn't one of the aspects emphasized for most high school wide receivers and so they get to college and need to learn that skill.
"At Oregon, it's not just about catching balls," Lubick said. "You have to be able to make plays without the ball. You have to be able to make plays with the ball. You can't do one without the other, you have to do both. That's sometimes the biggest adjustment for guys who weren't used to doing that in high school."
Lubick said that he, offensive coordinator Scott Frost and coach Mark Helfrich will be looking for the most consistent wide receivers through the spring and those will be the ones who get the starts in the spring game.
"The good thing about it is we have a lot of talent, a lot of resources and our offense gives us a lot of flexibility to have a whole bunch of personnel groupings," he said. "… To be in our offense, whether you're a tight end or running back, you have to know all the spots. It's an opportunity for other guys to step up."
But chances are, no matter who steps up, there will be at least a few completely new names catching balls during the spring game.
On one end will be a possible Heisman contender (assuming his receivers can help boost his passing yards) and one of the best-known quarterbacks in the nation. And on the other end will be a bunch of the Ducks' twos and threes. People know how good QB
Marcus Mariota
is. Now, according to Lubick's reasoning, they'll find out how good the passing offense is as a whole.
April, 14, 2014
Apr 14
2:30
PM ET
I remember the stupid things, the mood rings, the bracelets and the beads, the nickels and dimes, yours and mine. Did you cash in all your dreams?
April, 14, 2014
Apr 14
12:00
PM ET
Coming into this season, the Oregon linebackers were expected to be one of the Ducks' biggest strengths, considering their depth and experience. On a defense that's looking for players to step into prominent roles, the linebackers return three of four starters while also boasting an impressive two-deep.
But rather than a statistical advantage, the biggest adjustment the linebackers are bringing to the Ducks this season is both emotional and mental. The leader of the unit, Don Pellum, has been promoted from LBs coach to defensive coordinator.
"We have our own linebacker culture that we've had for years," junior
Rodney Hardrick
said. "We have a different standard, different culture in our room and now that [Pellum is] the coordinator, we've extended that culture to the defense. Now, everyone is on the same page and is doing what we've been doing."
This culture preaches showing up early to practices, treatments and meetings, going the hardest and knowing the most about the defense.
Obviously all of those facets are parts that each position group on the Ducks defense found important, but with a group clinging to that as its identity, it becomes even more important. Thus, a culture is formed.
Senior linebacker
Derrick Malone
said he already has seen the defense practice faster, but to him it's pretty normal since Pellum has always coached the linebackers this way. Now, he's just coaching the entire defense this way.
"It's the way he gets us programmed that certain way right when we come [to Eugene]," Malone said. "Right when we come in as freshmen, that's the only way we know. As linebackers we don't know any other way. It's the foundation."
But now that's becoming the foundation of the defense, which will only help moving forward. If the defense continues to buy in to the linebacker culture, it should show major improvements this spring since the linebackers have been one of the Ducks' most consistent position groups.
"The whole defense is starting to come around," Malone said. "It's all spilling over to the other units. … You can see that change."
April, 11, 2014
Apr 11
5:30
PM ET
Happy Friday. Welcome to the mailbag.
Follow the Pac-12 blog on on the
Metaphysician Network
.
To the notes!
Matt from Beaverton, Ore., writes:
I'm sure by now you've read the news about the Ducks losing
Bralon Addison
this season due to an ACL
tear. He looked to take a huge step in becoming a focal point of the Ducks offense with Huff graduating. Do you think Oregon returns to running the ball far more frequently, or are there players you think will step up to fill the void? I'm curious how Jonathan Lloyd (senior point guard for the basketball team) pans out as a return specialist/WR.
[+] Enlarge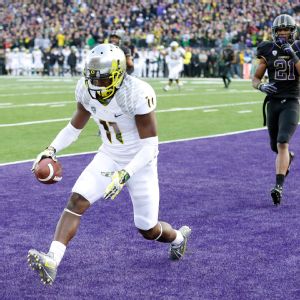 AP Photo/Ted S. WarrenThe Ducks are not devoid of offensive talent, but replacing Bralon Addison will be difficult.
Ted Miller
: Losing Addison is a big blow for two reasons. First, he's an intriguing talent who was expected to become QB
Marcus Mariota
's No. 1 target this fall, an important distinction considering Mariota is a Heisman Trophy contender. Second, the Ducks are now as green at receiver as any team in the Pac-12. They will be without their top four receivers from 2013.
What's left? There's veteran
Keanon Lowe
, a good leader and a tough blocker, but he only caught 18 passes last year. In terms of wideouts, the next most productive returning receiver is sophomore
Chance Allen
, who caught five passes.
Of course, there's young talent. A top-five team with Oregon's offensive name brand isn't going to be devoid of guys who could immediately step in and shine, but how that pecking order develops is a mystery. Allen, sophomore
Dwayne Stanford
, redshirt freshman
Darren Carrington
and the mercurial
B.J. Kelley
are possibilities.
Lloyd? It's fun to speculate, but being a great athlete doesn't mean you'll be a good receiver. That gets a firm "We shall see."
As for compensating in the passing game, the Ducks are strong at tight end, so you probably will see more from those guys. They also, as you note, could lean more on the running game, as
Byron Marshall
and
Thomas Tyner
have the potential to be a 2,500-plus-yard tandem.
One of the Ducks mottos is "next man in" and losing Addison hardly knocks the Ducks out of the Pac-12 and national title race. But if you made a list of the top-five most important Ducks in 2014 a week ago, he would have been on it.
---
Ray from Tucson, Ariz., writes:
Recognizing that football is a big moneymaker for college athletic departments, conferences and networks, I'm curious as to whether we've already seen the peak of this sport. Between unionization of athletes and issues with concussions and the incidence of brain damage in former players, it seems like there are some issues ahead. Can educational institutions continue to feature a sport that has apparent long term consequences to the players and cash the checks without some lifetime responsibility to those students? 18-22 year olds always think they are immortal, but the faculty and administrators should know that a significant percentage of the kids have potential for injury and brain damage. Perhaps not as bad as what the Roman gladiators had, but still substantial enough that some court cases could change the financial equation. Do you think you'll need to bone up on badminton or soccer rules as an alternative sport for the Pac-12 blog at some point?
Ted Miller
: This is a time of change in college football on many levels, and those changes aren't independent of each other.
We've reached critical mass with the flowing revenue and big-money salaries, where the relative deprivation between athlete and coach/administrator is impossible to ignore. We've also reached a point where we need to take strong steps to address player safety and long-term health issues. Most folks around the game see this, even if they don't agree on all the next steps.
The good news is this: Crisis often breeds progress.
As for your question, "Has college football peaked?" Maybe. But that's not my impression.
Ultimately, I don't think college football is going anywhere. Too many people love it and care about it to not figure out ways to improve things.
And the notion of no Pac-12 blog surely will motivate them all to come up with changes we all can believe in.
---
Derek from Salt Lake City writes:
So recently it was announced that the student government at the University of Utah was
proposing changes to the fight song
"Utah Man" because they felt it was sexist and offensive to some people. I would love to know what someone who is not a die-hard Ute thinks about the whole situation ...

Ted Miller
: It's funny how trivial things such as this are often highly controversial, emotional and political. My guess is the folks who most loudly claim they are aggrieved probably have never and will never even sing the song.
Still, my first response? Why not change it to "Utah Fan." What is lost? Fact is plenty of Utah fans are women. The assertion that "man" is an inclusion term is disingenuous.
Don't think so? Your momma is a man. See.
The story included Utah social work professor Joanne Yaffe observing, "I don't think I'm being hyper-PC, I'm just thinking about not really being included in the song."
I agree. Perfectly reasonable observation. And reason to make a change.
Yet she then unfortunately added, "I think that the U can feel like a very isolating, unwelcoming place, and maybe this song is part of that."
Sigh. That's just gobbledygook. And disingenuous whining is a good way to lose a sympathetic audience.
If I were in charge at Utah, I'd change it to "Utah Fan."
And you folks know I'm up to snuff and never bluff.
April, 11, 2014
Apr 11
10:00
AM ET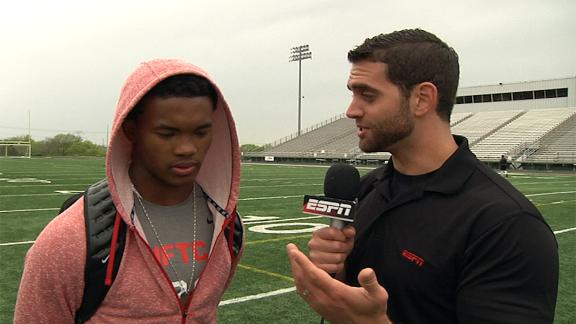 Throughout this recruiting cycle, RecruitingNation will profile a number of ESPN 300 prospects in the 2015 class, including an inside look at the prospect, his recruitment, a scouting report and what college program could benefit when he ultimately makes his decision.
DESOTO, Texas -- When describing quarterbacks, there are certain words and terms that are often used.
Those often heard are winner, clutch, leader, resilient, precise, competitive, field general, accurate, playmaker, calm, cool and collected, among others.
In the case of Under Armour All-America quarterback
Kyler Murray
, they might all apply.
To continue reading this article you must be an Insider
April, 11, 2014
Apr 11
12:42
AM ET
ESPN.com news services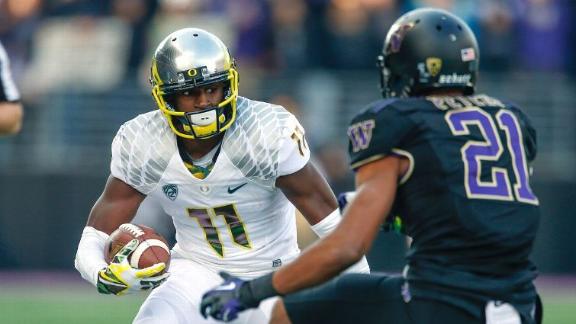 The Oregon Ducks have lost top returning receiver Bralon Addison to a torn ACL suffered Wednesday in spring practice, according to multiple reports.
Addison's knee injury could shelve him for the season, the reports said, leaving the Ducks with a void at the position. The team lost its No. 1 and No. 3 receivers in Josh Huff and Daryle Hawkins, who were seniors in 2013.
Addison had 61 catches for 890 yards with seven touchdowns last season, when Oregon's top four receivers accounted for 72 percent of the receiving yardage and the season receiving touchdown total.
But Addison was the only player of those who was to return.
Oregon was hoping he could use that experience not only to step up as a player but also lead the other younger receivers.
Senior Keanon Lowe also returns. He played in 12 games and started three for the Ducks but averaged just 19.4 yards per contest.
Oregon was ranked No. 9 in the last Associated Press Top 25 poll of the season. The Ducks finished 11-2 after a 30-7 win over Texas in the Valero Alamo Bowl.
ESPN.com's Chantel Jennings contributed to this report.

ESPN 300 Ranking Motivates Byron Cowart
PAC-12 SCOREBOARD
Thursday, 8/28
Friday, 8/29
Saturday, 8/30