December, 5, 2013
12/05/13
2:00
PM ET
Join us for our weekly chat today -- Thursday! -- at noon PT or 3 p.m. ET.
Click here to join the fun
.
We can talk Pac-12 title game, coaching intrigue, bowl games or you can just show up to rage about anything you like.
December, 4, 2013
12/04/13
5:30
PM ET
As is common every summer, we throw together the
Pac-12 Ultimate Road Trip
series to get you through the dog days. It also gives me something to do while Ted is jet setting across the South of France. The "Road Trip Revisited" post was a hit last season. So we bring the 2013 edition.
Week 1
Our pick
: Boise State at Washington
End result
: A 38-6 smackdown that pushed the Huskies into the Top 25 and sent a clear message to the rest of the country that Washington was ready to be a ranked team.
In retrospect
: Surprisingly, the most entertaining game was Oregon State's loss to Eastern Washington. But knowing what we know now, a trip to Auburn may have been worth the time to see WSU push the Tigers to the brink.
Week 2
[+] Enlarge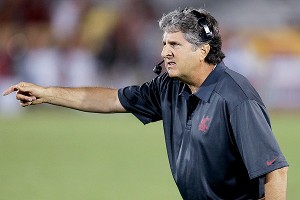 AP Photo/Chris CarlsonCoach Mike Leach and Washington State stunned USC in Week 2 of the season.
Our pick
: Washington State at USC
End result
: The Cougars pulled off an early-season stunner -- and they did it with defense.
In retrospect:
I remember taking some heat for this pick. I suppose a trip to Cal might have been nice to see what would be the Bears only win this season. But I think we made the right call given the fact that the Cougars are bowl eligible and this win is a major reason why.
Week 3
Our pick:
UCLA at Nebraska
End result
: It was an emotionally-heavy week for the Bruins following the
death of Nick Pasquale
. After a sluggish start, the Bruins exploded in the second half en route to a tearful 41-21 win in Lincoln.
In retrospect
: It was hard not to feel great for Jim Mora and the Bruins. Who didn't get chocked up when
Anthony Jefferson
recovered that fumble and ran the ball to Mora with a big hug? The Pac-12 blog certainly did. But for entertainment value, watching Utah and Oregon State exchange late touchdowns and go to overtime, which the Beavers won 51-48, was thrilling.
Week 4
Our pick:
Arizona State at Stanford
End result
: The Cardinal stomped the Sun Devils through three quarters, holding a 39-7 lead before a few late touchdowns by ASU gave us the final 42-28 margin.
In retrospect
: We thought this game would be better. And maybe Saturday's Pac-12 championship game between these two teams will be. But the Holy War produced another thriller – and another Utah win.
Week 5
Our pick
: USC at ASU
End result
: A high-scoring affair that propelled the Sun Devils to the top of the South Division and ended Lane Kiffin's coaching tenure. All in all, a pretty exciting and impactful game on the Pac-12 landscape.
In retrospect:
It was a rain-soaked weekend, so we're thinking we made the right call with this pick.
Week 6
Our pick
: Washington State at California
End result
: The Air Raid out dueled the Bear Raid.
In retrospect
: OK, so we were looking for a little diversity with this pick. And the Mike Leach vs. Sonny Dykes storyline was fun. ASU-Notre Dame was pretty exciting. But Washington at Stanford provided some of the most entertaining football this year. Tight game, controversial calls, and the squabbling fallout about injuries that carried over into the next week was delicious.
Week 7
Our pick
: Oregon at Washington
End result
: 10 in a row.
In retrospect
: Utah provided one of the biggest upsets of the college football season with its win over Stanford. It shook up the rankings and surely was a turning point for the Utes. Of course, weeks later, we know Stanford is back in the title game and Utah (plagued by an injured
Travis Wilson
) went on to lose five of its final six.
Week 8
Our pick
: USC at Notre Dame
End result
: Watching USC's offense in Notre Dame territory was painful as the Trojans dropped their first game of the Ed Orgeron era.
In retrospect
: This was a taking case of business sort of week as the Cardinal got back on track against UCLA, Oregon topped Washington State, ASU pummeled Washington etc. For as frustrating as the USC game was to watch, it was probably the best for entertainment value.
Week 9
Our pick
: UCLA at Oregon
[+] Enlarge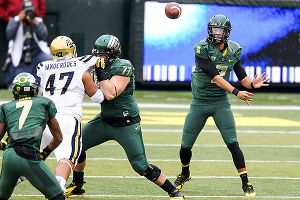 Steve Conner/Icon SMIQB Marcus Mariota and the Ducks had no problem with UCLA in Week 9.
End result
: The Ducks handed the Bruins their second straight road loss and exploded for 21 fourth-quarter points in a 42-14 win.
In retrospect:
Stanford at Oregon State turned out to be a pretty close game -- especially after a late Stanford turnover brought the Beavs back into contention. Utah at USC was pretty sloppy. Not a ton of great games, so we'll stick with this one as the top pick for what we knew at the time.
Week 10
Our pick
: USC at Oregon State
End result
: The Trojans snapped their Corvallis Curse and suddenly people were asking two questions: 1) Can USC make a run in the South? 2) Should Ed Orgeron be our head coach permanently?
In retrospect
: Arizona and Cal was tighter than a lot of people thought it would be. But with only four games on the docket, USC-Oregon State was the game that made the most sense -- and still does.
Week 11
Our pick:
Oregon at Stanford
End result
: The Cardinal pounded away for 45 minutes (and 45
Tyler Gaffney
carries) en route to their second straight win over the Ducks.
In retrospect
: There should be no arguments here, this was the game of the week. Amazing atmosphere (good work, Cardinal fans) and the Ducks made it thrilling in the fourth quarter. Great times all around.
Week 12
Our pick
: Stanford at USC
End result
: The Trojans turned the league back on its head with a last-minute field goal victory -- keeping with theme of amazingly close games between these two teams.
In retrospect
: We didn't know it when the Ultimate Road Trip was written, but this week would be flip week. I was in SEC country and Ted was in The Little Apple. I vividly recall following the Stanford-USC ESPN.com gamecast on my cell phone during Steve Spurrier's postgame news conference. The UCLA game was fun to watch because it showed
Myles Jack
was more than a one-week wonder. But we got it right with this pick.
Week 13
Our pick
: ASU at UCLA
End result
: The Sun Devils locked up the Pac-12 South championship with a signature road victory. They built a huge lead, but UCLA stormed back in the second half and had a chance to win on the final drive.
In retrospect
: We theorized in the preseason that this game would determine the winner of the Pac-12 South. And we were right. What we didn't know was that the outcome of the Oregon-Arizona game would determine the winner of the North. We still feel solid about this pick. But if you made the trip to Tucson, you saw one of the biggest upsets of the year.
Week 14
Our pick
: UCLA at USC
End result
: The Bruins topped the Trojans for the second straight year and won at the Coliseum for the first time since 1997.
In retrospect
: Surprisingly, this game turned out to be pretty one-sided. Given the fact that UCLA was coming off a loss and USC had a ton of momentum, it actually wasn't all that thrilling of a game. The real action was in Eugene – where the Ducks pulled out a last-minute, one-point victory over the Beavers.
December, 4, 2013
12/04/13
2:30
PM ET
This wasn't the person he'd thought he was, or would have chosen to be if he'd been free to choose, but there was something comforting and liberating about being an actual definite someone, rather than a collection of contradictory potential someones.
December, 4, 2013
12/04/13
2:00
PM ET
There was some good news for the Pac-12 in the updated
class rankings
released on Wednesday as Arizona, Arizona State and Oregon all moved up. The Wildcats maintained their grip on the top class in the conference and now sit at No. 18 overall. The Sun Devils jumped two places -- from No. 24 to No. 22 -- largely on the strength of a commitment from four-star running back
Demario Richard
(Palmdale, Calif./Palmdale), and in doing so, leapt Stanford for the No. 2 spot in the Pac-12. The Cardinal slid two spots, down to No. 25 overall, while Oregon remains the fourth conference team among the top 40, up to places to No. 30 overall. Here's a look at the
conference's rankings.


Trending up:
In the 2013 class, Arizona State didn't sign and enroll a single four-star high school prospect. With Richard's commitment on Monday, the Sun Devils now have eight in their 2014 class. While Richard is the first commitment since mid-November, Arizona State's on-field performance has recruits buzzing about the future of the Sun Devils and with a win this weekend, coach Todd Graham will have an opportunity to close out this class in a big way.
To continue reading this article you must be an Insider
December, 4, 2013
12/04/13
9:39
AM ET
When I wrote in an Insider article two years ago that the Pac-12 had an opportunity to close the gap between it and the SEC as the top college football conference in the country (an article that drew its fair share of discussion), Pac-12 commissioner Larry Scott was still in the formative and visionary process of building up the league. He had brokered the richest television deal in college sports, and the conference was taking shape with its new members and new direction.
Two years later, the conference continues to close the gap, and while its 12 members cannibalized their own chances at a BCS title in 2013, the vision continues to look very promising. Here are four reasons the Pac-12 continues to pose a long-term threat to the SEC in terms of college football supremacy.
To continue reading this article you must be an Insider
December, 3, 2013
12/03/13
9:07
PM ET
I give
Marcus Mariota
a lot of credit for his decision to return to Oregon for his redshirt junior season. While this is a very deep class of quarterbacks, there isn't a clear-cut elite QB prospect, and with the number of QB-needy teams at the top of this year's draft, there was an opening for him to be the No. 1 overall pick. I think that if he had decided to leave, he would have been the first quarterback taken.
But even though he's turning down a huge paycheck for this upcoming season, I think he made the right decision.
My guess is that part of Mariota's choice was a result of him evaluating himself and realizing that he still has room to grow as a quarterback. His regular season didn't end in the same positive way you might have expected based on his early-season play, and a knee injury that limited his running ability was a big reason why. His explosiveness as a runner is a big part of his game, so when that was taken away it forced him to be more of a pocket passer, and showed him that he's not quite where he needs to be in that area.
Read the rest of the story
here
.
December, 3, 2013
12/03/13
7:18
PM ET
After a trying second half of the season, Christmas came early for Oregon coach Mark Helfrich when quarterback
Marcus Mariota
announced Tuesday that
he would return for his redshirt junior season
instead of entering the NFL draft, in which he almost certainly would have been an early first-round selection.
As a stocking stuffer, two-time first-team All-Pac-12 center
Hroniss Grasu
also announced he will return.
Goducks.com
, the school's athletics website, announced the news for both.
[+] Enlarge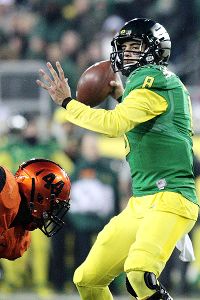 Scott Olmos/USA TODAY SportsMarcus Mariota will return to Oregon next season as a Heisman Trophy favorite.
While the Ducks probably are going to say goodbye to receiver
De'Anthony Thomas
and cornerback
Ifo Ekpre-Olomu
, who have yet to announce their intentions, Mariota's decision does make one thing clear: Oregon will be the favorite to win the Pac-12 in 2014, the first year of the four-team College Football Playoff.
Mariota, a first-team All-Pac-12 selection for a second consecutive year, will be the preseason favorite to win the Heisman Trophy as he captains an offense that looks like it will welcome back eight starters, a calculation that doesn't include DAT or RB
Byron Marshall
, the Ducks leading rusher.
While the Ducks' defense will take a few hits, Helfrich's second team appears stacked and ready for a potential bounce-back season. North Division rival Stanford will be replacing a number of key stars on both sides of the ball, including eight players who earned first- or second-team All-Pac-12 honors.
Mariota completed 227 of 360 attempts for 3,412 yards with 30 touchdowns and four interceptions and rushed for 582 yards and nine touchdowns this season. He set a Pac-12 record from the end of last season into this year by attempting 353 passes without an interception. He ranks second in the nation in ESPN.com Stats & Information's Total QBR.
Of course, a knee injury suffered against UCLA on Oct. 26 hampered him over the second half of the season, most notably in the Ducks' first loss at Stanford. Still, the Ducks "down" year produced a 10-2 record, a sixth consecutive 10-win season with a bowl game left to play.
Mariota's return means that as many as 10 conference teams could welcome back their 2013 starting quarterback. We still await word from UCLA's
Brett Hundley
and Oregon State's
Sean Mannion
on whether they will enter the NFL draft. The return of Utah's
Travis Wilson
is up in the air due to health issues.
Only Arizona and Washington started seniors at QB this year.
The dual return of Mariota and Grasu means the brains of the Ducks' offense will be back in 2014. Grasu, perhaps the nation's top center, should have a mastery of the Ducks' offensive line calls, while Mariota figures to own an Andrew Luck-like knowledge of the nuances of the Ducks' offense as a third-year starter.
That's a huge advantage heading into 2014.
Further, their return is a vote of confidence in Helfrich. If one or the other didn't believe in the Ducks' first-year coach, they almost certainly would have moved on.
The only Ducks who might be unhappy with Mariota's decision are backup QBs
Jeff Lockie
and
Jake Rodrigues
, who will be redshirt sophomores next season. They probably expected to be in a hotly contested competition for the starting job this spring. That said, they might benefit from another year of seasoning playing behind a future high NFL draft choice.
Of course, sometimes the celebrated return of a QB doesn't always work out (see: USC's Matt Barkley in 2012). Fans and NFL scouts will expect Mariota to be even better next fall. Comparable numbers might be viewed as a sign of his plateauing.
But that's a potentiality that isn't worth fretting over today.
Oregon fans were frustrated when the program lost two of its final four games and fell out of the national title race. Here's a guess that those frowns just turned upside down.
December, 3, 2013
12/03/13
5:43
PM ET
Quarterback Marcus Mariota will bypass the 2014 NFL draft and return for his junior season at Oregon, it was announced Tuesday.
Mariota, a first-team All-Pac-12 selection for the second straight year, has completed 227 of 360 attempts for 3,412 yards with 30 touchdowns and four interceptions. The redshirt sophomore set a Pac-12 record from the end of last season into this year by attempting 353 passes without an interception. The streak came to an end on his first attempt against Arizona on Nov. 23.
"It is an honor to be a student at the University of Oregon and to have the opportunity to represent our institution on the football field alongside my teammates," Mariota said in a statement released by the school. "I look forward to earning my degree next year and to the rest of my career at this great university."
Mariota ranks second nationally behind Florida State's Jameis Winston with a 90.1 Total QBR and is third on the team with 582 rushing yards and nine touchdowns on 81 carries.
He should again receive considerable buzz and be among the early favorites for the Heisman Trophy in 2014.
In two seasons, Mariota has 6,089 passing yards, 77 total touchdowns and only 10 interceptions. His streak of 25 games with at least one TD pass is third-longest in the nation.
In addition, Hroniss Grasu, a three-year starter at center, announced that he is returning to the Ducks.
December, 3, 2013
12/03/13
5:30
PM ET
Pushed the mailbag back a few hours to field some questions on Steve Sarkisian, the all-league teams and more. Plenty to talk about with only two teams playing this week.

Tim in Atlanta writes:
Is there really any justification for
Josh Huff
being left off
the 2nd team all-Pac team this year
? He had 200 more yards than montgomery and 57% more TD than Strong. Standings shouldn't matter in this, and the fact that Huff is the first WR in years to have 1000 yards in Oregon's spread-it-around system should say a lot. Seems like voters punished him for Oregon's offensive firepower instead of rewarding a guy for standing out on a team full of offensive talent... or maybe they didn't the game on friday.
Kevin Gemmell
: Well, the voters are the coaches. And having talked to the coaches over the last couple of years, I can tell you this isn't something they farm out to assistants. The ones I've spoken with about the process take it pretty seriously.
The stats are there, no question. And I was sitting in a bar in Pasadena Friday night watching the Civil War feeling very happy for Huff to have that kind of a game. He's taken a lot of heat over the last month -- some of it was deserved, some of it wasn't.
But I think that also could have played a factor. Coaches are bias, just like everyone else who votes. They have their favorites. And perhaps Huff's Rose Bowl comments didn't sit well with the coaches. I'm just speculating, but I don't think it's too far of a reach.
A lot of questions and speculation about the Pac-12's Rose Bowl partner
– including questions from Kelly in Bend, Ore., Josh in Mesa, Ariz., and Greg in San Francisco. So I'll lump them all together into one answer. It breaks down to this: Could Alabama play in the Rose Bowl Game presented by VIZIO.
Kevin Gemmell
: Short answer: yes, with an if. And no, with a but.
The winner of the Pac-12 championship game heads to the Rose Bowl no matter what, since neither Stanford nor Arizona State are under consideration for the VIZIO BCS National Championship game.
The Big Ten is a different story since Ohio State is now in play for the title game. If Ohio State beats Michigan State, chances are it goes to the BCS championship game and therefore the Big Ten forfeits its entry into the Rose Bowl. That leaves a void.
The obvious solution is Michigan State to Pasadena. The kicker, however, is whether Michigan State is still in the top 14 of the BCS rankings. If Michigan State wins, it will go to the Rose Bowl. If it loses and falls out of the top 14, a replacement team needs to be found.
The optimal solution is for either Michigan State to win or Ohio State to win, but Michigan State puts up a good enough fight that it stays within the top 14. There is nothing the Rose Bowl committee wants more than a Pac-12-Big Ten matchup for the 100th game. Preserving that tradition is important to them.
But it might be out of their control.
Assuming Florida State goes to the championship game, the Discover Orange Bowl would have the first pick at filling its spot. It's hard to imagine Alabama slipping through. However, if for some reason it does, then I wouldn't be shocked for the Rose Bowl to snatch up Alabama. But a few things need to happen for that scenario to play out.
John in Los Angeles writes
: A case for [Jim] Mora being Coach of the Year. First, let me say I don't know much about the other teams in the conference. Being in LA I of course know the saga of Southern Cal, and I do think Coach Orgeron has done a great job. That having been said, here are my points (in no particular order save point 1).
The death of a player: You have brought this up a few times and it likely goes without saying how this impacted the team. Some might say kids this age are resilient and there is some truth to that notion. However I still think Mora did a great job in handling the situation.
Replacing Franklin: I don't really remember seeing this mentioned much other than at the start of the season. Franklin not only became the schools leading rusher he was a team leader. That is a tough combination to replace.
Replacing the secondary: This job became even harder when Riley had to retire. I don't know how young we were back there but IIRC it was fairly young all season.
Injuries along the offensive line: This one is pretty well documented.
Freshman punter: I don't think people appreciate how good Jeff Locke was last year in terms of field position. Then to have to replace him with a true freshman to boot (pun intended).
With all of those things UCLA was one poor half away from winning the South. Like I said, I don't know much about the other teams and what they had to go through this year. But I think going 9-3 with 2 of the three losses coming on the road to (then) top 5 teams in back to back weekends and the only other loss to a top 20 team with having to deal with all the stuff above, Mora deserves some serious consideration for Coach of the Year.
Kevin Gemmell
: This one came in on Sunday, before the coach of the year was named, but I still think everything John just mentioned is worth addressing, because everything he says is correct. And I don't know what the totals were in terms of voting for coach of the year. I have to imagine Mora got a few votes.
But it's tough to ignore the job Todd Graham has done at Arizona State. Before the season, most people didn't expect the Sun Devils to win the South (outside of the Pac-12 blog) and they started the year unranked. When you look at the schedule they played and the way they won games down the stretch -- home and away, blowouts and come-from-behinds -- I would have voted for Graham also.
Mora did a fantastic coaching job this year. And winning at the Coliseum last week was obviously a huge step forward for the program. But they had a chance to seize control of the division at home and couldn't get it done.
From where ASU started the season -- unranked -- to where it is now, Graham was the right choice.
The Heisman Committee in New York writes
: Kevin, you told us recently that the Pac-12 would send 1 Heisman finalist and it would be
Marcus Mariota
? Should Carey go? Should he take Mariota's place? Is there any chance we invite both? Do either have a chance of beating Winston and the field given Winston's legal troubles? We're so overwhelmed by this season that we could really use all the help we can get.
Kevin Gemmell
: Pretty sure I told you that in October during a chat. Chat answers are obviously gut feelings at the time, and at the time Mariota seemed like a safe choice.
Have the circumstances changed? Absolutely. I think when all is said and done, it should either be
Ka'Deem Carey
or
Bishop Sankey
who represents the Pac-12 in the Heisman voting.
I made a case earlier today
for one of the two Pac-12 backs winning the Doak Walker. And I think if the Heisman doesn't go to a quarterback, then it should go to one of the two backs. And I'd be a Carey lean simply because of the consistency every week.
Yes, Sankey supporters, I know he sat out a lot of the Idaho State and Colorado games. Carey missed time too. Both are phenomenal backs and regular Pac-12 blog readers know that I've been high on Sankey for a very long time.
But his performances in the ASU and UCLA games are the sort of showing that haunt players when it comes to postseason awards. If I were a voter, my main focal point would be consistency and complete body of work. And Carey showed that against the toughest competition he played his best ball.
Emily in LA writes
: Well, I guess you can ignore my last question now that it's completely irrelevant after today's news. I'll withhold judgment on Sarkisian (and learn to spell his name) after I see how he does, but I'm still sad about Coach O leaving.
Kevin Gemmell
: Emily submitted a question on Sunday showing support for Ed Orgeron and questioning whether the UCLA loss should play a major factor in Pat Haden's decision. It can still be answered despite the changes, because we now have the benefit of hindsight.
I'm pretty sure it didn't rest on that one game -- though it probably made it easier. No doubt, Orgeron did a magnificent job. He tapped into something special with his players and rode it for as long as he could.
For kicks, let's say he were named the head coach. A lot of the inspiration he had this season -- that nothing-to-lose attitude -- would be gone. That's not to say he couldn't get the job done. But these past seven weeks have been a pretty exceptional situation.
Haden is thinking about the long-term health of the program. It can't just be five weeks from now. It has to be five years from now. And it's tough to separate the emotion of what went on the last few weeks with what the future is going to hold.
Keep in mind though the two games Orgeron did lose -- Notre Dame and UCLA. Those are rivalry games. USC fans expect their team to beat Cal and Utah and yes, even Oregon State in Corvallis. But they also expect wins over rivals. And that's something Orgeron failed to provide.
Don't get me wrong. The Pac-12 blog was very impressed with what Orgeron was able to do. And there is obviously a level of disappointment in him leaving.
But he had to go. Sark needs a clean slate to start with, and Orgeron's presence, while probably wanted by the players, would have been more of a distraction to the new administration.
It's like breaking up with your girlfriend, but tagging along with her on dates so you can tell her new man her likes and dislikes. It's uncomfortable and awkward.
December, 3, 2013
12/03/13
4:30
PM ET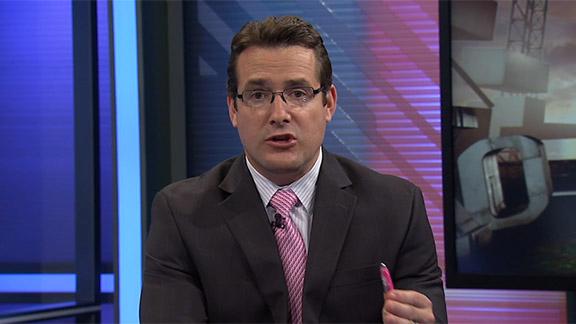 Several junior college prospects made immediate impacts in the Pac-12 this season, including
Jaelen Strong
at Arizona State,
Steven Nelson
at Oregon State and
Vince Mayle
at Washington State. The 2014 crop of junior college standouts will undoubtedly reveal a number of instant-impact players in the conference. Looking at the
ESPN JC 50
, five prospects stand out as important targets for conference teams.
1. DT Alfonso Hampton (Chula Vista, Calif./Southwestern College):
The No. 10 overall prospect and No. 3 defensive tackle is only just tapping into his potential, as this is only his second year playing football. Hampton won't be a mid-year enrollee, so a number of schools are waiting to offer until they are sure that he will be academically ready to leave next spring. Arizona State, Oregon and USC have expressed interest and it wouldn't be surprising to see that interest turn to offers in the coming weeks.
To continue reading this article you must be an Insider
December, 3, 2013
12/03/13
2:30
PM ET
I've heard another rumor, that you were bitten by a king cobra?
Yeah, I was. But after five days of agonizing pain, the cobra died.
October, 23, 2013
10/23/13
10:50
AM ET
By
RecruitingNation
| ESPN.com
Each Wednesday, ESPN RecruitingNation updates its national class rankings and its conference class rankings. The conference rankings account for teams that will play in those conferences during the 2014 season.
Conference rankings: ACC | Big 12 | Big Ten | Pac-12 | SEC
ACC
The majority of the ACC remained intact with BCS national champion Florida State still in the top spot followed by Miami at No. 2. Georgia Tech slipped to No. 12, allowing Duke to push up a spot to No. 11. Wake Forest remains in the bottom spot, but the Demon Deacons strengthened their class with a couple pick-ups led by three-star DT Zeek Rodney.

1. Florida State Seminoles: 1.Florida State Seminoles: The Seminoles' class includes 12 ESPN 300 prospects, including No. 21-overall Dalvin Cook (Miami/Central High) and No. 33-ranked Lorenzo Featherston (Greensboro, N.C./Page High, who both committed during Under Armour All-America practices. The Noles could close with possibly up to 31 or 32 prospects in the class. No. 15 Marlon Humphrey (Hoover, Ala./Hoover High), No. 17 Malachi Dupre (River Ridge, La./John Curtis High), No. 22 Ermon Lane (Homestead, Fla./Homestead High) and No. 60 Malik McDowell (Southfield, Mich./Southfield High) are among those still in play.

2. Miami Hurricanes: The Hurricanes boast a class that features double digit ESPN 300 prospects, including No. 23 Joseph Yearby (Miami/Central High) and No. 36 Kc McDermott (Wellington, Fla./Palm Beach Central High). At the top of the wish list is getting No. 164-ranked Travonte Valentine (Hialeah, Fla./Champagnat Catholic) back in the fold with a decision coming from the Hurricanes and LSU.

3. Clemson Tigers: Clemson is putting together another solid class, led by No. 1 dual-threat quarterback Deshaun Watson (Gainesville, Ga./Gainesville High) and an impressive group of offensive skill players. Among the bevy of skill players are three ESPN 300 wide receivers, including the latest commit Trevion Thompson (Durham, N.C./Hillside High). The Tigers have nine ESPN 300 prospects committed.

4. Virginia Cavaliers: The Cavaliers have the smallest class among nationally ranked teams, but No. 5 overall Andrew Brown (Chesapeake, Va./Oscar Frommel Smith High) and No. 10 Quin Blanding (Virginia Beach, Va./Bayside High) are two of the very best in the country. ESPN 300 wide receiver Jamil Kamara (Virginia Beach, Va./Bishop Sullivan Catholic) is among Virginia's five ESPN 300 commits.

5. Virginia Tech Hokies: The Hokies is led by ESPN 300 athlete Ja'Von Harrison (Lakeland, Fla./Kathleen High) and No. 299-overall Ricky Walker (Hampton, Va./Bethel High). Running back Shai McKenzie (Washington, Pa./Washington High) was a key December pickup for the Hokies as was Under Armour All-America linebacker Melvin Keihn (Baltimore, Md./Gilman School) and quarterback Chris Durkin (Youngstown, Oh./Ursuline High).

6. North Carolina Tar Heels: The Tar Heels class is headlined by a trio of ESPN 300 prospects, including running back and No. 80-overall Elijah Hood (Charlotte, N.C./Catholic High). Three-star outside linebacker Cayson Collins (Charlotte, N.C./Phillip O. Berry Academy of Technology) is full of upside. Kicker and former Texas commit Corbin Daly (Charlotte, N.C./Ardrey Kell High) is a key late addition.

7. NC State Wolfpack: The Wolfpack's class features No. 68-ranked Kentavius Street (Greenville, N.C./J. H. Rose High) and four-stars quarterback Jalan McClendon (Charlotte, N.C./West Mecklenburg High) and defensive tackle Justin Jones (Austell, Ga./South Cobb High). Flipping OG Will Richardson (Burlington, N.C./Hugh M. Cummings High) from Virginia gives the Wolfpack a second ESPN 300 prospect.

8. Boston College Eagles: The Eagles are led by former Rutgers commit and No. 282-ranked Jonathan Hilliman (Jersey City, N.J./Saint Peters Prep), as well as Connor Strachan (Wellesley, Mass./Saint Sebastian's School) and defensive end Harold Landry (Fayetteville, N.C./Pine Forest High), who has already enrolled. Coach Steve Addazio's class includes Florida transfers Tyler Murphy and Ian Silberman.

9. Pittsburgh Panthers: The Panthers struck early at quarterback, landing commitments from Wade Freebeck (Fort Lauderdale, Fla./Saint Thomas Aquinas) and Adam Bertke (Maria Stein, Ohio/Marion Local), and also have a pledge from high three-star running back Chris James (Niles, Ill./Notre Dame High). ESPN 300 prospects Adonis Jennings (Erial, N.J./Timber Creek Regional) and offensive tackle Alex Bookser (Pittsburgh, Pa./Mount Lebanon High) were nice Christmas and New Year's presents for the Panthers staff.

10. Louisville Cardinals: The Cardinals' class has taken a hit with the departure of Charlie Strong. Louisville has found continued success in Florida, Georgia and South Carolina with seven combined commitments, but keeping the class together is the task at hand for Bobby Petrino. Four-star defensive tackle Daniel Cage (Cincinnati/Winton Woods) remains high on Louisville's wish list.

11. Duke Blue Devils: The Blue Devils' class features four-star prospects Nicodem Pierre (Miami/Coral Reef High), Zavier Carmichael (Mobile, Ala./Saint Paul's Episcopal) and Shaun Wilson (Charlotte, N.C./West Mecklenburg High). Duke remains in the hunt for four-star wide receiver Trevon Lee (Fort Lauderdale, Fla./Cardinal Gibbons High) and others. Three-star defensive tackle Edgar Cerenord (Plantation, Fla./American Heritage High) is another key pledge on the defensive side of the ball.

12. Georgia Tech Yellow Jackets: The Yellow Jackets have a solid group, led by four-star cornerback Stepheny Durham IV (Jacksonville, Fla./Atlantic Coast High) and running back C.J. Leggett (Alpharetta, Ga./North Gwinnett High). Linebackers Terrell Lewis (Ocoee, Fla./Ocoee High) and KeShun Freeman (Hogansville, Ga./Callaway High) could be instant contributors.

13. Syracuse Orange: Syracuse has a pair of four-star dual-threat QBs in A.J. Long (Lebanon, Tenn./Friendship Christian School) and Alin Edouard (Hialeah, Fla./Hialeah) as the headliners of a class that includes over a dozen three-star commits. Three-star KJ Williams (Bethlehem, Pa./Liberty High) is a potential playmaker at wide receiver.

14. Wake Forest Demon Deacons: The Demon Deacons boast commitments from nine states, led by outside linebacker Jaboree' Williams (Fort Lauderdale, Fla./Fort Lauderdale High). Eight of the Demon Deacons commitments are from Florida, Georgia and Alabama.
To continue reading this article you must be an Insider
ESPN 300 Ranking Motivates Byron Cowart
PAC-12 SCOREBOARD
Thursday, 8/28
Friday, 8/29
Saturday, 8/30