December, 13, 2014
Dec 13
8:03
PM ET
ESPN.com news services
NEW YORK -- Marcus Mariota wrote it all down, every word of his Heisman Trophy acceptance speech. It was a good thing, too, because getting through it might have been tougher than sprinting away from a linebacker or tossing a long touchdown pass for Oregon.
The Ducks' understated star won the Heisman on Saturday night going away, capping a three-year climb to college football's most prestigious individual award.
"I'm humbled to be standing here today,'' Mariota said moments after he was announced as the winner.
Mariota isn't a big talker, but he steadily worked through his speech, thanking his teammates, teachers, friends and his home state of Hawaii. He finally hit a snag when it came time to thank his mother and father. He needed to take two deep breaths and still got choked up.
"I had to give thanks to so many people because where I am today, it's all due to all those people," Mariota said later. "It's hard not to get emotional. It's been a long journey. My emotions got the best of me.''
A pinpoint passer with wide receiver speed, Mariota came into his junior season as the favorite to win the 80th Heisman and delivered a performance that turned the presentation ceremony at a theater in Times Square into a foregone conclusion.
Mariota received twice as many points as second-place finisher Melvin Gordon
December, 13, 2014
Dec 13
11:13
AM ET
By
ESPN.com staff
| ESPN.com
Oregon quarterback
Marcus Mariota
talks about what winning the Heisman Trophy would mean for his home state of Hawaii, and getting ready for the playoffs.
December, 12, 2014
Dec 12
5:30
PM ET
Happy "Mariota wins the Heisman" Eve!
Follow me on Twitter by clicking here
.
To the notes!
Stu from Seattle writes:
I know you all posted this week that the Pac-12 South
will be wide-open next year
-- and I agree completely -- but if you had to handicap the division, based on players returning, plus those likely to go pro early (a lot of critical 'SC players on that list, it seems), who do you favor RIGHT NOW to end up on top? No pressure.
Ted Miller:
At first, I thought I could just pop something out there when I picked this question. It was like a fat fastball coming at me just where I like it. Swing! Then I did some depth-chart reviews. Ah, Stu, you got me with the ole changeup.
Honest answer is I have no clue how to stack things up right now. You could make a compelling case for five teams, and the sixth, Colorado, stacks up like a potential bowl team if things fall favorably here and there. My initial intention, in fact, was to pick Utah, knowing that would flummox many of you traditional Pac-10 sorts. And you know how I enjoy flummoxing you traditional Pac-10 sorts.
Things are very interesting in the South, but we can't truly stack things up until we know who's entering the NFL draft early. We can make assumptions on some guys -- Arizona State WR
Jaelen Strong
and USC DE
Leonard Williams
seem sure to bolt -- but you just never know. There are going to be some surprise players staying and some surprise players going.
[+] Enlarge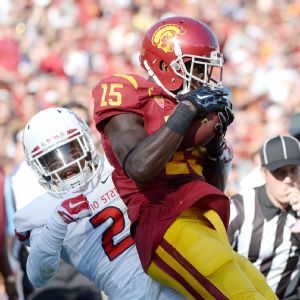 Harry How/Getty ImagesThe draft decision of Nelson Agholor and others will likely tip the balance of power in 2015 in the Pac-12 South.
At this point, I'm a slight lean to Arizona State. No, USC. No, ASU. Hmm. OK, I'll say the Sun Devils, but I might change my mind. In an hour.
How do things stack up?
Arizona:
Lots of skill and name players returning, but BIG hits on O-line and on defense. Still, QB
Anu Solomon
, RB
Nick Wilson
, LB
Scooby Wright
and a deep crew of receivers is a good place to start.
Arizona State:
Mike Bercovici
is pretty much like a returning starter at QB, and the defense will be much more experienced next fall. There is not a significant area that stands out as a weakness.
UCLA:
While most will focus on QB
Brett Hundley
leaving -- and there could be other early defections -- the Bruins could potentially welcome back 18 starting position players. So the big question is whether touted incoming QB
Josh Rosen
will be ready, or is there some other answer behind center?
USC:
We can't judge the Trojans until guys announce whether they are staying or going. If it's just one or two guys -- Williams? WR
Nelson Agholor
? -- then USC will be in the thick of things. And maybe the favorite.
Utah:
I've got Utah with potentially 17 position players coming back, though RB
Devontae Booker
bolting for the NFL would be a big hit. The offensive line will be a huge strength and there's good talent coming back on defense. Will the QB position -- I know: broken record -- take a step forward?
This, obviously, is a topic we will revisit. A lot.
---
Tim from Salt Lake City writes:
Do you expect the strength and depth of the Pac-12 South to last? Everything is about balance. For one team to win, another has to lose (not a terribly profound statement, I know). This year, that balance came in the form of several teams underachieving in the North, but Cal and Washington are trending up. Plus, I'm not ready to declare Stanford's reign over based on one underwhelming season. Could things be more balanced next year and, if so, which South team is most likely to regress?
Ted Miller:
I don't see any South regression. It might, actually, end up stronger in 2015 than it was this year, particularly if players stick around instead of entering the draft and UCLA solves its QB question adequately.
The North, actually, is a better candidate for regression. Perhaps a significant one. I think Oregon will slip post-
Marcus Mariota
, but the Ducks still welcome back a strong core of talent. I expect them to be a slight favorite again in 2015, particularly with Stanford taking some huge hits on defense.
As for Cal and Washington trending up, I'm with you on the Bears, but I don't know about the Huskies, who take some monster losses on defense and aren't really scintillating on offense either. Oregon State will be breaking in a new coach and quarterback and rebuilding its defense, while Washington State fills me with uncertainty after I just knew last August the Cougars would take a big step forward this year.
I actually think the Cougs could be dangerous in 2015, but I'm not going to type that because it surely would throw the jinx on them, and Coug fans would blame me for doing that.
---
Brian from Boston writes:
Looking at
Cody Kessler
's upcoming decision, I can't help but wonder, would he be off leaving after this year? It pains me to say it but, although his stock is not nearly as high as Matt Barkley's was after his junior year (even though his numbers are better), if he leaves now he will be a second-day pick but will probably end up on a better team, with less expectations. However, if he stays, he could get hurt, his numbers could decline and his stock could drop, or he could end up having much higher expectations.
Ted Miller:
I think Kessler wants to come back, though I think he's more torn at present than he was several weeks ago, when he was talking about lobbying other Trojans considering the NFL to stick around.
You could make a case either way. Kessler has certainly boosted his stock this season, but he could play his way solidly into the first round next year.
I don't think he'll be fretting playing his way into a high draft pick and then ending up on a bad team. I've never heard a college player say he left early to avoid being drafted sooner the next year, fearing an early first-round pick could become his ruin.
---
David from Beaverton, Oregon, writes:
Fun/hypothetical question -- you guys like those, right? For each Pac-12 team if you could take one player from another Pac-12 team and add them to said team, who would you take and why? And maybe we need some boundaries on this, like no QB's or something like that, because it would be boring if everyone chooses Mariota. The player can either make the new team better or more interesting. For example, as an Oregon fan, while I like our front seven a lot, I think we could really take it up a notch with a top-flight pass rusher like
Hau'oli Kikaha
. But wouldn't it also be really interesting if Nelson Agholor,was on the team even though he's probably not needed as much? Imagine him in space with the other Ducks playmakers. Anyway, what do you think?
Ted Miller:
I actually do this all the time. My favorite in 2014 was imagining what Utah might have been this year with Marcus Mariota at quarterback.
(Inserting pause here for Utah fans to emerge from their swoon, though Washington fans are surely noting the Huskies were the only other Pac-12 team to recruit Mariota).
I'm not going to go through each team because every team could benefit from a Strong or Agholor or a Williams or an
Ifo Ekpre-Olomu
. But I do have one.
What if Arizona defensive coordinator Jeff Casteel and his 3-3-5 scheme could get a monster nose tackle, such as a
Danny Shelton
? You think Scooby is productive now? Imagine what he could do with a massive, demands-a-double-team presence in front of him.
---
Michael from Steubenville, Ohio, writes:
When the Rose Bowl hosts the semifinal between Oregon and Florida State, will the winner receive the Leishman Trophy?
Ted Miller:
Yep. The Rose Bowl folks are treating this one just like any other Rose Bowl, though obviously it's not a traditional Pac-12-Big Ten matchup. It's the 101st Rose Bowl, quasi-pure and simple -- or the Twitter-unfriendly "College Football Playoff Semifinal at the Rose Bowl Game presented by Northwestern Mutual."
---
Mike from Dublin, California, writes:
This is a great video
that was made by UCLA covering the point when
Eric Kendricks
won the 2014 Butkus Award. It's a real tear-jerker and something worth watching and sharing.
Ted Miller:
Yes, that is very cool.
---
Kevin from San Francisco writes:
Win or Lose, Buffs forever
.
Ted Miller:
So it's cool video day.
December, 12, 2014
Dec 12
2:33
PM ET
By
ESPN.com staff
| ESPN.com
[+] Enlarge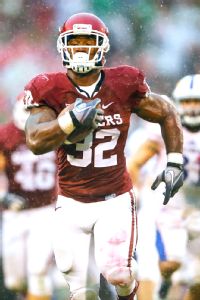 Kevin Jairaj/USA TODAY SportsSamaje Perine set the NCAA record for rushing yards in a single game. Not bad for a true freshman.
It seems like every year, true freshmen are having a greater impact on the game. This season continued that trend. There were so many good first-year running backs that great players such as Nick Chubb and Dalvin Cook couldn't find their way to this team. Meanwhile, a trio of SEC pass-rushers had immediate influence, with one even breaking Jadeveon Clowney's freshman sack record. Expect to hear a lot more from this group over the next few years.
Offense
QB: Brad Kaaya, Miami

This past summer was a disaster at quarterback for Miami, which lost starter Ryan Williams to injury and prospect Kevin Olsen to off-the-field issues, but Kaaya provided a resounding solution. After some early struggles on the road in his first start, Kaaya was exceptional and led the ACC in touchdowns (25), yards per attempt (8.6) and passer rating (148.2) while proving to be one of the best deep-ball threats in the country.
December, 12, 2014
Dec 12
2:00
PM ET
Melvin Gordon isn't thrilled that Marcus Mariota is the perceived front-runner to be named the 80th Heisman Trophy winner Saturday.
Speaking with the media during a gaggle in Lake Buena Vista, Florida, heading into Thursday night's Home Depot College Football Awards, the record-setting Wisconsin running back let loose a little frustration on his assumed second-place status.
"It sucks, honestly,"
Gordon, told reporters
. "You have such a good season, and then one game you go for 76 yards and everyone's got their front-runner."
[+] Enlarge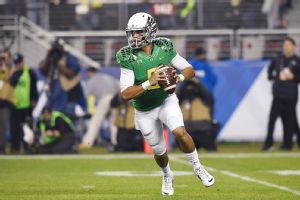 Thearon W. Henderson/Getty ImagesOregon quarterback Marcus Mariota has been responsible for 53 touchdowns while turning the ball over just five times this season.
Maybe it's sour grapes left over from that aforementioned 76-yard game, when Wisconsin was thumped 59-0 by Ohio State in the Big Ten title game. Maybe Gordon's mood was preset to peeved following the news that Gary Andersen was pulling the ole' Badger-Beaver switcheroo. Both would be understandable.
Here's the thing, though, the Doak Walker winner isn't totally wrong and his frustration is valid.
This sliver of the Pac-12 blog has long railed against the Heisman's evolution into the Dual-Threat Quarterback of the Year award. In fact, 12 of the past 13 Heisman winners have been quarterbacks. Not all of them were dual-threat guys. But as the game trends more toward the spread offense and dual-threat quarterbacks progress from en vogue to the norm, they will continue to put up numbers considered astronomical just a decade ago. The divide between quarterbacks and every other player on the field continues to widen.
And pretty much any other year, I'd stand right by Gordon and make a case that his 2,336 yards this season and career --
career
! -- 7.8 yards per carry were more than enough to give him the Heisman.
But not this season. Not with Mariota's combination of individual production and his team's success. This year, when the Heisman is awarded to Mariota, the voters can rest easily, knowing they nailed it.
This is a quarterback-driven game. And another position player would have to do something pretty spectacular to steal votes. Gordon did some pretty spectacular things. The problem for Gordon is that Mariota did, too. And the things he did as a quarterback outweigh what Gordon did as a running back.
So far Mariota has been responsible for 53 touchdowns while turning the ball over just five times (two interceptions). That is a turnover ratio of plus-48, second best among all FBS players in the past 10 years (Tim Tebow was at plus-49 in 2007, per ESPN Stats and Info).
Only two of his 372 passes have been caught by opposing players. That is slightly more than half a percent. If that holds, he'd break the FBS single-season record.
With so few interceptions, the natural criticism is that he's a dink-and-dunk passer. But that argument doesn't work. Mariota ranks first among Power-5 quarterbacks with 54 completions of 15 yards are more. On those passes, he's completing 56 percent (second among Power-5) and he has a touchdown-to-interception ratio of 19-1.
That he also has 669 rushing yards and 14 touchdowns on the ground is gravy. Mariota is a dual-threat quarterback, sure. But make no mistake, he's a quarterback first and foremost.
When he accepts the award in his landslide victory, he will be the first Heisman winner from the region since Oregon State's Terry Baker in 1962, and the first winner for the Ducks. For all the highlight clips and interviews with Mariota, Gordon and Alabama wide receiver Amari Cooper we'll see Saturday night, everyone knows the actual outcome will have about as much drama as an episode of "Doc McStuffins."
Back in August, the Pac-12 blog
posted a column
asking if this was the year the Heisman drought was going to end? The last "official" Heisman for the league was Matt Leinart in 2004. So despite the Toby Gerharts and Andrew Lucks of the world, it's been a long decade coming for the league.
There will be no East Coast bias/West Coast snubbery Saturday night in New York. The award for the best player in the country will go to the best player in the country. I can see why Gordon is upset. Any other year, it would be his.
Perhaps Mariota has set a precedent. His efficiency numbers are so outstanding, that it might be a decade before another quarterback tops them, or even enters the same atmosphere. Perhaps all future quarterbacks will be measured by the Mariota standard -- since he clearly blasted the standards of his predecessors. So maybe future Gordons will have an opportunity to win because Mariota's production won't be duplicated.
It's just too bad for Gordon it had to be this year. He might feel wronged. But the voters and the rest of the country know it's right.
December, 12, 2014
Dec 12
1:00
PM ET
By
Sharon Katz
| ESPN.com
Marcus Mariota
has been "Super Mariota" this season. He has been responsible for a Pac-12 record 53 touchdowns, leads the FBS in
Total QBR
(91.9) and has five turnovers in 489 passing and running plays.
We often point to Total QBR as an all-encompassing measure of quarterback success. After all, the leader in Total QBR has won the Heisman Trophy in four of the past seven seasons.
There is another metric, however, that could be an even better gauge of a quarterback's value to his team. Quarterback points above average (PAA) accounts for efficiency and the number of the plays in which a quarterback is involved. (Total QBR accounts only for efficiency).
So, while QBR is based on per-play efficiency, QB PAA measures total production of a quarterback. QBR is similar to yards per attempt (a rate stat) and QB PAA is similar to total yards (counting stat), while both account for efficiency and defenses faced. To derive the "above average" part of PAA, a quarterback's performance is compared to that of an average quarterback (average = QBR of 50).
It makes sense that a quarterback who is both efficient and involved in a lot of plays would receive greater consideration for the Heisman Trophy. Five of the past six Heisman Trophy-winning quarterbacks led the FBS in QB PAA before bowls.
According to QB PAA and based on recent history, Mariota is in a strong position to win the Heisman Trophy. Entering bowl season, he leads the FBS in QB PAA by more than 35 points. That means that over the course of the season, Mariota has added 35 more points to his team's net scoring margin than any other FBS quarterback, when compared to the baseline of an average QB.
Trevone Boykin
, the No. 2 quarterback on
ESPN's Heisman Watch,
doesn't rank in the top 10.
As Mariota continues to lead
the most efficient offense
in the nation, remember that he not only is operating at top-level efficiency, but also is involved in a large number of plays, pushing his value higher. This may be good omen for Mariota -- the past four quarterbacks who were the most efficient (No. 1 in Total QBR) and most productive (No. 1 in QB PAA) entering bowls went on to win the Heisman Trophy fairly easily.
December, 12, 2014
Dec 12
12:25
PM ET
Jameis Winston
carries Florida State into the inaugural College Football Playoff as a member of the small fraternity of quarterbacks who have simultaneously led their program to a national championship and won the Heisman Trophy.
It takes a rare mix of individual skill, team talent and luck to pull it off: Only eight have ever done it. With Oregon set to face off against Winston's Seminoles in this year's Rose Bowl playoff semifinal, Heisman finalist
Marcus Mariota
has a chance to be the next QB to join the club.
How many can you remember?
December, 12, 2014
Dec 12
11:00
AM ET
There is no such thing as a perfect All-Anything team, but the Pac-12 blog likes to believe its All-Pac-12 team came close.
Or at least inched closer than the
official All-Pac-12 team
, selected by the coaches, that listed UCLA's Butkus Award-winning linebacker
Eric Kendricks
on the second team. We agreed with most of their selections, but made a change in format and selected 12 offensive and defensive players (to account for varying schemes).
It still didn't feel like enough spots for the amount of deserving players.
So with that in mind, here are some more players that deserved consideration. It's not a second-team and doesn't mean these players were more deserving than others not listed, just a sampling of players to show how competitive these things are.
QB Brett Hundley, UCLA:
Without taking expectations into account, Hundley had a great season: 3,019 yards passing, 21 touchdowns, five interceptions. It might not have been what he or UCLA fans were hoping for, but still a season worth remembering.
QB Cody Kessler, USC:
All Kessler did was throw for 3,505 yards and 36 touchdown passes to just four interceptions as the Trojans scored 35.1 points per game. Put him in any other conference and he's a candidate for Offensive Player of the Year.
RBs Buck Allen (USC), Royce Freeman (Oregon), Nick Wilson (Arizona), D.J. Foster (ASU):
There wasn't a clear divide between the conference's six best running backs and there are convincing arguments for why each of these guys might actually be the best back in the Pac-12.
WR Nelson Spruce, Colorado:
Flip a coin between Spruce and WSU's
Vince Mayle
-- they finished tied for third nationally with 106 catches. Both players were equally deserving for a spot alongside
Jaelen Strong
and
Nelson Agholor
.
Hunter Dimick (Utah), Andrew Hudson (Washington), Marcus Hardison (ASU):
This trio is for the crowd that likes to measure a defensive lineman's worth by their sack numbers -- all three had at least 10.
LB Jared Norris, Utah:
It was easy to leave him off because of the depth at the position, but Norris' 108 tackles, which ranked fourth in the Pac-12, is worth noting.
LB/S Su'a Cravens, sophomore, USC:
Cravens might have been the toughest player to leave off the team, but it wasn't because he wasn't deserving. If he remained at safety, there probably would have been a place for him, but since he played most of the season at outside linebacker listing him at safety wouldn't have felt right.
CB Alex Carter Stanford:
Outside of Oregon's
Ifo Ekpre-Olomu
, Carter might be the best NFL corner prospect in the conference. His lack of interceptions (1) and tackles (29) reflect opposing quarterbacks' reluctancy to throw in his direction.
December, 12, 2014
Dec 12
9:00
AM ET
By
ESPN.com staff
| ESPN.com
The Pac-12 has already announced its
all-conference teams
, but we have our own thoughts and choices. Here is the ESPN.com All-Pac-12 team for 2014:
First-Team Offense
:
QB: Marcus Mariota, Oregon
: He led the Ducks to a Pac-12 title and the inaugural College Football Playoff. If that's not enough, his adjusted QBR, passer efficiency rating and touchdown-to-interception ratio led the conference (as well as the nation).
RB: Paul Perkins, UCLA
: Perkins led the conference in rushing yards per game (115.1) and total rushing yards (1378). He accounted for more than half of the Bruins' rushing yardage and provided a valuable tool in the receiving game, as well, tallying 26 catches and two receiving touchdowns.
RB: Devontae Booker, Utah
: Booker led the Pac-12 in total carries (266) and was a force who carried the Utah offense while it went through quarterback changes. Even when opponents knew that the Utes would be a pretty rush-heavy attack, defenses still had issues stopping Booker.
WR: Nelson Agholor, USC
: Agholor finished the regular season with 97 receptions, 1,223 receiving yards and 11 receiving touchdowns. His best performances came later in the season, tallying 100-yard receiving totals in five of the Trojans' final six regular-season games.
WR: Jaelen Strong, Arizona State
: Strong finished the year with 75 receptions, 10 touchdowns and 1,062 yards. He had his fair share of clutch plays, but his biggest was his Hail Mary (aka Jael Mary) reception that gave ASU a 38-34 win over USC.
WR: Vince Mayle, Washington State
: Mayle led the conference in receptions per game (8.8) and receiving yards (123.6). His numbers actually improved when freshman
Luke Falk
took over at quarterback in place of Connor Halliday. In his final three games, Mayle averaged 158 receiving yards (give credit to Mayle and Falk).
TE: Pharaoh Brown, Oregon
: Brown suffered a season-ending injury in Oregon's victory over Utah, but here's hoping he makes a full recovery because he was fun to watch. He finished with six touchdowns on just 25 receptions and contributed a few huge blocks, as well.
OL: Max Tuerk, USC
: He has played all over the line for the Trojans, but he was a big part of why they moved from 10th in total offense in 2013 to fourth in total offense in 2014.
OL: Hroniss Grasu, Oregon
: Injuries depleted the Oregon O-line this season (Grasu is currently in a walking boot after suffering an injury in the Utah win), but Grasu held together the group as it underwent position shifts and changes. The Ducks finished the regular season leading the conference in total offense.
OL: Andrus Peat, Stanford
: The Cardinal offense was underwhelming this season, but much of the success it did have was because of Peat. He anchored the line, and David Shaw has continually sung the praises of his left tackle. We have a feeling Peat's NFL draft spot will reflect that.
OL: Jake Fisher, Oregon
: The senior spent most of the year protecting Marcus Mariota's blind side. And when he did, he was very, very good. During the 2 1/2 games Fisher missed, Mariota was sacked 12 times. During the other 10.5 he was in, Mariota was sacked just 17 times.
OL: Jamil Douglas, Arizona State
: A three-year starter and one of the top offensive guard prospects in the country, Douglas was a key piece up front for the Sun Devils, who ranked 18th in the country in scoring (37.0).
First-Team Defense
:
DL: Leonard Williams, USC:
Possibly the top defensive NFL prospect in the country, Williams finished with 71 tackles (8.5 for loss), six sacks and forced three fumbles.
DL: Danny Shelton, Washington:
Not just a space-occupier, Shelton was the most productive defensive tackle in the country finishing with 89 tackles, nine sacks and 16.5 tackles for loss.
DL: Henry Anderson, Stanford:
The fifth-year senior was named the Cardinal's defensive MVP after leading the team with 14 tackles for loss, 7.5 sacks and nine quarterback hurries.
DL: Nate Orchard, Utah:
Orchard led the nation in sacks per game (1.46), led Utah with 20 tackles for loss and finished second with 81 tackles.
LB: Scooby Wright III, Arizona:
Wright turned in one of the most complete defensive seasons in college football history, finishing with 153 tackles, 14 sacks, 28 tackles for loss and six forced fumbles.
LB: Hau'oli Kikaha, Washington:
A dominant pass-rusher, Kikaha led the nation with 18 sacks and finished with 24 tackles for loss.
LB: Shaq Thompson, Washington:
Also a threat at running back, Thompson scored four defensive touchdowns, forced three fumbles and finished with 71 tackles.
LB: Eric Kendricks, UCLA:
The Butkus Award winner led the Bruins with 139 tackles, intercepted three passes, recorded 8.5 tackles for loss and a pair of sacks.
CB: Ifo Ekpre-Olomu, Oregon:
An All-America candidate, Ekpre-Olomu returned for his final year with the Ducks and lived up to the high standard he set early in his career.
CB: Steven Nelson, Oregon State:
One of the country's top cover corners, Nelson parlayed a strong senior year into an invitation to the Senior Bowl.
S: Jordan Richards, Stanford:
Richards wrapped up his career with another standout season for the Cardinal, finishing with 76 tackles, three interceptions and seven passes defended.
S: Damarious Randall, Arizona State:
The Sun Devils' leading tackler (101 tackles) also picked off three passes, defended 11 and forced two fumbles.
Special Teams
:
K: Andy Phillips, Utah
: Automatic Andy led the Pac-12 with 22 field goals (on 26 attempts) and finished second in scoring at 8.7 points per game.
P: Tom Hackett, Utah
: Hackett ranked second nationally with an average of 47.0 yards per punt.
RET: Kaelin Clay, Utah
: Clay led the country with three punt returns for touchdowns and also returned a kickoff for a score.
December, 12, 2014
Dec 12
8:00
AM ET
Happy Friday!
Leading off
Awards, awards and more awards. It was a huge night for the Pac-12 and Oregon quarterback Marcus Mariota at
the Home Depot College Football Awards.
Mariota, who is also expected to claim the Heisman on Saturday, took home the Maxwell Awards (nation's outstanding player), the Davey O'Brien (national QB) and the Walter Camp player of the year.
Scooby Wright added to his trophy case by collecting the Bednarik Award (national defensive player of the year) and Utah punter Tom Hackett won the Ray Guy Award (given annually to the college football mate who makes
the best bacon references
... just kidding, it's for top punter).
Here's how the Pac-12 shapes up in award season so far:
Maxwell Award: Marcus Mariota
Walter Camp Award: Marcus Mariota
Davey O'Brien Award: Marcus Mariota
Johnny Unitas Golden Arm: Marcus Mariota
Chuck Bednarik Award: Scooby Wright
Bronko Nagurski Award: Scooby Wright
Dick Butkus Award: Eric Kendricks
Ray Guy Award: Tom Hackett
Ted Hendricks Award: Nate Orchard
Coordinators on the move?
As the coaching carousel continues to spin, a pair of Pac-12 assistants have been rumored for the head coaching job at Tulsa, though only one looks to be in the mix. Arizona State offensive coordinator Mike Norvell is believed to be in the running, while Oregon offensive coordinator Scott Frost isn't on the list anymore.
From the Tulsa World:
Another source said Arizona State offensive coordinator Mike Norvell's candidacy has ramped up over the past two days. Norvell, 33, is in his third year at Arizona State, where he started in 2012 at $320,000 a year and now, according to USA Today, makes $900,000 annually plus bonuses. He was a graduate assistant and receivers coach under Todd Graham at Tulsa.
Per the report, Frost interviewed for the job.
News/notes/team reports
Just for fun
Throw-back Friday.
Find out what the 2014 Heisman finalists looked like in high school. http://t.co/gIE0GxGeyu #heisman central pic.twitter.com/As0KHmwqxQ

— Chris Huston (@HeismanPundit) December 11, 2014
This guys' man cave is cooler than yours.
Bowl Games are set. Check out the match-ups! pic.twitter.com/aIXxRc5HvC

— Stephen Gironda (@SteveGironda) December 11, 2014
December, 11, 2014
Dec 11
8:47
PM ET
ESPN.com news services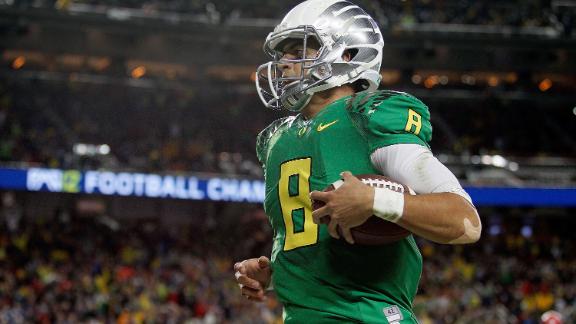 Marcus Mariota was the big winner at the Home Depot College Football Awards Show on Thursday night in Lake Buena Vista, Florida.
The star Oregon quarterback took home the Maxwell Award as the nation's most outstanding player and the Davey O'Brien National Quarterback Award, in addition to winning the Walter Camp player of the year award.
"It's surreal. It's surreal. It really all is," Mariota said. "Growing up as a kid you always kind of see these award shows. To say that I'm a part of really this fraternity ... it's really just a blessing."
Mariota said the accolades cap a long personal journey.
"Being from Hawaii, being kinda quiet and reserved to now being a little more vocal and being a part of a special team, it's come a long way for me. It's all been such a blessing," Mariota said.
The soft-spoken QB said he has his coaches and teammates to thank for his growth.
"[My teammates] asked me to kinda step up and be vocal and understand that my words can be powerful. ... It's been an ongoing process for me and I've definitely come a long way with it," he said.
Mariota is the first player from Oregon to win each of the three awards. The junior also is a Heisman Trophy finalist and the front-runner to win that award Saturday (8 p.m., on ESPN) in New York.
Seven of the past eight O'Brien winners have gone on to win the Heisman.
"That's the first time I've heard of [that trend]," he said. "I don't know how to explain it. It's pretty cool and we'll see what happens."
Ifo Ekpre-Olomu Injury A Game-Changer
PAC-12 SCOREBOARD
Saturday, 12/20
Monday, 12/22
Tuesday, 12/23
Wednesday, 12/24
Friday, 12/26
Saturday, 12/27
Monday, 12/29
Tuesday, 12/30
Wednesday, 12/31
Thursday, 1/1
Friday, 1/2
Saturday, 1/3
Sunday, 1/4
Monday, 1/12