October, 16, 2014
Oct 16
11:00
AM ET
The introduction of Chris Petersen to the Washington-Oregon rivalry comes as quite a relief to the ink-stained wretches who write about college football. Redundancy and predictability are the sworn enemies of the scribbling class, and the Huskies-Ducks rivalry has been a model of redundancy and predictability for a decade, with the boys in green -- or, you know, whatever -- owning the purple team by at least 17 points in the last 10 matchups.
With Petersen now fronting the Huskies, that's an item of interest that a journalist can wrap a lead around. He or she doesn't have to immediately recycle the droning, "Is this the year Washington breaks through?" One can observe that Petersen not only was once a Ducks assistant -- from 1995-2000 under Mike Bellotti -- when he started a longstanding friendship with second-year Oregon coach Mark Helfrich, but he also was 2-0 against Oregon while heading Boise State, where he was 92-12 and was universally esteemed for his Huge Football Brain.
[+] Enlarge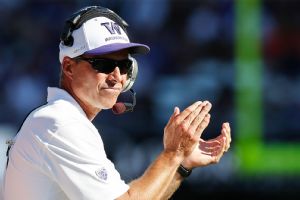 Otto Greule Jr/Getty Images"I know about the Oregon-Washington stuff," Huskies coach Chris Petersen said, "but that's not my focus, getting them fired up. To me, this needs to be about us."
"Huge Football Brain"? That hints at Chip Kelly, which means Huskies fans have stopped reading and now have thrown themselves on their prayer rugs and begun wailing to the college football gods that Washington really, really would like Petersen to become Washington's version of Kelly. Or, even better, Don James, Take 2.
With Huskies fans duly distracted by their invocations, we'll note to the tittering Oregon fans that the Ducks will be celebrating the 20-year anniversary of an obscure moment in their team's history on Saturday. While video of Kenny Wheaton's pick-six interception against Washington in 1994 is as difficult to find as a white peacock, it does exist, and there's a quiet minority of Ducks fans who believe it was a meaningful moment in the transformation of the program.
Those Oregon fans obsessed with such esoterica will be glad to know the Duck will don throwback uniforms to honor the occasion, of which at least one Oregon administrative Twitter feed observed this week: "Prior to 'The Pick' Oregon all-time had a .495 Win% (359-366-34). Since that game, Oregon is .731 (177-65)."
So, yes, call us a wee bit sarcastic when we poke fun by minimizing the impact of "The Pick," unquestionably the Ur-moment in Oregon football history, a highlight that plays immediately before every Ducks home game.
And the reason it is the definitive before-after line for the program's rise to West Coast and national prominence is not only that it was the key play in a run to the program's first Rose Bowl since 1958, it was that it happened so dramatically against the Huskies, the established Northwest power that Ducks fans most hated.
Which brings us back the rivalry and the two head coaches. Both know the rivalry well. That means they will at least acknowledge its biliousness, unlike Kelly, who seemed to enjoy telling reporters how much he liked former Washington coach Steve Sarkisian, knowing it would inspire forehead slaps among the Ducks faithful.
"Do I understand the rivalry as a native Oregonian? Absolutely," Helfrich said. "I know the history of that very well and what it means to our fans."
And yet, it's all about an established winning process with the Ducks, and that centers on preparing the same every week for a "nameless faceless opponent."
Echoed Petersen, "I know about the Oregon-Washington stuff, but that's not my focus, getting them fired up. To me, this needs to be about us."
That carries over to Helfrich's and Petersen's friendship. Both insisted in the preseason it would overcome them being at professional loggerheads in the Pac-12's North Division, though they admitted this week they hadn't talked thus far this season. Both also insisted this week that it has no impact on their emotions or preparation for the game. Which, you know, is as it should be.
Petersen, while at Boise State, handed the Ducks their last nonconference loss at home in 2008, and then spoiled Kelly's head coaching debut in 2009. While that's an interesting factoid, it's also far less relevant than how well the Ducks offensive line, which recovered nicely in a win at UCLA with offensive tackle
Jake Fisher
back in the lineup, will play against the Huskies stout front-7, led by nose guard
Danny Shelton
, defensive end
Hau'oli Kikaha
and linebacker
Shaq Thompson
.
What Oregon showed last week while redeeming itself after flubbing around in a home loss to Arizona is that when the offensive line is playing well, the offense hums along like in days of old. Petersen knows his team can't allow QB
Marcus Mariota
to feel comfortable.
"He might be the best player in college football, so that's a problem right there," he said.
Another interesting factoid: Neither QB has thrown an interception this year. Because
Cyler Miles
isn't the playmaker that Mariota is, it's probably more critical for him to maintain his clean sheet Saturday.
So here we are, back at the redundancy: Is this the Huskies year? Maybe. Stranger things have happened this season. A lot stranger. But all the history and emotions don't hold a lot of weight with either coach. Whether the Huskies break through or the Ducks make like Spinal Tap's amplifiers and go up to 11, the coaches just view the game as X's and O's either doing what they want them to do or not.
Noted Petersen dryly, "So it doesn't necessarily have to do with anything in the past. It comes down to playing good football."
October, 16, 2014
Oct 16
9:00
AM ET
Why Utah will win:
Duh, the Utes are on the road. Is any further explanation needed? I like the confidence Utah is playing with. I like that they are a three-phase team. And I really, really like the sack-happy Utah front seven against an Oregon State offensive line that hasn't fully come together yet. The Utes have established a strong running game that will exist regardless of who is handing off the ball. OSU's offense is yet to really come together. And unless you've got a defense like Stanford's, averaging fewer than 30 points per game will eventually catch up with you. -- Kevin Gemmell
Why Oregon will win:
Oregon has won 10 in a row in this bitter rivalry, and each of those victories came by at least 17 points. That's dominance. Last year, the Huskies challenged the Ducks for three quarters at home before being overwhelmed in the fourth quarter in a 45-24 Ducks win. While Washington is closing the gap, and the Chris Petersen hire adds an intriguing wrinkle to the series, the Ducks seemed to regain their footing last weekend at UCLA. They'll particularly need that improved O-line play to neutralize Washington's tough front seven. But don't despair Huskies:
Marcus Mariota
won't be around when the Ducks come back to Husky Stadium in 2015! -- Ted Miller
Why Stanford will win:
Stanford is just a bad matchup for Arizona State. The Cardinal's physicality on defense caused problems in both games last year and there's not much reason to indicate that won't be the case again Saturday. Stanford's offense has struggled, but there were enough schematic changes against Washington State to sense improvement is coming. -- Kyle Bonagura
Why Arizona State will win:
Because there's no way that if all five of us picked all five of the same teams this week, that we'd all be perfect. My gut says one of these games doesn't happen the way we all believe it will. The Sun Devils are the more highly ranked team and they're playing at home which in the Pac-12 this year means they should lose, right? So, I'm going to say they're going to win. Despite Stanford's tough defense, I think Arizona State has enough success against them to sneak out with a win. The Pac-12 this season has made little sense and for some reason everyone thinks Stanford is going to come in and crush ASU, so I say, what the hey, let's pick ASU because no one else did. -- Chantel Jennings
Unanimous picks
Why UCLA will win:
Don't get us wrong, Cal has a very real shot to win this game. Their offense is still explosive, and UCLA's defense has not shown that it's anywhere near Washington's caliber, the Bears' last opponent. We're still waiting for evidence that Cal's defense can stop
Brett Hundley
& Co. -- David Lombardi
Why USC will win:
It's clear that the Trojans are significantly better than Colorado, and they're at home. Despite its inconsistency this season, USC just has too much size, athleticism, and skill to reasonably think they'll lose this game. -- David Lombardi
October, 16, 2014
Oct 16
8:00
AM ET
Look at that subtle off-white coloring. The tasteful thickness of it. Oh my God, it even has a watermark!
Leading off
Get a good look at as many Pac-12 players as possible over the second half of the season. Because for a lot of them, this will be their last year. The league is loaded with NFL potential this season, and ESPN's Todd McShay recently updated
his Top 32 players
. There's a new No. 1 -- USC defensive lineman
Leonard Williams
. But he's just one of 10 Pac-12 players who could go in the first round in the next NFL draft.
Here's what McShay has to say about Williams:
Williams moves up to the No. 1 spot in this week's rankings, as we've had more of an opportunity to watch his performance; this adjustment is mostly just an acknowledgement of what a complete game he has and how he has been playing up to that level so far this season. He possesses excellent strength and speed for his size, and has the versatility to create mismatches all along the D-line. His best projection is as a 5-technique defensive end, but he has the quickness and point-of-attack skills to perform inside as a 3-technique (especially in pass-rushing situations), and enough athleticism to occasionally line up as a traditional left defensive end. As a pass-rusher, he isn't going to gain the edge with pure speed, but he has good initial quickness and a wide array of moves. He possesses an above-average motor and plays with an edge.
The rest of the article is Insider, so you'll need to decipher a series of clues hidden within some of the greatest Renaissance works of art to get full access. But I'll give you a hint at No. 2 ... he's a quarterback and he wears green.
Who's the Q for the U?
We have football tonight when Utah travels to Oregon State. And the big storyline surrounding this game is whether it will be
Travis Wilson
or
Kendal Thompson
at quarterback for the No. 20 Utes. So far, coach Kyle Whittingham
has kept things close to the vest.
"It's not a huge strategic move, but why tip your hand if you don't have to, and we don't have to. It's not like the NFL where you have to declare what's going on," Whittingham said. "They've handled themselves very well in practice. You'd expect both of them to work hard like they have all year long. There is really no change in our approach in that regard."
The irony, of course, is that the Utes have wished upon many a star to have a starting quarterback make it through the season -- pretty much ever since
Brian Johnson
. Now they have two. Tonight's game is a 7 p.m. PT kickoff on the Pac-12 Networks.
News/notes/practice reports
Just for fun
ASU created a stick-figure video to remind over-zealous boosters
not to be over zealous
.
October, 15, 2014
Oct 15
12:07
PM ET
October, 15, 2014
Oct 15
12:00
PM ET
The home field used to be a sanctuary -- a safe haven for teams looking to gain an edge on their opponents with the support of a noisy and raucous student body.
In the old days, there was a word for that: Advantage.
But the 2014 Pac-12 season has taken that advantage and blown it all to Hades. Through 18 conference games this season the road warriors hold a decisive 14-4 edge over the home team. And the audible antics of Autzen, the ringing reverb of Rice-Eccles or the tympanic torture of Husky Stadium haven't been immune.
[+] Enlarge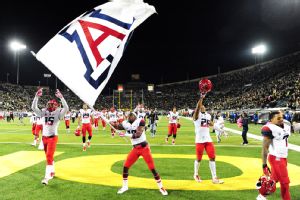 AP Photo/Steve DykesCelebration scenes like the one Arizona held at Autzen Stadium on Oct. 2 have been extremely common in the Pac-12 this season.
"I've never seen anything like it," USC coach Steve Sarkisian said.
Sarkisian's response echoed the sentiment of nearly all of the Pac-12 coaches, who could find neither rhyme nor reason as to why the Pac-12's home cooking this season has tasted more like week-old leftovers.
"It's a crazy year in the Pac-12," said Stanford coach David Shaw, whose team once held the nation's longest home winning streak at 17 games, only to see that snapped in Week 2 against USC . "It's just shaping up that way. It's hard to explain it any other way. Every week is tough. Every game is hard. It's tough to win on the road. And then the road teams are winning in crazy fashion. Everything is up for grabs this year."
There are two ways to look at this -- depending on how full or empty your glass is. Either the Pac-12 has the worst home conference record in college football, or the best road record. In conference-only games, the Pac-12 ranks last among all FBS conferences with its 22.2 winning percentage at home. The Big 12 (6-7) is the only other league below .500.
One fairly sound theory, presented by Arizona coach Rich Rodriguez, is that with so many veteran quarterbacks, environment isn't a factor because experience is winning out. Sounds logical -- except for the fact that his quarterback, in his second career road start, won at Autzen. Or that
Mike Bercovici
, Arizona State's backup, won at The Coliseum in his first career road start.
UCLA coach Jim Mora actually tried to talk through an explanation, only to come up with nothing.
"I've thought a lot about that," Mora said. "I can't put my finger on anything. I wish I could, obviously, as do I'm sure the other coaches. I've actually given it a lot of thought the last week or so. I can't come up with anything quite yet. Other than maybe there's a psychological element to when you go on the road you close ranks a little bit and that sense of mission. Maybe? Maybe that helps you a little bit? But that doesn't seem logical to any of us who are used to the home-field advantage.
"I wish I knew."
One word the coaches kept coming back to was "parity." With every Pac-12 team sitting on at least one conference loss and all but Colorado with a league win, the congruity within the conference has all but eliminated the concept of home-field advantage.
While that's fun for the fans, it creates national problems while trying to lobby for a spot in the first College Football Playoff.
"I think our conference has this perception of parity equals mediocrity," Oregon coach Mark Helfrich said. "There are a couple of conferences where parity equals strength. I think it's the strongest it's ever been top to bottom."
Helfrich did offer one other explanation: "It's a non-leap year? I have no idea."
This might help: Through the first 18 conference games, the home team has a minus-11 turnover margin and the average margin of victory (or defeat) has been slightly more than four points. When you consider one home game was won on a Hail Mary, another was lost on a Hail Mary, and three more home games were lost on missed field goals, one or two plays could significantly swing the win/loss total.
That's why league newcomer Chris Petersen isn't putting too much stock into the trend -- at least not yet. Having only played two conference games, his Huskies fit the trend so far -- losing at home to Stanford and winning at California.
"I think this will play out," he said. "If the records are that skewed by the end of the season, there's something to it. We're only two games into it so I don't know. It will be interesting to see at the end [of the] season where everybody is."
Every coach in America will say his school has the best fans in the country. Even if he doesn't believe it, there's probably a tiny footnote somewhere in the Mayflower Compact that requires him to say so. But that doesn't mean their minds aren't in overdrive trying to make sense of what has already been a season short on logic.
"It's been the exact opposite in year's past," ASU coach Todd Graham said. "I can't explain it other than maybe it's the matchups ... the hardest thing to do is win on the road."
The record suggests otherwise. And for now, most of the coaches are just chalking it up to another unexplained phenomenon in the continued zaniness that is the Pac-12.
October, 15, 2014
Oct 15
11:17
AM ET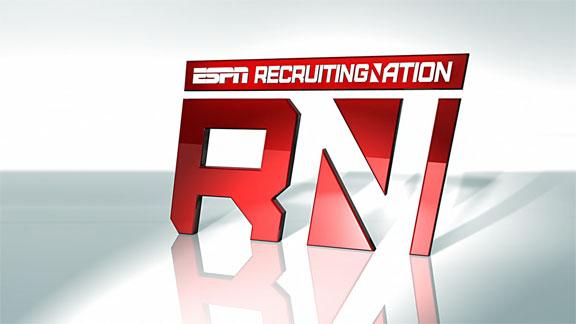 Oregon
fans were very nervous watching quarterback recruiting unfold in the Class of 2015. The Ducks ultimately secured a commitment from
Travis Waller
after losing out on top targets
Kyler Murray
,
Blake Barnett
,
Sam Darnold
and others. Ducks fans can now rest easy for the Class of 2016 with ESPN Junior 300 signal-caller
Seth Green
jumping on board with Oregon on Wednesday.
October, 15, 2014
Oct 15
9:00
AM ET
EUGENE, Ore. -- For as much praise as Oregon defensive backs coach John Neal gives cornerback
Ifo Ekpre-Olomu
when it comes to the football field, he gives him just as much grief when it comes to his golf game.
"He has hit balls with me before. He's awful," Neal joked. "Let me put it this way: He has a
lot
of work to do."
It's easy to give his All-American corner a hard time when it comes to golf because most sports are easy to pick up for Ekpre-Olomu.
Golf, according to Neal, isn't one of those.
[+] Enlarge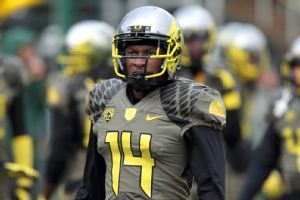 Scott Olmo/USA TODAY SportsIfo Ekpre-Olomu has connected with DBs coach John Neal over golf and the lessons it can bring to his play on the football field.
Ekpre-Olomu had never played until he moved to Eugene from Southern California for college. Though golf is popular in his hometown, he was always too busy with other sports.
Neal, on the other hand, picked up clubs for the first time two decades ago. But he didn't take his first lesson until three years ago. Now, he mostly plays in the offseason, but even so, he estimates he has hit at least 50,000 shots in that time.
As a freshman, Ekpre-Olomu was a little taken aback when his coach began comparing football to golf. The man who coached former Oregon defensive backs Jairus Byrd and Patrick Chung couldn't possibly be making this kind of a comparison, right?
But Neal made his case -- the pressure to get the right shot in golf and the right shot in football as a DB, the different thought processes that are happening simultaneously, the importance of the details.
"When you start talking about a sport when you have to calculate all those things in one instant and then you can turn around and apply it to football, it makes clear sense," Neal said. "If you can detail football or any other game you play, like these guys do [for] golf, you'll be better than most people."
So Ekpre-Olomu began taking a few trips to the driving range.
His first time, he showed up in baggy cargo shorts and running shoes. He was worried about where his ball might land. "There were houses right on the side of where you're teeing off. You're worried about, 'Oh, I don't want to hit a house,'" Ekpre-Olomu said. He was learning from friends who also had only recently picked up the game.
Then it started making sense.
"I started realizing a lot that it does relate a lot," Ekpre-Olomu said. "It takes a lot of repetition and a lot of confidence and patience because you're not going to be as good as you want at first, but it's how much repetition you do and how much work you put into it."
At this point in Ekpre-Olomu's career, Neal says his star cornerback has all the shots in his arsenal. But -- like any top golfer -- that doesn't mean he's perfect all the time.
Wazzu scored twice on Ekpre-Olomu. Arizona freshman running back
Nick Wilson
tore through an Ekpre-Olomu tackle as if it were tissue paper.
But Ekpre-Olomu stores those memories. He doesn't want to be beat the same way twice. Off the top of his head he can count six times in his career that he has made a mistake in coverage in which the other team scored. But he also remembers the high points, reminding himself not to let the bad shots affect the next shot.
He remembers his first interception at Oregon ("I didn't know what to do after. I just kept running around like a chicken with its head cut off") just like he remembers the first time he really connected with a golf ball the right way ("Now you know that you can do it every time").
And though football will likely be the way Ekpre-Olomu makes a living, he has a feeling he might always use the links as a way to relax, and more often than not, help him work on his football game.
Right now neither Ekpre-Olomu nor Neal has much time for golfing, but Neal believes that if Ekpre-Olomu ever decides to commit himself he could move from the "lot of work to do" category to becoming a good golfer.
And when that happens, Neal will be ready to for some head-to-head competition.
"I hope next year when he makes a lot of money," Neal said, referencing Ekpre-Olomu's future salary in the NFL, "he pays for me to go to his country club."
October, 15, 2014
Oct 15
8:00
AM ET
I'm learning to fly, but I ain't got wings;
Coming down is the hardest thing.
Leading off
Welcome to depth chart Wednesday! There are 10 teams in action this week with the alphabetical bookends -- Arizona and Washington State -- on bye. As always, here are the depth charts for the teams in action (save UCLA, which doesn't provide a weekly depth chart).
Notes
Heisman update
As we do every Wednesday, we'll check in on some Heisman updates.
Dak Prescott
holds a lead over Marcus Mariotta in most of the ballots that are out there -- including the
ESPN.com poll.
Heismanpundit.com
also updated its weekly straw poll, which consists of 10 Heisman voters. However, we're starting to see a couple new Pac-12 names on their ballots. Here are the results this week (first place votes in parentheses).
1.
Dak Prescott, QB, Miss. State — 25 (7)
2.
Marcus Mariota
, QB, Oregon — 21 (3)
3.
Melvin Gordon
, RB, Wisconsin — 4
4.
(tie)
Bryce Petty
, QB, Baylor — 2
Amari Cooper
, WR, Alabama — 2
6.
(tie)
Bo Wallace
, QB, Ole Miss — 1
Everett Golson
, QB, Notre Dame — 1
Buck Allen, RB, USC — 1
Tevin Coleman
, RB, Indiana — 1
Shaq Thompson
, LB, Washington — 1
Todd Gurley
, RB, Georgia — 1
News/notes/team reports
Just for fun
In case you missed it, the Ducks will honor "The Pick" with their unis.
One play can change everything. Here is Saturday's uniform honoring "The Pick" #GoDucks pic.twitter.com/jkmgIzvZXI

— Oregon Football (@WinTheDay) October 14, 2014
October, 14, 2014
Oct 14
11:17
PM ET
"Volatility, "parity" and "chaos" have been college football's buzzwords to begin 2014, and the season is only now beginning to round the halfway mark. Those same words -- with a mix of "inconsistency" and "immaturity" -- largely define this season's quarterback play as well.
A top-10 list that was difficult to fill out in August has seen the emergence of a Heisman Trophy front-runner as well as the six remaining unbeaten team's passers make this midseason list. Catastrophic injuries, personnel losses, program depth issues and a toughening of the conference schedules have eliminated the pretenders from the contenders, at least for now.
Let the debate begin.
---

College production: 9.5 (out of 10)
NFL skills: 10
Previous rank: 1
There were no roses thrown around in Pasadena on Saturday afternoon, but if Mariota and the Ducks had any shot to get back to the semifinal playoff game in January, they had to beat UCLA in their home, and they did. Mariota continued to show the poise and playmaking (four total touchdowns) his debilitated offensive line so desperately needs, and if the line of scrimmage can simply play average, Mariota can tip the field and the scales Oregon's way.
To continue reading this article you must be an Insider
October, 14, 2014
Oct 14
11:00
PM ET
The DMV (D.C./Maryland/Virginia) has developed into one of the most competitive areas in the country, so what recruiters do the best job in Washington D.C.? Plus, can Minnesota keep one of the top juniors in the country at home?
To continue reading this article you must be an Insider
October, 14, 2014
Oct 14
9:00
PM ET
Fact: 2,660 of our smartest and most informed Pac-12 readers and voters can't be wrong ... right?

Because of our roughly 3,500 voters in
this week's Play of the Week
, that's how many of you were split between two great plays from two great players.
So, we decided that we'd end this week's Pac-12 blog's Play of the Week in a tie. And what better week to have a tie between stud linebacker
Shaq Thompson
and star quarterback
Marcus Mariota
than the Washington-Oregon game week?
Just add this fuel to the fire and let the best man/team win on Saturday.
Both players came out of the week with 38 percent of the vote, leaving three other very impressive plays in their dust.
We won't argue. Thompson's 99-yard fumble return for a touchdown, and Mariota's self-fumble, self-recovery for a touchdown were both plays that stuck with fans and viewers over the weekend.
Even more impressive than the plays were both players' reactions, as these kinds of plays have become so casual for Thompson and Mariota.
How did Thompson get that ball?
"It just popped out and popped into my hands," Thompson said in a video from The Seattle Times.
"Magnet," he joked.
And how did he get to the endzone?
"I almost got tackled, but I got two blocks from
Marcus Peters
and
Budda Baker
," Thompson said. "And, I scored."
Easy enough. That happens every day ... when you're Shaq.
Mariota? What about you? How can you downplay your highlight reel play?
"I kind of hit my knee with the ball," Mariota said in a video on The Oregonian. "And I kind of fumbled. I was very lucky to get it bounced back in my arms and finish it for a touchdown."
Got it. So Thompson has magnet hands and Mariota's knee was the MVP of that play. But congrats to these two players and the three runner-up plays. Let us hope that these two (and every other player in the Pac-12) provide us with more of these plays this weekend.
October, 14, 2014
Oct 14
8:35
PM ET
When Oregon steps on the field on Saturday against Washington, the Ducks will be throwing it back a few decades.
The 1994 season sticks out for both Oregon and Washington fans as a momentous game thanks to Kenny Wheaton and "The Pick."
In that game, with Oregon leading 24-20, Wheaton was able to pick off Washington QB Damon Huard and return the interception 97 yards, sealing the victory for the Ducks. Oregon would go on to win the game 31-20 and, eventually, the Pac-10.
In order to honor the 20-year anniversary of this moment in this match up (and throw some salt on the Huskies' wounds from this game), Oregon will wear throwback uniforms on Saturday night.
Troll on, Ducks. Troll on.
One play can change everything. Here is Saturday's uniform honoring "The Pick" #GoDucks pic.twitter.com/jkmgIzvZXI

— Oregon Football (@WinTheDay) October 14, 2014
October, 14, 2014
Oct 14
8:00
PM ET
Here's another look at random stats pertaining to the Pac-12.
Thursday
No. 20 Utah (4-1, 1-1 Pac-12) at Oregon State (4-1, 1-1)
In Pac-12 games, Utah kicker Andy Phillips is 4 for 5 on field goals of 40 yards or more. The rest of the Pac-12 is 8 for 16. Oregon State's Trevor Romaine is 4 for 4 on field goals this year and hit a 47-yarder against Colorado.
In four combined games in the Pac-12, Oregon State (six) and Utah (two) have reached the red zone just eight times.
In conference play, Oregon State's 29.2 (7 for 24) third-down conversion percentage is the worst in the Pac-12.
When Utah picks up the initial first down of a drive, it scores 59.5 percent of the time, second-best in the Pac-12 behind Oregon. The Utes have scored on 41.2 percent of all drive this year.
Oregon State ranks No. 2 in the Pac-12 in total defense (331.4 yards per game).
Saturday
UCLA (4-2, 1-2) at California (4-2, 2-2)
UCLA quarterback Brett Hundley's completion percentage of 72.2 is the best mark in the country.
UCLA has gone three-and-out 11.8 percent of the time this year, the second-lowest rate in the Pac-12.
Cal gains at least five yards on 45.9 percent of its plays, the second-highest rate in the Pac-12.
UCLA picks up a first down or touchdown on 35.5 percent of its plays, the second-highest rate in the Pac-12.
Cal has allowed 24 passing touchdowns this year, the most in the country.
Colorado (2-4, 0-3) at No. 22 USC (4-2, 3-1)
Against FBS teams, USC's opponents have a combined winning percentage of 77.5, the highest number in the Pac-12 and third-best nationally.
Colorado's average yards margin per game in Pac-12 play (plus-50) is tied for second in the Pac-12 with Arizona.
USC's Javorius Allen leads the Pac-12 in carries (135), rushing yards (781) and rushing touchdowns (7).
In four conference games, USC is averaging 11.25 penalties a game, the most in the Pac-12.
Colorado WR Nelson Spurce has been targeted 89 times this year, the second-most in the country.
Washington (5-1, 1-1) at No. 9 Oregon (5-1, 2-1)
Oregon is averaging 3.42 points per drive, the most in the country, and is the only Pac-12 team scoring on more than half its drive (51.4 percent).
Two players in the country have at least nine touchdown passes without an interception: Oregon's Marcus Mariota (17 TD)s and Washington's Cyler Miles (9 TDs).
Oregon has gained 59.9 percent of the available yards this year, the best mark in the Pac-12 and eighth-best in the country.
Washington is the only team in the Pac-12 that has more yards rushing than passing.
Washington receiver Jaydon Mickens accounts for the highest percentage of his team's receptions (34.4) in the Pac-12.
No. 23 Stanford (4-2, 2-1) at No. 17 Arizona State (4-1, 2-1)
Stanford's average starting field position margin this season is plus-14.7, which is the best advantage in the country and nearly double that of the Pac-12's next best team (Utah, plus-7.8).
Arizona State (5.4 per game) and Stanford (6.5) are the two least penalized teams in the Pac-12.
Stanford is the only team in the conference that has not converted on fourth down this season (0 for 4). Arizona State is 5 of 9.
Teams are averaging 65.3 players per game against Stanford this year, the least amount in the Pac-12. ASU is averaging 77.2 plays per game on offense.
In terms of the percent of each team's total receptions, ASU's Jaelen Strong (34.2) and Stanford's Ty Montgomery (30.6) are two of the four most relied-upon receivers in the Pac-12.
Past weeks
Week 1
Week 2

Week 3
Week 4
Week 5
Week 6
Week 7
October, 14, 2014
Oct 14
5:35
PM ET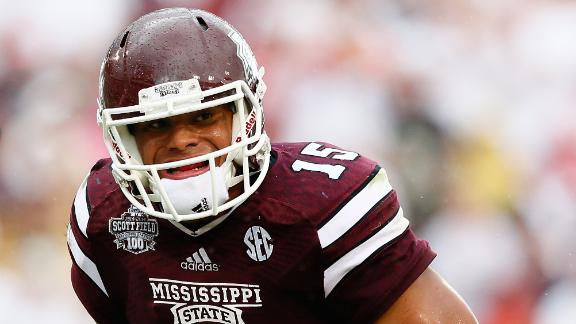 Take a breath, a lengthy one.
The first half of the 2014 college football season has come and gone, and even if you dig living life on the edge, the heart-pounding drama, surprises, controversy and upheaval have us all checking our blood pressure.
Maybe there's something to this whole playoff thing.
You name it, and we've seen it, even though we're still in the process of trying to make sure it's all real.
From game-ending Hail Mary touchdown passes, to the best player in the country being indefinitely suspended, to Mississippi State going from unranked to No. 1 in the polls, it has been a weekly whirlwind.
Let's hope the best is yet to come as we navigate our way to the first-ever College Football Playoff.
Here's a forecast of what to expect in the second half:
The winner of the Egg Bowl -- not the Iron Bowl -- will play for the SEC championship. Survival will be tough in the Wild, Wild West. That doesn't mean the SEC's Western Division will be shut out of the College Football Playoff. It just means that nobody in the West will make it through the season unbeaten. The division is ridiculously deep and talented, and Mississippi State and Ole Miss are the only two unbeaten teams remaining in the entire conference. It's no coincidence, either, that both of those teams have an experienced difference-maker at quarterback and defensive front sevens that are fast, disruptive and deep. It's a division that's going to beat up on each other even more during the second half of the season and will invariably come down to the final weekend of the regular season like it usually does. But the weekend will play out in college football's new hub, the Magnolia State -- not in Alabama.
Pac-12 Weekend Wrap: Oct. 21
PAC-12 SCOREBOARD
Friday, 10/24
Saturday, 10/25