December, 17, 2014
Dec 17
2:00
PM ET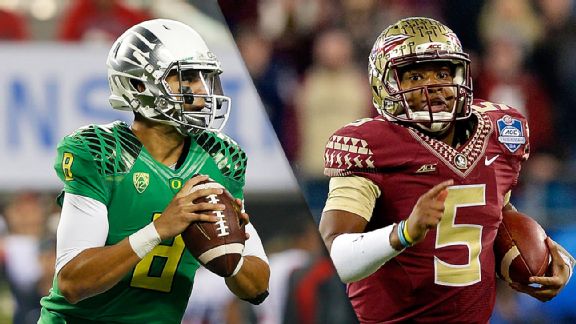 Getty ImagesMarcus Mariota will try to use his accuracy to hand Jameis Winston his first career defeat.
The College Football Playoff already has epic storylines leading into its inaugural season.
Headlining the No. 2 Oregon-No. 3 Florida State matchup in the Rose Bowl Game Presented By Northwestern Mutual
is the quarterback pairing of
Marcus Mariota
and
Jameis Winston
, creating what has the potential to be one of the best showings of quarterbacks that college football has seen in recent memory.
The strengths of these two quarterbacks are evident in the statistics (which we'll get to in a bit), but the main thread that runs through both is that they know how to win. Criticize Florida State's play (specifically in the first half) all you want, but one thing is for sure -- late in a game Winston has been a QB worth having and he has proven that time and time again.
The same can be said for Mariota. Though the Ducks haven't had as many tight games as the Seminoles -- and they do have a loss, which FSU doesn't -- Mariota has shown the guts needed in crucial situations to make something out of nothing.
And the numbers back that up. Of active FBS quarterbacks (with at least 15 starts under their belts), Mariota and Winston have the highest career winning percentages -- Winston is 26-0; Mariota is 35-4.
But what is it about these two guys that makes them such winners?
We analyze …
MARIOTA'S STRENGTH: He's clean.
Mariota's biggest strength is his accuracy. He has attempted 372 passes this season and only two of those have ended up in the hands of opponents. His 0.5 percent interception rate is the lowest among qualified FBS quarterbacks and his TD-interception ratio of 19-1 is more than double that of the nation's second best (
Cody Kessler
, 9-1) and 13 times better than Winston (1.41-1).
Mariota is highly accurate when opponents send four or fewer pass-rushers. He has gone more than 300 pass attempts against this kind of pressure without throwing a pick, and guess what … Florida State sends four or fewer pass-rushers on 67 percent of its opponents' dropbacks.
Additionally, 27 of Mariota's 38 passing touchdowns this season have come when opponents send four or fewer pass-rushers.
WINSTON'S STRENGTH: He's clutch.
Yes, his statistics aren't as impressive as they were last year. But, as Oregon coach Mark Helfrich pointed out on Tuesday, that can't always be a very accurate portrayal of how effective any given quarterback is during a game.
"We don't have the luxury of knowing, 'OK, Clemson played them this way last year and this way the year before and now it's that much different or leading up to that game how they defended people,'" Helfrich said of Winston.
Winston's total QBR has dropped from 89.4 last season to 67.1 this season and his touchdown-to-interception total has plummeted (40-10 in 2013, 24-17 so far in 2014), but he is clutch. And not just in late-game scenarios.
Of all quarterbacks who have started at least one year, Winston leads the nation in third-down QBR (91.6) and has converted 51 percent of his third-down pass plays, which is 15 percent higher than the national average.
In a strange way, considering these two teams have never faced off, this sort of feels like a rivalry game in the fact that tendencies and statistics will probably be thrown out the window as we see some really incredible football unfold.
But would anything less be expected when a field plays host to two Heisman winners? After all, this has only happened three times before. And all three times proved to be very exciting games.
Most recently, it was Tim Tebow's No. 2 Florida Gators facing off against Sam Bradford's top-ranked Oklahoma Sooners in January 2009. Tebow had won the Heisman the year before, but the Gators took this game 24-14 and went on to win the national title.
Four seasons earlier, it was 2004 Heisman trophy winner Matt Leinart and his top-ranked USC Trojans who took down the 2003 winner -- Oklahoma quarterback Jason White -- in the Orange Bowl with the national title on the line. Leinart led the Trojans with five touchdown passes as they cruised to a season-high 55 points.
And the only other time it happened was during the 1949 championship season when 1949 Heisman winner Leon Hart and Notre Dame took on Doak Walker and SMU (though to be fair, Walker didn't play that game as he was sidelined due to an injury).
In each of these instances, whichever quarterback won the Heisman versus Heisman matchup also went on to win the national title. That could certainly be the case when Florida State and Oregon face off on Jan. 1.
If past be present, both of these quarterbacks are going to bring their best play and the qualities that won each of them the Heisman are going to be on full display. For everyone watching in Pasadena, California, or at home, that means this is going to be a really, really fun matchup. Not only between Florida State and Oregon, but also between Winston and Mariota.
Mariota On Disneyland, Facing Winston
PAC-12 SCOREBOARD
Saturday, 12/20
Monday, 12/22
Tuesday, 12/23
Wednesday, 12/24
Friday, 12/26
Saturday, 12/27
Monday, 12/29
Tuesday, 12/30
Wednesday, 12/31
Thursday, 1/1
Friday, 1/2
Saturday, 1/3
Sunday, 1/4
Monday, 1/12