October, 17, 2014
Oct 17
9:30
AM ET
By
ESPN.com staff
| ESPN.com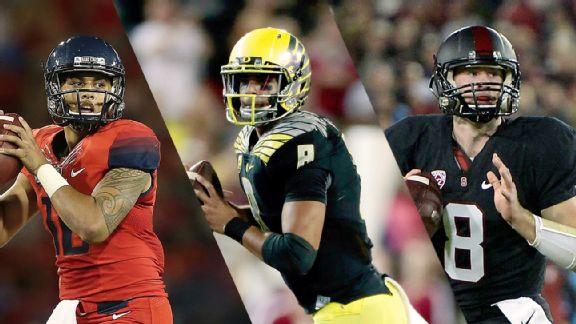 Getty Images, USA TODAY SportsThe Pac-12 blog revisits some of its preseason "fearless predictions" to see how they stand at the midway point of the season.
At the midway point of the season, the Pac-12 bloggers decided it was a good time to revisit some of the blog's
fearless predictions for 2014
. How'd we do?
1.
A Pac-12 team will win the national championship:
We wrote that Oregon, UCLA, Stanford or USC would win the national championship, and we'd like to celebrate the fearlessness of that prediction because at this point that is its strongest quality. Each member of that foursome already has at least one loss, with Stanford, UCLA and USC having gone down twice. At No. 9, the Ducks seem like the most likely team to work its way back into College Football Playoff consideration, but that might require going undefeated the rest of the way. No easy task. The Pac-12 has proved even deeper than it appeared in the preseason, while the top doesn't appear as unassailable as it did in August. We may have swung for the fences and missed with this one. --
Ted Miller
2.
A Pac-12 player will win the Heisman Trophy:
The Pac-12 blog is still confident. Oregon quarterback
Marcus Mariota
presents the best candidate from the league. He's yet to throw an interception, his dual-threat numbers more than qualify him and the Ducks are still in the hunt for a conference title and College Football Playoff berth. Although he's the nation's most accurate quarterback, the window for UCLA's
Brett Hundley
is shrinking quickly. But with names like Buck Allen and
Shaq Thompson
starting to emerge, the league still has a phenomenal shot at a stiff-arm trophy. --
Kevin Gemmell
3.
No Pac-12 coach will be fired at season's end:
The two coaches whose seats were moderately warm going into the year, Utah's Kyle Whittingham and Cal's Sonny Dykes, both have their programs headed in the right direction. That leaves absolutely no coaches in the Pac-12 in jeopardy of losing their jobs. --
Kyle Bonagura
4.
Cal and Colorado will be good enough to deliver a major upset this fall:
I think we can consider Cal's win at Washington State as major enough considering the kind of offensive numbers (and special-teams touchdowns) that
Jared Goff
and his teammates had to put up in Pullman. To win on the road against a team whose QB threw for the FBS passing record is pretty major. However, at the midpoint of the season, we're still waiting on Colorado. The Buffs came pretty close against Cal and Oregon State, which we could've considered in this category, especially with how well Cal was playing at the time. But we're keeping this prediction with Colorado. The Buffs have six regular-season games left and four of those teams are currently in the top 25. We're not counting out a top-25 takedown by Ralphie & Co. --
Chantel Jennings
5.
The USC-UCLA game will be a battle of top-10 teams:
OK, maybe we shot for the moon a bit with that one. But what about top-25 teams? That's still likely. The Trojans are at No. 22 and UCLA is the first team out of the rankings at the unofficial No. 26 spot. USC has only one ranked team in its next four games leading up to the UCLA showdown. Good chance it will still be ranked. Same for UCLA, which has only No. 16 Arizona as a ranked opponent on the docket before hosting the Trojans on Nov. 22. Win out and the Bruins will be back in the top 20. --
Kevin Gemmell
6.
Oregon will cover the spread against Michigan State in Week 2:
Annnnnd, we got one. Boom shaka laka. --
Chantel Jennings
7.
The Pac-12 will go 3-0 against Notre Dame:
Well, after Stanford yanked defeat from the jaws of victory -- hey, let's rush three and not cover anybody on fourth-and-11 from our 23-yard line with time running out! -- this prediction is already doomed. The question now, with Notre Dame ranked No. 5 as it heads to No. 2 Florida State on Saturday, is whether Arizona State (Nov. 8) and USC can beat the Irish (Nov. 29). We're going to stay optimistic -- I know; so strange! -- and say yes. Biggest reason why? Stanford played Notre Dame in South Bend, Indiana, but the Irish have to come west to play the Sun Devils and Trojans. And now's not the time to note that home-field advantage hasn't been worth squat in the Pac-12 this season. --
Ted Miller
8.
Whoever starts at quarterback for Arizona will pass for more than 3,000 yards:
Freshman
Anu Solomon
has cemented himself as the Wildcats' starting quarterback, and our initial assessment of 3,000 yards actually looks conservative now. Through six games, Solomon has demonstrated remarkable poise in the pocket, even leading Arizona to a shocking 31-24 upset over Oregon at Autzen Stadium. He has already racked up 2,136 yards passing, 15 touchdowns and only four interceptions. Since the Wildcats are on target to play in a bowl game, Solomon is actually on pace to shatter that three-grand figure while throwing for 4,628 yards and 33 touchdowns. Rich Rodriguez is developing a potent attack in Tucson, and it should only improve as Solomon accrues more experience with his talented receiving corps. --
David Lombardi
9.
Stanford QB Kevin Hogan will be the Pac-12's most improved player:
This prediction has not come to fruition. Through the first half of the season, Hogan has actually regressed in a key statistical area, and Stanford has struggled mightily in the red zone, a place where great quarterbacks shine. Averaging 7.7 yards per attempt, Hogan's no longer as efficient as he was in 2013 (8.9 yards per attempt) despite enjoying a much more complete aerial arsenal (Stanford's tight end position is back this year). The Cardinal's running game is not as strong this year, and that's forced Hogan to shoulder a heavier load. He averaged 15 throws per game in 2012. That number bumped up to 21 in 2013, and it has shot up to 29 here in 2014. It's become clear that this larger burden has pushed Hogan further from his comfort zone.
If Stanford can re-establish its running game and return Hogan to the play-action happy spot that gives him more opportunities to make plays with his legs, we may be able to revisit this prediction at season's end. --
David Lombardi
10.
Six teams will be ranked in the final top 25 at the end of the season:
Six looks like a stretch at this point and it's not because the Pac-12 might have six of the country's 25 best teams. With the level of parity the conference has shown over the first half of the season, it'll be tough to differentiate from, say, the conference's No. 5 team and its No. 8 team. That dynamic will make it significantly more difficult to have more teams in the top 25 than if there were a clear divide between the haves and the have-nots. --
Kyle Bonagura
Has The Big 12 Surpassed Pac-12?
PAC-12 SCOREBOARD
Friday, 10/24
Saturday, 10/25