October, 19, 2014
Oct 19
8:00
PM ET
Just a few weeks ago, it was popular to write off the Pac-12's chances of having a team in the initial College Football Playoff. What was then an overreaction is now just silly.
It's clear Oregon, as the top-ranked one-loss team outside the SEC, controls its own destiny as far as the playoff is concerned. In no way does that guarantee anything, but based on how the Ducks have played since losing at Arizona and what has happened elsewhere in college football, Oregon should feel good about where it is.
The Ducks became the Pac-12's first bowl-eligible team after beating Washington 45-20 on Saturday, but after them the conference remains a jumbled mess. Six others have at least five wins, including five teams in the South Division.
There's no sound way to logically project how this will end up -- too much parity -- but here's our weekly attempt:
College Football Playoff:
Oregon
Fiesta Bowl:
Arizona
Valero Alamo Bowl:
Utah
National University Holiday Bowl:
Arizona State
San Francisco Bowl:
USC
Hyundai Sun Bowl:
UCLA
Royal Purple Las Vegas Bowl:
Stanford
Cactus Bowl:
Washington
Heart of Dallas Bowl*:
Cal
* at large
October, 19, 2014
Oct 19
4:09
PM ET
October, 19, 2014
Oct 19
3:28
PM ET
Another weekend of Pac-12 games meant another weekend of Pac-12 visitors, as multiple conference programs hosted important official and unofficial visitors. Those recruits took to twitter to share their experiences, as Arizona State, Cal, USC and Oregon all put together significant performances -- including three home victories -- in front of recruits.
Cal hosts big weekend
The Golden Bears had a number of official visitors on hand -- including ESPN 300 wide receiver
Carlos Strickland
-- and almost pulled off the upset against UCLA. As always, the Cal passing game was on display, and this time it came in front of Strickland and three-star receiver
Lavan Alston
. Class of 2016 standout running back Sean McGrew, who holds a number of Pac-12 offers, was also on hand on an unofficial visit.
Cal game today! pic.twitter.com/sLl4tBxyQF

— Sean McGrew (@smcgrew11) October 18, 2014
Oregon's ESPN 300 visitors
Perhaps no Pac-12 program hosted a more potent one-two punch than the Ducks, as Oregon brought in ESPN 300 teammates
John Houston Jr
. and
Rasheem Green
on official visits.
Just landed in Oregon #GoDucks #WinTheDay #Oregon

— John Houston (@Official_John10) October 17, 2014
The two hold significant interest in UCLA, USC and other programs, but the Ducks picked a great weekend to bring in the talented defenders on official visits. Neither is expected to make a decision before signing day, but Oregon could be in the mix for both until the end.
Masina's second Pac-12 trip
ESPN 300 outside linebacker
Osa Masina
has three Pac-12 programs among his final schools, and the nation's No. 124 overall prospect was on an official visit to Arizona State this weekend. Masina went to UCLA earlier this month and will visit USC at the end of November.
#ESPN300 OLB Osa Masina on his official visit to Arizona State (photo from @mommamasina) pic.twitter.com/Qhf7ROWaO2

— Erik McKinney (@EMcKinneyESPN) October 19, 2014
Recruits see big USC win
While the Trojans didn't host any official visitors, being the only game in Los Angeles brought out some important local prospects.
ESPN 300 athlete
Ykili Ross
attended several USC games this season and was at the Coliseum again on Saturday.
Blessed! pic.twitter.com/sZpKFc3sQJ

— OvO_Y2K (@TheRealYK_7) October 18, 2014
The Trojans also received an unofficial visit from 2016 ESPN 300 safety
C.J. Pollard
, who picked up an offer from USC last week. Pollard is another in a long line of Gardena (Calif.) Serra standouts and his father, Marvin, is a former USC cornerback.
#ESPNJr300 S C.J. Pollard with USC head coach Steve Sarkisian. Pollard recently picked up a USC offer. pic.twitter.com/e0wbZKHeee

— Erik McKinney (@EMcKinneyESPN) October 19, 2014
October, 19, 2014
Oct 19
2:52
PM ET
Welcome back, UCLA. Goodbye, Stanford.
Oregon headlines the list of six Pac-12 teams ranked in this week's
AP poll
, which does not include the Cardinal for the first time since the second week of the 2010 season. The Cardinal's school-record, 72-week run ended following a 26-10 loss to Arizona State on Saturday, which also propelled the Sun Devils to No. 14.
Oregon jumped Baylor, Michigan State and Notre Dame to No. 6 and is the nation's No. 3-ranked one-loss team behind No. 4 Alabama and No. 5 Auburn.
Arizona, which was idle this week, is a spot behind its in-state rival at No. 15.
The most anticipated game in the Pac-12 this week will be No. 20 USC's trip to No. 19 Utah, which is one of just two games in the country that will feature a pair of ranked teams.
After a 36-34 win against Cal, UCLA re-enters the poll at No. 25. The preseason No. 7 team was unranked last week after consecutive losses to Utah and Oregon.
October, 19, 2014
Oct 19
2:00
PM ET
October, 19, 2014
Oct 19
9:00
AM ET
Another weekend is finished in the Pac-12. Here are some individual accolades.
Devontae Booker, RB, Utah
: The Utes passed for only 62 yards in their dramatic
29-23 double-overtime victory
at Oregon State, so they relied on Booker's running for the necessary offense to win. And boy, did he sure do some running. Booker amassed 229 yards on 32 carries (7.2 average) and he made sure he left nothing to chance in the second overtime, knifing his way 19 yards for the winning touchdown even though Utah needed only a field goal for the victory. Booker found paydirt two other times -- once to give the Utes a late fourth-quarter lead and once to open the first overtime. So aside from being statistically productive, he delivered in the clutch.

Gionni Paul, LB, Utah
: It's time to start recognizing the quality of this Utah defense. The front seven has been sturdy this season. On Thursday, the Utes allowed only 4.7 yards per play against Oregon State. They also recorded five more sacks, pushing their conference-best total to 33. Most importantly, the defense was again fundamentally sound across the board, so let's put a sticker on Paul's helmet -- he led the unit with 14 tackles.
Brett Hundley, QB, UCLA
: This was by no means Hundley's best game. He fumbled early on, and that set up a Cal touchdown. He then threw an ugly second-half interception that opened the door for another Bears score. But on a day marred by UCLA sloppiness on both sides of the ball, Hundley overcame his own mistakes and those of his teammates with his supreme athleticism. He did so with statistical flair: 330 passing yards, 94 rushing yards, and three total touchdowns. The Bruins ended up
beating the Bears 36-34
on a late field goal, and that capped a Hundley-led 567-yard performance.
Cody Kessler, QB, USC
: USC boasts an illustrious list of quarterbacks in its storied history. Well, Kessler can now say he has thrown more touchdown passes in a single game that any of the legendary names that came before him. Kessler tossed seven scores in the Trojans'
56-28 annihilation of Colorado
, and he did it with remarkable efficiency (19-for-26, 319 yards). More than a quarter of Kessler's throws were touchdowns. By the way, Matt Barkley held the previous USC single-game touchdown record, throwing six on two separate occasions.
Buck Allen, RB, USC
: It wasn't exactly tough running Saturday, but Allen deserves another sticker as he continues his fine season. The back's final line against Colorado: 15 carries, 128 yards, 8.5 per carry.
Royce Freeman, RB, Oregon
: Oregon's remarkable win streak over Washington reached 11 games with Saturday's commanding
45-20 win
, and the Ducks got it done by pummeling the Huskies' vaunted front seven. They did it behind Freeman, a true freshman power back who's built more like a senior. His bruising effort amassed 169 yards on 29 carries (5.8 average) against a Washington defense that had been sturdy against the run entering the game. Freeman powered his way to four touchdowns. The Ducks' offensive line seems to be back and firing on all cylinders.
Marcus Mariota, QB, Oregon
: Yes, I know -- Mariota's helmet is already full of stickers since he gets one seemingly every single week. But we can't ignore another ridiculously efficient performance: 24-for-33, 336 yards, two touchdowns. Mariota has now thrown 19 touchdown passes, and he's the only quarterback in the nation to not have thrown an interception. Now, where's he going to stash all these helmet stickers?
Mike Bercovici, QB, Arizona State
: It'll be interesting to see what Todd Graham does after
Taylor Kelly
is healthy again, because Bercovici sure delivered an excellent performance against Stanford's rugged defense in ASU's
26-10 win
. He finished 23-for-33 for 245 yards and a touchdown, but numbers don't really illustrate the critical elements of his performance. Remember that the Cardinal entered this game as the nation's top defense, so the Sun Devils had their offensive work cut out for them. Bercovici succeeded where most quarterbacks fail against Stanford: He managed a nearly perfect game, positioning ASU for a convincing victory.
ASU defense
: Granted, Stanford's offense is a mess right now, but ASU does deserve significant credit for its defensive performance in Tempe. The Sun Devils' defense had taken an enormous amount of flak following its Sept. 25 tackling meltdown against UCLA, in which the unit allowed 10 yards per play (that was a 62-27 final score). The Sun Devils smelled Cardinal blood today, and they preyed on Stanford's discombobulated offense with excellent aggressiveness, discipline and fundamentally sound tackling. The Cardinal didn't reach the end zone until 10 minutes remained. Graham's unit should have confidence again.
October, 19, 2014
Oct 19
2:33
AM ET
Some things we learned in Week 8 of the Pac-12.
The streak continues
: The Ducks beat Washington. Again. It was by more than 17 points. Again. Make it 11 in a row for Oregon over the Huskies. For obvious reasons, you tip your cap to Ducks running back
Royce Freeman
for his 169 rushing yards and four touchdowns in the
45-20 Oregon victory
. But a little credit also goes to
Marcus Mariota
's wide receivers. From
Darren Carrington
's tip-toe catch inside the 5 to
Dwayne Stanford
's phenomenal touchdown, the receivers came up big for their quarterback. Oh yeah, still no interceptions. The Ducks look every bit the part of a playoff team.
[+] Enlarge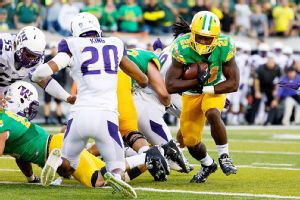 AP Photo/Ryan KangOregon's Royce Freeman had 29 carries for 169 yards and four touchdowns against Washington.
Huskies have to pick up the pieces:
Washington isn't
that
bad. It just seems like whenever it plays Oregon, whatever can go wrong will. Whether it's a quarterback throwing his first interception of the season, a shotgun snap when said quarterback isn't ready or the opposing quarterback getting a lucky bounce off a fumble, the wheels seem to come off for the Huskies when these teams meet, and the breaks never go their way. No need to panic yet about bowl eligibility. The defense is good enough that there are at least two wins out there, and probably three or four. But having dropped two of three, the last thing the Huskies need to do is hit the panic button. They got whooped. It happens. Move on. It'll be interesting to see how Chris Petersen's team looks with ASU coming to town. Speaking of which ...
... ASU inching toward elite status
: What was the big knock on Todd Graham? He still hadn't won the big one. Despite Stanford's offensive inefficiencies (add special teams to those inefficiencies after Saturday night), the Cardinal were still the two-time defending conference champs. Their
26-10 win
over the Cardinal brings ASU up a notch, as it knocked off one of the league's top-tier teams. They did it convincingly and by dictating the game. Graham has already said
Taylor Kelly
is his guy when he's ready to play. But you can't overlook the 2-1 record
Mike Bercovici
has put up in relief.
Stanford loses its elite status
: Elite teams don't look like Stanford did Saturday night. They don't fumble on kickoff returns and muff punts. They don't lose the turnover battle and rush for 76 yards when rushing is what they do. With two conference losses, the Cardinal aren't out of it yet. They could still run the table and get to the Pac-12 championship game. But a three-loss team, no matter how good the other three opponents or how close the losses, isn't getting into the playoffs.
Utah has their back, just not their quarterback:
Devontae Booker
is certainly making his case for newcomer of the year. He was one of the few offensive bright spots for the Utes, as he rushed for 229 yards and three touchdowns in their
29-23 double-overtime win
at Oregon State. Now, the quarterback is once again a question, with USC coming to town next week.
Travis Wilson
was 5-of-10 for 45 yards.
Kendal Thompson
, who started and played the first half, was 4-of-8 for 17 yards and an interception. There are some decisions to make (again) this week for Kyle Whittingham and Co.
Bears down
: You can make plenty of arguments about whether UCLA's
Marcus Rios
possessed the ball on that game-changing interception in the Bruins'
36-34 win
at Cal. But you first have to question the play call on first down, and you also have to go back through the game and look at Cal's tackling, which was not good. There were plenty of other places where Cal lost that game. The questionable replay, because it came at such a critical juncture in the game, will be highly debated. But Cal knows there was a lot more to that game than just that call.
The Bruins continue to defy logic
: UCLA was on the road. UCLA hadn't won in Berkeley since 1998. UCLA lost the turnover battle. Cal scored 21 points off turnovers. I'm not sure what the exact metric is, but logic says that's a game UCLA should not have won. Yet the Bruins overcame themselves and managed their first win at Cal after seven previous losses. The Bruins totaled 567 yards of offense, so moving the ball wasn't an issue. If they can cut the turnovers, there's no reason to think they still couldn't win the South.
Beavers bowl window is shrinking
: We talked in the past about the Week 8 showdown with Utah being a swing game for Oregon State. At 4-2, the Beavers have six opportunities left to find two wins. None of those opportunities are particularly appealing. Cal and Washington State can put up crazy points. They are at Stanford and at Washington while getting ASU and Oregon at home. Their only saving grace is that four of the six are at Reser … but given the way the league has shaped up, that probably doesn't mean much.
Colorado regressed
: Maybe it's a one-week deal. Maybe not. Either way, the
56-28 loss
to USC was ugly and worthy of the Pac-12 blog's "Dude?" status. The Buffs surrendered 56 points (all from the USC offense -- no special teams or defensive touchdowns) and yielded 532 yards. That wasn't the Colorado team we've seen in previous weeks. Which leads us to …
… USC has explosive potential
: Steve Sarkisian has said the past couple weeks that he wants to see his offense be more explosive. Remember
Nelson Agholor
? Hadn't heard his name in a while. Sure, he had 42 catches coming into this week, but he had only four receiving touchdowns and just 67.5 yards per game. He had a fairly monstrous day and caught six balls for 128 yards and three touchdowns. Of course, someone has to throw them. Agholor's day was made possible by
Cody Kessler
, who set a school record with seven touchdown passes.
October, 18, 2014
Oct 18
11:43
PM ET
Associated Press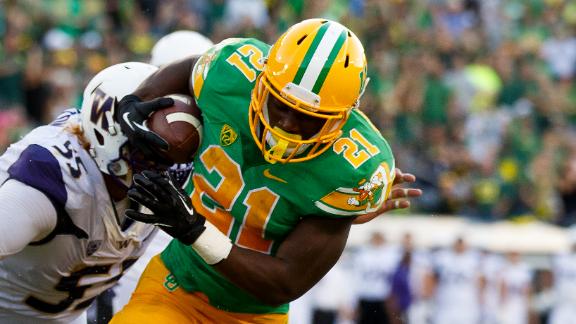 EUGENE, Ore. -- Freshman Royce Freeman ran for 169 yards and four touchdowns and No. 9 Oregon extended its winning streak over Washington to 11 straight games with a 45-20 victory on Saturday night.
Marcus Mariota threw for 336 yards and two touchdowns for the Ducks (6-1, 3-1 Pac-12), who won their second straight game as they distance themselves from a loss at home to Arizona on Oct. 2.
Freeman's four touchdowns were the most rushing touchdowns in a single game for a Duck since Kenjon Barner had five against USC in 2012.
Cameron Van Winkle hit a pair of field goals for Washington (5-2, 1-2), which hasn't defeated Oregon since the 2003 season. Sophomore Cyler Miles struggled to find a rhythm, throwing for 147 yards and a touchdown with an interception and a fumble.
October, 18, 2014
Oct 18
11:36
PM ET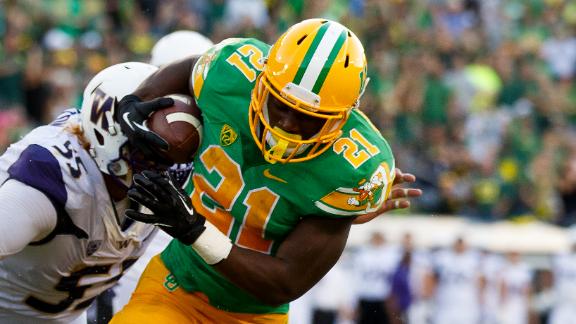 A quick look at Oregon's
45-20
victory over Washington, the Ducks' 11th consecutive win over the Huskies.
How the game was won:
Oregon's offense is playing like it wants to play.
Jake Fisher
returned to the lineup in the Ducks' win over UCLA, and the O-line looked like it took another step forward against a talented Huskies front seven. Though the O-line had a few silly penalties that they'll have to clean up, the offense managed to click and tore up the Washington defense with big plays. Oregon accounted for 22 plays of 10 or more yards against a stout defense.
Game ball goes to:
Oregon running back
Royce Freeman
. He's a freshman who plays (and is built) like a fifth-year senior. Freeman averaged 5.8 yards per rush against a defense giving up only 3.1 yards per carry, finishing with 169 yards on 29 carries. It was his second consecutive 100-yard rushing game, and he had a Pac-12 season-high four rushing touchdowns in this game, with a fifth taken away by an offensive line penalty. It was the most rushing touchdowns in a single game for a Duck since Kenjon Barner recorded five against USC in 2012. But to be kind, let's give a second game ball to the Oregon offensive line for making that possible.
What it means:
First and foremost for Ducks fans, the streak against Washington is still alive. From a national perspective, this was a big game. It answered the question of whether or not Oregon's offensive performance against UCLA was a one-and-done. (Answer: nope, not at all.) And while most of the nation was tuned in to the top-five matchup in Tallahassee, the Ducks managed to put on a pretty good show in Eugene.
Playoff implication:
With 10 days until the playoff selection committee releases its first ranking, Oregon is still very much in the conversation. The Ducks O-line was far from perfect but still light years ahead of where it was in Oregon's loss to Arizona. In this game, the committee saw an unflappable
Marcus Mariota
, a strong run game and a defense that is coming along. And even if the defense is still slow on the uptake through the rest of the season, the improvements of the O-line could give the committee enough belief that this Mariota-led offense could probably make up for whatever deficiencies the defense has shown. At the end of the day, it's about who has more points.
Best play:
Dwayne Stanford
's 16-yard receiving touchdown in the third quarter. He jumped backward and elevated over both
Kevin King
and
Sidney Jones
, spun in the air and came down with the score to give the Ducks a 35-6 lead. It was Stanford's second touchdown of the season, but his first career touchdown reception against an FBS team.
What's next:
Oregon travels to Berkley to take on California, a team that will be eager to prove itself after a very close loss to UCLA on Saturday. Washington welcomes Arizona State to Seattle for a chance to pick up a sixth win and bowl eligibility.
October, 18, 2014
Oct 18
10:45
PM ET
If there was any doubt about Brian Kelly's place as an elite coach and Notre Dame's place as an elite team, it vanished into the Tallahassee night.
The Fighting Irish left Doak Campbell Stadium in defeat, but they stood on level ground with the heavily favored, insanely talented national champions -- on the road, right until the final seconds. And if two receivers had been a little slicker with their pick attempts, Notre Dame might have slayed mighty Florida State.
"We don't coach illegal plays," Kelly said afterward.
Most of the legal plays Kelly called worked masterfully against the Seminoles. He made the right in-game decisions, including a punt midway through the fourth quarter that returned the ball to a scalding-hot Jameis Winston. Notre Dame's defense, one of the nation's most surprising units, held firm, and quarterback Everett Golson led the Irish to the threshold of victory only to fall just short.
The next step for Kelly is arguably even tougher than game planning for Florida State on the road. But it's also a task he's more than capable of completing. He must lift the spirits of his players, prevent a letdown and restore belief that all of Notre Dame's goals, including a national championship, are still on the table.
Kelly also has some help, should he need it. There's a blueprint to responding to adversity that others have followed in this most unique of seasons, when one loss, especially one like Notre Dame's at Florida State, isn't the death knell.
Several one-loss teams showed Notre Dame how it's done in Week 8.
October, 17, 2014
Oct 17
4:45
PM ET
Oregon linebacker
Tony Washington
was, apparently, a big fan of
Thursday
night's showdown between Utah and Oregon State. And why not? It was a double-overtime thriller that the Utes won on the road.
Washington was so excited about it –
he sent out a tweet
. You might notice, however, a dusting of sarcasm and a not-so-subtle dig at Pac-12 officials.
Great game tonight between the Beavs nd the Utes! pic.twitter.com/MJ0SVGH4vG

— Tony Washington Jr. (@Dubb_drick) October 17, 2014
The tweet includes a screen shot of Utah running back
Devontae Booker
bowing in the end zone after a touchdown run. And if Washington seems a little peeved, it's probably understandable.
Late in Oregon's 31-24 loss earlier this month to Arizona, Washington was flagged for unsportsmanlike conduct after he made a critical sack on third-and-goal. After the play, he ran toward midfield and bowed toward the Oregon sideline. That drew a flag, which gave the Wildcats a fresh set of downs and first-and-goal at the Oregon 8. A pass interference call against the Ducks set the Wildcats up at the 2-yard line, and two plays later,
Terris Jones-Grigsby
scored on a 1-yard run that turned out to be the game winner.
Here's the
Washington bow
for perspective. And
another look at the Booker bow
. The only real difference was that Washington sprinted back toward midfield before the gesture. Booker's occurred in the end zone immediately after the score.
When asked about the inconsistencies, a spokesman for the Pac-12 said "It's a judgment call."
Washington took a lot of heat for his "excessive" celebration. However, it can also be argued that Arizona could have kicked what would have been a 34-yard field goal to break the 24-24 tie. And if the game played out as it did, with the Ducks failing to score on their final drive, Arizona still would have won 27-24. End of story.
Or maybe it doesn't.
Either way, the Booker bow did not go unnoticed on social media
Thursday
night.
Isn't bowing a flag in this league?

— Kevin Gemmell (@Kevin_Gemmell) October 17, 2014
UO fans up in arms about Utah's 'bow' not being flagged are bad. How would a second bad call make up for the first bad call? #MoveOn

— Tyson Winter (@RetrnOfTheQuacK) October 17, 2014
Yes, I saw the Devonte Booker celebration bow. Yes, I looked for the flag (Tony Washington). No, I don't know what the Pac-12 is thinking.

— John Canzano (@johncanzanobft) October 17, 2014
Take a bow Utah...........not you Oregon

— Joshua Michael (@JoshMustard21) October 17, 2014
October, 17, 2014
Oct 17
10:00
AM ET
(All times local)
12:30 p.m.
UCLA at California, ESPN2, ABC
[+] Enlarge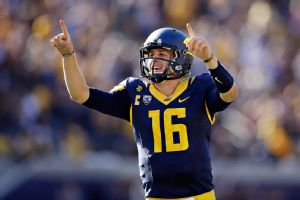 Ezra Shaw/Getty ImagesJared Goff will look to rebound against UCLA after Cal scored just one touchdown last week.
This is the battle for bragging rights between California's top two public schools. Both teams are coming off disheartening losses, so there should be a sense of urgency coming from both sidelines. Cal must demonstrate that it can at least slow down an explosive offense to keep this competitive. However, the Bruins' defense hasn't been much to write home about, either. Expect UCLA quarterback
Brett Hundley
and Cal QB
Jared Goff
to light up the Memorial Stadium scoreboard.
3 p.m.
Colorado at USC, Pac-12 Network
The Trojans escaped against Arizona with a win by the skin of their teeth when the Wildcats' last-second field goal attempt was wide right. The week before, USC lost to Arizona State on a Hail Mary. On paper, it looks as if Steve Sarkisian's team will have a chance to catch its breath at home against struggling Colorado, but if there's one thing the Pac-12 has taught us this season, it's that absolutely nothing is automatic.
5 p.m.
Washington at Oregon, Fox Sports 1
It now has been more than 4,000 days since the Huskies last beat Oregon. Washington enters Autzen Stadium armed with a sterling defensive front seven that has helped generate a nationwide-best five defensive touchdowns this season, so there's hope in Seattle that the Huskies can snap Oregon's 10-game streak this time around (
Danny Shelton
is the kind of big body in the middle that can neutralize explosive offenses).
The Ducks, though, are fresh off a statement win at UCLA. So while Washington is eyeing the upset, the Quack Attack is looking to make another spectacular
Marcus Mariota
-led splash. Keep this in mind: When it comes to avoiding turnovers, these are the top two teams in the nation. Washington has given it away only once, the Ducks just three times.
7:30 p.m.
Stanford at Arizona State, ESPN
The Cardinal showed signs of offensive life last Friday against Washington State, and they can continue developing their identity on that side of the ball against an Arizona State defense that has not been good (the Sun Devils are allowing a conference-worst 6.1 yards per play). ASU will likely need to find more offensive consistency than it did in two games versus Stanford's top-flight defense last season. Much of that will rest on the shoulders of quarterback
Mike Bercovici
, who has thrown for an NCAA-record 998 yards in his first two career starts.
Taylor Kelly
may play, but it'll probably be Bercovici working with explosive weapons
D.J. Foster
and
Jaelen Strong
against the Cardinal's rugged defense.
Top Aggies Commit Looking Around?
PAC-12 SCOREBOARD
Friday, 10/24
Saturday, 10/25