August, 30, 2014
Aug 30
8:00
AM ET
Here is our quick guide to the season's first Saturday of Pac-12 games:
No. 7 UCLA at Virginia
Time:
12 p.m. ET
TV:
ESPN/WatchESPN
Hashtag:
#UCLAvsUVA
[+] Enlarge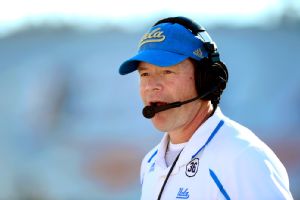 Andrew Weber/USA TODAY SportsSigns point to a convincing victory for UCLA and coach Jim Mora in Virginia.
The Bruins begin their much-anticipated season with a trip to Charlottesville in what has the makings of a relatively easy UCLA win. Virginia enters the game having lost 10 straight games against FBS teams -- a streak that began with a 59-10 home loss to Oregon the past season. Conversely, expectations couldn't be much higher for the Bruins, who start the season No. 7 in the AP poll, their highest preseason ranking since they started the 1998 season at No. 6.
California at Northwestern
Time:
3:30 p.m. ET
TV:
ABC/ESPN2/WatchESPN
Hashtag:
#CalvsNU
A year ago, Cal was a few tipped passes from opening the Sonny Dykes era with a win against what was then a ranked Northwestern team. It was all downhill from there, but now that Cal is healthy, has a new defensive coordinator (Art Kaufman) and has another offseason to adjust to the new coaching staff, there is a renewed sense of cautious optimism in Berkeley.
Portland State at Oregon State
Time:
4 p.m. ET
TV:
Pac-12 Network
Oregon State against an FCS team … what could possibly go wrong? After losses to FCS teams in season openers two of the past three seasons, there is no chance the Beavers aren't up for this one. Also, quarterback
Sean Mannion
renews his quest to eclipse Matt Barkley's Pac-12 career passing record (12,327 yards) -- he needs just 1,892 yards to take sole possession.
UC Davis at No. 11 Stanford
Time:
4 p.m. ET
TV:
Pac-12 Network
Stanford's rematch from a 2005 loss to Davis serves as just the fourth meeting between the Cardinal and an FCS team since the Division I-AA subdivision was created in 1978. Stanford will need its highly touted offensive line to gel quickly before next week, when it hosts USC and the Trojans' formidable front seven.
Fresno State at No. 15 USC
Time:
7:30 p.m. ET
TV:
FOX
Kickoff can't come soon enough for the Trojans after one of the more bizarre weeks for a team … ever? Turmoil, of course, isn't new to this group of players, which was able to band together for a strong close to 2013, despite changing head coaches twice during the season. An impressive showing for USC would go a long way toward changing the story back to football in coach Steve Sarkisian's debut.
No. 25 Washington at Hawaii
Time:
10:30 p.m. ET
TV:
CBS Sports Network
Coach Chris Petersen has a favorable early schedule to ease into his new job, starting with this trip to the Islands. Considering how much the Warriors struggled a year ago -- they started 0-11 before winning the finale -- this one doesn't figure to be much of a contest. Quarterback
Jeff Lindquist
will start for the Huskies as
Cyler Miles
serves a one-game suspension.
South Dakota at No. 3 Oregon
Time:
10:30 p.m. ET
TV:
Pac-12 Network
Oregon's starters face more difficult challenges every day against their scout-team counterparts. It would be a surprise if the Ducks don't score 35 first-half points and quarterback
Marcus Mariota
plays deep into the third quarter with No. 8 Michigan State looming next week.
August, 29, 2014
Aug 29
6:00
PM ET
Happy Friday. That goes for you, too, Washington State.
Well, mostly. Hey, next round's on Gemmell? That help? Thought so.
Follow me on Twitter
, where I wax and wane between sympathetic, antagonistic and sarcastic.
To the notes!
Devon from Mesa, Arizona, writes:
When Todd Graham was hired at ASU, the national media focused only on his nomadic past and the admittedly less-than-ideal way he left Pitt. But since then, he's been nothing but extremely loyal and impressive as the Sun Devils' coach, improving the play on the field, the quality of recruiting, the discipline in the program, and the morale of the fan base. But even after winning the South and the conference coach of the year honors last year, most media picks ASU as
no better than fifth in the Pac-12
this season. What more does he need to do to convince the national media to get past the one-year stint at Pitt and to start giving Graham some respect for the outstanding program he's building in Tempe?
Ted Miller
: Well, fifth in the Pac-12 is good enough to be
19th in the preseason AP poll and 18th with the coaches
, slightly ahead of their
2013 finish
, so it's not exactly like the national media is hatin' them some Sun Devils. Further, fifth is only down two spots in the conference from last year, when ASU finished third in the Pac-12 behind Stanford and Oregon.
Why down two spots? Quick: Name four defensive starters. Ah ha! Yes, pretty much completely rebuilding your defense with unknown quantities is something the national media picked up on. It's not personal. It's business. The media goes all Missouri on you: You've got to show us. While Graham has recruited well, he's not in Alabama or Florida State territory, where he gets the benefit of the doubt with his true and redshirt freshmen and JC transfers.
[+] Enlarge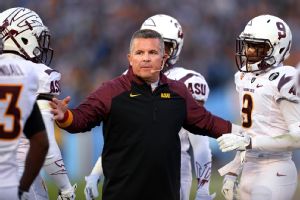 Robert Hanashiro/USA TODAY SportsTodd Graham and Arizona State have some rebuilding to do, but the pollsters have given the Sun Devils some respect.
Speaking of JC transfers, and I don't want to seem thin-skinned here, but the Pac-12 blog received gobs of "your an idiot" [sic] hate mail this offseason from maestros of the message boards fans telling us how stupid we were for not understanding how dominant front-seven stalwarts Dalvon Stuckey and Darrius Caldwell were going to be.
How's that working out? Not to be snide about academic non-qualifiers but
we've written over and over again
about the love affair folks seem to have with the idea of touted players who have yet to play a game or even practice. Previously we termed it, "Incoming Dude Is Obviously Transcendent." Or IDIOT. Yes, we just tittered at our own snarky joke. So sorry for that.
So the reason the Sun Devils slipped in the preseason projections is the defense looks suspect. It's nothing more complicated than that.
Did we learn anything about the Sun Devils -- defense or otherwise -- during their 45-14 stomping of Weber State on Thursday? Nope.
How can Arizona State improve its place in the national pecking order? Beat UCLA at home on Sept. 25, a Thursday night game that should have a significant national audience. A 4-0 start for Graham and the Sun Devils would earn them a top-10 ranking.
Ah, did you notice something about this answer, though? I didn't bring up Pittsburgh and all that muckety-muck. Know why? I've moved on and I think most writers have, too. Graham was the Pac-12 Coach of the Year last year and has shown no interest in moving out of Tempe. I think that narrative has seen its last whimper, at least until he seems to again show a wandering eye
---
Eric from Vallejo, California, writes:
Hi, longtime Ducks fan here. Saw my first game at Autzen in 1970.The two biggest conference games for the Ducks are with UCLA on the road, and Stanford at home. I have noticed that nobody has commented on the fact that the Ducks get two extra days to prepare for UCLA and one extra day to prepare for Stanford. (UCLA's game before meeting the Ducks is on a Saturday, but the Ducks' previous game is on a Thursday. Similarly, Stanford's previous game is on a Saturday, but the Ducks' previous game is on a Friday.) It could be the difference-maker! The scheduling gods smiled on the Ducks this year. How significant do you think the extra days of rest and prep will be for the Ducks on their two most important conference games?
Ted Miller
: Oregon's schedule is undoubtedly favorable. It starts with missing USC and Arizona State, a pair of top-25 teams from the South Division, and it includes having Michigan State, Washington and Stanford all come to Autzen Stadium.
And your point about extra days of preparation is entirely valid. I'm imagining UCLA offensive coordinator Noel Mazzone reading this and going, "Well that stinks," then telling Jim Mora and defensive coordinator Jeff Ulbrich, and that troika proceeding to trash the coaches' offices, throwing chairs out the window and kicking walls before they throw themselves on their knees and bellow in unison, "Why! WHY?! Oh, why doth thou forsake us, oh great scheduling gods?!"
It might not happen exactly like that, but it would be cool if it did.
There's no question extra preparation time, as well as extra rest/recovery time, is an advantage. While there's no obvious proof of a pro-Ducks scheduling conspiracy, you never know.
---
Jim from Los Angeles writes:
I think
Myles Jack
is a much better linebacker than running back. I'd rather seem him play defense and only occasionally play offense. How do you think UCLA can best utilize Jack's talents?
Ted Miller
: Jim... last name... Mora?
I think that's UCLA's plan, particularly with Jordan James back from injury. Recall that the reason Jack saw action at RB last year was because of injuries in the backfield, most notably to James, who ranked among the national rushing leaders early in the season.
But Jack also might offer a good change of pace to a more physical runner, particularly near the goal line. I expect him to get touches on offense in specific packages but I also don't think anyone has illusions about where his primary position is -- on defense, where he's got an NFL future.
---
Craig from Independence, Oregon, writes:
Do you think
Sean Mannion
and
Marcus Mariota
will be NFL quarterback(s)? Both seem to have the physical makeup of one, but are they NFL material?
Ted Miller
: Yes.
They are different, but they both will be early draft picks -- perhaps both going in the first round this spring -- and I suspect both will have good NFL careers.
Both have NFL arms. Both are tall, which the NFL values. Both are smart enough to learn an NFL playbook. Mariota brings a run/scramble element, while Mannion is a traditional guy who stands tall in the pocket.
I've learned through the years that my skills predicting NFL careers are limited, not unlike NFL GMs. But I'd be surprised if both don't end up as NFL starters.
---
Fleecemonkey from San Carlos, California, writes:
Did no one do any independent source verification before reporting the
Josh Shaw
story? Is that not the journalistic standard? I ask out of sincere curiosity. No snark intended. When I wrote a piece for the NY Times Sunday Review, I had to provide documentation for every fact. Does sports journalism adhere to different practices?
Ted Miller
: While all forms of journalism should adhere to basic 101 standards, these are complicated times for the profession. Things move faster than they once did. As in immediate fast. You get information you believe is from a good source and you tend to go with it ASAP. It used to be you could double- and triple-source and provide depth and perspective on breaking news because your only time constraint was the deadline for the AM edition. Now, for better or worse, there's a battle for Twitter turf.
That's a different bird than what you did for the NY Times Sunday Review, which I'm guessing was a non-deadline feature or long-form story that can be thoroughly fact-checked because there's time to do so.
In this case, team captain Josh Shaw, a senior with a good reputation, told coaches and administrators at USC that he jumped off of a second-story balcony and hurt his ankles because he was trying to save his drowning 7-year-old nephew. There was no reason, at that point, to view Shaw with suspicion, to see him as someone who would manufacture an outrageous lie. He had no history of deceit or questionable conduct within the program, at least as far as we know.
How did USC get fooled?
Read this
. It does a good job of explaining.
Then USC, using its official website, published a story with quotes from Shaw and coach Steve Sarkisian. That put the seemingly legitimate information out there, and beat writers felt they needed to react for their publications as soon as possible, probably knowing it would be of national interest. At that point, just about everyone was planning a follow-up. That would be the deeper and more detailed -- and more sourced -- picture of an act of heroism and the young man who performed it. .
Things moved pretty quickly thereafter, though not before many of us were captivated -- hook, line and sinker. As it was, the feel-good story became a stinking pile of manure.
---
Costi from Phoenix writes:
While a lot of optimism always inevitably floats around at the beginning of the season (which I love, of course). I want the pessimistic side of your analysis as well. I want to know what team or teams do you think is most likely to underwhelm, fall well short of expectations, or simply just surprise people with how thin or bad they are? I mean, sure, the Bears and Buffs are most likely to be the worst teams at the end of the season, but everyone expects that. Which Pac-12 team projected to contend is most likely to fall well short of expectations?
Ted Miller
: After watching Washington State lose Thursday to a Rutgers team that I thought it would roll over, I think all the favorites have plenty of room to self-destruct. Heck, many Pac-12 teams are just a few injuries away from massively reduced capabilities -- see Oregon with QB Marcus Mariota last year.
What could go wrong? How about this.
Arizona: What if QB play is poor and the defense gets exposed?

Arizona State: What if the rebuilt defense is lousy?

California: What if the team starts slowly and quits on Sonny Dykes?

Colorado: What if the voids left behind by WR Paul Richardson and DE Chidera Uzo-Diribe prove too much?

Oregon: What if the receivers and secondary underwhelm?

Oregon State: That O-line is questionable, and Brandin Cooks is in the NFL.

Stanford: Losing four starting O-linemen and the biggest producers on defense could actually be a problem.

UCLA: Sophomore slumps on both lines, a loss to Texas and a team unprepared for disappointment.

USC: New systems and a lack of depth, as well as swirling preseason controversies.

Utah: Still not ready for prime time Pac-12 play.

Washington: New systems, new QB, new RB and a young secondary.

Washington State: No run defense; no running game.
The teams set up for the biggest falls are everyone's favorites: Oregon and UCLA. While I don't see either faltering in a massive way, it wouldn't shock me if one or the other ended up outside the top 10. Because both have such high expectations, that first defeat might include a hangover that causes loss No. 2. Or even No. 3.
---
Gary from La Grande, Oregon, writes:
Ted, you've been catching a lot of heat for ending the best-case/worst-case scenarios. So, I thought you might feel better to know that I couldn't stand 'em.
Ted Miller
: Yes, Gary, I now feel great. Thanks.
August, 29, 2014
Aug 29
3:00
PM ET
(Pause for laughter)
(Pause again, for laughter)
(Pause, again, still for more laughter)
UCLA head coach Jim Mora had just been asked a purely-for-fun, purely-hypothetical question: What if UCLA and USC had to play in Week 1?
"I don't think it would be a good deal," Mora said. "You want the drama to build. I don't know what it would be like. I never thought of that. [Pause for laughter, again]. It would make for an interesting off season. You'd have a whole lot of time to talk about it rather than just a week. Heck, I don't know."
[+] Enlarge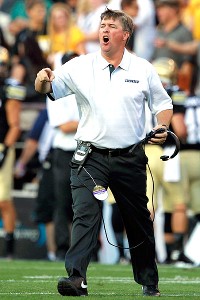 AP Photo/David Zalubowski Colorado coach Mike MacIntyre relishes the opportunity to play a rivalry game in Week 1. But most Pac-12 coaches would rather wait until the end of the season.
The roots of this comical concept stem from the fact that while most of the Pac-12 will be dining on desserts in Week 1, the
Colorado Buffaloes
have to play a rivalry game with Colorado State right out of the chute.
And make no mistake -- this is a rivalry game. This will be the 86
th
game in the series (the Buffs lead 62-21-2), which has been played off and on since 1893 and annually since 1995 (the longest gap was between '58 to '83).
It doesn't matter that Colorado is in the Pac-12 and Colorado State is in the Mountain West. This game is as heated as it gets.
"We think of this as a traditional rivalry, no doubt about it," said Colorado coach Mike MacIntyre. "You hear about it every day. Everybody is up and down Interstate 25, and CU fans and CSU fans run into each other. The kids know each other. The coaches know each other because we speak at different clinics and run into each other all of the time."
Colorado State got win No. 1 for coach Jim McElwain in 2012 with a 22-17 victory. A year later, the MacIntyre era kicked off with a 41-27 victory.
"The pros of it are it's a big, heightened game," MacIntyre said. "It keeps your kids on their toes. They hear about it all the time. It makes it a little more special. All opening games are special. But this puts an extra flavor to it, so to speak."
That got the Pac-12 blog to thinking … simply for extra flavor … what if every rivalry game in the league was played in Week 1. What would the storylines be?
Territorial Cup: New Arizona QB faces new ASU D as RichRod looks for first win in rivalry.

The Big Game: Bear Raid looks to get off the mat against two-time conference champs.

The Civil War: Potential first-round picks Marcus Mariota and Sean Mannion duel in opener.

UCLA-USC: Oh jeez … can you imagine USC and UCLA squaring off Saturday after the week the Trojans have had? This one writes itself.

The Apple Cup: Chris Petersen's Washington debut against the Cougs.
Look, we know this isn't ever going to happen. But it's fun to think about the possibilities. Right?
"Oh, we wouldn't like that. I wouldn't like that at all," said Arizona State coach Todd Graham, [OK, guess not]. "I'm a fan. I don't want to start the season off with a rivalry game. We love that being at the end of the season for our fans."
The consensus was that if the rivalry game was in Week 1, so be it, the coaches would prepare per usual. But it just wouldn't feel the same.
"One year we played Hawaii after [we played Oregon] at the end of the year and that felt funny," said Oregon State coach Mike Riley. "It would definitely make for an interesting start to the season."
Because the CSU-CU game is an out-of-conference showdown, the thought is that this game is best played before league play cranks up. And that makes sense.
"Late in the conference, you're worried about conference games and getting to the conference championship game," MacIntyre said." I think playing it early in the year is a good thing for both of us."
So, no. Pac-12 rivalries should not be played in Week 1. But the tradition works for the Colorado folks so don't mess with it. It will make for a fun debut Friday night and add some sizzle to a Week 1 slate that doesn't have a ton of gusto.
And we can all get on board with Graham: "That game is
the
game for us. You can win 11 games and lose that one and have an unsuccessful season. You could lose 11 and win that one and have a successful season. That's how big that game is for us. I kind of like it where it's at."
August, 29, 2014
Aug 29
9:00
AM ET
Five things to know as the
Oregon Ducks
take the field for their season opener against South Dakota (10:30 p.m. ET, Pac-12 Network):
1. Chances are this is going to be a blowout win (though, yes,
I cautioned against being cocky
earlier this week because anything can -- and sometimes does -- happen). But it will be the first chance to see the 2014 version of the Ducks and in the first year of the College Football Playoff, Oregon is going to want to leave no stone unturned. The best way to get to the playoff is to go undefeated. And the first step in that is beating South Dakota. According to the ESPN Power Football Index, the Ducks have a 6 percent chance of going undefeated this season -- third-best chance in the nation. Florida State has the best shot (38 percent) and Marshall has the second-best shot (10 percent).
2. Keep an eye out for how fast the Ducks are able to score. Speed is a part of their DNA and they will be the bigger, faster, stronger team on the field. If all goes to plan, Oregon should have a multiple-touchdown lead by the end of the first quarter. The Ducks are one of the fastest scoring teams in the country and it has been that way for quite a while. According to ESPN Stats & Information, since the start of the 2009 season, Oregon has 88 one-minute TD drives (tied for No. 1 in the country), 208 two-minute TD drives (No. 1 in the country) and 77 three-play TD drives (tied for No. 1 in the country).
3. The statistics really aren't going to tell that big a story this game, so don't get too excited about macho numbers. They don't really mean that much. But keep an eye on how the Ducks O-line moves together. With the
Tyler Johnstone
injury and the recent shuffling along the line, it'll be interesting to see if they're moving as a unit. They'll be going up against smaller defensive linemen, and certainly none of the caliber of Michigan State's
Shilique Calhoun
, but if they're looking out of sorts on Saturday, that will be a big red flag.
4. The only real position battle happening right now is at running back, where it's a three-man race between
Byron Marshall
,
Thomas Tyner
and
Royce Freeman
. The three are listed as co-starters and chances are, just to keep the questions coming, we'll see a multi-back set for the first play (and chances are it will be Marshall and Tyner, just because they won't want to throw a freshman in for the first down) so they don't have to differentiate a true starter. However, running backs coach Gary Campbell said that game production will begin to weigh heavily the longer this battle goes. And again, the South Dakota run defense isn't the greatest test, but if one guy absolutely separates himself against the Coyotes, there's a good chance that "OR" could be removed from the Week 2 depth chart at running back.
5. Week 2 opponent Michigan State is playing Friday at 4:30 p.m. ET against Jacksonville State. The game airs on the Big Ten Network. If you feel like checking out the Week 2 opponent (and I recommend you do),
follow the @ESPN_BigTen twitter account
. They'll be tweeting about the game and providing great insight.
August, 29, 2014
Aug 29
8:00
AM ET
Happy (football) Friday!
Leading off
So ... Cougs ... what's up?
While Utah and Arizona State cruised to easy victories over FCS teams, the Washington State Cougars fell behind early, came back and took a lead into the fourth quarter, but couldn't hold on in a
41-38 loss to Rutgers
. Can't pin this one on the offense. Connor Halliday went 40-of-56 for 532 yards with five touchdowns and one early interception. But the defense broke numerous times, yielding 173 rushing yards and three touchdowns to Paul James, and a critical special-teams error opened the door for a Rutgers go-ahead score. Ted Miller had
a quick take on the game
last night. And I don't necessarily want to call out Cougar Brian in a second links post this week, but please leave a comment at the bottom, just so we all know you're OK.
Speaking of special teams, the Utes put on quite the special-teams extravaganza in
their 56-14 win over Idaho State
-- headlined by Kaelin Clay, who went all Reggie Dunn and returned a kickoff and a punt for a touchdown. The Pac-12 blog makes it a habit not to get too high on wins over FCS teams. But it was nice to see a healthy Travis Wilson (13-of-18, 265 yards) throw for a touchdown and run another one in (well, dive it in, actually).
The Sun Devils also took care of business against FCS Weber State with
a 45-14 victory
. D.J. Foster left fans asking "Marion who?" and scored three touchdowns on the ground to go with 147 rushing yards. Same train of thought as above. It's a win. The Sun Devils did exactly what they needed to do and had a drama-free evening.
USC
Perhaps the weirdest Week 1 in college football history got weirder Thursday when USC running back Anthony Brown quit the team and then accused new coach Steve Sarkisian
of being a racist on the way out
. This comes on the heels of the Josh Shaw "story." Sark addressed that yesterday, saying he shares the blame for helping the initial heroic story take flight. But that there is also
potential for Shaw to return
to the team this year. The LA Times also has some details of how Shaw's name got linked to
a police incident report
.
Year of the Oregon quarterback?
Really interesting story from Gina Mizzell of The Oregonian, who asks
if this is the best QB combination
ever from the state of Oregon:
In a recent survey of former Oregon and Oregon State coaches and quarterbacks, Mannion and Mariota join other combinations such as OSU's Jonathan Smith and UO's Joey Harrington, who each were fixtures from 1999-2001. There was the combination of native Oregonians Kellen Clemens (a Burns-raised Duck) and Derek Anderson (first of Scappoose, then of Reser Stadium) from 2003-04. Farther back, Heisman winner Terry Baker of OSU faced Bob Berry, who led Oregon to three straight winning seasons for the first time in 25 years.
Comparing times and eras is always complicated. What Marcus Mariota is doing is a lot different than what Harrington and Clemens were asked to do. Mannion is the more traditional quarterback here. But the fact that he'll be the league's all-time leading passer in a matter of weeks shouldn't be overlooked either. For what it's worth, a fun debate and a question worth asking.
News/notes/practice reports
August, 28, 2014
Aug 28
5:00
PM ET
The college football postseason will be very different this season, with the end of the BCS and the beginning of the four-team College Football Playoff. But there's more!
The CFP selection committee also will pick teams for the Fiesta, Orange and Cotton bowls. Those are the major bowls not hosting this season's CFP semifinal games. The selections will be based on ... get ready to be shocked ... merit. Well, there are some other considerations, but there won't be any more ridiculous decisions made purely on potential ticket sales. (The national semifinals, by the way, are to be played out at the Allstate Sugar Bowl and the Rose Bowl Game Presented By Northwestern Mutual on Jan. 1, 2015, with the winners to vie for the national championship on Jan. 12, 2015, at AT&T Stadium in Arlington, Texas.)
There also is expected to be more flexibility in the bowl arrangements, with bowls working with conferences to put together the best matchups possible and avoid repeat visits. That seems to be another good thing, though we await its execution.
In any event, here are your Pac-12 bowl projections, made with all the certainty one can muster in advance of the season itself.
College Football Playoff
: Oregon
Fiesta Bowl
: UCLA
Valero Alamo Bowl
: Stanford (vs. Big 12)
National University Holiday Bowl
: USC (vs. Big Ten)
San Francisco Bowl
: Washington (vs. Big Ten)
Hyundai Sun Bowl
: Arizona State (vs. ACC)
Royal Purple Las Vegas Bowl
: Washington State (vs. Mountain West)
Cactus Bowl
: Oregon State (vs. Big 12)
Heart of Dallas Bowl*
: Arizona
* at large
August, 28, 2014
Aug 28
11:00
AM ET
The 2014 Pac-12 season starts tonight, and that is unquestionably a righteous thing. The first week's slate of games? Well, it's not exactly going to awaken any echoes. Still, Confucius say he who casts a disrespectful glance at a season opener finds his beer warm and his prayers to the college football gods unanswered.
Yet with all due respect, the Pac-12 plays five games versus overmatched FCS foes and is double-digit favorites in four other games. The only underdog is California, which visits Northwestern.
Ah, but that second Saturday. That, my friends, is a biggie. Not entirely across the conference, but two games will attract beaucoup Pac-12 and national eyeballs and are decidedly meaningful in terms of setting up the first season of the College Football Playoff.
[+] Enlarge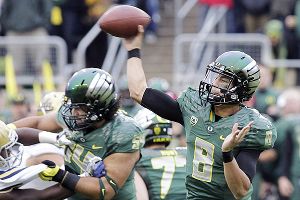 AP Photo/Don RyanMarcus Mariota and Oregon can make a significant statement with a win over Michigan State in Week 2.
Start with No. 8 Michigan State's visit to No. 3 Oregon. This might be the biggest nonconference matchup of the season, and it's even bigger after the season-ending injury to Ohio State QB
Braxton Miller
. The Spartans are now the clear favorites in the Big Ten, as the Ducks are the popular preseason pick in the Pac-12. It might look like a Rose Bowl, but it probably ends up operating like a CFP elimination game. Or validation game.
It's an intriguing matchup, too: Celebrated offense versus celebrated defense, with the Ducks, led by preseason Heisman favorite
Marcus Mariota
, facing Spartans defensive coordinator Pat Narduzzi, who might be the best in the business.
Meanwhile, No. 11 Stanford plays host to No. 15 USC. The Trojans used to feast on the Cardinal. Now this is a bitter and highly competitive rivalry. What makes this game fun is the rivalry is as much player-based as fan based. That bitterness ignited between Pete Carroll and Jim Harbaugh -- "What's your deal?" -- and has maintained its burn over the past few years, with the teams exchanging major upsets the past two seasons.
It also won't cool things down, at least in terms of perception, that new Trojans coach Steve Sarkisian and Stanford coach David Shaw were
at public loggerheads last year over the Cardinal allegedly faking injuries
in a tight victory over Sark's Washington team. While it might be responsible to note that Shaw and Sarkisian seem to get along well and chat amiably at coaching functions, that would de-sensationalize an angle the Pac-12 blog would prefer to jump up and down and point at next week.
It also has been established, though less publicly, that more than a few Stanford players were extremely unhappy with Sarkisian's accusation, most notably DE Ben Gardner, whose NFL career has already
been waylaid by the shoulder issue that hampered him against the Huskies
.
We also must add that the irreverent Stanford band surely is already clicking its collective heels over the possibilities the "
Josh Shaw
Tall Tale of Heroism
" offers for a halftime snark.
Even if you cast aside the emotions, this is a big Pac-12 game. The winner figures to establish itself as a top-10 team and national contender. While they occupy different divisions, one will end up 0-1 in conference play and the other will be 1-0. In what figure to be tight races in both divisions, that one-game swing could prove critical.
A USC victory would be a significant event in the South Division. The Trojans don't play Oregon, as UCLA does. Arizona State doesn't, either. The Bruins and the Sun Devils both play Stanford. The Sun Devils visit USC. In other words, in terms of schedule strength among the contenders, a USC win over Stanford might change the perception of the South race.
Of course, from a coach's perspective we are getting ahead of ourselves. USC plays host to Fresno State on Saturday. While the Bulldogs don't look like the formidable foe the Trojans whipped in the Las Vegas Bowl a year ago, they certainly have a pulse. Stanford plays UC Davis and Oregon plays South Dakota. Both will roll, though some Davis folks have pointed out the Aggies upset the Cardinal in 2005, one of the notable moments of Walt Harris' coaching tenure.
As you well know, sports teams play one game at a time.
"We approach this game, literally, exactly like every other one," Oregon coach Mark Helfrich said of South Dakota and, by extension, Michigan State. "To do anything else would be a conflict of our process, disrespectful to our opponent and to the game."
While Helfrich and Shaw admit that they spent plenty of time this offseason reviewing Michigan State and USC/Washington film knowing about their big dates in Week 2, the nature of football is routine, and routine dictates you prepare for each game the same way.
Dangers of looking ahead this week? Unlikely. For one, it's the first game of the season. The opportunity to play a real game in front of a crowd after a long preseason camp is a reward in itself. Don't expect players to be blasť and unfocused.
And there are stakes for players in game one, no matter how undecorated the foe is, according to Shaw.
"We have a lot of guys still competing for things, for who's going to get more playing time," he said. "I'd feel bad for the guy who shows a sign of not focusing on the task at hand. He's going to meet with a
not very happy Coach Shaw
."
August, 28, 2014
Aug 28
8:00
AM ET
Could it be? In a bizarre twist, a horse is abusing a jockey. Might this be the start of a terrifying planet of the horses? In this announcer's opinion, almost certainly yes. And away I go.
Leading off
While there are still plenty of questions swirling about the
Josh Shaw
situation, we at least have some confirmation that his original story was a lie. As a result, Shaw has been suspended indefinitely from the team and has retained counsel.
Here's a few of the stories that are out there:
What a rush
Interesting little stat here courtesy of the Pac-12 Networks.
Most consecutive seasons (active streaks) with a 1000-Yard rusher in FBS? @UWBadgers 9 @WinTheDay 7 @StanfordFball 6

— JB Long (@JB_Long) August 27, 2014
I like Oregon to continue their streak. The only argument against being that with three backs it's possible that we could see three guys in the 700- 800- 900-yard range. Plus you factor in injuries, assorted carries for whoever has the hot hand and a quarterback that's going to rush for about 700 yards and it's possible Oregon doesn't get a 1K rusher. Possible, but not probable.
Stanford is going to be really interesting to watch as they move back to a by-committee backfield. But even when they had that approach in previous years, they were still able to produce a 1,000-yard rusher. A lot of it will depend on who emerges as the 15-20 carry back (if there is one) and how quickly the four new offensive linemen come together. But if I had to bet, I'd like both of these schools to continue this streak.
Heisman love?
Chris Huston, who runs the site Heismanpundit.com released
his preseason straw poll for 2014
. It's a small sample -- only 10 Heisman voters from around the country -- but the results are slanted heavily toward the Pac-12, including a couple of names we haven't previously seen connected with the award. First, the results (first place votes in parentheses):
1.
Marcus Mariota
, Jr., QB, Oregon — 24 (6)
2.
Jameis Winston
, So., QB, Florida State — 19 (3)
3.
Brett Hundley
, Jr., QB, UCLA — 6
4.
Bryce Petty
, Sr., QB, Baylor — 5
5.
Myles Jack
, So., LB/RB, UCLA — 3 (1)
6.
(tie)
Leonard Williams
, Jr., DT, USC — 1
Melvin Gordon
, Jr., RB, Wisconsin — 1
Ty Montgomery
, Sr., WR, Stanford — 1
Mariota, we expected. Same for Hundley. Even Jack we'd heard had been getting some Heisman love. (And in case you missed it, the Pac-12 blog talked with Jack
about all of the preseason attention
he's been getting). But it's interesting to see USC's Leonard Williams and Stanford's Ty Montgomery on the list.
Williams, we know, is an All-America defensive linemen and considered by many to be the best in the country and a top five pick in the 2015 draft. Chances are this is just some preseason posturing from voters. There's always talk in the preseason that a defensive player will break through and win. We saw it with
Jadeveon Clowney
and
Ndamukong Suh
. And while the Pac-12 blog would love to see the day that "the best" college football player wins the award (
see this column from 2012
, Huston is actually quoted), the odds of it happening are slim.
Even for a guy like Montgomery, who is expected to be a significant special teams contributor to go with his receiving stats. We'll see how this all shakes out in November and December. As the Pac-12 blog
wrote last week
, we've been fooled by preseason favorites before. Still, nice to know the rest of the country has its eyes on the West.
News/notes/practice reports
Just for fun (LA themed)
Some new artwork in the Coliseum.
If this isn't one of the greatest motivational graphics, I don't know what is? @adventresults nailed it, #FightOn pic.twitter.com/fHCuODrWYx

— LA Memorial Coliseum (@LAColiseumOps) August 27, 2014
What say you, America?
USC & UCLA both projected to go 9-3 by FPI. More surprising: USC wins 9 games or UCLA loses 3 games #CFBLIVE ESPN2 pic.twitter.com/mcNpZEEo34

— ESPN CollegeFootball (@ESPNCFB) August 27, 2014
August, 27, 2014
Aug 27
7:30
PM ET
Initially, when I sat down to write about the
Oregon Ducks
-
South Dakota Coyotes
game, a few things came to mind.
Maybe I should compare South Dakota to the opening act and Michigan State to the main show. That's essentially what this is, right?
"The best that Oregon fans can hope for is an injury-free game and a second half that calls for rosters to be pulled out of pockets so they can keep track of who's actually on the field."
Lame. Lame. Lame. FCS. C'mon, bro.
They're the Coyotes? Maybe I can do something clever with that.
And then I realized I've seen this before. I've seen a major power get cocky about an FCS opponent coming into their stadium to open the season. I've seen a team look ahead to Week 2 before handling its business in Week 1. I've seen fans in the position where most Oregon fans find themselves right about now.
And I've seen it all come crashing down, when a seemingly unstoppable machine screeches to a halt.
I saw the worst upset in college football. Ever.
My first football game as a student at the University of Michigan was Appalachian State, 2007. You remember that one, right? Everyone does.
But heading into that week, no one was talking about the Appalachian State game. Everyone wanted the Week 2 opponent, Oregon. That -- the big, bad Mike Bellotti Ducks -- would be the real measuring stick for the Wolverines, who went into that season ranked No. 6.
Chad Henne
.
Jake Long
. Mike Hart. Lloyd Carr -- this was all anyone talked about through Michigan's annual Welcome Week (on the first school day of the year, the student newspaper would turn that into its headline: "Welcome WEAK" with a photo of a dejected Henne walking off the field after the 34-32 loss).
All the talk entering the season was that
this
was
the
year. If Michigan was going to win another national title, the time was now.
In the week leading up to the game, posts on the then-newish Facebook linked to a scene from "The Longest Yard." In it Adam Sandler's character tells Burt Reynolds' character: "In college, we'd start every season against Appalachian State or some slack Division-II team, kick the living s--- out of them, get their confidence up."
Reynolds laughs.
So did Michigan fans.
The only time that clip became more famous was after Michigan lost to Appalachian State and suddenly it was being passed around the Internet with the caption "LOLOLOL Michigan" or "Yep, they deserve this."
And maybe they did. Pride does come before the fall. And while App State was an FCS national champion and South Dakota is ... well ... not, the lesson still applies: There's a difference between confidence and cockiness.
But right now? Take it from Michigan, Oregon fans, this isn't the time to be cocky. Sure, be confident. You have
Marcus Mariota
and three running backs who apparently are going to set the world on fire and an All-American cornerback. And you've got one heck of an opponent in Week 2 ... but that comes seven days after Week 1.
And you can guarantee that if this game somehow goes south, those seven days are going to feel terrible and that feeling will last a lifetime.
Because last time I checked, they'll have 11 players on the field and so will Oregon. And just remember: David beat Goliath; "Shakespeare in Love" beat out "Saving Private Ryan" for Best Picture; Harry Truman beat Thomas Dewey in the 1948 presidential election.
Oh, how the mighty fall. And fall hard at that.
I didn't see Michigan in action against Oregon in Week 2 in 2007. I sold my ticket. The Wolverines lost that one, too, I heard. And suddenly, at 0-2 Michigan was nowhere near the national champion conversation. Despite all the talent they had returning on the offensive side of the ball (sound familiar?) they were bunk.
And who remembers that season most? Appalachian State and the rest of the world. Who knows what App State did the rest of the season, because they beat Michigan in Week 1. That's all that matters.
Earlier this week, South Dakota coach
Joe Glenn told The Oregonian's John Canzano
that this game is going to be the "stuff our kids will tell their grandchildren."
And I promise you that if Oregon somehow manages to lose this one, those grandchildren -- when they find out you went to Oregon or are/were an Oregon fan -- will say, "Hey, remember that time..." Every time. Every. Freaking. Time.
It happens to me, sometimes. I smile politely, nod and say, "Yep, I was there in the southwest corner of the stadium."
And, like Reynolds did in "The Longest Yard," they will shake their heads and laugh.
It'll be somewhere between sympathy and hilarity for them.
And for Oregon fans? It'll taste like humble pie.
It's terrible. Just ask Michigan fans.
August, 26, 2014
Aug 26
8:00
AM ET
At first, I thought prohibition was a good thing. People were drinking more and having a lot more fun. Without beer, prohibition doesn't work!
Leading off
Ahhhh, the honeymoon phase. It's that first year when a new head coach adjusts to his new surroundings (or in the case of Mark Helfrich, a new office). There is joy and excitement leading up to that first game.
And then reality hits. That joy and excitement turns to second-guessing and not-so-subtle whispers about whether this is the right guy.
The Pac-12 has a trio of second-year coaches: the aforementioned Helfrich, Sonny Dykes at Cal and Mike MacIntyre at Colorado. And Athlon Sports decided to
take a look at the expectations
for all of the second-year coaches in college football.
Here are their thoughts on Colorado:
But as the 2014 season approaches, it's easy to see why Colorado is probably a year away from contending for a bowl. The Buffaloes catch Oregon and Washington in crossover play with the North and must replace standout receiver Paul Richardson. Sophomore quarterback Sefo Liufau is promising, and the depth on defense is getting better. An upset or two wouldn't be a surprise in Pac-12 games. However, a 4-8 final record with a more competitive team in conference action is very likely for MacIntyre.
The key word is in the final sentence: competitive. Two of the Buffs wins were against FCS teams last season (one of which was scheduled, the other one was a result of the disastrous flooding and cancelation of the Fresno State game). This year there are no FCS teams on the schedule, so while he Buffs will likely still hover in the 3-4 win range, those would be considered of a greater quality. And while the Pac-12 blog is yet to meet a coach who can stomach morale victories, there is something to be said for being more competitive. And we too expect the Buffs to be a tougher team in 2014.
For Helfrich, it's business as usual. We all knew, and I'm sure he did too, that he would be judged by a different jury than MacIntyre or Dykes. All he did was win 11 games, win a bowl game and do it with a quarterback limping through the second half of the season. There's no question the Ducks are primed for a serious run. But if that run doesn't end in a playoff berth, is this season a bust? Curious to hear your thoughts.
Tweet them at me
.
As for Dykes, we've spent months rehashing all of the problems Cal went through last year, from the system changes to the youth to the onslaught of injuries. The tide will turn once (if?) the Bears start winning some games.
Who's all sneaky?
CBS's Jeremy Fowler took a look at
10 teams that could be "sneaky contenders"
in 2014. Among his 10 are Arizona State and Washington.
His thoughts on the Sun Devils:
Arizona State wins 10 games and is still considered the fifth- or sixth-best team Pac-12 team on national scale. Well, don't be confused if the Sun Devils mess around and win the Pac-12 South for a second straight year. If Todd Graham gets a young defense ready, the potent offense will handle the rest.
Definitely not ready to count out the Sun Devils. We know about the losses to the defense – nine starters gone – but we also know how good that offense can be this year. If the offense can out-sprint some teams early in the season and give the defense time to get its footing, the Sun Devils will certainly be in the hunt for the South title. The timing of that UCLA game in Week 4 is very interesting.
Getting deep
Monday was depth chart day. Months of speculation has all been settled with one piece of paper. Unless you see an "or" in between players. Then the debate rages.
Because the Pac-12 blog likes you so much, we dug up all the depth charts that were available online. Some weren't. We'll try to update throughout the day.
Oregon State (page 11 from the preseason media guide, will be updated later today)
UCLA (Not released yet, possibly today)
USC (page 14 of the game notes)
Utah (page 9 of game notes)
Washington (page 9 of the game notes)
On the air
Your Pac-12 reporters have been making the rounds on multiple platforms. Here are a couple of links.
Ted Miller talks a little Pac-12 football here with ESPN's Zubin Mehenti.
Chantel Jennings will be on ESPN Radio in Pullman (1400 AM) this morning at 10:15 a.m.
News/notes/team reports
Just for fun
The entire Oregon cheer squad
takes the ice bucket challenge
.
Washington's Psalm Wooching is cooler than you.
And finally, if you want to learn how to Haka, Arizona has you covered.
Who Is The Heisman Front Runner?
PAC-12 SCOREBOARD
Thursday, 10/2
Saturday, 10/4