October, 28, 2014
Oct 28
8:31
PM ET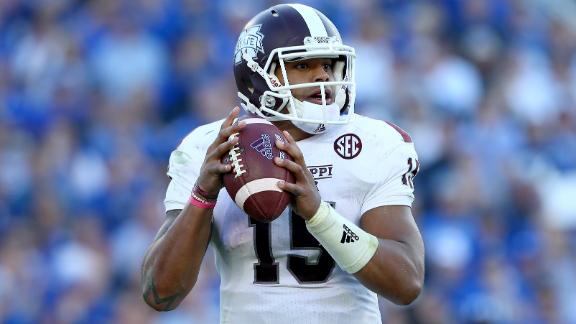 Upon seeing the inaugural College Football Playoff rankings, there's no doubt that many fans' first impressions had something to do with the SEC having three of the top four and four of the top six teams. I get that.
But a few other things jumped out to me that might give us some insight to the selection committee's deliberations and could be a sign of things to expect in future weeks.
1. No bias toward recent results
The committee seems to be looking at the entire body of work for these teams and was not overly influenced by what happened most recently.
No. 3 Auburn just had a narrow, seven-point win at home against a mediocre South Carolina team in which it allowed 35 points and more than 500 yards. No. 4 Ole Miss just scored only seven points in a loss to an LSU team that wasn't ranked in the top 20. The polls typically downgrade teams immediately after performances like these, especially a loss, but in order for these teams to have these respective rankings, the committee must have placed just as much importance on what happened in the first eight weeks of the season. That's a good thing.
If this is an accurate observation and not merely a coincidence, then it's possible that a late-season loss to a quality opponent might not be as damaging in the playoff era as it often was when the polls had a great influence on the national championship race.
October, 28, 2014
Oct 28
8:15
PM ET
If the regular season ended today, Oregon would not be in the first four-team College Football Playoff.
The 12-member playoff selection committee revealed its first Top 25 rankings on Tuesday, and slotted the Ducks at No. 5. However, with several weeks left, the Ducks remain in good position to climb into a playoff spot by the end of the season.
The top four teams are: 1. Mississippi State; 2. Florida State; 3. Auburn; and 4. Ole Miss. Ole Miss and Mississippi State will play each other on Nov. 29.
At No. 12, Arizona led a group of four other Pac-12 teams in the selection committee's Top 25. The Wildcats were followed by No. 14 Arizona State, No. 17 Utah and No. 22 UCLA.
Besides UCLA, which has two losses, all of those teams have a conceivable route to the playoff by winning out. No matter what happens elsewhere, it would be very difficult to leave out a one-loss Pac-12 team, regardless of who it is.
The committee will officially announce the four playoff teams on Dec. 7.
Here's our weekly attempt at mapping out where the Pac-12 teams will end up come bowl season.
College Football Playoff:
Oregon
Fiesta Bowl:
Arizona
Valero Alamo Bowl:
Utah
National University Holiday Bowl:
Arizona State
San Francisco Bowl:
UCLA
Hyundai Sun Bowl:
USC
Royal Purple Las Vegas Bowl:
Stanford
Cactus Bowl:
Washington
Heart of Dallas Bowl*:
Cal
* at-large
October, 28, 2014
Oct 28
7:30
PM ET
Here's another look at random stats pertaining to the Pac-12.
Washington (5-3, 1-3 Pac-12) at Colorado (2-6, 0-5)
Washington (19.6 percent) is the only team in Pac-12 play that is scoring on less than 25 percent of its drives.
When facing a goal-to-go situation, the Washington defense has allowed a touchdown just five of 11 times in Pac-12 play (45.5 percent). That's 16 percent lower than the conference's next best team, USC (61.5).
Washington has scored the fewest points in conference play (18.5 per game), while Colorado has allowed the second most (45.8).
Colorado WR Nelson Spruce (77 catches, 864 yards, 11 touchdown receptions) is the only receiver in the country with at least 60 catches, 800 yards and 10 touchdown receptions.
Among the nine Power 5 teams winless in conference play, Colorado has the closest point margin per game (10.6).
USC (5-3, 4-2) at Washington State (2-6, 1-4)
On trips to the red zone in conference games, opposing teams have scored touchdowns 39.1 percent of the time against USC (9 for 23), which is the lowest in the conference.
USC RB Javorius Allen leads the nation with 846 yards rushing in conference games.
USC (84.5 yards per game) and WSU (75.0) are two of the three most penalized teams in Pac-12 games.
WSU QB Connor Halliday has thrown for 3,833 yards this season. That's more total offense than all but 19 FBS teams.
Four WSU players (Vince Mayle, River Cracraft, Jamal Morrow, Isiah Myers) rank among the top seven in receptions in Pac-12 games.
Stanford (5-3, 3-2) at No. 5 Oregon (7-1, 4-1)
In Pac-12 games, Oregon leads the conference in yards per play (6.95) and Stanford ranks No. 4 (6.06).
After picking up the initial first down of a drive, Oregon scores 64.4 percent of the time. In the same scenario, Stanford's scoring rate is 43.8 percent.
Stanford has allowed 0.89 points per drive this season, the third fewest in the country.
The Cardinal is the only team in the Pac-12 to force opponents to punt more than half the time (53.8 percent).
Stanford held Oregon to 34 points combined over the last two seasons. Only two other teams during those seasons held the Ducks to fewer than 35 in a single game.
California (4-4, 2-4) at Oregon State (4-3, 1-3)
Oregon State has seen an average of 32.5 pass attempts per game on defense in conference play, the fewest in the Pac-12. Cal has averaged 45.5 per game on offense.
Cal has forced teams to go three-and-out 9.8 percent of the time in conference play, the lowest rate the conference.
Oregon State has allowed just 11 passes of 20 or more yards in Pac-12 play (second fewest), while Cal has connected on 33 such plays (most).
Cal QB Jared Goff averages 8.74 yards per attempt, the second most in the conference behind Oregon's Marcus Mariota.
Oregon State QB Sean Mannion needs 194 yards passing to break Matt Barkley's Pac-12 career passing record (12,327)
No. 14 Arizona (6-1, 3-1) at No. 25 UCLA (6-2, 3-2)
Among players with at least 30 carries in Pac-12 play, UCLA RB Paul Perkins is averaging the most yards per carry (8.01). He's averaged 9.34 yards on first down.
Arizona LB Scooby Wright is the only player in the country with at least nine sacks and five forced fumbles.
Arizona QB Anu Solomon is one of six quarterbacks in the country with at least 20 touchdown passes and fewer than five interceptions.
In conference games, UCLA has the second-best yards margin per game in the Pac-12 (plus-63), behind only Stanford (plus-134).
UCLA has out gained Arizona just three times in the the teams' last 10 meetings.
No. 18 Utah (6-1, 3-1) at No. 15 Arizona State (6-1, 4-1)
Utah has registered a first down or scored a touchdown on 23.7 percent of its offensive plays during Pac-12 games, which is the fewest in the conference.
Utah has thrown the ball 33 percent of the time on first down, the lowest in the Pac-12.
In seven games, Utah leads the nation with 35 sacks. No other team which has played just seven games has more than 28.
ASU WR Jaelen Strong has accounted for 32.9 percent of the Sun Devils' receptions this year, the highest percent among Pac-12 receivers.
ASU RB D.J. Foster is averaging 7.55 yards per touch from scrimmage this season, the most of any Pac-12 player with at least 80 touches.
Past weeks
Week 1
Week 2

Week 3
Week 4
Week 5
Week 6

Week 7
Week 8
Week 9
October, 28, 2014
Oct 28
5:25
PM ET
ESPN.com news services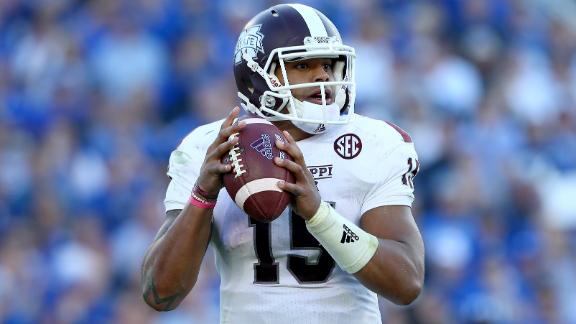 GRAPEVINE, Texas -- The College Football Playoff selection committee has spoken -- and it likes the SEC.
At least for now.
Mississippi State, Florida State, Auburn and Mississippi are the top four teams in the first College Football Playoff rankings.
The first of seven Top 25 rankings compiled by a 12-member selection committee was released Tuesday night. The selection committee will ultimately pick the four teams to play in the national semifinals and set the matchups for the other four big New Year's Day bowls that are part of the playoff rotation.
"It was extremely difficult, more difficult than any of us had expected having gone through our mock selections before," Arkansas athletic director and committee chairman Jeff Long said. "There are 18 one-loss teams in FBS at this point in time, and the difference between many of them is very slim."
Oregon was fifth and Alabama was sixth, giving the Southeastern Conference's West Division four of the top six teams. There are still four games remaining matching those SEC West rivals, starting with Saturday's matchup of Auburn and Ole Miss in Oxford, Mississippi.
"We don't analyze it by conference," Long said. "We look at those teams and evaluate the teams they played and the success they had, or the failures they had."
The final rankings will be released Dec. 7, the day after the most of the conference championships are decided.
"Everyone on the selection committee recognized that our rankings will change over the next six weeks," Long said. "I think that's important for us to emphasize. We expect our rankings to change over the next six weeks. One week's rankings won't influence the next week's rankings."
October, 28, 2014
Oct 28
4:00
PM ET
By
ESPN.com staff
| ESPN.com
The College Football Playoff Committee's first rankings will be revealed Tuesday at 7:30 p.m. ET on ESPN and WatchESPN.com. Immediately following the release, join ESPN.com reporters Andrea Adelson, Edward Aschoff and Chantel Jennings for reaction, commentary and debate over the committee's choices.
October, 28, 2014
Oct 28
3:57
PM ET
Because of injuries, there's a very real chance that two true freshmen will see significant action for Stanford's defense against Oregon.
Cardinal coach David Shaw ruled starting free safety/nickelback
Zach Hoffpauir
out of Saturday's contest because of an undisclosed injury suffered this past weekend against Oregon State. Senior
Kyle Olugbode
will assume a bigger role at safety in his stead, while true freshman
Terrence Alexander
will bear the brunt of nickelback duties against
Marcus Mariota
's high-powered offense.
Hoffpauir, who's in the midst of his best season, has been an integral part of Stanford's secondary, especially against teams who spread it out offensively. The junior's four pass break-ups rank second on the Cardinal's team, and his 15-tackle performance two weeks ago smothered Washington State in space.
While Hoffpauir's loss is significant, Stanford is still waiting for its most significant injury news. Nose tackle
David Parry
, who suffered a leg injury during the Cardinal's loss at Arizona State, is still questionable for Oregon. Shaw said that Parry's recovery has not yet reached a satisfactory point for Stanford, and a final decision on his game status should come within the next two days.
Parry, who battled through a lower abdominal injury in 2013, has also been enjoying his best career season while playing at full health. Shaw noted that Parry's ability to attract double teams up front is significant for Stanford's defense to operate at full efficiency against run-strong teams such as Oregon.
"You're not going to find somebody that can physically manhandle people [the way Parry can]," linebacker
A.J. Tarpley
said. "He wants to play really bad."
If Parry can't play, Stanford will again turn to 255-pound true freshman
Harrison Phillips
to keep stalwarts
Henry Anderson
and
Blake Lueders
fresh up front. The Cardinal already absorbed a big blow when defensive lineman
Aziz Shittu
went down at practice with a possible season-ending injury.
"Our motto on defense has always been 'next man up is the best man up,'" Tarpley said. "The most important thing is that whoever plays goes 100 percent."
October, 28, 2014
Oct 28
3:00
PM ET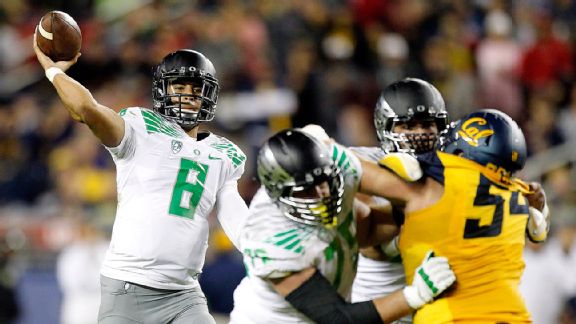 Cary Edmondson/USA TODAY SportsMarcus Mariota passed for 326 yards and five touchdowns in Oregon's win over Cal.
The Pac-12 is loaded with talent at quarterback this season to the point where it seems like the conference is a hoarder and really good QBs are in abundance. But this is the way we like it. And the other conferences can keep hoarding whatever they like as long as the signal-callers stay west.
Every week we'll provide you with a power ranking of the conference's top quarterbacks, heavily considering the QB's most recent game.
Drumroll please...
For Week 8's rankings, click here.
October, 28, 2014
Oct 28
2:00
PM ET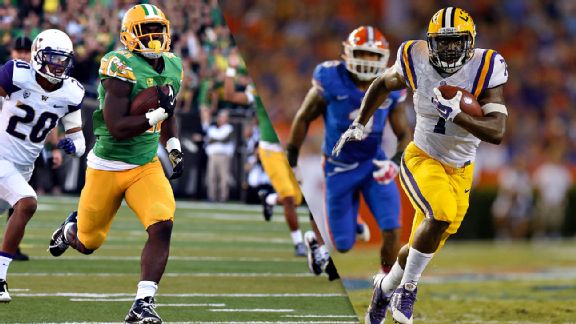 Getty ImagesRoyce Freeman, left, and Leonard Fournette have combined for 20 TDs this season as freshmen.
Oregon freshman
Royce Freeman
(748 yards, 5.5 yards per carry, 13 rushing touchdowns) and LSU freshman
Leonard Fournette
(657 yards, 5.0 yards per carry, 7 rushing touchdowns) first made their names known on the recruiting scene, and they've been able to back up their hype at the college level with just half a season under their belts. Pac-12 writer Chantel Jennings and SEC writer Edward Aschoff got together to debate which player is the leader for best freshman running back in the nation.
Jennings:
Edward, I hear there's this pretty good freshman running back in the South. And guess what, there's another good one out here on the West Coast, and I'd bet dollars to donuts that by the end of the season, Royce Freeman is going to be the most well-known (and rightfully so) freshman running back in the nation.
Aschoff:
Freeman has been impressive this season. His play has people all over the country buzzing about him. He's a player, for real, but I will say this: By season's end, the country will be more excited about LSU freshman running back Leonard Fournette. Bet whatever you want on that one. It took a little while for the 6-foot-1, 230-pound chiseled man-child to get going, but he's been very impressive of late. Did you see how many Florida Gators defenders he threw around like rag dolls a couple of weeks ago? Did you see how he tortured Ole Miss defenders with punishing run after punishing run? Florida and Ole Miss currently rank 22nd and 23rd, respectively, in the nation in run defense, but were nuzzled up with the best of them before facing Fournette. The Gators allowed just 103 rushing yards a game and one rushing touchdown heading into the LSU game, but Fournette ran for a season-high 140 yards (5.2 yards per carry) and two touchdowns. Against Ole Miss, which allowed 97.1 rushing yards per game, he ran for 113 yards and caught two passes for 41 yards. He breaks tackles with ease. He can hit the home run play. He's starting to live up to the preseason hype, and he doesn't need a face mask to make plays. Fournette is heating up, but can Freeman keep his momentum?
Jennings:
Oh Ed, that's cute. Did you see how Freeman ran against Washington's front seven (5.8 yards per carry, 4 TDs)? Or what he did against UCLA's defense (6.7 yards per carry, 2 TDs)? Or were those games too late for you and the rest of the East Coast? If so, you most certainly managed to stay up for the Oregon-Michigan State game in Week 2 when he averaged 6.8 yards per carry and scored two touchdowns, no? Those numbers make Fournette's stats against Florida and Ole Miss (yes, 5.2 and 4.9 yards per carry, respectively) look … meh. But please, let's talk some stats, Ed. Specifically, let's look at what these guys have done versus Power 5 opponents (because if you're really about to include Fournette's season-high 7.1 yards per carry against Sam Houston State in these stats then you're not nearly the competitor I thought you were)… Freeman has 651 rushing yards against Power 5 opponents; Fournette has 391. Freeman averaged 5.4 yards per rush against Power 5 opponents; Fournette averages 4.3. Freeman has 10 rushing touchdowns against Power 5 opponents; Fournette has three. Freeman has 18 rushes of 10 or more yards against Power 5 opponents; Fournette has 10. Is there really a need to go on? Didn't think so.
Oh, also (and did you really think as a Michigan graduate I'd miss this), let's not forget that Freeman knows how to carry himself on the field and isn't about to strike the Heisman pose against an FCS school...
Aschoff:
I mean when your Power 5 teams include just one team -- Michigan State -- that ranks in the top 30 in rush defense, I guess that's respectable. Cal and UCLA both rank outside the top 50 nationally in scoring defense, while Fournette has already faced four rush defenses inside the top 25. You know what else is impressive about the rise of Fournette? He's sharing a backfield with two other running backs who both have more than 400 rushing yards and have totaled nine touchdowns. They've also carried the ball a combined 153 times. Fournette has had to battle his way through two other running backs who could start in the SEC to get his team-high 131 carries, 657 yards and seven touchdowns. He's been able to average 73 yards a game with two other studs taking carries here and there. Again, Freeman has been great, but Fournette is surging. He's pounding folks. He's dragging kids through the turf. We're heading into the last month of the season, and he's gaining speed -- and strength.
Fournette is a physical specimen, who is about to have his way with some approaching defenses. Fournette doesn't need all that space to work with, like the Ducks afford Freeman. No, he works well in tight spaces, parting a sea of linemen with ease. He embraces contact. When he starts pumping those legs, watch out, or just grab on and hold tight. He's barely behind Freeman when it comes to stats, but the Tigers have brought him along slower than Freeman. He's getting used to the speed and chaos in the SEC, so expect a special last month for Fournette.
Jennings:
Hey, stats are all relative, right? Maybe Freeman's numbers are monstrously better than Fournette's with a slightly worse schedule, but don't bring that top 30 in rushing defense stuff in here. You know who else is on that list … Boston College, Virginia, Toledo, Michigan. Freeman would run for miles on those teams. So yes, we can only go so far with stats. And the statistics conundrum is one that won't be solved until the end of the season. So we can leave it at that.
But you can't act like Fournette is the only one sharing a backfield. Freeman came in behind
Byron Marshall
, who had a 1,000-yard season last year, and
Thomas Tyner
. On top of that, he shares carries with quarterback
Marcus Mariota
, who averages eight carries per game. So, Freeman has definitely had to come from the back of the pack to make his presence known. The 18-year-old battled through some serious competition to be the starter. I think we can agree on the fact that both of these guys are special players, and in the years to come not only are we going to be debating which is the best in his respective class, but which is the best back in the entire nation. And the rest of the debate right now? Well, let's agree to disagree.
October, 28, 2014
Oct 28
11:00
AM ET
Three years ago, after Oregon had run circles around Stanford en route to a
53-30 victory
, a dejected Andrew Luck uttered the famous phase.
"We have an Oregon problem," he said.
[+] Enlarge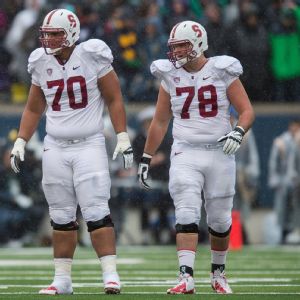 Zach Bolinger/Icon SportswireAndrus Peat (No. 70) and Kyle Murphy will lead Stanford's offensive line against a tough Oregon defense in their Week 10 matchup.
That night marked the low point in the extraordinary resurgence of the Jim Harbaugh-David Shaw era.
But a new Stanford defense was born in the aftermath of Oregon's dominance, and the tables soon turned in shocking fashion. Just one season later, the unit had gone from Oregon's punching bag to the Ducks' kryptonite.
Suddenly, two straight Cardinal wins later, Oregon had a Stanford problem.
The Cardinal won the annual matchup
17-14 in overtime
in 2012. They then opened up a 26-0 fourth-quarter lead in 2013 before withstanding a furious Ducks rally to win
26-20
. So Mark Helfrich faces the challenge of reversing Oregon's fortunes against Stanford.
Here are the primary ingredients of the Cardinal's success against the Ducks over the past two seasons, along with a look at how these key puzzle pieces might apply to this 2014 renewal of hostilities.
Defense: Dominant play from the line
Oregon has averaged over 45 points per game each of the past two seasons, but Stanford has held the Ducks to an average of 17 points per game in the two meetings in that span. The formula for the Cardinal's defensive success has actually been relatively simple: It's been been rooted in commanding play along the defensive front.
In 2012 at Autzen Stadium, Stanford enjoyed exemplary performances from nose tackle Terrence Stephens and fellow defensive lineman
Henry Anderson
, whose positional versatility allowed him to shuffle between spots on the line and keep the Cardinal's big boys fresh. They, in turn, blasted the line of scrimmage, and that hit Oregon's explosive offense where it hurt. Stanford was able to limit the Ducks' running game and pressure
Marcus Mariota
without blitzing, and that allowed the second and third levels of the Cardinal defense to stay honest against the pass. The result: Stanford won despite losing the turnover battle 3-1.
In 2013, the Cardinal hoped to follow a similar formula, but their defensive line came in decimated by injury. Anderson and nose tackle
David Parry
both played at less than 100 percent, while Ben Gardner was already out for the season. Stanford responded by applying an effective Band-Aid: It worked to funnel all the Ducks' offense to the middle of the field. This put a massive added burden on inside linebackers Shayne Skov and
A.J. Tarpley
to make plays, and they gobbled up their chances. Skov registered the game's signature play when he stripped De'Anthony Thomas at the 1-yard line to keep Oregon off the board and shift momentum to the Cardinal sideline.
So how does this all apply to 2014? Well, Stanford's defensive line again looks to be wounded this time around.
Aziz Shittu
will miss the game, and Parry -- the unit's centerpiece -- is questionable with a leg injury. If Parry doesn't play, it will be a challenge for Stanford to execute its past formula. Oregon may enjoy more daylight in the running game against the Cardinal reserves, a unit that includes 255-pound true freshman
Harrison Phillips
. That's potential mealtime for bruiser
Royce Freeman
, and his success can open things up for Mariota's arm.
Offense: Drive-sustaining success
In 2012, Stanford somehow beat Oregon on the road despite going scoreless on 10 straight possessions of its own. The injured 2013 Stanford defense needed a little more help from its offense and got that through a mauling ground performance. The Cardinal rushed 66 times and threw the ball only 13 times. Tyler Gaffney racked up a school-record 45 rushes, and that helped Stanford finish 14-for-21 on third down and control the clock for nearly 43 minutes of game time.
The Cardinal don't have a big power back like Gaffney anymore, and that deficiency is good news for an Oregon defense that used the offseason to get stronger in an attempt to avoid repeating its 2013 fate. Stanford will have to sustain drives in different ways this time around, and its
radical new offensive approach
last week will be put to the test.
Defense: Speed and discipline on the back end
Before 2012, Stanford didn't have the athleticism to catch Oregon if it made a mistake near the line of scrimmage. That's why points for the Ducks would always burst through the floodgates after strong Cardinal defensive starts. Since 2012, though, Stanford has developed elite athleticism throughout its linebacker corps and secondary. This was readily apparent when reserve safety Devon Carrington
ran down Mariota on a diagonal
to save a touchdown two years ago.
Elite meets elite: 2014 marks the first time in the Stanford-Oregon rivalry that the nation's most efficient defense (Stanford is allowing an FBS-best 3.7 yards per play) meets the nation's most efficient quarterback (Mariota's 192.1 rating is the best in college football). Mariota should certainly be champing at the bit after reports claimed a knee injury slowed him down at Stanford last season.
Special-teams success
In 2012, overtime came down to field goals: Alejandro Maldonado's try clanged off the upright, while
Jordan Williamson
overcame struggles to nail the game winner. That came after Stanford punter Daniel Zychlinski enjoyed the game of his career, repeatedly reversing field position for his team's defense. When it comes to Stanford-Oregon, don't discount the importance of special-teams plays. After all, they made a significant difference in the Cardinal's favor in 2012, and they kept Oregon in the game in 2013 (blocked field goal returned for a touchdown).
October, 28, 2014
Oct 28
10:00
AM ET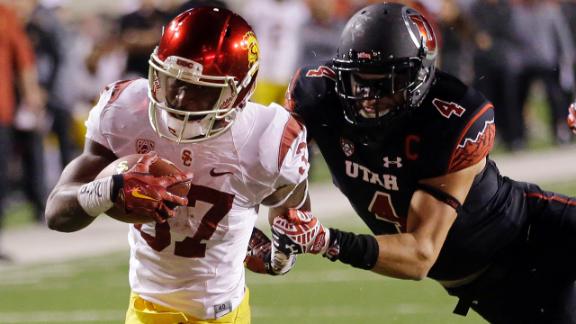 The Pac-12 saw a new commitment and a flip on Sunday, while Stanford and Utah took advantage of important recruiting weekends and focus is already shifting toward a huge upcoming visitor list for Oregon.
To continue reading this article you must be an Insider
October, 28, 2014
Oct 28
8:30
AM ET
Welcome to terrific Tuesday. Or terrible Tuesday. All depends on your perspective.
The College Football Playoff selection committee began deliberations on Monday in Grapevine, Texas. Tonight at 7:30 p.m. ET, Arkansas Athletic Director Jeff Long will unveil to a most curious audience the first-ever CFP rankings.
It's a historic time -- and surely chaotic.
Marc Tracy of the New York Times, in
assessing the moment
, writes that "historians will most likely date the end of the era of good feelings to 7:31."
With that in mind, some advice for fans from the Big Ten to the SEC:
To continue reading this article you must be an Insider
October, 28, 2014
Oct 28
8:00
AM ET
I don't want to sell anything, buy anything, or process anything as a career. I don't want to sell anything bought or processed, or buy anything sold or processed, or process anything sold, bought, or processed, or repair anything sold, bought, or processed. You know, as a career, I don't want to do that.
Leading off
Time for our weekly check-in with
The Eliminator
, everyone's favorite (or not) weekly segment. The latest victim is USC, which dropped its third game of the season on the road at Utah. Per the folks at ESPN Stats & Information, USC has now lost 15 in a row when trailing going into the fourth quarter.
So who is left? As the first batch of playoff rankings are set to be released Tuesday night (4:30 p.m. on ESPN for us West Coasters), the Pac-12 still has five teams that are either in contention or hanging on. Oregon, Arizona and Arizona State still qualify for the "In Contention" category, while Utah and UCLA are "On the Fence." Some thoughts on the Utes:
OK, it's time to call the Utes a legitimate contender in the Pac-12 South. Utah became bowl eligible for the first time in three seasons by knocking off No. 20 USC 24-21 at home Saturday night. The Utes scored the winning touchdown on quarterback Travis Wilson's 1-yard touchdown pass to Kaelin Clay with eight seconds to play. If the Utes keep winning against their upcoming schedule, they'll be a legitimate playoff threat (and they'll have earned it).
Should be much to debate when these folks release the first rankings.
An inside look into the first #CFBPlayoff Selection Committee meeting. First rankings to be released tomorrow. pic.twitter.com/9Kg2cjXFb9

— CFB Playoff (@CFBPlayoff) October 27, 2014
In defense of Sark
All those going after USC head coach Steve Sarkisian need to slow your roll,
so says Chris Dufresne of the L.A. Times.
For whatever blame you want to throw on the Trojans' first-year head coach, Dufresne is quick to remind us that the blame can sometimes fall on the players not performing an otherwise acceptable decision from the coach. From his column:
No one weeps for Steve Sarkisian because he makes a fortune, yet the first-year coach does have the misfortune of presiding over a whiny, entitled franchise in the shameless era of dingbat social media. He also is chopping wood, well under the scholarship cap, in a Pac-12 that has never been better. Not every Trojans fan wants Sarkisian sacked for being 5-3 through eight games, but even one is too many.
He's not wrong, especially when you consider the Utah game and the fourth-and-2. Even though there's altitude, it still would have been a 40-plus-yard kick into the wind. And it only would have tied the game. Every coach has their own metrics for when to go on fourth down. I'm guessing most of the league's coaches would have done exactly what Sarkisian did.
News/notes/team reports
Just for fun
Baby announcements have become quite the rage. Last week at practice, Cal assistant coach Pierre Ingram and his wife Dani found out they were having a boy through the magic of colored cupcakes.
Pretty cool video
.
Some
highlights
from Arizona's win over WSU. (Look away, Cougar Brian, look away.)
October, 27, 2014
Oct 27
6:00
PM ET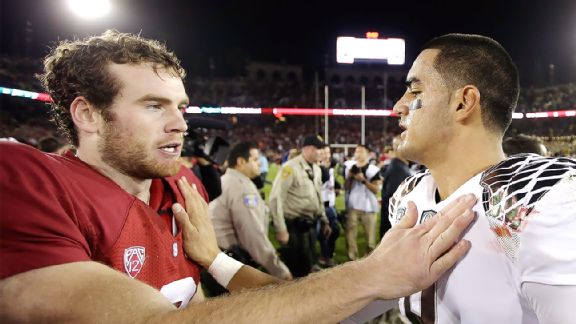 Ezra Shaw/Getty ImagesQBs Marcus Mariota, right, and Kevin Hogan meet again Saturday in one of the nation's best rivalries.
It all changed in 2009. Since the turn of the century, the Ducks had essentially owned a struggling Stanford squad, winning seven straight by an average of 23 points. But in 2009, a rookie quarterback for the Cardinal changed the way people would view Stanford football.
Andrew Luck threw a pair of touchdowns and the Cardinal beat the No. 7 Ducks 51-42, igniting what has become one of the best intra-division rivalries over the past half-decade.
As the teams prepare to square off this week, here's a look back at how things have played out over the last five games.
Nov. 7, 2009
Stanford Stadium
Final score: Stanford 51, No. 7 Oregon 42

The setup: The freshman Luck was already turning heads with wins against No. 24 Washington, UCLA and ASU. The Ducks, in their first year under Chip Kelly, were riding a seven-game win streak and were coming off a 47-20 thumping of No. 4 USC.

Key play: Uh, every time Toby Gerhart touched the ball? He rushed for a school record 223 yards and three touchdowns on 38 carries.

Remember this? It was offense galore as the teams combined for 49 first downs and 1,075 offensive yards.

Quotable: "We got beat by a better team," Kelly said. "If you say we got caught looking behind or looking ahead, it takes away from Stanford. Stanford is a heck of a football team."
Oct. 2, 2010
Autzen Stadium
Final score: No. 4 Oregon 52, No. 9 Stanford 31

The setup: The revenge-minded Ducks blasted their way through the season (including Stanford), in what would be a run to the national title game. This was Oregon's first game of the season against a ranked team, and the defense had posted two shutouts in its first four games. Stanford was coming off a road win at Notre Dame the week before. This would be the first time the schools met as ranked teams.

Key play: Darron Thomas had just scored on a 6-yard rushing touchdown to tie the score at 31 early in the second half. But the momentum swung when Chris Owusu fumbled and Eddie Pleasant returned it 51 yards to the Stanford 3-yard line. LaMichael James scored on the next play, giving Oregon its first lead after trailing 21-3 early.

Remember this? With the Cardinal trailing 45-31 late in the game, Cliff Harris intercepted Luck at the Oregon goal line for a touchback. Three plays later, LaMichael James scored on a 76-yard touchdown run.

Quotable: "Wasn't our day today," said Stanford coach Jim Harbaugh.
Nov. 12, 2011
Stanford Stadium
Final score: No. 6 Oregon 53, No. 3 Stanford 30

The setup: It had been building to this. The Cardinal had essentially trucked every team they played, save a dramatic 56-48 triple-overtime win at USC. Oregon had recovered nicely from its season-opening loss to LSU and had won eight in a row. Luck was the Heisman front-runner and new coach David Shaw had pushed all the right buttons so far. The Cardinal were riding a 17-game home winning streak.

Key play: Trailing 29-16, the Cardinal were still in striking distance early in the second half. Stanford had just forced a three-and-out, but on their first play of the ensuing drive, Isaac Remington sacked Luck, forcing a fumble, and Brandon Hanna returned it to the Stanford 12. On fourth-and-2 at the Stanford 4, James delivered a 4-yard touchdown/knockout blow, putting the Ducks ahead 36-16.

Remember this? The Cardinal couldn't keep their feet. Part of it might have had something to do with the slippery James, who rushed for 146 yards and three touchdowns. But, per reports, the Cardinal hadn't cut the grass for four days with the hopes it would slow Oregon. Instead, you had Stanford receivers and defenders who couldn't keep their feet.

Quotable: "We were slipping. They were slipping. I just ran fast," said James.
Nov. 17, 2012
Autzen Stadium
Final score: No. 14 Stanford 17, No. 1 Oregon 14 (OT)

The setup: The Ducks were rolling with new quarterback Marcus Mariota kid at the helm. They had won 10 straight to start the season and nothing, it appeared, would stand in their way of reaching the BCS title game -- let alone a Stanford team it had beaten twice with Luck. And who was this Kevin Hogan guy, making his first career road start in Eugene? The Cardinal had already dropped games at Washington and at Notre Dame. A third-straight win against Stanford, by another big number, was the probable outcome.

Key play: Where do you start? The Jordan Williamson game-winner in overtime? The controversial Zach Ertz touchdown catch? The hustle play by Devon Carrington to bring down Mariota on his 77-yard scramble? Or the missed block by De'Anthony Thomas on Carrington that would have sprung Mariota? (Oregon would fail to score after going for it on fourth-and-2 at the Stanford 7). Take your pick.

Remember this? Oregon was riding a 13-game winning streak, the longest in the country. Further, the Ducks had scored at least 42 points in all 13 games.

Quotable: "It hurts, and as I told them, you'd like to have some words that would take the pain out of it, but there aren't," said Kelly. "We'll feel bad for a little bit of time and we'll bounce back from it."
Nov. 7, 2013
Stanford Stadium
Final score: No. 6 Stanford 26, No. 2 Oregon 20

The setup: For the second-straight year, Oregon was undefeated heading into the Stanford game. And again, the Ducks were putting up big numbers under new coach Mark Helfrich, having scored at least 50 in six of their first eight games. Stanford's lone smudge was a loss to Utah in Salt Lake City. National championship hopes were high for both teams. Little did we know, however, that a week earlier in a win against UCLA, Mariota had injured his knee. His lack of mobility would be a major talking point after this game.

Key play: On Oregon's second possession, the Ducks were turned away on fourth-and-goal at the Stanford 4 when Mariota missed Bralon Addison. Early, yes, but Stanford then marched 96 yards on 12 plays, eating up 5:59 and capping the drive with a 2-yard Tyler Gaffney touchdown. He carried the ball nine times on that drive, and it set the tone for the rest of the game.

Remember this: Much like Gerhart in 2009, Gaffney was the workhorse this time around, carrying a school-record 45 times for 157 yards and a touchdown. Though he averaged just 3.5 yards per carry, he earned every one of them.

Quotable: "We rode him like Secretariat," said Stanford offensive coordinator Mike Bloomgren.
Stanford At Oregon Preview