December, 4, 2013
Dec 4
9:38
AM ET
When I wrote in an Insider article two years ago that the Pac-12 had an opportunity to close the gap between it and the SEC as the top college football conference in the country (an article that drew its fair share of discussion), Pac-12 commissioner Larry Scott was still in the formative and visionary process of building up the league. He had brokered the richest television deal in college sports, and the conference was taking shape with its new members and new direction.
Two years later, the conference continues to close the gap, and while its 12 members cannibalized their own chances at a BCS title in 2013, the vision continues to look very promising. Here are four reasons the Pac-12 continues to pose a long-term threat to the SEC in terms of college football supremacy.
To continue reading this article you must be an Insider
December, 3, 2013
Dec 3
9:07
PM ET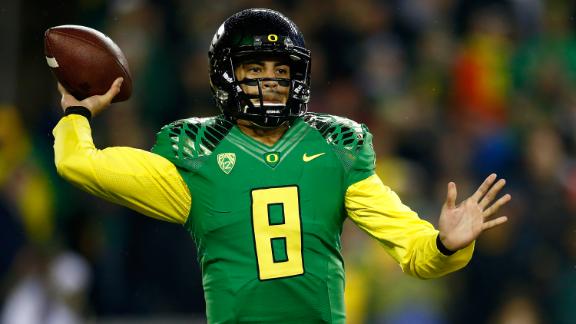 I give
Marcus Mariota
a lot of credit for his decision to return to Oregon for his redshirt junior season. While this is a very deep class of quarterbacks, there isn't a clear-cut elite QB prospect, and with the number of QB-needy teams at the top of this year's draft, there was an opening for him to be the No. 1 overall pick. I think that if he had decided to leave, he would have been the first quarterback taken.
But even though he's turning down a huge paycheck for this upcoming season, I think he made the right decision.
My guess is that part of Mariota's choice was a result of him evaluating himself and realizing that he still has room to grow as a quarterback. His regular season didn't end in the same positive way you might have expected based on his early-season play, and a knee injury that limited his running ability was a big reason why. His explosiveness as a runner is a big part of his game, so when that was taken away it forced him to be more of a pocket passer, and showed him that he's not quite where he needs to be in that area.
Read the rest of the story
here
.
December, 3, 2013
Dec 3
7:18
PM ET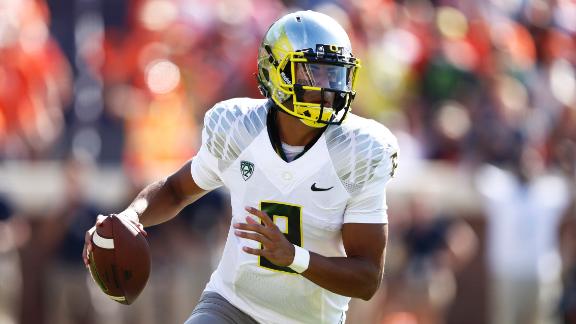 After a trying second half of the season, Christmas came early for Oregon coach Mark Helfrich when quarterback
Marcus Mariota
announced Tuesday that
he would return for his redshirt junior season
instead of entering the NFL draft, in which he almost certainly would have been an early first-round selection.
As a stocking stuffer, two-time first-team All-Pac-12 center
Hroniss Grasu
also announced he will return.
Goducks.com
, the school's athletics website, announced the news for both.
[+] Enlarge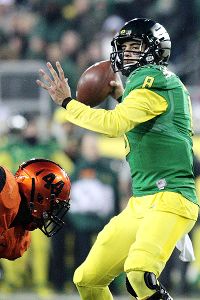 Scott Olmos/USA TODAY SportsMarcus Mariota will return to Oregon next season as a Heisman Trophy favorite.
While the Ducks probably are going to say goodbye to receiver
De'Anthony Thomas
and cornerback
Ifo Ekpre-Olomu
, who have yet to announce their intentions, Mariota's decision does make one thing clear: Oregon will be the favorite to win the Pac-12 in 2014, the first year of the four-team College Football Playoff.
Mariota, a first-team All-Pac-12 selection for a second consecutive year, will be the preseason favorite to win the Heisman Trophy as he captains an offense that looks like it will welcome back eight starters, a calculation that doesn't include DAT or RB
Byron Marshall
, the Ducks leading rusher.
While the Ducks' defense will take a few hits, Helfrich's second team appears stacked and ready for a potential bounce-back season. North Division rival Stanford will be replacing a number of key stars on both sides of the ball, including eight players who earned first- or second-team All-Pac-12 honors.
Mariota completed 227 of 360 attempts for 3,412 yards with 30 touchdowns and four interceptions and rushed for 582 yards and nine touchdowns this season. He set a Pac-12 record from the end of last season into this year by attempting 353 passes without an interception. He ranks second in the nation in ESPN.com Stats & Information's Total QBR.
Of course, a knee injury suffered against UCLA on Oct. 26 hampered him over the second half of the season, most notably in the Ducks' first loss at Stanford. Still, the Ducks "down" year produced a 10-2 record, a sixth consecutive 10-win season with a bowl game left to play.
Mariota's return means that as many as 10 conference teams could welcome back their 2013 starting quarterback. We still await word from UCLA's
Brett Hundley
and Oregon State's
Sean Mannion
on whether they will enter the NFL draft. The return of Utah's
Travis Wilson
is up in the air due to health issues.
Only Arizona and Washington started seniors at QB this year.
The dual return of Mariota and Grasu means the brains of the Ducks' offense will be back in 2014. Grasu, perhaps the nation's top center, should have a mastery of the Ducks' offensive line calls, while Mariota figures to own an Andrew Luck-like knowledge of the nuances of the Ducks' offense as a third-year starter.
That's a huge advantage heading into 2014.
Further, their return is a vote of confidence in Helfrich. If one or the other didn't believe in the Ducks' first-year coach, they almost certainly would have moved on.
The only Ducks who might be unhappy with Mariota's decision are backup QBs
Jeff Lockie
and
Jake Rodrigues
, who will be redshirt sophomores next season. They probably expected to be in a hotly contested competition for the starting job this spring. That said, they might benefit from another year of seasoning playing behind a future high NFL draft choice.
Of course, sometimes the celebrated return of a QB doesn't always work out (see: USC's Matt Barkley in 2012). Fans and NFL scouts will expect Mariota to be even better next fall. Comparable numbers might be viewed as a sign of his plateauing.
But that's a potentiality that isn't worth fretting over today.
Oregon fans were frustrated when the program lost two of its final four games and fell out of the national title race. Here's a guess that those frowns just turned upside down.
December, 3, 2013
Dec 3
5:42
PM ET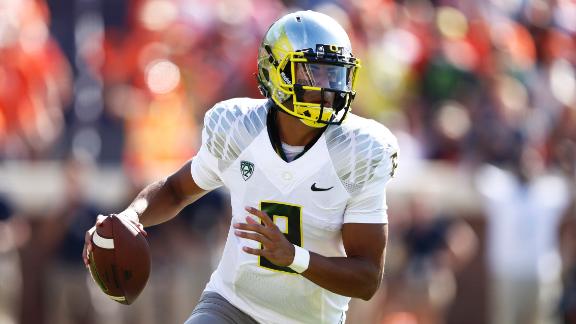 Quarterback Marcus Mariota will bypass the 2014 NFL draft and return for his junior season at Oregon, it was announced Tuesday.
Mariota, a first-team All-Pac-12 selection for the second straight year, has completed 227 of 360 attempts for 3,412 yards with 30 touchdowns and four interceptions. The redshirt sophomore set a Pac-12 record from the end of last season into this year by attempting 353 passes without an interception. The streak came to an end on his first attempt against Arizona on Nov. 23.
"It is an honor to be a student at the University of Oregon and to have the opportunity to represent our institution on the football field alongside my teammates," Mariota said in a statement released by the school. "I look forward to earning my degree next year and to the rest of my career at this great university."
Mariota ranks second nationally behind Florida State's Jameis Winston with a 90.1 Total QBR and is third on the team with 582 rushing yards and nine touchdowns on 81 carries.
He should again receive considerable buzz and be among the early favorites for the Heisman Trophy in 2014.
In two seasons, Mariota has 6,089 passing yards, 77 total touchdowns and only 10 interceptions. His streak of 25 games with at least one TD pass is third-longest in the nation.
In addition, Hroniss Grasu, a three-year starter at center, announced that he is returning to the Ducks.
December, 3, 2013
Dec 3
5:30
PM ET
Pushed the mailbag back a few hours to field some questions on Steve Sarkisian, the all-league teams and more. Plenty to talk about with only two teams playing this week.

Tim in Atlanta writes:
Is there really any justification for
Josh Huff
being left off
the 2nd team all-Pac team this year
? He had 200 more yards than montgomery and 57% more TD than Strong. Standings shouldn't matter in this, and the fact that Huff is the first WR in years to have 1000 yards in Oregon's spread-it-around system should say a lot. Seems like voters punished him for Oregon's offensive firepower instead of rewarding a guy for standing out on a team full of offensive talent... or maybe they didn't the game on friday.
Kevin Gemmell
: Well, the voters are the coaches. And having talked to the coaches over the last couple of years, I can tell you this isn't something they farm out to assistants. The ones I've spoken with about the process take it pretty seriously.
The stats are there, no question. And I was sitting in a bar in Pasadena Friday night watching the Civil War feeling very happy for Huff to have that kind of a game. He's taken a lot of heat over the last month -- some of it was deserved, some of it wasn't.
But I think that also could have played a factor. Coaches are bias, just like everyone else who votes. They have their favorites. And perhaps Huff's Rose Bowl comments didn't sit well with the coaches. I'm just speculating, but I don't think it's too far of a reach.
A lot of questions and speculation about the Pac-12's Rose Bowl partner
– including questions from Kelly in Bend, Ore., Josh in Mesa, Ariz., and Greg in San Francisco. So I'll lump them all together into one answer. It breaks down to this: Could Alabama play in the Rose Bowl Game presented by VIZIO.
Kevin Gemmell
: Short answer: yes, with an if. And no, with a but.
The winner of the Pac-12 championship game heads to the Rose Bowl no matter what, since neither Stanford nor Arizona State are under consideration for the VIZIO BCS National Championship game.
The Big Ten is a different story since Ohio State is now in play for the title game. If Ohio State beats Michigan State, chances are it goes to the BCS championship game and therefore the Big Ten forfeits its entry into the Rose Bowl. That leaves a void.
The obvious solution is Michigan State to Pasadena. The kicker, however, is whether Michigan State is still in the top 14 of the BCS rankings. If Michigan State wins, it will go to the Rose Bowl. If it loses and falls out of the top 14, a replacement team needs to be found.
The optimal solution is for either Michigan State to win or Ohio State to win, but Michigan State puts up a good enough fight that it stays within the top 14. There is nothing the Rose Bowl committee wants more than a Pac-12-Big Ten matchup for the 100th game. Preserving that tradition is important to them.
But it might be out of their control.
Assuming Florida State goes to the championship game, the Discover Orange Bowl would have the first pick at filling its spot. It's hard to imagine Alabama slipping through. However, if for some reason it does, then I wouldn't be shocked for the Rose Bowl to snatch up Alabama. But a few things need to happen for that scenario to play out.
John in Los Angeles writes
: A case for [Jim] Mora being Coach of the Year. First, let me say I don't know much about the other teams in the conference. Being in LA I of course know the saga of Southern Cal, and I do think Coach Orgeron has done a great job. That having been said, here are my points (in no particular order save point 1).
The death of a player: You have brought this up a few times and it likely goes without saying how this impacted the team. Some might say kids this age are resilient and there is some truth to that notion. However I still think Mora did a great job in handling the situation.
Replacing Franklin: I don't really remember seeing this mentioned much other than at the start of the season. Franklin not only became the schools leading rusher he was a team leader. That is a tough combination to replace.
Replacing the secondary: This job became even harder when Riley had to retire. I don't know how young we were back there but IIRC it was fairly young all season.
Injuries along the offensive line: This one is pretty well documented.
Freshman punter: I don't think people appreciate how good Jeff Locke was last year in terms of field position. Then to have to replace him with a true freshman to boot (pun intended).
With all of those things UCLA was one poor half away from winning the South. Like I said, I don't know much about the other teams and what they had to go through this year. But I think going 9-3 with 2 of the three losses coming on the road to (then) top 5 teams in back to back weekends and the only other loss to a top 20 team with having to deal with all the stuff above, Mora deserves some serious consideration for Coach of the Year.
Kevin Gemmell
: This one came in on Sunday, before the coach of the year was named, but I still think everything John just mentioned is worth addressing, because everything he says is correct. And I don't know what the totals were in terms of voting for coach of the year. I have to imagine Mora got a few votes.
But it's tough to ignore the job Todd Graham has done at Arizona State. Before the season, most people didn't expect the Sun Devils to win the South (outside of the Pac-12 blog) and they started the year unranked. When you look at the schedule they played and the way they won games down the stretch -- home and away, blowouts and come-from-behinds -- I would have voted for Graham also.
Mora did a fantastic coaching job this year. And winning at the Coliseum last week was obviously a huge step forward for the program. But they had a chance to seize control of the division at home and couldn't get it done.
From where ASU started the season -- unranked -- to where it is now, Graham was the right choice.
The Heisman Committee in New York writes
: Kevin, you told us recently that the Pac-12 would send 1 Heisman finalist and it would be
Marcus Mariota
? Should Carey go? Should he take Mariota's place? Is there any chance we invite both? Do either have a chance of beating Winston and the field given Winston's legal troubles? We're so overwhelmed by this season that we could really use all the help we can get.
Kevin Gemmell
: Pretty sure I told you that in October during a chat. Chat answers are obviously gut feelings at the time, and at the time Mariota seemed like a safe choice.
Have the circumstances changed? Absolutely. I think when all is said and done, it should either be
Ka'Deem Carey
or
Bishop Sankey
who represents the Pac-12 in the Heisman voting.
I made a case earlier today
for one of the two Pac-12 backs winning the Doak Walker. And I think if the Heisman doesn't go to a quarterback, then it should go to one of the two backs. And I'd be a Carey lean simply because of the consistency every week.
Yes, Sankey supporters, I know he sat out a lot of the Idaho State and Colorado games. Carey missed time too. Both are phenomenal backs and regular Pac-12 blog readers know that I've been high on Sankey for a very long time.
But his performances in the ASU and UCLA games are the sort of showing that haunt players when it comes to postseason awards. If I were a voter, my main focal point would be consistency and complete body of work. And Carey showed that against the toughest competition he played his best ball.
Emily in LA writes
: Well, I guess you can ignore my last question now that it's completely irrelevant after today's news. I'll withhold judgment on Sarkisian (and learn to spell his name) after I see how he does, but I'm still sad about Coach O leaving.
Kevin Gemmell
: Emily submitted a question on Sunday showing support for Ed Orgeron and questioning whether the UCLA loss should play a major factor in Pat Haden's decision. It can still be answered despite the changes, because we now have the benefit of hindsight.
I'm pretty sure it didn't rest on that one game -- though it probably made it easier. No doubt, Orgeron did a magnificent job. He tapped into something special with his players and rode it for as long as he could.
For kicks, let's say he were named the head coach. A lot of the inspiration he had this season -- that nothing-to-lose attitude -- would be gone. That's not to say he couldn't get the job done. But these past seven weeks have been a pretty exceptional situation.
Haden is thinking about the long-term health of the program. It can't just be five weeks from now. It has to be five years from now. And it's tough to separate the emotion of what went on the last few weeks with what the future is going to hold.
Keep in mind though the two games Orgeron did lose -- Notre Dame and UCLA. Those are rivalry games. USC fans expect their team to beat Cal and Utah and yes, even Oregon State in Corvallis. But they also expect wins over rivals. And that's something Orgeron failed to provide.
Don't get me wrong. The Pac-12 blog was very impressed with what Orgeron was able to do. And there is obviously a level of disappointment in him leaving.
But he had to go. Sark needs a clean slate to start with, and Orgeron's presence, while probably wanted by the players, would have been more of a distraction to the new administration.
It's like breaking up with your girlfriend, but tagging along with her on dates so you can tell her new man her likes and dislikes. It's uncomfortable and awkward.
December, 3, 2013
Dec 3
4:30
PM ET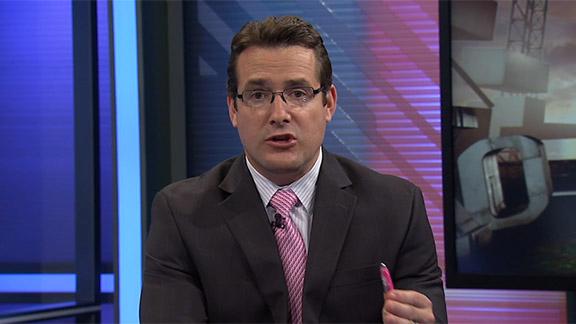 Several junior college prospects made immediate impacts in the Pac-12 this season, including
Jaelen Strong
at Arizona State,
Steven Nelson
at Oregon State and
Vince Mayle
at Washington State. The 2014 crop of junior college standouts will undoubtedly reveal a number of instant-impact players in the conference. Looking at the
ESPN JC 50
, five prospects stand out as important targets for conference teams.
1. DT Alfonso Hampton (Chula Vista, Calif./Southwestern College):
The No. 10 overall prospect and No. 3 defensive tackle is only just tapping into his potential, as this is only his second year playing football. Hampton won't be a mid-year enrollee, so a number of schools are waiting to offer until they are sure that he will be academically ready to leave next spring. Arizona State, Oregon and USC have expressed interest and it wouldn't be surprising to see that interest turn to offers in the coming weeks.
To continue reading this article you must be an Insider
December, 3, 2013
Dec 3
2:30
PM ET
I've heard another rumor, that you were bitten by a king cobra?
Yeah, I was. But after five days of agonizing pain, the cobra died.
December, 3, 2013
Dec 3
1:00
PM ET
Some Pac-12 numbers for your review.
Number to the left is national rank.
Scoring offense
5. Oregon, 46.8 points per game
8. Arizona State, 43.3
18. Washington, 38.5
24. UCLA, 36.5
Total offense
3. Oregon, 573.0 yards per game
8. Washington, 514.3
21. Arizona State, 473.3
25. Oregon State, 468.1
Rushing offense
9. Oregon, 278.3 yards per game
12. Arizona, 265.8
14. Washington, 243.1
Passing offense
3. Oregon State, 382.1 yards per game
5. Washington State, 364.5
11. California, 331.4
20. Oregon, 294.7
25. Arizona State, 285.4
Note
: Here's a guess that USC athletic director Pat Haden saw these numbers as a reason to hire away Steve Sarkisian from Washington. Sarkisian called the plays for the Huskies, who showed great balance this year in their hurry-up attack.
Scoring defense
13. Stanford, 19.0 points per game
23. USC, 21,3
19. Oregon, 21.6
Total defense
15. Stanford, 341.3 yards per game
16. USC, 341.5
24. Arizona State, 351.0
Yards yielded per play (FBS foes only)
9. Oregon, 4.61 yards per play
16. Stanford, 4.82
22. Washington, 4.99
26. USC, 5.03
Pass-efficiency defense
11. Washington
13. Oregon
21. USC
27. Arizona State
Note
: It will be interesting to see where USC defensive coordinator Clancy Pendergast lands. He's a proven Pac-12 coordinator.
[+] Enlarge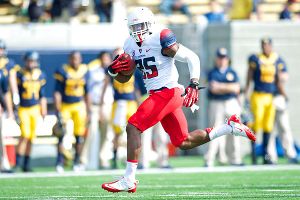 Matt Cohen/Icon SMIArizona's Ka'Deem Carey finished the regular season ranked second among FBS schools at 156.0 yards per game.
Rushing
2.
Ka'Deem Carey
, Arizona, 156.0 yards per game
3.
Bishop Sankey
, Washington, 147.9
10.
Tyler Gaffney
, Stanford, 123.8
Note
: Carey and Sankey are both Doak Walker Award finalists, and Carey should win the trophy because he's the best running back in the nation. Suffice it to say, Gaffney's return from pro baseball was successful.
Pass efficiency
6.
Marcus Mariota
, Oregon
17.
Keith Price
, Washington
19.
Brett Hundley
, UCLA
25. Kevin Hogan, Stanford
Note
: Mariota is No. 2 in the nation in ESPN.com Stats & Information's total QBR rating. Arizona State's Taylor Kelly, 37th with the NCAA measure, is 16th in QBR,
Receiving yards per game
1.
Brandin Cooks
, Oregon State, 139.2 yards per game
6.
Paul Richardson
, Colorado, 111.9
Note:
It was pretty easy to figure out who were the two first-team All-Pac-12 receivers. Richardson is headed to the NFL. Will Cooks, also a junior, follow?
Sacks per game
2.
Trent Murphy
, Stanford, 1.1
T16.
Anthony Barr
, UCLA;
Hau'oli Kikaha
, Washington, 0.8
Note
: Barr ranks fourth in the nation in tackles for a loss per game (1.70) and Murphy is sixth (1.60).
Random notes
UCLA QB Brett Hundley led the Pac-12 and ranked 12th in the nation with a .678 completion percentage.

UCLA OLB Anthony Barr tied for second in the nation with 0.42 forced fumbles per game. He's tied for fifth in fumble recoveries with 0.33 per game.

Arizona State's Robert Nelson, Oregon State's Steven Nelson and Oregon State's Rashaad Reynolds are tied for fifth in the nation with six interceptions.

Oregon State QB Sean Mannion's 36 TD passes ranks second in the nation.

Stanford is eighth in the nation in third-down conversion percentage at .523. The Cardinal is 13th in the nation in third-down defense, with foes converting just 32.6 oercent of its third-down attempts.

USC is tied for fourth in the nation with five blocked kicks. The Trojans are tied for second with three blocked punts.

UCLA didn't allow a blocked punt or kick this year.

Arizona State ranks third in the nation with just 28.5 yards in penalties per game.

Washington State ranked 122nd in the nation with 23 interceptions thrown by its QBs.
December, 3, 2013
Dec 3
11:00
AM ET
The SEC remains a strong No. 1 with
ESPN Stats & Info's conference rankings
, but both the Pac-12 and Big 12 gained ground on it this past weekend.
While the SEC lost nearly a point, the Pac-12 gained 1.9 points and the Big 12 gained 4.5 points. Still, the No. 2 Pac-12 is 11.9 points behind the SEC. The Big 12 trails the Pac-12 by 5.2 points.
Of course, a lot can change during the bowl season.
From ESPN Stats & Information:
It appears the Pac-12 and Big 12 will be on the outside looking in on the national title debate despite ranking second and third respectively in ESPN's Conference Power Rankings. Both conferences have depth, but their biggest issue is that there is no "elite" team at the top.

Keep an eye on the bowl matchups announced next Sunday to see how conference strength plays into bowl selections. In the last three seasons, the SEC has the best record in bowl games among the five major conferences (17-11) while the Big Ten has the worst record (9-16).
The Big 12 is 8.1 points ahead of the No. 4 Big Ten, which will be matched with the Pac-12 in the Rose Bowl.
December, 3, 2013
Dec 3
9:00
AM ET
Remember when ESPN 300 wide receiver
Frank Iheanacho
(Houston/Westside) thought his future was on the basketball court?
That was during the summer. Fast forward a few months, and Iheanacho is now preparing for in-home visits from three SEC programs this week. Iheanacho, No. 89 in the ESPN 300, will host Arkansas on Tuesday, LSU on Wednesday and Texas A&M on Thursday. The 6-foot-7, 220-pound receiver, a U.S. Army All-American, will announce where he'll take his talents at the game on Jan. 4 in San Antonio.
To continue reading this article you must be an Insider
December, 2, 2013
Dec 2
6:00
PM ET
Oregon wide receiver
Josh Huff
has been named the Pac-12 offensive player of the week, along with Arizona State safety
Damarious Randall
as defensive player of the week and ASU kicker
Zane Gonzalez
as special teams player of the week.

Here's some more on the trio, per the Pac-12's release:
Huff, a senior from Houston, Texas, posted a career-high nine catches for 186 yards and three touchdowns in a last-minute 36-35 win in the Civil War over Oregon State on Friday evening. After catching a 12-yard touchdown pass on fourth down with 3:09 remaining, Huff followed with another 12-yard score for the game-winning touchdown with 29 seconds remaining in the game. All three of his second-half scoring catches brought the Ducks back from deficits and eight of his nine receptions resulted in first down or touchdowns.

Randall, a junior from Pensacola, Fla., was responsible for two turnovers, including a 64-yard interception return for a touchdown and a forced fumble as the Sun Devils knocked off in-state rival Arizona 58-21 in the Territorial Cup on Saturday night. Both forced turnovers led to scores that extended the Sun Devils lead and put the game out of reach. Randall also notched a game-high 12 tackles, including a four-yard tackle for loss, as Arizona State secured the best record in league play and hosting duties for the Pac-12 Football Championship Game on Saturday, Dec. 7.

Gonzalez, a freshman from Deer Park, Texas, accounted for 16 points as he connected on all 10 of his kicks, including 3-of-3 on field goals and 7-of-7 on extra points, helping Arizona State claim the Territorial Cup in the victory over Arizona on Saturday. He has now made a school-record 18 consecutive field goals dating back to the USC game on Sept. 28 and has made 22 of 25 on the year. His 124 total points are the most in a single-season by an ASU kicker, while his 10.4 points per game is good for eighth in the nation. Gonzalez is the only player to earn the special teams player of the week honor twice in 2013.

Also nominated for offensive player of the week honors were running backs D.J. Foster of Arizona State, Tyler Gaffney of Stanford, Kelvin York of Utah and Bishop Sankey of Washington; and quarterback Brett Hundley of UCLA. Also nominated for defensive player of the week honors were linebackers Addison Gilliam of Colorado, Anthony Barr of UCLA and Trevor Reilly of Utah; cornerbacks Ifo Ekpre-Olomu of Oregon and Wayne Lyons of Stanford; and defensive end Hau'oli Kikaha of Washington. Also nominated for special teams player of the week honors was UCLA punter Sean Covington and Utah punter Tom Hackett.
December, 2, 2013
Dec 2
4:00
PM ET
Oregon wide receiver
Josh Huff
has taken a lot of guff lately. Some of it was deserved. Some wasn't. But the best way to quiet your critics is to go out and have the best game of your career in a rivalry game.

Huff caught a career-high nine passes for 186 yards and three touchdowns in the Ducks' 36-35, come-from-behind victory over Oregon State. Every time the Beavers took the lead, Huff was there to put the Ducks back ahead.
His first touchdown, a 28-yard pass from
Marcus Mariota
, came in the third quarter with the Ducks trailing 20-17. His second was a 12-yard connection in the fourth quarter with Oregon State leading 29-24. And the clincher was a 12-yarder with 29 seconds left in the game to give Oregon the final margin.
"That guy is a warrior," Mariota said. "He has been making plays like that for his whole career. I have all the confidence in the world in that guy. He made play after big play."
Huff's 186-yard performance was the 10th-best single-game total in Oregon history. The victory gives Oregon a sixth consecutive 10-win season.
Said Huff of his game-winning reception: "It was something that I dreamed of as a little kid. All my teammates were pushing me on and they told me to dig deep. They needed me and Marcus was able to find me in the end zone.
"I have no idea how I feel. I am happy, I can tell you that. It is surreal. I didn't imagine my last game would come down like that. It is everything I dreamed of as a little kid. My dream finally came true. To leave on that note is pretty amazing."
December, 2, 2013
Dec 2
3:50
PM ET
The Pac-12 has announced its first- and second-team all-conference squads and postseason awards for 2013.
[+] Enlarge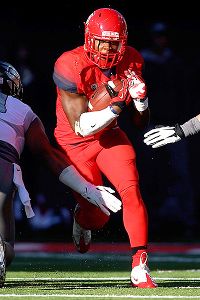 Mark J. Rebilas/USA TODAY SportsPac-12 Offensive Player of the Year Ka'Deem Carey was the only unanimous first-team pick.
Arizona running back
Ka'Deem Carey
has been named the league's offensive player of the year. Arizona State defensive lineman
Will Sutton
joins an elite fraternity, earning his second straight Pat Tillman Defensive Player of the Year award. Washington's Steve Emtman is the only other player to win the league's defensive player of the year award in back to back years (1990-1991).
UCLA's
Myles Jack
earned freshman of the year for both offense and defense with his 70 tackles as a linebacker and seven touchdowns as a running back. This is the first time since the awards were introduced in 2008 that the same player has won both sides.
Arizona State coach Todd Graham is the league's coach of the year for guiding the Sun Devils to a conference record of 8-1 and winning the South Division. The Sun Devils host Stanford this weekend in the Pac-12 championship game.
The team is selected by the Pac-12 head coaches.
Offensive player of the year:
Ka'Deem Carey, RB, Arizona
Pat Tillman Defensive Player of the Year:
Will Sutton, DE Arizona State
Freshman Offense and Defensive Player of the Year:
Myles Jack, RB/LB, UCLA
Coach of the Year:
Todd Graham, Arizona State
First team offense
QB
Marcus Mariota
, So., Oregon (2)
RB
Ka'Deem Carey, Jr., Arizona (2)
RB
Bishop Sankey
, Jr., Washington
WR
Brandin Cooks
, Jr., Oregon State
WR
Paul Richardson
, Jr., Colorado
TE
Chris Coyle
, Grad., Arizona State
OL
Evan Finkenberg
, Grad., Arizona State
OL
Hroniss Grasu
, Jr., Oregon (2)
OL
Marcus Martin
, Jr., USC
OL
Xavier Su'a-Filo
, Jr., UCLA (2)
OL
David Yankey
, Sr, Stanford (2)
First team defense
DL
Ben Gardner
, Sr., Stanford
DL
Trevor Reilly
, Sr., Utah
DL
Will Sutton, Sr., Arizona State
DL
Leonard Williams
, So., USC
LB
Anthony Barr
, Sr., UCLA (2)
LB
Trent Murphy
, Sr., Stanford (2)
LB
Shayne Skov
, Sr., Stanford
DB
Deone Bucannon
, Sr., Washington State
DB
Alden Darby
, Sr., Arizona State
DB
Ifo Ekpre-Olomu
, Jr., Oregon
DB
Robert Nelson
, Sr., Arizona State
DB
Ed Reynolds
, Sr., Stanford (2)
First team specialists
PK
Zane Gonzalez
, Fr., Arizona State
P
Tom Hackett
, So. Utah
RS
Ty Montgomery
, Jr., Stanford
ST
Soma Vainuku
, So. USC
Second team offense
QB
Taylor Kelly
, Jr., Arizona State
RB
Tyler Gaffney
, Sr., Stanford
RB
Marion Grice
, Sr. Arizona State
WR
Ty Montgomery, Jr., Stanford
WR
Jaelen Strong
, So., Arizona State
TE
Austin Seferian-Jenkins
, Jr., Washington
OL
Jamil Douglas
, Jr., Arizona State
OL
Cameron Fleming
, Sr., Stanford
OL
Andrus Peat
, So., Stanford
OL
Isaac Seumalo
, So., Oregon State
OL
Khalil Wilkes
, Sr. Stanford
Second team defense
DL
Scott Crichton
, Jr., Oregon State
DL
Taylor Hart
, Sr., Oregon
DL
Devon Kennard
, Sr., USC
DL
Hau'oli Kikaha
, Jr., Washington
DL
Tenny Palepoi
, Sr., Utah
LB
Carl Bradford
, Jr., Arizona State
LB
Myles Jack, Fr., UCLA
LB
Hayes Pullard
, Jr., USC
LB
Chris Young
, Sr., Arizona State
DB
Dion Bailey
, Jr., USC
DB
Osahon Irabor
, Grad., Arizona State
DB
Marcus Peters
, So., Washington
DB
Rashaad Reynolds
, Sr., Oregon State
Second team specialists
PK
Vincenzo D'Amato
, Sr., California
P
Travis Coons
, Sr., Washington
RS
Nelson Agholor
, So., USC
ST
Erick Dargan
, Jr., Oregon
ST
Joe Hemschoot
, Sr., Stanford
ST
Ryan Hofmeister
, Jr., UCLA
RS: Return Specialist
ST: special teams player (not a kicker or returner)
(2): Two-time first-team selection
Honorable mention
Arizona:
LB
Marquis Flowers
, Sr.; DL
Tevin Hood
, Sr.; WR
Nate Phillips
, Fr.; DB
Jared Tevis
, Jr.; LB
Scooby Wright
, Fr.
Arizona State:
DL
Davon Coleman
, Grad.;
Gannon Conway
, Sr.; ST
D.J. Foster
, So.; ST
De'Marieya Nelson
, Jr.
California:
DL
Deandre Coleman
, Sr.; QB
Jared Goff
, Fr.; WR
Bryce Treggs
, So.
Colorado:
RB
Mike Adkins
, Fr.; LB
Addison Gillam
, Fr.; PK
Will Oliver
, Jr.
Oregon:
WR/RS
Bralon Addison
, So.; WR
Josh Huff
, Sr.; OL
Tyler Johnstone
, So.; DL
Wade Keliikipi
, Sr.; LB
Derrick Malone
, Jr.; RB
Byron Marshall
, So.; DL
Tony Washington
, Jr.
Oregon State:
OL
Grant Enger
, Sr.; TE
Connor Hamlett
, JR.; QB
Sean Mannion
, Jr.; DB
Ryan Murphy
, Jr.; DB
Steven Nelson
, Jr.; ST
Terron Ward
, Jr.
Stanford:
DL
Henry Anderson
, Sr.; DB
Alex Carter
, So.; OL
Kevin Danser
, Sr.; DL
Josh Mauro
, Sr.; P
Ben Rhyne
, Sr.; DB
Jordan Richards
, Jr.; LB
A.J. Tarpley
, Sr.
UCLA:
OL
Jake Brendel
, So.; ST
Jayon Brown
, Fr.; P
Sean Covington
, Fr.; TE
Thomas Duarte
, Fr.; WR
Shaq Evans
, Sr.; WR
Devin Fuller
, So.; DB
Randall Goforth
, So.; QB
Brett Hundley
, So.; DB
Anthony Jefferson
, Jr.; LB
Eric Kendricks
, Jr.; DL
Cassius Marsh
, Sr.; DL
Ellis McCarthy
, So.; DB
Fabian Moreau
, So.; OL
Alex Redmond
, Fr.; DL
Eddie Vanderdoes
, Fr.; LB
Jordan Zumwalt
, Sr.
USC:
P
Kris Albarado
, So.; RB
Javorius Allen
, So.; WR Nelson Agholor, So.; DB
Su'a Cravens
, Fr.; OL
Kevin Graf
, Sr.; TE
Xavier Grimble
, Jr.; QB
Cody Kessler
, So.; WR
Marqise Lee
, Jr.; DB
Josh Shaw
, Jr.; DL
J.R. Tavai
, Jr.; OL Max Turek, So.; DL
George Uko
, Jr.
Utah:
WR
Dres Anderson
, Jr.; OL
Vyncent Jones
, Sr.; DB
Keith McGill
, Sr.; PK
Andy Phillips
, Fr.; LB
Jason Whittingham
, So.
Washington:
OL
Dexter Charles
, So.; PK
Travis Coons
, Sr.; OL
Mike Criste
, Jr.; OL
Micah Hatchie
, Jr.; DB
Sean Parker
, Sr.; QB
Keith Price
, Sr.; DL
Danny Shelton
, Jr.; LB
Shaq Thompson
, So.
Washington State:
OL
Elliott Bosch
, Sr.; WR
River Cracraft
, Fr.; PK
Andrew Furney
, Sr.; DB
Damante Horton
, Sr.;
Some notes on the teams:
By School:
Arizona State and Stanford placed the most players on the first team with six selections each.
By Class:
Of the 27 first-team selections, two are graduate students, 11 are seniors, nine are juniors, four are sophomores and one freshman.
Unanimous:
Only one player was named on the first-team ballot of all 12 head coaches -- RB Ka'Deem Carey of Arizona.
Two-time Selections:
Ten players are repeat first-team selections from last year.
All-Academic:
Two first team All-Pac-12 performers also were named to the Pac-12 All Academic second team -- RB Bishop Sankey of Washington and DB Ed Reynolds of Stanford, while Washington defensive lineman Hau'oli Kikaha was named to the All-Pac-12 second team and Pac-12 All-Academic first team. Arizona State QB Taylor Kelly earned second-team honors on both the Pac-12 All-Conference and All-Academic teams.
Oregon Players Facing Discipline