November, 1, 2014
Nov 1
11:50
PM ET
Streeter Lecka/Getty ImagesSouth Carolina wideout Pharoh Cooper had a huge day in the Gamecocks' overtime loss to Tennessee.
With less than two minutes to go in Saturday night's game between No. 3 Auburn and No. 4 Ole Miss at Vaught-Hemingway Stadium in Oxford, Mississippi, the Rebels trailed the Tigers 35-31 but had the ball at Auburn's 20-yard line.
On third-and-3, quarterback Bo Wallace dropped back and threw a short screen pass to receiver Laquon Treadwell, who broke three tackles and seemed determined to score a touchdown and save the Rebels' season. But as Treadwell reached the goal line, linebacker Kris Frost pulled him down by the back of his jersey, badly twisting Treadwell's left ankle as he was pulled backward.
As Treadwell punched the ground in pain, officials ruled the play a touchdown. The apparent go-ahead score was reviewed by instant replay as trainers and doctors worked on Treadwell's injury, which was later diagnosed as a broken leg. After a few minutes, the call was reversed and officials ruled that Treadwell fumbled the ball before reaching the goal line. Worse, Auburn's Cassanova McKinzy recovered the ball in the end zone for a touchback.
In an instant, Ole Miss realized the agonizing difference between being a College Football Playoff contender and an also-ran. For the Rebels, it was a half-yard between winning and losing what was probably an elimination game for the inaugural four-team playoff.
"It's just a really, really sickening way to lose," Ole Miss coach Hugh Freeze said.
While Ole Miss' playoff hopes suffered a devastating setback for the second week in a row, Auburn lived to see another day. The Tigers, who used a deflected Hail Mary pass to beat Georgia and an improbable 100-yard return off a missed field goal to stun Alabama and reach the 2013 BCS national championship game, found another unlikely way to win on Saturday night.
"This was a playoff game," Frost told reporters after the game. "But from here on in, every game is a playoff game. They just get bigger and bigger."
Even the games that might not seem that significant are becoming difficult to win for the playoff contenders. About the same time Ole Miss was suffering a heartbreaking loss, No. 1 Mississippi State was on the ropes against Arkansas, which had dropped 16 SEC games in a row.
The Bulldogs trailed the Razorbacks 10-0 in the first half and didn't take their first lead until early in the fourth quarter. Holding a 17-10 lead, Mississippi State's defense stuffed Hogs tailback Alex Collins
November, 1, 2014
Nov 1
11:09
PM ET
Associated Press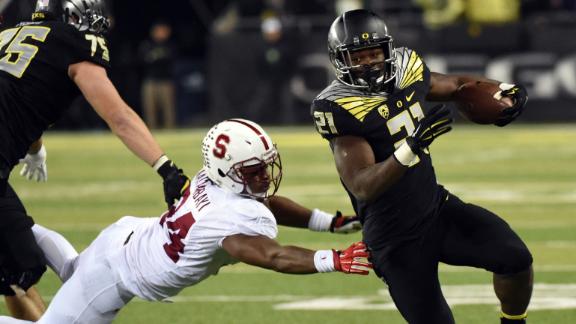 EUGENE, Ore. -- Marcus Mariota threw for 258 yards and two touchdowns and ran for two more scores in fifth-ranked Oregon's 45-16 victory over Stanford on Saturday night.
Thomas Tyner returned from an injury to run for two touchdowns to help the Ducks (8-1, 4-1 Pac-12, No. 5 CFP) snap a two-game losing streak to the Cardinal.
Stanford's stout defense had not allowed an opponent more than 30 points in a string of 31 games, the longest streak in the nation. The Cardinal (5-4, 3-3) had allowed just four total rushing touchdowns through the season's first eight games; Oregon finished with four.
Oregon (8-1, 5-1) climbed to No. 2 in the AP rankings this season but stumbled with a home loss to Arizona on Oct. 2. The Ducks have since recovered and they're gunning for the inaugural playoffs.
November, 1, 2014
Nov 1
11:06
PM ET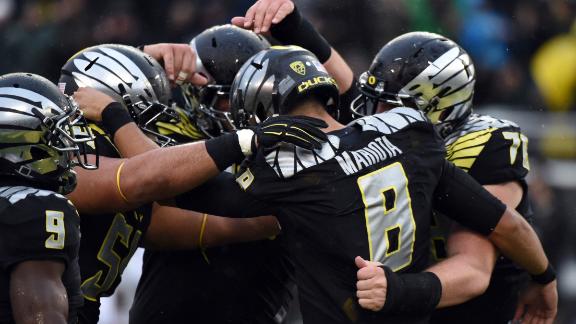 No. 5 Oregon made a serious case for why it should move up in the rankings on Saturday with its
45-16
win over Stanford. Here's how it went down:
How the game was won:
Offensive efficiency and defensive pressure from the Ducks. Oregon scored on its first four drives, not needing to punt until the waning moments of the first half. Quarterback
Marcus Mariota
ran his unit like a machine, exorcising Stanford demons, and the Ducks defense showed that it had taken a big step forward.
Game ball goes to:
It's split, so we're going with offensive and defensive game balls tonight.
Offensive: Oregon's run game. Coming into this matchup, the Cardinal had given up just 91 rushing yards per game at 2.6 yards per rush. Behind big performances from Marcus Mariota, Thomas Tyner and Royce Freeman, the Ducks accounted for 268 rushing yards at 6.0 yards per carry. Through eight games this season, Stanford had given up just four rushing touchdowns. On Saturday night, Oregon matched that total.
Defensive: Safety Erick Dargan. The senior intercepted Stanford quarterback Kevin Hogan on the first drive of the third quarter at the 1-yard line and then forced a Hogan fumble on the first drive of the fourth quarter. Though cornerback Ifo Ekpre-Olomu came into this season as the biggest name on the Oregon defense, Dargan has been a nice surprise, coming up with big plays when the Ducks need them.
What it means:
Oregon can beat Stanford. It is possible. And with that win, the Ducks continue to be the Pac-12's banner holder in the College Football Playoff race.
Playoff implication:
Oregon should move up into the top four when the committee releases its second set of rankings on Tuesday. If the Ducks aren't in it, then there's a serious problem. With No. 4 Ole Miss losing to No. 3 Auburn and No. 7 TCU coming away with a small victory over No. 20 West Virginia, it seems really hard to believe that Oregon wouldn't be in the top four.
Best play:
Tyner's spin move into the end zone in the third quarter to give the Ducks a 31-16 lead. Tyner missed the Ducks' last game, but his return felt like a bit of a coming-out party for the sophomore. He has spent most of the season playing second fiddle to Freeman and
Byron Marshall
, who has converted into more a wide receiver role, but on Saturday night he made a case to get more touches.
What's next:
Utah for both teams. Oregon heads to Salt Lake City next weekend to take on the tough Utes defense, while Stanford has a bye next weekend before playing a home game against the Utes.
November, 1, 2014
Nov 1
10:00
AM ET
Mississippi State and Florida State rank as the nation's top two teams, according to ESPN's weekly #1QFor128 college football poll of the FBS head coaches.

The coaches agree with the College Football Playoff selection committee's initial rankings of the top two teams – but not much else.

The coaches that participated in the weekly poll, conducted by ESPN's Brett McMurphy, had a much different opinion of who the best teams were after Mississippi State and Florida State.

The ESPN coaches' poll had Alabama third and Auburn fourth. The selection committee, however, had Auburn third and Ole Miss fourth.

The coaches and selection committee both ranked Oregon fifth. The coaches had Michigan State sixth, while the selection committee had Alabama sixth.

The rest of the ESPN coaches' poll: Ole Miss, seventh; Notre Dame, eighth; TCU, ninth; Georgia, 10th; and Kansas State, 11th.

The selection committee's Nos. 7-11 teams were: TCU, Michigan State, Kansas State, Notre Dame and Georgia.

The biggest disparity between ESPN's poll and the selection committee's rankings were Alabama (third by the coaches, sixth by the committee), Ole Miss (seventh coaches, fourth committee), Michigan State (sixth coaches, eighth committee), Notre Dame (eighth coaches, 10th committee), TCU (ninth coaches, seventh committee) and Kansas State (11th coaches, ninth committee).

Mississippi State received 59 first-place votes by the coaches. Florida State received 30 first-place votes and Alabama one.

The coaches from the Power 5 conferences (ACC, Big 12, Big Ten, SEC and Pac-12) who voted chose Mississippi State, Florida State and Alabama as their top three. However, they voted Oregon fourth, ahead of Auburn (fifth) and Michigan State (sixth).

The coaches from the Group of 5 conferences (American, Conference USA, Mid-American, Mountain West, Sun Belt) also voted Mississippi State, Florida State and Alabama as their top three teams. They had Auburn ahead of Oregon at fourth, with Ole Miss sixth.

Of the 128 FBS coaches, 90 participated in this week's poll.

The ESPN coaches' poll was conducted before Florida State's 42-31 victory over Louisville on Thursday.
October, 31, 2014
Oct 31
6:30
PM ET
Happy Halloween.
I will be Superman this Halloween. Why? I won't have time after work to change into a costume!
My wife loves that joke, even after 1,317 tellings!
To the notes! But not until one last sentence ends with an exclamation point!
Pat from Arlington, Virginia, writes:
I'm not overly worried about the initial playoff ranking, but doesn't it seem absurd that the SEC West gets such a huge boost when every one-loss team has looked flawed at times?
Blaine from Phoenix writes:
Hypothetical question: If a Pac-12 school were the reigning College Football national champs, would Arizona State (14), Utah (17) and Arizona (12), all one-loss teams, be ranked say... where Auburn (3), Ole Miss (4) and Alabama (6), also all one-loss teams, are currently located? Or would a national championship for the Pac-12 not change the league's perceived value that much? (Hypothetically speaking.)
Wes from Salt Lake City writes:
The playoff rankings are out. I disagree with the blatant SEC bias, but they are what they are. After thinking about it the thing that bothers me about the rankings the most is that the top teams in the SEC all play FCS schools. Is the selection committee really going to penalize those SEC teams for SOS for not losing at this point?
Eric Terrebonne, Oregon, writes:
I thought the playoffs and the committee were going to bring about a better system. ... Having Ole Miss in the top four is not a better system. Yes, I understand there is still a lot of football to be played, but this week sets a precedent. This week the committee told the world that playing in the SEC is more important than losing a game. LSU is a good team, but not a great one. Not this year. Ole Miss losing to them should have knocked them out of the top four. Everyone not an Ole Miss or SEC homer knows that. The argument that it was how they lost is fundamentally unsound as I would argue that Arizona is just as good a team as LSU (maybe better) and Oregon didn't make it. Is this what we can expect from the committee?
Ted Miller:
Is there a case to be made that the sports media's bias toward the SEC has infected the College Football Playoff selection committee? Yes. So there you go, frustrated non-SEC fans.
[+] Enlarge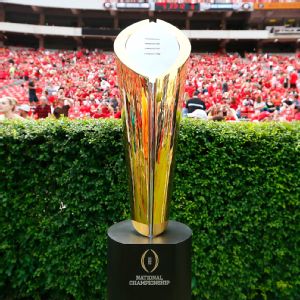 Kevin C. Cox/Getty ImagesThere's still a lot of games to be played before this trophy will be handed out for the first time.
But what are the grounds for that bias, which we can define here as an accumulation of preconceptions based on previous evidence? And is it defensible?
The grounds is the SEC winning seven of the last eight national titles, leading the nation in the production of NFL talent and leading the nation in recruiting rankings. None of those three SEC checkmarks are infallible. The merits of each can be debated. But if you were putting together a conference's resume, you'd like to be able to write those down.
Of course, the committee, via spokesperson Jeff Long, is insisting it will be looking at teams, not conferences. So let's do that with Ole Miss and Auburn compared to the four one-loss Pac-12 teams. We'll include preseason ranking, because that shows what the preseason perception was of a team. We're not including Alabama, because most of the Crimson Tide's heavy lifting is ahead and most of you seem to give 'Bama a pass out of respect.
Oregon was No. 3 in the preseason. It jumped to No. 2 after beating No. 7 Michigan State decisively at home. It fell eight spots to No. 10 after losing to unbeaten but previously unranked Arizona at home. After three wins, it presently ranks fifth in the CFP rankings and the AP poll.

Arizona was unranked in the preseason and wasn't ranked after a 4-0 start that included close wins over UTSA and Nevada, as well as a Hail Mary to beat California. After winning at Oregon, it jumped to No. 10. But the Wildcats fell six spots to 16th after losing the next weekend at home to USC, which already had lost twice and was unranked at the time. After winning at Washington State, the Wildcats are up to 12th in the CFP rankings and 14th with the AP.

Arizona State was No. 19 in the preseason and moved up to 15th after a 3-0 start against weak competition. On Oct. 25, it fell 62-27 to No. 11 UCLA and dropped out of the rankings (though it ended up 26th). After beating USC with a Hail Mary, Stanford and Washington, the Sun Devils moved up to 14th in the CFP rankings and 15th with the AP.

Utah was unranked in the preseason. The Utes started 3-0 but followed up a win at Michigan with a home loss to Washington State. However, after winning at No. 8 UCLA the following week, the Utes entered the rankings at No. 24. After tight wins over Oregon State and USC, the Utes moved up to No. 17 with the CFP rankings and 18th with the AP.

Mississippi began the season ranked 18th. It moved up to No. 11 at 4-0, though its best wins at the time were over Boise State and Memphis. It beat No. 3 Alabama at home to improve to 5-0, and that bounced the Rebels into a tie with Mississippi State at No. 3 in the AP poll (fourth in coaches). The Rebels remained at No. 3 until losing at No. 24 LSU, 10-7. They fell four spots to No. 7 in the AP poll, but ended up No. 4 in the initial CFP rankings, the No. 2 one-loss team, whereas the AP had the No. 7 Rebels as the No. 5 one-loss team.

Auburn began the season ranked No. 6 and moved up to No. 2 after recording quality wins at Kansas State and against LSU. It then fell to No. 6 after losing 38-23 at then-No. 3 Mississippi State, which made it the No. 1 one-loss team. After a bye week and win over South Carolina, it climbed to No. 3 in the CFP rankings and No. 4 in the AP poll.
If you take all of this from point to point, you can see how the committee arrived at their first rankings. The two unbeaten teams, Mississippi State and Florida State, are Nos. 1 and 2. Auburn, with a high initial ranking, two quality wins and a loss to the No. 1 team, is the No. 1 one-loss team. Ole Miss, with the undeniably impressive win over Alabama and a tight loss at LSU, is a solid No. 4, if you don't get hung up on the timing of the LSU loss being just a week ago.
Remember: Hasn't everyone been asking the pollsters to not react -- overreact? -- so dramatically to one week's results but to see the season as a totality?
So, Pat, I mostly agree with the committee's staggering thus far for the one-loss teams, which I honestly view as pretty irrelevant with so many quality games ahead. Do I think Oregon would beat the Mississippi schools? Yes. But I also thought Oregon was going to beat the pooh out of Auburn in the 2010 BCS national title game, so what the heck do I know?
And, Blaine, do I think if Oregon or Stanford had won the national title last year, it would have buoyed Arizona, Arizona State and Utah? Maybe. Maybe the Pac-12 should win a national title and see if that happens.
And, Wes, yes, I do think Mississippi and Mississippi State fans should be worried about their nonconference schedules. If one or the other ends up with the same record as, say, Pac-12 champion Oregon, they will lose out. I'm not so confident that would be the case with Auburn, which won impressively at K-State.
But let me conclude with something.
Alabama fans... I think there's a Texas booster whispering in Nick Saban's ear again. And is that an Auburn fan about to paint the Bear Bryant statue blue? Yeah, you better run over there.
OK. Pac-12 fans, you'd much rather have the Pac-12 champion play one of the Mississippi schools in the College Football Playoff than Alabama. Trust me on this.
---
Matt from Washington, D.C., writes:
Ted -- pretty harsh words for Mr. Bowden regarding his thoughts on Former Secretary Rice's
credentials to serve on the College Football Playoff Selection Committee
. In your view, what makes her well qualified to serve on the committee? Agree she is a very accomplished person, but aside from being a fan and occasionally assisting with Stanford recruiting, what makes her especially well qualified to determine who should be in the playoff?
[+] Enlarge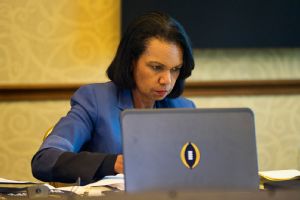 Kevin Jairaj/CFP ImagesCondoleezza Rice is among the 12 people that will decide which teams will play in the College Football Playoff.
Ted Miller:
First off, let's stop acting like evaluating the quality of football teams is only possible for those who possess some sort of super-secret wisdom that arrives via a mystical unicorn made of rainbows and taffeta only after you have played or coached the sport. Those wild, heroic stories of fraternal dances of players and coaches, dressed only in leather loin cloths, bathed in coconut oil, frolicking in fields of tulips, pounding bongos, man-hugging and singing odes to the smell of grass and linebacker theory are unproven myths, no matter what Pat Dye says.
What makes Condoleezza Rice qualify to sit on the committee is she is smart and she cares and she loves football. Further, with a committee of 12, it's important to have a diversity of skill sets. If you had 12 Nick Sabans in the room, it would be a disaster. Rice likely will challenge preconceived notions, offer a different perspective and she won't be afraid to challenge conventional wisdom.
Finally, it's also valuable to have someone who can facilitate negotiations, interpret a vast array of often conflicting reports and keep a group of bickering jocks surfeited with testosterone on task.
Now, if she were trying to write about Pac-12 football, well, that requires a batch of superhuman qualities available only to those who have passed through black holes and read the Dark Matter Scrolls of Pacitwelvitus.
---
Tom from Seattle writes:
Shaq Thompson
went from being more than a sometimes running back on Saturday. He had 21 carries for 98 yards and only played defense a handful of times. Should Coach Pete be reprimanded for taking a first-round pick off the field or lauded for trying something different?
Ted Miller:
I think Chris Petersen is doing what most coaches do: He is scratching and clawing and racking his his brain trying to win. He apparently believes, at present, playing Shaq Thompson at running back instead of linebacker gives him his best chance to win.
How should we measure Petersen's decisions? Winning.
If the Huskies' defense sags and the running game only improves marginally, then the move probably wasn't a good one. If the defense continues to play at a high level and Thompson solves the running-game woes, then the move is a good one.
Am I surprised by the move? Yes. But keep in mind I have not been visited by the mystical unicorn made of rainbows and taffeta. At least not since 1986, when the Westminster Wildcats captured Georgia's Region 5-AAA title by beating Marist senseless.
---
Tim from Atlanta writes:
I know rooting doesn't affect the outcome, but it makes the games more fun -- so, who should Ducks fans be rooting for this weekend in the South division showdowns? The team that beat Oregon (Arizona) or the Ducks' second-best win (UCLA)? The team the Ducks play in barely a week (Utah), or the team they hope to play in about a month (ASU)? (Obviously understanding that the most important rooting is to be done in favor of our own team.) Basically, what's better for the Ducks if we project to a scenario where the committee is debating one-loss teams down the road?
Ted Miller: Two ways to look at this.
1. You either root, as an Oregon fan, for the team you'd prefer to play for the Pac-12 championship.
2. You root for the highest-ranked teams to win in order to potentially bolster the Ducks' national resume.
I think it's best for the Ducks to play a South Division champion that is highly ranked. So it's not really about rooting this weekend. It's about rooting for the winners this weekend to keep doing so going forward (of course, other than against the Ducks).
Your ultimate enemy is extreme cannibalism, with the South becoming a welter of teams with three defeats.
October, 31, 2014
Oct 31
5:00
PM ET
Five things to watch in Saturday's matchup between No. 5
Oregon
and
Stanford
.
1. Oregon offense vs. Stanford defense: A supersonic matchup
The first three installments of this Stanford-Oregon rivalry focused on a battle between two high-powered offenses: The Cardinal featured
Toby Gerhart
and
Andrew Luck
, while the Ducks lit up the scoreboard under Chip Kelly. Starting in 2012, the Pac-12 North clash took on a decidedly different tone as Stanford's defense morphed into an elite unit. Suddenly, the headline attraction was Oregon's blur attack against the Cardinal's stifling defense. That's what we're going to get again here in 2014, and the matchup may be better than it's ever been. Stanford's defense has never performed so well statistically (they're leading the nation allowing only 3.7 yards per play), while Oregon quarterback
Marcus Mariota
is leading the nation with his 192.2 quarterback rating. Simply put, this is another round of a supersonic matchup, and it's the first time that both clashing entities have been ranked No. 1 in the nation. So don't let the Cardinal's three losses fool you: This particular battle is in its prime.
2. Can Oregon get the Stanford monkey off its back?
Mariota has never beaten the Cardinal as the Ducks' starting QB. And in all of those losses, the weapons around him were far more experienced than what he's working with now. However, players like running back
Royce Freeman
,
Devon Allen
and
Dwayne Stanford
-- though inexperienced -- could be what Mariota and Oregon need to get past this Stanford roadblock. In the past two years, Oregon has lost to Stanford in two different ways, according to Oregon coach Mark Helfrich. In 2012, he said, the Ducks didn't play very well and they also didn't play very hard. In the 2013 matchup, he thought his team played hard but didn't finish well in the chances they had. Can they play hard and finish this season? So far the offense has done a pretty good job of that and the defense has done enough, too. But they haven't put it together like that against Stanford in a while. Could this be the year?
3. Stanford's decimated defensive line
In a piece earlier this week, we discussed the formula that Stanford's defense has successfully employed to stop Oregon the past two seasons. In 2012, that plan was rooted in dominant, block-swallowing play along the defensive line. In 2013, since the Cardinal's defensive line was decimated by injury, Stanford's linebackers took on greater responsibility. Well, the Cardinal is again battling serious health concerns along the defensive front here in 2014. Versatile lineman
Aziz Shittu
has just been ruled out for the rest of the season, while
David Parry
-- the critical rock in the middle -- is questionable for Saturday because of a leg injury.
If the 305-pound Parry does not play, the Cardinal will be forced to rely on 255-pound true freshman lineman
Harrison Phillips
, which can spell huge trouble against a suddenly-bruising Oregon rushing game (Royce Freeman doesn't run like a true freshman, and
David Shaw
admitted that was "disheartening"). If Stanford can't stop the Ducks' rushing attack, well, you know what's next ... his initials are 'MM.' Mark Helfrich is certainly hoping to see the domino effect. The Cardinal's defense is vulnerable if they can't stop the run, so their health up front is a key variable in this game.
4. The pressures on both sides of this game
If Oregon walks away with a win, there's a really good chance the Ducks move into No. 4 after this weekend, considering the Nos. 3-4 matchup between Auburn and Ole Miss on Saturday. But with a loss, the Ducks drop and a two-loss Pac-12 championship team making the College Football Playoff doesn't seem likely. If the committee had to choose between a two-loss SEC team (even if it's the second in the playoff) and a two-loss Pac-12 champion (even if the only team considered), the scales would probably tilt toward the SEC. On the other side, you've got Stanford who could salvage -- at least emotionally -- part of this season by a) ruining Oregon's and b) avoiding a fourth loss, which would be the worst since the 2009 season when Stanford lost five games and c) pushing themselves ahead of Oregon in the North with no losses to North teams (but each would have two conference losses overall). Which team is going to be able to handle those kinds of pressures better?
5. Which Stanford offense will show up?
Will we see the Cardinal attack that laid massive eggs against USC, Notre Dame and Arizona State? Or will we see the completely revamped unit that sliced like a hot knife through Oregon State's butter this past weekend, averaging 8.2 yards per play and also scoring from the red zone before garbage time? Shaw and offensive coordinator Mike Bloomgren orchestrated a major rehaul of Stanford's offense before last week's game, and the resulting focus on perimeter athleticism (combined with a healthy dose of tight end action over the middle) seemed to make an excellent use of the Cardinal's personnel. The Ducks' defense hasn't been great this year, so this will be an interesting litmus test for both teams. Stanford will either replicate last year's ball control success by moving the chains in new ways, or Oregon will capitalize on a Cardinal offense that hasn't found a consistent identity yet this season. That fork in the road may end up determining this game.
October, 31, 2014
Oct 31
10:30
AM ET
Here are five things I learned in college football this week:
1. Florida State doesn't look like the team that won a BCS national championship last season. It looks more like the Auburn team that lost to the Seminoles in the last BCS National Championship Game.
To win a national title in the past, or to now reach the four-team College Football Playoff, a team is going to need more than a few good breaks along the way. FSU seems to be getting them every week, just like Auburn did last season.
The Seminoles beat Clemson 23-17 in overtime on Sept. 20 because the Tigers fumbled the ball -- and a golden opportunity for an upset -- at FSU's 14-yard line in the final two minutes of regulation.
[+] Enlarge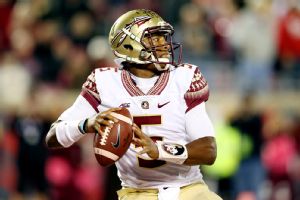 Andy Lyons/Getty ImagesJameis Winston and Florida State are getting the breaks needed to reach the College Football Playoff.
On Oct. 18, FSU defeated Notre Dame 31-27 because the Irish were penalized for offensive pass interference on a pick play, wiping out a go-ahead touchdown pass from
Everett Golson
to
Corey Robinson
in the final moments.
Then on Thursday night, the No. 2 Seminoles trailed No. 25 Louisville 21-0 in the final minutes of the first half on the road. FSU tailback
Karlos Williams
fumbled near the goal line, but tight end
Nick O'Leary
recovered the ball in the end zone for a touchdown, giving the Seminoles a manageable 21-7 deficit heading into the locker room.
On the first play from scrimmage in the second half, Louisville safety
Gerod Holliman
intercepted
Jameis Winston
's pass. But Winston chased down Holliman, knocked the ball loose and FSU's
Travis Rudolph
recovered the fumble.
The Seminoles scored three touchdowns in the fourth quarter to pull away for a 42-31 win, their 24th victory in a row.
"We've been there before," Winston said. "Being down is nothing when you've got heart and you persevere. Personally, we play better when we're down, honestly."
2. Georgia fans have every right to be upset that the NCAA didn't reduce star tailback
Todd Gurley
's four-game suspension, which will keep him sidelined for Saturday's game against Florida in Jacksonville, Florida, and next week's road trip to Kentucky.
But Georgia fans shouldn't be upset at the NCAA or the UGA administration. Gurley knew he was breaking NCAA rules when he accepted $3,000 to autograph helmets, footballs and other memorabilia. And it wasn't a momentary lapse of judgment. According to the NCAA, Gurley was paid to autograph memorabilia for multiple dealers over the past two years.
Sure, the NCAA rules that prohibit players from receiving money for their autographs and likeness are out of date and need to be repealed. But Gurley knew the rules, and Georgia officials constantly educate their players about what they can and can't do.
I have sympathy for Gurley, who grew up in a mobile home park in Tarboro, North Carolina. His mother struggled to make ends meet while raising Gurley and his siblings, and his family still doesn't have much when it comes to material possessions. It doesn't make much sense that Georgia and the NCAA can profit from his name, image and likeness, while he will have to sit four games for profiting from his own name.
At the end of the day, Gurley's biggest flaw might have been his honesty about breaking the NCAA rules.
3. Don't think the timing of Oklahoma freshman tailback Joe Mixon's guilty plea to avoid going to trial on charges that he punched a woman in the face in a bar on July 25 was coincidental.
By entering an Alford plea, which allows Mixon to continue asserting his innocence, his attorneys avoided making the videotape that showed Mixon punching a woman available to the media and public through state open records laws.
On Saturday, a new Oklahoma law, Senate Bill 2676, takes effect that would have required police to release the surveillance video from the bar where the incident took place. But since Mixon reached a deal with prosecutors before the law goes into effect, police in Norman, Oklahoma, are refusing to release the video to media.
Police allowed members of the media to view the tape but wouldn't let them make copies. The original tape was returned to the bar owners on Thursday night and was destroyed, according to media reports.
Attorneys for the city of Norman say they still have a copy, after they were threatened with a lawsuit, but contend that that copy is not subject to release under transparency laws.
Oklahoma Sen. David Holt, who wrote the new law, told KOKH-TV in Oklahoma City that his intent was to increase transparency.
"I don't even know that we need to say that, I thought that the intention of that was clear. That if you can look at it, you can copy it, especially in the day and age where we all have iPhones, we're just one click away from copying a document," Holt said.
4. Winston threw a career-high three interceptions in Florida State's win at Louisville, and his chances of repeating as the Heisman Trophy winner seem all but dead.
According to a Heismanology poll conducted by ESPN's Joe Tessitore, Winston received only 4.5 percent of the available points in this week's balloting -- and that was before he tossed three interceptions against the Cardinals.
After nine weeks of the season, it seems to be a two-man race between Mississippi State's
Dak Prescott
and Oregon's
Marcus Mariota
. According to Tessitore, they received 95 percent of the first- and second-place votes.
But there is still a lot of football to be played, and Tessitore notes that the last time two players received such a high percentage of the first- and second-place votes was 2012, when Kansas State quarterback Collin Klein and Oregon tailback Kenjon Barner were leading the voting. Of course, Texas A&M quarterback Johnny Manziel ended up becoming the first freshman to win.
5. And, finally, the stat of the week from ESPN Stats & Info: Mississippi State is averaging a Power 5-high 188.6 rush yards per game inside the tackles. Prescott and
Josh Robinson
are two of four Power 5 players who have run for at least 500 yards and seven touchdowns inside the tackles.
October, 31, 2014
Oct 31
10:00
AM ET
All times Pacific
10 a.m.

Washington at Colorado, Pac-12 Network
The Buffaloes are desperate for a conference win, and given Washington's horrendous offensive struggles, this looks to be their best remaining chance. The Huskies can still wreak havoc defensively, though, so they're the favorites entering this game.
Cyler Miles
will be back under center for Washington, which will try to escape Boulder with greater ease than UCLA, who beat the Buffs in double overtime, did last week.
1:30 p.m.

USC at Washington State, Pac-12 Network
Connor Halliday
's passing yardage totals continue to light up box scores on a weekly basis, but Cougars losses are piling up just as quickly. Washington State must win out just to finish .500 this season, and that outcome appears highly unlikely. USC might be hurting after a close loss at Utah that also cost them left tackle
Chad Wheeler
(torn ACL), but there's a lot here for Wazzu to handle between
Cody Kessler
, his explosive targets, and
Javorius Allen
.
[+] Enlarge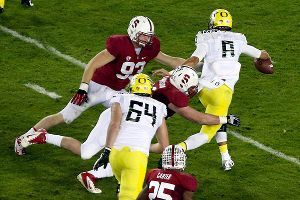 Kelley L Cox/USA TODAY SportsWill Marcus Mariota and Oregon solve Stanford, or will the Cardinal pluck the Ducks again?
4:30 p.m.

Stanford at Oregon, FOX
Don't let the Cardinal's three losses fool you: This is still a titanic match-up between the nation's most efficient defense (Stanford is allowing only 3.7 yards per play, best in FBS) and its best quarterback (Marcus Mariota's 192.2 rating is No. 1). However, it's the other side of the ball that might ultimately decide the winner in the Ducks' revenge effort. Stanford's offense, though recently revamped, is averaging a league-worst 14.7 points per game on the road, while Oregon's defense has not been airtight this season.
7:30 p.m.

California at Oregon State, Pac-12 Network
Sean Mannion
will likely break the Pac-12's career record for passing yards in this game, as the current mark, held by USC's
Matt Barkley
, is just over 200 yards away. Fittingly, the quarterback on the other side -- Cal sophomore
Jared Goff
-- has a legitimate shot to re-break that record if he's still around in two years. This one will be fun because it features two talented quarterbacks and an air of desperation, as both teams need a win to stay on reasonable track for bowl eligibility.
Arizona at UCLA, ESPN
It's put up-or-shut up time in Westwood. The Bruins have squeaked by two lower-tier Pac-12 teams in Cal and Colorado. The road becomes more difficult with resurgent Arizona visiting. The Wildcats fired on all cylinders at Washington State last week, and
Anu Solomon
is certainly excited to test the shaky Bruins defense with the likes of
Nick Wilson
and
Austin Hill
. Meanwhile, Arizona linebacker
Scooby Wright III
has forced five fumbles this season, while UCLA quarterback
Brett Hundley
has turned the ball over eight times. Keep an eye on the Bruins' ability to protect the football.
8 p.m.

Utah at Arizona State, Fox Sports 1
So, how much has Arizona State's defense — particularly its stoutness against the run — improved? We'll find out when Utah's
Devontae Booker
(leading the Pac-12 at 166 rushing yards per conference game) tests Tempe to wrap up Saturday. The Sun Devils had given up over 200 rushing yards in four straight games before stifling Stanford. Washington also had some success against them on the ground last week (but none through the air), so this duel in the desert represents a true litmus test for both teams. The winner will be in excellent position when it comes to the race for the Pac-12 South crown.
October, 31, 2014
Oct 31
9:00
AM ET
ESPN 300 prospects are set to scatter all over the Pac-12 landscape this weekend, as several conference programs are hosting very important official visit weekends. We take a look around the Pac-12 at the three biggest recruiting weekends in the conference.

Stanford at Oregon


October, 31, 2014
Oct 31
8:30
AM ET
Thursday night's game
provided several reminders about Florida State.
1. This team, unlike its predecessor, is at times more lucky than good.
2. The Seminoles are still pretty darn good, even with all their injuries.
3.
Jameis Winston
is an excellent crunch-time quarterback.
4. FSU likely has too many warts to repeat as national champion.
5. Jimbo Fisher is an unquestionably brilliant coach.
Let's focus on the last item. Fisher's coaching acumen often gets overlooked, often because of what Fisher says and does away from the sideline.
He out-coached Louisville's Bobby Petrino in the second half Thursday, pushing the right buttons, especially on a
third-and-6 from Louisville's 35-yard line
late in the fourth quarter. Winston found a wide-open
Freddie Stevenson
, who scooted in for an easy, euthanizing touchdown. It's another reminder that Fisher is at the top of his game.
Fisher's clout as a recruiter also showed up as three freshmen, led by running back
Dalvin Cook
, reached the end zone. And his Seminoles team, despite myriad mistakes and continuing controversy, won its 24th straight game.
So why is it so hard to celebrate Fisher? Because of the other stuff.
To continue reading this article you must be an Insider
October, 31, 2014
Oct 31
8:00
AM ET
Happy Friday! And
Happy Halloween!
Leading off
Friday means picks! Big picks, small picks, upset picks and more. The Pac-12 blog
released its picks
Thursday morning with a little debate among the higher-profile games. And as we do each Friday, here are some picks from national writers and those who cover the conference.
The FOX pair of Stewart Mandel and Bruce Feldman are
in sync with their Pac-12 picks
. Both like Oregon, Arizona State and Arizona to beat Stanford, Utah and UCLA, respectively. Here is Feldman's take on the ASU-Utah matchup:
As good as the Utes D is playing, I think ASU QB Taylor Kelly can handle the heat. The Sun Devils have had fits dealing with the run, and Utah's Devontae Booker has been outstanding, but look for ASU to be able to give more focus to containing him since the Utes' passing game is hampered further without leading receiver Dres Anderson (out for the season with a knee injury).
Big Board update
ESPN's Mel Kiper has released his latest
Big Board projections
, and as of right now, the top two picks in the 2015
NFL Draft
will be from the Pac-12. Oregon quarterback
Marcus Mariota
is No. 1 overall, followed by USC's
Leonard Williams
. Here's Kiper's take on the Oregon quarterback:
He combines above-average accuracy and anticipation with an ability to get through his progressions and elite athleticism. How well he can take apart a defense with tools other than his legs matters in terms of how he is viewed as a prospect, but his ability to throw on the run or simply take off and pick up chunk yardage is a major plus.
It's an insider piece, so I can't give away the farm. (
Hint: my password is 1, 2, 3, 4, 5
). Safe to say these two aren't the only Pac-12 players who appear in his top 25. There are five more (Washington fans, you'll be pleased).
Mel Kiper's Big Board. pic.twitter.com/YryhXlFapA

— College GameDay (@CollegeGameDay) October 30, 2014
News/notes/team reports
Just for fun
Lisa Horne, proprietor of PigSkinGrind.com, offers up
some awards and highlights
thus far this season. She's a Heisman voter, so for what it's worth, she taps Mariota for having the top Heisman moment so far.
Speaking of Mariota ...
Today is Marcus Mariota's 21st bday. Helfrich isn't worried he'd go wild tonight. "I think he and Hroniss might share a Saltine cracker."

— Andrew Greif (@AndrewGreif) October 30, 2014
Kirk Herbstreit's Gameplan Breakdown
PAC-12 SCOREBOARD
Friday, 11/28
Saturday, 11/29