August, 17, 2014
Aug 17
2:13
PM ET
Associated Press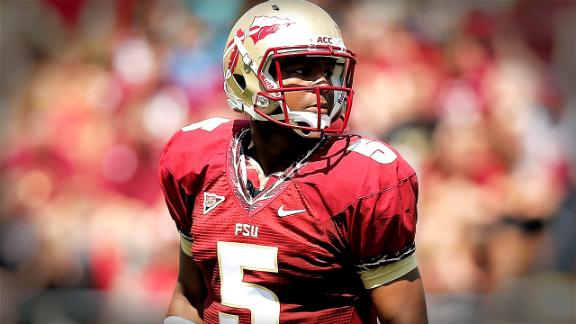 Jameis Winston and defending national champion Florida State are No. 1 in The Associated Press preseason college football poll.
The Seminoles will start the season No. 1 for the sixth time -- the first since 1999 when they became the first team to hold the top spot for the entire season.
Florida State received 57 of 60 first-place votes Sunday from the media panel. No. 2 Alabama, No. 3 Oregon and No. 4 Oklahoma each received one first-place vote. Ohio State is No. 5 and Auburn is No. 6.
Winston, the Heisman Trophy winner last season as a redshirt freshman, led Florida State to a 34-31 victory against Auburn in the last BCS national championship game.
This season the Bowl Championship Series is being replaced by the College Football Playoff. A selection committee will pick the top four teams in the country for two national semifinals.
The rest of the top 10 is UCLA
August, 17, 2014
Aug 17
2:10
PM ET
Six Pac-12 teams, led by Oregon at No. 3, were ranked in the preseason AP poll released Sunday.
The Ducks received one first-place vote and were followed by No. 7 UCLA, No. 11 Stanford, No. 15 USC, No. 19 Arizona State and No. 25 Washington.
This is the fourth year in a row year the Ducks have been ranked in the preseason top five and seventh straight year they've appeared in the preseason AP poll.
The same six teams were also ranked in the
USA Today Coaches Poll
, in nearly the same places. The only differences being Oregon is one spot higher in the AP poll and Arizona State is one spot lower.
The College Football Playoff committee, responsible for selecting the four teams to play in this year's inaugural playoff, will release its first top-25 rankings Oct. 28 on ESPN.
August, 15, 2014
Aug 15
7:45
PM ET
Happy Friday. Welcome to the mailbag.
You can follow me on Twitter here
.
To the notes!
Spencer from Indianapolis writes:
The media has said more then once that you can't judge Utah until its 4th season in the pac 12. Beacuse of recruits, Money, ect. With that being said where should Where should Utah finish this year to say they belong 4 years into the Pac 12. And some will say 6 and 6 is a good season with how they have finished the past 2 years. But i want to know 4 years ago where the Utes should be finishing this year.
Ted Miller
: If we're going to dabble in the "Does Utah Belong?" question, we should ask the same of Colorado, California and Washington State, which have worse Pac-12 records over the past three seasons since the Utes joined the conference. Probably Arizona, too, as it's won one more Pac-12 game during that span than the Utes.
My point is that Utah belongs. It hasn't cracked the top half of the Pac-12 in three seasons, but that can be said for a lot of conference teams.
Of course, there has been a worrisome downward trend, going from 4-5 in 2011 to 3-6 in 2012 to 2-7 last fall, which is sort of the reverse of Arizona as the Wildcats have gained ground under Rich Rodriguez.
If I were a Utah fan, I'd look simply for improvement. A team that can go 4-5 in this league, as the Utes did in 2011 when the going was a bit easier, is going to be pretty darn good. If a 3-6 finish in the Pac-12 includes a perfect nonconference mark, which would mean a win at Michigan, I'd also rate that as a pretty strong showing.
In other words, if Utah earns bowl eligibility in 2014, I'd rate it as a successful season.
---
Steve from Menlo Park, California, writes:
Ted, over the last 5 years,
Stanford
is 6-0 against
UCLA
. Yet you still put UCLA ahead of Stanford in
your power rankings
.
Ted Miller
: We are just evil like that.
In our defense, we are not alone. The
Coaches Poll
and
ESPN.com power rankings
also had UCLA ahead of Stanford. Our guess is the AP poll will do the same.
Why? Many, including your humble #4pac (the witty hashtags we're going to use for our crew this year), believe UCLA is going to take a step forward and Stanford a step back this season. That said, many might be wrong on one or both counts. That happens.
One quick and under-noted observation: UCLA plays host to Stanford on the final weekend of the regular season -- Nov. 28, a Friday night no less. I am prepared to call that an intriguing season finale that might have a few eyes on it from across the nation.
---
Nick from Seattle writes:
Is
Thomas Duarte
a WR or TE? ESPN has him listed as a WR. I run a PAC12 fantasy league and I need to know what position he is. Sounds like he is a TE.
Ted Miller
: He is officially
listed as a receiver
, and UCLA doesn't list anyone as a tight end. Of course, he's 6-foot-3, 225 pounds -- I recall thinking he looks bigger than that -- so he could easily be mistaken for a tight end. Offensive coordinator Noel Mazzone calls him his "Y" receiver, which is mostly where he dumps his big, tight end looking receivers.
All that said, he earned honorable mention All-Pac-12 honors as a true freshman and was listed as a tight end by the conference. So go figure.
As for a fantasy league, Duarte is a guy whose numbers should bounce up nicely this year. He might be the Bruins best red zone option.
---
Paul from San Carlos, California, writes:
Indulge a pet peeve: Those who downgrade a team in rankings for having a tough schedule. Rankings should be solely about which team is better. Which team has the easiest path to a good record should play no role.
Ted Miller
: Fair point. So do we need a distinction?
Are we making predictions with rankings? If so, then schedule plays a role. If you were looking for a reason to worry about UCLA, schedule would be a good place to start. Conversely then, I'd rate Iowa a top-15 team.
Or are we ranking teams only based on how good we believe they are? If so, that methodology shouldn't consider the schedule ahead, arduous or easy.
That said, most folks who do top-25 rankings based on their perception of how good a team is and what it has accomplished wouldn't take their list to Vegas and use it religiously. Sometimes a team "deserves" a ranking, even if you wouldn't bet your hard earned money that it would beat a team you rank a few notches lower.
---
Ed from Los Angeles writes:
Ted - I see that the Lunchtime Links daily feature is coming much less frequently these days. I find that it is informative because it usually has a link to every team in the PAC-12. Please consider restoring it in the future.
Ted Miller
: Our links feature will continue to appear five days a week, only we've moved it to the morning hours -- 8 am ET, 5 am PT, specifically.
We also aren't going to be as assiduous about getting a link for every team.
If you want to blame someone for that, it's on folks who don't support their local newspapers. There just aren't as many professional beat writers as there used to be. With daily newspapers going out of business or charging for subscriptions, and other sources not reliably providing professional material, it's often too difficult to produce a link for every team, every day.
---
Jeremy from Scottsdale, Arizona, writes:
I demand to know who the masterminds are at ESPN that created these college football Power Rankings. Somehow, Arizona State is ranked 5th in the PAC-12 Power Rankings ahead of Washington in the 6th spot. At the same time, Washington is ranked 20th in the overall college football top 25 Power Ranking and Arizona State is nowhere to be found? I freely admit that I'm not a genius, but how is this possible?
Ted Miller
: Easy answer.
The ESPN.com top-25 was
produced by 13 people
, none of whom participated in the compiling of the Pac-12 power rankings. So you have two different crews producing two different types or rankings.
---
Eric from Petaluma, California, writes:
Ted, the position of many an Oregon State fan is a little more nuanced than you claim in your
recent article regarding the OSU UO rivalry
, though I'm confident with more than a small paragraph allowed per team what you would have said was something like this:I am fine with Duck fans rooting for OSU, as long as it is genuine. I do the same and generally root for the Ducks. What is irksome is when duck fans in one breath call Oregon State the much more patronizing "little brother" and then say "I root for OSU when they are not playing Oregon, I don't understand why you can't do the same" in the next, and in a tone that is ripe with moral indignation. As soon as one insults with patronizing language that translates to "I am better than you because my football team is better", one loses the moral high ground all together, and resentment is justified. Therefore, while I don't mind rooting for Ducks, I don't blame my fellow beavers for not doing so, nor should any other reasonable person.
Ted Miller
: I could see Eric sitting at a conference table with a gaggle of other Oregon State fans, each of them sitting opposite an
Oregon
fan. He makes this point, and then Greg from Hillsboro, Oregon, and his Ducks cohorts go, "Oh, I never understood your feelings on this. So sorry."
Then everybody hugs it out and agrees their rivals will be their second favorite team. They sing "Kumbaya" and "Lean on me," and then go out for dinner at Beast in Portland.
---
Kris from Seattle writes:
When is the best/case worst case coming out! Those are great!
Ted Miller
: Thanks for your thoughts but, unfortunately, as previously noted, that series has been retired.
You can read last year's versions here
for the sake of nostalgia.
August, 15, 2014
Aug 15
11:30
AM ET
Fall camp is underway but there's still quite a bit of work that needs to be done. This week and next, we'll be outlining a few storylines to keep track of as the month wears down and the
Oregon Ducks
' opener on Aug. 30 against South Dakota approaches.
On Monday,
we looked at the running backs
and who might emerge at that position, and today we're moving on to receivers. If the problem at running back is one of abundance -- a problem that most coaches welcome with open arms -- then the one at wide receiver is quite the opposite. The coaches say there's a lot of talent in the room, but it's untested, unproven talent. Which, until it's proven this season is really just a bunch of words.
[+] Enlarge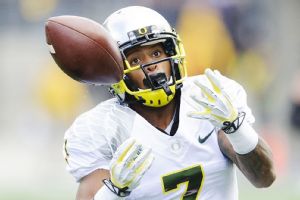 Steven Bisig/USA TODAY SportsSenior Keanon Lowe should provide leadership for a Ducks' receiving corps that enters the 2014 season as a rather young and unproven group.
"We've got a lot of inexperienced guys," wide receiver coach and passing game coordinator Matt Lubick said. "So it's a good opportunity for guys to get experience and we're trying a lot of different combinations."
But one of those guys -- or preferably for the Ducks, many guys -- needs to step up, and step up fast, because the Ducks' season (as well as quarterback
Marcus Mariota
and any Heisman hopes he might have) completely rest on that.
On Monday, Mariota pointed out
Keanon Lowe
(referring to him as a "proven veteran" despite the fact that he only caught 18 passes last season),
Darren Carrington
,
Devon Allen
and
Chance Allen
as receivers that have stood out to him through fall camp.
"They've all made a lot of plays," Mariota said. "Now we just have to get these guys lined up in the right positions, lined up in the right formations and get our offense rolling."
Lubick is convinced the offense will roll. He's quick to admit how young his group is, but he also believes it's one of the deepest.
"Last year we played four guys because four guys were ready to play and then there was a big drop off," Lubick said. "This year, we feel pretty good. … If we played tomorrow, we would be able to play seven, eight guys."
Here's a closer look at some of those eight guys. Keep track of them as this depth chart works its way out.
Keanon Lowe
2013 statistics:
18 catches, 233 yards, 3 touchdowns
What Lubick says:
"The thing that he does such a great job of -- through example that other guys are starting to do -- is the way he prepares. No one out-prepares that guy. And what I mean by that, any situation he's in, he's going to do the best that he can and if he's in the meeting room, he's going to sit in the front row and take notes. He's going to pay attention to every single word. He's going to know the spots. He's always going to be early. He's going to be the first in every drill so he can get extra reps. Our young guys see that and they're trying to do the same thing."
Devon Allen
2013 statistics:
redshirted
What Lubick says:
"Devon's attitude has been awesome. He was a guy who had tremendous success on the track that everyone knows about, but he never used that as an excuse to get out of anything that we required of him in spring football. And in spring football, we required everything out of him. He balanced track and football unbelievably. … Very mentally tough. He's one of those guys, never count him out from doing anything because he's always proving he can do it. And if you challenge him -- intellectually or physically -- he always rises to the occasion."
Chance Allen
2013 statistics:
5 catches, 98 yards, 1 touchdown
What Lubick says:
"Allen has gotten a lot better. Another guy that the one thing he's really lacking is experience. He did a great job in the offseason conditioning himself. He's a very smart football player. He has taken a lot of reps, even though he hasn't had a lot of game reps, he has taken a lot of reps in the practice field and that shows. He's in the right place at the right time, which is very important for a receiver."
Dwayne Stanford
2013 statistics:
redshirted
What Lubick says:
"He has put a tremendous amount of time in off the field. All of our guys are here in the summertime, but we also give them breaks. He decided to not even go home on those breaks we do give them, because he wanted to stay here and get better. It's very important to do well. He's his own worst critic. He takes this very serious. … If there's a weakness, he wants to know what it is and he's going to do his best to improve it. He doesn't want to avoid it."
Jonathan Loyd
2013 statistics:
DNP
What Lubick says:
"It's a hard situation when you haven't played football for four years. … His effort is unbelievable. He has put a lot of time in on his own to catch up to speed. In the spring, he was kind of thinking through things which when you think you can't play fast. Now he knows what he's doing and he's playing a lot faster."
Other storylines to keep track of:
August, 14, 2014
Aug 14
8:00
PM ET
Earlier this week, Ted took a look around the conference and ranked
which Pac-12 rivalries are heating up
, cooling down or doing anything between those two extremes. There were a few specific rivalries that really interested me -- the in-state rivalries.
I went to college at the University of Michigan, which is about 40 minutes (depending on whether you drive the speed limit or not) from its in-state rival, Michigan State. For the most part, it really was one of those "throw the records out the window" kinds of game and the football -- and insults -- flew.

There's something about these in-state rivalries that just really create such a cool atmosphere. Any time a rivalry game can be a drive, instead of a flight, there's a better chance the stadium is more split. I love that -- a team taking over their rival's turf. And sometimes it's even better when the home fans really have owned their own stadium and the visitors come in fighting like David against Goliath. Either way, they're awesome.
These in-state rivalries just have a special hold over the state, whether it creates divides in high school, families, relationships, whatever.
Just looking at some of these in-state rivalries on the Pac-12 slate make me really excited for my first year of covering West Coast football. Which brings me to the poll question: Which of these five in-state, in-conference rivalry games is going to have the best finish this season?
What game is going to come down to the final drive? What game is going to have that highlight play in the waning moments? Which two teams will provide us with a fourth-and-2 on your own 28-yard line with second ticking down on the clock in the fourth quarter, Hail Mary kind of game? The kind of stuff you tell your grandkids about. The kind of stuff your grandkids will tell their grandkids about.
ARIZONA-ARIZONA STATE
Details:
Friday, Nov. 28 @ Arizona
2013 finish:
ASU 58, Arizona 21
Visiting teams have had decent success in the rivalry (at least better than some others) but could this finally be the season that -- behind their fans -- that the Wildcats and Rich Rodriguez finally takes down Todd Graham?
OREGON-OREGON STATE
Details:
Saturday, Nov. 29 @ Oregon State
2013 finish:
Oregon 36, Oregon State 35
The Civil War in Corvallis. Will Sean Mannion cap off his final year for the Beavers in an exciting fashion or will Marcus Mariota march through the season in a furious, Heisman-like fashion?
USC-UCLA
Details:
Saturday, Nov. 22 @ UCLA
2013 finish:
UCLA 35, USC 14
The bright lights of Hollywood will shine on a brand new coach facing off on opposing grounds against a team that has found its recent success and a pre-season top-10 ranking.
WASHINGTON-WASHINGTON STATE
Details:
Saturday, Nov. 29 @ Washington State
2013 finish:
Washington 27, Washington State 17
The Apple Cup isn't exactly the fiercest of names for a rivalry (sorry, guys), but this could really be an interesting match up. Mike Leach's against first-year coach Chris Petersen. Can Petersen and his Huskies handle the air raid?
USC-STANFORD
Details:
Saturday, Sept. 6 @ Stanford
2013 finish:
USC 20, Stanford 17
So, I know this isn't a drive (unless you're super ambitious), but it's an old and lovely in-state rivalry that I'm psyched to see. Unlike most rivalry games, we'll get this one very early in the season, but could Week 2 provide one of the best rivalry finishes this season in Pac-12 football?
August, 14, 2014
Aug 14
6:00
PM ET
Without a doubt, redshirt junior quarterback
Marcus Mariota
has cemented himself in the
Oregon
football history books. He holds the school records for most rushing yards by a quarterback and the best completion percentage. The two-time All-Pac 12 selection will likely own the total touchdowns, touchdown passes and total offense records by the end of this season.
What he doesn't have is Heisman trophy. And what does history have to say about that?
For starters, he's a quarterback, which means history is on his side. Twelve of the last 13 winners were signal callers (with the only non-quarterback being Alabama running back
Mark Ingram
in 2009).
[+] Enlarge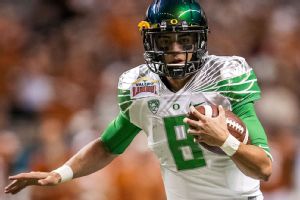 AP ImagesOregon's running game this season could tip the Heisman scales in QB Marcus Mariota's favor.
History also likes the fact that he's a redshirt junior. Nine of the last 10 Heisman winners were non-seniors (Ohio State senior Troy Smith won it in 2006).
And again, history clings to Mariota (at least in the Mariota-
Jameis Winston
debate) when considering the fact that only one player has won the Heisman twice, Ohio State running back Archie Griffin (1974 and '75).
The injury bug caught Mariota last year, hampering the Ducks' season. And though he has stayed healthy so far this year the bug seems to be hovering just close enough to him to still have an effect. First it was wide receiver
Bralon Addison
, who tore his ACL during the first week of spring camp. Then it was left tackle
Tyler Johnstone
, who tore his ACL during the first week of fall camp. Losing a top receiver and the left tackle who has protected a quarterback's blind side for the past 26 games isn't exactly favorable.
But again, history says that a bit of adversity during a Heisman season is a good thing.
Quarterbacks Winston,
Johnny Manziel
of Texas A&M's and
Cam Newton
of Auburn -- three of the last four winners -- were first-year starters. They really hadn't built any kind of chemistry with any of their players (plus, the Aggies were going through the Mike Sherman-to-Kevin Sumlin transition).
Those three didn't have tremendous experience with their batch of players during their Heisman seasons, but what they did have -- and what Mariota lacks -- is experience at wide receiver.
Winston's top three receivers last season were also in the top five for Seminoles receivers in 2012. Manziel got the No. 1 and No. 3 receivers from the 2011 team in his 2012 arsenal. When
Robert Griffin III
won the Heisman in 2011 (he's the only multi-year starter of the last four Heisman winners), four of the top five receivers from the previous season were back for the Baylor attack. And Newton had three of the top five 2009 receivers during his 2010 Heisman campaign.
That means that -- on average -- each of the last four Heisman-winning quarterbacks returned three of their teams' top five receivers from the previous season.
Mariota has just one --
Keanon Lowe
, who caught 18 passes in 2013.
More importantly, for each of those four quarterbacks, their team's top receiver from the previous season returned to the team for that QB's Heisman year -- Winston had
Rashad Greene
, Manziel had Ryan Swope, Griffin had
Kendall Wright
and Newton had Darvin Adams.
Mariota isn't just missing his top receiver from 2013. He lacks his No. 1, No. 2, No. 3 and No. 4 receivers.
Inexperience isn't a death sentence for Heisman campaigns. But it's not necessarily welcomed, especially when Mariota's main competition for the Heisman this year, Winston, again welcomes back his top receiver in Greene.
Where the footing seems to be a bit more in Mariota's favor -- against Winston and history -- is in the run game. Including Mariota, the Ducks return four of their top five rushers from last season. Of the last four Heisman winners, no guy has had as much returning help as Mariota will get in the backfield.
In fact, of the Winston-Manziel-Griffin-Newton batch, none had their top rusher from the previous season return in their Heisman season. Mariota returns his No. 1 and No. 2 --
Byron Marshall
and
Thomas Tyner
.
Last year, Winston had two of the top-five 2012 rushers on board for 2013 (
Devonta Freeman
and
James Wilder Jr
.). Manziel also had just two of the team's top five rushers from the previous season in his rushing attack --
Ben Malena
and
Christine Michael
. Griffin had two of his top five rushers from the previous season, while Newton had three.
Could the experience and talent in the Oregon run game be enough to make up for the lack of experience in the pass game? Is that enough to help Mariota take the Heisman? It's possible. If the rushing attack is as good as the Ducks believe it can be, then teams are going to have to put more guys in the box in order to really corral the ground game, leaving opportunities for the young receivers downfield. Maybe most coaches wouldn't want to throw at a redshirt freshman or sophomore. But if it's a one-on-one against a defensive back and the ball is coming from the pin-pointedly accurate hands of Mariota, doesn't that swing the scales a bit?
History is split, but history doesn't decide. Mariota has anywhere between 12 and 15 games to make his own case and write his name in history books outside of the Pac-12.
August, 14, 2014
Aug 14
5:00
PM ET
The college football season is quickly approaching. And for those of you who haven't stepped back from that, you should know that the NFL season is quickly approaching as well.
Kelly
And you should check out some of the NFL coverage every once in a while because you'll see some of your favorite former Pac-12 players and coaches hanging out. One of those guys is Eagles coach and former Oregon coach Chip Kelly.
Though I didn't cover the conference when Kelly was a coach, in my few months on the West Coast I've quickly learned that people fall into two categories when it comes to Kelly. One: They love to love him. Two: They love to hate him.
One of the things he was known for while he was at the helm of the Ducks were his "Chipisms." They became so famous that it warranted
its own Twitter
. It hasn't been updated recently, but it's worth a scroll when you have a few minutes. You might even remember a piece that ESPN.com's Ted Miller wrote a few years ago, "
The Wit and Wisdom of Chip Kelly
," in which he outlines some of his personal favorite Chipisms.
And if you think the NFL has changed the man, you're wrong. As my grandma always says, you can take the Chip out of the Pac-12 but not the chip out of the Chip.
In the most recent ESPN The Magazine, writer Seth Wickersham takes a look at
the eight lessons that running back LeSean McCoy had to learn
when he joined the Eagles. Pac-12 fans will recognize pieces of these in Kelly's former Oregon ways.
A few of my favorite lessons that McCoy had to learn:
He spins horse crap into touchdowns
He keeps shady slim
He causes cramps
If that doesn't make you want to read the story, then I don't know what will.
August, 14, 2014
Aug 14
10:00
AM ET
Our earliest indicators of Heisman Trophy voting say that it might come down to Oregon quarterback
Marcus Mariota
and Florida State quarterback
Jameis Winston
.
Winston is the reigning Heisman winner and if he were to win it again, the Florida State quarterback would join Ohio State's Archie Griffin as the only two-time winner. In 2013, he threw for 4,057 yards and completed 66.9 percent of his passes. He had 40 touchdowns and 10 interceptions.
Mariota -- who was slowed by a knee injury during the Pac-12 season -- finished the 2013 season with 3,665 passing yards, 31 touchdowns and four interceptions. He completed 63.5 percent of his passes en route to picking up his second consecutive All-Pac-12 honor.
[+] Enlarge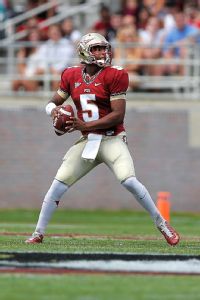 Stacy Revere/Getty ImagesJameis Winston had a storybook redshirt freshman season on the field, winning the Heisman Trophy and the national championship.
But they've grown and matured. Their teams are a bit different than they were last season and the biggest question at this point is: Which player is the early favorite to win the Heisman in the inaugural year of the College Football Playoff?
Jared Shanker and Chantel Jennings discussed a few key points to see where different advantages fall in regard to this debate.
Offensive line: Florida State
Shanker:
Among the positions we're looking at, the gap may be widest at offensive line. Florida State's offensive line consists of five seniors, all with starting experience. Combined, they have more than 100 career starts.
Cameron Erving
is one of the best left tackles in the country, and right guard
Tre' Jackson
could be the first guard taken in the NFL draft next spring. The Ducks might have center
Hroniss Grasu
, but overall, the Oregon offensive line can't compete with the Seminoles' O-line. Right, Chantel?
Jennings:
A week ago, I might have fought you a little harder on this, but now that
Tyler Johnstone
is out for the season with an ACL injury, I'd say you're completely right.
Andre Yruretagoyena
will replace the 26-game starter Johnstone … but Yruretagoyena has never started a game at Oregon. Grasu is the headliner of the bunch, but outside of his conference-leading 40 starts, the other three combine for just 41 total. Advantage definitely goes to Winston's offensive front.
Running backs: Oregon
Jennings:
Mariota returns his top two running threats from 2013 and, from everything Oregon coach Mark Helfrich is saying, these two are even better than numbers last year. Both
Byron Marshall
and Tyner averaged 6.2 yards per carry, and Marshall led the team overall with 1,038 rushing yards and 14 rushing touchdowns. Tyner rushed for 711 yards and nine touchdowns. Take those two and add Mariota -- who accounted for 715 yards and nine rushing touchdowns -- and you have a three-headed monster that might be the best backfield in college football.
Shanker:
Agree that the edge has to go to Oregon here. The Florida State coaching staff is high on senior running back
Karlos Williams
, but he was a safety entering the 2013 season and has taken very few carries during the meaningful portions of games. He was a five-star recruit coming out of high school and had very strong numbers last season as the No. 3 running back, but we'll see how he fares this season as "The Guy." This could be a much closer debate by the end of the season depending on the progress of Williams and his backups
Dalvin Cook
and
Mario Pender
.
Wide receivers: Florida State, but it's close
Shanker:
This is a tough one as both quarterbacks have some question marks on the outside.
Rashad Greene
is a potential All-American, but who is going to replace
Kelvin Benjamin
and
Kenny Shaw
's production -- nearly 2,000 receiving yards combined. There is certainly talent at receiver, especially in the freshman class.
Ermon Lane
and
Travis Rudolph
were top-10 receivers nationally coming out of high school, but Rudolph's foot has been slow to heal from offseason surgery.
Jesus "Bobo" Wilson
is indefinitely suspended, and
Isaiah Jones
could be an academic casualty. The positive here is that the attention Greene and tight end
Nick O'Leary
will draw should facilitate the emergence of a legitimate No. 2 receiver.
Jennings:
If the coaches at Oregon are to be believed in what they're saying at this point in fall camp, then this is one of the deepest groups of wide receivers in recent memory. Now, it's untested talent, so it's still just potential. But the fact that wide receivers coach Matt Lubick thinks -- that if the Ducks played today -- that they could go with eight different receivers, that's pretty impressive. Even if half of those guys pan out, it's still pretty good. But in this case one proven guy is greater than eight unproven guys -- though veteran
Keanon Lowe
returns -- he was fifth on the team last year with 18 receptions.
Schedule: Florida State, and it's not close
Shanker:
Certainly the schedule is tougher, and 2014 won't be a cakewalk, but the Seminoles do not have three teams in the top 11 of the USA Today Coaches Poll on their schedule. Oregon does. And two of those teams, Michigan State and Stanford, are among the best teams defensively. Florida State does have to face Clemson, which could be vastly improved on defense, but the Seminoles hung 50 on the Tigers on the road in 2013. Oklahoma State is rebuilding, and Notre Dame has potential with
Everett Golson
back, but it would not be a shock if both teams finish the season unranked. The Florida defense should be very good again this season, but it might not matter if their offense cannot alleviate any of the pressure. That's exactly what happened when Florida and Florida State played last season.
Jennings:
The Ducks take off in Week 2 against Michigan State and don't slow from there. In Week 4 they'll travel to Pullman, Wash. to take on Mike Leach's Air Raid offense, which is always a headache for defensive coordinators. They have Arizona, Stanford and Washington at home. They have UCLA and Oregon State on the road. I'd like to see FSU play half of that schedule and see what their record is. If a player's team needs to be perfect -- or nearly perfect -- then Winston has a much, much better shot at that with Florida State's schedule.
[+] Enlarge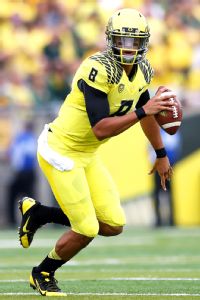 Jonathan Ferrey/Getty ImagesMarcus Mariota's reputation is practically unblemished nationally.
National perception: Mariota
Jennings:
People know Mariota because he's a darn good player. In his career for the Ducks, he has never made a misstep. The only people who don't like Mariota are the fans of the teams that play against him. And even then, I would bet if he showed up at a dinner party or wanted to date someone's daughter, he'd be welcomed in no problem. He has already graduated. His teammates love him. His coaches talk about him as if he's their golden child. Even other quarterbacks in the conference like him.
Shanker:
It's no secret Winston is not well-liked outside of Tallahassee for the most part, as
David Hale pointed out earlier this week
. Considered affable in September, Winston was considered arrogant and above the law two months later. The sexual assault investigation, coupled with the seafood heist, has brought a lot of notoriety to Winston. On the field, the expectations will be higher for Winston this season. As the returning Heisman winner, Winston is going to be held to a higher standard. It's unlikely he repeats his 4,000-yard, 40-touchdown season in 2014, and if Winston gives voters any reason to not vote for him, there will be more than a few who won't.
August, 14, 2014
Aug 14
8:00
AM ET
I have an idea, why don't you give me your home number and I'll call you back later?
August, 13, 2014
Aug 13
4:00
PM ET
EUGENE, Ore. -- With practices at
Oregon
closed, most of what is known -- outside of the locker room -- is speculation.
This is what is known:
Marcus Mariota
is the quarterback. The wide receivers are a flurry of youth. There are options at tight end and they'll likely be more involved in the pass game, but still, nothing extreme. And the offensive line is pretty much set, despite a recent shake up.
[+] Enlarge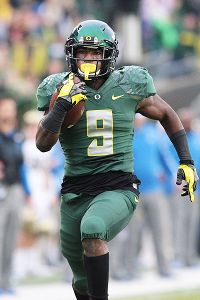 Scott Olmos/USA TODAY SportsByron Marshall rushed for 1,038 yards for the Ducks in 2013.
And the biggest "battle" remaining, might not even be a true battle depending on what coaches decide to do. Because between Mariota's mobility and running backs
Byron Marshall
and
Thomas Tyner
, the Ducks have a pretty loaded backfield.
Could Oregon use both and employ a tandem system? Could one emerge as a featured back? Would they split carries nearly equal to keep legs and bodies fresh?
All those possibilities have their pros and cons, and the answer to those questions likely won't surface until Oregon takes the field against Michigan State in Week 2 (assuming there's no real reason to show their playbook in Week 1).
What's obvious is that the coaches and team feel very confident in both players. Center
Hroniss Grasu
made a pretty bold claim at Oregon media day when he said, "It's nice and comforting to know that what we have in the backfield is probably the best backfield in college football."
Then, left tackle
Tyler Johnstone
-- who tore
his ACL on Monday and will be out for the season
-- disagreed, saying that it's not just probably the best, but that it is the best backfield in America.
"I think it's kind of crazy if you don't look at it like that," he said. "What other teams have that many weapons in that small area of the field?"
He's right. Not many teams have that many weapons in that small of an area. A Heisman hopeful plus two possible 1,000-yard rushers isn't exactly an unwanted problem.
So, what else is definitely known?
Both guys -- according to those around them -- have improved on their mistakes from last season.
Tyner -- who drew praise from fans when they saw him destroy a defensive back in the Ducks' spring game -- carried the ball 115 times for 711 yards and had nine rushing touchdowns in 2013.
Oregon coach Mark Helfrich has been pretty open about the fact it took Tyner a while to acclimate himself to the college game. He said that with players there are the guys who come in and go full speed before they realize they need to slow down and learn, and then there are the guys who stay slower and need confidence before they can really have their best performances.
And Tyner? He's in the second camp.
"Last year I wasn't as comfortable as I am this year," Tyner said. "When I was on the field, I thought a lot. This year I'm a lot more comfortable with the offense and how to play and so everything right now is just natural."
Marshall, who led the Ducks with 168 carries, 1,038 rushing yards and 14 rushing touchdowns, has been searching for consistency this offseason. Last season his numbers fluctuated -- 2.1 yards per rush during one early-season game, 9.1 yards per rush in the middle of the Pac-12 schedule, 3.3 yards per carry in the season close against Texas.
[+] Enlarge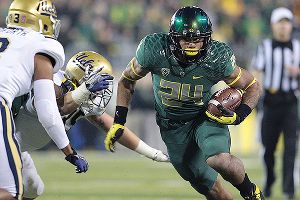 Scott Olmos/USA TODAY SportsOregon RB Thomas Tyner has high expectations for himself and the Ducks' 2014 season.
"I think part of that with Byron is conditioning, part of that is confidence, part of that is total overall scope of the system and just cutting it loose," Helfrich said. "But that only comes again with great preparation and he's another guy who can practice a little bit better."
Neither low confidence nor inconsistency is something a coach wants in his top player (or for that matter, any player). Helfrich has harped on when someone does something a second, third or fourth time, they should be better than they were before. Given that reasoning, these issues should be behind them.
Both guys are coming into this season with high expectations. Both guys have great potential at Oregon.
But, outside of that, little is known. Yes, it sounds as though they've laid the foundation for an aggressive rushing attack, but is it enough for -- as Johnstone said -- the best in the country?
Give it a few weeks and the answer will have a chance to reveal itself against one of the best run defenses in the country. At that point we'll see if their play backs up others' words.
August, 13, 2014
Aug 13
2:00
PM ET
It's been a while (or, "a minute" as the kids say these days) since we've looked at where each school stands with its commits in the 2015 classes. But, since we're in the midst of fall camp and recruits are going to be on campus for practices and games, it seems like a perfect time to look at the numbers before the games kick off in a few weeks.
Vamos.
ARIZONA
Commits:
22 |
ESPN 300 commits:
1
OT
Keenan Walker
(Scottsdale, Ariz./Chaparral); OG
Cody Creason
(Folsom, Calif./Folsom); RB
Orlando Bradford
(Shreveport, La./Calvary Baptist Academy); WR
Cedric Peterson
(Moreno Valley, Calif./Rancho Verde); OT
Harper Sherman
(New Westminster, BC, Can./New Westminster Secondary); CB
Anthony Mariscal
(Bakersfield, Calif./Liberty); CB
Samuel Morrison
(Washington, DC/Gonzaga College); ATH
Antonio Parks
(Reserve, La./East Saint John); ILB
Kendrick Jackson
(Haynesville, La./Haynesville); OG
Alex Kosinski
(Larkspur, Calif./Redwood); DE
Kendal Franklin
(New Orleans, Warren Easton); RB
Darick Holmes Jr
. (Newbury Park, Calif./Newbury Park); DT
Finton Connolly
(Gilbert, Ariz./Campo Verde); TE
Ricky McCoy
(Fresno, Calif./Bullard); TE
Jamie Nunley
(Murrieta, Calif./Vista Murrieta); ATH
Brion Anduze
(Silverdale, Wash./Central Kitsap); S
Demetrius Flannigan-Fowles
(Tucson, Ariz./Tucson); OG
Nathan Eldrige
(Anthem, Ariz./Boulder Creek); RB
Dami Ayoola
(Fort Lauderdale, Fla./Arizona Western College); S
Paul Magloire
(Yuma, Ariz./Arizona Western College); RB
Kendall Williams
(North Little Rock, Ark./Butte College);
Dane Cruikshank
(Chino Hills, Calif./Citrus College)
ARIZONA STATE
Commits:
12 |
ESPN 300 commits:
1
QB
Brady White
(Newhall, Calif./William S. Hart); ATH
Morie Evans
(Huntsville, Tex./Huntsville); ATH
Tony Nicholson
(Grand Prairie, Tex./South Grand Prairie); QB
Bryce Perkins
(Chandler, Ariz./Chandler); OT
Mason Walter
(Temecula, Calif./Chaparral); TE
Tommy Hudson
(San Jose, Calif./Archbishop Mitty); ATH
Alfred Smith
(Destrehan, Calif./Destrehan); OG
Cade Cote
(Gilbert, Ariz./Williams Field); OT
Steve Miller
(Gilbert, Ariz./Gilbert); OLB
Malik Lawal
(Murrieta, Calif./Chaparral); RB
Nick Ralston
(Argyle, Tex./Argyle); TE
Raymond Epps
(Yuma, Ariz./Arizona Western College)
CALIFORNIA
Commits:
10 |
ESPN 300 commits:
0
QB
Ross Bowers
(Bothell, Wash./Bothell); WR
Greyson Bankhead
(Corona, Calif./Centennial); CB
Malik Psalms
(Chino Hills, Calif./Ayala); RB
Lonny Powell
(Sacramento, Calif./Sacramento); OG
Ryan Gibson
(Bay Saint Louis, Miss./Saint Stanislaus); OT
Johnny Capra
(Auburn, Calif./Placer); WR
Austin Aaron
(Napa, Calif./Napa); DT
Luc Bequette
(Little Rock, Ark./Catholic High School For Boys); TE
Zeandae Johnson
(Fresno, Calif./Central); DE
Trevor Howard
(Westlake Village, Calif./Oaks Christian)
COLORADO
Commits:
8 |
ESPN 300 commits:
1
OG
Tim Lynott
(Aurora, Col./Regis Jesuit); QB
Steven Montez
(Del Valle, Tex./Del Valle); DE
T.J. Fehoko
(Salt Lake City/Cottonwood); OG
Dillon Middlemiss
(Arvada, Col./Pomona); K
Alex Kinney
(Fort Collins, Col./Rocky Mountain); OLB
N.J. Falo
(Sacramento, Calif./Inderkum); DT
Brett Tonz
(Peoria, Ariz./Centennial); WR
Josiah Blandin
(Long Beach, Calif./Long Beach City College)
OREGON
Commits:
12 |
ESPN 300 commits:
4
WR
Alex Ofodile
(Columbia, Mo./Rock Bridge); RB
Taj Griffin
(Powder Springs, Ga./McEachern); QB
Travis Waller
(Anaheim, Calif./Servite); OG
Zach Okun
(Newbury Park, Calif./Newbury Park); OT
Jake Hanson
(Eureka, Calif./Eureka); WR
Jake Breeland
(Mission Viejo, Calif./Trabuco Hills); S
P.J. Locke
(Beaumont, Tex./Central); OT
Shane Lemieux
(Yakima, Wash./West Valley); OT
Brady Aiello
(Lafayette, Calif./Acalanes); CB
Jihree Stewart
(Corona, Calif./Centennial); OT
Calvin Throckmorton
(Bellevue, Wash./Newport); S
Dylan Kane
(Honolulu/Kamehameha Schools)
OREGON STATE
Commits
: 11 |
ESPN 300 commits:
0
TE
Matt Pistone
(Yuma, Ariz./Yuma Catholic); OG
Beau Hott
(Plano, Tex./Plano Senior); S
Solomon Matautia
(Ewa Beach, Hi./Campbell); QB
James Pensyl
(Land O'Lakes, Fla./Land O. Lakes); OLB
Tyrin Ferguson
(New Orleans/Edna Karr); S
Omar Hicks-Onu
(Carrollton, Tex./Hebron); OG
Miki Fifita
(Bradenton, Fla./IMG Academy); DE
Hunter Mattox
(Chatsworth, Calif./Sierra Canyon); OG
Jacob Jimenez
(Pflugerville, Tex./Pflugerville); OLB
Angelo Garbutt
(Carrollton, Tex./Hebron); CB
Treshon Broughton
(Tustin, Calif./Los Angeles Harbor College)
STANFORD
Commits:
9 |
ESPN 300 commits:
3
OG
Nick Wilson
(Milton, Ga./Milton); S
Arrington Farrar
(College Park, Ga./Woodward Academy); C
Brian Chaffin
(Charlotte, NC/Charlotte Christian); ILB
Christian Folau
(Salt Lake City/East); WR
J.J. Arcega-Whiteside
(Roebuck, SC/Dorman); K
Jake Bailey
(Solana Beach, Calif./Santa Fe Christian); DT
Rex Manu
(Mililani, Hi./Mililani); ILB
Reagan Williams
(Jackson, Ohio/Jackson); OLB
Casey Toohill
(San Diego, Calif./Cathedral Catholic)
UCLA
Commits:
14 |
ESPN 300 commits:
5
QB
Josh Rosen
(Bellflower, Calif./Saint John Bosco); TE
Alize Jones
(Las Vegas/Bishop Gorman); OG
Fred Ulu-Perry Jr
. (Honolulu/Saint Louis); OT
Andre James
(Herriman, Utah/Herriman); OG
Tevita Halalilo
(Moreno Valley, Calif./Rancho Verde); WR
L.J. Reed
(Elk Grove, Calif./Cosumnes Oaks); DT
Bryce English
(DeSoto, Tex./DeSoto); ATH
Stephen Johnson
(San Leandro, Calif./San Leandro); CB
Will Lockett
(Manvel, Tex./Manvel); ILB
Victor Alexander
(Jacksonville, Fla./Trinity Christian Academy); RB
T.J. Simmons
(Lakeland, Fla./Lakeland Christian); DE
Rick Wade
(Rancho Sant Margarita, Calif./Santa Margarita Catholic); RB
Bolu Olorunfunmi
(Clovis, Calif./Clovis North); OLB
Josh Woods
(Upland, Calif./Upland)
USC
Commits:
15 |
ESPN 300 commits:
7
OT
Chuma Edoga
(Powder Springs, Ga./McEachern); QB
Sam Darnold
(San Clemente, Calif./San Clemente); QB
Ricky Town
(Ventura, Calif./Saint Bonaventure); DT
Jacob Daniel
(Fresno, Calif./Clovis North); WR
Tristan Payton
(Jacksonville, Fla./First Coast); ATH
Isaiah Langley
(Pleasanton, Calif./Foothill); ILB
Cameron Smith
(Granite Bay, Calif./Granite Bay); WR
Desean Holmes
(Mission Hills, Calif./Bishop Alemany); DT
Noah Jefferson
(Las Vegas/Liberty); RB
Aca'Cedric Ware
(Cedar Hill, Tex./Cedar Hill); CB
Taeon Mason
(Pasadena, Calif./John Muir); OT
Clayton Johnston
(Anaheim, Calif./Servite); DE
Christian Rector
(Los Angeles/Loyola); OT
Roy Hemsley
(Los Angeles/Windward); WR
De'Quan Hampton
(Compton, Calif./Long Beach City College)
UTAH
Commits:
9 |
ESPN 300 commits:
0
WR
Donzale Roddie
(Paramount, Calif./Paramount); OT
Jake Grant
(Scottsdale, Ariz./Horizon); WR
Justice Murphy
(Vancouver, Wash./Evergreen); K
Chayden Johnston
(South Jordan, Utah/Bingham); ATH
Tuli Wily-Matagi
(Kahuku, Hi./Kahuku); WR
George Wilson
(Tustin, Calif./Tustin); QB
Michael Jacquet III
(Beaumont, Tex./Central); OLB
Cody Barton
(Salt Lake City/Brighton); OT
Zach Lindsay
(Kaysville, Utah/Snow College)
WASHINGTON
Commits:
9 |
ESPN 300 commits:
1
QB
Jake Browning
(Folsom, Calif./Folsom); OT
Trey Adams
(Wenatchee, Wash./Wenatchee); WR
Isaiah Renfro
(Chatsworth, Calif./Sierra Canyon); WR
Andre Baccellia
(Westlake Village, Calif./Westlake); RB
Myles Gaskin
(Seattle/O'Dea); TE
Michaeal Neal
(Rancho Cucamonga, Calif./Etiwanda); OT
Jared Hilbers
(Beaverton, Ore./Beaverton); CB
Jordan Miller
(Oceanside, Calif./Oceanside); LS
A.J. Carty
(Anaheim, Calif./Servite)

WASHINGTON STATE
Commits:
12 |
ESPN 300 commits:
2
DT
Thomas Toki
(Mountain View, Calif./Saint Francis); RB
Austin Joyner
(Marysville, Wash./Marysville-Pilchuck); CB
Darrien Molton
(Temecula, Calif./Chaparral); WR
Deontay Burnett
(Gardena, Calif./Junipero Serra); RB
James Williams
(Burbank, Calif./Burbank); S
Kameron Powell
(Upland, Calif./Upland); QB
Tyler Hilinski
(Upland, Calif./Upland); S
Dominic Davis
(Mission Hills, Calif./Bishop Alemany); K
Matt Abramo
(Petaluma, Calif./Casa Grande); OG
Cedric Bigge-Duren
(Oceanside, Calif./Oceanside); OG
Noah Myers
(Walnut Creek, Calif./Las Lomas); ILB
Aaron Porter
(Norwalk, Calif./Cerritos College)
Notes:
These classes are already beginning to fill up pretty well, some better than others (cough, Arizona). And looking forward, the coaches are getting in early on some younger guys, too. Throughout the conference there are already three 2016 commits and two 2017 commits. The three 2016 commits are running back Trevor Speights (Arizona), safety Brady Breeze (Oregon) and athlete Daelin Hayes (USC). The 2017 commits are defensive end Loren Mundy (Arizona State) and quarterback Tathan Martell (Washington).
So far, there are five special team commits in the Pac-12, keeping with the national trend of placing higher importance on special teams players. Stanford, Utah, Colorado and Washington State have all picked up commitments from kickers while Washington has a verbal from a long snapper.
The conference has 11 commits who are within the top five nationally in their respective position groups. UCLA leads the way with three top-5 commits (Rosen - No. 1 QB, Jones - No. 1 TE-Y, Ulu-Perry Jr. - No. 4 OG). Behind the Bruins are USC (Edoga - No. 3 OT, Darnold - No. 3 QB-PP), Oregon (Ofodile - No. 5 WR, Griffin - No. 4 RB) and Stanford (Chaffin - No. 3 C, Bailey - No. 4 K) with two apiece. Arizona has Walker, the No. 4 OT, and Washington has Browning, the No. 5 QB-PP.
There are 10 juco players already committed to Pac-12 schools. Arizona, which leads the league with 22 commits, has four verbal commitments from junior college players. There are six other schools with commitments from junior college players -- Arizona State, Colorado, Oregon State, USC, Utah and Washington State.
Stanford is doing a tremendous job recruiting nationally. Its nine commitments hail from seven different states ranging from Georgia to Ohio to California to Hawaii. But Arizona is doing the best internationally with a commit from British Columbia.
Early front runner for best name in the Pac-12 is UCLA running back Bolu Olorunfunmi. C'mon Olo-RUN-FUN-mi. He's going to have so much FUN being a RUNning back. And writers (and editors who write headlines) are going to have a lot of fun, too.
August, 13, 2014
Aug 13
9:00
AM ET
The only thing the Pac-12 has to fear in the new era of the College Football Playoff is itself. Oh, and other conferences gaming the infant system.
Whatever negative perceptions formerly were held about the Pac-12 -- finesse, pass-first, defense-optional league with half-full stadiums -- are mostly dead. Though there always will be trolling mouth-breathers with tired insults, Pac-12 folks now can show up to the verbal brawl with facts and numbers and game scores and commence to deliver a dose of frenzied verbal MMA that leaves said trolls whimpering for mercy.
OK, perhaps that's going overboard. But the Pac-12 deserves credit for two things: (1) Its rating as the nation's No. 2 conference (2) Making things tougher on itself than any other conference.
The overwhelming national consensus is the Pac-12 ranks second to the SEC. As ESPN Stats & Information noted in January, "Overall, the Pac-12 finished with six teams ranked in the AP Top 25 and five teams ranked in the top 10 of
ESPN's Football Power Index
. As a result of its strength in the computers, the Pac-12 was the clear No. 2 conference in the Power Rankings."
[+] Enlarge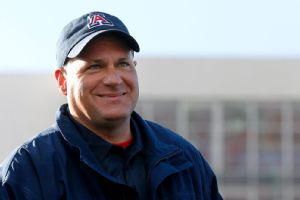 Crystal LoGiudice/USA TODAY SportsThe Pac-12's $3 billion broadcasting deal with ESPN and Fox has been followed by an influx of big-name coaches like Arizona's Rich Rodriguez.
It wasn't just ESPN. Jeff Sagarin ranked the Pac-12 No. 2 in 2013. Phil Steele ranked the Pac-12 the No. 2 conference in 2012 and 2013, and also projected it as No. 2 in 2014. Athlon Sports did the same. In fact, if there is a conference rating system that ranked the Pac-12 anything different in 2013 and projects a lower rating this fall, we haven't seen it.
Another vote in the Pac-12's favor comes from an unquestionably unbiased -- cough, cough -- constituency: Pac-12 coaches.
"[The SEC] should claim themselves as the best league in the country because they've earned it," Arizona coach Rich Rodriguez said. "But to go through the Pac-12 and win a national championship may be the most difficult thing to do because of our schedule."
Ah, that's the worrisome rub. No other conference rides the scheduling tricycle like the Pac-12: 1. Challenging nonconference slate; 2. Nine-game conference schedule; 3. Conference championship game.
While some conferences have improved their nonconference scheduling, they don't play nine conference games. The Big 12 does play nine conference games, but it doesn't play a championship game. Pac-12 coaches aren't shy about noting that a conference team, in almost all cases, will have to play at least 11 quality games -- one tough nonconference foe, nine conference games and the Pac-12 title game -- to earn a spot in the CFP. No other conference can claim that.
There is a big reason the other conferences can't: They don't want to.
"Fair or unfair, whatever the words you want to use, we play a nine-game schedule and a conference championship game and other conferences don't on purpose," Oregon coach Mark Helfrich said. "There is obviously a reason for that."
That's the big issue for the Pac-12 heading into the season. There is no longer a worry about respect or the perception of the Pac-12. Rather, it's about how unscathed a conference champ can hope to be against such a demanding schedule, and whether the committee will stick to its stated insistence that strength of schedule will be paramount. When a conference plays eight of the nation's 13 toughest schedules,
as the Pac-12 did in 2013
, the challenge to go unbeaten or even to lose just one game is far greater.
Of course, this issue won't be solved today, or even in the next couple months. The ultimate answers will be delivered in January when four semifinalists are picked and seeded.
So then, how did the Pac-12 gain ground in the perception battle -- one that has the conference starting with six teams ranked in the preseason USA Today coaches poll, including three in the top 11 with two others receiving votes?
The easy answer: money. The $3 billion broadcasting deal with ESPN and Fox was a game-changer. That money has flowed into facilities improvements and more aggressive investments in coaching -- head coaches and assistants. A concomitant influx of A-list coaches, most notably Mike Leach, Rich Rodriguez, Todd Graham, Jim Mora and Chris Petersen, has boosted the conference's Q-rating. Those coaches also have been able to hire and -- critically -- retain key assistants with competitive salaries, such as Arizona State offensive coordinator Mike Norvell ($700,000), UCLA offensive line coach Adrian Klemm ($650,000), Washington State defensive line coach Joe Salave'a ($275,000) and USC defensive coordinator Justin Wilcox (north of the $800,000 he made at Washington), among others.
No team has had a better, and perhaps more unfortunate, seat while watching the Pac-12 improve than Utah. The Utes joined the conference in 2011 as a program that had posted two unbeaten seasons and won two BCS bowl games as a member of the respected Mountain West Conference. Though they went a solid 4-5 in conference play in 2011, they slipped to 3-6 in 2012 and 2-7 in 2013, with lineups that might have been better than the 2011 squad.
[+] Enlarge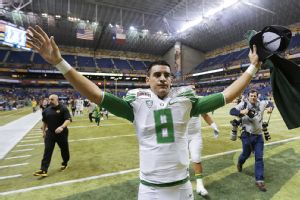 AP Photo/Eric GayOregon's Marcus Mariota is part of an impressive group of returning QBs in the Pac-12 this season.
"The thing that has been very apparent with the Pac-12 in 2011 when we entered, is the Pac-12 now is far superior from top to bottom," Utah coach Kyle Whittingham said. "The progress this conference has made in the last few years is phenomenal."
What separates the Pac-12 this season -- and could make it a legitimate threat for the No. 1 conference -- is behind center. Not only does the conference welcome back 10 starting quarterbacks, a majority of those are NFL prospects.
"I've never seen anything like this," Stanford coach
David Shaw
said. "You have multiple guys that you could say could be the No. 1 pick overall in the draft. You have multiple guys in the conference that could be All-Americans and lead the nation in quarterback rating or lead the nation in passing."
The most notable quarterbacks are Oregon's
Marcus Mariota
and UCLA's
Brett Hundley
, Heisman Trophy candidates blinking brightly on NFL radars who lead teams favored to win their respective divisions. Hundley will get an early showcase game against Texas, and Mariota and the Ducks play host to Michigan State, the Big Ten favorite, in Week 2. And the Ducks and Bruins could meet each other twice this season.
But they also must contend with Arizona State's
Taylor Kelly
, Oregon State's
Sean Mannion
, USC's
Cody Kessler
, Stanford's
Kevin Hogan
, Washington State's
Connor Halliday
, Utah's
Travis Wilson
, California's
Jared Goff
and Colorado's
Sefo Liufau
, each capable of posting a spectacular individual performance that could spawn an upset.
The Pac-12 is plenty hyped heading into the 2014 season. There is no perception problem. There might, however, end up being a reality problem. If the Pac-12 champion ends up with two losses, and the selection committee has a handful of Power Five conference teams with one or fewer defeats, the Pac-12 could get a respectful tip of the cap but end up out of luck in the inaugural College Football Playoff.
August, 13, 2014
Aug 13
8:00
AM ET
Answer. That you are here -- that life exists, and identity; that the powerful play goes on and you may contribute a verse. That the powerful play
goes on
and you may contribute a verse. What will your verse be?
August, 12, 2014
Aug 12
10:00
PM ET
Before NFL teams trim their rosters down to 53 players, plus whoever remains on the practice squads, we thought it would be interesting to see how players from Pac-12 schools are dispersed around the league.
[+] Enlarge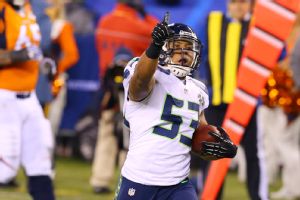 Ed Mulholland/USA TODAY SportsSuper Bowl MVP Malcolm Smith, a USC product, is one of 16 Pac-12 players on the Seattle Seahawks roster.
Here's a closer look at the Pac-12 alumni in NFL training camps:
There are 338 players from Pac-12 teams in NFL training camps, which represents about 11.6 percent of the players currently on NFL rosters.

Of those 338 players, 78 are rookies.

Total number of players in NFL training camps, by school: USC 55, Oregon 41, California 37, Stanford 36, Utah 30, Arizona State 28, UCLA 27, Oregon State 22, Arizona 20, Washington 18, Colorado 14, Washington State 10

Total number of rookies in NFL training camps, by school: Arizona State 11, Stanford 11, USC 10, Oregon 7, Utah 7, UCLA 7, Oregon State 6, Cal 5, Washington 5, Arizona 4, Washington State 3, Colorado 2

Players with three years experience or less: Stanford 26, USC 26, Oregon 24, ASU 22, Cal 20, UCLA 20, Utah 17, Washington 12, Arizona 11, Oregon State 11, Colorado 7, WSU 6

Offensive players 175; defensive players 149; specialists (K/P/LS): 14

Chip Kelly might be gone, but he has not forgotten his conference roots. The former Oregon coach's roster in Philadelphia includes 21 former Pac-12 players -- easily the most of any NFL team. Of those 21, eight are from Oregon.

Former USC coach Pete Carroll has 16 Pac-12 players in camp, but just four are from USC (LB Mike Morgan, LB Malcolm Smith, TE Anthony McCoy, S Dion Bailey). The Super Bowl champions also currently have three Pac-12 rookies (Colorado WR Paul Richardson, Washington WR Kevin Smith, UCLA DL Cassius Marsh).

The 49ers, coached by former Stanford coach Jim Harbaugh, have 12 Pac-12 players, but Harbaugh does not have final say on the team's roster. Among those 12 are former Stanford stars, LB Shayne Skov, LB Chase Thomas and OT Jonathan Martin. In addition to Skov, the 49ers have three other Pac-12 rookies in camp: USC TE Kevin Greene, USC C Marcus Martin and Oregon State OL Michael Philipp

Teams with least amount of Pac-12 players: Rams 3, Jets 6, Chiefs 6, Ravens 6, Bills 7, Cowboys 7, Falcons 7, Lions 7

Teams with most Pac-12 Pac-12 players: Eagles 21, Chargers 16, Seahawks 16, Dolphins 15, Panthers 14, Raiders 14

Three NFL head coaches attended Pac-12 schools: Carolina's Ron Rivera (Cal); San Diego's Mike McCoy (Utah) and St. Louis' Jeff Fisher (USC)
We'll revamp this post once NFL rosters are set in early September.
By the Numbers
Arizona
Total: 20
Offensive players: 9
Defensive players: 10
K/P/LS: 1
Rookies: 4 -- RB
Ka'Deem Carey
(Bears); LB
Marquis Flowers
(Bengals); TE Terrence Miller (Patriots); DB
Shaquille Richardson
(Steelers)
Arizona State
Total: 28
Offensive players: 16
Defensive players: 12
K/P/LS: 0
Rookies: 11 -- DL
Will Sutton
(Bears); DB
Robert Nelson
(Browns); WR
Kevin Ozier
(Cardinals); RB
Marion Grice
(Chargers); DB
Alden Darby
(Chargers); DL
Gannon Conway
(Colts); DL
Davon Coleman
(Cowboys); OL
Evan Finkenberg
(Dolphins); LB
Carl Bradford
(Packers); WR
Rashad Ross
(Redskins); LB
Chris Young
(Texans)
Cal
Total: 37
Offensive players: 18
Defensive players: 15
K/P/LS: 4
Rookies: 5 -- DB
Kameron Jackson
(Colts); LB
Chris McCain
(Dolphins); DL
Deandre Coleman
(Jaguars); TE
Richard Rodgers
(Packers); LB
Khairi Fortt
(Saints)
Colorado
Total: 14
Offensive players: 7
Defensive players: 5
K/P/LS: 2
Rookies: 2 --
Chidera Uzo-Diribe
(Saints); WR Paul Richardson (Seahawks)
Oregon
Total: 41
Offensive players: 24
Defensive players: 17
K/P/LS: 0
Rookies: 7 -- RB
De'Anthony Thomas
(Chiefs); DB
Terrance Mitchell
(Cowboys); DL
Taylor Hart
(Eagles); DL
Wade Keliikipi
(Eagles); WR
Josh Huff
(Eagles); DL
Ricky Havili-Heimuli
(Jaguars); TE
Colt Lyerla
(Packers)
Oregon State
Total: 22
Offensive players: 11
Defensive players: 10
K/P/LS: 1
Rookies: 6 -- WR
Brandin Cooks
(Saints); WR
Micah Hatfield
(Chargers); DL
Scott Crichton
(Vikings); OL Michael Philipp (49ers); OL
Josh Andrews
(Eagles); DB
Rashaad Reynolds
(Jaguars);
Stanford
Total: 36
Offensive players: 23
Defensive players: 13
K/P/LS: 0
Rookies: 11 -- LB Shayne Skov (49ers); FB
Ryan Hewitt
(Bengals); OL Khalil Wilkes (Chargers); DL
Ben Gardner
(Cowboys); DB
Ed Reynolds
(Eagles); OL
Cameron Fleming
(Patriots); RB
Tyler Gaffney
(Patriots); LB
Trent Murphy
(Redskins); DL
Josh Mauro
(Steelers); OL Kevin Danser (Titans); OL
David Yankey
(Vikings)
UCLA
Total: 27
Offensive players: 13
Defensive players: 10
K/P/LS: 4
Rookies: 7 -- DB
Brandon Sermons
(Cardinals); RB
Damien Thigpen
(Cardinals); WR
Shaq Evans
(Jets); DL Cassius Marsh (Seahawks); LB
Jordan Zumwalt
(Steelers);
Xavier Su'a-Filo
(Texans); LB
Anthony Barr
(Vikings)
USC
Total: 55
Offensive players: 27
Defensive players: 28
K/P/LS: 0
Rookies: 10 -- OL Marcus Martin (49ers); TE Kevin Greene (49ers); DB
Demetrius Wright
(Dolphins); OL
Kevin Graf
(Eagles); LB
Devon Kennard
(Giants); TE
Xavier Grimble
(Giants); WR
Marqise Lee
(Jaguars); RB
Silas Redd
(Redskins); DL
George Uko
(Saints); DB Dion Bailey (Seahawks)
Utah
Total: 30
Offensive players: 13
Defensive players: 17
K/P/LS: 0
Rookies: 7 -- DL
Tenny Palepoi
(Chargers); LB
Trevor Reilly
(Jets); L.T. Tuipulotu (Patriots); DB
Keith McGill
(Raiders); FB
Karl Williams
(Raiders); TE
Jake Murphy
(Raiders); TE
Anthony Denham
(Texans)
Washington
Total: 18
Offensive players: 9
Defensive players: 8
K/P/LS: 1
Rookies: 5 -- TE
Austin Seferian-Jenkins
(Buccaneers); DB
Greg Ducre
(Chargers); WR Kevin Smith (Seahawks); K
Travis Coons
(Titans); RB
Bishop Sankey
(Titans)
Washington State
Total: 10
Offensive players: 5
Defensive players: 4
K/P/LS: 1
Rookies: 3 -- DB
Deone Bucannon
(Cardinals); K
Andrew Furney
(Jets); OL
John Fullington
(Packers)
*Roster information taken from each NFL team's official online roster on Aug. 12. This includes those suspended, on injured-reserve and the PUP/NFI lists. Does not include players who retired during training camp or have been waived.
Send any corrections to Kyle.Bonagura@ESPN.com (it's a lot of data to sift through)
College Football Minute
PAC-12 SCOREBOARD
Thursday, 8/28
Friday, 8/29
Saturday, 8/30