December, 16, 2014
Dec 16
10:00
AM ET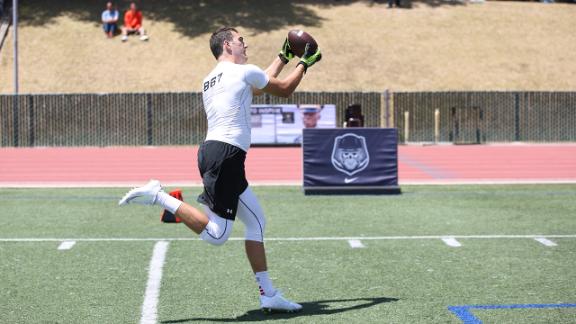 It was a busy weekend in the Pac-12, with commitments, offers, visits and awards touching nearly every team in the conference, including Stanford, USC and Washington reeling in big commitments and UCLA hosting impact prospects. Here is a look at some of the more impactful events of the past few days, as well as a glimpse of what this week could hold in the Pac-12.
December, 16, 2014
Dec 16
9:10
AM ET
Marcus Mariota
will finally have time to sleep again now. A Monday appearance on the "Late Show with David Letterman" was one of the final stops in his grueling three-day New York City stay, the final leg of an arduous journey that also saw stops for awards in Orlando and Baltimore.
A 53-touchdown, two-interception season sure has the ability to draw out the paparazzi and make a college quarterback quite busy in its immediate aftermath.
Mariota read the Late Show's 'Top-10' list to a national television audience. Writers thematically prepared the segment with his busy week in mind, framing the list as the "top-10 thoughts that went through Marcus Mariota's mind when he won the Heisman Trophy."
Look who's big time #GoDucks #mahalomarcus pic.twitter.com/mQa1dKQQom

— Andy McNamara (@McNamaraUO) Dec. 15, 2014
Marcus Mariota has arrived at the Letterman Show. https://t.co/irZKHm6JKs

— Andrew Greif (@AndrewGreif) Dec.15, 2014
"Don't spike the trophy" made made Mariota's list, as did "I'd like to play in the NFL -- does New York have any professional teams?"
That second thought drew some uneasy laughter from the New York-based crowd, but it was all in good fun. Letterman, the longest-tenured late night talk show host in television history (31 years), wished Mariota luck in the Jan. 1 Rose Bowl against Florida State before sending him on his way.
Mariota now returns to Eugene having successfully navigated a media firestorm following his win of the Heisman on Saturday, which only further beefed up an already overflowing trophy case. The Oregon quarterback had racked up the Maxwell, Davey O'Brien, Walter Camp, and Johnny Unitas Golden Arm awards before that. At this point, some may be wondering if all that hardware was able to fit in the small private jet that whisked Mariota back to Eugene.
The Heisman is heading West #goducks #mahalomarcus #jetlife pic.twitter.com/bLnhSJdPGD

— Andy McNamara (@McNamaraUO) Dec. 16, 2014
No worries on that front: Oregon seems well-equipped to transport all the goods in the event of an overflow.
Here it is RT"@TedMillerRK: Marcus Mariota is going to need an 18 wheeler to carry all his hardware back to Oregon." pic.twitter.com/XJaNaT9Dt6

— David Lombardi (@LombardiESPN) Dec. 12, 2014
December, 16, 2014
Dec 16
8:00
AM ET
Bye bye Li'l Sebastian;
Miss you in the saddest fashion.
Bye bye Li'l Sebastian;
You're 5,000 candles in the wind.
Leading off
Where they heck have you all been on the weekends? We've been at games. What's your excuse?
According to a report by Jon Solomon of CBS Sports,
attendance has been down in college football
across the country. And the Pac-12 is no exception, experiencing a 2-percent drop across the board. Solomon breaks it down by conference. Here's what he had to say about the Pac-12.
Crowds dropped 2 percent to 52,758 and they are down 10 percent since peaking in 2007. Pac-12 attendance leader UCLA ranked 19th nationally. Only four of 12 conference schools had an increase: UCLA, Arizona, Utah and Washington State. A couple of schools' decreases were very minor.
Solomon has attendance numbers for all FBS schools on a chart. It's worth a look to see who is trending up and down.
Future looks bright
At ESPN, we love lists. And we know you love them too. That makes the end of the year like, well, like Christmas. Here's another list for you -- the ESPN.com
True Freshman All-America team
.
A trio of frosh from the Pac-12 are on the team -- including Oregon running back
Royce Freeman
:
Freeman started the season by beating out both junior Byron Marshall and sophomore Thomas Tyner for the starting running back spot at Oregon. He finished the regular season by leading the Pac-12 in rushing touchdowns (16) and racking up 1,299 rushing yards, becoming the first Oregon freshman to have a 1,000-yard-rushing season.
Also on the list were USC offensive lineman
Toa Lobendahn
and USC's
Adoree' Jackson
.
News/notes/team reports
Just for fun
Good one, Kyle.
#Pac12refs have been entrusted with Alabama vs. Ohio State. What could go wrong?

— Kyle Bonagura (@BonaguraESPN) December 15, 2014
Pretty sweet.
Look who's big time #GoDucks #mahalomarcus pic.twitter.com/mQa1dKQQom

— Andy McNamara (@McNamaraUO) December 15, 2014
December, 15, 2014
Dec 15
5:00
PM ET
Jared Shanker and Chantel Jennings have spent their fair share of time around Tallahassee, Florida, and Eugene, Oregon, this season covering Florida State and Oregon. Leading up to the No. 2 vs. No. 3 matchup in the Rose Bowl presented by Northwestern Mutual, Shanker and Jennings will be analyzing pressing questions facing different matchups within the game. Any suggestions for questions? Tweet
@JShankerESPN
or
@ChantelJennings
with your suggestions.
We continue with the matchup between the Florida State offense and Oregon's defense.
1. Can Oregon be the first team to stop freshman running back Dalvin Cook?
[+] Enlarge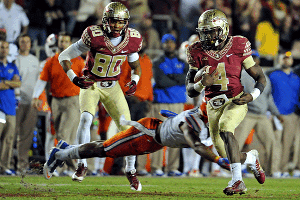 Melina Vastola/USA TODAY SportsFreshman Dalvin Cook rushed for 321 yards in Florida State's last two games.
Shanker:
The Ducks' coaching staff must wish they would have played Cook earlier in the season, when his snaps were being limited. Cook finished the season with 1,084 yards from scrimmage and more than half (592) have come since Nov. 15. The Oregon defense is better than people think, and the Seminoles' rushing attack has been inconsistent, so it wouldn't be a shock if the Ducks held Cook in check. To stop Cook, the Ducks cannot miss tackles. The true freshman Cook has a rare ability to make defenders completely whiff.
Jennings:
As long as the Oregon defense continues its upward trajectory, then yes. In the Pac-12 championship game, the Ducks held Arizona to 111 rushing yards, more than 75 yards fewer than the Wildcats' season average at that point. Arizona running back
Nick Wilson
, who had averaged 6.2 yards per rush coming in to that game, averaged 2 yards per rush against the Ducks. Now, the Oregon run defense hasn't been stout all season, but it has looked good lately. I think Don Pellum is going to be able to keep the Ducks going strong there.
2. Can Oregon's pass rush expose the Florida State offensive line?
Jennings:
This will be another interesting matchup because both Oregon's pass rush and Florida State's O-line have been spotty at times this season. However, in the last four games of the season, the Ducks held opposing quarterbacks to an average adjusted QBR of 34.9 and held quarterbacks to just a 35.3 percent completion rate on third-down passing attempts. Though the Ducks have only sacked opposing quarterbacks on 6.1 percent of passing plays (No. 61 nationally), they have allowed just 5.5 yards per pass attempt (17th nationally).
Shanker:
The Seminoles' offensive line was exposed often through the early portion of the season, but the unit jelled late in the season with the insertion of freshman
Roderick Johnson
at left tackle. Four of the five starters have posted season-high grades along the offensive line since Johnson took over for
Cam Erving
, who was moved to center. In August and September, the unit ranked 95th in sacks per game; in November it ranked 16th. However, Oregon could make
Jameis Winston
uncomfortable by coming off the edges. As good as Johnson has been, he is still a true freshman, and right tackle
Bobby Hart
has struggled at times. A couple of exotic blitzes off the edge could confuse the FSU offensive line and leave Winston vulnerable.
3. How will Jameis Winston fare if the Ducks take away wide receiver Rashad Greene?
Shanker:
It's no secret Winston has an affinity for throwing the ball to Greene, one of the country's best receivers. It's also no secret the rest of the young group of receivers has been largely inconsistent. The Ducks might let
Ifo Ekpre-Olomu
cover Greene one-on-one, which puts pressure on
Jesus Wilson
and
Travis Rudolph
. While both have played well at points, they've also disappeared at times. At times, opponents have been able to effectively take away tight end and Mackey Award winner
Nick O'Leary
, who was held without a catch in two games this season. What shouldn't be forgotten is teams have tried to take away Greene all season and the senior still finished seventh nationally in yards and eighth in receptions.
Jennings:
One of the areas in which the Oregon defense has been the most inconsistent is in giving up big plays, specifically big pass plays. Oregon has given up 56 plays of 20 or more yards, and 40 of those were pass plays. Chances are with how good the chemistry is between Winston and Greene, they'll be able to pull of one or two big plays, but the Seminoles will need to make sure they cash in on those. During the past month the Ducks have improved greatly there as well, only giving up nine pass plays of 20 or more yards.
December, 15, 2014
Dec 15
4:00
PM ET
Jared Shanker and Chantel Jennings have spent their fair share of time around Tallahassee, Florida and Eugene, Oregon this season covering Florida State and Oregon. Leading up to the No. 2-No. 3 match up in the Rose Bowl, Shanker and Jennings will be analyzing pressing questions facing different match ups within the game. Any suggestions for questions? Tweet
@JShankerESPN
or
@ChantelJennings
with your suggestions.
Today, we start with three questions on how the Oregon offense and Florida State defense match up.
[+] Enlarge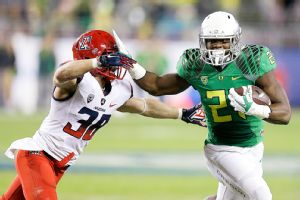 AP Photo/Ben MargotRoyce Freeman will look to pile up yards against a Florida State rush defense that's susceptible early in games.
1. Can the Seminoles contain Heisman winner Marcus Mariota?
Jennings:
Probably not. He's a freak and he's playing his best football right now. FSU isn't just going to start pass rushing like crazy. If they did, they probably wouldn't be able to do it consistently and Mariota is at his best in broken plays. How the Seminoles can best "get to" Mariota would be by making him do too much. If they can take away his weapons -- which, it's fair to say, no one really has this season -- then they can limit him a bit. If running back
Royce Freeman
can't rush the ball and it's all on Mariota, he might not be able to do as much. Or, if the secondary can take away his options down field, that obviously limits him as a playmaker. Again, these are all big "ifs" and "maybes" and I'd bet donuts to dollars that we're going to see the best version of Mariota we've seen so far this season when he hits the Rose Bowl on New Year's Day.
Shanker:
Over Mariota's three-year career as starter, few teams have successfully contained him, and it rarely happened in 2014 en route to winning the Heisman Trophy. He's as dynamic running as he is throwing, and he made a handful of NFL throws in the Pac-12 title game. That's the bind he puts every team in -- do you challenge him throwing or rushing? Mariota won't completely overwhelm Florida State's defense, though. Defensive backs
Ronald Darby
,
Jalen Ramsey
and
P.J. Williams
are all first-day NFL talents in the traditional sense, and up front Mario Edwards Jr. and
Eddie Goldman
are among the country's most athletic 300-pound linemen. The linebacking corps is suspect, but there are more than enough pieces to contain Mariota. That doesn't mean Florida State will, and smart money is on Mariota to make a fair number of plays.
2. Will the Freeman show continue?
Shanker:
Much like
Dalvin Cook
, Freeman is playing his best football, too, with three straight 100-yard games and an eight-game streak of at least 98 yards rushing. Considering how poor the FSU defense tends to play in the first half, Freeman could have 100 yards by halftime. The question will be whether the success continues in the second half. Seminoles defensive coordinator Charles Kelly has been terrific at making second-half adjustments. Freeman should run wild on Florida State early -- most teams do -- but without a strong second half it might not matter.
Jennings:
I'm with Jared here. FSU hasn't exactly put a full four quarters together defensively. But, a big part of the Freeman show isn't just Freeman. Opponents can take him away but then they still have to deal with sophomore
Thomas Tyner
and junior
Byron Marshall
who's much more of a dual threat WR-RB for the Ducks. Can FSU stop Freeman? Then Tyner? Then Marshall? (And remember, Mariota is averaging 51 rushing yards and one rushing touchdown per game.)
3. Is the Mario Edwards versus Jake Fisher one of the best matchups within the matchup to watch?
Jennings:
It'll be one of them. However, with how many injuries and shifts the offensive line has gone through it'll be a minor miracle if Fisher is actually still playing left tackle a month from now (only slightly joking). Edwards has registered three sacks and two quarterback hurries this season, but that doesn't fully explain how much of a force he has been on the O-line for the Seminoles. This matchup will be fun to watch and a huge test for both players.
Shanker:
All one has to do is put on the tape of last year's national championship to see the impact Edwards can make. He has battled inconsistency in his career, but the former No. 1 recruit is athletically gifted. He wreaked havoc in Auburn's backfield last January. Edwards will be tasked with more than just getting to the quarterback, too. With Oregon spreading the field, his role includes setting the edge, freeing up linebackers and making tackles in space when called upon. Fisher will have his hands full.
4. How much of an impact will FSU's all-everything Jalen Ramsey play in the game?
Shanker:
If Florida State wins, Ramsey will probably have a major impact. Ramsey was one of the best freshmen in 2013, but he moved to nickelback -- or the "star" position in FSU's scheme -- before 2014. It took Ramsey a few games to adjust, but the sophomore is filling up the stat sheet now. Mariota needs to account for and find Ramsey before every snap, because he impacts the game in so many ways. He has possibly emerged as FSU's best defensive player, but Mark Helfrich and Scott Frost are skilled offensive coaches. The playcalling could limit Ramsey's effect on the game, but the 6-foot-1, 204-pound sophomore's athleticism could still have him in the right spot at the right time anyway.
Jennings:
This might be a game in which he won't show up in the stats sheet as much but he'll still play a huge role based on whom he takes away as an option down field for Mariota. The Ducks have several wide receivers who've really made some major strides late in the season --
Darren Carrington
,
Charles Nelson
,
Dwayne Stanford
-- but if Ramsey takes
Devon Allen
or
Keanon Lowe
, then Mariota will be relying more on these younger players, which could be good or bad for the Ducks.
December, 15, 2014
Dec 15
1:48
PM ET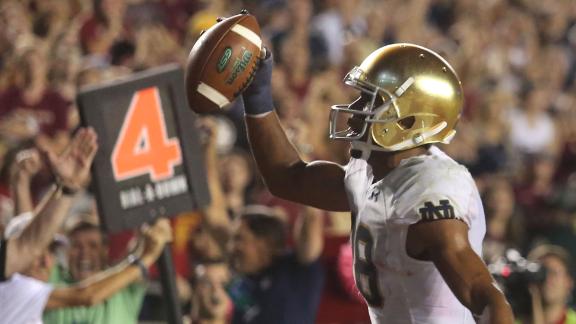 There are many moments that define a season, but this is the first year plays defined a playoff.
It wasn't just Baylor's nonconference schedule that doomed the Bears' playoff hopes; it was the loss at West Virginia that knocked them out of the top four. It wasn't only the performance by Ohio State third-string quarterback Cardale Jones in the Big Ten title game that punched the ticket for the Buckeyes; it was the win against Michigan State that put them in position to get there.
Here's a look at how the top four spots were won -- or lost -- in a historic season for the sport.
Alabama
The opponents: Arkansas and Mississippi State.
The moments: The first came in the fourth quarter at unranked Arkansas, when Landon Collins intercepted Brandon Allen on third-and-10 to seal the 14-13 win. The second moment wasn't a single play -- it was a 15-play drive in the fourth quarter against then-No. 1 Mississippi State. Alabama was clinging to a 19-13 lead when that 76-yard touchdown drive ate 6:07 off the clock and added a 25-13 cushion with T.J. Yeldon's 7-yard touchdown run. Blake Sims converted all three third downs himself (one pass, two rushes). It was Alabama's first win over a No. 1-ranked team in Bryant-Denny Stadium.
The outcome: The win at Arkansas was critical not only for the SEC West standings, but from an emotional standpoint, as well. The Tide had to rebound from the previous week's loss at Ole Miss. The upset of Mississippi State put Alabama in the selection committee's rankings for the first time -- a spot the Tide would never relinquish.
December, 15, 2014
Dec 15
12:00
PM ET
Oregon's
Marcus Mariota
won the Pac-12's first Heisman Trophy since 2005, and he did so in historically dominant fashion. A record 95.16 percent of voters listed Mariota on their Heisman ballots, and heading into Saturday's presentation, there wasn't much of a question that the Duck would take home college football's most hallowed hardware.
Though he still has a year of college eligibility remaining, Mariota will almost certainly declare for the 2015 NFL draft, so the Pac-12 will have to look elsewhere to repeat the Heisman feat. Here are some early 2015 candidates. Key word here is "early," as we have yet to finish 2014 and some of the players below are still deciding if they will be back next year. Keep that in mind as we quickly imagine the potential future.
Scooby Wright, LB, Arizona
Aside from Mariota, the only Pac-12 player to finish in the top 10 of Heisman balloting was this dominant desert stud. Wright earned four second-place votes and 13 third-place votes, and it would be tough to argue with either of those evaluations based on his absurd 2014 production. Wright's numbers in tackles, sacks, tackles for loss and forced fumbles were all either at or near the top of the nation; he was the only player who averaged over two TFL per game, and that race wasn't remotely close. It's clear that Arizona has an absolute machine working the middle of its defense. Yes, the Heisman Trophy has a clear bias toward the offensive side of the football, but Wright was awesome enough to earn 17 votes at linebacker -- as a sophomore.
Royce Freeman, RB, Oregon
This 230-pound bruiser did his best to give new meaning to the term "true freshman" in 2014. Aside from displaying remarkable vision, Freeman physically pounded opposing defenses like a battle-hardened senior. He supplied Oregon's rushing attack with an irreplaceable dose of physicality. The first-year statistical returns are as eye-popping as they were pad-popping: 1,299 yards, 5.6 yards per carry, 16 touchdowns. With Mariota almost certainly moving on, the Ducks' offense may center more on this young tank in 2015, and that focus could thrust Freeman into Heisman contention.
Cody Kessler, QB, USC
Kessler was the only quarterback in the nation to attempt over 400 passes and throw fewer than five interceptions in 2014. In the not-so-distant past, those kinds of numbers would automatically thrust a USC quarterback into the midst of the Heisman Trophy discussion. Kessler, however, flew under the radar throughout the entire campaign. If he decides to return to USC for his senior season, expect him to generate a big amount of preseason hype. Related note: Running back
Javorius Allen
and wide receiver
Nelson Agholor
also have eligibility remaining. If those two are back in Troy next year, include them as possible big-time award candidates too.
Paul Perkins, RB, UCLA
Statistically, 2014 was an excellent campaign for this Bruin, who is a redshirt sophomore. He led the Pac-12 in rushing, racking up 1,378 yards on a league-best 6.0 yards per carry. Perkins will have to score more touchdowns to generate more Heisman hype. He found pay dirt only nine times this season, but 2015 will likely present an opportunity to enter the end zone more often, as touchdown machine
Brett Hundley
has indicated that he will likely be moving on to the NFL. That means that Perkins may become the centerpiece of UCLA's offense. More touches, more glory.
Jared Goff, QB, California
Goff's statistical output was impressive in 2014 (3,973 yards, 35 touchdowns, 7 interceptions), but any hype surrounding him was quickly extinguished by memories of the Bears' nightmarish 2013 campaign (1-11). Cal improved to 5-7 this season, but it still failed to earn a postseason berth. Given the upward trajectory of Sonny Dykes' program, that likely won't be the case in 2015. There's a strong chance that Goff will be the quarterback of a winning team. If he continues to post gaudy numbers under that scenario (also likely), this talented gunslinger will arrive on the radar for major postseason awards. Don't sleep on him.
D.J. Foster, RB/WR, Arizona State
If wide receiver
Jaelen Strong
returns to ASU for his final year of eligibility, keep an eye out for him. But that seems unlikely, so the top Sun Devil to watch will probably be the versatile Foster, who was the only Pac-12 player to finish with more than 1,000 rushing yards and 500 receiving yards in 2014. Foster's 59 catches were second to only Strong in Tempe, and his explosiveness makes him a prime sizzle candidate if he decides to stay in school for one more season. Side note: Don't forget freshman running back
Demario Richard
, who averaged 5.7 yards per carry as a 17-year-old this season.
Nick Wilson, RB, Arizona
If you enjoy watching impressive freshman running backs, Wilson is a good player to follow. He delivered an awfully dynamic inaugural campaign in Rich Rodriguez's system, delivering 5.9 yards per carry and more than 100 ground yards per game. Wilson's 15 rushing touchdowns were second among Pac-12 running backs, so second-year improvement would absolutely make him a contender for some major hardware in 2014.
December, 15, 2014
Dec 15
11:00
AM ET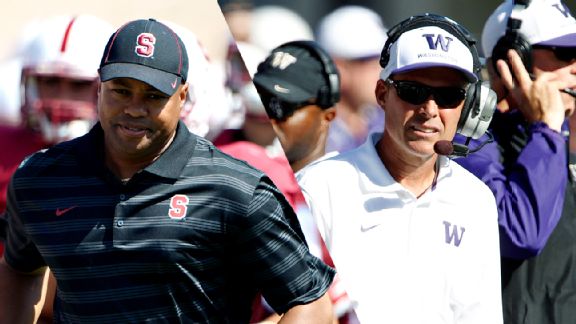 USA TODAY SportsDavid Shaw, left and Chris Petersen must make strides offensively to keep pace with Oregon.
Outside of Eugene, the Pac-12 North suffered through a 2014 campaign riddled with disappointment. Stanford and Washington, the Ducks' two biggest challengers in the division, turned out to not really be challengers at all; they finished three and four games off Oregon's pace, respectively, and both were blasted out of Autzen Stadium.
Though the Huskies haven't beaten the Ducks in more than a decade, Stanford had enjoyed plenty of recent success against Oregon, so 2014 represented a landmark shift in the Pac-12 North landscape. Mark Helfrich's program is now clearly alone in the driver's seat, and though bowl season is a chance for the Ducks to again chase a coveted national championship, the runners-up are using this month for an entirely different purpose.
If the Pac-12 North is to become interesting again, Stanford and Washington must leverage their extra string of bowl practices into something that enables them to close the wide gap between Oregon and the rest of this division. Interestingly, both programs face similar challenges: Their glaring deficiencies reside on offense, but defense -- a strength for both programs this season -- is also a looming question mark, as player departures will soon significantly affect that side of the ball in Palo Alto and Seattle.
David Shaw (Stanford) and Chris Petersen (Washington) have a chance to lay the groundwork of positive change this December, while Sonny Dykes (California), Mike Leach (Washington State), and newcomer Gary Andersen (Oregon State) don't have the same opportunity. Stanford faces Maryland in its bowl game on December 30, and Washington squares off with Oklahoma State on January 2. Cal, Oregon State, and Washington State -- who failed to reach bowl eligibility -- will be tasked with clawing their way out of losing seasons without the benefit of any supplementary training.
For Stanford, priority No. 1 in this stretch involves -- at the very least -- developing a coherent offensive vision for what happens beyond this 2014 season. The Cardinal finished this past campaign ranked dead last in the Pac-12, averaging only 25.7 points per game, and the entire season seemed centered on befuddled vacillation between the power running identity of the past and an inadequately defined pass-centric offense of the future. Stanford never seemed to develop a clear offensive identity against a legitimate defense until its final game of the season, a 31-10 romp over UCLA.
Kevin Hogan
finally looked comfortable in that game, and his future on the Farm (he still has one more year of eligibility remaining) is likely the central question confronting Shaw moving forward: Will Stanford gamble on getting a season's worth of UCLA-like performances from Hogan in 2015 (he finished a spectacular 16-for-19 in that game after struggling for much of 2014), or will they turn the page to one of their touted young prospects -- most likely
Keller Chryst
-- moving forward?
The decision there might not come now, but one can be sure that this December is giving Shaw the opportunity to conduct a critically important, thorough evaluation of his offense on all levels after a season of struggle.
On that note, Washington is in a similar boat. The Huskies averaged only 5.4. yards per play in 2014, third-worst in the Pac-12. Petersen is entering his second year in Seattle, so his hand-picked talent obviously hasn't had a chance to emerge, but the Dawgs must scramble now to get more productivity from their offense in 2014. Quarterback
Cyler Miles
did a good job avoiding interceptions while posting improving explosiveness numbers, but Washington will certainly need him to generate more fireworks to contend in 2015. The quest to improve that begins now, especially since the road will only get more difficult for the Huskies after the bowl game (they will be losing a handful of starting offensive linemen).
Speaking of departures, both Stanford and Washington will absorb plenty on the defensive end. The likes of
David Parry
,
Henry Anderson
, and
Jordan Richards
-- just to name a few -- will leave the Cardinal's conference-best unit after the season. And national sack leader
Hau'oli Kikaha
,
Danny Shelton
,
John Timu
, and likely
Shaq Thompson
will depart the Washington program. Both Shaw and Petersen will soon be staring at massive defensive voids. That means one thing: The chance for younger players to emerge begins now.
So, while Oregon loads its canons for the high-stakes spectacle at the Rose Bowl on January 1, Stanford and Washington will already be feverishly working toward laying the groundwork necessary to challenge the Ducks in 2015. There is seemingly no respite in this furious college football cycle. The Cardinal and Huskies are readying for bowl matchups that have nowhere near the prestige of the Ducks' clash with Florida State, but the work leading up to them is every bit as important in relation to the next Pac-12 North race, which has already silently begun.
December, 15, 2014
Dec 15
10:00
AM ET
If Oregon wins the inaugural College Football Playoff, the Pac-12 will cap the greatest season in its history, including iterations as the Pac-8 and Pac-10. Perhaps we should toss an "arguably" in there, particularly if the conference's seven other bowl teams go belly-up in some form or fashion, but why be wishy-washy?
After Oregon quarterback
Marcus Mariota
was the overwhelming winner of the
Heisman Trophy on Saturday
, the Pac-12 completed a sweep through the award season like some morphing of "Titanic," "Ben Hur" and "The Lord of the Rings: The Return of the King" at the Oscars. Combine Mariota with Arizona linebacker
Scooby Wright
, and the Pac-12 has produced the season's most decorated offensive and defensive players. Not since 2002, when USC QB
Carson Palmer
won the Heisman and Arizona State LB
Terrell Suggs
swept most defensive awards has this happened.
[+] Enlarge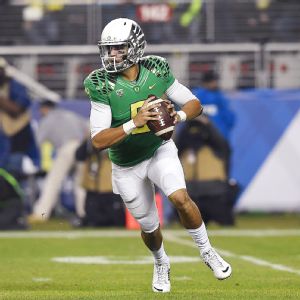 Thearon W. Henderson/Getty ImagesMarcus Mariota and the Oregon Ducks have a chance to make this a historic season for the Pac-12.
Mariota also won the Maxwell and Walter Camp player of the year awards, as well as the Davey O'Brien and Unitas awards as the nation's top QB. Wright won the Lombardi, Bednarik and Nagurski awards. Further, UCLA linebacker
Eric Kendricks
won the Butkus Award, Utah defensive end
Nate Orchard
won the Hendricks Award and Utah punter
Tom Hackett
won the Ray Guy Award.
Toss in eight players on the
ESPN.com All-America team
-- from seven different schools -- and
six teams ranked
in the final pre-bowl CFP rankings and it feels like an unprecedented season for national recognition in the Pac-12.
Well, at least if the Ducks take care of business.
The season Palmer and Suggs were college football's most celebrated players, just two Pac-10 teams ended up ranked, though both were in the top 10 (USC and Washington State), while Colorado, then in the Big 12, also finished ranked. In 2004, USC won the national title, Trojans QB Matt Leinart won the Heisman and California finished in the top 10. Arizona State also finished ranked, while Utah went undefeated, though as a Mountain West Conference member. Obviously, if you fudge with conference membership issues, you can make things look better retroactively than they were in their present time.
In 2000, three teams -- No. 3 Washington, No. 4 Oregon State and No. 7 Oregon -- finished ranked in the top seven. In 1984, the Pac-10 won the Rose (USC), Orange (Washington) and Fiesta (UCLA) bowls and finished with three top-10 teams, including No. 2 Washington, which was victimized by BYU's dubious national title.
So there have been plenty of impressive seasons, just not anything as scintillating as 2014 if Oregon wins the title.
Oregon, of course,
hoisting the new 35-pound, cylindrical trophy
as the last team standing is hardly a sure thing. First, the Ducks get defending national champion Florida State in the
Rose Bowl Game Presented By Northwestern Mutual
. While many have questioned the Seminoles this season because every game has been a nail-biter, that doesn't change the fact the nation's only unbeaten Power 5 conference team -- winners of 29 games in a row, no less -- own the fourth quarter. In football, owning the fourth quarter is almost always a good thing.
If Oregon manages to win that CFP semifinal game, the good money is on it getting a shot at top-ranked Alabama in the national title game, though throwing funereal dirt on Ohio State this season has proved difficult. Ohio State is the Count Dracula of college football this season -- perennially undead. That duly noted, knocking aside Alabama -- the game's most dynastic program, led by its most celebrated coach in Nick Saban -- while the Crimson Tide also stand as the bell cow of the dominant SEC would be the ultimate achievement for a team and conference eager to solidify its super-elite standing.
The simple fact that Oregon has not won a national title in football -- and the Pac-12/10 hasn't claimed one since 2004 -- stands out on both literal and symbolic levels. There has not been a first-time national champion since Florida won in 1996, while a Pac-12/10 team other than USC hasn't won one since Washington in 1991. Before that, if then-Big 8 member Colorado's 1990 title doesn't count, it's UCLA in 1954.
So Oregon taking that final step into the light would represent a pretty dramatic development, particularly after the school already upgraded its trophy case with its first Heisman. It would complete a climb started in the 1990s and show other mid-to-low-level Power 5 teams that all they need to transform into a superpower is good coaching, strong administration and a sugar-daddy billionaire booster.
As for the conference in general, it would be a big deal to have a non-USC national title in the coffers, and it would be further validation of the depth and quality of the conference. Last season, for the first time since 2009, the conference didn't finish with a top-five team, but for the first time ever it finished with six teams ranked in the final AP poll. So the Ducks at the top would provide some nice symmetry.
As for the entire postseason, the Pac-12 is favored in seven of its eight bowl games, with UCLA being only a slight underdog to Kansas State, with the line trending down since opening at 3 1/2 points. So the conference is set up for success. Anything fewer than six wins -- including Oregon in the Rose Bowl -- would be a disappointment, an underachievement.
You know,
not unlike last season
, when the conference went 6-3 and graded a mere "Gentleman's C" from the Pac-12 blog.
While Washington and Oregon State fans will be hard-pressed to force out a "Go Ducks!" and USC fans probably aren't ready to admit a new member to the college football penthouse, if Oregon can make its tide rise to the top -- and roll the Tide along the way -- it will boost all Pac-12 ships.
December, 15, 2014
Dec 15
8:00
AM ET
As you know Robbie's shining moment this year was when he set a school record for cursing in an eighth grade English class.
Let's get the week started off right. I'm guessing it was a tough weekend for a lot of people. After all, it was our first weekend without Pac-12 football in months. Don't worry, it's coming back soon enough. But, at least there was really good news for the Pac-12 this weekend. Let's start with a Mr. Marcus Mariota who won the Heisman this past Saturday.
First, let's give some major props to this MahaloMarcus.com video because it's very much worth your time and you can view it
right here
. It has some classic 8-year-old Mariota footage meshed with some current footage, some emotional music and quotes from Oregon coach Mark Helfrich and the gang. Well done to the edit staff. Well done to Mariota for all these plays.
If four minutes of Mariota on video isn't enough for you ... well, lucky you, everyone and their mother reacted to this news, so we'll give you a breakdown of some writer's reactions.
The state of Oregon just doubled down. And the ghosts of this state's football programs just doubled over. Anyone who has regularly seen Mariota operate the heavy machinery that is the Ducks' offense this season knows he's the best player in America, but it really is something to see the rest of the country see it, too.
And finally, props to Oregon State for recognizing Mariota as well. The Beavers bought a full page ad in The Oregonian's special section for Mariota.
Other awards:
It wasn't just Mariota who picked up a big award this weekend. UCLA linebacker Eric Kendricks
won the Lott IMPACT Trophy
. Kendricks follows in the footsteps of Anthony Barr, who won the award last year. Jack Wang wrote that Kendricks is the latest in what could be a
long line of linebacker lineage
at UCLA.
And look at how cordial everyone was about Kendricks' win. But would you assume anything else? Never. Especially not from the Lott IMPACT guys.
Congratulations to UCLA's Eric Kendricks, winner of the 2014 @LottIMPACTrophy

— UW Football (@UW_Football) December 15, 2014
Congrats to @UCLAFootball's Eric Kendricks' on winning the @LottIMPACTrophy. Big hug from David Helton pic.twitter.com/dV1IPyJQXZ

— Duke Football (@Duke_FB) December 15, 2014
Also, Washington linebacker Shaq Thompson
won the Hornung Award
, given to college football's most versatile athlete. The Pac-12 Blog agrees.
All right. Here's a quick rundown ...
December, 14, 2014
Dec 14
2:54
PM ET
They call the game between them the Civil War, but Oregon State put aside its dislike of its in-state rivals to congratulate Oregon quarterback Marcus Mariota who won the Heisman Trophy on Saturday night.
The Beavers placed an ad in Sunday's The Oregonian to congratulate Mariota and also made a digital ad.
"We have a lot of respect for Marcus," said Oregon State assistant athletic director Steve Fenk. "While many years apart in age, Marcus displays the same type of class that [Oregon State's 1962 Heisman Trophy winner] Terry Baker does on a daily basis."
Fenk said the school partnered with The Oregonian on the ad and didn't know what the cost of the full-page ad was.
Oregon has won seven straight games in the series, including a 28-point win this season.
Mariota received the second-highest percentage of possible points (90.92) in Heisman voting history, behind only Ohio State quarterback Troy Smith, who had 91.63 in 2006.
Ifo Ekpre-Olomu Injury A Game-Changer
PAC-12 SCOREBOARD
Saturday, 12/20
Monday, 12/22
Tuesday, 12/23
Wednesday, 12/24
Friday, 12/26
Saturday, 12/27
Monday, 12/29
Tuesday, 12/30
Wednesday, 12/31
Thursday, 1/1
Friday, 1/2
Saturday, 1/3
Sunday, 1/4
Saturday, 1/10
Monday, 1/12