September, 26, 2014
Sep 26
2:00
PM ET
By
ESPN.com staff
| ESPN.com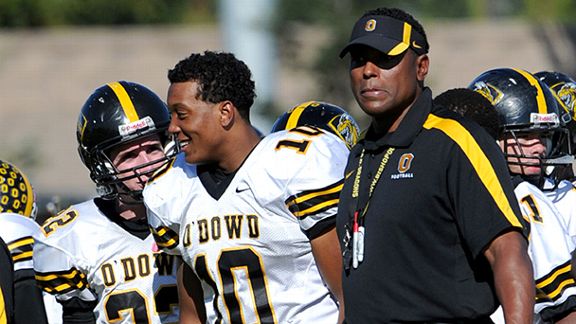 Gerome Wright/Bishop O'Dowd AthleticsHardy Nickerson Jr. played high school football for his father, former Green Bay Packers LB Hardy Nickerson Sr.
Football runs in the family in the Pac-12.
Rick Neuheisel was a proud father watching his son, Jerry, lead UCLA to victory against Texas two weeks ago. But he's not the only accomplished former player watching his son play for a Pac-12 team. The Pac-12 blog highlights a father-son football relationship on each Pac-12 team. First up: the North.
Cal: Hardy Nickerson Jr., Hardy Nickerson Sr.
Hardy Nickerson Jr. was 8 years old when he made his organized football debut, and like many kids that age it came in a jamboree. That's pretty much where the similarities between him and every other football-playing kid have to stop because Nickerson's debut was so much more than a Saturday afternoon at a local high school.
His team played its first game at Lambeau Field, during halftime of a Monday Night Football game, with John Madden broadcasting the action. Young Hardy's dad wasn't with the other parents, though. He was with his Green Bay Packers teammates.
"It was a great first football experience," said Nickerson Jr., now a linebacker at Cal.
That season also served as the final NFL season for his father, who was named to five Pro Bowls in a 16-year career. That came after a storied career at Cal, where he still ranks No. 2 in tackles. After his retirement, Nickerson held various coaching and broadcasting jobs before taking over as the head football coach at Bishop O'Dowd High in Oakland before his son's junior season.
"It was very fun playing for him," Nickerson Jr. said. "He's very passionate about football and got all my teammates to buy in. He always told us the most important things were effort, toughness and enthusiasm."
Nickerson left the high school game following the 2013 season and just over a month later, Lovie Smith hired him to become the Tampa Bay Buccaneers' linebackers coach.
-- Kyle Bonagura
Oregon: Jake and Joe Pisarcik
Oregon redshirt freshman offensive lineman
Jake Pisarcik
spends most of his days protecting future NFL quarterback
Marcus Mariota
.
But growing up, it was a former NFL quarterback who spent his time protecting a Pisarcik. His father, Joe, an eight-year NFL veteran.
"I was playing a different position from him, but he was there to support me," Pisarcik said. "It's cool because talking to him and getting advice from him growing up."
Jake doesn't regularly go to his dad for advice, but when he does, he said he takes it to heart. And that advice could be gold this season the Ducks' look for consistency on their offensive line after losing three tackles to injury in the span of a month and a half.
"Keep working hard," Jake said of his dad's advice. "Have a short memory. When you mess up one, you have to keep plugging away."
-- Chantel Jennings
Oregon State: Luke and Jack Del Rio
Saturday night will feature an interesting pulling at the heartstrings for Jack Del Rio. At halftime of the Oregon State-USC game, he'll stand on the field and be honored for his accomplishments and contributions to Trojans football and baseball.
[+] Enlarge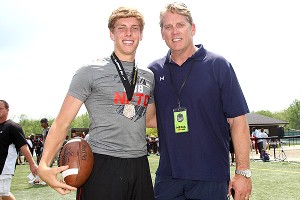 Tom Hauck/ESPNHSJack Del Rio will be inducted into the USC Hall of Fame Saturday as his son Luke's Oregon State team plays the Trojans.
But during the first half and then during the second half, he'll spend his time cheering on his son, Oregon State backup quarterback
Luke Del Rio
, as the Beavers attempt to take down USC in Los Angeles, where they haven't won since 1960.
"He's a Beaver fan in and out," Luke said. "It's nice to be recognized like he's being recognized. But he told me he's wearing neutral colors, 'I'll be rooting for you guys.' He keeps up with USC but this weekend he's rooting for the Beavers."
Though Jack coached in the NFL all through Luke's childhood, he never actually coached Luke in football (he did in baseball). Instead, Luke said the impact his father's coaching career had on his playing career was more about the experiences he had as a kid.
"Looking back on it I see how fortunate I was. On the weekends I got to travel to the games with my dad and stay in the hotel where he was staying and go to the games. It was a real cool opportunity. ... Of course, being on the sidelines growing up of the NFL games, I kind of took that for granted because I didn't realize how rare it was."
-- Chantel Jennings
Stanford: Ed and Christian McCaffrey
Three-time Super Bowl champion Ed McCaffrey is retired from football, but Autumn weekends are busier than they were during his playing career.
Friday is usually the day to see sons Luke (eighth grade) and Dylan (high school) play in the Denver area. Saturday requires Ed and his wife, Lisa, to split duties, as eldest son
Max McCaffrey
suits up as a receiver for Duke, while Christian McCaffrey is now a freshman following in his dad's footsteps at Stanford.
[+] Enlarge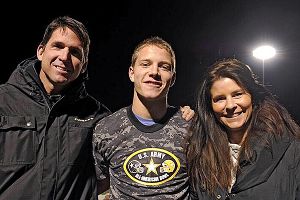 Courtesy of Lisa McCafferyStanford RB Christian McCaffrey with is mother, Lisa, and father, former Denver Broncos WR Ed McCaffrey.
As the Denver Broncos' radio analyst, McCaffrey typically must jet from wherever Christian or Max play Saturday to wherever Peyton Manning is on Sunday.
But then there are moments — like the time last month when Christian scored a 52-yard touchdown on the very first touch of his college career — that make it all worth every penny of jet fuel.
"A touchdown on his very first play?" Ed still seems amazed. "Never in my wildest dreams did I imagine that."
Ed's former teammate is a beneficiary: Christian's coach is
David Shaw
, who played alongside Ed as a Cardinal wide receiver in the early 1990s.
-- David Lombardi
Washington: Keith and Kendyl Taylor
Holidays and family gatherings in the Taylor household get a little intense. There's Kendyl, a sophomore who has one touchdown and four receptions for Washington this season, his older brother Kerry, who played at Arizona State and is now on the Jaguars' practice squad. There's their father, Keith, who played at Illinois and then in the NFL for nine years and their uncle John, who a three-time Super Bowl champion and two-time Pro Bowler.
It's intense, and the trash talk flies. Bowling, beach volleyball, any activity -- it's all competitive.
The experience has given Kendyl a fountain of knowledge in which to tap. He can go to his dad, who played safety in the pros, to get his thoughts on routes and coverages. But typically, he goes to Kerry, who finished his career at ASU in 2010.
"He's one step ahead [of me]," Kendyl said. "He has been through these shoes more recently."
Kendyl has been able to see only some of his dad's highlights from Illinois ("With VHS, they're hard to go back and find," Kendyl admitted), though the conversation came up earlier this year as Kendyl's Huskies prepared for the Illini in Week 3.
And in a one-on-one matchup between the current college WR and his dad, during his prime at Illinois?
"Obviously, he would say he would win, I would say I would win," Kendyl said. "Unfortunately, we can't compete at our primes but it definitely would be interesting."
-- Chantel Jennings
Washington State: Peyton and Scott Pelluer
Washington State linebacker
Peyton Pelluer
has one of the most interesting distinctions in all of college football: He's a fourth-generation WSU football player. No, really. His father, Scott, played linebacker for WSU from 1977-80 before a five-year NFL career with the New Orleans Saints. His grandfather, John, was an end for the Cougars from 1953-55 and his great grandfather, Carl Gustafson, was a flanker for the team from 1925-27.
So with all that history, Pelluer was basically groomed to become a Coug, himself, right? Well, not quite.
"My dad coached at [Washington] for two stints so I grew up, basically, a Husky -- running around the facility over there," Pelluer said. "Honestly, I had more Husky gear in my closet than Cougar gear when I committed."
In fact, none of Pelluer's three older siblings went to WSU and his older brother Cooper played football for the Huskies. But once Pelluer realized he was going to get a shot to play college football, he took a visit to Pullman and made the realization he wanted to keep the family tradition alive.
"Once I took my official visit, I realized this was a special place," Pelluer said. "My dad would have supported me wherever I went, but I thought it would do them [father, grandfather, great grandfather] justice if I came here to play and became a fourth-generation Coug."
A redshirt freshman, Pelluer has six tackles this season.
-- Kyle Bonagura
Who Is The Heisman Front Runner?
PAC-12 SCOREBOARD
Thursday, 10/2
Saturday, 10/4