August, 25, 2014
Aug 25
10:55
AM ET
August, 25, 2014
Aug 25
10:00
AM ET
A week from now, there's certain to be at least some fretful handwringing, but for at least three more days, every Pac-12 team remains undefeated, flushed with hope and imaging an entitled grabbing all of its 2014 goals.
While the FBS season officially kicks off on Wednesday with Abilene Christian at Georgia State, things truly get rolling on Thursday. The A-list national game is Texas A&M's visit to South Carolina -- the Post Johnny Football Era begins with a whipping from Coach Spurrier -- and the Pac-12 features three matchups, though only one of notable quality with Rutgers playing Washington State in Seattle at CenturyLink Field.
In less scintillating action -- but action, nonetheless -- Idaho State visits Utah and Arizona State plays host to Weber State.
[+] Enlarge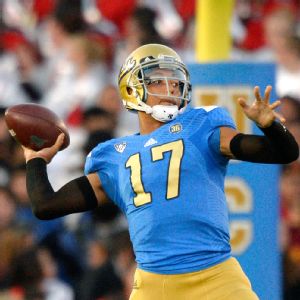 AP Photo/Mark J. TerrillHeisman Trophy candidate Brett Hundley and UCLA travel to Virginia -- 2-10 last season -- on college football's opening weekend, and other Pac-12 matchups aren't nearly as interesting.
And so it begins, the 2014 season, our first with a new four-team College Football Playoff, a highly-promising campaign for the Pac-12, at least based on preseason expectations. The conference features six teams ranked in the preseason polls, including three teams in the top 11, which makes Oregon, UCLA and Stanford playoff contenders. Ducks QB
Marcus Mariota
and Bruins QB
Brett Hundley
are both top Heisman Trophy contenders.
In three consecutive evenings of college football -- yes, there are even two games on Friday night -- every Pac-12 team plays. No lame first-week byes here. The marquee matchup? Well, hmm... if it's not the aforementioned showcase of
Mike Leach
's Cougs and Rutgers, a newly minted Big Ten team, then perhaps its No. 7 UCLA's visit to Virginia or California's redemption tour beginning at Northwestern.
Don't form too many overriding judgments about those two seeming mismatches. Virginia, though coming off a 2-10 season, is not devoid of talent and experience, see 17 returning starters. The Bruins will be making a long trip and are laden with considerable preseason hype, both as a team and with Sports Illustrated cover boy Hundley. It's possible they might press a bit, at least early, before settling down.
As for the Bears, don't write them off. Though Cal lost to the Wildcats 44-30 last year in Berkeley, the game was tied in fourth quarter, with Northwestern benefiting from two pick-sixes off deflected passes. Further, it's been a fairly
tumultuous offseason
for Northwestern.
Suffice it to say the Pac-12 is not afraid of the road. With Washington visiting Hawaii, that makes five conference teams opening away from their home stadium, as Colorado plays Colorado State on Friday in Denver.
The Huskies visit to Hawaii is interesting because it will be the debut of coach Chris Petersen, who has jumped from the mid-majors at Boise State and the Mountain West to arguably the nation's toughest conference. Another level of intrigue in that game is QB
Jeff Lindquist
. He was named the Huskies starter last week, but it remains to be seen if that is only because
Cyler Miles
is yoked with a one-game suspension. Is Miles actually the guy? And what if Lindquist is lights-out against the Warriors? The broader issue for the Huskies is who starts at home on Sept. 6 against Eastern Washington.
Wait. Did someone mention Sept. 6? Ah, yes, well that is the day when the Pac-12 slate really heats up. It features: 1. The Pac-12's nonconference game of the year (Michigan State at Oregon); 2. A big-time conference matchup between USC and homestanding Stanford.
Yet, we can't get ahead of ourselves, so we apologize for whetting your appetite with those two gourmet football
entrées. As you well know, we play one game at a time in the Pac-12 blog. Each game is a Super Bowl unto itself.
Heck, first new USC coach Steve Sarkisian needs to make his own debut after moving south from Seattle, a homecoming of sorts for a guy who ran Pete Caroll's offense during the Trojans recent dynastic run. USC plays host Saturday to Fresno State, the very team the Trojans whipped in the Las Vegas Bowl, only now without QB
Derek Carr
and WR
Davante Adams.
Finally, Arizona will be featuring a new starting QB against UNLV on Friday night. Rich Rodriguez, as of this typing, hasn't named who that will be, and it's possible that the opener against the Rebels will showcase more than one guy and a permanent arrangement might be a few weeks coming. We shall see.
It's not the best slate of opening week games from a Pac-12 perspective. It only will be slightly revealing. At least, that's the hope, as more than one defeat could feel deflating. Cal is the only underdog.
But it's college football. It's what we've been waiting for since Florida State slipped Auburn on Jan. 6.
And I've got a feeling it's going to be a special season for your team.
August, 25, 2014
Aug 25
8:30
AM ET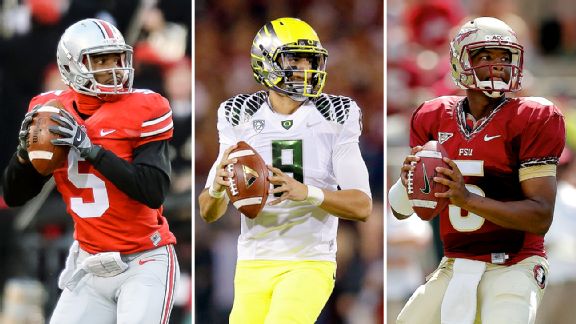 Getty ImagesSchools sell multiple jerseys with the numbers of Braxton Miller, Marcus Mariota and Jameis Winston.
Ohio State quarterback Braxton Miller missing the season could hit the school, retailers and Nike in the wallet.
Only four players in all of college football are more merchandised than Miller, according to jersey options matched to the most marketable players that are being sold on official school website stores.
Oregon is selling 25 different jerseys, counting colors and sizes, of No. 8, quarterback Marcus Mariota.
Michigan offers 17 different versions, in blue and white, in infant, youth, toddler, women's and men's cut, of No. 98, worn by its quarterback Devin Gardner.
Notre Dame has 15 different jerseys of its quarterback Everett Golson, who wears No. 5.
The University of Alabama website features 10 different jersey choices of No. 4, the same number worn by its star running back T.J. Yeldon.
Ohio State's official store is selling seven versions of Miller's No. 5.
That's even more jersey options (six) than Florida State fans have of No. 5 to choose from, the number worn by Heisman Trophy winner Jameis Winston.
The NCAA and its schools have long contended that numbers don't necessarily correspond to current players, but common sense, as proven by all the cases above, suggests otherwise.
While players one day might be able to realize a percentage of the business from their jersey sales, the recent O'Bannon ruling did not include commentary on this area.
It's not known how many No. 5 Ohio State jerseys have been produced for this season, but Miller's absence will be the biggest hit to the college jersey marketplace in two years. In August 2012, LSU safety Tyrann Mathieu was dismissed from the team weeks before Baton Rouge retailers got their shipment of No. 7 jerseys. The number is finally fashionable again thanks to it being given to Leonard Fournette, the nation's top running back recruit.
August, 25, 2014
Aug 25
8:00
AM ET
Why bats, Master Wayne?
Bats frighten me. It's time my enemies shared my dread.
Leading off
We had a taste of college football this weekend with Eastern Washington (which travels to Washington on Sept. 6) knocking off Sam Houston 56-35. Former WSU receiver
Blair Bomber
caught a pair of touchdowns, and former UCLA safety
Tevin McDonald
had an interception.
But with college football comes the return of College GameDay. And with the first College GameDay comes predictions.
Lee Corso, Kirk Herbstreit and Desmond Howard all picked UCLA to win the Pac-12, and Corso and Howard tapped the Bruins as 2014 national champions.
And in other predictions news, Herbstreit is down on the Ducks and neither he nor David Pollack think Oregon will make the College Football Playoff.
Here's the video of those two and Scott Van Pelt debating Stanford.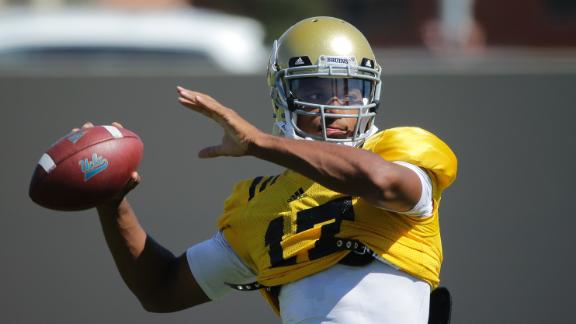 Players in the news
If you follow the Pac-12, then you haven't forgotten about
Austin Hill
. But the rest of the country might have. After having one of the best receiving seasons in school history, Hill returns after missing all of last season with a torn ACL he suffered in the spring. He chatted with Daniel Berk about his return.
You can see the
complete Q&A here
.
In unhappy player news ... one Washington player
has been dismissed and another suspended
for violating team rules.
Freshman safety
Lavon Washington
is the third player coach Chris Petersen has bumped since he was hired in December after Steve Sarkisian departed for USC. Backup tight end
Derrick Brown
has also been suspended indefinitely for a situation unrelated to Washington's.
Petersen's first few months on the job have been overshadowed by off-the-field incidents. Quarterback
Cyler Miles
is suspended for the season opener and wide receiver
Damore'ea Stringfellow
transferred out after both were tied to a post-Super Bowl assault incident. Miles wasn't charged, and Stringfellow pled guilty to three misdemeanors.
Jeff Lindquist
will get the start for the Huskies
against Hawaii. After that, we'll see if Miles plays his way back into the job.
If you're a Washington fan, it's frustrating. But you also have to respect the hardline approach Petersen is taking.
News/notes/team reports
Just for fun
Welcome to game week.
Gotta love the Scooter with his headgear selection. It's game week!!! Let's Go!!! #areyouin?! pic.twitter.com/JlMVVaYVPc

— Kirk Herbstreit (@KirkHerbstreit) August 24, 2014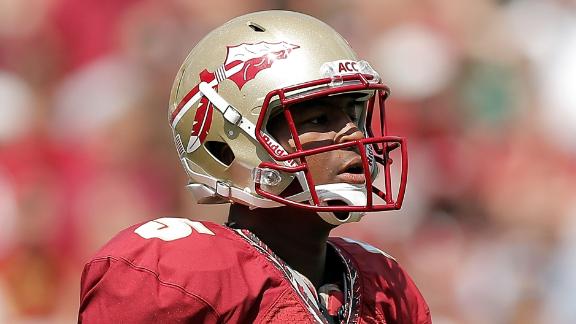 August, 23, 2014
Aug 23
8:35
PM ET
By
Conor Nevins
| ESPN.com
It's widely accepted that the
Pac-12 ranks second to the SEC
among the Power Five conferences. ESPN The Magazine wondered whether the Pac-12 could narrow that gap in 2014 by examining how the two conferences stack up according to four factors, conveyed through an infographic: quarterback play, defensive line, recruiting and coaching.
Last up: which league has the better coaching pedigree?
From The Mag
:
This offseason, Nick Saban campaigned in vain for a rule to slow up-tempo offenses. Seems that the fast pace popularized in the Pac-12 prevents certain defensive-minded coaches from subbing at will. In 2013, eight Pac-12 teams averaged fewer than 25 ticks per play, compared with four SEC squads. An influx of innovative coaches has made the Pac-12 more competitive across the board, and Chris Petersen's move to Washington will only heat things up more. As it stands, when it comes to titles, no one holds a candle to Saban and Les Miles (five combined). As Huard says: "It's like old guard vs. new startup." Advantage: Push. See you in January.
August, 23, 2014
Aug 23
5:20
PM ET
By
Conor Nevins
| ESPN.com
It's widely accepted that the
Pac-12 ranks second to the SEC
among the Power Five conferences. ESPN The Magazine wondered whether the Pac-12 could narrow that gap in 2014 by examining how the two conferences stack up according to four factors, conveyed through an infographic: quarterback play, defensive line, recruiting and coaching.
First up is a quarterback comparison.
From The Mag
:
If ever there was a year for the Pac-12 to sneak past the SEC, it's 2014: A&M loses a Heisman-winning QB (Johnny Manziel), Alabama a two-time titlist (AJ McCarron) and Georgia its all-time leader in passing yards and TDs (Aaron Murray). "Compare them apples to apples and the Pac-12 is what the SEC was a year ago -- with even more upside," Huard says. "It's mass productivity across the board." ASU's Taylor Kelly (4,243 total yards in one year), OSU's Sean Mannion (400 completions) and WSU's Connor Halliday (five games with four-plus TDs in '13) prove there are stars beyond Marcus Mariota (Oregon), Brett Hundley (UCLA) and Kevin Hogan (Stanford). Advantage: Pac-12.
August, 22, 2014
Aug 22
8:00
PM ET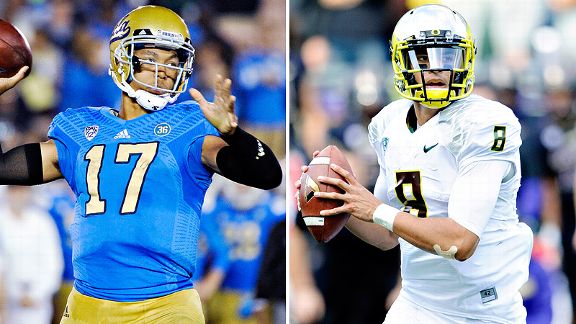 USA TODAY SportsBrett Hundley and Marcus Mariota are the Pac-12's best contenders for the 2014 Heisman Trophy.
Not only does late August bring a crush of previews, predictions and all-angles analysis of games that have yet to be played, it also means it's time for the requisite "Pac-12 player-to-be-named is the Heisman frontrunner" column.
Bring it on,
Matt Barkley
. All in for
Andrew Luck
. Ain't no one stopping
Toby Gerhart
. Yeah, we've tapped this dance before. But the last few years, the end result has been a lonely solo.
Pac-12 Heisman contenders usually enter the season with considerable hype. And that makes sense given the offensive prowess of the conference. After all, you can eliminate half of the college football population since it's essentially an offensive award. And it stands to reason that the conference known for its innovative offenses and playmakers also produces frontrunners. But lately those frontrunners have been afterthoughts by Black Friday.
No doubt about it, the Pac-12 is in a Heisman drought. The pursuit of a stiff-arm-player has been met by, well, stiff-armed-voters.
The current slump isn't as bad as the 27-year drought from when the award was first given out in 1935 to the time Oregon State's Terry Baker won in 1962. And it's not as long as the 21-year gap between Marcus Allen in '81 and
Carson Palmer
in 2002 (sorry Pac-12, you don't get to claim Rashaan Salaam in '94).
The last "official" Pac-10/12 player to win the Heisman Trophy was USC quarterback Matt Leinart in 2004, so we're coming up on a decade. There was, of course, the vacated winner of 2005 –
Reggie Bush
– whose exploits have been wiped from existence.
And so have the trophies.
Bush and USC have returned their cast-bronze mementoes to the Heisman Trust. And a Heisman spokesman was extremely tight-lipped when asked about their location, saying only that they were "locked away in a secure area." No doubt they're being watched over by Tupac and the Knights Templar, along with the location of Atlantis and the alternate ending to "The Sopranos" that we all really want to believe exists. Don't stop believin'.
According to one report
, it's in a storage unit in New York. I imagine it looking something like
this
... where it's being examined by ... top men.
If the previous few years fell under the category of "good chance" for the Pac-12 to win a Heisman, then 2014 certainly has to be considered a "great chance." With 10 returning starting quarterbacks bringing national attention to the league, it's two who are taking center stage -- the
Oregon Ducks
' Marcus Mariota and
UCLA Bruins
' Brett Hundley.
Both are exciting, dual-threat athletes who are going to put up those monster offensive numbers that Heisman voters gravitate toward. And while the specter of Bush's Heisman season is just that, the national media seems to have come around to the idea the Pac-12 is in the conversation for top conference in college football because of its schedule, its depth and -- above all -- its quarterbacks.
Just as the Pac-12 is a quarterback-driven league, the Heisman has turned into a quarterback-driven award. Every winner since 2000 has been a quarterback except for
Mark Ingram
in 2009. The spread offense opened up all sorts of possibilities for voters because offensive totals once thought unimaginable are now standard operating production for elite dual-threat quarterbacks. The idea of a player throwing for 3,000 yards and 25 touchdowns and rushing for 700-plus yards and 10 touchdowns once boggled voters' imaginations. Now it's expected of a Heisman winner -- widening the gap even further between quarterbacks and all other position groups.
Fortunately for the Pac-12, they have a pair of guys who match the profile. Last season, Mariota passed for 3,665 yards and threw 31 touchdowns to four interceptions. Hundley threw for 3,071 yards and 24 touchdowns to nine interceptions. Mariota rushed for 715 yards and nine scores. Hundley added 748 yards and 11 touchdowns on the ground.
It helps, too, that both players lead teams ranked in the preseason top 10. And both players have high-profile nonconference games early in the season that will draw the eyes of voters East of Lake Tahoe.
Nor does it hurt that both Hundley and Mariota have squeaky clean records, as far as we know. Consider three of the past four winners --
Jameis Winston
,
Johnny Manziel
and
Cam Newton
-- all had off-field question marks, be it legal or otherwise. Perhaps character will play into Decision 2014? After all, the word "integrity" appears twice in the Heisman Trust mission statement. From what we've seen from Mariota and Hundley so far, they fit the bill.
Both players have said numerous times over the past eight months that they are prepared for the onslaught of attention that comes with a Heisman-contending candidacy. Both passed up being first-round NFL draft selections in 2014 to finish their time at school and end their careers -- both hope -- with a trip to the first College Football Playoff.
And in doing so, one of them might also end the Pac-12's Heisman drought.
August, 22, 2014
Aug 22
6:00
PM ET
Welcome to the last football-less Friday mailbag of the year.
Oh. The anticipation.
You can follow me on Twitter here
.
To the notes.
Elliot from Oregon writes:
Give me your boldest prediction for anything PAC12 related. Don't be shy, Ted.
Ted Miller:
Oh, I don't know Elliot. You want me to have an opinion on something and announce it publicly? That sounds pretty scary. What if someone disagrees with me? Or what if you guys start arguing the relative merits of my point and someone gets cross? What if it gets out on Twitter and someone trolls me or writes the dreaded, "Your an idiot" [sic].
Funny you should ask, because we will have Bold Predictions from your entire ESPN.com Pac-12 family -- the #4pac! -- on Tuesday. But I will venture forth with one -- OK three! -- before I blush, effervesce with giggles and canter shyly away.
1. The Pac-12 will go 3-0 against Notre Dame (Arizona State, Stanford and USC).
2. No Pac-12 coach will be fired during or after the season.
3. Ted Miller will be wrong.
OK, I realize the third one is pretty out there, but I've got a feeling it finally happens this year. Maybe.
---
Brett from Portland writes:
Team X is playing in the national championship and you get to choose one Pac 12 coach to coach that team. Who do you choose?
Ted Miller:
I can't choose Chip Kelly, right?
I had an immediate response: Stanford's
David Shaw
. He's been there, see three consecutive BCS bowl games, and he's 14-4 against top-25 teams, best winning percentage in the conference.
Then I rifled through the other options, and the Pac-12 has a lot of good ones. Chris Petersen also has BCS bowl game experience. As does Rich Rodriguez, a guy who really knows how to game plan the heck out of teams with better talent. Not unlike Petersen.
Then I thought about Jim Mora, who I'm not sure won't be the first Pac-12 coach to win the College Football Playoff.
Then I thought about coaching staffs as a whole. Does Shaw get a knock because Derek Mason is head coach at Vanderbilt and no longer coordinating the Cardinal defense? I really like Rich Rod and Mora's staffs. And then I went, wait, what about Todd Graham at Arizona State? Has anyone done a better job over the past two seasons than Graham and his staff?
Then I thought Brett and the rest of you might fall asleep while I dithered on this.
So I'm going with Shaw. Track record. Big football brain. Unwavering core beliefs. And, as a very minor consideration, he gets a boost here for being so accommodating and insightful during interviews.
---
Patrick from Seattle writes:
With a senior-led d-line, experienced and talented linebackers, and a lockdown corner in Peters, how good can the Huskies D be?
Ted Miller:
You remember the 1985 Chicago Bears? Well, imagine that unit if it also had Lawrence Taylor.
Go run into a brick wall 10 times.
Done? That's what it's going to be like playing against the Huskies this fall.
It's hard not to like the UW front seven. It's got size with 330-pound defensive tackle
Danny Shelton
and production with end
Hau'oli Kikaha
, the best returning pass-rusher in the conference. At linebacker, there is experience and high-end athleticism, led by potential first-round draft pick
Shaq Thompson
.
While the depth is a little questionable, I'd rate that starting crew the best in the Pac-12. Yes, better than Stanford, USC and UCLA.
The secondary is the question. Peters is an A-list cornerback, an All-American candidate, but the other three spots are going to be young and unproven. Not necessarily untalented, mind you -- see youngsters like true freshman
Budda Baker
and redshirt freshman
Jermaine Kelly
-- but you don't know about a unit until, well, you know.
Of course, an outstanding front-seven is a great thing to have when you are young in the back half. Leaving youngsters exposed for more than four seconds can be catastrophic in a league as deep at quarterback as the Pac-12. Not sure this crew up front for the Huskies will do that very often, which will make life much easier for the defensive backs.
As big a question as the secondary is new coordinator Pete Kwiatkowski, who Petersen brought over from Boise State. He's replacing Justin Wilcox, one of the best in the business, a guy who transformed a poor-to-middling unit into one of the best in the Pac-12. Kwiatkowski has lots of new toys to play with, but has never coached against the talent -- player and coaching -- that he will now square off with on a week-to-week basis.
So how good? At the very least, Huskies fans should expect to better last season's strong numbers -- 22.8 points per game; 5.0 yards per play -- which ranked fourth and tied for third in the conference. If that happens, you would have to think the Huskies will be a factor in the North Division race.
---
Troy from Tacoma writes:
Ted, as we sit here a week out from the kickoff of the college football season, and since there are a few Pac-12 games next Thursday, it is safe to say that there won't be a Best Case-Worst Case section for each team. Honestly, reading those was my favorite part of this blog, and really got the blood flowing that the season was near. Just wanted to voice my disappointment with whoever made the decision to discontinue that part of the blog. That's all, have a good final game-less week.
Ted Miller:
I truly appreciate all the notes on this, even though it seems a lot of you are angry I -- yes it was my call -- opted to end the series.
As noted before, this was simply a case of a series running its course after four years.
If you are nostalgic,
just re-read last year's efforts
, and those also include links to previous years.
August, 22, 2014
Aug 22
3:30
PM ET
The Pac-12 is blessed with an abundance of returning starting quarterbacks in 2014. With 10 starters coming back, many are wondering if the league is on pace for its best quarterback year ever. We conclude the 10-part series with Oregon quarterback
Marcus Mariota
.
Name
: Marcus Mariota
School
: Oregon
Grade
: Junior
[+] Enlarge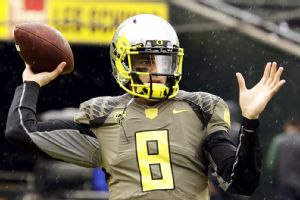 AP Photo/Don RyanAfter a stellar first two seasons, expectations for Oregon junior quarterback Marcus Mariota are higher than ever.
2013 passing stats
: Completed 245 of 386 passes (63.5 percent) for 3,665 yards with 31 touchdowns and four interceptions. Posted a raw QBR of 84.2 and an adjusted QBR of 88.0.
Career passing stats
: Has completed 475 of 772 passes (65.8 percent) for 6,342 yards with 63 touchdowns and 10 interceptions. Has a raw QBR of 83.3 and an adjusted QBR of 87.2.
2013 rushing stats
: Rushed 96 times for 715 yards with nine touchdowns.
Career rushing stats
: Has rushed 202 times for 1,467 yards and 14 touchdowns.
What you need to know about Mariota
: Following the departure of Darron Thomas, Mariota was locked in a nearly eight-month competition with
Bryan Bennett
. Mariota winning the job was considered a mild upset at the time because many thought it would be Bennett, considering he'd backed up Thomas and saw action in nine games the previous season. But a week before the start of the 2012 season, then-coach Chip Kelly pulled the trigger on Mariota, and the Ducks have benefited with a 23-3 mark with him as the starter. He's a heavy Heisman favorite heading into the season, and many are predicting him to be the No. 1 pick in the 2015 draft.
Career high point:
Mariota has been lights out against nearly every Pac-12 team, save last year's loss to Arizona and a pair of losses to Stanford. He's bested Washington twice with eight passing touchdowns (plus one rushing) to one interception in two games. He's topped UCLA and won a pair of bowl games. He's been so good in so many games, but for now we'll pick winning the 2013 Fiesta Bowl over Kansas State as a high point. The only thing left to accomplish (besides a national championship, an annual expectation in Eugene) is to get over the Stanford hump. The Cardinal have limited him to just 57 percent passing and three passing touchdowns in two games.
Career low point
: Either Stanford game would be a suitable choice. Both times the Ducks were undefeated and on their way to a potential spot in the BCS national championship. But the loss to Arizona last season was a stinger for Mariota and the program. He saw his interception-free streak come to an end by tossing a pair of picks (though he did throw two touchdowns), and the loss knocked Oregon out of the Pac-12 championship game and out of an at-large berth in a BCS bowl. It's worth noting that he played through a knee injury in the final six games of last season.
When he was a recruit:
Few recruiting classes provide specific positions with more talking points than Oregon's quarterback chase in the 2011 class. At one point, the Ducks held commitments from Jerrard Randall and Johnny Manziel, as well as a third quarterback. After Manziel decommitted and Randall didn't qualify, the Ducks were stuck with the third guy, the No. 123 signal-caller in the country, the lowest-rated commitment in the Ducks' class -- some kid named Marcus Mariota. Oregon extended the offer before Mariota ever took a snap as a starter and the quarterback committed to the Ducks prior to his senior season. His ESPN Recruiting Nation profile doesn't exactly project greatness -- few outside of the Oregon coaching staff did at the time -- but it did hit on some key points. "Mariota is a tall and lanky quarterback prospect that is part pocket passer and part runner as he is really athletic ... Mariota could be a guy that develops later down the road and needs to be in the spread offense where he can use his athleticism."
Opposing head coach's take
: "He's the best quarterback in the nation. And I think the last couple years he's been the best quarterback in the nation. I don't care what they say about anybody else. Tall, fast, athletic, accurate, strong arm, great decision-maker, great kid. He's one of those guys that you root for until you have to play him. Then you're scared to death of him."
Scouts' take:
A humble and charismatic individual. The entire athletic department and school faculty speak highly of him. On the quiet side by nature but a strong leader by example. Has become more vocal as he gains experience and showed willingness to get in teammates' faces last year. Excellent work ethic. Willing to put the necessary time in and pay the price. ... A highly competitive and even-keeled player who rarely seems rattled on tape. Benefits from spread, uptempo attack that simplifies reads and creates bigger throwing windows. Has been a very sound decision-maker throughout his first two years as a starter (63-to-10 TD-to-INT ratio). Still will take unnecessary risks at times with late throws he should not make. ... Has a unique ability to deliver accurate throw on the run or from an unbalanced platform. Improved deep-ball projection and overall accuracy. ... Dynamic athlete who has the ability to put stress on a defense with his mobility, both as a thrower and a runner. Very good body control and balance when evading pressure and has excellent escape ability. Has natural improvisational instincts when working off schedule. Above-average elusiveness and rare straight line-play speed. Has a very similar running style to
Colin Kaepernick
in terms of stride length and deceiving straight-line speed to ruin pursuit angles.
What to expect in 2014
: Is it too much to ask for a Heisman? Because that's the national expectation for Mariota. It's not his -- or at least something he thinks about (according to multiple interviews) -- but that's how the rest of the country sees him. It's more than fair to say Heisman voters were turned off after Mariota suffered a partially torn MCL against UCLA (which was kept quiet for as long as possible), which contributed to losses against Stanford and Arizona. Before that, he was the runaway winner. This season should provide more of the same. Accuracy, efficiency and dazzling dual-threat numbers that make voters gush. But bigger than personal accolades, Mariota returned because of how the Ducks finished the last two seasons. As noted, he's yet to beat Stanford and thus, he's yet to win a Pac-12 championship. The Ducks are again the favorites heading into the season. He lost a key receiver in
Bralon Addison
and a key lineman in
Tyler Johnstone
to unfortunate preseason injuries. But there is more than enough speed and talent around him for Mariota to elevate the play of his teammates. Mariota is possibly the best player in the country. And the Pac-12 blog expects him to live up to that hype in 2014.
Erik McKinney and Kevin Weidl contributed to this report.
August, 22, 2014
Aug 22
2:46
PM ET
The Pac-12 has started to make a move up in my toughest conference standings as it placed a conference-record six teams in last year's final top 25. The only thing holding back the conference is winning a national title, which it hasn't done since USC won it all in 2004. However, this year the conference has two legit national title contenders in UCLA and Oregon, while two-time defending champ Stanford and a rising USC squad are right behind them.
Also notable this year for the Pac-12 is QB play, as the conference easily has the strongest group of quarterbacks of any conference in the country. The Pac-12's teams return eight of their top nine QBs in pass efficiency, including five that ranked in the NCAA's Top 30.
Here are my 2014 projected Pac-12 standings and overall records.
---
South Division
Projected Record: 11-1
Toughest games: Oregon (minus-3), at Washington (minus-3)
UCLA's 17 returning starters are the most in the Pac-12 as the Bruins get back their top four rushers, five of their top six receivers and 10 of their top 14 tacklers -- including their entire secondary -- which I rank sixth best. Not to mention that Brett Hundley is one of the most experienced and talented QBs in the country. I have the Bruins favored in every game; they get Oregon, Stanford and USC at home. But I have them as a TD-or-less favorite in six games and only a field goal favorite against Texas (at AT&T Stadium), at Washington and against Oregon. It is likely they drop one of those games.
August, 22, 2014
Aug 22
1:58
PM ET
MARCUS MARIOTA appreciates the irony.
The Oregon Ducks quarterback turned down the 2014 NFL draft to return for a fourth season in Eugene. Why? A pile of reasons, really.
He wants to win a Pac-12 championship, something the team hasn't done on his watch. He wants to lead the Ducks to 12 wins, which they failed to reach in 2013 -- the first time in four seasons they fell short. He wants to helm Oregon to a slot in the inaugural College Football Playoff, giving the school its first shot at a national title since its heartbreaker BCS championship loss to Auburn in 2010.
And he really wants to earn his college degree. Enter the irony.
"I'm really interested in sports medicine," Mariota explained during one of a handful of summertime media appearances, his polite, gentle voice barely moving the meter on the device recording him. "I was able to sort of intern with the sports medicine department at the university, to get a lot of insight about what that kind of work entails."
Like how to repair a dinged up medial collateral ligament?
"Yeah," he laughs, reaching down to rub his left knee. "Like that."
It was that pesky MCL, hurt during a 42-14 romp of then-No. 12 UCLA, that helped derail the Ducks' 2013 season. The injury forced him into a knee brace. And that knee brace spelled trouble for the QB's dual-threat game. In the season's first seven contests, he averaged 70 rushing yards per outing. In the two games after UCLA -- at Stanford and at home against Utah -- he ran for minus-34 yards. Then Mariota, who hadn't thrown a pick all year, gave up two interceptions against Arizona. Oregon lost two of those three and had to settle for the Alamo Bowl. But even a 30-7 rout over Texas couldn't lessen the sting of a disheartening finish: It was the Ducks' first non-BCS bowl berth in five years.
#AskSportsCenter With Paul Finebaum
PAC-12 SCOREBOARD
Thursday, 8/28
Friday, 8/29
Saturday, 8/30