December, 19, 2014
Dec 19
3:00
PM ET
Has this been the greatest season in Pac-12 history? The jury is still out on that front, as bowl games remain to be played, and Oregon is tasked with carrying the conference flag into a playoff battle with the nation's big boys. But after a captivating regular season, the conference is undoubtedly in strong position entering this final foray.
The 2014 ride -- typically unpredictable, frequently stunning, always entertaining -- has been bathed in a downright surreal aura throughout (see #Pac12AfterDark). We want to commemorate the Paction, so we've assembled a list of the top 15 moments that defined this bizarre Pac-12 campaign while making an impact on its eccentric, memorable course.
Here is the final installment, featuring our three top plays from the 2014 Pac-12 season:
3. The play of polar opposites: Kaelin Clay fumble; Joe Walker TD return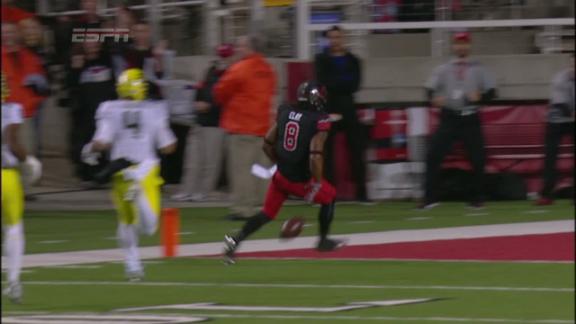 This has to be the ultimate "what if?" play of the Pac-12 season, and that is saying something. Yes, Oregon might have won anyway without Utah wide receiver Kaelin Clay's help in early November, but the journey to do so would have been exponentially more difficult. And a Utes' win would have drastically changed the complexion of the Pac-12 South title race and the inaugural College Football Playoff.
Early in the second quarter, Clay hauled in a deep post from
Travis Wilson
and sprinted toward paydirt. A jubilant Rice-Eccles Stadium shook celebrating what initially looked to be a 79-yard touchdown catch that would have positioned Utah for a 14-0 lead.
But one not-so-minor detail stood in the way of that.
As part of his scoring celebration, Clay had dropped the football -- and he accidentally did so before he had crossed the goal line. So as Utah players were celebrating what they thought to be a touchdown, Oregon defenders were scrambling to recover a fumble. Linebacker Joe Walker eventually secured the ball and ran 99 yards in the opposite direction, scoring to tie the game while creating a signature #Pac12AfterDark moment of mass confusion.
This broke the mayhem gauge: There was a point in time when Utah and Oregon were both simultaneously celebrating 100 yards apart in opposite end zones.
Only the Ducks' party lasted. Instead of trailing 14-0 in the teeth of a ferocious defense playing in front of its electric Salt Lake City crowd, Oregon was suddenly even with the Utes. Walker had sprinted 180 yards on one play -- 80 from the line of scrimmage to pick up the fumble at the goal line, and 100 more to score the other way -- but he was the energized one after the play, while Utah was deflated. The Ducks went on to win 51-27, and the rest was history.
2. The Jael Mary
Before the night of October 4, 2014, we were still oh, so naive. We thought that there was no way a successful Hail Mary could decide a game at the gun more than once per decade. We thought a nine-point lead with three minutes remaining at home against a backup quarterback was ... relatively safe?
But then October 4 happened, and nothing was the same. The practice of expecting conventional finishes in this conference died in the Los Angeles Coliseum on that night. Arizona State and USC played a game which saw Pac-12 end-of-game eccentricity go from being a rare spectacle to a regular occurrence.
Javorius Allen
's 53-yard touchdown run gave USC a 34-25 lead with 3:02 remaining and Troy celebrated, unaware that ASU quarterback
Mike Bercovici
was about to rack up 145 yards over his next three completions. The first was a 73-yard touchdown strike to
Cameron Smith
. That made this a two-point game with 2:43 remaining.
But the Trojans recovered the ensuring onside kick, and ASU didn't have any timeouts left. So nothing to sweat for Steve Sarkisian, right?
Well, nothing except for the ultimate rip-your-heart-out finish. After a USC three-and-out, ASU took over at its own 28 with 23 seconds remaining. A 26-yard pass to Smith positioned the Sun Devils for a final gasp as time expired.
Jaelen Strong
plucked Bercovici's Hail Mary heave out of the air and hopped into the end zone, sending the Coliseum into shocked silence, leaving the hometown fans wondering why USC hadn't seemed interested in covering one of the country's best receivers?
As is the case with so many #Pac12AfterDark questions, there is no satisfying answer. There is only a legendary result, and this one is immortalized as the Jael Mary. Arizona State 38, USC 34.
1. The Hill Mary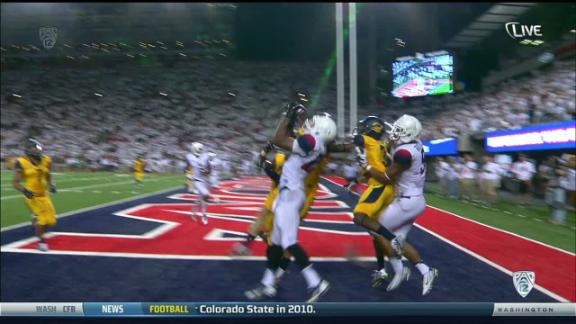 The Jael Mary has an ancestor, and it also Hails (pun intended) from the state of Arizona. Two weeks before the Sun Devils snatched victory from the jaws of defeat in Los Angeles, Arizona did the same thing against California. The difference: The Wildcats put on their show at home, sending a stadium into delirium, and they did it first. Arizona's last-second heroics also were a determinant in their Pac-12 South championship and Cal's failure to make a bowl game, so they beat out their Tempe rivals on this list.
The climactic play of this game was only the final piece of an absolutely sensational Wildcats' rally. Cal led 31-13 entering the fourth quarter, and it's not as if the Golden Bears suddenly stopped scoring to blow their lead: Sonny Dykes' club actually registered two insurance touchdowns in the quarter. But this insurance policy wasn't big enough to withstand a 36-point Arizona fourth quarter.
The Wildcats scored, and they scored furiously fast. A
Casey Skowron
field goal. A
Tra'Mayne Bondurant
interception followed by an
Austin Hill
touchdown. A
Cayleb Jones
touchdown. A
Terrence Jones
-Grigsby touchdown. An onside kick recovery. Another Jones touchdown.
Even after that flurry, Arizona still trailed 45-43. It failed a two-point conversion that could have tied the game with 2:44 remaining. Cal regained possession with a chance to seal the game, but the Wildcats kept kicking.
With under a minute left, Dykes elected to try a 47-yard field goal, but this turned out to be an ill-fated decision.
James Langford
missed, and Arizona got one final chance with 52 seconds left. Facing a fourth-and-7 from his own 33, quarterback
Anu Solomon
found Hill for a 20-yard gain that moved the ball to the Bears' 47. He then spiked the ball with only a precious few ticks remaining, setting up our No. 1 moment of truth.
To signal in the obvious play call, Rich Rodriguez and his fellow coaches clasped their hands together in "Hail Mary" prayer fashion.
Cal only rushed three, and Solomon's 73rd and final pass of the night was also its most majestic, a soaring 50-plus yard lob that might have brought down rain had the game not been played in the cloudless desert.
"Halfway, and then three-quarters of way [into the throw's flight], I knew the ball was coming to me," Hill said. "I was just hoping no one bumped into me, or hit my elbow, or jumped on top of me so I could secure the catch."
Mission accomplished.
Hill Mary immortalized
. Arizona 49, Cal 45.
"Don't ever go home early," a beaming Rodriguez told a TV camera afterward.
Nope, don't do that. Not in this age of Pac-12 football.
Other impact plays
Drive Through: One-On-One With O'Leary
PAC-12 SCOREBOARD
Saturday, 12/20
Monday, 12/22
Tuesday, 12/23
Wednesday, 12/24
Friday, 12/26
Saturday, 12/27
Monday, 12/29
Tuesday, 12/30
Wednesday, 12/31
Thursday, 1/1
Friday, 1/2
Saturday, 1/3
Sunday, 1/4
Monday, 1/12