October, 23, 2014
Oct 23
6:00
PM ET
1. The popular knock on Utah stems from the fact that they only had 62 passing yards last week, but they keep finding other ways to win. Will the Utes' formula be enough in a big showdown against USC this Saturday?
Jennings/@ChantelJennings: I say yes. Utah's defense is going to be stout and Nate Orchard is going to have a monster game, getting after Cody Kessler. The Utes have the highest sack percentage (12.1 percent) of any team in the nation, and if we're doing over/under for 3.5 sacks from the Utes in this game, I'm going with the over. And with Kessler struggling, the Trojans will try to lean more on Buck Allen, but bad news for Buck. The Utes have the best run defense in the conference, allowing just 2.85 yards per rush (Stanford is in second with 2.89). They've given up just three rushing touchdowns (tied for fifth in the country). On top of that, Utah's special teams are going to ball out. USC has given up 13.3 yards per punt return (112th nationally) and have allowed almost one-fifth of kickoffs to be returned at least 30 yards. Kaelin Clay? Go for it … just leave out the Heisman pose this time. As long as Utah's offense is good enough (and with Devontae Booker coming off that Oregon State performance, I'm not super worried), the Utes take care of business.

Lombardi/@LombardiESPN: This will be a very close game, and although this whole Travis Wilson/Kendal Thompson quarterback shuffle isn't ideal (Wilson will start this week), Utah can succeed even with an anemic passing attack. That's because a strong rushing attack and a powerful defense form a potent combination. Booker has eclipsed the 150-yard mark in three consecutive weeks (he hit 229 yards his last time out), and that forms an intriguing matchup with a USC defense that has actually been good against the run since its debacle at Boston College. No discussion of Utah's chances is complete without an acknowledgement of #SackLackCity, the location of Saturday's game. Chantel mentioned Orchard; his 10.5-sack effort this season trails only Washington's Hau'oli Kikaha nationally. On a team-wide level, no one in the nation is even close to matching Utah's sack production, which stands at 5.5 per game. Second place is 4.0 sacks per game, and the Utes are on pace to post a staggering 71.5 sacks this season. The Trojans do have the athleticism to potentially burn Utah's ferocious pass rush, but it's really tough to bet against Kyle Whittingham's unit in its raucous home environment.
2. Rich Rodriguez vs. Mike Leach: How great offensive minds square off in the Palouse. How many points will we in Arizona-Washington State?
Jennings/@ChantelJennings: I don't think it'll be quite as crazy as Cal-Wazzu, but, I think we'll see at least 49 points combined.

Lombardi/@LombardiESPN: Well, Cal-Wazzu is an insane standard to live up to (119 combined points), but I think we're going to see some offensive madness in the Palouse. Both the Arizona defense (allowing 5.9 yards per play) and the Washington State defense (allowing 6.0 yards per play) rank near the bottom of the Pac-12 in that statistic, so that'll leave Leach and Rodriguez room to score. I have a feeling both teams will hit the 40s in this one.
3. Conversely, how few points will we see at Stanford-Oregon State? The Cardinal's defense had great success against Oregon State last year, but Stanford's offense is the Pac-12's worst in terms of scoring now, and the Beavers are playing solid defense.
Jennings/@ChantelJennings: Twenty-eight or fewer. I bet we'll see three touchdowns and maybe a field goal.

Lombardi/@LombardiESPN: Stanford is favored by 13 points here, and some jokesters on Twitter have asked if the number 13 is the spread or the over/under for this one. I think we'll see more points than people expect: The Cardinal will have receiver Devon Cajuste back, and they'll be missing key defensive linemen David Parry and Aziz Shittu. That should count for at least a few Oregon State points.
[+] Enlarge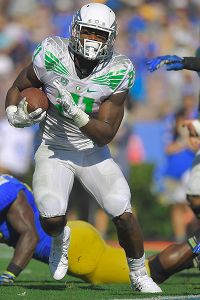 Mark J. Terrill/Associated PressRoyce Freeman has a bright future at Oregon.
4. Which freshman or sophomore in the conference will be an All-American by the time he graduates?
Jennings/@ChantelJennings: Oregon running back Royce Freeman. He's an absolute man-child. I saw him wearing a backpack one day and I thought it was a mini backpack because it looked so small on him. But then when I looked more closely I realized it was a normal backpack, it just looked mini-sized on him. But it's not just his physical size that makes him great. He's elusive. He's fast. His vision is improving. And if you look at the progress he has made from Game 1 to Game 7 of the Ducks' season, imagine what he'll do in the next two or three years.

Lombardi/@LombardiESPN: I like Chantel's pick. I also think that Arizona running back Nick Wilson is doing a heck of job carrying the freshman torch. His 6.4 yards per carry leads the the top Pac-12 running backs. And even though he's not as big as Freeman, Wilson still packs a physical punch -- just ask Ifo Ekpre-Olomu.
5. Statistically, Cal has the worst defense in the conference. If you could take any defensive player in the Pac-12 and put him on the Bears, who would you pick and why?
Jennings/@ChantelJennings: Initially I considered Washington's Hau'oli Kikaha, because any team would be better with him in its front seven. But I've decided to go with Washington linebacker Shaq Thompson. He doesn't lead the conference in tackles (that's Scooby Wright III), but he makes things happen on defense. And what I think Cal needs more than a stout pass rusher is a straight playmaker on the defensive side of the ball. The Bears have forced just nine fumbles and of those nine they've only recovered three. Thompson has forced and recovered three fumbles alone. I think he could make things happen for the Bears.

Lombardi/@LombardiESPN: The most valuable asset for a defense is a dangerous body that can attract and swallow multiple blocks, and no Pac-12 player provides more value in this regard than an athletic fire hydrant Danny Shelton: 339 pounds, 7.5 sacks, 12.5 tackles for loss. I'll let David Shaw's father Willie defend my position: "If you give me a choice between a great cornerback and a great defensive lineman, I'll take the great defensive lineman. Because a great defensive lineman can make an average corner look great."
6. Word/phrase association.
Jennings/@ChantelJennings:
a. Pac-12 South: Ultimate chaos
b. December 6: Anyone's guess
c. Wazzu: So close yet so far
d.
Andy Phillips
: Money
e. Hau'oli Kikaha: I'm glad I don't play quarterback in the Pac-12
f. Buck Allen: Tank
Lombardi/@LombardiESPN:
a. Pac-12 South: Minefield
b. December 6: Talking scoreboard (Bay Area radio listeners understand)
c. Wazzu: Poor
Connor Halliday
d. Andy Phillips: Automatic
e. Hau'oli Kikaha: A name fit for a sack master
f. Buck Allen: So why didn't Lane Kiffin play him?
Oregon Improves To 7-1
PAC-12 SCOREBOARD
Saturday, 10/25
Friday, 10/24