January, 13, 2014
Jan 13
10:30
AM ET
By
Brett Perrotta, ESPN Stats & Info
| ESPN.com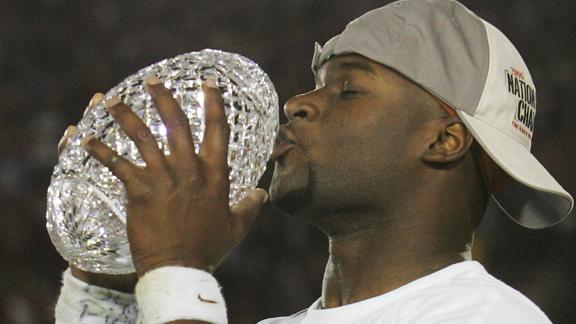 With the door closed on the 16-year reign of the BCS, we dove into the 72 BCS bowl games to find the 10 most memorable moments of the BCS era.
10. Utah's hook-and-ladder:
The first team ever dubbed a "BCS Buster" was the Urban Meyer-coached and
Alex Smith
-led Utah Utes in 2004. In the 2005 Fiesta Bowl, Utah led Pittsburgh 28-7 late in the third quarter and lined up at the Panthers' 18-yard line. Smith swung it left to Steven Savoy, who lateraled to
Paris Warren
, who ran it in for the score as the Utes completed a 12-0 season.
9. Peerless Price down the sideline:
Tennessee led Florida State 14-9 with 9:29 remaining in the fourth quarter in the 1999 Fiesta Bowl with the first BCS Championship on the line. UT quarterback
Tee Martin
found Price down the right sideline, and Price took it the distance for a 79-yard score. Price had 199 receiving yards for the winning Vols, the most ever in the BCS title game.
8. Ginn's costly return:
Ohio State received the opening kickoff from Florida in the 2007 BCS Championship game, and
Ted Ginn
Jr. wasted no time in getting the game's first score on a 93-yard return. What will always be remembered, however, is that Ginn suffered a foot injury on the ensuing celebration and was out for the rest of the Buckeyes' 41-14 loss.
7. Warrick's juggling score:
Though the championship of the 1999 season was marked by Virginia Tech freshman QB
Michael Vick
, it was Florida State's
Peter Warrick
who was named the most outstanding player. He had a punt return for a touchdown in the second quarter, and his juggling catch on a 43-yard score midway through the fourth served as the dagger.
6. Vince Young, Part I:
Facing Michigan in the 2005 Rose Bowl, Young was responsible for all five Texas touchdowns in a 38-37 win. Though he had runs of 60, 23 and 20 yards, the most impressive was a 10-yard run in which Young escaped the tackle of Michigan lineman Pat Massey before scampering to the right pylon.
5. Dyer isn't down:
Tied at 19 with Oregon with just more than two minutes remaining in the 2011 BCS Championship Game, Auburn running back
Michael Dyer
appeared to be tackled for a short gain at the Auburn 45-yard line. Having rolled over the defender, Dyer was never ruled down, and ended up gaining 37 yards on the play before he was taken down at the Oregon 23-yard line. Auburn would win on a field goal as time expired.
[+] Enlarge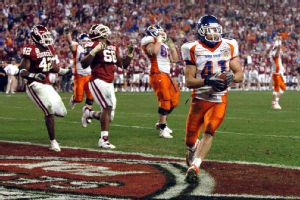 Steve Grayson/WireImageIan Johnson's two-point conversion run in overtime propelled Boise State over heavily-favored Oklahoma in the 2007 Fiesta Bowl.
4. Winston to Benjamin:
Trailing Auburn 31-27 in the final BCS Championship Game, Heisman Trophy winner
Jameis Winston
drove the Noles 78 yards in less than a minute to the Auburn 2-yard line. Receiving the snap with 17 seconds left in a wild fourth quarter, Winston threw a perfect pass to
Kelvin Benjamin
, who brought it down for the game-winning score to complete an undefeated season.
3. Was it pass interference?
Some will remember Maurice Clarett's game-saving strip of
Sean Taylor
, but the lasting legacy of the game is the dubious pass interference call in overtime. Miami led 24-17 and Ohio State faced fourth-and-3 from the 5-yard line.
Glenn Sharpe
was called for pass interference, giving the Buckeyes new life in a game they would win 31-24.
2. Boise State's trick plays:
In the 2007 Fiesta Bowl, Boise State trailed heavily favored Oklahoma 35-28 with 18 seconds left and facing fourth-and-18 from the 50-yard line. Jared Zabransky completed a pass to Drisan James just short of the first down, but he lateraled it to Jerard Rabb, who took it the rest of the way for the tying touchdown. In overtime, down 42-35 on fourth down, wide receiver Vinny Perretta completed a 3-yard pass to
Derek Schouman
for a touchdown. Chris Petersen elected to go for two, and Zabransky faked a throw to his right before handing it behind his back to Ian Johnson on the Statue of Liberty play for the winning two-point conversion. Johnson would propose to his girlfriend, a Boise State cheerleader, on the sideline after the game.
1. Vince Young, Part II:
After a Longhorns touchdown and key fourth-down stop, undefeated Texas trailed undefeated USC 38-33 with 26 seconds remaining and faced fourth-and-5 from the 9-yard line, with the 2005 BCS championship on the line. Vince Young dropped back to pass but saw nobody open, and immediately sprinted for the right pylon for the title-winning score in the marquee game of the BCS era.
December, 24, 2013
12/24/13
10:30
AM ET
Editor's note: During Week 12, 10 ESPN.com reporters changed conferences to experience college football in unfamiliar territory. Here is what they learned from the experience.
In mid-November, several of the college football reporters at ESPN.com flipped out. We traded conferences, traditions and fan bases for one college football Saturday -- an experiment deemed "Flip Week," intended to experience and relay different cultures of the sport we all love. I went to Eugene, Ore., for my first Pac-12 game and saw Oregon play Utah. For two days I walked around campus and downtown, trying to soak up all I could about the culture of Oregon football.
Here's a quick overview of some of the highlights:
Quack! #flipweek pic.twitter.com/EEqzeQHePg

— ESPN ACC (@ESPN_ACC) November 16, 2013
Best meal
: Breakfast at the Glenwood Restaurant. It was so good I went twice, the first on Friday morning for standard eggs and bacon fare, and then again on game day for a ham, egg and cheese omelet. I went Saturday morning to see how different it was on a game day, and the place was bustling. On Friday morning, I was the first and only person there. On Saturday, I had to wait in line, and the place was filled upstairs and downstairs with both Oregon and Utah fans.
Must-see sight in Eugene:
Oregon's facilities. I've never seen anything like it. Anywhere. Ever. It was like a cross between The Matrix (doors that unlock with players' fingerprints, practice film that is uploaded into each players' iPad before they're out of the showers) and a spa at the Ritz Carlton (waterfalls, anyone?). Honestly, one glass door was so clean I almost walked right into it. (My living room, this was not.) They even have their own dentist in there. Everything is built with perfection, with functionality, and with the finest materials in the world.
[+] Enlarge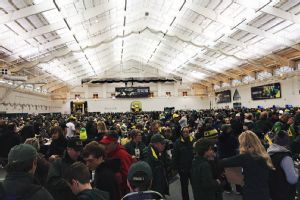 Heather Dinich/ESPNOregon fans take the tailgate indoors as the Ducks practice facility is open to fans on game days.
Biggest surprise:
The Moshofsky Center, aka "The Mo." What a fantastic indoor tailgate -- not to mention a smart concept. The Ducks' indoor practice facility is turned into a tailgate on Saturdays. Everyone kept telling me to go check it out, so I did, and I was really expecting just more of what you see in the parking lot, but it was food vendors, a live band, games for the kids, and just rows and rows of fans sitting around and talking like they were old friends and family at a wedding. It really had a special feel to it. I got some food, sat down and immediately struck up a conversation with some Utah fans. Everyone was so welcoming.
Best moment:
The duck on the motorcycle. With 4:01 remaining until kickoff against Utah, Doug Koke disappeared behind the shiny visor on his motorcycle helmet, and revved the engine of a pristine black Harley. The larger-than-life duck, sitting behind Koke, wrapped his right arm (wing?) around Koke and with his left gave a webbed wave to the crowd and a fist pump. Just when it seemed as if it couldn't get any louder, the players emerged from the tunnel, and it was at this very moment that the energy in Autzen Stadium was at its most palpable. It was electric, and with each rev of the engine, it was as if you could feel every heartbeat in the stadium vibrating with it. The players began to bounce and jump as the anticipation built, and within seconds, they were released like a pack of wild animals, charging after the duck on the motorcycle and setting the stage for yet another sold-out crowd.
Best tradition:
The walk over the Willamette Bridge to and from Autzen Stadium. On the way over the bridge, I stopped halfway just to take in the scene and interview fans as they made the trek to the stadium. This is a walk that literally takes you over a river and through the woods -- a tradition that brings the fans together every Saturday. The most amazing part was actually the walk back. It was literally stop-and-go traffic, as fans were shoulder-to-shoulder on the path and on the bridge.
[+] Enlarge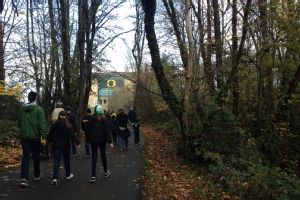 Heather Dinich/ESPNOregon fans walk through the woods to get to Autzen Stadium on Ducks game days.
Biggest difference from ACC:
There just isn't that folksy feel in the ACC. The ACC is more Southern charm, with its barbeque, sweet tea, and "y'all," and its Tobacco Road traditions. Oregon had a much more organic, earthy feel to it. There are so many trees on campus -- more than 400 kinds -- that the university offers a class on them.
They said it:
"What I love? The whole ambiance of being in Autzen Stadium. What makes it unique is the program. We have a great football program, that's all there is to it. We did not have a great program in the '70s and early '80s. The people who've been around here for a long time really realize and appreciate what we have now. We used to have 20,000 people, and half of them would go home at halftime. And it rained about every game. Now, it never rains here." -- Don Essig, who has been the public address announcer at Autzen Stadium since it first opened in 1967.
If I could go back:
I can't believe I never got to see Pre's Rock. As a recreational runner, it was one of the things at the top of my list, I just never got around to it. On a second trip, I would definitely visit that iconic rock, and find a few trails to run.
November, 13, 2013
11/13/13
5:30
AM ET
It's Flip Week at ESPN.com, where many of our conference reporters are venturing outside of our comfort zone to experience a different culture of college football. We're going in with open minds and open arms, ready to embrace whatever we find.
Heather Dinich:
For the past six years, I have covered the ACC for ESPN.com. Been to every stadium in the league, stood on the field at Lane Stadium for Enter Sandman, and watched Osceola and Renegade charge onto the field for one of the best pregame ceremonies in the country. Heck, I've even clumsily run down The Hill one summer in Death Valley.
Now it's time to try something a little different.
On Thursday, I'm heading to Oregon.
What makes Oregon special? What traditions must I see and where should I go? The point of this trip is not to criticize; it's to understand what Oregon fans love about their school, to learn about a Saturday in the Pac-12, and to see how it's possible to all love and watch the same game through a different lens. It has nothing to do with the BCS standings, but it has everything to do with the passion the fans in Oregon have in defending their program and supporting it.
So, here I am, asking for a little help.
[+] Enlarge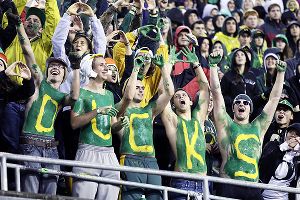 AP Photo/Don RyanDuck Nation can put its best webbed foot forward as our ACC blogger ventures to Autzen Stadium
As a native of Northeastern PA and current resident in Maryland, I know nothing about visiting Oregon. Nada. Zip. Never been there. Portland is two hours from Eugene, you say? Had no idea.
I'm picturing beautiful scenery, amazing running trails, and … well, uniforms.
I'm expecting sort of a Willy Wonka room filled with nothing but uniforms, some sort of spectacular, magical array of combinations that would wow any recruit. I'm expecting facilities that would rival that of any NFL team -- shiny, immaculate locker rooms that ooze money, not stench.
I want to meet this Duck character (does he know an Ibis?). I want to find "the strip" downtown, check out the hot spots, talk to Oregon fans and alumni, visit your tailgate, eat your food, drink your … water.
All things Pac-12 blogger Ted Miller has already done, right?
Ted Miller:
Heather, you might run into something even I haven't seen much in Autzen Stadium: Grumpiness.
Of course, the Ducks are coming off a dispiriting loss at Stanford, the second time in two years the Cardinal have derailed the Ducks' national title hopes. And which conference benefited from that? Hmm.
Anyway, per Eugene and Autzen Stadium and the University of Oregon. First things first: Bring ear plugs. Autzen is loud. I'm guessing the experience will be not unlike Virginia Tech's Lane Stadium, only with a Duck riding a motorcycle and without the Metallica.
Eugene is a great college town with an overall vibe that is much different than you'd find at the average East Coast football school. Fair to say things are a bit bluer in Eugene than, say, Tallahassee. You will encounter plenty of vegans and perhaps even a few anarchists in Guy Fawkes masks. You might encounter some odd smells wafting through the air…
Of course, the football program is purely plutocratic. You must tour Oregon's facilities, particularly the new football building. For one, it might give you some idea for a remodel of your home. Or remind you of a spa in the new Wynn resort in Las Vegas. Palatial? There are folks who live in actual palaces who would be jealous.
If you want to soak up some college atmosphere on Friday night, consider a visit to Taylor's or Rennie's Landing, purely in the spirit of this sociological research project. Not that I know the bar scene in Eugene well -- cough, cough. I just hear things, you know.
As for game day, be advised not to wear purple. Don't wander into the Oregon tailgate and say, "Go Huskies!" The most bitter Pac-12 rivalry is Washington-Oregon, though the Huskies haven't really been pulling their weight for the, oh, the past decade. I suspect the Northwest food choices will be different than what you see in the ACC -- as in grilled salmon instead of burgers and wings.
You also might want to wear rain gear and sensible shoes. While Oregon's facilities are spectacular, Phil Knight apparently hasn't felt the urge to build the Phil Knight Media Parking Lot. Old lot 8 can get pretty darn muddy.
HD:
Ha, I am loving it already. Can't wait to check it out. Oregon fans, if you have any suggestions for me to guide me on this trip, feel free to
drop them in my mailbag
or shoot me a note on Twitter
@ESPN_ACC
. If you see me walking around, don't be shy, say hello. ACC fans? I'll be back. Don't flip out on us. That's our job.
October, 10, 2013
10/10/13
8:00
AM ET
Montae Nicholson
(Monroeville, Pa./Gateway) has had a "short" list of about a dozen schools since the spring, but the ESPN 300 athlete is finally narrowing things it down. Six schools remain as the most likely options for the 6-foot-2, 210-pound Nicholson, who will likely play defensive back in college.
RecruitingNation breaks down where each school stands with Nicholson and what a commitment from the No. 252 prospect nationally would mean to their program.
[+] Enlarge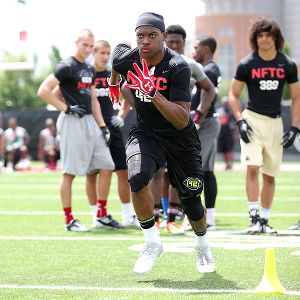 Tom Hauck for Student SportsMontae Nicholson is ranked No. 252 in the ESPN 300.
Florida State:
Nicholson's most recent official visit was to Tallahassee this past weekend. His mother, Jackie Crawford, accompanied him and said it was a positive experience for both of them.
To continue reading this article you must be an Insider
September, 4, 2013
9/04/13
9:00
AM ET
Eli Harold
watched the South Carolina game last week with his eyes locked on superstar
Jadeveon Clowney
. Harold is in awe of the Gamecocks' pass rusher and he said he watches YouTube highlights of Clowney on a regular basis.


But something about Clowney's play against North Carolina's hurry-up offense last week rattled Harold. Clowney, who has been pegged as a sure-fire first-round NFL draft pick, was tired. It was an image striking enough to have Harold still on edge when he began gasping for breath Saturday against BYU.
"That guy's my idol, and I look up to him, but I didn't want to be as hurt as he was against North Carolina when they ran their no-huddle," Harold said. "I just said to myself, I don't want to be that guy that's bending down, touching my knees."
Harold and the rest of the Virginia defense managed to keep their composure Saturday in a stunning finish against BYU, but the task only gets tougher in Week 2. Yes, BYU ran an up-tempo attack, but it's nothing compared to the light-speed offense Oregon employs.
Nevertheless, Harold said he's confident he won't have his hands on his knees, sucking wind, when the Ducks click things into high gear.
"Even though Oregon runs it that much faster, I think we showed on film we can handle it and be in good shape," Harold said. "I think we're ready to play against that even that much more of a high-paced offense."
The confidence starts with a good game plan, and Virginia defensive coordinator Jon Tenuta said he has been breaking down film on Oregon since last season ended.
While the up-tempo, zone-read offenses are all the rage, Tenuta said few teams can match the speed with which Oregon runs it. What's worse is the rapid-fire offense keeps Tenuta from substituting on defense, meaning it will be a significant test of endurance for his players.
"You have to be pretty sharp in when and where you can sub," Tenuta said. "When you're sucking air, you're sucking air."
[+] Enlarge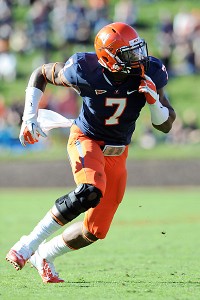 AP Photo/University of VirginiaDefensive end Eli Harold, who had two sacks in the Cavaliers' opening win over BYU, thinks Virginia is ready for Oregon's high-paced offensive attack.
With that in mind, Tenuta has had his defense work against the first-team offense in no-huddle situations throughout fall camp, and the scout team has worked with a two-huddle system to recreate the tempo Oregon will run.
If Virginia can keep pace from a cardiovascular standpoint, the next step is finding a way to throw speed bumps in front of the Ducks' offensive machine. That's simply a matter of execution, according to safety
Anthony Harris
.
"You've got to know your assignment, take care of your assignment each play, and you've got to tackle well," said Harris, who was named the ACC defensive back of the week after his 11-tackle performance against BYU. "You've got to be tackling down to the ground."
The pass rush figures to be the other piece of the puzzle. Harold said it's imperative the line disrupts Oregon's downhill attack, forcing the Ducks to the sidelines and taking them out of their rhythm.
"Look at the teams that beat Oregon in the past," Harold said. "They just shoot their gaps and get a lot of penetrations. If you stop them from running up the middle where they want to run the ball, get them to bounce it outside, just set the edge and penetrate, we can really stop those guys."
The final key is for the Virginia offense to keep Oregon's gunslingers off the field. That's a concern on two fronts. For one,
David Watford
and the Cavaliers mustered just 223 yards of offense last week. Secondly, Oregon doesn't need much time to make some big plays. In their opener, the Ducks held the ball just 19:42, and still ran 71 plays.
But if the numbers seem stacked against Virginia, Harold isn't worried. He knows it will be a test, and he's used to the role of underdog. The way he sees it, Oregon represents a chance for his defense to make its mark.
"I'm not afraid of anybody," Harold said. "I don't care who we're playing. I'm up for the challenge. I want to see what all the hype is about. I take a lot of pride in playing this team this weekend, and I can't wait."
August, 16, 2013
8/16/13
10:45
AM ET
By
ESPN.com staff
| ESPN.com
The
All-American wealth
has spread across the land. The Pac-12 leads the conferences with seven, one more than the SEC. Dual-threat QB
Marcus Mariota
and RB
Lache Seastrunk
both originally signed with Oregon. Now that Seastrunk plays for Baylor, he and Mariota no longer have to share a backfield. Seastrunk and G
Cyril Richardson
make the Bears the only team with two on offense. Richardson is surely the first All-American named Cyril, but Lache is not the first body of water to make it. He joins 1939 Heisman winner Nile Kinnick.
Alabama has won three of the past four BCS titles with defense and placed LB
C.J. Mosley
and S
Ha Ha Clinton-Dix
on this team. Alabama and Oregon lead with three players apiece on the list. That's one more than the Big Ten and two more than the ACC and Conference USA. -- Ivan Maisel
View ESPN.com's 2013 Preseason All-America team here
.
August, 15, 2013
8/15/13
8:30
AM ET
By
ESPN.com staff
| ESPN.com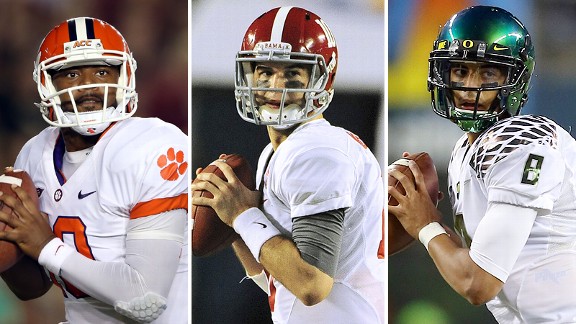 Getty ImagesTajh Boyd, AJ McCarron and Marcus Mariota all rank near the top of Brock Huard's top 10.
The 2013 NFL draft featured a weaker-than-usual class of quarterbacks, to be sure, but there was another reason why
EJ Manuel
was the only QB taken in the first round: NFL teams knew that the 2014 class of passers is loaded with intriguing talent that comes in a variety of sizes, skill sets and experience levels.
Which brings us to the preseason edition of ESPN Insider Brock Huard's QB rankings. Unlike his Insider colleagues Todd McShay and Mel Kiper, who will be projecting these signal-callers (and all the 2014 draft-eligible prospects) all season long based on their NFL potential, and unlike analysts who are ranking them based on their collegiate performance, Huard is setting out to do a little of both.
View Huard's complete rankings here
.

August, 14, 2013
8/14/13
12:00
PM ET
By
ESPN.com staff
| ESPN.com
This is the last year of the BCS, and our writers look at its impact on college football:
From Ivan Maisel
: The BCS has moved NCAA football forward in a way no system before it could and given it a national stage, but along with exposure comes greater pressure and expectations, which in the end the series couldn't overcome.
From Mark Schlabach
: As we prepare for the final season of the BCS, let's take a look back at its highs and lows.
From Brian Bennett
: Five of the last seven national champions have had at least one loss, and with a playoff looming, going undefeated will be harder than ever.
April, 22, 2013
4/22/13
1:23
PM ET
BRADENTON, Fla. -- ESPN 150 wide receiver
Artavis Scott
(Tarpon Springs, Fla./East Lake), as expected, was one of the top wideouts in attendance at the IMG 7v7 Southeast regional championships over the weekend.
The four-star wide receiver visited Michigan recently and said he enjoyed his experience in Ann Arbor.
To continue reading this article you must be an Insider
March, 26, 2013
3/26/13
12:04
PM ET
GAINESVILLE, Fla. -- Watch List running back
Tony James
(Gainesville, Fla./Gainesville) picked up an offer from the Oregon Ducks on Tuesday afternoon.
To continue reading this article you must be an Insider
January, 1, 2013
1/01/13
3:05
PM ET
LAKE BUENA VISTA, Fla. -- There were several standouts at Tuesday's Day 2 practice for the Under Armour All-America Game (5 p.m. ET Friday, ESPN). Two players -- one for Team Nitro, the other for Team Highlight -- said they are closing in on their college decisions and will make their announcements Friday. Meanwhile, the nation's No. 1 player left the field at Disney's ESPN Wide World of Sports with an injury.
Folston closing in on decision
Four-star athlete
Tarean Folston
(Cocoa, Fla./Cocoa) is set to make his college decision Friday. The 5-foot-9, 190-pound ESPN 150 will chose between Notre Dame, Florida State and Oregon.
Folston has been a standout defensive back during the first two days of practice, but he's being recruited by all three of his final schools to play running back.
He said he likes the familiar feeling he gets from Notre Dame and Oregon.
"It's just a home feeling, the fans around there are great fans. The community is all involved in football. It's just a nice town and a home feeling environment. With Oregon, it's pretty much the same as Notre Dame. They are two different schools but I call it 'the village,' just everybody in that place comes together and helps support the team."
Florida State is the only school Folston is considering from his home state, but he insists distance won't be a factor in his decision.
To continue reading this article you must be an Insider
August, 28, 2012
8/28/12
8:56
PM ET
CLARKSTON, Ga. -- After leading his team to 36-14 win over Cedar Grove, which features four-star quarterback and Vanderbilt commitment
Johnathon McCrary
(Ellenwood, Ga./Cedar Grove),
Juwaan Williams
(Tucker, Ga./Tucker) was not satisfied. Now in AAAAA after winning the AAAA state championship in 2011, Williams feels the bar has been raised for a successful season.
"The expectations are even higher here for the seniors and everyone that had a part in the state championship last night," Wiliams said.
On Friday, Williams excelled in directing the Tigers' multi-pronged rushing attack, as well as keeping the opposing defense on its toes. They were called offsides numerous times because of Williams' crafty snap counts.
To continue reading this article you must be an Insider
August, 28, 2012
8/28/12
9:00
AM ET
With the Oregon Ducks still in search of a third offensive lineman to add to their recruiting class, the name most often associated with the Ducks is somewhat of a late bloomer. Better late than never.
Having earned 13 scholarship offers since the spring, versatile lineman
J.D. Hinnant
(Fountain Valley, Calif./Fountain Valley) has seen his name pop up everywhere.
"It has been pretty crazy really. Going from no offers to having 13 in a matter of months, it is kind of hard to believe sometimes" Hinnant said.
To continue reading this article you must be an Insider
August, 2, 2012
8/02/12
10:00
AM ET
USC wasn't eligible for the coaches' poll in 2011 due to NCAA sanctions, but it will start 2012 almost at the top.

The Trojans
are ranked third
, behind No. 1 LSU and No. 2 Alabama, the two SEC teams that played for the BCS national title last season.
The vote at the top was tight. USC, with 19, and Alabama, with 20, actually got more No. 1 votes than LSU (18). That should be your first warning of the "What the heck" nature of the poll. LSU, which welcomes back 15 starters from a 13-1 team and upgraded at quarterback with
Zach Mettenberger
, seems like a clear No. 1 to the Pac-12 blog.
LSU, with 1,403 points, was just ahead of Alabama, at 1,399. USC got 1,388.
It's a little surprising that USC isn't No. 2. Alabama only has 11 position players returning, including just five from last season's outstanding defense. But coaches tend to tip their caps to defending champs, and it's not unlikely that each of the seven SEC coaches in the poll -- the Pac-12 had six -- voted the SEC teams one-two. I also have a hunch a Pac-12 coach -- or two -- didn't vote USC either No. 1 or 2.
And, of course, the coaches poll, though it is unfortunately included in the BCS standings, is the least respected of all polls due to its regional biases, obvious conflicts of interest, lack of transparency and the simple fact that few coaches pay attention to teams they don't play. Oh, and many of the coaches hand off their votes to sports information directors.
Oregon comes in at No. 5, 18 points behind No. 4 Oklahoma. Stanford is 18th, just ahead of the Oklahoma State team that nipped the Cardinal in the Fiesta Bowl.
And that's it for the Pac-12 in the top-25. Washington came in at No. 26 and Utah at 32nd, based on the "others receiving votes" tally.
The SEC led all conferences with seven ranked teams. The Big 12 had six, including new members West Virginia and TCU. The Big Ten had four, the ACC three.
It's also evident that the voters ran out of steam in the top 25. Florida, Notre Dame and Auburn combined for 16 losses in 2011, but were ranked Nos. 23, 24 and 25, respectively.
As we noted, "What the heck!"
Here are the coaches who voted, per USA Today, including the six Pac-12 coaches, who are bolded:
The USA TODAY Board of Coaches is made up of 59 head coaches at Bowl Subdivision schools. All are members of the American Football Coaches Association. The board for the 2012 season: David Bailiff, Rice; Frank Beamer, Virginia Tech; Tim Beckman, Illinois; Bret Bielema, Wisconsin; Terry Bowden, Akron; Art Briles, Baylor; Troy Calhoun, Air Force; Matt Campbell, Toledo; Gene Chizik, Auburn; Dave Christensen, Wyoming; Mark Dantonio, Michigan State; Tim DeRuyter, Fresno State; Dave Doeren, Northern Illinois; Sonny Dykes, Louisiana Tech; Jimbo Fisher, Florida State; Kyle Flood, Rutgers; James Franklin, Vanderbilt; Al Golden, Miami (Fla.); Jim Grobe, Wake Forest; Darrell Hazell, Kent State; Brady Hoke, Michigan; Dana Holgorsen, West Virginia; Skip Holtz, South Florida; Mark Hudspeth, Louisiana-Lafayette; Curtis Johnson, Tulane; Ellis Johnson, Southern Miss; Butch Jones, Cincinnati; Brian Kelly, Notre Dame; Lane Kiffin, Southern California; Mike Leach, Washington State; Pete Lembo, Ball State; Tony Levine, Houston; Mike London, Virginia; Rocky Long, San Diego State; Dan McCarney, North Texas; Mike MacIntyre, San Jose State; Ruffin McNeill, East Carolina; Gus Malzahn, Arkansas State; Bronco Mendenhall, BYU; Les Miles, LSU; George O'Leary, Central Florida; Paul Pasqualoni, Connecticut; Bo Pelini, Nebraska; Chris Petersen, Boise State; Joker Phillips, Kentucky; Paul Rhoads, Iowa State; Mark Richt, Georgia; Mike Riley, Oregon State; Rich Rodriguez, Arizona; Nick Saban, Alabama; Steve Sarkisian, Washington; Frank Solich, Ohio; Steve Spurrier, South Carolina; Rick Stockstill, Middle Tennessee; Bob Stoops, Oklahoma; Dabo Swinney, Clemson; Jeff Tedford, California; Tommy Tuberville, Texas Tech; Kevin Wilson, Indiana.
Best Pac-12 Position Group in 2014 Class
PAC-12 SCOREBOARD
Saturday, 12/21
Monday, 12/23
Tuesday, 12/24
Thursday, 12/26
Friday, 12/27
Saturday, 12/28
Monday, 12/30
Tuesday, 12/31
Wednesday, 1/1
Thursday, 1/2
Friday, 1/3
Saturday, 1/4
Sunday, 1/5
Monday, 1/6