Oregon Ducks:

Fresno State Bulldogs
December, 10, 2013
12/10/13
1:15
PM ET
The hits keep coming for the Pac-12. First, the nation's deepest and most ambitious conference in terms of scheduling gets just one BCS bowl team.
Then it doesn't have a Heisman Trophy finalist
, even with two candidates who are superior to the players who were invited.
[+] Enlarge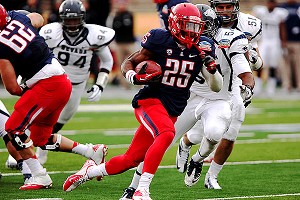 AP Photo/Eric DraperArizona RB Ka'Deem Carey has rushed for more than 100 yards in every game he has played in this season.
Arizona RB
Ka'Deem Carey
is the nation's best running back. He is a better running back than Auburn's
Tre Mason
and Boston College's
Andre Williams
, who are two of the six Heisman finalists.
What that means is that if you had all the college -- or NFL -- coaches pick a running back, the vast majority would choose Carey first. Why? Again, he's better than Mason and Williams.
And, if this is about pure numbers, Carey's numbers are superior to Mason's, who apparently got invited to New York because he posted an undeniably great performance in the SEC title game against Missouri. If that was the selling measure, then the Auburn offensive line should have been sent to New York.
Then there's Oregon QB
Marcus Mariota
, whose Heisman case is hampered by the Ducks losing two of their final four games. Of course, that didn't change the fact that
he's been better than three of the four QB finalists
over the entire season.
None of the four invited QBs --
Jordan Lynch
of Northern Illinois,
Johnny Manziel
of Texas A&M,
AJ McCarron
of Alabama and
Jameis Winston
of Florida State -- has a resume without holes.
Lynch played against weak competition. Manziel lost his final two games of the season and played poorly while doing so. McCarron's candidacy was about career achievement, but he lost to his team's arch-rival to end the season, thereby missing out on his much-celebrated drive for a three-peat.
Winston, the overwhelming favorite as the best player on the best team, obviously had his off-field issue. No charges were filed, but the incident was hardly a shining and blameless moment for Winston.
Who's to blame for nobody from the West Coast heading to NYC? Well, we hate to bring out a hackneyed harrumph but it's obvious: East Coast Bias.
Notice anything about the finalists? Yep, none play in the Mountain or Pacific Time Zones. To get off the Pac-12 train for a bit, consider that Fresno State QB
Derek Carr
, who is probably a better NFL prospect than Manziel, McCarron and Lynch, wasn't invited. He only led the nation in passing and threw 10 more TD passes than anyone else.
This bias isn't about some evil and corrupt dislike of all things West Coast. It's about a limited and flawed radar of evaluation. And, you know, going to bed early.
But East Coast voters aren't the only ones who suffer from bias. Here's a guess that when the regional voting patterns are revealed that Mariota's and Carey's support will only be lukewarm out West. That's because many West Coast voters suffer from a form of college football Stockholm Syndrome, where they are unduly influenced by the dominant and oft-repeated East Coast narrative, even if it runs counter to the conclusions of their own eyes and brains.
Before Oregon lost to Stanford, there was no East Coast Bias to fret. Folks loved Mariota and he led every Heisman poll. But when he lost, he plummeted unlike any other candidate who had an off-game. His consideration died completely when the Ducks also lost at Arizona.
It's a case of out of sight, out of mind, a condition that none of the other finalists back East had to deal with as they were re-evaluated despite shortcomings not unlike Mariota's.
When the odd ending to the season forced Heisman voters to revisit their pecking order, they apparently didn't include players outside their time zones. Bad finishes for Manziel, Lynch and McCarron? Neh.
A bad finish for Mariota? Wait… who's that?
For Carey, it was just a matter of everyone knowing he's the nation's best running back but not caring because he played for a 7-5 Arizona team. Are there really voters in the country who would be willing to step up to a microphone and say, "Mason/Williams are better than Carey"? I hope not.
And, despite a tireless effort from the Wildcats sports information department to point out that Carey's 15 consecutive games with over 100 yards hasn't been accomplished IN A DECADE, voters went all lazy because I'd bet at least 50 percent of them never watched him play all season.
Sour grapes? Absolutely. But sour grapes based entirely on facts and sound logic.
November, 4, 2013
11/04/13
5:00
AM ET
1. It's not smart to delve deeply into BCS what-ifs. The season has five remaining weeks -- a full third of the schedule. Besides, the top of the
BCS standings
will sort itself out. It has every year since the FBS went to a 12-game schedule. But the race at the other end of the BCS is worth keeping an eye on. Fresno State has reached No. 16, the minimum threshold a BCS buster needs to secure a bid as long as it's ahead of an AQ champion. Louisville and UCF of the American are No. 20 and No. 21, respectively.
2. No. 1 Alabama and No. 3 Oregon turn their heads toward their biggest conference nemeses. Nick Saban is only 4-3 against No. 13 LSU while since taking over as coach of Alabama. He's 72-10 against everyone else. No. 5 Stanford is the only team to beat Chip Kelly's Ducks twice in his four seasons. Last season's 17-14 overtime loss cost Oregon a berth in the BCS Championship Game. Suffice to say it left a mark. Expect coach Mark Helfrich to have something in his game plan this week. The Ducks kept it pretty vanilla last year, and it cost them.
3. When Michigan State defeated Michigan four consecutive times from 2008-11, it didn't quite feel as if the Spartans owned the rivalry. This wasn't the real Michigan -- coach Rich Rodriguez didn't fit the Wolverine mold. Michigan State took advantage of Michigan, but so did a lot of teams. That's not the case any longer. Michigan has its own (Brady Hoke) running the program. He is in Year Three. Yet Michigan State just beat Michigan
29-6
, the Spartans' biggest margin in their 5-1 run against the Wolverines. The rivalry belongs to Sparty as securely as it did in the mid-1960s run of Duffy Daugherty.
December, 31, 2012
12/31/12
3:39
PM ET
LAKE BUENA VISTA, Fla. -– Team Nitro and Team Highlight took to the fields at Disney's ESPN Wide World of Sports on Monday for Day 1 of practice for Friday's Under Armour All-America Game (5 p.m. ET, ESPN). Two powerhouse programs in the Southeastern Conference look to battle it out for one of the standout running backs, and one of the top uncommitted offensive linemen is out with an injury.
Tide and Dawgs at top for RB Kamara
The Under Armour All-America Game boasts a bevy of talented running backs, and after the first practice ESPN 150 prospect
Alvin Kamara
(Norcross, Ga./Norcross) drew comparisons to one of the best.
[+] Enlarge
Miller Safrit/ESPN.comESPN 150 RB Alvin Kamara says Alabama defensive coordinator Kirby Smart and Georgia running backs coach Bryan McClendon have been key to his recruiting process.
"They say I play like
Percy Harvin
," Kamara said.
The 5-foot-10, 192-pound tailback has made a name for himself as a home-run threat out of the backfield or lined up in the slot, which makes it no surprise that programs across the country are pining for his commitment. Two from the SEC are in the lead.
"Alabama and Georgia are the front-runners, but I am still looking at Oregon -- and Tennessee too, with Butch Jones being there now," Kamara said.
The nation's No. 4 running back has yet to set any official visits, but plans to do so after he gets home from the UA Game. A decision will likely come after his visits.
"This is not going to be a busy month so much as it is just something I need to buckle down and do," Kamara said. "I am going to take these visits and base my decision off of that."
One factor in his decision will be the relationship he has with the coaches recruiting him. The Tide could have a slight advantage because they made first contact with Kamara.
"Kirby Smart and I are really close," Kamara said. "He was the first coach to ever talk to me. He snuck me his card after practice and I could not believe it. For a coach of his stature to be the first coach to talk to me is great. We have been in contact ever since, and we have a great relationship."
Georgia might counter that with their running backs coach being Kamara's recruiter of record.
"Coach [Bryan] McClendon and I have a great relationship too," Kamara said. "With him being my position coach, I could see myself playing for him. We are on a friend level and we do not even talk about football most of the time."
The in-state Bulldogs also have a few people in Kamara's ear this week, though he admits they have been putting the pressure on him for quite some time.
"Even when we are not in a big event like this, guys like
Shaq Wiggins
,
Brice Ramsey
, even
Reuben [Foster]
, even though he is not committed, are always asking where I am going," Kamara said. "They are joking, but they are on me pretty hard sometimes."
Newsworthy: OL Crowder deals with injury, sets officials
ESPN 150 offensive lineman
Tyrone Crowder
(Rockingham, N.C./Richmond) will be unable to play in Friday's UA Game after aggravating a hand injury he sustained a few weeks ago at the Shrine Bowl of the Carolinas. While he is disappointed, Crowder said today he is looking forward to the home stretch of his recruitment and choosing from one of two programs.
"It is Clemson No. 1 and Georgia No. 2, and I will decide on signing day," said Crowder, ranked the No. 2 OG in the country.
The Tigers have been after the 6-foot-1, 330-pound offensive lineman for more than three years now, and they have location and familiarity working in their favor.
"Clemson has been recruiting me since I was in ninth grade," Crowder said. "I like what they have going on and I have built a strong relationship with them. It is close to home and I have some family close to Clemson. I will take my official there Jan. 11."
Crowder has not been to Athens for six months, but he has fond memories of his visit.
"Georgia is a great powerhouse team in the SEC," Crowder said. "When I went down there during the summer I really liked the campus and enjoyed meeting the coaches. I spoke to them two weeks ago and set an official visit Jan. 18."
Trending
It was only the first day of practice, but Team Highlight (Black team) quarterbacks got off to an impressive start.
October, 25, 2012
10/25/12
6:36
PM ET
When looking for high school football prospects in California, the quarterback position is usually a good place to start. Six signal-callers are ESPN Watch List members, with several more looking to play their way into the discussion. One of those quarterbacks is
Jake Young
, a 6-foot, 192-pound athlete at Hanford (Calif.) High School.
It has been a tough season for the Bullpups -- 1-8 on the season with one game remaining -- but the dual-threat Young is catching the eyes of college coaches. He has been to several Fresno State home games and made the trip to UCLA's early home win against Nebraska. Boise State, Michigan, Oregon and Utah are several programs that have expressed early interest as well. Young said Boise State, Fresno State and UCLA have been favorites of his for some time.
"Those are schools I've had interest in since I was a little kid," Young said. "Fresno is just 30 minutes north and I love the Boise program. I have a couple of cousins and uncles who went to UCLA. I love the atmosphere of their games."
To continue reading this article you must be an Insider
August, 29, 2012
8/29/12
10:00
AM ET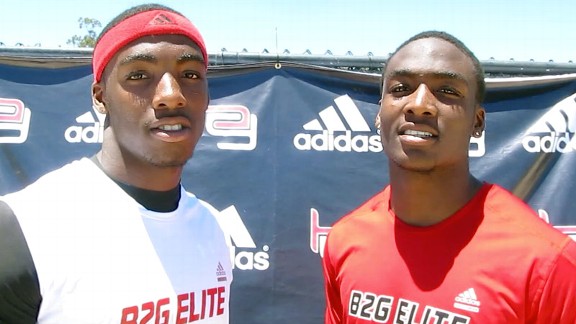 Blair Angulo/WeAreSC.comSan Diego twins Tyree Robinson (left) and Tyrell Robinson made things official Wednesday.
Things have been quiet on the recruiting side of things for the Oregon Ducks in recent weeks as they have been preparing for the upcoming season.
As the season kicks off this weekend, the Ducks will pay close attention to the start of the high school football season as they try to identify emerging prospects from around the country.
A number of recruits -- defensive prospects in particular -- will be evaluated by the Oregon staff in the coming weeks as their senior film makes its way into the hands of recruiters.
To continue reading this article you must be an Insider
August, 14, 2012
8/14/12
9:00
AM ET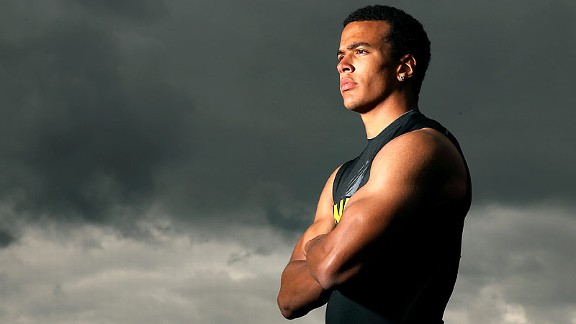 Tom Hauck for ESPN.comJohnny Ragin is looking to make a decision relatively soon, but the Wilsonville, Ore., linebacker seems to be waiting around for an Oregon offer.
The Oregon Ducks are working to implement new plays on the field and new players onto the roster. They are also beginning to look at some new targets for their 2013 recruiting class.
The Ducks are holding steady at eight commitments, but a few new offers could be extended in the coming weeks. At least one of those scholarship offers would likely result in another commitment soon after it is issued.
Linebacker
Johnny Ragin
(Wilsonville, Ore./Wilsonville) remains in touch with the Ducks and is still waiting on an offer from the in-state school.
To continue reading this article you must be an Insider
July, 7, 2012
7/07/12
5:12
PM ET
By
Brandon P Oliver
| ESPN Insider
Attending a school like Sacramento, Calif., powerhouse Grant High School has many benefits and few drawbacks. For defensive back
Trayvon Henderson
(Sacramento, Calif./Grant) it has been a little of both.
After being overshadowed by several of top prospects over the past two years, including U.S. Army All-American and Washington signee Shaq Thompson last year, Henderson is looking to leave his mark in 2012.
With a solid career to date, Henderson is now the man at the Northern California powerhouse. After a solid camp circuit this spring, Henderson received offers from Hawaii, Nevada and Colorado State and has heard from Colorado, Fresno State, Oregon and Washington State.
To continue reading this article you must be an Insider
July, 2, 2012
7/02/12
9:00
AM ET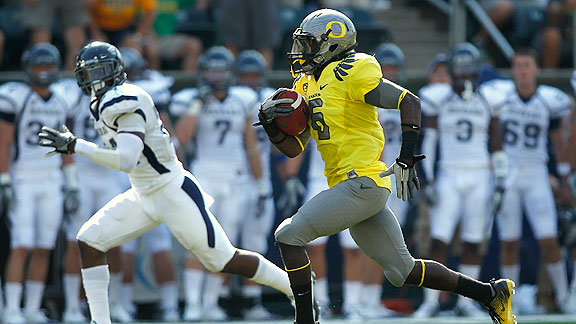 Jonathan Ferrey/Getty ImagesThe presence of dynamic young playmakers like De'Anthony Thomas are why expectations are still high for the Oregon Ducks despite key personnel losses.
After a third straight conference title in Eugene, many people are expecting the
Oregon Ducks
to be knocked off their place atop the Pac-12 in 2012. With USC returning the majority of their lettermen, the prevailing thought is that the only team to leave Autzen Stadium with a victory in the Chip Kelly era is the clear favorite in 2012. While Oregon has handled itself very nicely with a target on their back in recent years, longtime Oregon fans know that the Ducks have a history of blossoming when others expect them to take a step back.
Is this the year the Ducks prove that they truly belong among the truly elite programs? Another run to the BCS after the loss of some of the best players in program history will speak volumes about where the Ducks truly stand.
The Ducks have to travel to Los Angeles to face USC in November, but the early season schedule sets up very nicely for the defending Rose Bowl champions. In seasons past, any double-digit-win campaign was considered a great season in Eugene, but times have changed and the Ducks have bigger plans.
An early look at the schedule makes the USC game the obvious choice as the game of the year out West, if not nationally. Both teams should be undefeated heading into the match up at the Coliseum, but a lot can happen between now and then. So what exactly will make the 2012 season a success for the Ducks?
Programs Most Desperate for a Quarterback
PAC-12 SCOREBOARD
Thursday, 9/3
Friday, 9/4
Saturday, 9/5