Oklahoma Sooners:

Tyler Foreman
January, 7, 2013
1/07/13
8:00
AM ET
NORMAN, Okla. -- Before Friday, Oklahoma was finally riding a wave of positive recruiting momentum. December was a banner month for the Sooners, who added five verbal commitments.
It wasn't just about getting five commits, it was about the positions OU added. Four combined at offensive and defensive tackle alleviated panic for Sooners fans.
But then Friday happened. It remains to be seen if the 41-13 blowout loss to Texas A&M in the Cotton Bowl will put a damper on recruiting for OU, but it certainly didn't help matters. And then Sunday happened with a big-time shocker and blow to the class when ESPN 300 linebacker Jordan Mastrogiovanni (Dallas/Jesuit) flipped his commitment from OU to Texas A&M.

Heading into the final month until national signing day, OU has 17 commits with another 5-7 spots still available.

To start, OU is not pursuing any quarterbacks, running backs, interior offensive linemen, defensive ends or kickers. The Sooners are content there for this class. But at the other spots, there is still some work to do.

Read the rest of the story here.

December, 23, 2012
12/23/12
12:00
PM ET
Christmas felt like it came early for Oklahoma in the last two weeks with commitments of offensive tackles
Christian Daimler
(Houston/Stratford) and ESPN JC 100 prospect
Josiah St. John
(Athens, Texas/Trinity Valley).
Add in the commitment of three-star defensive tackle
Kerrick Huggins
(Dallas/Skyline) and the signing of ESPN JC 100 defensive tackle
Quincy Russell
(Athens, Texas/Trinity Valley), and it has been a banner couple of weeks for the Sooners.
But OU isn't done yet. OU coach Bob Stoops said the Sooners weren't done -- not by a longshot. So in the spirit of the season, here is OU's recruiting Christmas list to close out the 2013 class.
ATH Adrian Baker (Hollywood, Fla./Chaminade-Madonna, 6-1, 165, No. 198 ESPN 300)
Following his visit to OU, Baker decommitted from Florida State. Is that a sign of things to come? Too early to know, but Baker would be a huge boost to OU at wide receiver or cornerback.
It's going to be a marathon with Baker in January between Clemson and OU. He made official visits to both campuses in December, and both schools will make in-home visits with Baker in the next month.
Baker can contribute on either side of the ball. Bottom line, though, is he can contribute.
OT
Aaron Cochran
(Atwater, Calif./Buhach, 6-8, 364, No. 22 OT)
It will be tough for Sooners to get Cochran out of the west coast, but OU is certainly giving it a try. Cochran made an official visit to OU in November, and OU coaches Bruce Kittle and Bob Stoops have already made visits to the mammoth tackle.
Nebraska, Cal and Arizona are also in the mix. Cochran's older brother, Matt, just finished his freshman season with the Bears.
S Tyler Foreman (Encino, Calif./Crespi Carmelite, 6-2, 161, No. 32 S, Committed to Wisconsin)
With all the coaching changes at Wisconsin, why can't the Sooners get back into the race for Foreman? UCLA has picked up its intensity in a major way since Bret Bielema left Wisconsin to go to Arkansas.
Foreman made an official visit to OU in September, and OU defensive backs coach Mike Stoops was among the first coaches to notice the type of potential Foreman has.
DT Toby Johnson (Hutchinson, Kan./Hutchinson CC, 6-4, 305, No. 4 ESPN JC 100)
It's going to be tough to see the Sooners pull this one out, but OU defensive tackles coach Jackie Shipp is on a roll right now following Huggins and Russell.
Shipp hasn't given up on Johnson, another player who could make an immediate impact. But it feels like Georgia is in the lead. The Sooners are in fantastic shape for Garland (Texas ) South Garland tackle
Charles Walker
. He picked up an OU offer last week and will visit OU on Jan. 11.
LB Mike Mitchell (Plano, Texas/Prestonwood Christian, 6-4, 216, No. 121 ESPN 150)
OU looks like it's set at linebacker for 2013. But this is a wish list, right? And if Mitchell looked like he wanted to head to Norman, nobody in their right mind would pass that up.
OU linebackers coach Tim Kish has developed a solid rapport with Mitchell, but Ohio State has jumped on Mitchell. And without a bowl game to prepare for, Buckeyes coach Urban Meyer has been able to spend a lot of quality time with Mitchell.
December, 11, 2012
12/11/12
8:00
AM ET
There is one glaring hole in Oklahoma's defensive recruiting for the 2013 class. But it's a big one. The Sooners are faring well or at least decently at every other spot, but OU is lacking defensive tackles.
Worse than lacking at them is the fact OU has been involved in several tight battles at the position only to have never come out on top.
With less than two months until national signing day, here is a position-by-position breakdown of OU defensive targets.
Defensive end
No problems in this department. In fact, OU has probably had too many viable targets. The Sooners got started with a bang with two of their first three commits being ESPN 300 defensive ends in
Matt Dimon
(Katy, Texas/Katy) and
D.J. Ward
(Moore, Okla./Southmoore).
OU turned down a potential commitment from three-star recruit
Dimarya Mixon
(Mesquite, Texas/West Mesquite), who ended up committing to Missouri.
The Sooners might have a third commit in Norman (Okla.) North's
Jordan Evans
. A three-star prospect, Evans could play either end or linebacker.
The only recruit the Sooners would accept a commitment from is USC pledge
Torrodney Prevot
(Houston/Alief Taylor). Prevot is considering an official visit to OU this weekend.
Defensive tackle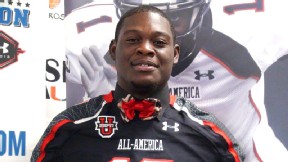 Jeff Peoples/IntersportDefensive tackle Maquedius Bain is a top priority for the Sooners to finish their 2013 recruiting class.
It's not pretty. And it's not getting any better. Last week was a gut-punch when Sooners legacy
Justin Manning
(Dallas/Kimball) picked Texas A&M over OU. But all the Sooners can do is move on.
Viable targets are out there, but it's up to defensive tackles coach Jackie Shipp to seal the deal. No. 1 on that list is ESPN 150 recruit
Maquedius Bain
(Fort Lauderdale, Fla./University School).
Bain took an official visit to OU for Bedlam and had an in-home last week. He is expected to visit LSU this weekend, which should give a better indication of where he stands.
OU is also targeting Hutchinson (Kan.) CC teammates
Toby Johnson
and
Ben Bradley
and has made in-home visits with both of them.
Johnson
visited Georgia last weekend
and the Bulldogs are a natural fit since he is from Georgia. Bradley is a Tennessee commit whom OU only recently started to turn its attention toward.
Then there is
Quincy Russell
(Athens, Texas/Trinity Valley CC). Russell also made an official visit to OU for Bedlam, but Nebraska feels like the leader in the clubhouse.
The Sooners have gone all out with Russell in the last two weeks, and it looks like if Bain is No. 1, then Russell is No. 1a for OU's list of priorities.
Another name to be on the watch for is ESPN 150 recruit
Keith Bryant
(Delray Beach, Fla./Atlantic Community). Bryant has talked about visiting OU but so far that's all there has been. No date has been set or discussed.
Linebacker
It's looking a lot better here than it did a couple of months ago. The Sooners are still set with ESPN 300 prospect
Jordan Mastrogiovanni
(Dallas/Jesuit). After flirting with A&M, Mastrogiovanni appears to be good with OU.
OU looked in-state for answers, too, in the form of Evans and three-star athlete
Dominique Alexander
(Tulsa, Okla./Booker T. Washington).
Linebackers coach Tim Kish has wanted Baylor commit
Raaquan Davis
(Heath, Texas/Rockwall-Heath) for a long time, but Davis has been solid with the Bears.
Ohio State has made a big move to get ESPN 150 linebacker
Mike Mitchell
(Plano, Texas/Prestonwood Christian) so the Sooners are making a move of their own on ESPN 300 Florida State commit
E.J. Levenberry Jr.
(Woodbridge, Va./Hylton).
Levenberry made an official visit to OU in October and visited the campus twice as a junior. With FSU's recent coaching changes, OU is pressing hard to flip him.
And don't count out ESPN 150 prospect and UCLA commit
Deon Hollins
(Fort Bend, Texas/Marshall). Hollins and Kish have quietly still been talking often during the season and his father is a fan of Kish and Bob Stoops.
Cornerback
To continue reading this article you must be an Insider
December, 7, 2012
12/07/12
10:00
AM ET
Sept. 21 was supposed to be a magical weekend. Oklahoma was hosting Kansas State in one of the best matchups of the week. A number of top recruits were going to visit the campus.
The Sooners were going to win, followed by a slew of commitments from some of the prospects in the coming weeks and months.
[+] Enlarge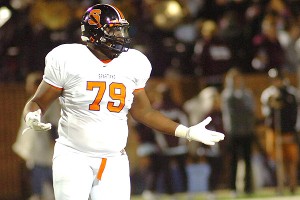 Max Olson/ESPN.comThe Sooners appear to be on the outside looking in with four-star offensive lineman Caleb Benenoch.
OU was upset by Kansas State. And the Sooners netted zero commits from the weekend. Not one. Worse yet, OU didn't even have stand a realistic chance of getting any from that weekend.
That has been the story for OU on recruiting trail during the football season. One disappointment after another. One ESPN 150 or ESPN 300 target going elsewhere.
Take a look at the non-OU commit official visitors from that weekend.
• ESPN 300 ATH
Chevoski Collins
(Livingston, Texas/Livingston): Shortly after the visit, he chose Texas over OU.
• Four-star offensive tackle
Caleb Benenoch
(Katy, Texas/Seven Lakes): Following the visit, he has ended up being down to Baylor, Texas and UCLA. Benenoch is scheduled to make his announcement Monday.
• Three-star safety
Tyler Foreman
(Encino, Calif./Crespi Carmelite): Down to OU, Wisconsin, Utah and UCLA before recently committing to Wisconsin.
• ESPN 150 safety
Marcell Harris
(Orlando, Fla./Dr. Phillips): A long shot throughout, Harris picked Florida over OU, Florida State and Texas.
• Four-star offensive tackle
Na'Ty Rodgers
(Pomfret, Md./McDonough): Still uncommitted but appears South Carolina is the clear leader. Maryland, Michigan and Washington in hunt, too.
• Juco defensive tackle
Toby Johnson
(Hutchinson, Kan./Hutchinson CC): OU continues to show incredible interest, but it's tough to gauge if Johnson shares same enthusiasm. Originally from Georgia, Johnson is taking an official to Georgia this weekend.
• And then there's ESPN 150 defensive tackle
Justin Manning
(Dallas/Kimball). A shoo-in for OU, right? No, sir. Manning broke the collective hearts of OU fans everywhere by committing to Texas A&M on Thursday afternoon.
Seven top official visitors. No commits.
But that trend wasn't only for Kansas State weekend. Florida A&M had three-star defensive end
Dimarya Mixon
(Mesquite, Texas/West Mesquite). Mixon actually ended up wanting to commit to the Sooners before being told last week OU was full at the position.
Notre Dame weekend saw two more big-time targets disappear. Four-star cornerback
Cole Luke
(Chandler, Ariz./Hamilton) visited OU and then committed to the Irish less than a week later. Texas was his other finalist.
ESPN 150 defensive tackle
Greg Gilmore
(Hope Mills, N.C./South View) was also there. Gilmore committed to LSU two weeks later, picking the Tigers over Florida and the Sooners.
Visits before the season didn't fare well, either. Top juco tight end target
Beau Sandland
(Woodland Hills, Calif./Pierce College) was OU's No. 1 man since the spring. He visited Norman right before the season.
But late Wednesday night he said the Sooners are out. His top three consists of Miami (Fla.), Arizona State and Nebraska. OU, again, left out in the cold.
Even Bedlam weekend wasn't immune to this problem. Juco tight end
Cameron Clear
(Yuma, Ariz./Arizona Western) took an official to OU and committed to Texas A&M 72 hours later.
The only official visitor OU was able to nab a commitment from was juco punter
Jed Barnett
(Oakland, Calif./Laney CC). Originally committed to Louisiana Tech, the Sooners came in and swooped up Barnett with less than three weeks of conversations.
Official visitors weren't the only problems for OU, though. The Sooners lost their highest-ranked offensive tackle commit
Matt Beyer
(San Antonio/Reagan) through no fault of Beyer or OU.
Beyer was diagnosed with spinal cervical stenosis in September and has been forced to give up football. He attended two OU games this season and said he would do anything to be out there, but he simply cannot risk the long term health problems that could occur.
To continue reading this article you must be an Insider
November, 15, 2012
11/15/12
2:00
PM ET
Every Thursday, SoonerNation releases the Sooner Intel, a sneak peek inside Oklahoma Sooners football recruiting with news and notes on the latest happenings around the program. Talk about it on our forum. A few things discussed in this week's update:
Juco defensive tackle planning visit to OU
Offensive tackle grows comfortable with Sooners head coach
To continue reading this article you must be an Insider
November, 14, 2012
11/14/12
8:00
AM ET
Each week, "Breaking down the board" will take a deeper, position-by-position look at the prospects Oklahoma is target. SoonerNation will rank five players at each position with No. 1 being the player who should be OU's top priority of the five recruits listed.

To be clear, this ranking has nothing to do with the Sooners' actual recruiting board/priority list. It's simply our ranking list compiled of the recruits at the position who have expressed legitimate interest in the Sooners and who could be the best fits for OU's system.

Today we look at Oklahoma's safety board: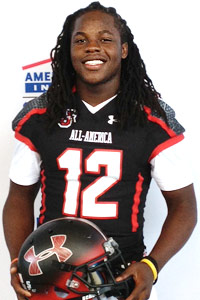 Jeff Peoples/IntersportUnder Armour All-American safety Marcell Harris is the No. 66 player in the ESPN 150.
1. Marcell Harris, Orlando, Fla./Dr. Phillips
Measurables:
6-foot-1, 209 pounds, 4.58 40-yard dash
Rankings:
No 68 on the ESPN150, No. 7 safety, No. 19 in Florida, No. 36 in the Southeast region.
ESPN.com grade:
85, four-star recruit.
How he'd fit:
Harris is ready to play immediately and has the talent to be a difference maker in the later stages of his career. He has the versatility to play the role of Tony Jefferson or Javon Harris in OU's defensive system.
Why he's No. 1:
He might be the most college-ready prospect at safety remaining on OU's board. While it will be extremely difficult to lure him out of SEC country, he's worth the effort if OU could land him.
Bob Przybylo's take:
You could make the argument Harris is the top target on OU's board defensively, but he also might be the biggest longshot among the group. Harris is likely to stay home at Florida. And if the Gators somehow do not get his pledge, Texas has done an outstanding job as well in trying to lure him to Austin. OU got the short end of the stick on his visit, too, as Harris came in Saturday morning and was gone by Sunday afternoon.
2. Tyler Foreman, Encino, Calif./Crespi Carmelite
Measurables:
6-foot-2, 161 pounds, 4.63 40-yard dash
Rankings:
No. 32 safety, No. 98 in West region, No. 67 in California.
ESPN.com grade:
77. Three-star prospect.
How he'd fit:
Foreman is very raw and relatively new to playing defense so he might not make an immediate impact. But he has the ball skills, instincts and playmaking ability that Mike Stoops covets.
Why he's No. 2:
He might not be ready to play immediately so Harris gets the slight nod. But it's not outside of the realm of possibility for him to become Harris' equal during the latter part of their collegiate careers.
Bob Przybylo's take:
It has felt like defensive backs coach Mike Stoops has done all the right things with Foreman. He got in on him early, was one of his first offers, was able to get him for an official visit, but it looks like OU is on the outside looking in. Foreman was blown away by his Wisconsin visit and there are reports that Saturday's announcement is a mere formality for the Badgers. Want some Sooner Magic? We'll see what Mike and Bob Stoops can do in next 72 hours.
3. Malik Greaves, Jacksonville, Fla./Sandalwood
Measurables:
6-foot-2, 205 pounds
Rankings:
No. 15 safety, No. 70 in Florida, No. 175 in Southeast region
ESPN.com grade:
81, four-star prospect.
How he'd fit:
Greaves is very similar to Tony Jefferson in that he is aggressive in run support yet has the athletic ability to hold his own in coverage. He would bring good size to the Sooners secondary and is a solid tackler.
Why he's No. 3:
There has been no indication that the Sooners are interested in Greaves. That doesn't mean they shouldn't be. OU swooped into Florida late in the recruiting cycle last season to land
Gary Simon
, why not try to do the same with Greaves?
Bob Przybylo's take:
If Harris is the longshot, then Greaves is the dark horse. Greaves has the size and physicality that Mike Stoops loves, especially his ability to help in run support. Originally a Vanderbilt commit, Greaves has been looking at Auburn and West Virginia the most. But with OU's focus on Florida and with Mike Stoops having to head that way for in-home visits, it wouldn't be the worst idea to see what Greaves is thinking now.
4. Jordan Sterns, Cibolo, Texas/Byron P. Steele
To continue reading this article you must be an Insider
November, 2, 2012
11/02/12
11:00
AM ET
Each Week SoonerNation recruiting writers Bob Przybylo and Brandon Chatmon will faceoff on one issue regarding Oklahoma recruiting.

This week's question: In which state should OU consider most important in its recruiting efforts: Florida or California?
Bob Przybylo:
OU shouldn't stray away from Florida, but it's clear the money is in California right now for the Sooners. Or at least perception is, anyway.
To continue reading this article you must be an Insider
October, 24, 2012
10/24/12
8:00
AM ET
It didn't take long for Mike Stoops to return to Oklahoma and target the top defensive backs for the 2013 class. Stoops was aggressive in going after them in the spring and summer and it has paid off now in the fall. The Sooners have three commits in the secondary and have made the final cut for several more.
Coincidentally, a lot of those defensive back targets will be at OU this weekend for the No. 8 Sooners' contest against fifth-ranked Notre Dame.
[+] Enlarge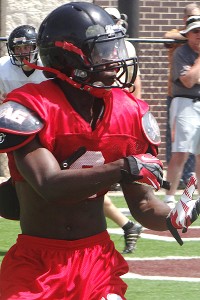 Bob Przybylo/ESPN.comESPN 300 athlete Stanvon Taylor committed to the Sooners over Kansas State earlier this spring.
COMMITS
Hatari Byrd (Fresno, Calif./Central East, 6-1, 192, No. 14 S):
Byrd is making his first visit to OU this weekend. Committed to the Sooners since July 31, he has remained a strong OU commit in interviews and on Twitter. He is incredibly pumped for this weekend.
Stanvon Taylor (Tulsa, Okla./East Central, 5-11, 170, No. 25 ATH):
The only question with Taylor is what position will he end up at with OU. Recruited as a cornerback, Taylor has been a star this season at wide receiver. A change in position would also open up another spot in the secondary.
Ahmad Thomas (Miami/Central, 6-0, 195, No. 56 S):
Like Byrd, Thomas has not seen the OU campus yet. He was offered in May and took less than two weeks to commit to the Sooners. Thomas is making his official visit to OU on Nov. 23 for Bedlam weekend.
FAVORITES TO COMMIT TO OU
Tyler Foreman (Enicno, Calif./Crespi Carmelite, 6-2, 161, No. 32 S):
The Sooners made a strong impression on Foreman during his official visit to OU last month. Mike Stoops also was among the first coaches to take notice in Foreman's ability. Foreman could still stay in state with California and UCLA very much alive in the process, but the Sooners have done all they can to try to earn his commitment.
Cole Luke (Chandler, Ariz./Hamilton, 6-0, 165, No. 33 CB):
Arguably the most important official visitor and recruit for the weekend. Not necessarily the biggest and not the highest ranked, but Luke is a priority for the Sooners. He has already taken official visits to Notre Dame and Texas and has said he is choosing among the Sooners, Fighting Irish and Longhorns.
Lamar Robbins (Miami/Southridge, 6-2, 175, No. 69 CB):
Robbins is another cornerback making an official visit to OU this weekend. He has been on two official visits and watched Purdue and West Virginia both lose those games. He has been high on OU for a long time but has admitted he needed to see the campus first before he could ever decide anything. Robbins has been attending the visits alone and could be swayed if OU is impressive this weekend.
IN THE MIX
Adrian Baker (Hollywood, Fla./Chaminade-Madonna, 6-1, 165, No. 18 ATH):
Baker made his official visit to OU for this weekend a long time ago. He committed to Florida State after scheduling the visit and said he still wants to see the OU campus. He has weekly talks with Mike Stoops and is being recruited as a cornerback. Clemson also remains in the mix, but Baker is committed to the Seminoles at this point.
L.J. Moore (Fresno, Calif./Central East, 6-0, 164, No. 27 CB):
Things have gotten a little muddled between OU and Moore. Expected to take an official visit this weekend, he said he is not sure if he will join Hatari Byrd. Moore has seen the Sooners play once this season, taking an official visit to Texas Tech when OU thrashed the Red Raiders earlier this month. It's starting to look like OU and Moore might be going their separate ways.
LONGSHOTS
To continue reading this article you must be an Insider
September, 25, 2012
9/25/12
10:00
AM ET
Three-star safety
Tyler Foreman
(Encino, Calif./Crespi Carmelite) wasn't sure what to expect going into his official visit at Oklahoma.
Foreman admitted he had no idea about the Oklahoma environment. But after spending a weekend in Norman, he wouldn't mind coming back.
"It's a great place. It's a place I can see myself going to for the next four years," Foreman said. "The visit was a lot better than what I expected."
To continue reading this article you must be an Insider
September, 21, 2012
9/21/12
8:00
AM ET
The right opponent, the right weekend and a little bit of luck have made Saturday's showdown between sixth-ranked Oklahoma and 15
th
-ranked Kansas State a golden recruiting opportunity for the Sooners.
To say the first few weeks of the season have been uneventful for OU on the recruiting trail would be putting it mildly. The Sooners' only home game was a laugher against Florida A&M two weeks ago.
To continue reading this article you must be an Insider
September, 20, 2012
9/20/12
2:00
PM ET
Every Thursday, SoonerNation releases the Sooner Intel, a sneak peek inside Oklahoma Sooners football recruiting with news and notes on the latest happenings around the program. Talk about it on our forum. A few things discussed in this week's update:
• OU is hosting recruits that have visited the Sooners many times, and some that have never seen the campus.
• A 2013 running back is "definitely interested" in Oklahoma.
• OU just offered a four-star DT. Are the Sooners a factor?
• A Florida State commitment still plans to visit OU.
• A look at linebackers coach Tim Kish's philosophy on recruiting.
Read the Sooner Intel after the jump.
Manning reflects on first OU experience
There is no question this is a big recruiting weekend for OU with Kansas State coming to town. For some prospects, it will be their first taste of the campus.
That is not the case for ESPN 150 defensive tackle
Justin Manning
(Dallas/Kimball). It won't be his second or third visit to OU but he might be more familiar with the campus than any other class of 2013 recruit.
Damon Sayles/ESPN.com
The next month could have a big impact on Justin Manning's recruitment.
Manning, the younger brother of former OU defensive tackle DeMarcus Granger, has been going to OU for visits since he was in sixth grade.
He still recalls his first memory of OU.
"It was in sixth grade. OU was looking at my brother, and we were at this hotel. They gave me all the chocolate cake and ice cream I wanted. It was great," Manning said.
Manning never thought about following in his brother's footsteps at the time because he didn't even like football. He admitted he was initially playing football because that's what people told him to do.
That's not the case anymore as Manning said he loves the game and appreciates the opportunity it is giving him.
This will be the first of four consecutive weekends of official visits for Manning. He will be at Texas A&M next weekend, TCU after that and then at LSU.
Manning is one of several notable visitors to campus this weekend. For a full list that is continually being updated,
read the SoonerNation forum
.
Foreman ready for first taste of OU
Three-star safety
Tyler Foreman
(Encino, Calif./Crespi Carmelite), however, is one of those recruits who will be getting his first look at OU.
The Sooners were one of the first schools to offer him. Many more would come later, but he never forgot about the interest defensive backs coach Mike Stoops showed initially.
Foreman said he has been talking to Stoops every week, and he is really excited about finally getting to see the campus.
"I know OU has a really good program and tradition, but I need to see how I feel when I'm there," Foreman said. "I want to see the campus and see how everything fits."
Foreman has already scheduled an official visit to Utah in October and said more schools are in the running for visits although he has not finalized when or which schools those will be.
He did say California and UCLA are also among his top schools. With most of his favorites being pretty close to home, is distance a factor for Foreman?
"No, not at all," Foreman said. "I'm used to being independent. I'll be fine on my own. Distance isn't a concern. It's going to be about team chemistry and how I interact with the coaches and players."
Foreman said another major part of the visit will be about academics. He is looking to major in business and is hopeful that he likes the OU business program.
The Katy invasion
One thing that cannot be overlooked when looking at this recruiting weekend has been timing. It's a perfect storm of everything coming together. Most notably when it comes to bye weeks as several top recruits in Texas will be able to make the trip.
It's almost as if the whole city of Katy, Texas, will be taking it easy. And that's a good thing for the Sooners as defensive end commit
Matt Dimon
(Katy) and offensive lineman
Caleb Benenoch
(Katy Seven Lakes) will both be taking official visits.
Dimon is not coming alone as running back
Adam Taylor
is also making the trip. Taylor wanted to commit to LSU in the spring but was told he had an uncommittable offer. He was adamant during the summer he was still going to be with the Tigers.
But now it looks as though Taylor has accepted that he needs to move on. And the Sooners might just be the home he is looking for.
Max Olson/ESPN.com
Running back Adam Taylor has been progressing after tearing an ACL last fall.
"He is definitely interested in OU now that the other running back is out [
Greg Bryant
]," Dimon said. "He definitely wants to take this visit."
Taylor's junior season was cut short because of a torn ACL. Dimon hasn't minced words about his friend, saying Taylor hasn't been the same player of old. Last weekend was a step in the right direction. Taylor rushed for 184 yards and five touchdowns in a blowout 63-10 victory against The Woodlands.
The margin of victory is the largest in school history for The Woodlands, who is the last team to beat Katy in a regular season game.
"He had been real tentative, but I was real proud of him," Dimon said. "He was hitting people again and looked great. He's not the old Adam Taylor, but he's getting there."
Taylor might not be the only Katy teammate coming along. Dimon is hopeful 2014 linebacker
Jake Blomstrom
can make the trip, too.
As for Dimon, there are no concerns regarding his commitment. He said he talks to OU defensive ends coach Bobby Jack Wright about once a day in one way or another. And when Katy took on Houston Alief Taylor, Wright, Tim Kish and Cale Gundy were all in attendance.
"There were so many schools at that game. It was a good game. Alief Taylor is a good team. I think they saw a good show," said Dimon about Katy's 23-9 victory.
Dimon is also pretty familiar with Benenoch. The two have been tweeting back and forth in the last week about seeing each other at OU.
Things weren't always so friendly between the two.
"We had a strong hatred for each other my sophomore year, no doubt about that," Dimon said. "He just thought he was all-world. I wasn't impressed.
"Last year I killed him one-on-one. We're not best of friends by any means, but we're not the bitter enemies we used to be."
Better late than never with Billings
We've talked a lot about the patient approach OU has shown with its 2013 offers but this is a case where maybe it might hurt the Sooners regarding four-star lineman
Andrew Billings
(Waco, Texas/Waco).
Billings had initially talked about making his college announcement this week. That doesn't appear to be the case, but the clock is ticking before Billings does make his call. OU is the latest school to jump into the sweepstakes for his signature.
Billings has had a top five of Texas, Baylor, SMU, Mississippi State and TCU for a while. Of those five schools, Texas is the only program that has wanted him to play on the offensive line.
He has made it clear he prefers defense although he told HornsNation last week he is starting to come around to the idea of the offensive line.
But when he starts talking about playing on the defensive line, he does get a little excited.
"Defensive linemen get a lot of recognition, and I can really see the progress that I've been making," he said.
The interest between Billings and OU is rather new, Billings said. It has only been in the last few weeks the Sooners have shown any interest.
With the rash of issues with interior lineman, it was possible OU was looking at Billings to fill that slot. But nope, Billings confirmed OU wants him at defensive tackle, and it is Jackie Shipp that is talking to him.
"He came down here recently, and I was a little shocked. But it's pretty cool, too," Billings said.
Billings didn't grow up a big college football fan so the Sooners can still get in the hunt. But he also admits he has never really considered OU as a potential future home. Either way, Billings is hoping to have his decision done soon.
"This has been stressful," Billings said. "I'm grateful for all the opportunities, but it's not easy."
Baker still set to see OU
It's a different feeling for four-star athlete
Adrian Baker
(Hollywood, Fla./Chaminade-Madonna) in his senior season.
Corey Long/ESPN.com
Defensive back Adrian Baker will be in Norman in October.
He was under the radar last season, allowing him to make big play after big play. This season? Everybody is scared of him and not looking in his direction.
"It's still fun, but it gets a little frustrating and boring," Baker said. "It's allowing other members of the secondary do big things, and we're 3-0 so that's all that matters."
Baker, recruited as a cornerback by OU, has been committed to Florida State since the summer. But that doesn't mean he isn't still talking to other schools. It seems evident the Baker race is down to FSU, OU and Clemson.
He was supposed to take his official visit to Florida State this weekend for the mega-showdown with Clemson but tweeted Tuesday night he is unable to attend.
He is very familiar with the Stoops family. He has weekly talks with Mark at Florida State and Mike at OU.
"I definitely feel like I know the family," Baker said. "It's a pretty unique situation, but it has been a lot of fun. Both coaches are alike and different at the same time."
Though firmly committed with FSU, Baker said he still intends to take his official visit to OU on Oct. 26, the weekend of the Notre Dame game.
"The resume speaks for itself," Baker said. "The tradition is incredible. The distance is a concern, and that's why I want to see everything for myself."
Baker does have an OU alumnus in his ear in former star OU offensive lineman Davin Joseph. Baker said Joseph spoke to him last week for Baker's 18
th
birthday. He jokes about Baker playing for the Sooners, but what he really stresses to Baker is to keep his focus and not get distracted.
High schools are preparing for Baker differently this season and so is Baker when it comes toward watching college games.
"I'm looking at tendencies and what the defenses are doing and things like that," Baker said. "I'm not watching as a fan anymore. I'm taking notes when watching FSU, OU and Clemson."
Baker said he would like to set up an official visit to Clemson, but he is not sure when he can make the trip.
Morris eyes OU visit
A couple of weeks ago three-star offensive tackle
Christian Morris
(Memphis, Tenn./East) said if OU made an offer, it definitely wasn't too late for the Sooners to enter the chase.
Two days later OU officially did make that offer and Morris, a UCLA commit, has been a man of his word saying OU is definitely in consideration.
"Coach [James] Patton had called me a day earlier, but I missed the call," Morris said. "I called him back and he asked if I was still interested. I told him I was. He gave me a breakdown and said I'm a high priority for them at this point going forward."
Morris was rumored to have been at Arkansas last weekend, but he said that wasn't the case. Instead, he stayed home and said he will most likely stay home the rest of this season. He would prefer to take his official visits after his senior season.
The three schools he is looking toward the most are UCLA, OU and Nebraska. He has an official visit with Nebraska coming up next week.
OU tackles coach Bruce Kittle was in attendance for his game last week. Morris said it was good to see Kittle out there, and he was excited about showing what he could do.
"We have different running backs this year so we're having to work harder to the pave the lanes for the new backs," Morris said. "I think I'm becoming a much better run blocker, too."
Since the OU offer, UCLA has picked up another offensive tackle commit in
Kenny Lacy
(Phoenix/Mountain Pointe). With Lacy, the Bruins have three tackle commits. Coincidentally, Lacy, Morris and
Sean Dowling
(Fallbrook, Calif./Union) are all on OU's short list for tackles, too.
Morris said he it doesn't affect him one way or the other with the addition of Lacy.
"It doesn't faze me," Morris said. "I'm a competitive guy. The better linemen we have as a group, the better we'll be as a team. But I know what I can do and the confidence I have in my abilities."
Hardison with no favorites yet
With Matt Dimon and
D.J. Ward
, OU is pretty set at defensive end for the 2013 class. It does seem like the Sooners want one more to strengthen the bunch, though.
That answer could be in the junior college ranks with
Marcus Hardison
(Dodge City, Kan./Dodge City CC). But right now even Hardison doesn't know what he wants.
"No, I don't have any favorites right now," he said. "I'm having fun right now. I don't know where I want to go yet at all."
To continue reading this article you must be an Insider
September, 5, 2012
9/05/12
7:20
AM ET
Safety
Tyler Foreman
(Encino, Calif./Crespi) holds more than one dozen scholarship offers, but Sept. 1 moved the recruiting process to another level for him, as college coaches began to call. Foreman said he heard from California, Oklahoma, UCLA and Utah within the first few days of the month. But the 6-foot-2, 161-pound standout is doing what he can to keep recruiting quiet, as he focuses on his team this season.
"I'm just going to stick with what me and my parents said, and wait until after the season [for recruiting]," Foreman said. "I want to focus on the season because we have a goal and I want to follow that to the end. I've told the coaches that's what I'm going to do."
Crespi has several bye weeks on their schedule this season, so while Foreman won't begin narrowing down his final list or think about committing in-season, he will use two of his official visits.
To continue reading this article you must be an Insider
May, 3, 2012
5/03/12
3:00
PM ET
Tyler Foreman
(Encino, Calif./Crespi Carmelite) could easily be considered a blank canvas.
Although he's only been playing defense for two seasons, the safety prospect recently picked up an offer from Oklahoma. Sooners defensive coordinator Mike Stoops watched Foreman work out and then offered the 6-foot-2, 195-pound prospect.
"He said he could tell I'm really explosive at a young age, because I'm only 16," Foreman said. "He said I have time to grow into my body, I'm going to be really big and I'm going to develop."
To continue reading this article you must be an Insider
April, 27, 2012
4/27/12
5:00
PM ET
Oklahoma has solidified some of its positions for the class of 2013. Not much work needs to be done at quarterback, running back and defensive end because the Sooners either have commits at the spot or targets that are clearly identified.
But the current evaluation period is crucial in other areas. And this week, the OU coaches' attention went to defensive back and offensive tackle.
• The week started with a bang when OU offered four-star athlete
Stanvon Taylor
(Tulsa, Okla./East Central), who has been recruited as a cornerback by the Sooners.
Taylor hasn't verbally committed yet, but every picture of Taylor this week has shown him wearing some type of OU apparel. Once he gets the approval of his mother, the clock could be ticking to the next commitment.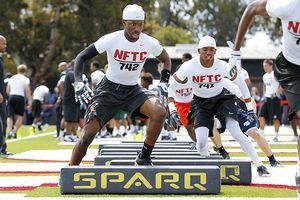 Danny Moloshok
Oklahoma recently offered 2012 Notre Dame signee Tee Shepard, who left school earlier this spring.

For the rest of the defensive backs, OU coach Mike Stoops went to California. OU already had offered cornerback
Johnny Johnson
Jr. (Fresno, Calif./Central East) in February. This week the Sooners added his teammates safeties
L.J. Moore
and
Hatari Byrd
. All three are four-star prospects.
OU is also taking a chance with safety
Tyler Foreman
(Encino, Calif./Crespi). Foreman is lacking the quality of big-time offers, but he has impressed recruiting experts who have seen him in person.
He admits he is still learning the safety position, but he has a lot of potential and is a high-end three-star prospect.
The Sooners also extended an offer to cornerback
Derek Babiash
(Poway, Calif./Poway), another cornerback that is at least 6-foot, which is what Stoops has been looking for in his defense. Babiash has been a popular name around the Pac-12 and is starting to break out nationally.
It didn't stop at 2013, either, as OU offered 2012 cornerback
Tee Shepard
. Originally signed with Notre Dame, health reasons forced Shepard, ranked No. 9 at cornerback and No. 90 in the ESPN 150, to leave the Irish.
• OU already had offered a lot of defensive backs so trying to guess which new recruits would get offers was kind of tough. Not so much when it came to offensive tackle. The Sooners saw five of their first seven offers commit to other schools, and OU offensive tackles coach Bruce Kittle has been hard at work this week, adding three offers.
It started Monday with
Na'Ty Rodgers
(Owings Mills, Md./McDonough). This will be a tough battle for OU to win, but the Sooners were able to nab a Baltimore-area product in 2012 with defensive end
Charles Tapper
(Baltimore/City College).
To continue reading this article you must be an Insider
Green-Beckham's Waiver Request To Play In 2014 Denied
BIG 12 SCOREBOARD
Saturday, 8/30
Sunday, 8/31