Oklahoma Sooners:

Torrea Peterson
April, 25, 2013
Apr 25
8:00
AM CT
NORMAN, Okla. -- The first time he stepped on the field as a Sooner, defensive end
Charles Tapper
felt uncertainty.
"It was nerve-racking," he said.
In the Sooners' 2012 season opener, the UTEP offensive tackle on the opposite side of the line of scrimmage did his best to intimidate Tapper, then just a freshman.
[+] Enlarge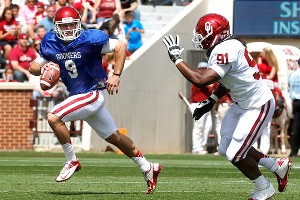 AP Photo/Sue OgrockiDefensive end Charles Tapper player sparingly for the Sooners in 2012, but he'll be a key member of the defense this season.
"I was kind of scared to go out there at first," Tapper said. "The offensive tackle was just staring at me and I was just shaking."
So instinct took over.
"So I tried to do a basketball move and he just threw me out of the way," said Tapper, who was a standout basketball player who didn't play football until his junior year at Baltimore (Md.) City College High School.
Later in the game, Tapper got the best of his one-on-one battle, pressuring UTEP quarterback Nick Lamaison in the final minutes of OU's 24-7 win.
"After my first snap I was OK, I was ready to play," Tapper said.
Those moments in El Paso, Texas, define Tapper's first season at OU. During times of uncertainty, the raw defeensive end turned to his basketball roots yet when he focused on his football fundamentals, he saw success.
April, 11, 2013
Apr 11
8:00
AM CT
NORMAN, Okla. -- Saturday, the Sooners will put the finishing touches on spring ball with the Red-White spring game.
With a quarterback derby, three first-year assistants and several new starters on defense, this has been one of the most storyline-rich springs of the Bob Stoops era. Of them all, here the seven most compelling storylines to watch for Saturday:
To continue reading this article you must be an Insider
April, 1, 2013
Apr 1
8:00
AM CT
NORMAN, Okla. -- Many faces are gone from final 2012, SoonerNation "Oklahoma 10" -- a composite ranking of the 10 best players on the squad.
Through the first half of spring ball, we've updated the "Oklahoma 10," which – you guessed it – features many new faces:
1. FB Trey Millard (Last ranking: 2):
Perhaps no one stands to benefit more from the ongoing tweaks offensively this spring than Millard -- and that's a good thing for the overall team, too. Millard averaged 6 yards per carry and more than 11 per reception in 2012, despite touching the ball just 63 the entire season. With a renewed emphasis on the running game featuring a heavy dose of read, midline and triple option, Millard figures to be a bigger part of the attack next season.
To continue reading this article you must be an Insider
February, 17, 2013
Feb 17
11:30
PM CT
UPDATE: An OU spokesperson confirms junior defensive tackle Damon Williams is no longer on the team, as well.
NORMAN, Okla. -- Oklahoma will be transitioning to three new assistant coaches this spring. The Sooners will also have to make do with just four scholarship cornerbacks and possibly as few as three scholarship defensive tackles during the spring, as well.
An OU spokesperson confirmed Sunday night that cornerback
Gary Simon
and defensive tackle
Marquis Anderson
are no longer with the squad.
That leaves the Sooners with only returning starter
Aaron Colvin
,
Cortez Johnson
and
Zack Sanchez
and
Kass Everett
at cornerback; and just
Jordan Phillips
,
Jordan Wade
and
Torrea Peterson
at defensive tackle.
OU was hoping to add junior-college tackle
Quincy Russell
in January. Russell, however, still has academic work to complete before he can enroll. Of OU's three returning defensive tackles, only Phillips saw even spot duty last season.
The Sooners signed three high school defensive tackles earlier this month, as well. But one of those,
Kerrick Huggins
, has yet to qualify and doubled-signed with Trinity Valley Community College in case he doesn't make it Norman.
Coach Bob Stoops showed he hasn't been happy lately with OU's production or recruiting at defensive tackle, and
fired his longtime defensive tackles coach, Jackie Shipp
, last week. Last season, the Sooners ranked 94th in run defense and 108th in tackles for loss.
OU also lost its top three defensive tackles --
Casey Walker
,
Jamarkus McFarland
and
Stacy McGee
-- to graduation.
The Sooners face transition in the secondary, as well. Three of five starters are gone, and Simon was expected to challenge Johnson for the starting job at corner opposite Colvin.
January, 15, 2013
Jan 15
12:00
PM CT
A glimpse at the attrition rate at the University of Oklahoma removes the fog hovering over some of the major question marks the Sooners face heading into 2013. OU has had some ill-timed departures, forcing the Sooners to rework their recruiting game plan with the hope of having a balanced roster heading into the upcoming season.
To continue reading this article you must be an Insider
September, 5, 2012
9/05/12
10:00
AM CT
NORMAN, Okla. -- At the moment, the Sooners are still without their two projected starting defensive tackles in
Stacy McGee
and
Casey Walker
. McGee remains suspended for a violation of university rules. Walker has not been at practice for more than a week as he deals with a personal issue.
Defensive coordinator Mike Stoops said he's not concerned with who's missing.
"We coach our players who are there and we try to put them in the best position to do the things we need them to do to be successful and coach the players and scheme the guys we have," Stoops said. "Who we don't have, we really don't worry about them."
In place of McGee and Walker,
David King
and
Jamarkus McFarland
took almost every snap at tackle against UTEP and performed well as the Miners offense was kept out of the end zone.
"We play with the guys we have and coach them all the same and hopefully we won't have to change our defense too much based on the personnel we have available," Stoops said.
With
Torrea Peterson
also out with an academic issue, Stoops is hopeful some of his younger tackles like
Jordan Phillips
and
Marquis Anderson
will develop to where he can play them on a more consistent basis. Neither player got more than three snaps apiece in El Paso.
"It just wasn't a comfortable feeling and I think our offense settled in and starting making some drives so I didn't think we were too gassed (on defense)," Stoops said. "We stuck with the guys on the first line probably more than we would have liked but as the season goes on you hope younger players progress and continue to gain confidence and trust in what they're doing."
July, 27, 2012
7/27/12
12:00
PM CT
During the summer months, SoonerNation will take a closer look at each scholarship player on Oklahoma's roster in our Crimson Countdown series. We'll analyze each player's impact on the program since he arrived on campus, his potential impact this fall and his long-term impact. Starting with No. 1 Tony Jefferson, the daily series will go in numerical order until our final analysis of No. 98 Chuka Ndulue.
No. 94 Torrea Peterson
Defensive tackle, 6-foot-3, 292 pounds
To continue reading this article you must be an Insider
April, 10, 2012
4/10/12
9:30
AM CT
Oklahoma defensive tackle
Jordan Phillips
amazes his teammates almost daily.
And not just with his natural ability to blow past opposing offensive linemen.
"He's the only 300-pound guy I've ever seen do a standing backflip in his pads," said fellow defensive tackle
Jamarkus McFarland
. "And he can dunk with two hands, which is amazing."
At 6-foot-6, now 330 pounds, Phillips looks like a tackle. But more than a tackle, he's an athlete.
Last season, an academic snafu caused the Towanda, Kan., to arrive in Norman a couple of weeks after fall camp had started, ultimately leading him to redshirt. All it took was one practice, however, for Phillips to make his presence known. As the Sooners were warming up, Phillips did a standing backflip in front of the entire team -- forcing position coach Jackie Shipp to do something he never thought he'd have to do: outlaw backflips among his players.
"Coach Shipp was like, 'Don't do that no more. That's too scary,'" McFarland recalled. "But he can do it."
Shipp hasn't outlawed dunking, but that could be next. Phillips is maybe the only OU defensive lineman able to throw down a two-handed jam. Despite weighing well over 300 pounds, Phillips, who averaged a double-double his final two seasons of high school, is also one of the best basketball players on the football team.
"I've seen him shoot from half court like they're free throws," McFarland said. "He's amazing to watch. He can do whatever, honestly, I believe he could do baseball or swim."
What the Sooners need most from Phillips is to eventually emerge as a difference-maker up front. The steady trio of
Casey Walker
,
Stacy McGee
and McFarland figure to anchor the tackle position for a third straight year. But all three will be gone after this season, which will leave a sizeable void down the middle of the defense.
The Sooners have other promising tackles. Redshirt freshman
Marquis Anderson
is more of a combo lineman in the mold of
David King
, able to play either tackle or end. Mid-semester addition Jordan Wade, meanwhile, is an intriguing prospect, though still probably a year away from seriously contributing. Then there are sophomores
Damon Williams
and
Torrea Peterson
, who, as McFarland puts it, are both capable of being "low-pad, run-stuffers."
But none possesses the athletic tool belt Phillips does.
"He has amazing ability to do pretty much anything he wants," McFarland said. "All he has to do is put his mind to it."
March, 9, 2012
3/09/12
10:30
AM CT
Jake Trotter answers readers' questions about Oklahoma football in his mailbag every Friday. Got a question for Jake? Submit it here.
Sean Cowan in Neodesha, Kan., writes
: I haven't heard much on running back
Dominique Whaley
, has he fully recovered? And how well do you think he will do this coming year?
Jake Trotter
: Whaley (who fractured his ankle last season) isn't fully recovered, but he has been doing some light jogging in practice, which is an excellent sign he'll be ready to go for next season. Initially, I was skeptical about how big of an impact Whaley would be able to make next season coming back from such a horrific injury. That skepticism is washing away.
---
A.J. in Long Beach, Calif., writes
: I saw that
Torrea Peterson
is on the spring roster. Does that mean he is officially reinstated to the team?
Jake Trotter
: I've been led to believe that this is the case. Peterson has some work to do before his status is completely solidified. But for now, he remains a member of the team.
---
Chad in Edmond, Okla., writes
: Prediction on starting TE first game?
Will Latu
at LT? If so, does he start? If not, where does he play and does he start?
Jake Trotter
: I think there's little question that
Brannon Green
will be OU's opening day tight end.
Tony Jefferson
remarked this week that Green has been most impressive of all the newcomers.
Lane Johnson
is going to be the starting left tackle. Latu could play right tackle if he proves to be better than
Daryl Williams
or
Tyrus Thompson
, but my guess is that he'll start out backing up Johnson on the left side.
---
Carter in Oklahoma City writes
: With the decision of
Kellen Jones
to transfer, what does this do to OU's depth chart not only this spring but going into the fall at LB?
Jake Trotter
: It does
very little to the immediate depth chart
. Senior
Jaydan Bird
was going to back up
Tom Wort
at middle linebacker either way. Kellen Jones could have emerged as No. 2 at weak-side linebacker behind
Corey Nelson
, but he would have played very little. Where Jones' transfer hurts is 2014. Wort and Nelson will be gone, and Jones seemed like the most promising of all the young linebackers.
February, 4, 2012
2/04/12
2:30
PM CT
Even though they didn't have a dominant player at the position this season, the Sooners didn't declined to take any defensive tackles in this class
This week, Bob Stoops explained why.
"It's kind of like managing your salary cap," he said. "We can't have all our scholarships in just defensive tackles. They don't play any special teams. We have eight or nine of them, right? That's four deep if we have eight. No other position is four deep."
OU returns
Jamarkus McFarland
,
Casey Walker
and
Stacy McGee
from last year's defense.
Jordan Phillips
and
Marquis Anderson
both redshirted. There's also
Damon Williams
and
Torrea Peterson
, assuming he's allowed back with the team. The Sooners technically added one more defensive tackle in
Jordan Wade
, who signed last year, but didn't qualify academically.
"He's all of 6-4, 315, just looks awesome," Stoops said. "Will need to have a big winter here to get in shape, but he's an excellent athlete. He's added to that group, but again you only get so many spots."