Oklahoma Sooners:

Tommy Tuberville
October, 3, 2012
10/03/12
12:00
PM ET
Texas Tech is calling for a "blackout."

This week, coach Tommy Tuberville declared Saturday's game against Oklahoma a "blackout game," where Red Raiders fans are advised to wear black rather than red.

"We'll wear all black in the game," Tuberville said referring Red Raiders' uniforms. "We're asking all fans to wear as much black as they possibly can. It's going to be a cool day around 70 degrees, so that shouldn't be a problem. We want to show the people on national television what we look like in terms of being a Red Raider when we have a blackout game. So we're looking forward to that."

All told, the Red Raiders are 3-1 in "blackout" games.

In 2007, Texas Tech beat the Sooners 34-27. The following year, the Red Raiders defeated No. 1 Texas. And in 2010, Texas Tech knocked off No. 12 Missouri.

The Red Raiders' only blackout loss came last year against No. 24 Texas A&M, 45-40.
October, 2, 2012
10/02/12
10:00
AM ET
Paul Rhoads enjoyed his time with the Texas Tech defense a whole lot more the last time he met them.
Against the nation's worst rush defense, Rhoads' Iowa State team rolled for 368 rushing yards in a 41-7 win that helped push the Cyclones into a bowl game. It also began Texas Tech's descent (the Red Raiders were ranked No. 20) out of the postseason.
This time around, though? The new Texas Tech defense looked a whole lot different. Texas Tech stuffed the run all night and didn't bother blitzing senior quarterback
Steele Jantz
.
The result: Just 116 rushing yards and 189 yards of total offense for an offense that entered the game averaging 429 yards in three nonconfernce games.
The Red Raiders forced four turnovers from Jantz this time, when sophomore
Jared Barnett
went without a turnover at quarterback a year ago.
[+] Enlarge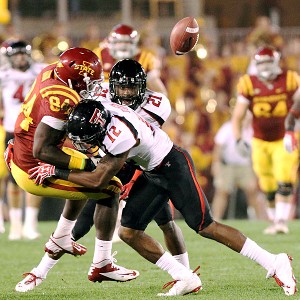 Reese Strickland/US PresswireThe undefeated Red Raiders have the top-ranked defense in the country.
The difference is clear.
"Up front, they were very physical. Did a nice job of getting off blocks, and just smothered our receivers in the pass game," Rhoads said.
A revamped defensive line has Texas Tech holding opponents to just 85 rushing yards a game. Combined with a solid pass rush and an improving secondary, the Red Raiders held their spot as the nation's leader in total defense just a year after finishing 114th in the stat. Texas Tech is giving up 24 fewer yards per game than No. 2 Alabama, though the Red Raiders have faced an FCS opponent and three teams that all rank at least 89th or below in total offense.
"In this league, in the Big 12, you've gotta have as much speed as you can," coach Tommy Tuberville said. "We're tackling better. We have speed on the team. We've made it a priority the last two years in recruiting to bring in height and speed on defense, guys that can run and rush the passer with speed and get their hands up and in the passing lane.
"It's an ongoing process to get this defense where we need to be to play the Oklahoma State's, the West Virginias, teams that throw the ball almost every down."
That speed showed up everywhere and hounded the Iowa State defense, whether it was getting to quarterbacks more quickly or breaking on thrown balls with more quickness. Jantz threw three interceptions, and former receiver
Cornelius Douglas
nabbed two. Douglas returned one 40 yards to set up a late touchdown and won the Big 12's Defensive Player of the Week honors.
Ball carriers were swarmed and didn't go anywhere after encountering one or two defenders.
"They were notably better on Saturday night," Rhoads said. "There's a personality that you establish as a defensive coordinator of a team. Individually first, then on your staff, and it grows throughout the team."
Credit new coordinator Art Kaufman, as Tuberville's former assistant at Ole Miss was reunited with his old boss in Lubbock this offseason. It was Texas Tech's fourth coordinator in four years and third in three years under Tuberville, but Kaufman is the first to make a real impact.
"Do your job first. Be accountable for what you're supposed to do. Everybody doing their job every play. We throw it in this league, but you still have to stop the run, because some of these throwing teams can run the ball on you. That just opens the floodgates for the passing game also," Tuberville said. "We've gone in and Art's done a good job of training these kids in terms of playing the run, how to play with their hands, how to play with their eyes, gap control, all the little things it takes to be a run-stopping team and that filters down to playing pass defense and rushing the passer."
Kaufman's impact will get its toughest test yet when the Red Raiders host Oklahoma on Saturday. Oklahoma's dealt with struggles of its own offensively, but through three games, the Sooners rank 25th nationally in total offense. That's been a bit of a disappointment, but there's no doubt Oklahoma's offense is in a different league that what Tech has faced to this point.
Sooners coach Bob Stoops has already taken notice of the change in Lubbock.
"They're playing a lot more aggressive," he said. "They're really physical up front. They're covering people in tight coverage. Just everything looks stronger and more disciplined in how they're playing."
Saturday, we'll find out just how much stronger and more disciplined Texas Tech can be as the season goes on.
August, 28, 2012
8/28/12
1:45
PM ET
The 2011 season was unkind to Big 12 running backs from Ames to Austin, but nobody suffered a worse injury than Texas Tech's Eric Stephens.
"He tore pretty much everything," coach Tommy Tuberville said of his back, who also dislocated his knee. Doctors gave the swelling in Stephens' knee more than a month to calm down before operating.
[+] Enlarge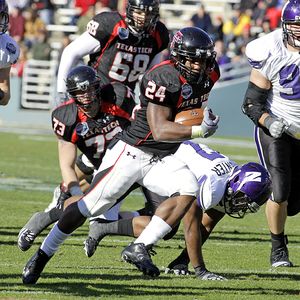 AP Photo/Sharon EllmanTexas Tech RB Eric Stephens tore both the ACL and MCL in his left knee late last season.
Saturday, he'll finally make his return to the field. Tuberville says he'll likely start, with a target of 10-15 touches.
"We discussed that. It could be less or could be more. It just depends on the situation, how he's doing, how he reacts," he said.
Stephens performed well in fall camp after suffering the injury early last season, derailing a likely 1,000-yard season that would have been Tech's first since 1998. The only noticeable difference now is Stephens is a little overweight and looks about 90-95 percent of his usual self.
"That's not the knee problem, he just hasn't played football in a long time," Tuberville said. "I don't think physically there's a problem at all. I'm sure he's more than 100 percent ready to go with the knee. ... I've never had a serious injury like that, but I can just imagine being a major college running back and getting hit all around high and low for the first time in 10-11 months, it'd be awful tough mentally."
The offseason was rough on Iowa State's
Shontrelle Johnson
mentally, too. Doctors doubted whether he'd return to the game after suffering a neck injury last year against Texas. He missed the spring, but doctors cleared him just before fall camp and his long-awaited return is set for Saturday afternoon against Tulsa.
"Shontrelle's done an excellent job and had zero ill effects coming back from neck surgery this offseason," Iowa State coach Paul Rhoads said. "He'll be on the field early. If camp is any indication, we think he's ready to go."
Oklahoma senior running back
Dominique Whaley
suffered an ugly broken ankle when a player landed on the back of his legs in a win over Kansas State. He'll be on the field early for the Sooners after earning the starting job once again.
"In my mind he looks to be back to what Dom always was, that's explosive, strong, fast," Oklahoma coach Bob Stoops said. Whether he's 100 percent or not, maybe only he and the good Lord really know. But he sure looks it to me. I'm hopeful that will be the case."
Oklahoma rival running backs
Joe Bergeron
and
Malcolm Brown
of Texas were banged up with various minor injuries last season, but a renewed focus on health, diet and fitness has hopes high that the duo will be able to stay on the field in 2012.
The running back whose status is most in doubt? West Virginia's
Dustin Garrison
. The sophomore led the Mountaineers in rushing as a freshman, but suffered an injury later than any other Big 12 back. He tore his ACL in preparation for the Mountaineers' 70-33 win over Clemson in the Orange Bowl.
Soreness led coaches to give him a few days off last week, but if he doesn't respond well to practice this week, he could redshirt in 2012, ceding the starting spot to bigger back
Shawne Alston
, a senior.
"The plan all along has been get him to game week and then get him out there and see what happens," Mountaineers coach Dana Holgorsen said.
October, 24, 2011
10/24/11
3:49
PM ET
Oklahoma prepared for Texas Tech all week as four-touchdown favorites while its rival up north, Oklahoma State, listened to critics place it on upset alert all week heading into a road matchup against Missouri.

The Sooners, you might have heard by now, lost. Oklahoma State won by three touchdowns.

Oklahoma decided to limit its media access following the loss to just one post-practice opportunity instead of the usual three. The move is reminiscent of late last season when the Sooners closed their season with two mammoth road games against Baylor and Oklahoma State and trimmed media access to a few select players.

Did Oklahoma let the confidence of others outside the locker room get in its head? Who knows? But Texas coach Mack Brown, not speaking specifically about the Sooners, says it wouldn't be the first time that's happened to a team.

Brown's wife, Sally, likes to tell him she knows nothing about football, but she's learned at least one thing over the years.

"She says about the time someone says, 'That absolutely cannot happen,' is when it happens," Brown told reporters during the weekly Big 12 coaches teleconference. "Kids sit around all week and listen to the fans. They listen to the media, and when people are talking about the other team not having a chance to win -- or you start talking about a game down the road instead of the one that week -- it is a very, very dangerous thing. That's why coaches get so paranoid about games each week. All of us have been in one of those, and when you've been in one, that's enough. That'll keep your attention for the rest of them."

Oklahoma experienced that disappointment on Saturday. Oklahoma State didn't, but Mike Gundy knows a similar performance from his team could produce a similar result.

"You try to do everything you can as a coach to stress the importance of trying to play at a high level every week," Gundy said. "The example that I've used is that we're in March Madness from Sept. 1 in college football. There are not many opportunities to slip and continue to have a chance to be there at the end of the season."

Oklahoma State is one of just eight remaining undefeated teams left, including two in the Big 12. It's the highest-ranked Big 12 team, five spots above fellow undefeated Kansas State, which hosts Oklahoma this week. The challenge ahead of the Cowboys is clear: avoid the fate Oklahoma fell victim to against Texas Tech.

"We think as a coaching staff that the greatest challenge we have now is to get them to play at a high level 12 weeks in a row," Gundy said.
Stoops, Players Want To Effect Change
BIG 12 SCOREBOARD
Thursday, 9/3
Friday, 9/4
Saturday, 9/5