Oklahoma Sooners:

Todd Monken
May, 4, 2012
5/04/12
9:15
AM ET
STILLWATER, Okla. -- Mike Gundy remembers what happened the last time Oklahoma State shook up the Bedlam rivalry.
Gundy was an assistant on Les Miles' staff back in 2001 when the Cowboys knocked off the defending national champion Sooners on their home field as four-touchdown underdogs. In 2002, Miles did it again, beating the No. 4 Sooners in Stillwater, 38-28. The Sooners' noisy neighbors to the north woke them up to a rivalry that would turn one-sided again very soon.
"The first two years I was here with Les and we beat them, they didn't really consider us a factor. I obviously don't have any proof of that, but I'm sure when they looked at their schedule, they were looking more at Texas and Nebraska and people like that. ... I don't think their players every really paid much attention to us," Gundy said. "It's been so one-sided here for the last 100 years, or however long; it's been a bigger factor for the fans than it was the players.
"That changed in 2003 up through now. They, in my opinion, were very aware of that game. Last year is only going to add to that."
[+] Enlarge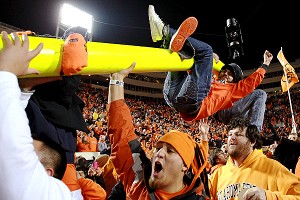 Ronald Martinez/Getty ImagesOklahoma State beat rival Oklahoma for the first time in eight years on its way to winning the Big 12 title in 2011, and fans celebrated the moment.
Oklahoma coach Bob Stoops? Well, he strongly disagrees with that assessment.
"Everyone calls it a rivalry for all these years, now you're saying it's now become one? I don't understand that. When wasn't it a rivalry?" he said. "Like I didn't need to last year? What year didn't I need to win it?"
Valid points from Stoops, but the facts support Gundy's assumption. After the 2002 loss, the Sooners won next eight Bedlams battles. Only three of the eight wins were by single digits, even though a rising Oklahoma State program was ranked in five of the eight meetings.
Just like 2001 and 2002, Gundy says the Cowboys' emphatic 2011 win "throws fuel on the fire" of Bedlam, a Big 12 rivalry gaining fast on Red River as the Big 12's most nationally relevant game.
Last season, the balance of power in the state shifted. When receiver
Isaiah Anderson
goes home to Wichita Falls, Texas, he sees more orange than ever before. It's on car bumpers, the fronts of shirts and emblazoned across hats.
With a 44-10 Cowboys romp in Boone Pickens Stadium capped by a field storming, Oklahoma State announced its arrival.
"Oklahoma's not the only team in Oklahoma anymore. They can't call it the Sooner State," Anderson said.
This was no fluke win. It was no blip of an upset that put a late-season blemish on Oklahoma's record. This was two in-state rivals playing for everything, and Oklahoma State walked away as 34-point victors.
"I said it then: If not now, then when? When is that gonna happen?" offensive coordinator Todd Monken said. "We got them here, everything's on the line, we've had a bye week, we're playing good football. We're healthy. They weren't."
The Sooners had taken home seven Big 12 titles since 2000, and even with injuries to leading receiver Ryan Broyles and running back
Dominique Whaley
, they had positioned themselves for an eighth. Oklahoma State said, "No. This one's ours."
Oklahoma State had won games, sure. It had won bunches of them -- 29 in the past three seasons, including a school-record 11 in 2010. What it hadn't won? The big one.
"The bully is the bully until you beat up the bully," Monken said. "You can't say you've arrived until you actually win it."
Fans mobbed players to celebrate as they ripped down the goalposts.
Middle-aged alums hopped the field's 8-foot wall and hugged players such as
Justin Gilbert
, who said he couldn't take a step without someone thanking him and his teammates.
In one night, Oklahoma State ended eight years of frustration.
"Hopefully, now in our players' minds and our fans' minds, we're not the whipping boy anymore," offensive lineman
Jonathan Rush
said. "We can play. It's not like we have a curse that we'll never win that game. Now we can believe. It's doable."
It also booked its first trip to the BCS and, most importantly, won its first outright conference title.
"If we beat Iowa State and lost to OU, it's not the same," Monken said, referencing a double-overtime loss to the Cyclones that cost OSU a shot at the national title but didn't deter its Big 12 title hopes. "Yeah, we might have gone on and played in the Sugar Bowl, but it wouldn't have been the same because you didn't win the league. You didn't win the title. You can't say, 'Hey, we're conference champs.' And you did it against OU, who, let's face it, has had the upper hand for years."
The Sooners had the upper hand on more than just Oklahoma State. OU and Texas combined to win 10 of the 15 Big 12 titles before last season. No one except the Sooners and Longhorns had won the former Big 12 South since Texas A&M in 1998.
Then, all of a sudden, the Big 12's Red River dominance came to an end.
"I think what that's done is kind of broke the ice a little bit," Gundy said. "The people that follow football in this part of the country, I think they enjoyed watching Oklahoma State win this league, because of the dominance the other two schools have had."
It's no longer impossible to surpass Oklahoma and Texas. The road to the Big 12 title was easier in the former Big 12 North, but when the Big 12 eliminated divisions in 2011 after being trimmed to just 10 teams, concern arose that no one would be able to outperform OU or Texas over the course of a 12-game season.
A Big 12 North team could upset a team from the South in the Big 12 title game. Kansas State proved that with a mammoth upset in 2003. Colorado upset Texas in 2001. But outplay the Red River rivals for an entire season? Good luck with that.
A year later, Oklahoma State proved it can be done, and can be done emphatically. The Cowboys finished two games ahead of the Sooners after the Bedlam beatdown for state supremacy.
"Winning a BCS game in some way has changed all of their lives," Gundy said. "They just don't know it. It certainly changed mine and the people that coach here and work in their organization. It did theirs, too. They just don't know it yet."
April, 27, 2012
4/27/12
3:48
PM ET
Oklahoma State offensive coordinator Todd Monken issued an apology Friday
after criticizing
Oklahoma quarterback
Landry Jones
earlier in the week.
"I want to apologize to Landry Jones and to the Oklahoma football program for using them as a specific example to illustrate a point concerning how quickly an injury to a key player can impact how a team plays," Monken said in a statement. "While speaking to a visiting member of the media about the importance of a quarterback's confidence and demeanor, and about how quickly things can change in football, I made the mistake of making a specific reference to illustrate my point."
In an interview with ESPN.com Big 12 blogger David Ubben, Monken took a shot at Jones while discussing OSU's quarterback situation, saying: "It didn't take long when ol' (Sooner receiver Ryan) Broyles went down and (OU) started running the dozer to think, 'Do we have our guy?' That didn't take long. Landry Jones went from like, 'I'm the man,' to all of a sudden, 'I haven't thrown a touchdown pass (and) I'm fumbling it over my head at Oklahoma State. I gotta go back and see my quarterback guru.'"
Jones committed four turnovers in OU's 44-10 loss to OSU last season, and struggled the last month of the season after losing Broyles to a season-ending knee injury. During his spring break last month, Jones traveled to California to work out with George Whitfield, who trains quarterbacks.
In response to Monken's original comments, OU safety
Tony Jefferson
wrote on Twitter: "Hell nah he better be quiet."
April, 27, 2012
4/27/12
8:00
AM ET
Every weekday morning, a member of the SoonerNation gives his take on three things happening in the Sooner sports world.
1.
A crazy stat I heard on the radio yesterday: even if he goes in the middle of the second round tonight,
Ronnell Lewis
could wind up being the first defensive player from the Big 12 taken in the draft (that played in the Big 12 in 2011 since West Virginia's Bruce Irvin went No. 15 to Seattle). Alabama, meanwhile, alone had four defensive players go in the first round. The way the Big 12 has played defense lately, should we be surprised? The draft underscores that the talent is on the offensive side of the ball in the league.
2.
The last time an Oklahoma State coach got chippy with the Sooners, his team lost 52-9. But what OSU offensive coordinator Todd Monken said this week about
Landry Jones
was far more egregious than anything Les Miles ever said. I'm sure
that quote
has already found its way to Norman, and will be posted all over the OU locker room come Bedlam this November.
April, 26, 2012
4/26/12
12:05
PM ET
By
SoonerNation staff
| ESPN.com
In a recent interview with Big 12 blogger David Ubben, Oklahoma State offensive coordinator Todd Monken had some harsh words for Oklahoma quarterback Landry Jones and the Sooners.
Here's what he said when talking about naming a starting quarterback:
Monken's not exactly sweating. He had a guy who could do it last year in Weeden, but looking around college football, he knows few teams have a quarterback who can truly carry a team.
"It didn't take long when ol' (Oklahoma receiver Ryan) Broyles went down and (OU) started running the dozer to think, 'Do we have our guy?' That didn't take long," Monken said. "Landry Jones went from like, 'I'm the man,' to all of a sudden, 'I haven't thrown a touchdown pass, I'm fumbling it over my head at Oklahoma State. I gotta go back and see my quarterback guru.'"
Jones, who threw two interceptions and lost two fumbles in the Sooners' blowout loss to Oklahoma State in December, spent a week with quarterback coach George Whitfield during spring break in March.
What do you think about Monken's comments? Talk about them in our forum.

Will Eagles' Gamble On Bradford Pay Off?
BIG 12 SCOREBOARD
Thursday, 9/3
Friday, 9/4
Saturday, 9/5