Oklahoma Sooners:

Pro Day
March, 15, 2012
3/15/12
10:25
AM ET
Former Oklahoma linebacker
Travis Lewis
couldn't have been happy with his 4.88 time in the 40-yard dash during the NFL Combine in late February.
He left the Sooners' pro day with a much better feeling.
Lewis recorded a 4.75 time in the 40-yard dash, 35-inch vertical, 10-inch broad jump, 7.23 three-cone drill, 11.59 60-yard shuttle and added 26 reps in the bench press. His 40-time would have put him just outside of the top 15 times at the NFL combine while his other times would have been amont the top ten results in each event at the combine except for the three-cone drill (top 15).
"I looked good, ran good, moved well, so I'm pretty satisfied," Lewis said. "I'm finally healthy so it was good to come out and show these guys what I am capable of.
"I put it out there and now it's up to [NFL teams] to make a decision."
No time off for Broyles
While he couldn't use the feet that helped distinguish him during his four seasons at Oklahoma,
Ryan Broyles
never stopped doing what he does best:
Catching the football.
While rehabbing from his ACL injury suffered during the Sooners win over Texas A&M last October, Broyles has spent the ensuing months catching tennis balls and footballs while rehabbing his injured knee.
[+] Enlarge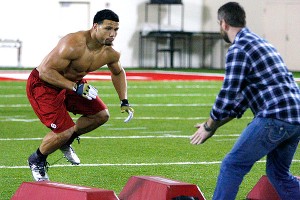 AP Photo/Alonzo AdamsTravis Lewis was satisfied with his performance at Oklahoma's pro day.
"[I was] still catching balls, tennis balls, footballs," Broyles said. "I gotta stay sharp with that, that's my job... to catch it."
Broyles also participated in portions of the NFL combine, going through interviews and recording 21 bench press reps at 225 pounds, which tied for third among receivers.
"People blow the combine up, but it wasn't as stressful," Broyles said. "[It's] long days, you get three hours of sleep which is the toughest thing but you're talking to coaches and you're thinking this is the NFL, it's so crazy... but they're just regular people, so you feel like you fit in better once you get in the situation."
And Broyles knew the value of attending the combine despite the fact he couldn't participate in the majority of the drills, so he focused on making a mark during the interview portion.
"I couldn't show what I have with my feet, so I had to use my brain a little bit and show my personality," he said. "So, I enjoyed it."
'Hammer' aiming to show versatility
Ronnell Lewis
didn't have to participate in Oklahoma's pro day.
Yet, the former Sooner standout still worked out for the NFL scouts on Wednesday to show them his versatility at 6-foot-2, 255 pounds. Lewis had an excellent NFL combine in late February making it unnecessary to improve his times at pro day.
"I just felt like I could improve a little more on some things," Lewis said. "I just wanted to bump [my numbers] up a little bit and show them I could still move, be out there at the linebacker and defensive end positions. We had a couple different drills we did here that I didn't do in [Indianapolis]. I wanted to show I could do a little bit of everything."
He participated in linebacker coverage drills as well as defensive end drills on Wednesday. He recorded a 4.65 in the 40-yard dash, a shade faster than his 4.68 at the combine.
After playing multiple positions during his time at OU, Lewis could end up as a 3-4 linebacker in the NFL or play defensive end in a 4-3 system. NFL teams have been asking him where he feels more comfortable.
"I tell them I can go either way," he said. "But I feel like I can stand up. I like seeing the backs and stuff like that but if I play with my hand in the ground it really doesn't matter."
March, 14, 2012
3/14/12
5:19
PM ET
Ryan Broyles
stood on the Everest Indoor Facility turf watching Oklahoma's pro day with envy in his eyes on Wednesday.
The former Sooners receiver couldn't participate as he continues to rehab from a torn ACL suffered against Texas A&M on Nov. 5, but Broyles' day could be coming soon. He expects to hold a private workout day of his own in April, before the NFL draft is held from April 26-28.
[+] Enlarge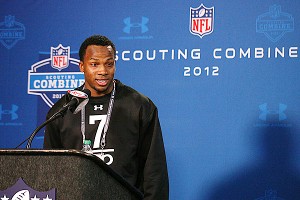 Brian Spurlock/US PresswireFormer OU receiver Ryan Broyles was able to attend the NFL combine, but could not work out.
"In the back of my head I know I'm going to be able to show something before the draft," Broyles said. "So that gives me strength, I know I'll have time to get healthier and catch better."
Broyles began running about a month and a half ago and has progressed into more football-related workouts recently as he continues to recover. Full recovery from an ACL injury can take 6 to 8 months but Broyles is ahead of schedule.
"I'm feeling healthy right now; another month goes by [and] I'll be feeling really good," Broyles said. "I feel confident, I've been doing light routes, light cutting. I'm not where I want to be, but I feel strong and my left leg is catching up to my right."
It has been difficult for Broyles to sit out and watch as the physical portion of the NFL draft process plays itself out.
"Therapy is not fun but I go in every day trying to get better, just like I was on the football field," he said. "[It's tough] not being out there with the guys, these are the guys I have been grinding with, and they get to show what they have and I can't do that. But I'm getting healthy, shooting for a pro day in April so I'll have my opportunity."
Broyles, who was projected as a second round pick before the injury, has received positive feedback from several NFL teams but declined to name them. One of the most productive receivers in NCAA history, Broyles already has the game film to back up his ability. Now he's hoping to erase any concerns about his recovery when he holds his workout in April.
"At the end of the day I just have to impress one team and I'll get my shot," Broyles said.
The Norman, Okla., star expects to be fully recovered to participate in NFL OTAs shortly after the draft in early May.
"I'll be full go by then," he said.
March, 14, 2012
3/14/12
4:25
PM ET
For years,
Frank Alexander
has dreamed of playing in the NFL. Those dreams were in jeopardy at the combine. Alexander was not allowed to take part in the on-field part of the combine due to a previously undiagnosed heart condition. Alexander apparently had a hole in his heart.
[+] Enlarge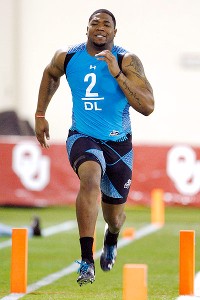 AP Photo/Alonzo AdamsFormer Oklahoma defensive end Frank Alexander was unable to participate in drills at the NFL combine.
"It was scary, man," Alexander said. "You've been working all your life to get to this point. And you get there, and you hear news, and you can't go. You thinking your career is about to end, that you can't play no more. And the health situation on top of it."
But since, the original diagnosis was overruled. Turned out, the OU defensive end didn't have a hole in his heart, and he was allowed to participate in Oklahoma's pro day on Wednesday.
The 6-foot-4, 271-pound Alexander, who was the Big 12's defensive player of the year, ran the 40-yard dash in a solid 4.76 seconds. He also had a 9-foot, 9-inch broad jump and a 34 ½-inch vertical. More importantly, he was able to show scouts that he was healthy.
"I really was just grateful and thankful that I was able to get back out here," he said. "I just wanted to do what I've been doing, and that's playing football and competing. It wasn't any big pressure or anything."
Because of his athleticism and senior production, Alexander figures to be mid-round pick. But after the combine scare, he just feels lucky to still be playing.
"I had worked so hard to get to that point," Alexander said. "I had been training for six or seven weeks, plus the 15 years of playing football. It was scary to know it could shut down because of one little judgment.
"I just feel blessed to be here today because I didn't get to do nothing at the combine. I feel good."
Big 12 2015 Recruiting Overview
BIG 12 SCOREBOARD
Thursday, 9/3
Friday, 9/4
Saturday, 9/5