Oklahoma Sooners:

Matthew Romar
November, 29, 2013
Nov 29
11:00
AM ET
Recruiting season is about to kick into high gear. As soon as Bedlam is over on Dec. 7, Oklahoma will hit the recruiting trails hard looking to secure the future.
[+] Enlarge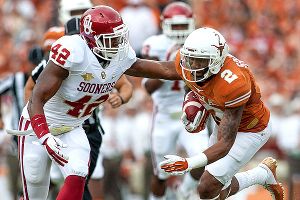 William Purnell/Icon SMIOU didn't offer Dominique Alexander a scholarship until last October. Now he's a starting linebacker.
OU has been superb at finding late hidden gems in recent seasons, with cornerback
Zack Sanchez
, a redshirt freshman from the Class of 2012, and linebacker
Dominique Alexander
, a true freshman from the Class of 2013, already making an impact on the program after getting relatively late offers from the Sooners.
Here are some priority spots for the Sooners to address in their 2014 class during the final two months of this recruiting cycle. Keep in mind, this list has everything to do with the young players on campus at each position, not necessarily the guys who are playing at that position each Saturday in 2013.
Offensive tackle:
Derek Farniok
and
Christian Daimler
are the lone underclassmen at offensive tackle. OU badly needs depth at the position and should be aiming to land at least two offensive tackle prospects in this class. If redshirt freshman tight end
Sam Grant
ends up at tackle, that would help the cause and lessen the urgency, but its a high priority position in this year's class. Worse yet, there doesn't seem to be a lot of hope at the position with top prospects mentioning OU on their lists. Finding a hidden gem in December could be the top priority for offensive line coach Bill Bedenbaugh.
Defensive tackle:
This position looks a lot better right now than it did a year ago with the early play of
Jordan Phillips
, a sophomore, and the emergence of
Jordan Wade
, a redshirt freshman. Nevertheless, there is no such thing as too many quality defensive tackles. The Sooners have one commit in Irving (Texas) Ranchview's
Brandon Glenn
, but that's not enough. OU needs to secure at least one more defensive tackle prospect to join Glenn and redshirting freshmen
Matthew Romar
and
Charles Walker
as the future at the position.
Linebacker:
OU rallied to bring in two quality linebackers late in last year's recruiting cycle with Alexander and
Jordan Evans
. Each committed to OU late in the process and became impact freshmen this fall. The Sooners need to supplement that duo with a least one more playmaker to join Allen (Texas) linebacker
Tay Evans
and Murrieta (Calif.) Vista Murrieta linebacker
Curtis Bolton
on their commit list. Several linebackers could be in play and keep in mind the Sooners did secure Alexander and Evans late in the process.
Running back:
You can never have too many running backs. And OU loses three quality ball carriers in
Brennan Clay
,
Roy Finch
and the recently dismissed Damien Williams. Redshirt freshman
Alex Ross
has a good size/speed ratio, true freshman
Keith Ford
has terrific upside, and commitment
Samaje Perine
(Pflugerville, Texas/Hendrickson) is a member of the ESPN 300. But the Sooners need to add another quality runner into the mix. Oakley (Calif.) Freedom running back
Joe Mixon
, No. 72 in the ESPN300, would be an outstanding addition to this class.
Receiver:
Even though the Sooners seem to have some solid youngsters already on campus, they don't have a proven game-breaking receiver outside of
Sterling Shepard
returning in 2014. But, and this is critical, they can't just use a scholarship to bring in another guy. With Tulsa (Okla.) Union receiver
Jeffery Mead
and La Mirada (Calif.) receiver
Dallis Todd
already committed, receivers coach Jay Norvell should think elite receiver or bust. Norvell should join Mike Stoops in doing whatever it takes to land
Michiah Quick
(Fresno, Calif/Central East), then fight for him to end up on the offensive side of the ball.
April, 1, 2013
Apr 1
11:00
AM ET
NORMAN, Okla. -- OK, Jerry Montgomery, this is a big reason you were brought to Oklahoma. Defensive tackle
Trey Lealaimatafao
(San Antonio/Warren) unexpectedly
committing to Texas
on Saturday night is another example of the Sooners falling short at defensive tackle.
And an example of the work ahead for Montgomery.
For OU's 2012 class, the Sooners had a plan to not lobby too hard for a defensive tackle. They didn't attack any high school or junior college prospects and were content with who was on campus.
To continue reading this article you must be an Insider
March, 1, 2013
Mar 1
4:00
PM ET
After recruiting them for several months, Oklahoma's coaching staff was finally able to talk publicly about the players the Sooners added to the program on signing day. Over the next week or so, SoonerNation will review some of the key things coaches had to say about the players signed at each position group during their signing day webcast on Soonersports.com.
The Sooners hope they made a quality evaluation with their signing of defensive tackle
Matthew Romar
(Port Arthur, Texas/Memorial). The 6-foot-3, 265-pound future Sooner played various positions in high school, including running back. OU hopes the athleticism that allowed him to play running back will help him become a playmaker in the middle of the Sooners' defense.
"This guy played running back at times," defensive coordinator Mike Stoops said. "He can do a lot of things, we love the way he plays. He's a very athletic guy. We're really happy to get him."
With every program in the country searching for quality defensive tackles, the ability to project players to the defensive tackle position is becoming more and more important. That's what the Sooners have done with Romar and OU is banking on his athleticism to take over once he gets familiar with playing defensive tackle on a full-time basis.
"He's a really good get," defensive ends coach Bobby Jack Wright said. "A big strong guy. He's a pretty good running back so you know he has to have a little bit of explosiveness to him."
February, 25, 2013
Feb 25
10:45
AM ET
NORMAN, Okla. -- Michigan defensive line coach Jerry Montgomery will become Oklahoma's defensive tackles coach. And he faces a tall task in Norman.
No position on Oklahoma's roster has more questions marks than defensive tackle.
To continue reading this article you must be an Insider
February, 13, 2013
Feb 13
4:59
PM ET
Another day, another Oklahoma assistant coach shown the door. This one, though, has sent shock waves through OU recruiting circles.
To continue reading this article you must be an Insider
February, 7, 2013
Feb 7
8:00
AM ET
NORMAN, Okla. -- Entering the fall, some Oklahoma fans were wondering what in the world first-year linebackers coach Tim Kish was doing.
Kish had made a big reputation as a solid recruiter during his time at Arizona. Several months into the job at OU, and he hadn't help land any of the top Arizona recruits, had taken too long with many top Texas prospects and had some fans calling for a change.
[+] Enlarge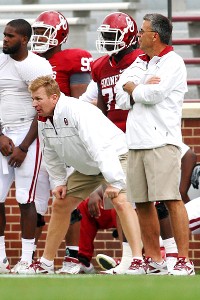 J.P. Wilson/Icon SMI Linebackers coach Tim Kish used his connections in California to discover receiver K.J. Young.
Supporters of Kish said give it time, give him an opportunity to build the relationships with recruits and judge him from there.
To continue reading this article you must be an Insider
February, 6, 2013
Feb 6
11:35
AM ET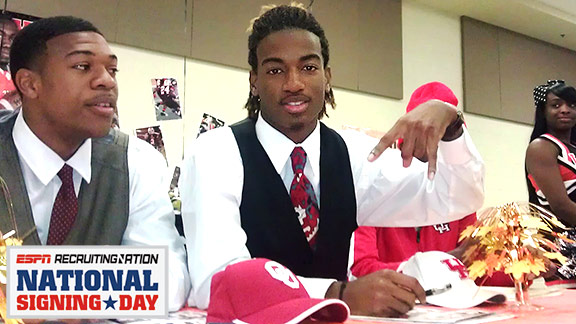 Damon Sayles/ESPNCornerback Dakota Austin committed to the Sooners over the weekend and signed on Wednesday.
Welcome to SoonerNation's live coverage of national signing day for the Oklahoma Sooners. We'll be with you throughout the day providing up-to-the minute updates on OU's class of 2013.
Watch
live coverage
on ESPNU | Talk signing day on our
SoonerNation forum

|
OU class
Follow the live blog after the jump.
February, 5, 2013
Feb 5
10:30
AM ET
Gerald McCoy
and
Tommie Harris
are players who immediately come to mind when Oklahoma fans think of the tradition at defensive tackle. Both All-Americans were highly recruited high school prospects who stepped on campus with high expectations then fulfilled them.
But McCoy and Harris are the exception, not the norm.
To continue reading this article you must be an Insider
February, 1, 2013
Feb 1
8:00
AM ET
NORMAN, Okla. -- We've hit the stretch run for the Sooners' 2013 recruiting class. And while so much of Oklahoma's class has been decided, there is still much to settle by Feb. 6.
Heading into this final weekend before national signing day, here are OU's top targets still left on the board:
To continue reading this article you must be an Insider
January, 30, 2013
Jan 30
5:00
PM ET
Oklahoma's continued pursuit of defensive tackle
Matthew Romar
(Port Arthur, Texas/Memorial) is a sign the Sooners are looking to use numbers to make up for past mistakes.
Romar is the fourth defensive tackle the Sooners are looking to add on signing day as OU hopes to beef up its defensive front this fall and in the future. OU brought in three defensive tackles combined in its 2011 and 2012 recruiting classes and enters the 2013 season with sophomore
Jordan Phillips
as the lone returning defensive tackle with game experience.
To continue reading this article you must be an Insider
January, 30, 2013
Jan 30
4:56
PM ET
Two weeks ago it looked like Oklahoma was done looking for defensive tackles for its 2013 class. Assistant coach Jackie Shipp had put in major work and landed three quality commitments.
But Shipp wasn't done. He went to Port Arthur (Texas) Memorial last weekend and offered three-star prospect
Matthew Romar
.
Romar saw OU's campus for the first time this weekend and took some time to think it over before committing to the Sooners, Port Arthur Memorial coach Kenny Harrison confirmed on Wednesday afternoon.
Romar, who is 6-foot-3 and 265 pounds, also had offers from Tulsa and Baylor, among others. Once the Sooners fully entered the race, though, it became clear it was up to OU to simply close the deal.
He played a little bit of running back in high school so there was some speculation about his size. Harrison said once Shipp saw Romar in person two weeks ago, all the doubts vanished.
January, 28, 2013
Jan 28
8:00
AM ET
NORMAN, Okla. -- With everybody looking for instant gratification, it's tough to view the weekend as a success for Oklahoma.
But it was even if it doesn't feel like it for fans.
To continue reading this article you must be an Insider
January, 25, 2013
Jan 25
8:00
AM ET
In the stretch run, and while so much of Oklahoma's class has been decided, plenty more will happen in the next two weeks.
Top targets are changing on almost a daily basis, but heading into the weekend here are OU's top 10 targets left on the board.
To continue reading this article you must be an Insider
January, 17, 2013
Jan 17
10:00
AM ET
Every Thursday, SoonerNation releases the Sooner Intel, a sneak peek inside Oklahoma Sooners football recruiting with news and notes on the latest happenings around the program. Talk about it on our forum. A few things discussed in this week's update:
The Sooners are right back in the mix with a four-star cornerback
One target is headed to a junior college
New receiver commit gets to know his position coach on official visit
New defensive tackle commits talks official visit, how he and his host bonded
Breaking down Oklahoma's search for two more offensive tackles
The Sooners have offered a new defensive tackle
Read the Sooner Intel after the jump.
To continue reading this article you must be an Insider
Oklahoma vs Oklahoma State Highlight