Oklahoma Sooners:

Matt Barkley
May, 2, 2013
5/02/13
4:18
PM ET
When quarterback
Landry Jones
was selected on the final day of the 2013 NFL draft,
Trent Dilfer
pulled no punches when it came to the Sooners' offense.
Among other things, the ESPN analyst and former NFL quarterback called Oklahoma's offense "a joke" and its receivers "brutal."
[+] Enlarge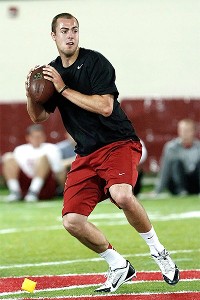 AP Photo/Alonzo AdamsFormer Oklahoma quarterback Landry Jones put up huge numbers in the Sooners' offense.
In a phone interview with SoonerNation, Dilfer stood by his sharp comments.
"I was talking in the context of developing a quarterback to be ready to play at next level -- and it was very hard for me to stomach," Dilfer said. "That's the context. The context of quarterback development, the context of a draftable quarterback and an evaluation of him. You can't evaluate a quarterback without an understanding of what he's asked he to do, and how that's going to allow him to flourish or somewhat stunt his development.
"As I studied Landry Jones' 2012 film, it was constant frustration with him being asked to do something that's not realistic. It wasn't conducive to quarterback development."
While Dilfer was focused on evaluating Jones, who was drafted in the fourth round by the Pittsburgh Steelers, he also pointed out Oklahoma's offense wasn't conducive to scoring against tougher defenses, either.
"They can do whatever they want to do. I have no right to tell them what they should or shouldn't do. Bob Stoops makes a lot of money, he's won a lot of games. However they justify it being successful, go for it," Dilfer said. "I stand by what I said. And if the answer is, 'We don't care, we're trying to score points, and we think that's the best way to do it,' keep doing it. But in games against good defenses, that formula did not work."
Dilfer has a point.
With Jones at the helm last season, Oklahoma ranked 15
th
nationally in points and 12
th
in yards on the way to a 10-win season. But the Sooners sputtered offensively when facing the better defenses on their schedule. Against Kansas State, Notre Dame, TCU and Texas A&M, Oklahoma averaged just 17 points -- three touchdowns less than its season average.
"That's all that matters. All that matters is how you play against good teams," Dilfer said. "The same thing showed up against the poorer defenses, but you get away with it against those defenses.
"If they think it's the best way of playing, they get to choose that. I'm simply coming from a quarterback developmental context. People get so sensitive when their paradigm is challenged. What were they, 10-2? 10-3 with the bowl game? That's a really good record. A lot of teams wished they had that record. And I understand that. My job is to thoroughly evaluate the quarterbacks at every level. And I know you can't possibly do it if they're not asking them to do to things that translate to the next level of where they're trying to get to."
While evaluating Jones, Dilfer said three things stood out that he believes stemmed Jones' growth: the lack of tight ends in the Oklahoma offense, the use of the "Belldozer" package in the red zone, and the Sooners' skill players, whom Dilfer termed "incredibly undisciplined."
"From a talent standpoint, they're talented kids," Dilfer said of the Oklahoma receivers. "The word I would use is 'unorganized.' They lacked the crispness, the discipline, the precision it takes to trust where they're going to be and when a quarterback can cut it loose."
The Sooners did have two receivers taken in last week's draft in
Kenny Stills
and
Justin Brown
, who combined for 155 receptions and more than 1,800 yards last season. Fresno State transfer
Jalen Saunders
also had a big year statistically with 62 catches and 829 yards receiving.
Dilfer, however, said those numbers masked several flaws.
"Statistics, that's what we reduce everything to; because they put a lot of yards up and are productive, that they're good," Dilfer countered. "I talked to a couple of NFL personnel guys that I really trust to see if I was missing something with (Oklahoma's) receivers, and they said, 'No.' "
Jones was also hurt, Dilfer said, by not having a tight end to work with.
"When you don't have the presence of an inline tight end, your quarterback is not being developed," Dilfer said. "Thirty-five percent of how NFL football is played is tight end-centric. Whether it's working the middle of field, whether it's play-action. You're just not learning a type of football from a quarterback's perspective that's transferrable to the NFL."
Dilfer believes Jones didn't properly develop his skills in the red zone, either, a critical part of NFL quarterbacking.
"That was the biggest thing that me drove nuts, taking him out inside the 20-yard line," Dilfer said. "Landry does all the work to get you to the 20, then you take him out -- you never develop the red-zone passing game. I can't tolerate that. When you do that in the red zone to a quarterback, there are so many other things that you are limiting because you're not developing your quarterback in the red zone."
"In the red zone, everyone knows (the Belldozer package) is coming. It works against the bad teams. Against the good teams, they load up and blow it up.
"All that lowers the quarterback development to the lowest denominator. It's really a glorified version of 7-on-7."
Ultimately, Dilfer said, that negatively impacted where Jones went in the draft.
"If Landry had played at USC he would have been a first-round pick," Dilfer said. "I know
Matt Barkley
was a fourth-round pick, that's not what I'm saying. You develop a quarterback in college by running multi-dimensions of offense. That's what you have to do in the NFL. When you have a pure passer in Landry who can move around for a big man, is smart, is tough, you have to give him all the dimensions in which to operate. What he did at Oklahoma was operate in just a few dimensions to the point you couldn't really evaluate or project what he'd be in the NFL. You didn't get to see him do it. That really hurt his stock.
"What I saw with Landry is now an NFL coach is going to have to teach him stuff, develop stuff, that should have been developed his junior-senior years."
OU officials declined to comment.
June, 28, 2012
6/28/12
4:15
PM ET
Phil Steele's College Football Preview magazine arrived at the doorstep Wednesday. Some notables about Oklahoma:
Steele projects that OU will go to the national championship and face Florida State at Sun Life Stadium in Miami. (By the way, if that happened it would be the fourth time of five tries OU would play for the BCS title in its opponent's home state).
While Athlon selected Landry Jones as its third-team All-Big 12 QB, Steele ranks Jones as a second-team All-America and the No. 3 QB in the country behind USC's Matt Barkley and Arkansas' Tyler Wilson. Interestingly, Steele has OU backup Drew Allen as the No. 36 overall QB, but left Blake Bell out of the top 60.

[+] Enlarge

AP Photo/Steve CannonPhil Steele ranks Landry Jones as the No. 3 quarterback in college football.

Jones is Steele's No. 2 Heisman contender behind Barkley, ahead of the likes of Marcus Lattimore, Montee Ball and Denard Robinson. Steele actually has Kenny Stills as one of the top 20 contenders (I actually think Dominique Whaley would have a better shot of winning the Heisman than Stills).
Whaley is the No. 44 overall RB, 14 spots ahead of teammate Roy Finch. It's reasonable to think Whaley would be ranked higher had it not been for last year's season-ending ankle injury.
Joining Jones on Steele's All-America teams are Stills (third team), OG Gabe Ikard (fourth team) and S Tony Jefferson (fourth team). Stills is rated the No. 7 WR overall. The only other OU WR ranked is Jaz Reynolds at No. 60.
Trey Millard is deservedly ranked the No. 2 FB in the country, behind SMU's Zach Line. Curiously, Marshall Musil, who hasn't seen a significant snap since the 2009 Red-White Spring Game, is rated the No. 16 FB.
Ben Habern is the No. 7 center; Ikard the No. 12 guard; Tyler Evans the No. 19 guard; Lane Johnson the No. 58 tackle.
How about this? Steele rates Michael Hunnicutt as the eighth-best kicker in the country.
No OU ends make Steele's top 60, but Steele is relatively high on the OU tackles. Jamarkus McFarland (17th), Casey Walker (41st) and Stacy McGee (50th) all made the list.
Tom Wort is the No. 10 inside linebacker; Corey Nelson the No. 15 outside linebacker.
Tress Way is the ninth-best punter, according to Steele.
Rightfully so, Steele is pretty high on the OU secondary. Demontre Hurst is his No. 14 CB; Aaron Colvin No. 41. Tony Jefferson is the No. 5 FS. And, as a bit of a surprise, Javon Harris is ranked the No. 13 SS nationally.
In his unit rankings, Steele has OU's QBs No. 2; its RBs No. 15 (which is actually only fourth in the Big 12); its WRs No. 10; its OL No. 5; its DL No. 17; its LBs No. 14; its DBs No. 4 (behind both Texas and Oklahoma State); and its special teams No. 15 (we'll see.)
On Steele's All-Big 12 team: Jones, Stills, Ikard, Wort and Jefferson; second-teamers include Whaley, Evans, Way, Hunnicutt, Walker, Nelson and Hurst (can't really argue any of these, though I think Colvin has a better shot at All-Big 12 than Walker and Nelson.).
May, 10, 2012
5/10/12
8:00
AM ET
Every weekday morning, a member of the SoonerNation gives his take on three things happening in the Sooner sports world.
1.
ESPN draft analyst
Mel Kiper released his Big Board
this week as he listed the top 25 draft prospects, including underclassmen, for the 2013 NFL Draft. Surprisingly, one local name was missing:
Landry Jones
. The Oklahoma quarterback, who likely spurned the opportunity to be a first-round pick to return to Norman, was left off a list which included three quarterbacks. USC's
Matt Barkley
(No. 1), Virginia Tech's
Logan Thomas
(No. 4) and Arkansas'
Tyler Wilson
(No. 13) are rated ahead of Jones.
2.
After winning the Big 12 Women's Golf Championship, the Sooners women tee off in the NCAA West Regional in Erie, Colo., today. The No. 9 seed in the West, OU will have to finish among the top eight teams at the regional to earn its first NCAA Championship appearance since 2000.
May, 4, 2012
5/04/12
8:00
AM ET
Every weekday morning, a member of the SoonerNation gives his take on three things happening in the Sooner sports world.
1.
Todd McShay has
Landry Jones
going to the Chiefs as the third QB off the board behind
Matt Barkley
and
Logan Thomas
in
his 2013 mock draft
. If the Chiefs for some reason were to pass on Jones, watch out for the 49ers. Jones had one of his best games in his career in the 2009 Sun Bowl against San Fran coach Jim Harbaugh. I could see a match there.
2.
Oklahoma State has added another 4-star WR this week in
Marcell Ateman
(Wylie, Texas/East). OSU earlier this spring picked up a commitment from another 4-star receiver in
Fred Ross
(Tyler, Texas/John Tyler). It will be interesting to see just how much OSU capitalizes off its Big 12 title and Fiesta Bowl this season in this recruiting class.
To continue reading this article you must be an Insider
May, 3, 2012
5/03/12
8:00
AM ET
Every weekday morning, a member of the SoonerNation gives his take on three things happening in the Sooner sports world.
1.
Frank Alexander
's selection by the Carolina Panthers was overshadowed by the Detroit Lions selecting a trio of Sooners last weekend. But Alexander might be in the best position of all the OU players drafted in 2012. The Big 12 defensive player of the year was selected in the fourth round (No. 103 overall) by the Panthers, who traded away their third round pick in the 2013 draft to move up to take him. Carolina's urgency to move up and willingness to sacrifice a higher value pick next year speaks to the type of player they believe Alexander could become. And if that's not enough, the words of two key decision makers in Carolina speak volumes about Alexander's situation.
"Frank Alexander is a guy we think can come in and play in our defensive rotation. He just makes plays, he fits into the same mold of the guys we've taken." -- Panthers general manager Marty Hurney
To continue reading this article you must be an Insider
January, 10, 2012
1/10/12
2:30
PM ET
By
SoonerNation Staff
| ESPN.com
Steve Muench of Scouts Inc.
took an early look
at three underclassmen who made the best choices in regards to the NFL draft, and three who made the wrong choice. He includes Oklahoma quarterback
Landry Jones
, who decided to return for his senior season at OU, among the "good decisions."
Here's a snippet of what
he wrote about the Sooners' signal-caller
:
Jones was a potential top-10 pick coming into the season, but could have fallen all the way out of the first round if he stayed in the 2012 class. Now he has a chance to compete with USC's Matt Barkley to be the top quarterback on the 2013 board and solidify a very high grade.
What do you think? Did Jones make the right call?
Stoops, Players Want To Effect Change
BIG 12 SCOREBOARD
Thursday, 9/3
Friday, 9/4
Saturday, 9/5