Oklahoma Sooners:

Lamar Harris
August, 24, 2012
8/24/12
2:00
PM ET
With the season opener rapidly approaching, it's the perfect time to look at the results of the key position battles that made Oklahoma's preseason camp intriguing. Some jobs were won years ago (i.e. starting quarterback
Landry Jones
) while others were won (tight end) this week. Here's a look at some of the key position battles, where they stood heading into preseason camp and where they stand now.
BACKUP QUARTERBACK
Then
:
Drew Allen
and
Blake Bell
were in a competitive battle to earn the No. 2 quarterback position as camp opened. Allen, a junior, won the position in 2011 and was Landry Jones' backup for the entire season even as Bell carved out a role in OU's "Belldozer" package. Allen and Bell battled in the spring without a winner before summer workouts began.
Now
: Coach Bob Stoops named Bell the No. 2 quarterback this week as the sophomore signal caller raised his level of play and proved to the coaching staff that he could run OU's offense smoothly.
[+] Enlarge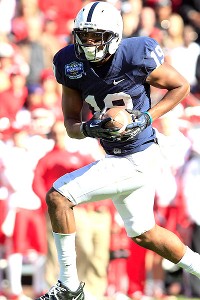 Tim Heitman/US PresswirePenn State transfer Justin Brown is a probable starter for the Sooners in 2012.
RUNNING BACK
Then
: Returning starter
Dominique Whaley
was set to return to practice after missing the spring due to a ankle injury suffered in 2011. But questions about Whaley's healthy meant questions about the position in general.
Now
: By all accounts, Whaley has looked good and is poised to be the likely starter and a major contributor.
Brennan Clay
, who opened the 2011 campaign as the starter, also returns and his consistent play has been lauded by running backs coach Cale Gundy. Expect him to contribute. Newcomer
Damien Williams
has impressed during his first month in pads and appears to have earned some carries. Expect all three running backs to get touches for the Sooners. OU has not named a starter but Whaley is the favorite to be on the field for the first snap of 2012.
RECEIVER
Then
:
Kenny Stills
and
Trey Metoyer
were generally considered to be the Sooners' top two receivers at the end of July. OU needed a No. 3 receiver and had several talented newcomers poised to battle for the spot.
Now
: Senior
Justin Brown
decided to transfer to OU from Penn State in early August after the Nittany Lions were hit with NCAA sanctions. Brown didn't waste time, learning the offense quickly, proving himself to be one of the Sooners top pass catchers and displaying quiet leadership for OU's young wideouts. Stills, Metoyer and Brown are considered the Sooners top three receivers with Stills playing in the slot.
TIGHT END
Then
: Heading into preseason camp, the Sooners had no idea who would be their starting tight end.
Brannon Green
and
Taylor McNamara
, two newcomers, were battling for the spot.
Now
: Bob Stoops said
Geneo Grissom
is on track to be the Sooners starter at tight end this week. Grissom requested a move to tight end over the summer and he has displayed the size and athleticism that made him one of the nation's top recruits out of high school. He's relatively new to the position but he's one of the best athletes on the team and he will be a matchup nightmare if he continues to pick up the position quickly. Green, a junior, and McNamara, a true freshman, should provide depth.
LEFT TACKLE
Then
:
Lane Johnson
, OU's lone returning starter at tackle, and
Tyrus Thompson
were battling for the starting left tackle position. Thompson, a sophomore, surprised many by starting the spring game ahead of Johnson.
Now
: Johnson is likely to start at left tackle according to tight ends/tackles coach Bruce Kittle this week. Johnson, who started at right tackle in 2011, will be OU's main "swing" tackle regardless, which means the senior will move to right tackle at times this season with Thompson playing left tackle under that scenario. Regardless OU has three quality tackles they expect to play with Johnson, Thompson and
Daryl Williams
, a sophomore who locked down the right tackle spot in the spring.
May, 22, 2012
5/22/12
12:00
PM ET
Over the summer months, SoonerNation will take a closer look at each scholarship player on Oklahoma's roster in our Crimson Countdown series. We'll analyze each player's impact on the program since they arrived on campus, their potential impact this fall and their long-term impact in the daily series. Starting with No. 1 Tony Jefferson, the series will go in numerical order until our final analysis of No. 98 Chuka Ndulue.
No. 15 Lamar Harris
Cornerback, 6-foot-1, 187 pounds
To continue reading this article you must be an Insider
May, 14, 2012
5/14/12
2:30
PM ET
By
SoonerNation staff
| ESPN.com
Every Monday during the summer, the SoonerNation staff answers a roundtable question. Leave a comment or talk about it in our "There's Only One" forum.
Today's question:
Should Aaron Colvin be moved back to cornerback?
To be successful in a Mike Stoops defense, you have to be solid at cornerback. That's why moving Aaron Colvin from safety to corner makes all the sense in the world. The Sooners have one All-Big 12-caliber corner in
Demontre Hurst
. Think about how tough the Sooners will be against the pass with two. Yes, Colvin sliding to corner leaves OU with questions at safety. But the shifting of
Tony Jefferson
from nickelback to free safety should be a calming influence on
Javon Harris
. Harris struggled at times last season, but he's a senior and still one of OU's five-best defensive backs. The Sooners are better off giving Harris another shot at safety alongside Jefferson, then debuting somebody completely new at corner and hoping for the best.
- Jake Trotter
[+] Enlarge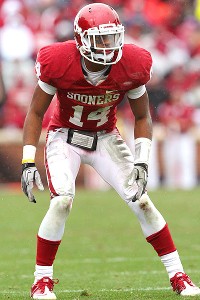 Matthew Emmons/US PresswireOklahoma's Aaron Colvin played safety as a sophomore but could move to cornerback as a junior.
While moving Aaron Colvin to cornerback makes perfect sense at first glance, I don't think it's the best move for Oklahoma's defense. Colvin is one of the top playmakers on the team and a solid tackler. A move to cornerback takes him away from the action in the middle of the field, not to mention the impact his coverage ability can have against slot receivers in four-receiver packages.
Lamar Harris
had a solid spring and the overall depth at the cornerback position has improved, lessening the urgency of a move.
In this era of pass-happy offenses in the Big 12, the Sooners need as many cover guys on the field as possible. Leaving Colvin at safety gets them closer to that goal.
- Brandon Chatmon
What has helped Aaron Colvin stand out so much has been his versatility so there is no wrong answer here because he will adapt to whatever is being asked of him. However, he should stay at safety. He proved to be so effective at the position last season and was definitely one of the bright spots of 2011. Mike Stoops won't put his players in a spot where they cannot succeed. Though incredibly early in the process, it doesn't appear like cornerback will be as big of a concern so why mess with a good thing? Colvin is a game-changer, whether it's in coverage or as one of the most consistent tacklers on the squad.
- Bob Przybylo
Aaron Colvin will start for the Sooners in 2012, whether it's at safety or cornerback. But I believe he'll move back to cornerback as Mike Stoops tries to put his four best defensive backs on the field. With Tony Jefferson having locked down the starting spot at free safety this spring, Colvin would have to beat out Javon Harris, who started last season, at strong safety. Harris struggled at times last season, but Stoops praised him during the spring. At cornerback, senior Lamar Harris started the Red-White spring game (opposite entrenched Demontre Hurst) and showed promise, but there's a reason he hasn't sniffed the field during his career. Colvin would bring experience and stability to the cornerback position and gives the Sooners a talented back-four.
- Dane Beavers
May, 7, 2012
5/07/12
4:05
PM ET
By
SoonerNation staff
| ESPN.com
Every Monday during the summer, the SoonerNation staff answers a roundtable question. Leave a comment or talk about it in our "There's Only One" forum.
Today's question:
What is Oklahoma's biggest need in the 2013 recruiting class?
[+] Enlarge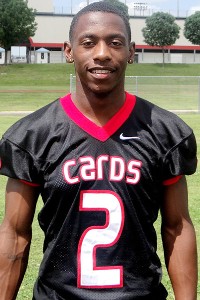 Bob Przybylo/ESPN.comIn-state cornerback Stanvon Taylor committed to the Sooners late last week.
Mike Stoops said during the spring it was imperative the Sooners signed five "quality" defensive backs in their next recruiting class. In the NFL, top-notch defensive backs are becoming a premium because of the number of proficient passing games that have taken over the league. The same can be said of the Big 12. If you don't have a strong defensive backfield, you're going to get beat, and, as OU found out last season, often more than once. The Sooners added a few promising players this past class in
Gary Simon
,
Eric Striker
and
Zack Sanchez
, but by 2014
Aaron Colvin
,
Tony Jefferson
,
Demontre Hurst
,
Javon Harris
,
Lamar Harris
and Joe Ibiloye will all be gone. Replacing them with "quality" players is of the highest priorities.
- Jake Trotter
Defensive back is a major need for the Sooners. OU's lack of depth in the secondary can be considered one of the primary reasons for losses to Baylor and Texas Tech in 2011 and the Sooners will be looking at losing at least half of its entire starting secondary after this season. And that's if Tony Jefferson and Aaron Colvin return and don't enter the 2013 NFL draft. Mike Stoops said he is looking to sign five quality defensive backs in this recruiting class and the Sooners are definitely going to need all of those bodies with the hope at least two of them can step in and make an impact immediately.
- Brandon Chatmon
Oklahoma was close with a couple of big-time offensive tackle targets in 2012. In not getting
Joshua Garnett
(Stanford) or
Zach Banner
(USC), it has made offensive tackle an even bigger point of emphasis for the class. OU is hoping to get three tackles and Bruce Kittle has sought out the guys he thinks will fit the Sooners best. OU picked up one with
Dalton Rodriguez
(Tulsa, Okla./Union), but he is an unknown commodity at the position. There aren't many elite regional tackles still on the board so Kittle has some work to do in convincing a national recruit to take a chance on the Sooners.
- Bob Przybylo
There's no doubt the Sooners are lacking depth on the defensive side of the ball. But linebacker is the position that's most in need of young talent, especially after Oklahoma didn't sign any 'backers in the class of 2012 (Eric Striker will likely play safety at OU). Earlier this spring, their most-talented young linebacker
Kellen Jones
, who played some as a true freshman in 2011, transferred to
join Brent Venables at Clemson
. That leaves OU desperate for young depth with its entire top four being upperclassmen. It's a priority for new assistant coach Tim Kish to find a few playmakers in the class of 2013.
- Dane Beavers
April, 18, 2012
4/18/12
4:20
PM ET
This season is the final go-around for Oklahoma cornerback
Lamar Harris
. The senior has seen only spot duty in 13 games in his first three seasons.
Harris knew he had to step up for the Sooners and he has this spring at the cornerback position opposite
Demontre Hurst
. He was solid in the spring game, finishing with four tackles.
"Lamar did good," safety
Tony Jefferson
said. "He knew from the get-go he had to make an improvement. I was real impressed with him today."
At 6-foot-1, 187 pounds, Harris brings good size to the position and was in solid position during pass coverages throughout the spring game.
"He played well," Hurst said. "I know it's kind of hard playing on the boundary (corner) but basically it comes down to technique. He didn't give up any big plays or extravagant plays that hurt the defense. Overall, he did good."
If Harris continues his strong play, he could give defensive coordinator Mike Stoops the option to leave junior
Aaron Colvin
at safety instead of moving him to cornerback for next season.
April, 14, 2012
4/14/12
10:00
AM ET
Here are a few players to watch in Saturday's Red-White game:
Receiver Trey Metoyer
: The spring enrollee has been the star of spring football. He has displayed excellent hands, competitiveness and playmaking ability, proving to be a player who is expected to make a major contribution this fall.
Saturday is Metoyer's chance to cement himself a role in OU's offense and if he continues to show dynamic playmaking ability it will give offensive coordinator Josh Heupel some flexibility and the opportunity to be creative as a tinkers with the offense this summer.
Defensive tackle Jordan Phillips
: Phillips has been the defense's version of Metoyer. Rave reviews have been coming in from his teammates, particularly the offensive linemen who have had to face him during spring practices.
He possesses unique athleticism at 6-foot-6, 329 pounds. Guard
Gabe Ikard
has praised him throughout the spring calling him "the next Gerald McCoy" and "a future All-American." Saturday is Phillips' opportunity to show everyone he will be a playmaker this fall.
[+] Enlarge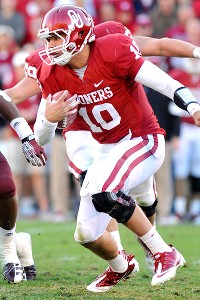 Mark D. Smith/US PresswireCan Blake Bell surpass Drew Allen for the backup quarterback job at OU?
Cornerback Lamar Harris
: Heading into his senior season, Harris appears to have stepped up his game. He's had a solid spring and thrust himself into the conversation at the cornerback position opposite
Demontre Hurst
. At 6-foot-1, 187 pounds, Harris brings excellent size to the position and would give the Sooners options this fall if he continues to play well.
The cornerback position is unlikely to be solidified until the end of fall camp but if Harris can continue to impress it will help OU handle the explosive passing offenses of the Big 12. Saturday is a major opportunity for Harris to secure himself a role in Mike Stoops defense.
Quarterbacks Blake Bell and Drew Allen
: Offensive coordinator Josh Heupel says he wants Bell and Allen competing as if they have the opportunity to win the starting job, otherwise "they're cheating themselves and cheating the program."
Obviously the coaches will continue to have a close eye on the Sooners backup quarterbacks and Saturday will be the chance for Bell or Allen to take a major step towards securing the backup quarterback position.
Bell is known for the "Belldozer" short-yardage package which the Sooners used with major success in 2011 but multiple teammates have lauded his passing abilities. Allen was OU's backup in 2011 and has more experience in running the offense thanks to his three years on campus.
Offensive tackles Derek Farniok, Tyrus Thompson and Daryl Williams
:
Lane Johnson
has moved to left tackle and is the Sooners most experienced returning tackle. Farniok, Thompson and Williams have impressed this spring, giving tackles coach Bruce Kittle the expectation that OU will have four solid tackles (and the flexibility to rotate) this fall.
The trio could take major steps towards solidify Kittle's expectation with strong games on Saturday. Williams was slated to start at right tackle in 2011 before an ankle injury against Tulsa hampered him for the remainder of the season. Thompson has been rotating at left tackle with Johnson and Kittle calls him "game-ready". Farniok, Williams' backup at right tackle, has been arguably the most impressive lineman this spring after redshirting last season. At 6-foot-8 and 325 pounds, Farniok has made major strides since he arrived on campus last summer.
April, 5, 2012
4/05/12
4:15
PM ET
One of the biggest position battles defensively this spring is the one to replace all-conference cornerback
Jamell Fleming
. When asked who has stood out thus far, Bob Stoops singled out senior-to be
Lamar Harris
.
"He and
Joe Powell
continue to get the most action there," Stoops said. "They're doing well with it."
Powell, a converted wideout, played corner last season before switching to receiver for the Insight Bowl because of depth concerns.
While Harris and Powell have shown the most this spring, Stoops added that "there's always an opportunity to put
Aaron Colvin
there as well." Colvin, who started safety last season, played corner as a freshman while backing up Fleming. Colvin is sitting out this spring so his injured shoulder can recover.
Stoops also said that
Julian Wilson
"has looked good" and that junior-college transfer
Kass Everett
"shows promise" despite still being in the early stages of learning Mike Stoops' defense.
March, 30, 2012
3/30/12
10:00
AM ET
New defensive coordinator Mike Stoops is hard at work during his return to Oklahoma with the hope of making the Sooners' secondary among the nation's best. But he understands they have a long way to go.
[+] Enlarge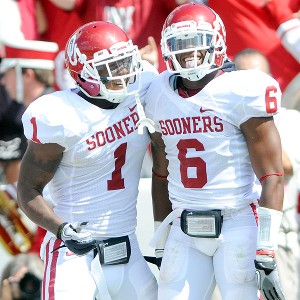 Jackson Laizure/Getty ImagesOklahoma's Tony Jefferson (1) and Demontre Hurst are locked in as starters in 2012.
Cornerback
Demontre Hurst
and safety
Tony Jefferson
have been bright spots for Stoops during the first few weeks of spring practice.
"Demontre and Tony Jefferson are guys that really jump out at you," said Stoops, who doubles as OU's secondary coach. "[With] their consistency and the confidence they play with."
And
Aaron Colvin
-- who is missing spring practice due to shoulder surgery -- was one of the best players on OU's defense in 2011.
So the focus of this spring has been finding a starter opposite Hurst.
"Our young corners need a lot of work," Stoops said. "We have to continue to get better at the other corner position."
There are several players who could step in opposite Hurst including Colvin, junior college transfer
Kass Everett
, junior
Joe Powell
, senior
Lamar Harris
, junior
Gabe Lynn
and others. Powell, one of the most athletic players on the squad, has shown signs of getting more comfortable at cornerback after bouncing back and forth between offense and defense during his career.
Overall, Stoops feels good about the talent in the secondary, particularly when Colvin returns.
"I think we have a good group," Stoops said. "Once we get Aaron back, we're going to have a lot of flexibility."
March, 23, 2012
3/23/12
3:30
PM ET
While the Sooners are on spring break this week, SoonerNation will update readers on five position battles this spring. For today: Cornerback.
The competition to start at cornerback opposite
Demontre Hurst
could be the most interesting position battle of the spring at Oklahoma.
To continue reading this article you must be an Insider
February, 20, 2012
2/20/12
2:45
PM ET
"Loss Impact" analyzes each outgoing starter or rotation player to assess how much his departure will impact Oklahoma next season.
Over the last two seasons, no player made a bigger overall impact on the OU defense than
Jamell Fleming
. His combination of size and speed allowed him to matchup with the big-play wide receivers of the Big 12. Fleming was also a superb tackler against the run for a boundary cornerback.
[+] Enlarge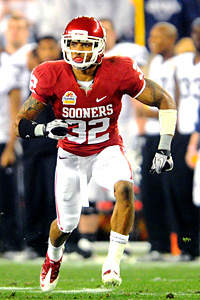 Mark J. Rebilas/US PresswireJamell Fleming was one of the bright spots on Oklahoma's defense in 2011.
What Oklahoma loses
: The game against Texas Tech says it all. The OU defensive backfield basically collapsed without Fleming in the lineup.
Seth Doege
was hammered the boundary side of the field and finished with 441 yards passing and four touchdowns in the Red Raiders' 41-38 victory. When Fleming was on the field, the boundary side was rarely a worry for the Sooners. OU was blown out by Oklahoma State, but Fleming did a relatively decent job limiting
Justin Blackmon
, who was held to under 100 yards receiving. Then in the Insight Bowl, Fleming shut down Big Ten Receiver of the Year,
Marvin McNutt
, who had just four catches for 46 yards.
To continue reading this article you must be an Insider
Will Eagles' Gamble On Bradford Pay Off?
BIG 12 SCOREBOARD
Thursday, 9/3
Friday, 9/4
Saturday, 9/5