Oklahoma Sooners:

JW Walsh
June, 10, 2014
6/10/14
3:00
PM ET
Texas and Oklahoma face tough road tests as we enter the final few weeks of the season.
For the past few weeks, we've taken a closer look at the 2014 Big 12 schedule during our
Big 12's Ultimate Road Trip series
. This week, we'll wrap up the series with the final stretch of the regular season.
To those unfamiliar with this series, we both pick a game featuring a Big 12 team in every week of the season that we'd cover if the travel budget were unlimited and there were no editors telling us where to go.
We'll be basing our choices on several factors, including the quality of the matchup and the stakes that could be involved. The only restriction is that each of us can pick only one game per week.
Let's continue with Week 12.
Nov. 15
Texas at Oklahoma State
TCU at Kansas
Oklahoma at Texas Tech
Jake Trotter's pick:
Oklahoma at Texas Tech


Depending on how the Red Raiders fare in road tests at Oklahoma State, Kansas State and TCU, this mid-November tilt could hold Big 12 title implications on either side. At the very least, it could be a huge roadblock standing in the path of Oklahoma's Big 12 title and playoff hopes.
Traditionally, Lubbock has been a disaster zone for the Sooners, who at one point fell to Tech three straight times at Jones AT&T Stadium.
In 2005, a controversial call at the goal line lifted the Red Raiders to a game-winning touchdown. In 2007, quarterback Sam Bradford was knocked out of the game with a concussion in the first quarter of another Oklahoma loss. And in 2009, Tech simply obliterated the Sooners, who wore Nike combat uniforms that afternoon.
Oklahoma played one of its best games of the 2012 season in a victory in Lubbock. But over the years Tech has given the Sooners as many problems as any team in the conference.
This will be a prime spot for Kliff Kingsbury to earn a program-defining conference win and a chance for me to wolf down another Blue Sky cheeseburger.
Brandon Chatmon's pick:
Texas at Oklahoma State


I have a feeling this will end up being a critical game for both teams.
It will be the third road game in four weeks for Texas and the lone home game for OSU during a season-ending four-game stretch, which includes trips to Baylor and Oklahoma.
The Cowboys are 3-2 against the Longhorns over the past five seasons but, surprisingly, have not beaten UT at Boone Pickens Stadium since 1997. The last time UT played in Stillwater, Okla.,
David Ash
had the moment of his career, leading the Longhorns to a controversial late win in a game that also could be considered the best of
J.W. Walsh
's career. If both quarterbacks are still taking the snaps for their respective teams, odds are it's been a pretty good season in both Stillwater and Austin, Texas.
Simply put, I want to go to this contest because games like these show us what the coaches and players in both programs are truly about. Both teams will be physically and mentally exhausted. There will be no surprises, as both teams will be well-scouted by each other, and both teams will need a win.
And I like the odds for another great game between the two teams, so I'm making a trip to BPS hoping that it won't be as chilly as my last couple of visits against Baylor and Oklahoma last season.
Previous weeks:
Week 1:
Trotter -- SMU at Baylor; Chatmon -- West Virginia vs. Alabama (in Atlanta)
Week 2:
Trotter -- Kansas State at Iowa State; Chatmon -- Kansas State at Iowa State
Week 3:
Trotter -- Texas vs. UCLA (in Arlington); Chatmon -- Tennessee at Oklahoma
Week 4:
Trotter -- Auburn at Kansas State; Chatmon -- Auburn at Kansas State
Week 5:
Trotter -- Texas Tech at Oklahoma State; Chatmon -- Baylor at Iowa State
Week 6
: Trotter -- Baylor at Texas; Chatmon -- Baylor at Texas
Week 7:
Trotter -- Texas vs. Oklahoma; Chatmon -- TCU at Baylor
Week 8:
Trotter -- Kansas State at Oklahoma; Chatmon -- Oklahoma State at TCU
Week 9:
Trotter -- Texas Tech at TCU; Chatmon -- Texas at Kansas State
Week 10:
Trotter -- Texas at Texas Tech; Chatmon -- TCU at West Virginia
Week 11:
Trotter -- Baylor at Oklahoma; Chatmon -- Baylor at Oklahoma
December, 5, 2013
12/05/13
11:00
AM ET
As the calendar turned to November, the quarterback positions at Oklahoma and Oklahoma State remained fluid. Cowboys quarterback
J.W. Walsh
and Sooners quarterback
Blake Bell
had each had their stellar moments, earning player of the week honors at different points in the year, and each quarterback had stumbled in their team's lone loss.
[+] Enlarge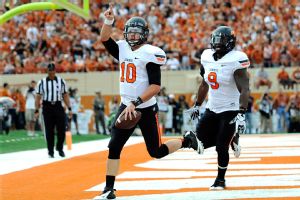 Brendan Maloney/USA TODAY SportsClint Chelf (10) has been a different quarterback since regaining the starting job. He had 15 scores in November.
One month later, both offenses enter the regular season finale with a different level of confidence. And different starting quarterbacks.
Clint Chelf
has stepped in for Walsh and played as well as any quarterback in the nation in the last four games.
Trevor Knight
is coming off back-to-back games in which he has given OU fans a glimpse of the talents that helped him earn the starting quarterback role to start the season. Both quarterbacks began the season as the opening day starter then were replaced for a stretch during the middle of the season before regaining their starting spot.
Their road has been similar but their journey has been much different.
Chelf had plenty of success in 2012, starting the final six games and throwing 14 touchdown passes. He appeared poised to be the man in the Pokes backfield heading into the season. But he lost his starting job within minutes of the opening kickoff against Mississippi State and was left wondering what happened as Walsh started the next five games. Even as OSU played its worst game of the season in a 30-21 loss to West Virginia, Chelf remained on the sidelines helplessly watching. The time on the bench, however, did not change Chelf's approach.
"He was the same Clint from when he was starting to when he wasn't starting." OSU safety
Daytawion Lowe
said. "Same Clint. Practiced hard, kept the same work ethic. Didn't slack off any."
Chelf's second chance came against TCU, but he was very average while leading OSU to wins over the Horned Frogs and Iowa State. But he's been a different quarterback in November, leading OSU to wins over Texas Tech, Kansas, Texas and Baylor.
"Whether playing or not, he was always the same," OSU receiver
Charlie Moore
said. "Same as he was when he wasn't playing. Now he's making huge plays. That's just who he is. It's been cool to see him persevere, get his shot and do well at it."
Chelf's 94.4 adjusted QBR (on a scale of 0-100 with 50 being average) was the best in the nation in the month of November. The senior has proven he can play his best in the Cowboys' biggest games while helping the offense become more explosive and balanced.
"He kept a positive mindset, and it all worked out for him," OSU running back
Desmond Roland
said. "He's been a great role model and leader for our team. And he's taken the offense to another level."
[+] Enlarge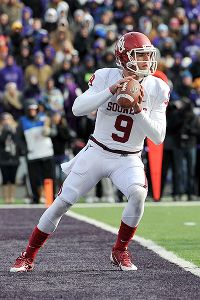 Peter G. Aiken/Getty ImagesTrevor Knight has improved his passing in recent weeks.
In Norman, Knight's journey has been much different. The redshirt freshman made his first collegiate start on opening day. It was clearly an overwhelming experience that ultimately resulted in him losing his starting spot to Bell. But while Bell was playing, Knight was improving in practice and preparing like he was still the starter.
"It is tough preparing and knowing that you're not going to, for sure, be in," Knight said. "But you gotta have that strong mindset, that thick skin because you never know when your opportunity is going to arise. You have to find stuff to be competitive in when you do get those few reps in practice."
Thus, the Sooners young quarterback was ready when Bell was knocked out of the game against ISU, stepping in and looking like a completely different player against the Cyclones and looking even better in his first road start, a 41-31 win over Kansas State in OU's last game.
"You can tell when a player starts to see things clearer," OU co-offensive coordinator Jay Norvell said. "When you first get to play, you're excited and everything goes so fast. I think we saw that slow down [against K-State], he was really focused, I think he saw the plays that were coming and had a good idea what he wanted to do against the defense he saw."
Knight has played his best football in OU's last two games, with an 86.4 adjusted QBR in wins over ISU and KSU. His QBR ranks second only to Chelf among Big 12 quarterbacks during that span.
Now the two quarterbacks meet in Bedlam playing their best football.
"I think all players, it's just about getting into a groove," OU defensive coordinator Mike Stoops said. "Once they are more comfortable in who they are, and you can tell by the way they play, they just seem to be more in a rhythm and very comfortable and seeing things very well."
September, 18, 2013
9/18/13
10:30
AM ET
Texas is crumbling, Oklahoma appears to be on the right track, Texas Tech has surprised and Oklahoma State remains the favorite. Here are some things that are ailing the Big 12 and some cures for those ailments:
What's ailing the Big 12
Losing to FCS teams.
After a summer in which Big 12 coaches touted the overall depth of the conference, Iowa State and Kansas State -- both bowl teams in 2012 -- lost to FCS opponents in Week 1. West Virginia escaped with a late win over FCS opponent William and Mary. Big 12 teams already have lost seven nonconference games, including against Ole Miss (over Texas), LSU (over TCU) and Iowa (over Iowa State).
The cure
Don't talk about it, be about it.
Oklahoma State did knock off Mississippi State and OU gets a shot at Notre Dame on Sept. 28, so all is not lost. But the league's reputation has taken a hit.
On to Part II:
What's ailing the Big 12
Lack of defense.
The Big 12 has a reputation for poor defense. While nobody in the league likes that reputation, nobody's done much to change it during nonconference play. The league average is 19.3 points and 384.5 yards allowed per game against FBS schools during the first three weeks of the season. Oklahoma, Oklahoma State and Texas Tech have had strong single-game performances, but no Big 12 defense looks dominant.
The cure
Is there one?
Things aren't going to get any easier for Big 12 defenses when conference play begins. All is not lost for Big 12 defensive coordinators, however, because several Big 12 squads remain riddled with uncertainty at quarterback. This isn't the Big 12 of old when defenses had to slow Robert Griffin III one week, then deal with Brandon Weeden the next. So there's hope for Big 12 defenses. But based on the first three weeks, don't hold your breath.
[+] Enlarge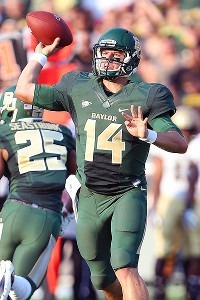 Zuma Press/Icon SMIPotential Big 12 breakout stars haven't emerged yet in 2013, but Baylor quarterback Bryce Petty could be on the verge of becoming one.
Part III:
What's ailing the Big 12
Fluid quarterback situations.
The season is 3 weeks old, yet 22 quarterbacks on Big 12 teams have thrown at least one pass this season, and 17 of them are in double digits in pass attempts. Blowouts have played a role in those numbers, but 15 quarterbacks have started a game in the 10-team league. Meanwhile, Oklahoma, West Virginia, TCU and Oklahoma State already are pinning their futures on the shoulders of a quarterback who didn't take the first snap of the 2013 season.
The cure
Better quarterback play.
Oklahoma State's
J.W. Walsh
, Oklahoma's
Blake Bell
and West Virginia's
Ford Childress
appeared to have upgraded their team's offenses when they took over. TCU's
Trevone Boykin
has a ton of talent, but he hasn't become the run-pass threat he should be to this point. And Texas ... they've got other problems.
Part IV:
What's ailing the Big 12
What happened to RG III, Tavon Austin, etc?
There seems to be a lack of star power in the league. Stars were expected to emerge early this season, but they've been few and far between. Several standouts such as Baylor's
Lache Seastrunk
, Kansas'
James Sims
and Oklahoma State's
Josh Stewart
have performed well, but supplemental stars haven't emerged. Baylor quarterback
Bryce Petty
is showing good signs and several other players have had strong single-game performances. But the lack of legitimate game-changing performers is a surprise.
The cure
Time will tell.
Petty, Oklahoma's Bell, TCU's
B.J. Catalon
and others have the shown the potential to be stars, but the difference between stars and good players is pretty simple. Stars play like stars. Every single week. No excuses.
And finally, Part V:
What's ailing the Big 12
Nobody has been challenged.
Oklahoma State, Baylor, Oklahoma and Texas Tech are the current favorites to win the conference. Now, which from that foursome has recorded the best victories so far? Oklahoma State's victory over Mississippi State leads the pack, followed by Texas Tech's win over TCU. Do we really know anything about these favorites? And what about Texas, West Virginia, Kansas State and TCU? It's not crazy to think they can recover and insert themselves in the Big 12 race. (Sorry, Kansas and Iowa State, but you'll have to prove it on the field.)
The cure
Conference play.
We'll start to learn how good Baylor and Petty really are in October. And the same can be said for a host of Big 12 teams and players. True favorites will start to separate themselves and pretenders will fall by the wayside. Some players with potential will blossom into stars, and other potential standouts will continue to flash some upside, but lack consistency. Should be a fun October.
September, 5, 2013
9/05/13
9:00
AM ET
Let's take a look the top storylines in the Big 12 for Week 2:
[+] Enlarge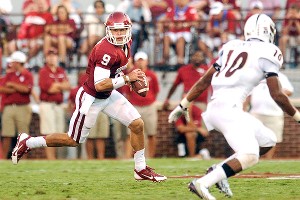 Mark D. Smith/USA TODAY SportsTrevor Knight showed off his mobility in Week 1, but Oklahoma will need his arm to find long-term success.
1. Will Trevor Knight make a major jump from Week 1 to Week 2?
Oklahoma's redshirt freshman quarterback had lackluster passing yards (86) in his first collegiate start, but the Sooners put up 34 points thanks in part to his legs (103 rushing yards) and red-zone efficiency (three touchdown passes). But if OU expects to make it through September without a loss, Knight will have to make defenses pay with his arm.
2. Dana Holgorsen's plan.
West Virginia's simplified offense in the opener left the Sooners very little to go off of as they prepare for the Mountaineers. Expect Holgorsen to break out the creative offense that has earned him his reputation as a superb offensive mind this weekend. Yet, Holgorsen has no idea how quarterback
Paul Millard
will react in a hostile environment in front of 80,000 fans so it might not matter how creative the offense is if the team or quarterback can't execute.
3. Will the Longhorns send a message?
Texas travels to Provo, Utah to face a BYU squad coming off a 19-16 season-opening loss to Virginia. Much like Knight, there are mixed reviews after UT's win to open the season. The Longhorns' offense looked unstoppable at times and very average at other times, but all will be forgotten if UT looks dominant in its first road test of the season.
4. Kansas State needs to get back on track.
KSU coach Bill Snyder isn't happy with the leadership on his team, that much is clear after his postgame comments following the Wildcats' shocking 24-21 loss to North Dakota State. "I would like to see a whole bunch of mad guys in all honesty," Snyder said about the postgame locker room. "I did not see any. That is concerning, that is for sure." The Wildcats will look to regain some confidence when Louisiana-Lafayette visits Manhattan on Saturday. Rediscovering their running game and playing more physical on defense should be high priorities if KSU plans to get back to its winning ways of 2012.
5. How will TCU's quarterback situation continue to develop?
Casey Pachall
started against LSU but was replaced by
Trevone Boykin
, as the Horned Frogs tried to put a spark into the offense. It will be interesting to see how Gary Patterson's squad plans to use the duo when Southeastern Louisiana comes to Amon G. Carter Stadium.
6. Saturday will provide the first look at the Kansas Jayhawks
. The lone Big 12 team that didn't participate in a bowl game, KU hopes to change that this season. The Jayhawks feature some explosive threats on offense with running backs
James Sims
and
Tony Pierson
returning to go alongside transfer quarterback
Jake Heaps
and receiver
Justin McCay
. Coach Charlie Weis has some talent at his disposal so it will be interesting to see how he plans to use that talent in 2013.
7. Will OSU, Baylor or Texas Tech suffer a letdown?
Week 1 should serve as a wake-up call to all three teams, as the conference watched K-State and Iowa State lose to FCS opponents. The Bears (versus Buffalo), Cowboys (at Texas San-Antonio) and Red Raiders (versus Stephen F. Austin) could continue to impress by challenging themselves to play at a high level regardless of their opponent on Saturday. Or they could take a step backward by allowing lesser opponents to hang around until deep into the second half.
8. Were Week 1 performances a fluke?
Texas Tech's
Baker Mayfield
, OSU's
J.W. Walsh
, Texas'
David Ash
and Baylor's
Bryce Petty
were among the Big 12's stars in Week 1. Will they come back down to earth in Week 2? Consistency is what turns a good player into a great player. If those players match their performances in the season's opening week, the Big 12 could be on its way to regaining its reputation as a conference filled with quality quarterbacks.
9. Dee-fense.
OU, OSU and Baylor allowed three points or less, and Texas joined those three Big 12 squads in holding an opponent to single digits. With the majority of the conference facing teams that don't feature Big 12-level offensive attacks, we should see similar results in Week 2. What if we don't?
10. Will more new names emerge?
Charles Sims
burst onto the Big 12 landscape with a 120-yard rushing performance in his first game at WVU. TCU's
B.J. Catalon
showed he's a name to know with his 233 all-purpose yards, and UT's
Daje Johnson
put fear into the hearts of defenses around the conference with his two-touchdown outing in Week 1. Expect other offensive skill players to make their mark on their teams this weekend.
December, 3, 2012
12/03/12
8:05
AM ET
SoonerNation
's Jake Trotter and
GigEmNation
's Sam Khan Jr. give their thoughts on the AT&T Cotton Bowl matchup between Oklahoma (10-2) and Texas A&M (10-2).
1. What's your initial reaction to the matchup?
OU-Florida in the Sugar would have been one of the best matchups of any bowl outside the title game. But this one is about as good. The Sooners get a chance to face off against the Heisman favorite in Johnny "Football" Manziel, which probably means OU will have seen the top three Heisman contenders (Manziel, Notre Dame LB
Manti Te'o
and Kansas State QB
Collin Klein
). The Sooners will have to play well, because A&M is one of the hottest teams in college football, coming off that win at Alabama.
2. Which team in the Big 12 does Texas A&M most resemble?

Can I say A&M? I mean, they were in the Big 12 just last year. If I had to compare them to someone currently in the Big 12, I'd probably say Oklahoma State. A&M's offensive line is tremendous, and Manziel has several playmakers to work with. Manziel is obviously more mobile than anyone OSU has, but the Cowboys present the dual-threat attack with
Clint Chelf
and
J.W. Walsh
. That's where the comparisons end. Because the Aggies are much more formidable defensively than the Pokes with
Damontre Moore
, who is tied for third nationally with 12 1/2 sacks.
3. What's the most intriguing individual matchup?
Mike Stoops vs. Manziel. Stoops has struggled game-planning against prolific, mobile quarterbacks this season, and Manziel figures to be his biggest challenge yet. Will Stoops go back to the dime package, or will he use linebackers
Frank Shannon
and
Corey Nelson
to spy Manziel? Either way, Manziel poses plenty of problems for a defense that's been gashed late in the season.
4. Who's the most important player no one's talking about?
How about
Landry Jones
? All the focus will be on Manziel, and for good reason. But I'm not so sure there's an advantage at QB. Jones has been on fire the last month of the season, throwing for 500 yards twice. Jones is susceptible to interceptions. But lately, he hasn't allowed those plays to phase him. Jones is capable of putting the Aggies defense on its heel, too.
Will Eagles' Gamble On Bradford Pay Off?
BIG 12 SCOREBOARD
Thursday, 9/3
Friday, 9/4
Saturday, 9/5