Oklahoma Sooners:

Josh Wariboko
September, 26, 2013
9/26/13
2:00
PM ET


In this week's Big 12 recruiting storylines we take a look at a big weekend ahead for Oklahoma and West Virginia, the successful weekend that was for the Longhorns, TCU targeting another state and much more.


July, 23, 2013
7/23/13
8:00
AM ET
As summer wraps up and Oklahoma turns its focus to the 2013 season, we've learned plenty from the Sooners during the summer recruiting cycle. OU has 11 commitments, including four ESPN 300 prospects, yet there continues to be concern among Sooner Nation about the state of recruiting in Norman, Okla. Here are five things we learned during the Sooners' summer months on the recruiting trail.
1. Bill Bedenbaugh is relentless
To continue reading this article you must be an Insider
July, 17, 2013
7/17/13
8:00
AM ET
When it came to summer camps, the plan was simple for Class of 2015 offensive lineman
Jalin Barnett
(Lawton, Okla./Lawton).
He wasn't going to go to any of them. There might have been a few schools he wanted to see, but he was going to save money and stay home.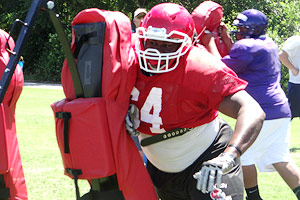 Bob Przybylo/ESPNJalin Barnett, No. 10 in the ESPN Junior 300, has offers from Oklahoma, Oklahoma State and Texas Tech.
Oklahoma, however, is different. Barnett made his first unofficial visit to OU in April and picked up an offer shortly after his trip. He returned the following week for the spring game and one more time for OU's camp in June. As of now, it remains the only camp Barnett has attended during this mega-crazy camp season.
In other words, OU has a three-visit advantage on the rest of the field right now. And with the release of the ESPN 300 for the 2015 class on Tuesday, it might be a good thing. Barnett, who is listed at 6-foot-4 and 285 pounds, is ranked No. 8 in the ESPN 300 and No. 1 in the region.
"A ranking like that doesn't surprise me at all," Lawton coach Randy Breeze said. "He has worked so hard. He's getting all this attention, but he is handling it so well."
Schools such as Oregon State and Texas Tech also doled out early offers, but some more big boys have joined the party the last couple of weeks. Breeze said Stanford and Auburn are the latest school to offer.
Barnett grew up an Oklahoma State fan, but it has been all about the crimson and cream lately. And one OU coach in particular.
"I have a great relationship with Coach [Bill] Bedenbaugh," Barnett said. "I liked going to the camp a lot. It was very important in the long run to get that coaching from him."
Since arriving at OU from West Virginia in February, Bedenbaugh has made a huge impact with top offensive line prospects.
Both of OU's 2015 commitments, ESPN 300 members offensive guard
Josh Wariboko
(Oklahoma City/Casady, No. 88) and offensive tackle
Bobby Evans
(Allen, Texas/Allen, No. 210), have been recruited by Bedenbaugh.
Barnett could be next, but it won't happen just yet. There's pressure, though, from his family to attend OU.
To continue reading this article you must be an Insider
July, 10, 2013
7/10/13
4:09
PM ET
One Evans is nice. Two are even better. Class of 2014 three-star linebacker
Tay Evans
(Allen, Texas/Allen) committed to Oklahoma last week on an unofficial visit. His younger brother did the same Wednesday.
Bobby Evans
, a Class of 2015 tight end, pledged to the Sooners while both brothers were on an unofficial visit to campus.
Tay Evans couldn't contain his excitement, letting the world know on Twitter his younger brother is going to follow him to Norman. Bobby later confirmed to SoonerNation the tweet was accurate.
Bobby Evans, who is 6-foot-3 and 240 pounds, was also hearing from Baylor and attended Texas' junior day in the winter.
Bobby Evans is the second commit for OU's 2015 class, joining offensive guard
Joshua Wariboko
(Oklahoma City/Casady), who pledged two weeks ago.
It's only natural for the Evans brothers to end up as Sooners. Their father, Bobby Sr., played basketball for OU. And though the initial interest wasn't as strong by the Sooners for either one of them compared to some other schools, it became clear that OU was the school to beat when it did start to show interest.
The Sooners' raid of Allen High might not be done, either, as OU still has its targets set on three-star linebacker
Christian Sam
.
July, 10, 2013
7/10/13
8:00
AM ET
In the fifth round of the all-time Oklahoma Sooners team draft earlier this week, OU legend Joe Washington selected offensive guard Greg Roberts.
Roberts, who starred for the Sooners from 1975-78, was the first guard chosen. If SoonerNation were to conduct this draft again in 20 years, would Oklahoma City Casady's
Josh Wariboko
be a player to consider?
While it's way too early to determine that, the Class of 2015 lineman has come out of virtually nowhere in the last few months to become a household name for Sooners fans to know.
To continue reading this article you must be an Insider
June, 27, 2013
6/27/13
7:23
PM ET
Oklahoma City Casady guard
Joshua Wariboko
made his strong interest in Oklahoma known when he spent two days at the Sooners summer camp in early June. The Sooners reciprocated the interest, offering the 2015 prospect just days after the camp concluded.
There was no reason to wait any longer for Wariboko. He committed to the Sooners on Thursday during an unofficial visit to OU, according to Casady coach Koby Scoville. Wariboko becomes the Sooners' first commitment for the Class of 2015.
"He had an offer from Oregon State and really liked it," Scoville said. "But you could see he had a different look in his eye when it came to OU."
OU's camp was the first college football camp experience for Wariboko, who said at the time that he went to the camp because the Sooners were "way up there, and I wanted to show them that." The recruiting process was just starting to pick up for Wariboko, and he has done a good job of handling the attention since his name started to appear on the recruiting landscape this spring.
"We're really proud of Josh; he's handled it great," Scoville said. "He's still the same humble Josh he has always been."
A strong offensive guard prospect with a big base yet still plenty of room to improve, Wariboko provides the Sooners a strong anchor to build upon as they strive to secure a strong class of offensive linemen for 2015. He was one of the stars of OU's summer camp, holding his own against several solid defensive linemen, including 2014 OU commit
Brandon Glenn
(Irving, Texas/Ranchview).
"If it's possible, he does look bigger," Scoville said of Wariboko. "He's always had a really big lower body, but you look at him now and his back has really widened."
SoonerNation staff writer Bob Przybylo contributed to this story.
June, 12, 2013
6/12/13
10:00
AM ET
Joshua Wariboko
(Oklahoma City/Casady) stepped onto the campus of the University of Oklahoma with one goal in mind -- to show the Sooners he meant business.
The 2015 offensive line prospect participated in the first two days of the Sooners' three-day camp at the beginning of June. OU offensive line coach Bill Bedenbaugh clearly liked what they saw from the 6-foot-4, 290-pound prospect, offering Wariboko right after the camp concluded.
To continue reading this article you must be an Insider
June, 5, 2013
6/05/13
8:00
AM ET
NORMAN, Okla. -- It's a no-win scenario that college coaches are finding themselves facing more and more in recent years. Scholarship offers are going out earlier than ever, forcing coaches to make decisions on who they're going to offer with much less information than they have had in the past.
"With all these early offers it's hard to really get a true feel for a kid," Oklahoma offensive line coach Bill Bedenbaugh said last week.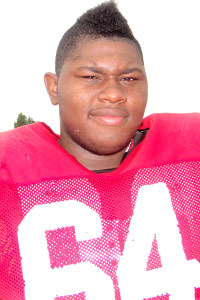 Bob Przybylo/ESPNJalin Barnett is one of two in-state linemen the Sooners have offered for the Class of 2015.
Waiting to offer, however, is not a viable option. Since Bedenbaugh joined the OU program in February, he has offered five offensive linemen in the Class of 2015 --
Jalin Barnett
(Lawton, Okla./Lawton),
Martez Ivey
(Apopka, Fla/Apopka),
Maea Teuhema
(Keller, Texas/Keller),
Zach Rogers
(Carrollton, Texas/Hebron) and
Josh Wariboko
(Oklahoma City/Casady). Undoubtedly it has been tough to make a thorough evaluation of those recruits, who have only been in high school two years. But when deciding when to send out early offers to various prospects, Bedenbaugh leans on his core beliefs to point him in the right direction.
"You just have to do what you believe in," said Bedenbaugh, who can't comment about prospective recruits until they sign their National Letters of Intent. "You have to do research and you have to feel comfortable when you offer a kid that you're going to take him. It doesn't matter who else has offered him; if he has 100 offers but you don't feel like he fits in then I wouldn't offer him."
As the early offers pile up and the accolades come in for a recruit, college coaches such as Bedenbaugh have to deal with those outside forces impacting their pursuit of a player. The recruit could get frustrated by the lack of an offer or expect more attention because he's highly regarded by recruiting experts.
Thus, Bedenbaugh focuses on putting together a class of offensive linemen that fit his system.
"In the grand scheme of things it really doesn't matter who goes somewhere else," Bedenbaugh said. "It matters the three to five that you get. You're not taking the 30 top guys in the country, you're taking the top three to five guys you think can fit into your system, can handle your coaching, can fit in your university and understand the beliefs of your head coach and position coach and what he stands for."
And those answers tend to emerge during thorough evaluations. But with the NCAA bylaws limiting interaction coaches and recruits, what can coaches like Bedenbaugh do to improve their evaluations? This is where social media -- which can be a blessing and a curse -- comes in handy.
"You can tell a lot about their personality," Bedenbaugh said of social media sites like Twitter and Facebook. "You can tell what's important to them, you can tell the character he has, how he's been brought up, what he's thinking about, all those things. You can follow them and everything they post is there forever."
Horror stories of recruits losing scholarships and opportunities due to their decisions on social media have become disturbingly common in recent years, yet those same sites can be a valuable asset to college coaches yearning for information about prospects with whom they've had minimal contact.
"That's been the biggest change over the past few years," Bedenbaugh said. "You can see what they're tweeting about, what they're putting on Facebook and get a feel for where their mind is."
June, 4, 2013
6/04/13
9:00
AM ET
NORMAN, Okla. -- Oklahoma's summer camp is always a time when quality prospects solidify their reputations, newcomers emerge and future standouts start making waves with superb performances in front of the Sooners' coaching staff.
Here are five things we learned from OU's three-day camp:
To continue reading this article you must be an Insider
June, 4, 2013
6/04/13
8:00
AM ET
The plan was for Class of 2015 offensive lineman
Josh Wariboko
(Oklahoma City/Casady) to camp at Oklahoma for all three days.
After a stellar first two days, he didn't really need to come back for a third. He intended to but instead spent his day at a hospital with his mother who was having surgery.
To continue reading this article you must be an Insider
June, 3, 2013
6/03/13
4:00
PM ET
NORMAN, Okla. -- Some big-time prospects were unable to attend Oklahoma's camp but that didn't mean recruits didn't turn heads and deliver top performances.
Here are the 13 top performers from OU's 2013 on-campus summer camp:
To continue reading this article you must be an Insider
June, 1, 2013
6/01/13
9:36
PM ET
NORMAN, Okla. -- Every year, multiple prospects from the same high school flock to Oklahoma's camp. Usually about one or two are highly regarded and stand out.
On Day 1 of OU's camp, three defensive backs from Shreveport (La.) Woodlawn put on a show.
To continue reading this article you must be an Insider
Big 12 2015 Recruiting Overview
BIG 12 SCOREBOARD
Thursday, 9/3
Friday, 9/4
Saturday, 9/5