Oklahoma Sooners:

Joe Washington
July, 8, 2013
7/08/13
8:00
AM ET
If you were drafting an all-time Oklahoma Sooners football team, which players would you build your team around?

SoonerNation explored that question by putting together a panel of OU football experts and conducting an all-time draft. The panelists included former All-America halfback Joe Washington, Hall of Fame WWE broadcaster and OU booster Jim Ross, Sooners play-by-play voice Toby Rowland, longtime OU football historian Mike Brooks and yours truly, who has covered the Sooners since 2007.

Using the snake draft format, each participant was asked to select 11 offensive players, 11 defensive players and four specialists.

Washington drew the first overall pick, and his selection there probably won't surprise anyone. But some of the other top picks just might.

Pretty much all five of us took different strategies going in. The trick was executing that strategy while adjusting to the flow of the draft.

Washington set out to build his team around a dominant defensive line, and to no one's surprise he took Lee Roy Selmon with the first overall pick. But Washington was also hoping to draft himself with his second selection. Instead, Rowland snagged Washington the player in the second round, leaving Washington the drafter brokenhearted. With himself off the board, Washington loaded up on linemen and waited until the 22nd round before drafting a running back.

Rowland's game plan, meanwhile, was the complete opposite. He took advantage of OU's wishbone past and pocketed running backs with his first three picks. With Rowland's team, you know what's coming. But can you stop it?

While Rowland went wishbone, Ross scooped up the best passing quarterback on the board with his first pick, then surrounded that quarterback with the best blockers of the Bob Stoops era.

Brooks went heavy on skill, too, taking a quarterback, two running backs, two receivers and a tight end with six of his first seven picks. To fill out his defense, Brooks then leaned heavily on contributors from OU's dominant defenses of the 1970s.

With the last pick of the first round, my approach was to wait and see what everyone else did before formulating my game plan. With everyone but Washington seemingly focused on offense, I elected to construct a formidable defense, and grabbed an elite tackle, linebacker and defensive back with my first three picks. By taking that approach, I still got two big-time halfbacks, a top-of-the-line receiver and one of the best option quarterbacks in college football history. I like my team. But so do the other guys.

Check back with SoonerNation on Tuesday for full results of the draft -- and to see which team you like best.
October, 10, 2012
10/10/12
12:30
PM ET
NORMAN, Okla. -- Former Oklahoma coach Barry Switzer, who went 9-5-2 against the Longhorns, reminisces with SoonerNation about his Red River Rivalry tenure, and gives his thoughts on this weekend's OU-Texas game:
SoonerNation:
Your most memorable OU-Texas game:
Barry Switzer:
The one that sticks out is my first victory against Texas in 1973, which was also my first year as head coach. We scored half-a-hundred on them (OU won 52-13) – the most points ever put on a Darrell Royal team. We had a great football team. It's fun going into the game knowing we were really better than Texas. I never was concerned. I knew we had a great football team with the Selmon brothers, Rod Shoate, Joe Washington. We had a great offense, a great defense. We had just come off a 7-7 tie at USC. We were so much better, we should have won the game.
[+] Enlarge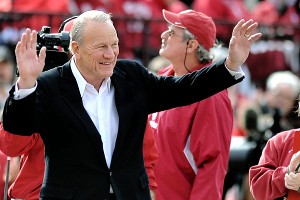 Mark D. Smith/US PresswireFormer Oklahoma coach Barry Switzer says this season's Red River Rivalry game is a toss up.
SN:
The best Texas player you ever coached against:
Switzer:
Earl Campbell. He had that God-given ability. He was the best in high school, best in college, best in the pros. He did it at every level. Had all the physical talents and toughness. Just gifted. Some people got it, and some people don't. He had it early on. The Marcus Duprees and Earl Campbells and Adrian Petersons are so gifted and talented, and fortunate to have type of gift.
SN:
The second-best Texas player you ever coached against:
Switzer:
We dominated them in the 80s, so there wasn't anyone in that era that concerned us. It's always the quarterback or running back that makes a difference. Other than Earl, no one else really ever stood out that brought fear into your heart. They didn't have anyone jumping over the field like a Barry Sanders or Joe Washington, where you're thinking, 'Hell, we'll never get him down.'
SN:
The best individual performance by an OU player in the Cotton Bowl you coached:
Switzer:
We had a couple of them. I think really for me, defensively (linebackers) Rod Shoate (1974) and Brian Bosworth (1985) had two of the greatest defensive performances. They dominated those games, Shoate one year, Bosworth another.
July, 9, 2012
7/09/12
9:00
AM ET
As part of our Red River Rivalry in July, we look at five plays from the Red River Rivalry that Longhorns fans would rather forget. Check out five memorable plays from a
Texas perspective here
. Vote for your
favorite play on our forum
.

Superman takes off
In Oklahoma, they still call it the "Superman Play." In Texas, they call it a nightmare. Late in the fourth quarter of the 2001 Red River Rivalry, Texas had the ball at its own 2-yard line after an ill-advised punt return attempt by Nathan Vasher. The Sooners had dominated quarterback Chris Simms and company all afternoon. Still, the Longhorns trailed just 7-3 with enough time to put a game-winning drive together. Turned out, Texas' drive would last one play.
Utilizing the media timeout, the Stoops brothers dialed up a Roy Williams blitz, termed "Slamdogs." Earlier in the game, Williams leaped on Slamdogs and was upended, allowing Simms to scramble for a first down. Defensive coordinator Mike Stoops cautioned Williams not to leave his feet this time. Thanks goodness for the Sooners, Williams didn't listen. He
vaulted over Texas running back Brett Robin
and into Simms' chest. The ball popped into the arms of OU linebacker Teddy Lehman, who walked into the end zone for the game-clinching touchdown.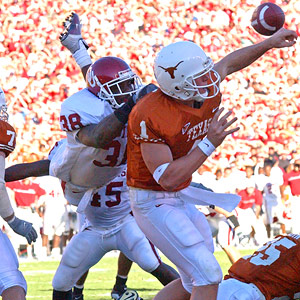 AP Photo/Tim SharpSafety Roy Williams' "Superman" dive clinched the Sooners' win over Texas in 2001.
Joe kicks Texas deep
Wishbone halfback Joe Washington is remembered most for his silver shoes and sweet moves – and the longest punt in OU-Texas history. In 1975, both the Sooners and Longhorns were loaded. The Sooners, led by Washington on offense and Outland winner Lee Roy Selmon on defense, entered the Cotton Bowl ranked second after winning the 1974 national championship. Texas, spearheaded by running back Earl Campbell, was ranked fifth.
The Sooners led by 10 into the fourth quarter, but Texas hung tough. After the Longhorns trimmed the deficit to 17-14 on a 30-yard run, they recovered an OU fumble on the ensuing drive, and Russell Erxleben nailed a 43-yard field goal to tie the game. OU regained the lead 24-17, then forced Texas to punt. Problem was, Erxleben's punt traveled 65 yards to the OU 8-yard line.
After two plays, including a Washington fumble the Sooners fortunately recovered, OU faced third-and-eight from the 10. With still almost three minutes to go, the Longhorns almost certainly would get the ball back with excellent field position and a chance to tie. Instead, Barry Switzer signaled in the "quick kick" – a play that would totally stun the Longhorns. Out of the Wishbone, Washington got the direct snap, turned sideways and belted the ball with a sweeping kick. The Longhorns had no one deep, and when the ball stopped rolling, it had traveled 76 yards. Game over. Propelled by the victory in Dallas, OU went on to defend its national title.
Collins sprints in untouched
Few defensive performances rival what Oklahoma did to Texas in 1985. Despite losing All-American nose guard Tony Casillas on the third play of the game due to a knee injury, the Sooners completely obliterated the Texas offense. The Longhorns were held to four first downs and 70 total yards of offense – including negative 24 in the second half. The only time Texas got the ball deep in OU territory came on a Lydell Carr fumble, which the Horns returned seven yards for a touchdown.
Yet, even with the Sooners defense dominating, the score was 7-7 in the fourth quarter. The Sooners were in danger of tying Texas for the second straight year. Then in a flash, they weren't. Troy Aikman flipped the ball to halfback Patrick Collins running left. Collins cut the corner, turned upfield and raced 40 yards into the end zone virtually untouched. The Sooners won 14-7, catapulting them to their sixth national championship.
Allen salvages his career, OU's season
By any reasonable measure, John Blake's first season in Norman was an unmitigated disaster. The Sooners opened the 1996 season with losses to TCU, San Diego State, Tulsa and Kansas by an average margin of 17 points, and would finish the year with a record of 3-8. The only redeeming element of the season came in the Cotton Bowl. Thanks to the will of written-off running back James Allen.
Allen previously was OU's most ballyhooed running back recruit since Marcus Dupree. But after he was stopped at the goal line of the 1994 loss to the Longhorns, Allen's career began to tailspin. By 1996, he had lost his job to freshman DeMond Parker. But against Texas, Blake rode his senior, who rallied the Sooners from a 10-point fourth quarter deficit to send the game to overtime. In overtime, after Texas settled for a field goal, Allen ran like a man possessed. And after rushing OU to 2, he dove across the goal line for the game-winning touchdown, handing the Sooners a dramatic 30-27 win.
Dupree goes the distance
Ignorance sometimes is bliss. OU fans had no idea their love affair with once-in-a-lifetime running back Marcus Dupree would soon come to an end. In 1982, Sooner Nation believed it was watching the first of many touchdowns Dupree would score against the Longhorns. OU was stuck in its only losing streak against Texas in two decades with Barry Switzer as coach.
But early in the first quarter, Dupree entered the game and carried for seven yards. Then he took the ball from quarterback Kelly Phelps, faked a reverse handoff to Steve Sewell, slipped through a tackle, cut left and dashed down the right hash 63 yards for a touchdown. Dupree finished with 96 yards on just nine carries, and the Sooners racked up 384 yards on the ground on their way to the 28-22 win.
Dupree, however, would never score against Texas again. He suffered a concussion against the Longhorns the following season, as Texas rolled 28-16. Dupree split town the following day, never to return to the team.
Stoops, Players Want To Effect Change
BIG 12 SCOREBOARD
Thursday, 9/3
Friday, 9/4
Saturday, 9/5