Oklahoma Sooners:

Joe Powell
May, 29, 2012
5/29/12
12:00
PM ET
Over the summer months, SoonerNation will take a closer look at each scholarship player on Oklahoma's roster in our Crimson Countdown series. We'll analyze each player's impact on the program since they arrived on campus, their potential impact this fall and their long-term impact in the daily series. Starting with No. 1 Tony Jefferson, the series will go in numerical order until our final analysis of No. 98 Chuka Ndulue.
No. 19 Joe Powell
Cornerback, 6-foot, 171 pounds
Impact so far
: Heading into his junior season, Powell has proven to be an superb athlete. But hasn't yet found a position to call home.
May, 21, 2012
5/21/12
8:00
AM ET
Every weekday morning, a member of the SoonerNation gives his take on three things happening in the Sooner sports world.
1.
One interesting point that was raised to me over the weekend: Why would Stanford athletic Bob Bowlsby, who was a major element in the formation of the Pac-12, agree to become Big 12 commissioner if there was not some grander plan for the league? Well, the implementing of the
SEC-Big 12 bowl game
was one major step in the direction of four major leagues being formed. And the ACC could be on its way to the brink.
2.
Oklahoma State getting swept by Texas A&M was the best thing that could have happen to the OU baseball team. The Sooners have a better RPI and thanks to the Aggies finished ahead of OSU in the Big 12 standings. Even though the Cowboys took 3 of 4 in the Bedlam series, OU is in a much stronger position for a regional, should only four Big 12 teams receive postseason invites. The Bedlam rivals meet again Wednesday morning in the first round of the Big 12 Tournament. If the Sooners can pull out a win, they would all but solidify their position ahead of OSU in the Big 12 postseason pecking order.
To continue reading this article you must be an Insider
May, 10, 2012
5/10/12
2:00
PM ET
The Sooners will enter the summer with exactly one-and-a-half wide receivers who even know the playbook:
Kenny Stills
, and
Trey Metoyer
, who's only been on campus since January.
Wednesday,
Bob Stoops suspended every other wideout
with game experience in
Jaz Reynolds
,
Trey Franks
and
Kameel Jackson
. All three players are out indefinitely, and Jackson has announced his intentions to transfer.
Considering junior college transfer Courtney Gardner won't arrive until late June at the earliest,
Landry Jones
will be working with Stills, a quartet of true freshmen and a transfer that won't be eligible until 2013 in seven-on-seven drills for the majority of the summer.
To continue reading this article you must be an Insider
April, 27, 2012
4/27/12
10:00
AM ET
NORMAN, Okla. -- Oklahoma linebacker
Joseph Ibiloye
kept hearing his coach scream his name.
"Joe! Joe!"
He turned around, heard his coach's demands and applied them to the next play. The problem? At least a few times, it would put him out of position or ruin a defensive rep.
That's what happens when he takes direction meant for cornerback
Joe Powell
.
Mike Stoops is back coordinating Oklahoma's defense, a job he held in 2000 during Oklahoma's last national title run, and there are bound to be a few mixups as he gets used to his new surroundings.
"He's calling me Ibi now, so we've got everything squared away," Ibiloye said.
Stoops' arrival, after eight seasons as Arizona's head coach, was cause for Sooner-fan celebrations. Last year's defense had high-profile struggles in the secondary in losses to Texas Tech, Baylor and Oklahoma State.
[+] Enlarge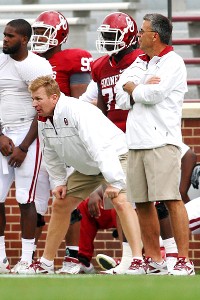 J.P. Wilson/Icon SMI The return of Mike Stoops, bending, as coordinator has brought Oklahoma's defense a simplified scheme.
Stoops' specialty? Defensive backs.
Safety
Javon Harris
didn't know much about Stoops when he met his new position coach and coordinator, but he knew that much.
"The one thing I knew is when he was here, he put out a lot of All-American DBs and guys who went on to the next level," said Harris, who endured the toughest struggle of anyone in the loss to Baylor, but re-earned a starting position this spring. "I was really excited to know he was coming in here."
The word of the spring for Stoops' new troops was simplification. Brent Venables fielded a whole lot of good defenses before leaving for Clemson this offseason, but the change was welcomed, especially by the Sooners' most scrutinized unit of 2011.
"In talking to some of my other teammates, I think everybody is liking the new defense and knowing exactly what they need to do. One of the things we were lacking last year was just not knowing exactly what's going on," Harris said. "Now we're learning those things and we feel one step ahead."
Step one in fixing what ailed the Sooners in 2011? Prevent the big play.
"We're just trying to get our players in the right positions to be more efficient and more effective players. That's the consensus of what we saw a year ago. How much we can simplify things, that's hard to say," Stoops said. "We're going to do what we need to do to be successful."
Stoops installed most of his defense this spring; the fall will be dedicated to perfecting it. The spring was about finding what the defense did well, establishing an identity, and putting everyone where he needs to be.
"The way he approaches things is easier to learn," Ibiloye said.
The biggest position move?
Tony Jefferson
is headed to traditional safety after holding down Oklahoma's nickel-back spot the past two seasons, including 2010, when he shared Big 12 Defensive Freshman of the Year honors.
"We're going to have flexibility. Our linebackers give us a lot of flexibility to do some things, and I think we have some secondary guys that give us some flexibility to get our best players on the field," Stoops said. "That's ultimately, that's what we're trying to do, is find the best 11, 12, 13 players and then take it from there."
Said Harris: "He wants to get players to know the defense and know their position and be able to play loose and not think as much."
That'll come with time, but Stoops made one thing clear when he met each of his new defenders.
"I'm not going to put you in those positions where, if I'm not sure you can do something, I'm not going to make you do them," Harris said Stoops told him. "That's one thing I appreciated from him, that I'll have that chance to come out here and do what I do best."
Players, particularly experienced seniors, had their doubts about the new coordinator, but the comfort level is high as doubts have receded. One place there's no lack of confidence? The top, where Stoops' brother, Bob Stoops, holds down the head job.
"I've got great confidence in him of course and what he sees. It's been great to have him back," Stoops said. "It gives me a strong sense of security that we're doing things the best way we can."
April, 5, 2012
4/05/12
4:15
PM ET
One of the biggest position battles defensively this spring is the one to replace all-conference cornerback
Jamell Fleming
. When asked who has stood out thus far, Bob Stoops singled out senior-to be
Lamar Harris
.
"He and
Joe Powell
continue to get the most action there," Stoops said. "They're doing well with it."
Powell, a converted wideout, played corner last season before switching to receiver for the Insight Bowl because of depth concerns.
While Harris and Powell have shown the most this spring, Stoops added that "there's always an opportunity to put
Aaron Colvin
there as well." Colvin, who started safety last season, played corner as a freshman while backing up Fleming. Colvin is sitting out this spring so his injured shoulder can recover.
Stoops also said that
Julian Wilson
"has looked good" and that junior-college transfer
Kass Everett
"shows promise" despite still being in the early stages of learning Mike Stoops' defense.
March, 30, 2012
3/30/12
10:00
AM ET
New defensive coordinator Mike Stoops is hard at work during his return to Oklahoma with the hope of making the Sooners' secondary among the nation's best. But he understands they have a long way to go.
[+] Enlarge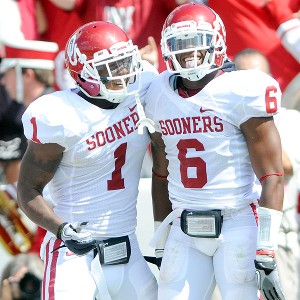 Jackson Laizure/Getty ImagesOklahoma's Tony Jefferson (1) and Demontre Hurst are locked in as starters in 2012.
Cornerback
Demontre Hurst
and safety
Tony Jefferson
have been bright spots for Stoops during the first few weeks of spring practice.
"Demontre and Tony Jefferson are guys that really jump out at you," said Stoops, who doubles as OU's secondary coach. "[With] their consistency and the confidence they play with."
And
Aaron Colvin
-- who is missing spring practice due to shoulder surgery -- was one of the best players on OU's defense in 2011.
So the focus of this spring has been finding a starter opposite Hurst.
"Our young corners need a lot of work," Stoops said. "We have to continue to get better at the other corner position."
There are several players who could step in opposite Hurst including Colvin, junior college transfer
Kass Everett
, junior
Joe Powell
, senior
Lamar Harris
, junior
Gabe Lynn
and others. Powell, one of the most athletic players on the squad, has shown signs of getting more comfortable at cornerback after bouncing back and forth between offense and defense during his career.
Overall, Stoops feels good about the talent in the secondary, particularly when Colvin returns.
"I think we have a good group," Stoops said. "Once we get Aaron back, we're going to have a lot of flexibility."
March, 27, 2012
3/27/12
5:25
PM ET
By
SoonerNation Staff
| ESPN.com
SoonerNation writer Jake Trotter chatted with readers Monday. Here's the full transcript. If you didn't get your question answered, send it to Jake's mailbag to be published on Friday.
Here are a few highlights from the chat:
Josh (Oklahoma): Who wins the CB spot, Kass Everett, Gabe Lynn, Joe Powell? Or will Aaron Colvin be moved over? What is the word out of spring?
Jake Trotter: Of Everett, Lynn and Powell, if I had to put money on it today, I'd say Powell. He's had a very solid spring. That said, it wouldn't stun me if Mike Stoops ultimately moved Colvin to corner.
Cody (Madison, WI): Will Brennan Clay ever be an impact RB for the Sooners?
Jake Trotter: Depends on your definition of "impact." Is he ever going to be a 1,000-yard guy? Probably not. But he could become a valuable rotation guy in the backfield.
Donnie (Oklahoma): The DT position is the one area I see we need big time improvement. Will Jamarkus McFarland finally live up to the Hype he had coming out of HS? Will somebody else step up?
Jake Trotter: McFarland could become a very serviceable player, but the window has closed on him becoming Gerald McCoy or Tommie Harris. Watch out for Jordan Phillips. His athleticism has generated some buzz so far this spring.
Brandon (SLC): Any insight on the tackle situation after some more spring practices? How has Lane Johnson acclimated to LT?
Jake Trotter: He seems to act like the transition has been seamless. Johnson basically told me that he's a more natural fit for LT, because it's a position that requires more athleticism than RT, which requires more power.
March, 23, 2012
3/23/12
3:30
PM ET
While the Sooners are on spring break this week, SoonerNation will update readers on five position battles this spring. For today: Cornerback.
The competition to start at cornerback opposite
Demontre Hurst
could be the most interesting position battle of the spring at Oklahoma.
To continue reading this article you must be an Insider
March, 19, 2012
3/19/12
8:00
AM ET
Every weekday morning, a member of the SoonerNation gives his take on three things happening in the Sooner sports world.
1.
Joe Powell
could emerge out of the spring as the favorite to replace
Jamell Fleming
at cornerback. Powell has had a really nice spring so far, and played extensively in the 75-play scrimmage the other day. Powell, remember, is a converted WR, who actually played receiver in the Insight Bowl because of OU's depth issues there.
2.
The way
James Winchester
tore up pro day, you have to wonder if he could have helped the Sooners beyond deep snapping. Especially with all the injury/suspension problems the offense had at WR last season.
3.
Not the best of starts for the OU baseball team. Even though they have struggled, the Longhorns are tough. But you can't get swept at home by anyone and hope to contend. The Sooners are on a five-game losing streak now, and need to rectify things quickly with conference play kicking into high gear.
To continue reading this article you must be an Insider
December, 9, 2011
12/09/11
11:06
AM ET
NORMAN, Okla. -- December is always a critical time for Oklahoma.
Not only is recruiting in high gear, but next year's team starts to take shape during bowl practices as young players begin showing the coaching staff that they will be impact players in 2012.
Here is a look at several Sooners who have the opportunity to impress during bowl practices:
To continue reading this article you must be an Insider
Will Eagles' Gamble On Bradford Pay Off?
BIG 12 SCOREBOARD
Thursday, 9/3
Friday, 9/4
Saturday, 9/5