Oklahoma Sooners:

Jay Boulware
October, 15, 2013
Oct 15
8:00
PM ET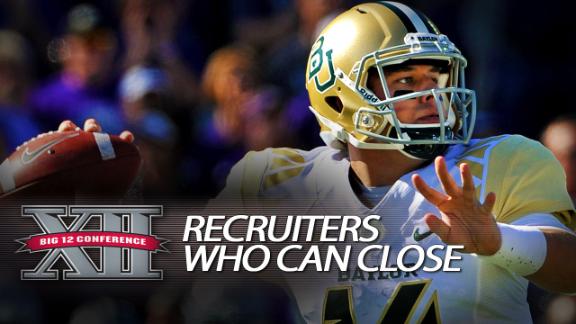 Editor's note: For a look at the national recruiter power rankings based only on Class of 2014 success,
click here
.
The best college football coaches will tell you that when it comes to recruiting, their business is an art. It's a craft you must perfect if you want to have the best players commit and ultimately sign. Recruiting isn't for everybody, but those who are good at it -- particularly for building the 2014 class -- should be recognized, as the business is extremely competitive.
Here are 10 of the top recruiters from the Big 12.
To continue reading this article you must be an Insider
August, 16, 2013
Aug 16
10:00
AM ET
NORMAN, Okla.--Reestablishing Oklahoma as one of the nation's most talented squads was one of the priorities for Bob Stoops during the offseason. Don't believe it? Stoops brought in three coaches known for their recruiting prowess in tight ends coach Jay Boulware, offensive line coach Bill Bedenbaugh and defensive line coach Jerry Montgomery.

The Sooners are off to a decent start as they look to put together a Top 25 group in the Class of 2014. OU, which currently sits at No. 20 in
ESPN.com's team class rankings
, has 12 current commitments including five members of the ESPN300.
Here's a closer look at the Sooners' remaining needs, top current commits and key visit dates as the season approaches.
Remaining needs:
Although the Sooners have commitments from Troy (Ohio) center
Alex Dalton
and Irving (Texas) Ranchview defensive tackle
Brandon Glenn
, the Sooners still have a lot of work to do to land some game changers in the trenches.
They've missed out on several offensive prospects, particularly TCU commit
Ty Barrett
(Dallas/Skyline), forcing the Sooners to go back to the drawing board at that position. But some key names remain on the wish list along the defensive front. OU would love to land Coppell (Texas) defensive end
Solomon Thomas
, No. 31 in the ESPN300, and the standout prospect has visited Norman several times.
Linebacker is also a position of need, despite the positive early signs from 2013 signees
Dominique Alexander
and
Jordan Evans
. A pair of ESPN300 linebackers from the West Coast, Gardena (Calif.) Junipero Serra's
Dwight Williams
and Los Angeles Salesian's
Jamardre Cobb
, would be a dream duo for OU.
Headliners:
Edmond (Okla.) Santa Fe quarterback
Justice Hansen
leads the way as the Sooners' top ranked signee, ranked No. 97 in the ESPN300. He brings excellent size, intangibles and dual threat skills to the backfield. He'll be surrounded by talented ESPN300 receiving targets when he arrives on campus with La Mirada (Calif.) receiver
Dallis Todd
, Tulsa (Okla.) Union tight end
Carson Meier
and Scottsdale (Ariz.) Desert Mountain receiver/tight end
Mark Andrews
sitting next to him on OU's commitment list.
Key remaining targets:
If the Sooners don't land Jenks (Okla.) safety
Steven Parker
, it will be a major blow to OU's recruiting efforts. Parker has visited Norman several times and has developed a solid relationship with defensive coordinator Mike Stoops.
Fresno (Calif.) Central East athlete
Michiah Quick
, No. 43 on the ESPN300, has two former teammates (
Hatari Byrd
,
L.J. Moore
) in the Sooners program and family living in Oklahoma. If the Sooners put on the full court press with him, and Oakley (Calif.) Freedom running back
Joe Mixon
, they could continue their California pipeline started in recent years.
Key date:
Several top recruits, including Quick and Mixon, will be in Norman on Oct. 4 when the Sooners face TCU. It will be critical for the Sooners to knock their socks off during their visits and cap it off with a victory over the Horned Frogs if they hope to secure their signatures.
May, 29, 2013
May 29
11:00
AM ET
MANVEL, Texas -- When 2015 tight end
Jordan Davis
(Houston/Clear Lake) committed to Florida State in March, he acknowledged that he knew other schools and coaches would continue to recruit him in the coming months and years.
Perhaps what caught him a little off guard was how quickly others threw their hat in the ring.
To continue reading this article you must be an Insider
May, 21, 2013
May 21
10:00
AM ET
Returning the tight end position to a strength of the offense and cementing Oklahoma's special teams among the nation's best are two goals high atop the priority list of Jay Boulware. The Sooners' new tight ends and special teams coach has hit the ground running after joining the program on March 1.
The Sooners have relatively low numbers at tight end with senior
Brannon Green
, redshirt freshman
Sam Grant
and redshirt freshman
Taylor McNamara
as the lone scholarship tight ends on the roster. Adding tight ends will be key for the Sooners in the Class of 2014.
To continue reading this article you must be an Insider
April, 19, 2013
Apr 19
9:00
AM ET
Every Friday, SoonerNation releases the Sooner Intel, a sneak peek inside Oklahoma Sooners football recruiting with news and notes on the latest happenings around the program. Talk about it on our forum. A few things discussed in this week's update:
The three things OU commit Todd looked for when deciding to pledge.
OU's top tight end target gets to know his possible future position coach.
OU's running back commit is still hearing from the Longhorns.
A top in-state target couldn't stay at the spring game long, but he talked to Bob and Mike Stoops before the game.
It was a full-court press on Saturday for a top Texas offensive tackle.
The Sooners had a lineman from Wyoming at the spring game.
Receivers coach Jay Norvell compares a Florida receiver to a former Sooners star.
OU is in a good position with a 2015 in-state stud.
Read the Sooner Intel after the jump.
To continue reading this article you must be an Insider
April, 9, 2013
Apr 9
8:00
AM ET
NORMAN, Okla. -- Oklahoma's special teams units have had their ups-and-downs in the past five years. Multiple kickers on scholarship and shoddy coverage teams left lasting images in the minds of Sooners fans. Fortunately for OU, the production of its special teams units has improved recently, including a stellar performance in 2012 as those units played direct roles in helping OU win multiple games.
Jay Boulware hopes to take the Sooners' special teams units to another level.
[+] Enlarge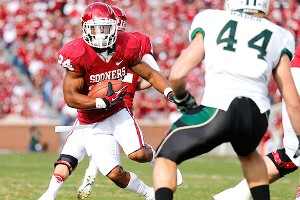 Cal Sport Media via AP ImagesNew special teams coach Jay Boulware thinks OU running back Brennan Clay is a special kick returner.
The Sooners' new special teams coordinator has several talented pieces to work with, including punt returner
Jalen Saunders
and kickoff returners
Roy Finch
and
Brennan Clay
. Saunders broke open Bedlam with his 81-yard punt return for a touchdown, Clay helped the Sooners capture a Big 12 road win at West Virginia with his 46-yard kickoff return in the final minutes and Finch had OU's lone kickoff return for a touchdown with his 100-yard gallop against Kansas.
"None of the kids that I've been around at my last two stops were nearly as talented as these kids are as return men," said Boulware, who coached Iowa State and Auburn before his arrival in Norman. "I tell these kids all the time, there's no reason they shouldn't be the most feared return unit in the country because they are that talented."
Kicker
Michael Hunnicutt
, too, has provided much-needed stability in the kicking game for the past two seasons. He has made 36 of 43 career field goal attempts, but the Sooners are looking to transform Hunnicutt into a better weapon from 40 yards and beyond.
"He's an 80-percent field goal guy," Boulware said. "We just need to continue working and progressing on our field goals outside of 40 yards."
The major concerns with the special teams this spring are replacing four-year starter Tress Way at punter and finding a kickoff specialist. OU recruited junior college punter
Jed Barnett
to replace Way and he's been solid so far.
March, 29, 2013
Mar 29
9:00
AM ET
Every Friday, SoonerNation releases the Sooner Intel, a sneak peek inside Oklahoma Sooners football recruiting with news and notes on the latest happenings around the program. Talk about it on our forum. A few things discussed in this week's update:
Could the Sooners add a top receiver at their spring game?
A Texas wideout is hoping to visit Oklahoma soon.
Texas athlete is focused on a handful of schools.
Will an in-state linebacker make another visit to OU?
A Sooners signee is "like a big brother" to a 2014 target.
What's next for ESPN Watch List safety Steven Parker?
A Florida wideout has a connection to a new OU assistant coach.
Read the Sooner Intel after the jump.
To continue reading this article you must be an Insider
March, 28, 2013
Mar 28
8:00
AM ET
Roughly 90 percent of college football programs would be thrilled to win 10 games in a season. Oklahoma is not one of those programs.
Sharing a Big 12 title? That trophy is a whole lot less satisfying when there are seven others waiting in the trophy case since 2000 that weren't shared with anybody.
"Our expectations are different than everybody else. Everybody's not Oklahoma," defensive coordinator Mike Stoops said. "When you have Oklahoma across your chest, you expect to win championships, and that's never going to change here."
He knows firsthand. Stoops helped his brother, coach Bob Stoops, win Oklahoma's seventh national title back in 2000, and the Sooners came up short two more times, once losing in the title game with Mike Stoops in 2003 and again a year later with Stoops coaching at Arizona. Without him coordinating the defense, the Sooners gave up 55 points to USC, more points than any team has ever scored in the BCS National Championship Game.
Arizona fired Mike Stoops six games into the 2011 season, and the Sooners' struggling defense needed an offseason jolt, despite winning 10 games that same season. Mike Stoops returned and brought assistant Tim Kish with him to coach linebackers and help coordinate the defense.
"Sometimes change is good, new ideas are good always, and change is good sometimes," Mike Stoops said. "That happens for whatever reason, and whether it's complacency or just being stagnant, those things occur. Just trying to reinvent ourselves is something we need to do."
In 2012, there were more late-season defensive struggles after a strong start, but yet again, a 10-win season and a shared Big 12 title weren't enough. Losing three games isn't good enough, and nobody wants to hear that all three losses came to teams that spent time in the top five last season. The Sooners want to get back to competing for national titles, and Bob Stoops went the route of coaching changes to help get Oklahoma back there.
Assistant coaches Jackie Shipp and Bruce Kittle were shown the door, along with offensive line coach James Patton. The Sooners scooped up Bill Bedenbaugh from West Virginia to replace Patton and brought in Jerry Montgomery from Michigan to coach the defensive line. Jay Boulware filled Kittle's spot on the staff after coaching tight ends at Auburn. The Sooners' reboot was complete, and they're working toward results in the spring.
"[They bring] a new perspective in some areas, new ideas. They're not drastic changes," Mike Stoops said. "Obviously, the coaches we had in here were involved and knew our systems well, but there's always little changes in technique and little things schematically that can help you, so we're always looking for fresh ideas."
Ten wins tastes bitter when you're used to winning 11 or 12, which can be the difference between proving yourself as a very good team and a great team. Oklahoma won at least 12 games six times since 2000 and 11 games on three more occasions. Ten wins isn't good enough, and a few former players and one famed coach were more than willing to speak up about it, echoing fan concerns.
Barry Switzer started it in September when he told one local paper that the Sooners "just don't have the talent."
"We're not as good as we have been," Switzer said. "We don't have the Tommie Harrises or Gerald McCoys squatting down there in the middle [of the defensive line]."
Offensive lineman Jammal Brown, an All-American who played in Norman from 2000 to '04, said he was "mad as hell" about the Sooners' 28-point Cotton Bowl loss to Texas A&M to cap the 10-win season, calling the Sooners "soft." CBS analyst Spencer Tillman, a Sooners running back in the '80s, said Oklahoma lost concentration on what made the program great in the first place.
Considering the Sooners let Shipp go at the end of the season, it's hard to believe Bob Stoops didn't agree in part with what Switzer had to say. As for the rest of it?
"We may not be as skilled at some of the positions as we want to be, but our toughness and pride is what made Oklahoma what it is, whether it was Bud Wilkinson or Barry Switzer or Bob Stoops, I think that's the common thread that goes to being a great team," Mike Stoops said.
"Some of those, from the outside, may have felt like we didn't have that common thread between us. I never felt that; I always thought our teams played hard and together. They're certainly entitled to their opinions, you know. We've got to look at ourselves, and if it's true, we need to change it. The things we needed to change, we're working on changing, and nobody knows our program like we do.
"There's areas we certainly need to get better at, and we're aware of those. Some of those take time. Some of those take adjustments each day to get better."
The Sooners lose a four-year starter at quarterback in
Landry Jones
from last year's team, along with seven starters from Mike Stoops' defense. The task of winning more than 10 games seems difficult in a Big 12 that's deeper than it has ever been.
"We just need to get better, again, individually and schematically and play better across the board and come up with better ideas and a better scheme. We're not far off when you look at the big picture," Mike Stoops said. "We had a chance to win 12 games, we lost them all late in the game and down the stretch and didn't make the plays we needed to, but again, we're not that far off."
March, 19, 2013
Mar 19
8:00
AM ET
NORMAN, Okla. -- There had been a noticeable trend in Oklahoma's recruiting for the last couple of seasons. The Sooners were stepping out of Texas and going national.
With a winning tradition like OU has, it makes sense. You can offer a recruit in California or Florida and just say, "We're OU. We want you."
To continue reading this article you must be an Insider
March, 7, 2013
Mar 7
10:00
AM ET
By
SoonerNation staff
| ESPN.com
March, 6, 2013
Mar 6
4:45
PM ET
Having coached in several different conferences for several different programs, new Oklahoma tight ends coach Jay Boulware has plenty of experience. Yet Boulware, who has made several coaching stops including Auburn, Stanford and Iowa State, expects a different experience as he begins recruiting for the Sooners.

"You walk in with this OU on your chest and you're immediately in the top two or three," Boulware said during his first interview with local media on Wednesday. "It means something, it makes a difference, we're big brother now, I've been at places where you're little brother, as some people say. This is my first time at a place where you're the big dog on the street and everybody knows it."

Boulware is hoping that having an OU logo on his chest will help open doors and create opportunities on the recruiting trails nationwide as he tries to land the talent that could help the Sooners compete for national titles in the future. And yet landing among a recruit's top three schools is not enough. In recruiting, second place is the exact same as 10th place. Only one school signs the prospect -- everyone else wasted their time.

Therefore, Boulware has a plan as he tries to separate the Sooners from everyone else on the recruiting trail.

"One of my friends used to say, recruiting is like shaving, if you don't do it every day, it will show," he said. "Every day you have to pound it and pound it, you gotta establish relationships with not only the kid, but whoever the kid is close to. If you do that and build the relationships, you'll come out on top on more than you will on the bottom."

A solid recruiter, Boulware is also lauded for his ability to coach special teams. His most recent coaching stop was Auburn, where his special teams units were consistently among the SEC's best during the past four seasons. He made it a focus to land quality kickers and punters during his time at Auburn.

"It makes all of our jobs a lot easier," Boulware said of recruiting quality specialists. "When you have a really good kicker and punter, it makes everybody's job a lot easier. When they're kicking touchbacks whenever you want to, your kickoff coverage team is not an issue."

Boulware's actual special teams' duties at OU have not been defined, but he should have a impact on the Sooners special teams units in 2013.
March, 6, 2013
Mar 6
2:57
PM ET
The decision to accept a job at the University of Oklahoma was pretty simple for new tight ends coach Jay Boulware. The opportunity to move closer to family and join the Sooners' staff was a no-brainer for Boulware, who was born in Oklahoma City and still has family in the area.

Nonetheless, Boulware
drew the ire of Wisconsin coach Gary Andersen
after leaving UW less than two months after being hired to coach tight ends at UW in January. Anderson was disappointed by Boulware's decision, saying "I brought the wrong guy in here" and "I failed the kids in this situation" when talking about Boulware's departure on Monday.
During his first time speaking to Oklahoma media on Wednesday, Boulware had a clear explanation for his decision to leave Wisconsin.
"I told Coach Andersen before I accepted the job, there's one main reason why I left, and that's family," Boulware said, while noting he enjoyed his short stint at Wisconsin.
Boulware told a story about his aunt being hit by a car in Oklahoma shortly after he took the Wisconsin job and his mother calling him in distress because she had no way to get from Texas to Oklahoma to check on her sister. Boulware said he did what he could to help his mother and said his aunt is doing better now but is paralyzed.
March, 4, 2013
Mar 4
2:41
PM ET
Like any new coach, Wisconsin's Gary Andersen wanted a full staff of assistants in place for the start of spring practice.
Andersen still has that goal five days before the Badgers hit the practice field, but Jay Boulware has made things a bit tougher. Boulware,
hired in January
to coach Wisconsin's tight ends and special teams, left Friday
for the same post
at Oklahoma.

The decision isn't sitting well with Andersen. At all.
"It's upsetting," Andersen said Monday at his pre-spring news conference. "I brought the wrong guy in here. ... I don't like the timing of it. I don't like the situation at all."
Andersen was completely caught off guard by Boulware's departure, learning of it just hours before Oklahoma made an official announcement. The Badgers coach took full responsibility saying, "I failed the kids in this situation. It's important. We talked about building a family environment."
Asked if Boulware provided an explanation for his departure, Andersen replied, "Jay's got his world. I don't want to get -- I don't want to start all that stuff. I'll probably say something I shouldn't say."
Andersen said plenty, and it was refreshingly honest. These moves seem to be happening more and more in college football -- Jim Bollman spent barely a month at Purdue before
moving to Michigan State
as co-offensive coordinator and tight ends coach -- and they shouldn't always be greeted with politically correct responses and fake well wishes.
Boulware's replacement will hold the same title, and Andersen hopes to have him in place before Saturday. Although secondary coach Bill Busch has experience coaching special teams, Andersen noted that there are only four defensive assistants, and he doesn't want to add to Busch's plate.
Other items of note:
Quarterback Jon Budmayr has decided to end his playing career and become a student coach with the Badgers. He'll remain on a medical scholarship. Budmayr has battled nerve issues in his throwing elbow since August 2011 and has missed the past two seasons.
Andersen expects the quarterback competition to last through the spring and into preseason camp. He pointed out that junior-college transfer Tanner McEvoy, who arrives this summer, will have a legitimate shot at the job. Andersen mentioned leadership and consistency as two traits he's seeking from the quarterbacks.
Andersen said the cornerbacks and wide receivers likely will be making the biggest adjustments this spring. Cornerbacks will play more man coverage than before, and wide receivers will have a bigger role in the passing game and must create separation in man coverage. Andersen also mentioned the center spot as an intriguing position as Wisconsin must replace Travis Frederick.
Like most coaches, Andersen opposes increasing the Big Ten schedule to 10 games, noting that it would be "very difficult" on the players' bodies. He can see a move to nine games, which is likelier.
March, 1, 2013
Mar 1
5:43
PM ET
NORMAN, Okla. -- Bob Stoops is making it clear his program needs an upgrade in its recruiting. And he'll do anything to get that done. Including hiring a Longhorn.
Friday, Stoops made his third and final assistant coaching hire in Jay Boulware, who comes to Oklahoma from Auburn by way of Wisconsin. Boulware, 40, who took a job with the Badgers in January, is a native of Oklahoma City, and the opportunity to return was too much to pass up.
"To have a chance to join the Oklahoma staff is an unbelievable professional and personal opportunity," he said in a statement. "I'm looking forward to the start of spring practice and the chance to work with the talented student-athletes and coaches on OU's roster."
It might take awhile for Boulware to get used to wearing crimson. He actually played his college ball for Texas, where he was a reserve offensive lineman.
Boulware will coach tight ends and special teams for the Sooners.
Auburn ranked second nationally in punt coverage this past season under Boulware, averaging 0.8 yards per return, and third in kickoff coverage (18.6 per return). The Tigers' special teams were prolific in 2011, as well.
But Stoops indicated Boulware's ability to recruit is what caught his eye.
"Jay owns an impressive track record as both a coach and recruiter," Stoops said in a statement. "He possesses a wide range of coaching experience, competing in some of the nation's toughest conferences. He also has strong ties in the state of Texas, as well as recruiting relationships across the country that will serve us well."
It didn't take long for Boulware to show he could evaluate and recruit. In his first job, he recruited future All-American running back and NFL star
Michael Turner
to Northern Illinois.
While at Auburn, Boulware heavily recruited the south, especially Florida, a place the Sooners are looking to recruit more heavily.
Boulware reportedly was set to make $225,000 annually.
Oklahoma vs Oklahoma State Highlight