Oklahoma Sooners:

Earl Campbell
December, 28, 2012
12/28/12
7:30
AM ET
NORMAN, Okla. -- In just more than a week, Oklahoma will face Texas A&M and Heisman winner Johnny Manziel in the Cotton Bowl.
Facing the Heisman winner, however, has usually not been a positive for the Sooners. OU is 5-11 against Heisman winners in the season they captured the award.
In fact, since beating Florida State quarterback
Chris Weinke
in the Orange Bowl to take the 2000 national championship, the Sooners have lost three in a row to Heisman winners.
[+] Enlarge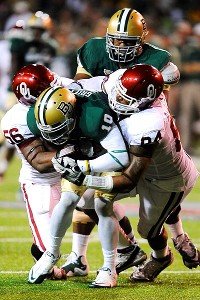 Jerome Miron/US PresswireLed by Robert Griffin III in 2011, Baylor beat the Sooners for the first time ever.
SoonerNation breaks down OU's history when pitted against the Heisman:
2011:
QB
Robert Griffin III
, Baylor
The result:
Baylor 45-35
Griffin Heisman's moment actually came against the Sooners. Griffin torched OU for 479 passing yards and four touchdowns, including the game-winner with eight seconds to play.
2004:
QB
Matt Leinart
, USC
The result:
USC 55-19
The game featured the top four Heisman finalists, but Leinart rose to the top in the national title game rout. Leinart outplayed
Adrian Peterson
, and Jason White and threw for 332 yards and five touchdowns.
2001:
QB
Eric Crouch
, Nebraska
The result:
Nebraska 20-10
The Sooners corralled Crouch for much of the game. But in the fourth quarter, he hauled in a 63-yard touchdown off a double reverse pass to seal the Big Red victory and catapult Nebraska to the national title game.
2000:
QB Chris Weinke, Florida State
The result:
OU 13-2
During the coin toss, OU linebacker
Torrance Marshall
told Weinke that he stole his boy's (QB Josh Heupel) trophy. Marshall and the Sooners then backed up their talk on the field. Against a tenacious OU defense, the 28-yard-old Weinke had the worst performance of his career, completing just 25 of 51 passes for 274 yards and three turnovers. Thanks to a defensive performance for the ages, the Sooners won their seventh national championship.
1998:
RB
Ricky Williams
, Texas
The result:
Texas 34-3
Against a hapless OU defense, Williams ran wild, scratching out 139 yards and two touchdowns on 31 carries in a game that was over by the third quarter.
1994:
RB
Rashaan Salaam
, Colorado
The result:
Colorado 45-7
Against the 22nd-ranked Sooners, Salaam racked up 161 yards and four touchdowns on 25 carries. The Sooners spiraled after the crushing defeat and finished 6-6 in Gary Gibbs' final season.
1988:
RB
Barry Sanders
, Oklahoma State
The result:
OU 31-28
In perhaps the most epic Bedlam game, Sanders dazzled with 215 yards and two touchdowns. But thanks to a little Sooner Magic, Brent Parker dropped the game-winning touchdown in the end zone and OU held on for the narrow victory in Stillwater.
1986:
QB
Vinny Testaverde
, Miami
The result:
Miami 28-16
In a showdown featuring the No. 1- and No. 2-ranked teams, Testaverde was awesome, throwing for 261 yards and four touchdowns. He also completed a school-record 14 straight completions. Thanks in part to his OU performance, Testaverde went on to capture 70 percent of the Heisman vote, though Miami would miss out on the national title after losing to Penn State in the Fiesta Bowl.
1983:
RB Mike Rozier, Nebraska
The result:
Nebraska 28-21
Spearheaded by Rozier's 205 rushing yards, the Huskers came from behind twice to pull out the win in Norman. Rozier would finish as the all-time leading rusher in Big Eight history and became the second player in FBS history to top 2,000 yards in a season.
1981:
RB
Marcus Allen
, USC
The result:
USC 28-24
Against second-ranked OU, Allen and the top-ranked Trojans rallied with a late fourth-quarter touchdown drive to stun the Sooners with two seconds remaining. Allen led USC with 208 rushing yards and two touchdowns.
1977:
RB Earl Campbell, Texas
October, 10, 2012
10/10/12
12:30
PM ET
NORMAN, Okla. -- Former Oklahoma coach Barry Switzer, who went 9-5-2 against the Longhorns, reminisces with SoonerNation about his Red River Rivalry tenure, and gives his thoughts on this weekend's OU-Texas game:
SoonerNation:
Your most memorable OU-Texas game:
Barry Switzer:
The one that sticks out is my first victory against Texas in 1973, which was also my first year as head coach. We scored half-a-hundred on them (OU won 52-13) – the most points ever put on a Darrell Royal team. We had a great football team. It's fun going into the game knowing we were really better than Texas. I never was concerned. I knew we had a great football team with the Selmon brothers, Rod Shoate, Joe Washington. We had a great offense, a great defense. We had just come off a 7-7 tie at USC. We were so much better, we should have won the game.
[+] Enlarge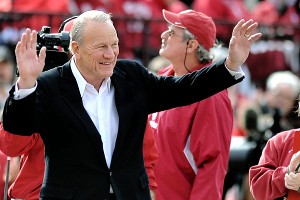 Mark D. Smith/US PresswireFormer Oklahoma coach Barry Switzer says this season's Red River Rivalry game is a toss up.
SN:
The best Texas player you ever coached against:
Switzer:
Earl Campbell. He had that God-given ability. He was the best in high school, best in college, best in the pros. He did it at every level. Had all the physical talents and toughness. Just gifted. Some people got it, and some people don't. He had it early on. The Marcus Duprees and Earl Campbells and Adrian Petersons are so gifted and talented, and fortunate to have type of gift.
SN:
The second-best Texas player you ever coached against:
Switzer:
We dominated them in the 80s, so there wasn't anyone in that era that concerned us. It's always the quarterback or running back that makes a difference. Other than Earl, no one else really ever stood out that brought fear into your heart. They didn't have anyone jumping over the field like a Barry Sanders or Joe Washington, where you're thinking, 'Hell, we'll never get him down.'
SN:
The best individual performance by an OU player in the Cotton Bowl you coached:
Switzer:
We had a couple of them. I think really for me, defensively (linebackers) Rod Shoate (1974) and Brian Bosworth (1985) had two of the greatest defensive performances. They dominated those games, Shoate one year, Bosworth another.
July, 11, 2012
7/11/12
9:00
AM ET
For Oklahoma, it's one thing to lose a recruiting battle to the University of Texas.
It's quite another to watch that player become an impact performer at the Cotton Bowl in early October. Here's a look at a few players who picked the Longhorns over the Sooners then stepped up their play against OU, leaving Sooner Nation left to wonder: What if?
Running back Earl Campbell, Tyler, Texas/John Tyler, Class of 1974
After in-home visits from OU head coach Barry Switzer and Texas head coach Darrell Royal, Campbell narrowed his list to the Sooners and Longhorns. He made a campus visit in Norman but committed to UT during his campus visit in Austin. According to his official website, Campbell was still unsure as signing day neared, so he prayed. "God, if it's your will that I should attend the University of Texas, then I'll get up during the night to pee. If not, if I sleep through the night, then I'll know your choice for me will be the University of Oklahoma."
Clearly, Campbell did not sleep through the night.
And the Sooners, particularly Coach Switzer, will always lament his active bladder. His 25-yard touchdown run against the Sooners during his Heisman-winning season in 1977 is one of the "go-to" highlights of Campbell's days in a Longhorns uniform.
Campbell went on to be an Heisman Trophy winner, two-time All-American and three-time All-SWC performer during his time at Texas. He finished with 4,443 career rushing yards and 41 touchdowns. He's also a Pro Football Hall of Famer.
[+] Enlarge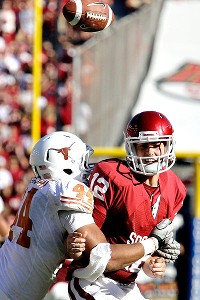 Paul Moseley/Fort Worth Star-Telegram/Getty ImagesDefensive end Jackson Jeffcoat, who chose Texas over OU, has been projected to be a first-round pick in the 2013 NFL draft.
Defensive end Jackson Jeffcoat, Plano, Texas/Plano West, Class of 2010
Sooners fans still watch Jeffcoat with an air of discontent. And they have at least one more season to watch him create problems for opposing offenses with his combination of strength and speed off the edge.
With his twin sister Jacqueline heading to Norman to play basketball for Sherri Coale, OU fans undoubtedly felt like they had the upper hand during the recruitment of Jeffcoat. The elite defensive end prospect was fairly quiet during his recruitment, keeping his options close to the vest and always maintaining that his relationship with his sister would not impact his decision.
As signing day neared, he chose the Longhorns.
Two years later, Jeffcoat is a member of multiple preseason watch lists after earning second-team All-Big 12 honors as a sophomore. He has started 15 of 21 career games and enters his junior season with 81 career tackles, including 27 tackles for loss and 10.5 sacks.
Jeffcoat was one of Texas' lone bright spots during its 55-17 loss to OU last season with four tackles, including two tackles for loss.
Linebacker Derrick Johnson, Waco, Texas/Waco, Class of 2001
Johnson spurned the Sooners, Baylor and others to play at Texas. And he became a star in Austin.
He earned the Bronco Nagurski (top defensive player) and Butkus Award (top linebacker) during his career. Johnson was a two-time All-American, two-time All-Big 12 first-teamer and 2004 Big 12 Defensive Player of the Year.
Johnson started 40 of 50 career games and finished with 458 tackles, including 65 tackles for loss, 10.5 sacks, 11 forced fumbles and nine interceptions. He created havoc for opposing offenses, from sideline-to-sideline, during his four-year career, becoming one of the top linebackers in UT history.
And even though Johnson never beat the Sooners, he was a nightmare for OU's offense during his four Red River Rivalry battles. He had 49 tackles and two interceptions against the Sooners, forcing OU fans to leave the Cotton Bowl with a combination of emotions, meshing the joy of victory with a twinge of envy.
Stoops, Players Want To Effect Change
BIG 12 SCOREBOARD
Thursday, 9/3
Friday, 9/4
Saturday, 9/5