Oklahoma Sooners:

Dana Holgorsen
March, 8, 2013
Mar 8
2:00
PM CT
Nonconference schedules can reveal many things. They can be the difference between a BCS championship berth or being left behind, and they can provide a glimpse of future success or future disappointments. Here's a look at the Big 12's 2013 nonconference schedules ranked from toughest to easiest.
1. Oklahoma: Louisiana-Monroe, Tulsa, at Notre Dame
All three of OU's nonconference opponents won at least eight games in 2012, making the Sooners' nonconference schedule a solid test as they look to break in a new quarterback. And their visit to South Bend, Ind., could be one of college football's top matchups in 2013.
2. TCU: LSU (at Cowboys Stadium in Dallas), Southeastern Louisiana, SMU
The opener against the Tigers will be one of the highlight games of opening weekend and raises the overall ranking of TCU's nonconference schedule. It's an opportunity for TCU to prove itself and send a message for the Big 12. And TCU's home contest against SMU should be a solid test, as well.
3. Texas: New Mexico, at BYU, Ole Miss
After a fairly easy season opener, the Longhorns travel to Provo, Utah, to face BYU in a game that could be tougher than most people expect. Then UT hosts Ole Miss, giving the Rebels a chance to avenge their home loss to the Longhorns in 2012. Facing the Cougars and Rebels in back-to-back weeks will be a tough test for Mack Brown's squad.
4. Iowa State: Northern Iowa, Iowa, at Tulsa
The Cyclones' road test at Tulsa won't be easy as ISU looks to avenge its Liberty Bowl loss to the Golden Hurricane. This game could be considered a conference matchup in some ways as it will be the third meeting between the two teams in two years. Add rival Iowa to the mix and suddenly ISU has one of the conference's tougher nonconference slates.
5. Oklahoma State: Mississippi State (at Reliant Stadium in Houston), at Texas-San Antonio, Lamar
The Cowboys' season opener is the lone saving grace in this nonconference lineup. The Bulldogs should be a solid early test for OSU, but neither UTSA nor Lamar should prove to be major hurdles.
6. Kansas: South Dakota, at Rice, Louisiana Tech
Rice, which defeated KU in Manhattan, Kan., last season, and Louisiana Tech will be tough tests for the Jayhawks. Both games should give a glimpse of how much KU has improved in Charlie Weis' second season at the helm.
7. Texas Tech: at SMU, Stephen F. Austin, Texas State
The Red Raiders' toughest matchup should be its opener at SMU. In Kliff Kingsbury's first season, Texas Tech will have the chance to get its feet wet in nonconference play even though a Big 12 battle with TCU is sandwiched between its matchups with SFA and Texas State.
8. West Virginia: William & Mary, Georgia State, vs. Maryland (at Ravens Stadium in Baltimore)
Not much of a nonconference slate for WVU, with the Terps as the lone BCS team on the schedule. Things set up well for Dana Holgorsen's offense as the Mountaineers try to replace quarterback
Geno Smith
and receivers
Tavon Austin
and
Stedman Bailey
.
9. Kansas State: North Dakota State, Louisiana-Lafayette, Massachusetts
Louisiana-Lafayette could provide the sternest test for the Wildcats, but there's no reason why KSU can't enter Big 12 play undefeated. Their nonconference schedule sets up well for a team looking to replace standout quarterback
Collin Klein
.
10. Baylor: Wofford, Buffalo, Louisiana-Monroe
It's unlikely Baylor will get tested before its first conference game. The Bears were recently forced to add FCS opponent Wofford after their game with SMU was cancelled, so Louisiana-Monroe could be their toughest nonconference test. They should pile up the victories but might not know much about their team before conference play.
February, 15, 2013
Feb 15
3:00
PM CT
Though Oklahoma has not officially announced it, West Virginia athletic director Oliver Luck
confirmed to the Charleston (W.Va.) Gazette
that offensive line coach Bill Bedenbaugh is leaving the Mountaineers to take the same position with the Sooners.
So just exactly who is Bedenbaugh? SoonerNation quizzed
Mike Casazza
of the
Charleston (W.Va.) Daily Mail
for some answers.
1. What style a coach would you say Bedenbaugh is?
He's from that mold that fits Hal Mumme and Mike Leach and Dana Holgorsen in that you'd better be good learners or you'll lose your spot to someone else who grasps what is, by all accounts, good teaching.
He's big on technique-through-repetitions, which makes practices the determining factors in his most important decisions. But he has a commanding presence. Big guy, booming voice and a way to make his point quickly. And really, if he has depth to work with, which he didn't have at WVU, watch out because that first point can take off quickly. It generates competition and improves results when you know the guy behind you can take your job.
2. There's been some talk about how he's a strong recruiter -- is that the case? If so, what makes him a strong recruiter?
Hard to say because this 2013 class was the first one this coaching staff got to sink into. The 2011 class was compromised because of the coaching change and the 2011 class had the Big 12/Big East mash-up and the Mountaineers couldn't fully flaunt the Orange Bowl.
October, 24, 2012
10/24/12
12:15
PM CT
Today at ESPN.com, we're talking No. 2 in the BCS. Who deserves the nod? I made the case for Kansas State. Here's what I had to say:
If you peruse the Bowl Championship Series rules long enough, you'll find a nice little tidbit that says if you're ranked third in the BCS standings, you go to a BCS bowl. No questions asked.
Most refer to this as the "Kansas State Rule," after Kansas State was relegated to the Alamo Bowl after the 1998 season, being passed up for two-loss No. 8 Florida and No. 4 Ohio State, despite sitting at No. 3 in the standings.

Not much has changed since then, apparently. Bottom line: The Wildcats are short on style and long on substance.
You want blowouts that turn into second-half exhibitions? Well, Kansas State can't provide what Oregon can, but it did embarrass Miami in Week 2 and did the same to West Virginia last week.
You want quality wins, big games with substance? Kansas State has you covered. The Wildcats have the best win of any team in the country this season, going on the road and beating No. 8 Oklahoma, the first team to do so as a ranked team against Bob Stoops.
Last week, the Wildcats demolished the Mountaineers in Morgantown, thrusting quarterback
Collin Klein
to the front of the Heisman pack and demoting
Geno Smith
to an afterthought in the race for now.
Before the BCS polls had been updated this week, the Wildcats had three road wins against top-25 teams, thanks to a win against Iowa State a week earlier. That was more than any team in the country and more than the rest of the undefeated teams combined.
We know Florida can defend the Swamp, but its road wins against Texas A&M and Tennessee pale in comparison to what Kansas State has done on the road.
It certainly made an impact on Dana Holgorsen, the Mountaineers' coach.
"There's a whole bunch of things that stand out about them. They're one of the best teams -- maybe the best team -- in the country, I don't know," Holgorsen said. "Time will tell."
It will, but unlike Oregon, Kansas State has already done its heavy lifting. The Ducks still have to beat USC, Oregon State and Stanford to stay unbeaten.
Kansas State will be favored the rest of the way, and has a great shot to complete an undefeated season.
The biggest complaint about the BCS is it doesn't allow teams to prove their worth on the field. Kansas State has done that so far this season, and it deserves a chance to prove itself on the biggest stage in college football: the BCS National Championship Game.
And who will finish at No. 2? I made the case for OU or Kansas State to find themselves in the title game by year's end, likely facing Alabama.
Just win, baby. That's what Kansas State does. What else can you ask? It already has road wins against Big 12 title contenders Oklahoma and West Virginia, and who's going to challenge the Wildcats now? K-State hosts fellow overachiever Texas Tech this week, but Texas is the lone Top 25 team left on the Wildcats' schedule after that, the same Texas team that's lost to Kansas State in six of the past eight meetings and hasn't beaten the Wildcats since 2003. K-State will be favored in every game the rest of the season, and has to underachieve to lose a game. Anyone want to bet a Bill Snyder-coached team does that?
What about Oklahoma?
The Sooners are the nation's best team in the red zone, but one singular stumble this season, the only time they failed to score on 33 tries, came on a fumble inside the 5-yard line on a snap to Blake Bell. Oklahoma lost to No. 3 Kansas State by five. That's the definition of a fluke. Since then, the Sooners have demolished all challengers by 21, 42 and 45 points. This week, they get to play undefeated No. 5 Notre Dame and may have two or three more ranked opponents in their final six games. They need help from K-State, but by season's end, Oklahoma could have as good a résumé as any one-loss team in America.
August, 28, 2012
8/28/12
1:45
PM CT
The 2011 season was unkind to Big 12 running backs from Ames to Austin, but nobody suffered a worse injury than Texas Tech's Eric Stephens.
"He tore pretty much everything," coach Tommy Tuberville said of his back, who also dislocated his knee. Doctors gave the swelling in Stephens' knee more than a month to calm down before operating.
[+] Enlarge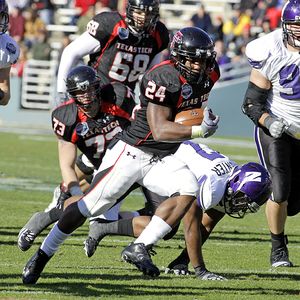 AP Photo/Sharon EllmanTexas Tech RB Eric Stephens tore both the ACL and MCL in his left knee late last season.
Saturday, he'll finally make his return to the field. Tuberville says he'll likely start, with a target of 10-15 touches.
"We discussed that. It could be less or could be more. It just depends on the situation, how he's doing, how he reacts," he said.
Stephens performed well in fall camp after suffering the injury early last season, derailing a likely 1,000-yard season that would have been Tech's first since 1998. The only noticeable difference now is Stephens is a little overweight and looks about 90-95 percent of his usual self.
"That's not the knee problem, he just hasn't played football in a long time," Tuberville said. "I don't think physically there's a problem at all. I'm sure he's more than 100 percent ready to go with the knee. ... I've never had a serious injury like that, but I can just imagine being a major college running back and getting hit all around high and low for the first time in 10-11 months, it'd be awful tough mentally."
The offseason was rough on Iowa State's
Shontrelle Johnson
mentally, too. Doctors doubted whether he'd return to the game after suffering a neck injury last year against Texas. He missed the spring, but doctors cleared him just before fall camp and his long-awaited return is set for Saturday afternoon against Tulsa.
"Shontrelle's done an excellent job and had zero ill effects coming back from neck surgery this offseason," Iowa State coach Paul Rhoads said. "He'll be on the field early. If camp is any indication, we think he's ready to go."
Oklahoma senior running back
Dominique Whaley
suffered an ugly broken ankle when a player landed on the back of his legs in a win over Kansas State. He'll be on the field early for the Sooners after earning the starting job once again.
"In my mind he looks to be back to what Dom always was, that's explosive, strong, fast," Oklahoma coach Bob Stoops said. Whether he's 100 percent or not, maybe only he and the good Lord really know. But he sure looks it to me. I'm hopeful that will be the case."
Oklahoma rival running backs
Joe Bergeron
and
Malcolm Brown
of Texas were banged up with various minor injuries last season, but a renewed focus on health, diet and fitness has hopes high that the duo will be able to stay on the field in 2012.
The running back whose status is most in doubt? West Virginia's
Dustin Garrison
. The sophomore led the Mountaineers in rushing as a freshman, but suffered an injury later than any other Big 12 back. He tore his ACL in preparation for the Mountaineers' 70-33 win over Clemson in the Orange Bowl.
Soreness led coaches to give him a few days off last week, but if he doesn't respond well to practice this week, he could redshirt in 2012, ceding the starting spot to bigger back
Shawne Alston
, a senior.
"The plan all along has been get him to game week and then get him out there and see what happens," Mountaineers coach Dana Holgorsen said.
August, 3, 2012
8/03/12
10:00
AM CT
Colleague Brock Huard checked in with the next installment of the top 10 at each position nationally,
offering up his list of the nation's best quarterbacks

.
Huard pegged three Big 12 quarterbacks in the nation's top 10, with surprises on who got in and who got left out.
The first no-brainers are Oklahoma's
Landry Jones
at No. 4 and West Virginia's
Geno Smith
at No. 5. They trail USC's
Matt Barkley
, Virginia Tech's
Logan Thomas
and Arkansas'
Tyler Wilson
.
Color me skeptical of Thomas, but Jones and Smith will be a season-long debate. You can rank them either way for now. Smith got the edge in the Big 12 Preseason Player of the Year Award, but the voting was pretty close.
For Huard, 2012 is about Jones validating the top-five grade NFL scouts placed on him previously.
Smith is another gunslinger like ones Mountaineers coach Dana Holgorsen had during assistant-coaching stints at Houston and Texas Tech, but Smith possesses the arm strength and size that guys like Case Keenum and Graham Harrell didn't have, writes Huard.
The most conspicuous absence from his top 10 list? Kansas State's
Collin Klein
. No surprise, really. Huard, a former quarterback himself, clearly defines best quarterbacks as "best passers." Klein doesn't fit that mold, but he does fit the mold of a great football player and quarterback.
TCU's
Casey Pachall
snuck in and grabbed the No. 10 spot. Nice pick. I love what Pachall was able to do last season, even though he didn't have a ton of pressure. When his team needed him most (Baylor, Boise State), he was at his best. I'd probably lean
Seth Doege
ahead of Pachall, but it's close.
Check out Huard's full list with his comments. Good stuff.
June, 22, 2012
6/22/12
2:30
PM CT
The debate is already simmering, and may reach a boil by the time the heat of August arrives.

Landry Jones
' career began on an enormous stage at Cowboys Stadium on the opening weekend of the 2009 season. Since then, he's grown into the Big 12's most experienced quarterback and a Heisman candidate in each of the past two seasons.
He regressed statistically as a junior in 2011, throwing three more interceptions and nine fewer touchdowns on 55 fewer attempts than he did in 2010.
Still, after Robert Griffin III and Brandon Weeden left for the NFL, Jones largely stood alone as the Big 12's premier passer.
Well, that is until the new guys crashed the Big 12.
There are a few All-Big 12 teams trickling out, and you've seen a player ranking or two roll out, too. West Virginia's
Geno Smith
certainly has a case as the Big 12's best quarterback, even before he's played a game in the league.
Here's how the pair compared statistically in 2011:
Jones: 355-of-652 (63.2 percent), 4,463 yards, 29 TD, 15 INT
Smith: 346-of-526 (65.8 percent), 4,385 yards, 31 TD, 7 INT
Jones has 11 more career starts than Smith, and Smith also plays for offensive whiz Dana Holgorsen, who spent nearly a decade under Mike Leach and revitalized Oklahoma State's offense in 2010.
He'll get a second year with Holgorsen in 2012, but Jones is the more highly sought-after NFL prospect, and both are capable of putting up huge numbers and leading their teams to BCS bowl wins and double-digit win seasons.
A national title in 2012 is within reach for both players.
If you had to pick one, though, who would it be? Who's the best quarterback in the Big 12? Vote in our poll.
June, 18, 2012
6/18/12
10:00
AM CT
By
SoonerNation staff
| ESPN.com
Every Monday during the summer, the SoonerNation staff answers a roundtable question. Leave a comment or talk about it in our "There's Only One" forum.
Today's question:
Who will be OU's biggest threat to a Big 12 title?
Any one of six teams could win the Big 12 title this season, the most contenders the league has had in years, and maybe ever. But OU's top challenger for conference supremacy should be West Virginia. The Mountaineers return 16 starters, including QB
Geno Smith
, off last year's Big East champion squad that destroyed Clemson in the Orange Bowl. West Virginia has to go to Texas and Oklahoma State, and play Oklahoma in Morgantown on Nov. 17 in a tilt that figures to have major Big 12 title implications. To win the Big 12, the Sooners probably will also have to win that game.
- Jake Trotter
[+] Enlarge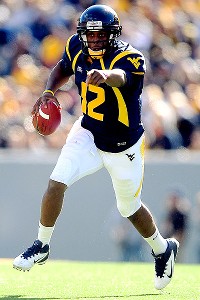 Andrew Weber/US PresswireWest Virginia's Geno Smith will be one of the Big 12's top signal-callers in 2012.
West Virginia is the biggest threat to OU's hopes for a Big 12 championship. Quarterback Geno Smith is entering his second season in Dana Holgorsen's offense and has
Stedman Bailey
and
Tavon Austin
, a couple of 1,000-yard receivers, to throw to. The Sooners will need to make a major improvement in the secondary to handle the Mountaineers, particularly in Morgantown. West Virginia gets TCU and OU at home but travels to Texas and Oklahoma State in a schedule that should allow WVU to put itself right in contention for a Big 12 title in its first season in the league.
- Brandon Chatmon
Did West Virginia just score again in the Orange Bowl against Clemson? OK, so that joke got played out, but the fact remains that the Mountaineers offense is going to be scary good. Quarterback Geno Smith and Tavon Austin connected for four touchdowns in that game and both are back. Add the fact West Virginia coach Dana Holgorsen is familiar with Big 12 systems from his time at Oklahoma State, and the Mountaineers are a real contender for a championship in their first year in the conference. If OU's problems in the secondary haven't been solved, the Nov. 17 trip to Morgantown, W.V., could be a long night.
- Bob Przybylo
West Virginia could beat Oklahoma in November, but I think the Mountaineers' road conference schedule is too tough for them to win the Big 12 title. WVU plays at Texas, at Oklahoma State and at Texas Tech (still a tough place to play), and I could see the Mountaineers losing two of those games. As for OU's biggest threat to a conference championship, give me Texas. The Longhorns have a strong running game, will likely have the best defense in the conference and if they can get above-average play at quarterback, they'll be tough to beat. Beat OU in Dallas on Oct. 13 and the Longhorns have a tame slate the rest of the way.
- Dane Beavers
January, 10, 2012
1/10/12
1:45
PM CT
With the season over, it's time to take a look at the Big 12 in 2012. For now, that means assuming a few things. And we all know what assuming does.
It makes us all look like geniuses.

So, for the purpose of this, I'll assume a few predictions. First, I'll assume
Robert Griffin III
is heading for the NFL. I'll also assume Mike Stoops lands back at Oklahoma.
That said, it's time to project what this league looks like in 2012.
And, before we start, let me make this clear: The Big 12 from 1-6 is absolutely wide open. Last year, the league only had three legitimate title contenders: Oklahoma, Texas A&M and Oklahoma State. This year, every one of the top six teams (and maybe seven, if RG3 returns) can win the Big 12 in a realistic scenario. The difference between Nos. 2 and 6 is minuscule and could change a ton by the end of spring practice.
And for the curious: I would have Missouri behind Kansas State on this list, and I'd have Texas A&M right behind Texas.
1. Oklahoma:
The Sooners moved into the familiar role of favorite after
Landry Jones
announced he'd return in 2012, but not nearly as heavy a favorite as they were in 2011. Injuries hurt Oklahoma late this season, and replacing Big 12 Defensive Player of the Year Frank Alexander, along with linebacker Travis Lewis and corner Jamell Fleming won't be easy. Receivers
Kenny Stills
and
Jaz Reynolds
have to play big for the Sooners to get the win.
2. Kansas State:
The big question mark for this team is can it take care of business and not get stuck in close games in 2012? The Wildcats were 8-1 in games decided by a touchdown or less this season. They can't count on duplicating that in 2012. They should be better, and return most of the big pieces from this season's 10-win team, most importantly quarterback
Collin Klein
and linebacker Arthur Brown. Next season is the time to prove it.
3. West Virginia
: Who else is excited to see
Geno Smith
, Dana Holgorsen and the Mountaineer Express show up in Big 12 country next season? Like I wrote last week, giving up 33 points and still winning by five touchdowns is the Big 12 way of life. The Mountaineers broke Baylor's week-old bowl scoring record with 70 points, and bring back most of a good Big East champion team in 2012. The transition won't be easy, but they've got a chance to make a big splash in their inaugural year. The Big 12 and West Virginia are both convinced that the Mountaineers will join the Big 12 in 2012 and are planning as if it will happen, though pending lawsuits with the Big East mean it's still unofficial.