Oklahoma Sooners:

Bud Wilkinson
March, 28, 2013
Mar 28
8:00
AM CT
Roughly 90 percent of college football programs would be thrilled to win 10 games in a season. Oklahoma is not one of those programs.
Sharing a Big 12 title? That trophy is a whole lot less satisfying when there are seven others waiting in the trophy case since 2000 that weren't shared with anybody.
"Our expectations are different than everybody else. Everybody's not Oklahoma," defensive coordinator Mike Stoops said. "When you have Oklahoma across your chest, you expect to win championships, and that's never going to change here."
He knows firsthand. Stoops helped his brother, coach Bob Stoops, win Oklahoma's seventh national title back in 2000, and the Sooners came up short two more times, once losing in the title game with Mike Stoops in 2003 and again a year later with Stoops coaching at Arizona. Without him coordinating the defense, the Sooners gave up 55 points to USC, more points than any team has ever scored in the BCS National Championship Game.
Arizona fired Mike Stoops six games into the 2011 season, and the Sooners' struggling defense needed an offseason jolt, despite winning 10 games that same season. Mike Stoops returned and brought assistant Tim Kish with him to coach linebackers and help coordinate the defense.
"Sometimes change is good, new ideas are good always, and change is good sometimes," Mike Stoops said. "That happens for whatever reason, and whether it's complacency or just being stagnant, those things occur. Just trying to reinvent ourselves is something we need to do."
In 2012, there were more late-season defensive struggles after a strong start, but yet again, a 10-win season and a shared Big 12 title weren't enough. Losing three games isn't good enough, and nobody wants to hear that all three losses came to teams that spent time in the top five last season. The Sooners want to get back to competing for national titles, and Bob Stoops went the route of coaching changes to help get Oklahoma back there.
Assistant coaches Jackie Shipp and Bruce Kittle were shown the door, along with offensive line coach James Patton. The Sooners scooped up Bill Bedenbaugh from West Virginia to replace Patton and brought in Jerry Montgomery from Michigan to coach the defensive line. Jay Boulware filled Kittle's spot on the staff after coaching tight ends at Auburn. The Sooners' reboot was complete, and they're working toward results in the spring.
"[They bring] a new perspective in some areas, new ideas. They're not drastic changes," Mike Stoops said. "Obviously, the coaches we had in here were involved and knew our systems well, but there's always little changes in technique and little things schematically that can help you, so we're always looking for fresh ideas."
Ten wins tastes bitter when you're used to winning 11 or 12, which can be the difference between proving yourself as a very good team and a great team. Oklahoma won at least 12 games six times since 2000 and 11 games on three more occasions. Ten wins isn't good enough, and a few former players and one famed coach were more than willing to speak up about it, echoing fan concerns.
Barry Switzer started it in September when he told one local paper that the Sooners "just don't have the talent."
"We're not as good as we have been," Switzer said. "We don't have the Tommie Harrises or Gerald McCoys squatting down there in the middle [of the defensive line]."
Offensive lineman Jammal Brown, an All-American who played in Norman from 2000 to '04, said he was "mad as hell" about the Sooners' 28-point Cotton Bowl loss to Texas A&M to cap the 10-win season, calling the Sooners "soft." CBS analyst Spencer Tillman, a Sooners running back in the '80s, said Oklahoma lost concentration on what made the program great in the first place.
Considering the Sooners let Shipp go at the end of the season, it's hard to believe Bob Stoops didn't agree in part with what Switzer had to say. As for the rest of it?
"We may not be as skilled at some of the positions as we want to be, but our toughness and pride is what made Oklahoma what it is, whether it was Bud Wilkinson or Barry Switzer or Bob Stoops, I think that's the common thread that goes to being a great team," Mike Stoops said.
"Some of those, from the outside, may have felt like we didn't have that common thread between us. I never felt that; I always thought our teams played hard and together. They're certainly entitled to their opinions, you know. We've got to look at ourselves, and if it's true, we need to change it. The things we needed to change, we're working on changing, and nobody knows our program like we do.
"There's areas we certainly need to get better at, and we're aware of those. Some of those take time. Some of those take adjustments each day to get better."
The Sooners lose a four-year starter at quarterback in
Landry Jones
from last year's team, along with seven starters from Mike Stoops' defense. The task of winning more than 10 games seems difficult in a Big 12 that's deeper than it has ever been.
"We just need to get better, again, individually and schematically and play better across the board and come up with better ideas and a better scheme. We're not far off when you look at the big picture," Mike Stoops said. "We had a chance to win 12 games, we lost them all late in the game and down the stretch and didn't make the plays we needed to, but again, we're not that far off."
August, 22, 2012
8/22/12
8:00
AM CT
Every weekday morning, a member of the SoonerNation gives his take on three things happening in the Sooner sports world.
1.
Blake Bell
was named
Oklahoma's backup quarterback
on Tuesday night. It's not surprising that he has surpassed
Drew Allen
, but it is surprising that head coach Bob Stoops would announce the move to the media before the season had even started. Still, Bell is now the favorite to start in 2013, when he'll be a redshirt junior.
2.
Senior safety
Javon Harris
called the 2012 Sooners
"a more mature team"
on Tuesday night. If that's the case with four contributors being suspended --
Stacy McGee
, Trey Franks,
Jaz Reynolds
and
Quentin Hayes
-- how immature was the 2011 team?
To continue reading this article you must be an Insider
August, 9, 2012
8/09/12
9:00
AM CT
By
SoonerNation staff
| ESPN.com
ESPN.com's SoonerNation is running excerpts from Jake Trotter's "I Love Oklahoma/I Hate Texas," the first book to detail the Red River Rivalry from the Oklahoma viewpoint, examining the games, moments and heroes Sooners fans love to remember. And those they hate to remember, too.
"I Love Oklahoma/I Hate Texas" is on sale now at
Amazon.com
and
BarnesandNoble.com
, and will be hitting Oklahoma bookstores later this month. View the
book's Facebook page
for more information.
From the chapter, "Moments We Hate To Remember," read the excerpt after the jump:
July, 10, 2012
7/10/12
9:00
AM CT
On Monday in our
Red River Rivalry in July series
, we looked at some of the
most memorable plays in OU-Texas history
. Today we're looking at the rivalry's villains, the players Sooners fans loathe because of their performances at the Cotton Bowl.
Here are five Longhorns villains throughout OU-Texas history:
Peter Gardere
No player broke Sooners' hearts more than Texas QB Peter Gardere. Nicknamed "Peter the Great" for his Cotton Bowl antics, Gardere finished as the only QB on either side to go 4-0 as a starter in the series.
In 1989 and 1990, Gardere led the Horns on game-winning, come-from-behind, fourth-quarter touchdown drives. In 1992, he broke a then-Texas Red River Rivalry record with 274 passing yards as the Longhorns routed OU. In all four games under Gardere, Texas entered the Cotton Bowl unranked. OU, meanwhile, was No. 15, No. 4, No. 6 and No. 16 and favored in every game.
[+] Enlarge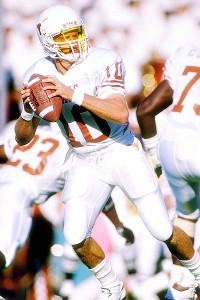 Joe Patronite/Getty ImagesTexas quarterback Peter Gardere beat the Sooners four straight seasons.
In his career, Gardere was just 25-16 as a starter, and played through a pair of losing seasons. But in Austin -- and in Norman -- he will forever be remembered for his performances in Dallas.
Tommy Nobis
The greatest defender in Texas history also saved his best performances for the Sooners. Tommy Nobis was actually heavily recruited by Bud Wilkinson, but opted to stay in the Lone Star State and make life miserable for Wilkinson and the Sooners.
The Sooners scored 14 points -- total -- in three games against Nobis, all convincing Texas wins. In 1963, Nobis and tackle Scott Appleton dominated the Sooners in the first matchup of No. 1 vs. No. 2 in the series. Texas won 28-7 in a game that wasn't near as close as the final score. In 1964, he recorded 21 tackles in another Texas whitewashing, and in 1965 picked off a pass as UT shut out the Sooners for the first time in 21 years. The same season, Nobis won the Outland Trophy and earned consensus All-American honors.
June, 17, 2012
6/17/12
8:00
AM CT
By
Special to SoonerNation
| ESPN.com
Jay Wilkinson, the son of legendary Oklahoma football coach Bud Wilkinson, writes about his dad on Father's Day.

As Father's Day approaches, I've had cause -- like most --to reflect on my own father. He's been gone now for almost twenty years, but almost every day in some way I've considered the impact he's had on my life. He was someone I looked up to no matter how tall I'd grown.

He inspired a great many others, too. There is no greater compliment than when someone says, "You remind me of your father."

My dad was Bud Wilkinson, one of the most successful and well-respected college football coaches of all time. His players at the University of Oklahoma called him the "Great White Father" at the peak of the program's winning ways. Dad considered the label a term of affection and relished its underlying meaning.


January, 11, 2012
1/11/12
1:03
PM CT
Every week, Bud Wilkinson took time to write a letter to his son, who was away halfway across the country in college.
Some were letters of encouragement. Some were letters of guidance. Some were about, well, football. But all of them revealed another side of the legendary Oklahoma coach -- as a loving and devoted father.
[+] Enlarge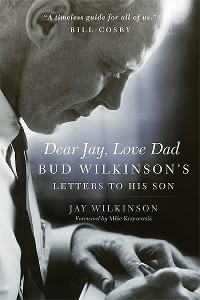 Courtesy Jay WilkinsonThe jacket of Jay Wilkinson's book "Dear Jay, Love Bud."
In the book "Dear Jay, Love Bud" -- which goes on sale Thursday -- Jay Wilkinson shares forty-seven letters his father sent to him while he was starring in football for Duke, and later, attending theology school.
"I was aware at that age that these lessons, principles and values he was talking about were very special and were certainly part of what made him such a successful coach and a successful man," Jay said. "They reveal his defining qualities as a man. Themes of character, thoughtfulness, unselfishness, preparation and perseverance."
As a college student, Jay didn't know he would someday be showing his father's letters to the world. But something inside him said then he should hang onto them.
"Even then I felt they had some historical significance," Jay said. Some letters were lost over the years. But enough survived to give the reader a portrait of the man who launched the OU football dynasty in the 1950s.
Jay got the idea for the book a couple of years ago after he was asked to deliver a speech during the commemoration ceremony of the Bud Wilkinson Room at the Oklahoma Sports Hall of Fame.
"For many years, I kept the letters in an envelope in a drawer next to my bed, but I never took time to go read them," Jay said. "I pulled out one of the letters, and thought they could show a different perspective about my dad that the average person might not know."
The speech, and the letters, were a hit. Jay knew then he needed to put the letters in a book.
"I returned home and told my wife, 'I should take the time and reconstruct what these letters mean," Jay said. "Then and now."
"Dear Jay, Love Bud" will be
available for purchase
on Thursday at
winningthewilkinsonway.com
You can also find it at Oklahoma bookstores, Amazon.com, OUPress.com or by calling 325-2000.
Jay is also the author of "Bud Wilkinson: An Intimate Portrait of an American Legend."
Read an excerpt from Wilkinson's book after the jump.