Oklahoma Sooners:

Bob Bowlsby
May, 29, 2014
5/29/14
9:20
AM ET
IRVING, Texas -- Despite the dissolution of the BCS, the Big 12 leadership decided during the first day of spring meetings Wednesday that it would keep the same formula for breaking three- and four-way ties.
[+] Enlarge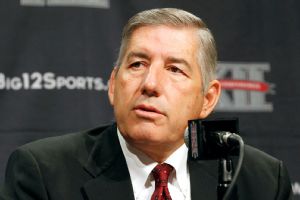 AP Photo/Tim SharpBig 12 commissioner Bob Bowlsby addressed several topics during the first day of spring meetings, including a tiebreaker tweak and unlimited meals for student-athletes.
With one slight tweak.
The BCS standings previously determined the third step of the tiebreaker. Beginning this season, it will be the College Football Playoff committee
that will do the tie breaking
.
"The biggest change we made was we struck the places where it said BCS and inserted CFB poll," Big 12 commissioner Bob Bowlsby said. "So there really wasn't much of a change to it."
Going forward, in the event of a three- or four-way tie, the highest-ranked team in the College Football Playoff poll (that does not advance to the playoffs) will be the Big 12 representative in the Champions Bowl (
aka, the Sugar Bowl
) against the SEC.
Everything else in the three-way tiebreaker will remain the same, including the head-to-head clause that was added following the 2008 season.
That year, Oklahoma emerged out of a Big 12 South Division three-way tie with Texas Tech and Texas despite losing to the Longhorns earlier that season. The Sooners were ranked one spot ahead of Texas in the BCS standing and thus advanced to the Big 12 title game.
Spearheaded by former Texas athletic director DeLoss Dodds, the Big 12 amended the three-way tiebreaker to allow head-to-head to come back into play should the top two teams be ranked within one spot of one another. Had the clause been in effect in 2008, Texas would have played for the Big 12 title instead of the Sooners.
"DeLoss' lasting legacy," Kansas State athletic director John Currie joked of the amendment.
Currie added that the three-way tiebreaker would be on the agenda during the athletic directors' meeting in August in case "something developed" within the College Football Playoff ranking system.
No momentum for early signing period
Two weeks ago, the
ACC concluded
it would recommend an
early signing period in college football
to the College Commissioners Association.
The Big 12, conversely, was far from reaching a consensus on the issue on Wednesday.
"I don't perceive any extreme momentum for that," Currie said of the Big 12 opinion. "For every argument for that, there's a big stack of arguments against it. Whether or not the intended result of an early signing period would reduce chaos on the back end, does that really offset? Is an early signing period going to drive more early recruiting and more early decisions? I personally believe those decisions are being made far too early in many cases."
An
early signing period
is on the agenda for the College Commissioners Association's June meeting. The ACC wants the early signing period to begin Aug. 1.
"The biggest challenge we have is a lot of people are in support of it, but there are a multitude of different options out there," Baylor athletic director Ian McCaw said. "The football recruiting subcommittee is going to gather feedback from high school coaches, student-athletes, coaches and try to make a determination on a date that makes sense. It's something that will be looked at extensively."
Texas Tech athletic director Kirby Hocutt is actually chair of the NCAA football recruiting subcommittee.
Feeding the monster
Last month, the NCAA's legislative council approved a proposal to allow Division I schools to
provide unlimited meals and snacks to all athletes
, including walk-ons.
A chunk of Wednesday's meeting in Irving was spent discussing how the Big 12 would implement the new legislation, which takes effect Aug. 1.
"I was really surprised during the meetings at how much variance there was among schools," Bowlsby said. "And yet there was a fairly high comfort level that although there were uniqueness, that institutions could deal with them in their own way without others thinking, 'Oh gosh, they're going to get an advantage on us.'
"It was an interesting discussion that we maybe we can move into an era where all of us don't have to do exactly the same things."
One possible area of variance? How much each institution might spend on the unlimited meal plan.
Currie said he expects Kansas State to spend somewhere between $700,000 and $1 million a year. Texas athletic director Steve Patterson, meanwhile, estimated Texas' cost could soar "north of $2 million."
While the details are still being worked out across the board, Currie said Kansas State would add a morning snack to its student-athlete training table, as well as "fueling stations" in different facilities for before and after practices. Currie also said inside Kansas State's new $65 million Vanier Football Complex will be a "significant nutrition area" that will give Kansas State's student-athletes access to items like banana smoothies into the night.
"This is going to be very positive," Currie said. "One of the best things we've done."
February, 2, 2013
2/02/13
10:30
AM ET
Bob Bowlsby was in Stillwater on Wednesday for Oklahoma State's game against Iowa State, but turned a whole lot of heads when he told the Associated Press of the Big 12's plans to
continue to move toward re-instituting the Big 12 Championship game.
The Big 12 will seek a waiver from the NCAA to hold a title game with just 10 teams in the league.
"At a time when lots of deregulation is taking place, it seems a little bit odd that the NCAA would be describing how we determine our champions," Bowlsby said Wednesday night, when he watched the Iowa State-Oklahoma State men's basketball game.

"I think it's reasonable to say if you're going to have a champion that you're going to have to designate it in one fashion or another. But to say it has to be between 12 schools or that there has to be divisional play or there has to be a round-robin, we're deregulating lots of things and that certainly is a candidate."
Bowlsby's news is surprising considering it never came up in his meetings with the media during this week's Big 12 athletic directors' meetings.
Reports leaked out this month that Bowlsby had planned to explore the waiver, but this latest news makes it clear that he's serious about bringing back the Big 12 title game, which hasn't been played since Oklahoma beat Nebraska in 2010. Oklahoma State won the outright title in Stillwater in 2011, and Kansas State shared the 2012 title with Oklahoma after both teams went 8-1 in Big 12 play this season.
More on this later today.
January, 15, 2013
1/15/13
10:00
AM ET
As we continue our season wrap, we'll be looking to 2013 today. Let's take a look with some bold predictions in 2013.
1. The Big 12 will not expand or institute a championship game.
I get the questions every day, but I simply don't believe the Big 12 will seriously consider expansion before the new college football playoff is in place, and the Big 12 gets an idea for where it stands in the college football landscape. Bob Bowlsby turned heads when a report surfaced that he'd inquired to the NCAA about bringing back the championship game, but that's a long way from actually doing so. Bringing back a No. 1 versus No. 2 league title game unless the Big 12 is a 12-team league with divisions is the surest way for the Big 12 to find it difficult to crack the four-team playoff.
[+] Enlarge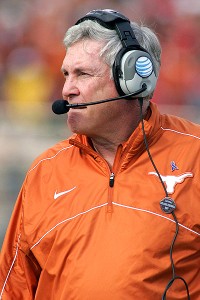 Michael C. Johnson/US PresswireTexas could face a difficult decision should coach Mack Brown and the Longhorns fall short of expectations in 2013.
2. Neither Texas nor Oklahoma will win the Big 12's automatic BCS bid.
Simply put, TCU and Oklahoma State are likely better teams. One of those two will win the league and represent the Big 12 in the Fiesta Bowl as its BCS representative. Texas is good, but not quite good enough and will have a difficult decision to make about Mack Brown's future after falling short. Oklahoma is just losing too much on defense and trying to live without
Landry Jones
, which fans will find more difficult than they imagined.
3. The Big 12 will have a Davey O'Brien Trophy finalist.
The Big 12 is reloading at quarterback, and will likely have only one starting quarterback in 2013 (barring what happens at TCU) who started at least half of his team's games in 2012: Texas'
David Ash
. It won't necessarily be him at the awards ceremony, but I believe in the Big 12's quarterback development, and we'll see a breakout star next year. Will it be
Michael Brewer
at Tech?
Bryce Petty
at Baylor?
Ford Childress
/
Paul Millard
in Morgantown or
Blake Bell
in Norman? What about
Daniel Sams
or Jake Waters at K-State?
4. Three Big 12 teams will finish in the national top 35 in total defense.
This year, the Big 12 had only one team (TCU) crack the top 35. There will be great defenses coming back. Look for Texas, TCU and Oklahoma State to grab this accomplishment, and Texas Tech might not be far off, too. Offenses as a whole will be down from their crazy pace next year, and that's an opportunity for some experienced defenses.
5. The Big 12 will not play for a national title ... again.
It's getting old for the league these days. Texas and Oklahoma both played a part in the SEC capturing seven consecutive national titles, but the Big 12's sat on the sidelines on that Monday night in January for each of the past three seasons. Make it four next year.
6. Texas Tech will be the Big 12's biggest overachiever.
They'll do it on the back of Brewer, who I buy as the most likely breakout star for the Big 12 next year. He's got great running backs, a great system and great, experienced receivers. Having
Eric Ward
back will be huge, and
Jace Amaro
and
Jakeem Grant
will continue to grow. I'm a little cautious on picking them in the top half of the league in the preseason, but I wouldn't be surprised at all to see the Red Raiders finish in the top three or four next year.
7. Baylor will win at least eight games again.
The Bears' offense will be back, and the defense will be a little bit improved. It'll be enough to win eight games in three consecutive seasons with three different quarterbacks. That's crazy, and yet another testament to what Art Briles has done in Waco.
8. Kansas will win a Big 12 game.
It has to happen eventually, doesn't it? The Big 12 losing streak now stands at 21 games. It won't reach 30 this time next year.
July, 16, 2012
7/16/12
3:00
PM ET
By
ESPN.com staff
| ESPN.com
Big 12 commissioner Bob Bowlsby

on the future of the conference, the playoff system, and the difficulties of the job.
May, 21, 2012
5/21/12
8:00
AM ET
Every weekday morning, a member of the SoonerNation gives his take on three things happening in the Sooner sports world.
1.
One interesting point that was raised to me over the weekend: Why would Stanford athletic Bob Bowlsby, who was a major element in the formation of the Pac-12, agree to become Big 12 commissioner if there was not some grander plan for the league? Well, the implementing of the
SEC-Big 12 bowl game
was one major step in the direction of four major leagues being formed. And the ACC could be on its way to the brink.
2.
Oklahoma State getting swept by Texas A&M was the best thing that could have happen to the OU baseball team. The Sooners have a better RPI and thanks to the Aggies finished ahead of OSU in the Big 12 standings. Even though the Cowboys took 3 of 4 in the Bedlam series, OU is in a much stronger position for a regional, should only four Big 12 teams receive postseason invites. The Bedlam rivals meet again Wednesday morning in the first round of the Big 12 Tournament. If the Sooners can pull out a win, they would all but solidify their position ahead of OSU in the Big 12 postseason pecking order.
Will Eagles' Gamble On Bradford Pay Off?
BIG 12 SCOREBOARD
Thursday, 9/3
Friday, 9/4
Saturday, 9/5