Oklahoma Sooners:

Adrian Peterson
April, 11, 2014
Apr 11
5:30
AM ET
The Early Offer is RecruitingNation's regular feature, giving you a dose of recruiting in the mornings.
Earlier this week, I wrote about how
Oklahoma and Oklahoma State are facing tougher challenges
recruiting against in-state programs such as Texas, Texas A&M and Baylor, but there are plenty close to the situation who still have big expectations for the Sooners and Cowboys in the Lone Star State.
April, 10, 2014
Apr 10
11:30
AM ET
As the debate about whether the NCAA should pay college athletes continues,
Minnesota Vikings
and former Oklahoma star running back
Adrian Peterson
weighed in
strongly on the issue
Wednesday.
"Johnny Manziel made
Texas A&M
so much money," he said. "When I was at
Oklahoma
, they made so much money."
When Peterson was at Oklahoma, he said, his first daughter was born, adding responsibilities to his plate outside of "playing football and going to class."
"Nobody wants to live in the dorms for four years," Peterson said. "You see the guys who are older, and they have responsibilities. I feel like, as much money as universities make, some of that should come down to the players, as well."
Peterson also spoke out against NBA commissioner Adam Silver's comments that basketball players should stay in school for two years.
"They're trying to make basketball players go two years in college. Wow. I wonder why?" Peterson said. "Think about it -- just imagine if
LeBron James
had been in college for two years. How much money would that college have made off LeBron James? They would have made so much money off LeBron James. It's about the freedom to do as you want and make your own decisions."
February, 19, 2014
Feb 19
10:00
AM ET
LeBron James
controversially put, of all things, Mount Rushmore in the news last week by
suggesting he would be etched in stone one day
among the four best in NBA history.
The James story set off a firestorm of other sports-related Rushmores. NFL Rushmores. IndyCar Rushmores. One site even put together its Mount Rushmore of Pro Bass Fishermen.
Not to be outdone, Brandon and I have put together a Mount Rushmore of Big 12 football players.
For those who slept through social studies, the actual Mount Rushmore includes the likenesses of George Washington, Thomas Jefferson, Theodore Roosevelt and Abraham Lincoln. The four were chosen not only because they were famous presidents. They were chosen because they were transformational figures in American history.
Washington won the Revolutionary War. Jefferson penned the Declaration of Independence. Lincoln freed the slaves. Roosevelt changed American diplomacy.
In keeping with the spirit of the real Mount Rushmore, our Big 12 Rushmore wasn't just about picking the four best players. It was about picking transformational figures whose impact was far-reaching. And it's just from the Big 12 era (1996-present).
Without further ado, the Big 12 football Mount Rushmore:
Texas QB Vince Young
[+] Enlarge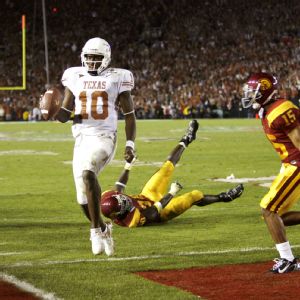 Scott Clarke/Getty ImagesVince Young led Texas to its first national championship in 35 years.
Before 2005, Texas was a great program. But it was not an elite one. It had been 35 years since the Longhorns had won a national championship. By contrast, Oklahoma had captured four national titles during that span. Even though coach Mack Brown had turned the Texas program around, the Sooners were still beating in the Longhorns' heads on the field.
That all changed in 2005, thanks to one of the greatest individual seasons in college football history. Young put the Longhorns on his back, and took them all the way to Pasadena, Calif. The Longhorns destroyed everyone, including the Sooners, with Ohio State being the only regular-season opponent to play Texas within 10 points.
Young was even more spectacular in the national title game against USC. The mighty Trojans had no answer for Young, who threw for 267 yards and rushed for 200. And in the closing seconds on fourth down, he dashed past the pylon for the game-winning touchdown.
Young didn't win the Heisman Trophy (he should have), but he became the first FBS quarterback to throw for 3,000 yards and run for 1,000 in the same season. He also finally lifted Texas over the hump, taking the Longhorns from great to elite.
Oklahoma RB Adrian Peterson
Just this month, Oklahoma signed one of the best running backs in the country in California native
Joe Mixon
. Who is Mixon's idol? Peterson. Who knows how many recruits the Sooners were able to sign the last decade because of Peterson. The number is substantial.
Peterson arrived in 2004 as the Sooners' most ballyhooed recruit since Marcus Dupree. Texas wanted Peterson badly. And Peterson actually watched the 2003 Red River Rivalry from the Texas sidelines. But even though Peterson dreamed of playing for the Longhorns growing up, he wanted to win more. Peterson's signing with Oklahoma added insult to injury to its cross-river rival.
After getting to campus, Peterson put together one of the best freshman seasons ever. He rushed for 1,925 yards, leading the Sooners to the national title game. He also finished second in the Heisman voting, even though there was still a stigma against voting for freshmen.
The next two years of Peterson's career were marred by injuries (even though he still finished with 4,041 career rushing yards). When healthy, he was the single-most dominant force in Big 12 history.
Baylor QB Robert Griffin III
[+] Enlarge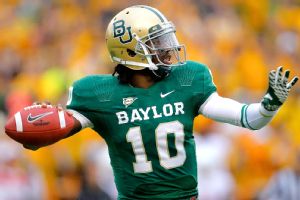 Sarah Glenn/Getty ImagesRobert Griffin III won the Heisman Trophy and put Baylor back on the map.
Along with his coach Art Briles, Griffin changed the way people thought about Baylor football. He also changed the way Baylor football thought about itself. Before Griffin followed Briles to Waco in 2008, Baylor football was the laughingstock of the Big 12.
The Bears had not enjoyed a single winning season since before the inception of the league, and had lost 85 of 96 Big 12 games. The facilities were a mess and attendance was so poor, the school rolled a tarp over Floyd Casey Stadium's south end zone bleachers.
But by the time Griffin left, the program had been transformed. He brought the school its first Heisman Trophy and just its second 10-win season.
Griffin's effect can still be felt in the Big 12. His magical season spurred Baylor to secure the funding for an on-campus, $260-million stadium that will open this fall. The Bears have also been a force ever since, both on the field and on the recruiting trail. In the last three months, Baylor captured its first Big 12 title, then nailed down a top-25 recruiting class. Until Griffin came along, that would have been unthinkable in Waco. It's now the standard.
Nebraska DT Ndamukong Suh
There have been some great defensive players to come through the Big 12. None come close to matching Suh, who was one of the most menacing defensive tackles to ever play college football.
In 2009, Suh captured the Outland, Nagurski and Bednarik national awards as the nation's most outstanding lineman and defensive player. He also became the first defensive Heisman finalist since Michigan's Charles Woodson in 1997.
Spearheaded by Suh, Nebraska also fielded perhaps the greatest defense in Big 12 history. Despite playing in an era of high-flying offenses, the Huskers gave up just 10.4 points per game, the fewest any defense has allowed in Big 12 history.
Facing off against the Big 12's best offense in the Big 12 championship, Suh and the Huskers imposed their will, and came a controversial call away from toppling the Longhorns. Texas went on to the national championship game, and Longhorns quarterback
Colt McCoy
still finished one spot higher in the Heisman voting than Suh. But in that game, like every other one he played in that season, Suh was the best player on the field.
January, 13, 2014
Jan 13
2:45
PM ET
With the BCS era ending, we released the
Big 12 all-BCS-era team
this morning. ESPN.com also put together
a national all-BCS-era team
, and four Big 12 alums made that illustrious squad:
RB: Adrian Peterson, Oklahoma (2004-06) -- Nicknamed "A.D." because he could run "All Day," Peterson set an FBS freshman record with 1,925 rushing yards while finishing second to Matt Leinart in the '04 Heisman voting. Injuries plagued his next two seasons, but he still was a force and rushed for more than 1,000 yards to finish with 4,041 career rushing yards and 41 touchdowns before turning pro early.
WR: Justin Blackmon, Oklahoma State (2009-11) -- Blackmon joined Texas Tech's Michael Crabtree as the only receiver to win the Biletnikoff twice. In those two seasons, Blackmon put up 233 receptions, 3,304 receiving yards and 38 touchdowns. Blackmon gets the slight nod over Crabtree, because Oklahoma State won its first Big 12 title with Blackmon at wideout, while the Red Raiders came up just short with Crabtree.
DT: Ndamukong Suh, Nebraska (2005-09) -- There was no more dominant defensive tackle during the BCS era than Suh. After registering 12 tackles and 24 tackles for loss, he placed fourth in the Heisman voting in '09, and won a host of national awards, including the Outland, Lombardi, Nagurski and Bednarik. Suh too went on to become the second overall pick in the draft.
S: Roy Williams, Oklahoma (1999-01) -- Williams was a major part of Oklahoma's revival at the turn of the millennium. He was one of the Sooners' best players on the 2000 national championship team, before winning the Thorpe and Nagurski awards in '01. That year, he also was the Big 12 defensive player of the year and a unanimous All-American while placing seventh in the Heisman voting.
January, 13, 2014
Jan 13
10:00
AM ET
After 16 years, the BCS era is finally over. Next season, college football will have a playoff instead.
With the BCS done, we've come up with our Big 12 all-BCS era team (1998-2013) below:
Offense
[+] Enlarge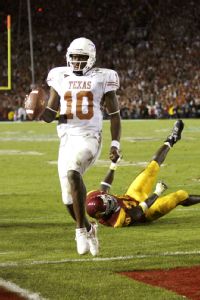 Scott Clarke/Getty ImagesWith Vince Young at the helm, Texas won a national title and Rose Bowl.
QB: Vince Young, Texas (2003-05) --
Young led Texas to its first national title in 35 years with an unforgettable performance in the Rose Bowl against USC. The Heisman runner-up also became the first QB in college football history to throw for 3,000 yards and run for 1,000 in the same season.
RB: Ricky Williams, Texas (1998) --
Williams was part of the BCS era for only one season, but what a season it was. He rushed for 2,327 yards and won the Heisman Trophy going away. Only Wisconsin's
Ron Dayne
has more career rushing yards than Williams (6,279).
RB: Adrian Peterson, Oklahoma (2004-06) --
Despite battling injuries throughout his career, Peterson still was a beast in college. After rushing for 1,925 yards while leading the Sooners to the national title game, he finished second in the '04 Heisman voting, even though there was still a stigma then in voting for a freshman.
WR: Michael Crabtree, Texas Tech (2007-08) --
Crabtree became the first two-time winner of the Biletnikoff Award, given to the nation's top receiver. In '08, he and QB
Graham Harrell
led the Red Raiders to an upset of Texas and a No. 2 ranking in the polls.
WR: Justin Blackmon, Oklahoma State (2009-11) --
Blackmon became the second and only other two-time winner of the Biletnikoff. In his final two seasons, he finished with 233 receptions, 3,304 receiving yards and 38 touchdowns, and he helped propel the Cowboys to their first Big 12 title in '11.
TE: Chase Coffman, Missouri (2005-08) --
Coffman had a monster statistical college career for a tight end with 247 catches for 2,659 receiving yards and 30 touchdowns. He won the '08 Mackey Award, given to the nation's top tight end. Missouri won 37 games during the four years Coffman was in the lineup.
OT: Jammal Brown, Oklahoma (2001-04) --
Brown was a unanimous All-American and a three-time All-Big 12 selection. He became the fifth Sooner to win the Outland Trophy, awarded to the nation's top interior lineman.
OT: Russell Okung, Oklahoma State (2007-09) --
In Okung's final two seasons, Oklahoma State led the Big 12 in rushing yards. The Cowboys were also third in the country in '07 in fewest sacks allowed with Okung at left tackle. He was a unanimous All-American and Outland finalist in '09 and became the sixth overall pick in the '10 NFL draft.
OG: Cyril Richardson, Baylor (2010-13) --
Richardson became Baylor's seventh all-time unanimous All-American. The Outland finalist was also a key piece on the nation's highest-scoring offense this season.
OG: Justin Blalock, Texas (2003-06) --
Though a guard in the NFL, Blalock actually started 50 games for Texas, most coming at right tackle. He was a three-time, first-team All-Big 12 selection and a consensus All-American in 2006.
C: Dominic Raiola, Nebraska (1998-2000) --
Raiola was the inaugural winner of the Rimington Award, named after former Nebraska center Dave Rimington, which recognizes the best center in college football. He was an Outland finalist and a consensus All-American.
APB: Darren Sproles, Kansas State (2001-04) --
One of the most prolific all-purpose performers in college football history, Sproles finished his career with 6,812 all-purpose yards. Among his 39 consecutive starts, his most memorable performance came in the '03 Big 12 championship, when he had 235 yards rushing and 88 receiving, as K-State upset top-ranked Oklahoma 35-7.
Defense
DE: Brian Orakpo, Texas (2005-08) --
Orakpo captured the '08 Nagurski Award as the most outstanding defensive player in the country, and the Lombardi Award, given to the best college lineman or linebacker. He also was the Big 12 Defensive Player of the Year and a consensus All-American while piling up 11 sacks his senior year.
DE: Von Miller, Texas A&M (2007-10) --
Out of a hybrid defensive end/linebacker role, Miller led the nation with 17 sacks in '09. He was a two-time All-American and won the Butkus Award in '10 as the nation's top linebacker.
DT: Ndamukong Suh, Nebraska (2005-09) --
There was no more dominant defensive player in college football during the BCS era. Suh finished fourth in the Heisman voting in '09 and won several national awards, including the Outland, Lombardi, Nagurski (most outstanding defensive player)and Bednarik (defensive player of the year). He was also a unanimous All-American and the Big 12 Defensive Player of the Year.
DT: Tommie Harris, Oklahoma (2001-03) --
Harris was a force from the beginning as a freshman on the OU defensive line. He won the Lombardi his junior year, and he was a two-time consensus All-American, garnering unanimous honors in '03.
LB: Derrick Johnson, Texas (2001-04) --
Johnson was a menacing linebacker for the Longhorns, earning consensus All-American honors in '03 and unanimous honors in '04. He was also a three-time, first-team All-Big 12 selection, and won the Butkus (best linebacker) and Nagurski awards as a senior. Johnson finished his career with 458 tackles.
LB: Rocky Calmus, Oklahoma (1998-2001) --
Calmus played a major role in OU's resurgence under Bob Stoops. He won the Butkus in '01 and was a finalist for the Nagurski and Bednarik. A three-time All-Big 12 pick, Calmus led the Sooners in tackles in all three of those seasons.
LB: Teddy Lehman, Oklahoma (2000-03) --
Lehman too won the Butkus, beating out Johnson for the award in '03. He also was Big 12 Defensive Player of the Year, captured the Bednarik, was a unanimous All-American and played in two national championship games.
[+] Enlarge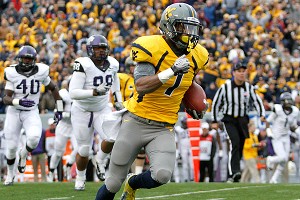 Justin K. Aller/Getty ImagesWest Virginia receiver and returner Tavon Austin had a huge 2012 season.
CB: Terence Newman, Kansas State (1999-2002) --
Newman was a solid player for Bill Snyder his first three seasons, then broke out as a senior. Newman was the Big 12 Defensive Player of the Year, a unanimous All-American and the Thorpe winner, given to college football's top defensive back.
CB: Derrick Strait, Oklahoma (2000-03) --
A four-year starter, Strait finished with a school-record 52 career pass breakups. He also won the Thorpe, and was a unanimous All-American.
S: Roy Williams, Oklahoma (1999-2001) --
Nicknamed "Superman," Williams was the Big 12's most dominating defensive player until Suh came along. He won the Thorpe and Nagurski in '01, and was the Big 12 Defensive Player of the Year and a unanimous All-American the same season. He also famously skied over the Texas offensive line to force the game-clinching interception to earn his moniker.
S: Michael Huff, Texas (2002-05) --
Huff became the first Longhorn to win the Thorpe, and was the leader of the '05 national championship defense. He was also a unanimous All-American that season.
Special teams
K: Mason Crosby, Colorado (2003-06) --
Crosby was three-time, first-team All-Big 12 selection, and twice was a consensus All-American even though he never won the Lou Groza Award, given to the nation's top kicker. He was also the Big 12 Special Teams Player of the Year as a junior, and converted 66 field goals in his career.
P: Quinn Sharp, Oklahoma State (2009-12) --
Sharp became the first three-time All-American in Oklahoma State history, and he earned All-American honors both as a punter and a kicker. He was twice named the Big 12 Special Teams Player of the Year. In his career, he made 50 of 59 field goals, averaged 45.9 yards per punt and missed only one extra point.
KR: Tavon Austin, West Virginia (2012) --
Austin was in the Big 12 only one season, but he was unstoppable that one season. On top of being one of the most dangerous kick returners in the country, Austin had 1,289 yards receiving and 643 rushing, and finished second in the country in all-purpose yards.
PR: Ryan Broyles Oklahoma (2008-11) --
On top of being a prolific punt returner, Broyles was one of the most efficient receivers in college football history. He finished his career with an FBS-record 349 receptions, and was a two-time consensus All-American before a knee injury cut his senior season short.
May, 20, 2013
5/20/13
8:00
AM ET
NORMAN, Okla. --
Malcolm Kelly
finished his college career as one of the most prolific receivers in Oklahoma history. But after hauling in 21 touchdown catches and 144 receptions during a sparkling three seasons in Norman, Kelly's relationship with the OU coaching and training staff
soured at the end
.
[+] Enlarge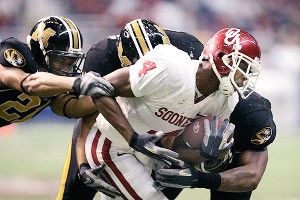 Khampha Bouaphanh/Fort Worth Star-Telegram/Getty ImagesMalcolm Kelly had 144 receptions and 21 touchdown catches in his three seasons as a Sooner.
Kelly claimed OU misdiagnosed a partially torn quad that ultimately sidelined him from the 2007 Fiesta Bowl, which the Sooners lost to West Virginia, 48-28. Then, things worsened when Kelly said the OU strength staff failed to notify him he would be testing on field turf instead of AstroTurf on his pro day, which led to a blowup between him and strength coach Jerry Schmidt.
The Washington Redskins still drafted Kelly in the second round, but chronic knee issues derailed his pro career after just two seasons.
Kelly, who's now a businessman in his native Longview, Texas, agreed to speak with SoonerNation about life after football, his relationship with OU now and what he thinks of the current Sooners' offense:
SoonerNation:
What have you been up to since football?
Malcolm Kelly:
Well, I have an oil well testing company and a trucking company. We do a lot of pressure tests for fracking companies and stuff like that. The trucking company hauls a lot of dirt. Right when I got let go of the Redskins, I had already started it. We haul dirt, gravel and sand for different companies. The well testing company, we work with different oil and gas companies. I'm meeting with a guy next week, and we're hoping to start doing business in Oklahoma.
December, 6, 2012
12/06/12
3:15
PM ET
Adrian Peterson
's alma mater, Oklahoma, takes on former Big 12 foe Texas A&M in the Cotton Bowl next month, but Peterson is not letting that game influence who he thinks should win the Heisman.
Texas A&M freshman quarterback
Johnny Manziel
is the heavy favorite heading into Saturday night's trophy presentation, and though Peterson doesn't have a vote because he never won the award, he wasn't shy about declaring who he thought should win.
"Hopefully, they don't rob him like they did me," Peterson, who lost by 328 votes to junior Matt Leinart in 2004, said in an interview with The Associated Press. "I hope he wins."
Peterson is perhaps the greatest victim ever of the "I'm not voting for a freshman!" ideal that permeates Heisman voting. Back in 2004, when Peterson lost, a sophomore had never even won the award. He's absolutely right that he was robbed for no good reason besides his age, though having teammate Jason White finish third in voting didn't help his case.
Tim Tebow
in 2007 was the first of three consecutive sophomores to win the award, including Oklahoma's
Sam Bradford
.
Now, another barrier might fall. I'd argue that Peterson's 1,925-yard freshman season was more impressive than Manziel's. He set an NCAA record for 100-yard games by a freshman, with 11, and went down as one of the all-time Sooner greats, though the rest of his career was marred by injuries and he never got an opportunity to bring home a Heisman.
You never know what's ahead, and Peterson wants to see Manziel get his opportunity now.
November, 20, 2012
11/20/12
2:00
PM ET
Despite last season's loss, the Bob Stoops era has featured many memorable games and moments against Oklahoma State. SoonerNation ranks the Top 10 Bedlam moments in the Stoops era for the Sooners:
1. Mike asks Les if he wants more
The week of Bedlam in 2003, OSU coach Les Miles said the game would feature "maybe the best team in college football" and "a darn good football team" and "we're going to figure out which one is which." The Stoops brothers didn't care for the comment. In the fourth quarter, with the Sooners on their way to a convincing 52-9 victory, defensive coordinator Mike Stoops stepped from the sideline and stared across the field, raising his arms, then his palms, as if he were asking Miles, "You want some more?"
To continue reading this article you must be an Insider
October, 17, 2012
10/17/12
9:30
AM ET
NORMAN, Okla. -- With the addition of Fresno State transfer
Jalen Saunders
last week, a strong Oklahoma receiving corps just got stronger.
But it remains to be seen if this group finishes as one of the best in school history.
SoonerNation ranks the Top 10 receiving corps in OU history including tight ends:
To continue reading this article you must be an Insider
October, 10, 2012
10/10/12
12:30
PM ET
NORMAN, Okla. -- Former Oklahoma coach Barry Switzer, who went 9-5-2 against the Longhorns, reminisces with SoonerNation about his Red River Rivalry tenure, and gives his thoughts on this weekend's OU-Texas game:
SoonerNation:
Your most memorable OU-Texas game:
Barry Switzer:
The one that sticks out is my first victory against Texas in 1973, which was also my first year as head coach. We scored half-a-hundred on them (OU won 52-13) – the most points ever put on a Darrell Royal team. We had a great football team. It's fun going into the game knowing we were really better than Texas. I never was concerned. I knew we had a great football team with the Selmon brothers, Rod Shoate, Joe Washington. We had a great offense, a great defense. We had just come off a 7-7 tie at USC. We were so much better, we should have won the game.
[+] Enlarge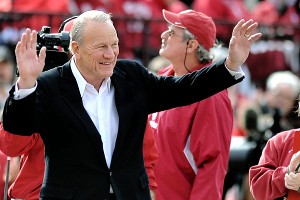 Mark D. Smith/US PresswireFormer Oklahoma coach Barry Switzer says this season's Red River Rivalry game is a toss up.
SN:
The best Texas player you ever coached against:
Switzer:
Earl Campbell. He had that God-given ability. He was the best in high school, best in college, best in the pros. He did it at every level. Had all the physical talents and toughness. Just gifted. Some people got it, and some people don't. He had it early on. The Marcus Duprees and Earl Campbells and Adrian Petersons are so gifted and talented, and fortunate to have type of gift.
SN:
The second-best Texas player you ever coached against:
Switzer:
We dominated them in the 80s, so there wasn't anyone in that era that concerned us. It's always the quarterback or running back that makes a difference. Other than Earl, no one else really ever stood out that brought fear into your heart. They didn't have anyone jumping over the field like a Barry Sanders or Joe Washington, where you're thinking, 'Hell, we'll never get him down.'
SN:
The best individual performance by an OU player in the Cotton Bowl you coached:
Switzer:
We had a couple of them. I think really for me, defensively (linebackers) Rod Shoate (1974) and Brian Bosworth (1985) had two of the greatest defensive performances. They dominated those games, Shoate one year, Bosworth another.
September, 26, 2012
9/26/12
8:00
AM ET
It was a simple play, one that largely went unnoticed as Oklahoma hammered Florida A&M 69-13 on Sept. 8.
Yet
Sterling Shepard
made it known that he could be a key part of the Sooners' offense during that play.
Showing no concern for his body, the freshman receiver elevated to grab an 11-yard pass from
Landry Jones
despite being sandwiched between two FAMU defenders to make the first catch of his college career.
[+] Enlarge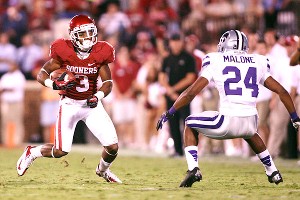 J.P. Wilson/Icon SMIFreshman Sterling Shepard is tied for third on the Sooners in receptions and second in receiving yards.
Shepard's first catch, along with his 10-yard touchdown reception against Kansas State last weekend, are arguably the two most competitive receptions by any receiver on the Sooners in 2012. Those plays are examples of why Shepard could become a mainstay in the offense going forward this season.
Against K-State on Saturday night, Shepard was the Sooners' lone offensive bright spot with seven receptions for 108 yards and one touchdown in his first college start.
"He was our player of the game," said coach Bob Stoops. "He's a competitive guy, plays stronger and more competitively than most freshmen you'll see. He's just got a special talent and attitude about him and has an ability to make plays. We're excited about his future."
Said center
Gabe Ikard
: "That's probably the best true freshman performance since AD (former OU running back Adrian Peterson)."
One of the most impressive things about the freshman has been his ability to take advantage of every opportunity with the No. 1 offense. According to ESPN Stats & Info, he has caught all eight passes thrown to him by quarterback Landry Jones this season.
"Guys that play well will continue to get opportunities -- we've always done it that way around here," said co-offensive coordinator/receivers coach Jay Norvell. "There's no question, his first Big 12 game and he stepped up. Sterling held his own in there and played great."
On passes of 10 or more yards against K-State, according to ESPN Stats & Info, Jones was 4-of-4 for 78 yards when targeting Shepard and just 3-of-12 for 60 yards when targeting everyone else.
"He was probably the most competitive guy we had on the outside on Saturday night," offensive coordinator Josh Heupel said. "And we'll need more of that from him."
Shepard's emergence could open up several options for the Sooners. Here are just a few ways the Sooners can take advantage of the Oklahoma City native's talents:
• Move
Kenny Stills
to outside receiver at various times replacing
Justin Brown
or
Trey Metoyer
. It would put Stills back at the position he played during his first two seasons and help take the top off defenses with his speed. It would also open up running lanes for running backs
Damien Williams
and
Dominique Whaley
while creating space for intermediate routes for Shepard in the slot, much like Stills did for Ryan Broyles in 2010 and 2011.
To continue reading this article you must be an Insider
May, 15, 2012
5/15/12
2:30
PM ET
Jason in Oklahoma City writes
: Excluding the 2000 team that won the title, I would think that the 2004 team and the 2008 team were probably the best teams in the stoops era. So if you had
Sam Bradford
,
Jermaine Gresham
,
DeMarco Murray
, Chris Brown,
Gerald McCoy
, Duke Robinson,
Phil Loadholt
and
Nic Harris
go up against Jason White,
Adrian Peterson
,
Mark Clayton
,
Jammal Brown
,
Brandon Jones
,
Dan Cody
,
Donte Nicholson
and
Antonio Perkins
, who do you think would come out on top? I think it would be a good game, but I think the 2004 team had a little more talent.
What's your opinion
?
Jake Trotter
: We saw what happened with the '04 Sooners when they were matched up against an offensive juggernaut in the Orange Bowl against USC. Sure, there were some turnovers that helped ignite the rout. But OU was overmatched.
Not once were the '08 Sooners ever overmatched. They lost in a shootout to Texas, then couldn't get going offensively in the BCS title game vs. Florida, and even then, still had a chance in the fourth quarter. Against Texas, OU lost its defensive captain in linebacker Ryan Reynolds and never recovered. Against Florida, OU, which had the No. 1 red zone offense in college football, was stuffed twice inside the Gator 10.
The '08 Sooners would have trouble containing Peterson, and most certainly would give up some Jason White passes downfield. But I think the Bradford hurry-up, with all those weapons like Gresham, Murray and slot specialist
Ryan Broyles
would be too much firepower for the '04 Sooners to handle.
April, 18, 2012
4/18/12
8:00
AM ET
Every weekday morning, a member of the SoonerNation gives his take on three things happening in the Sooner sports world.
1.
Three of Oklahoma's four commits were included in the initial
ESPN 150 for the class of 2013
, and all four of the Sooners' commits have been evaluated as four-star prospects. Running backs
Greg Bryant
(Delray Beach, Fla./American Heritage-Boca Delray) and
Keith Ford
(Cypress, Texas/Ranch), along with defensive end
D.J. Ward
(Lawton, Okla./Lawton) are Nos. 29, 36 and 93 in the ESPN 150, respectively. As expected, Ward is the state's top recruit of the class. Look for more evaluations of in-state prospects soon.
2.
Five-star offensive tackle
Laremy Tunsil
(Lake City, Fla./Columbia) -- the No. 3 overall prospect in the country -- surprised many by
including the Sooners in his top five
on Tuesday afternoon. Tunsil has offers from nearly every top program in the nation and included Georgia, LSU, Alabama and Florida as his other favorites. Do the Sooners have a shot here? It's doubtful, but we'll find out soon. Based on how OU offensive tackles coach Bruce Kittle recruited for the class of 2012, he believes the Sooners have a chance with prominent out-of-state offensive tackles like Tunsil.
To continue reading this article you must be an Insider
October, 6, 2011
10/06/11
12:30
PM ET
There is no question that one of the
biggest recruiting battles won by Oklahoma
coach Bob Stoops was getting running back Adrian Peterson from Palestine, Texas.
Peterson was as good as advertised as the nation's top-ranked prospect in the 2004 class, and he has prospered with the Minnesota Vikings.
But getting Peterson didn't just help the Sooners in 2004. His impact still resonates on the recruiting trail.
To continue reading this article you must be an Insider
One Thing To Know: Big 12 Recruiting
BIG 12 SCOREBOARD
Saturday, 8/30
Sunday, 8/31