Oklahoma Sooners:

Women's College World Series
June, 5, 2012
6/05/12
10:17
PM ET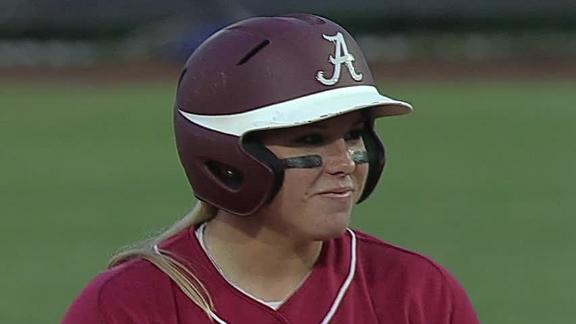 Oklahoma refused to quit but it was not enough.
Alabama held off a late rally from the Sooners to earn a 8-6 win in Game 2 of the championship series of the Women's College World Series at Hall of Fame Stadium in Oklahoma City on Tuesday night. The Crimson Tide's win forces a championship-deciding Game 3 on Wednesday night.
The Sooners trailed by an 8-1 deficit throughout much of the game but rallied to get within two runs with a five-run seventh inning but the hole proved too big to overcome.


Turning point
: Amanda Locke's 3-run double broke the game wide open in the top of the second inning. Two walks and a hit batter contributed to a four-run, two-hit inning for the Crimson Tide. Not only did it give Alabama a comfortable lead, it helped force the Sooners to replace standout pitcher Keilani Ricketts in the fourth inning.
Uncommon sight
: Ricketts struggled for the first time during the postseason. Ricketts, the USA Softball Collegiate Player of the Year, allowed six runs (two earned) and hit five batters in 3.1 innings pitched in the loss. The junior had allowed five runs in four games before Tuesday.
Player of the game
: Jessica Shults continued her clutch hitting, adding four more RBI to her WCWS resume including a three-run home run in the seventh inning. She has a WCWS-high eight RBIs in five WVWS games and 65 RBIs this season.
Stat of the game
: .667. Alabama was 2 for 3 with the bases loaded as their clutch hitting overcame their .154 overall batting average.
What it means
: Wednesday night's game is winner-take-all. Oklahoma will have to rebound from Tuesday's loss to become the national champion.
June, 1, 2012
6/01/12
8:45
PM ET
Oklahoma City -- Oklahoma could be emerging as the favorite to win the Women's College World Series. And Keilani Ricketts is the main reason.
The Sooners ace pitcher dominance continued on Friday night as she led
OU to a 3-0 win over top-seeded California
at ASA Hall of Fame Stadium in Oklahoma City. Ricketts has been incredible during OU's run through the NCAA Tournament, having allowed one earned run in six tournament games.


Turning point
: When OU gave Ricketts the ball on the mound. She kept the Golden Bears off balance throughout the night and never faltered, even when Cal got runners in scoring positions. It was one of the best pitching performances of her career.
Player of the game
: Ricketts. She struck out 16 batters and allowed just two hits in the victory. The USA Softball Collegiate Player of the Year, Ricketts added a bases-loaded walk to give the Sooners a 2-0 lead in the fourth inning. She has struck out 27 batters and allowed five hits in 14 innings pitched in two WCWS games.
Unsung hero of the game
: Georgia Casey. The freshman make her mark in her second WCWS game with a solo home run and two runs scored. She went 1 for 2 and walked twice from her leadoff position in OU's lineup.
Stat of the game
: .714. That was the Sooners' batting average leading off innings. OU was 5 for 7 hitting lead off against Cal, which created several scoring opportunities for the Sooners and they capitalized in the third and fourth innings, scoring one run in each inning.
Missed opportunities
: OU left 10 runners on base in the victory but it didn't matter thanks to Ricketts' dominance and clutch pitching.
What it means
: The Sooners are one win away from a berth in the WCWS championship series. OU will have Saturday off before playing at noon on Sunday needing one win to advance to the championship series.
Quotable
: "I thought Keiliani was the best I had ever seen her." -- OU head coach Patty Gasso
"They're such a huge part of our team. They're students of the game, students of hitting. They're wonderful students who want to get better." -- Gasso on freshmen Lauren Chamberlain and Georgia Casey
"I had my adrenaline going and I was hitting my spots." -- Ricketts
"When pitchers have a good change ups, it's about which team can adjust better." -- Casey
May, 30, 2012
5/30/12
8:45
PM ET
Oklahoma could be looking at its best chance to win its first NCAA softball championship since the Sooners sealed the deal in 2000.
Lead by USA Softball Collegiate Player of the Year Keilani Ricketts, the Sooners play South Florida to open the Women's College World Series in Oklahoma City on Thursday.
Here are some things you should know about the Sooners' chances in the WCWS:
First-round opponent
: South Florida earned a WCWS berth with a 2-1 Super Regional series win over Hofstra. The Bulls are led by Sara Nevins, who has a 1.03 ERA which ranks fourth in the NCAA. Thursday's matchup between Nevins and Ricketts could be the best pitching matchup of the WCWS -- don't expect a high-scoring affair.
USF's 1.18 team ERA ranks them second in the NCAA behind OU. They knocked off No. 5-seed Florida in regional play before defeating Hofstra.
Biggest obstacle
: If both teams win their first round game, OU would face top-ranked California in its second WCWS game. The Bears are 56-5 this season and are lead by Valerie Arioto, who excels at the plate and on the mound. And Golden Bears ace pitcher Jolene Henderson threw back-to-back shutouts against Washington in Super Regional action.
The Bears are considered the favorite as the No. 1 seed but the top four seeds in the tournament, including No. 4 OU, are in Oklahoma City.
Three reasons why the Sooners could win the title
:
• Ricketts is a dominant force on the mound and she can change games with her bat as well. The Big 12 Player of the Year, Ricketts had an 0.99 ERA with 33 wins and 393 strikeouts. She is hitting .407 to lead the Sooners with a .558 on-base percentage and .841 slugging percentage.
• The Sooners have an explosive offense with Ricketts, Lauren Chamberlain and Jessica Shults leading the way. That trio finished 1-2-3 in the Big 12 in slugging percentage and Chamberlain led the conference in home runs (27), RBIs (71), runs scored (62) and slugging percentage (.869).
• Even though the Sooners have great pitching and power, they can still beat you by manufacturing runs. Brianna Turang and Destinee Martinez excel at getting on base and creating havoc with their speed. They help make OU one of the most complete teams in the field.
[+] Enlarge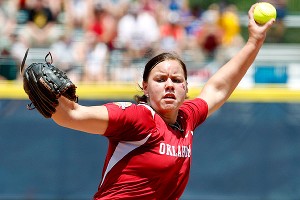 AP Photo/Sue OgrockiOklahoma's 6-foot-2 star pitcher, Keilani Ricketts, will stand even taller in Sooners lore if she can lead them to their second title.
Three reasons why the Sooners might not win the title
:
• Youth. Chamberlain and Georgia Casey are freshmen, so they'll need to get comfortable quickly during their first experience in the WCWS . OU coach Patty Gasso spoke of Casey's nerves during Super Regional-play so the Sooners will need both players to overcome any butterflies.
• Pac-12 dominance. Only two non-Pac 12 teams have won a NCAA softball title since 1999. The Sooners won in 2000 and Michigan won in 2004. Arizona State is the defending champion and have returned to Oklahoma City to defend their title.
• Defense. The Sooners made 46 errors this season and had four in their two wins over Arizona in super regional play. One error can decide a game in the WCWS so the Sooners will have to tighten up their defense to win a championship.
Quotable
:
"Our team's a lot deeper than last year. With the desire that we had last year and how deep we are this year with our lineup, I think that we are coming into the World Series stronger than we were." -- Ricketts on this year's team compared to last year's squad.
May, 29, 2012
5/29/12
2:30
PM ET
By
ESPN.com staff
| ESPN.com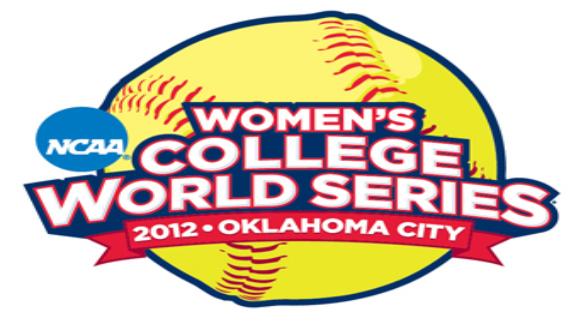 Stacy Nuveman-Deniz names three players to watch in the Women's College World Series, including Oklahoma star Keilani Ricketts.
For more on what to watch for in the WCWS, check out
Graham Hays' story
sizing up the field of teams.
May, 26, 2012
5/26/12
3:18
PM ET
Keilani Ricketts made a strong case to be named USA Softball Collegiate Player of the Year on Saturday. The Oklahoma pitcher was outstanding for the second straight game leading the Sooners to a 7-1 win over Arizona to sweep the Norman Super Regional at Marita Hynes Field.
Oklahoma advanced to the Women's College World Series with the victory and recorded its second straight Super Regional win over the Wildcats to make its seventh appearance in the WCWS.
Turning point
: The Sooners scored five runs in the first inning to blow the game wide open and give Ricketts a sizable cushion throughout much of the contest.
Player of the game
: Ricketts. The junior was simply dominant on Saturday, allowing one hit in the first five innings and striking out 13 batters in the complete game win. At one point, she struck out nine straight batters.


Ricketts, one of three finalists for the USA player of the year award, also got the scoring started with a bases loaded RBI single in the first inning. She allowed one run in 14 innings pitched to earn both wins for the Sooners.
Player of the game not named Ricketts
: Jessica Shults. The sophomore catcher was 2 for 3 with a home run, 2 RBI and one stolen base in the win. She also did a terrific job managing Ricketts pitches from behind the plate.
Unsung hero of the Super Regional
: Brianna Turang. The speedy outfielder was 3 for 5 in the two games and had three stolen bases for the Sooners. She consistently put pressure on the Wildcats defense.
Stat of the game
: One walk. While Ricketts struck out 13 Wildcat batters, she only walked one batter. Her command of her pitches was outstanding.
What it means
: The Sooners will play in the WCWS in Oklahoma City, Okla., beginning May 31 when they face the winner of the Hofstra/South Florida Super Regional.
Quotable
: "They've got the ingredients you need... strong pitching, strong offense." -- Arizona coach Mike Candrea on the Sooners chances in the WCWS.
"We're playing our best softball right now." -- OU coach Patty Gasso.
"She went out there and knew what she wanted to do. She didn't want to be denied. She was lights out today." -- Shults on Ricketts pitching performance.
"Last year our goal was to get to the World Series, you could tell by our celebration. This year, we made our goal bigger." -- Ricketts.
"It's a good feeling as a coach. You don't have to say much because they're on the same page. They get it, all of them, freshman to seniors. There's no animosity, no pouting." -- Gasso on her team's chemistry and confidence.
Stoops, Players Want To Effect Change
BIG 12 SCOREBOARD
Thursday, 9/3
Friday, 9/4
Saturday, 9/5